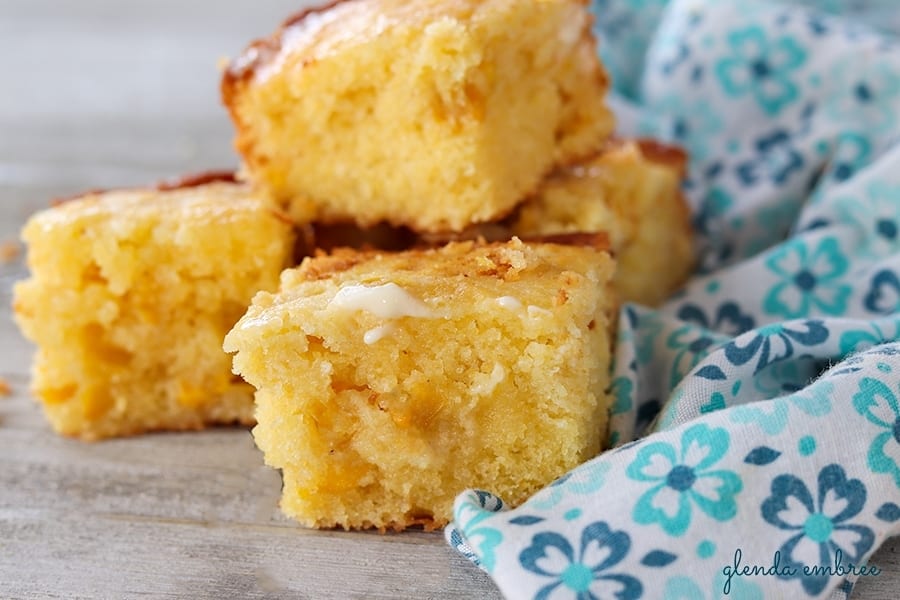 Corn­bread is a per­fect com­ple­ment to soups and stews. The recipes for it are as wide­ly var­ied as the peo­ple who enjoy it. Our Favorite Sweet Corn­bread is just what you'd expect, a sweet ver­sion. How­ev­er, it is the most moist and ten­der corn­bread I have ever eat­en. Wrapped and stored in the fridge, it has stayed moist and deli­cious for four days. A sim­ple warm in the microwave makes it "out of the oven" scrumptious.
The Right Ingredients for Favorite Sweet Cornbread
This is my hus­band's absolute favorite corn­bread. The recipe is over-the-top good! If you sub­sti­tute ingre­di­ents, though, I can't guar­an­tee the same love­ly results or tex­ture. But­ter fat from both the but­ter and the cream are the secret to the ten­der, moist crumb.
My guess is that well-drained, canned corn would prob­a­bly work, but I pre­fer the fla­vor and tex­ture of frozen. I did­n't even thaw it when I was cre­at­ing the recipe, so I con­tin­ue to just pour it in frozen. If fresh corn is avail­able to you, that would prob­a­bly work as well.
For Favorite Sweet Corn­bread, you'll need: flour, sug­ar, corn­meal, bak­ing pow­der, salt, melt­ed but­ter, eggs, cream and frozen corn. Com­bined, they cre­ate what I think may well be the best corn­bread you've ever had.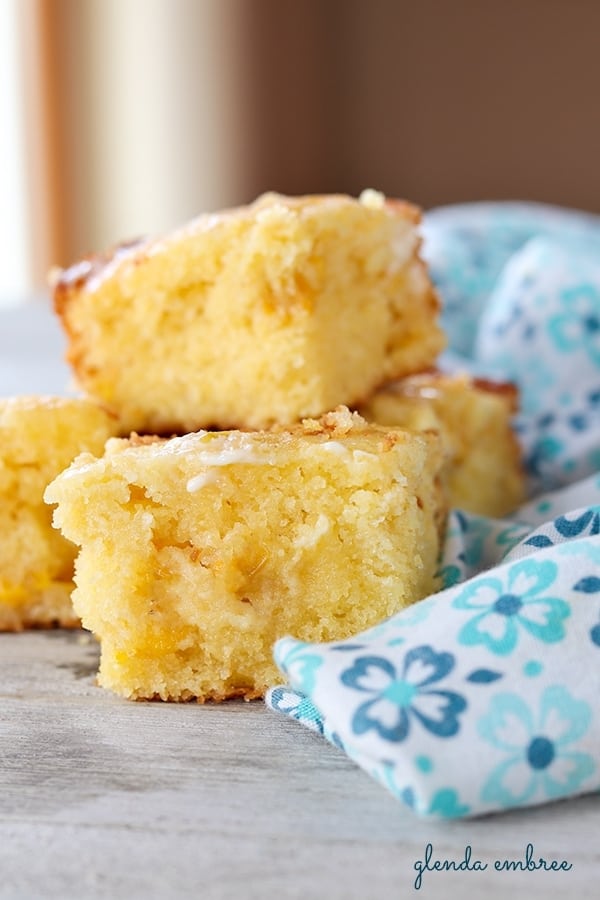 Mixing Up Favorite Sweet Cornbread
The mix-up on this yum­my corn­bread is pret­ty basic. Put all the dry ingre­di­ents into a large mix­ing bowl and whisk them togeth­er. In a microwave-safe dish, melt the but­ter. Stir the cream into the melt­ed but­ter and whisk to com­bine. Then add the eggs to the but­ter and cream and whip them togeth­er. Add the wet ingre­di­ents to the dry and stir just until they are com­bined. Stir in the frozen corn. Pour into a greased pan and bake. How's that for super sim­ple? 5–10 min­utes of prep-time and time to get the rest of your meal ready while it bakes. Outstanding!
Print
Our Favorite Sweet Cornbread
---
Author:

Total Time:

35 min­utes

Yield:

16

serv­ings

1

x
1 1/2

cups

all-pur­pose flour

3/4

cup

sugar

1/2

cup

yel­low cornmeal

1 Table­spoon

bak­ing powder

1/2 tea­spoon

salt

1/2

cup

melt­ed butter

1 1/4

cups

heavy cream

2

eggs

1 1/2

cups

frozen corn kernels
---
Instructions
Com­bine the dry ingre­di­ents in a large mix­ing bowl.
In a microwave-safe bowl, melt the butter.
Stir the cream into the melt­ed butter.
Add eggs to but­ter and cream mix­ture and whisk until combined.
Pour wet ingre­di­ents into the bowl of dry ingre­di­ents and use a wood­en spoon to stir just until every­thing is com­bined. Don't overmix.
Add the frozen corn and stir to dis­trib­ute through­out the batter.
Pour into a greased *8x8 bak­ing pan.
Move oven rack to sec­ond from bot­tom position.
Bake at 350° for 25–30 min­utes. Tooth­pick insert­ed in cen­ter will come out clean and corn­bread will be pulling away from sides of pan.
Prep Time:

10 min

Cook Time:

25 min­utes

Cat­e­go­ry:

Bread

Cui­sine:

Amer­i­can
I hope you'll enjoy our Favorite Sweet Corn­bread recipe, as much as we do. It's the per­fect com­ple­ment to so many dish­es like my Creamy White Chick­en Chili, or Easy Meat­loaf Recipe or even scrump­tious Slow Cook­er South­west Chick­en. It can add the sweet bal­ance to your favorite savory meals.