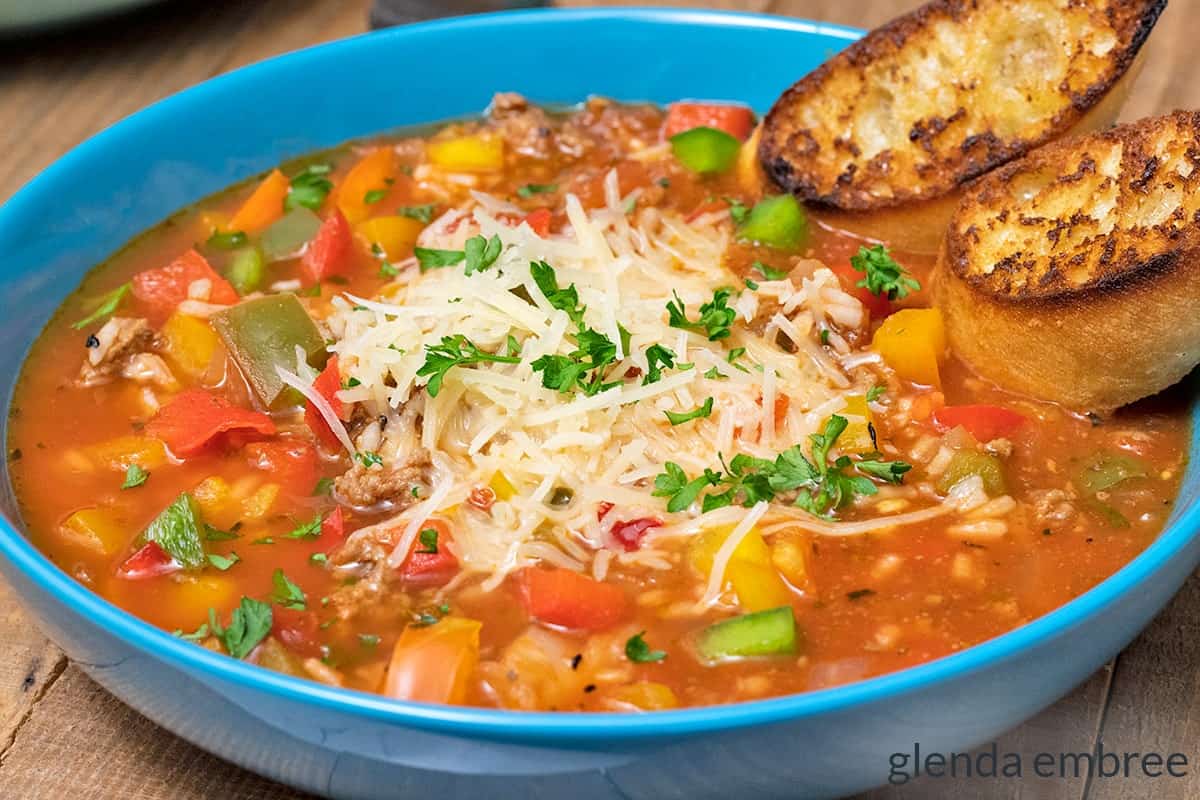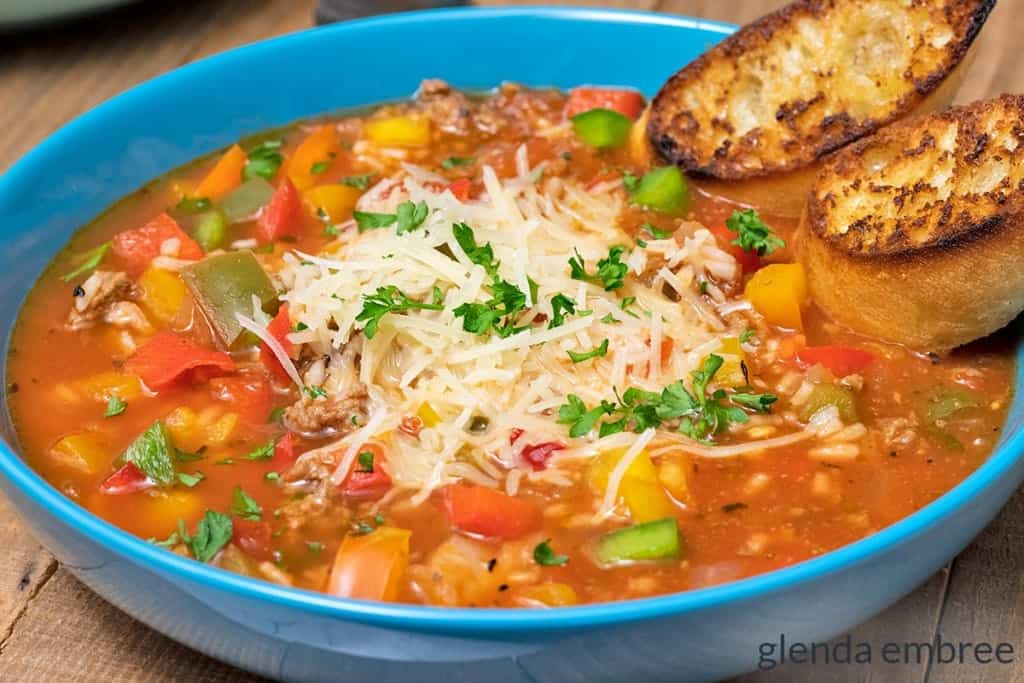 Easy Stuffed Pep­per Soup has all the fla­vors and tex­tures you love about stuffed pep­pers with­out the extra time and work. This hearty soup is a com­plete meal and it can be on the table in around 30 minutes.
Stuffed pep­pers have always been a hit or miss dish for me. I'm not sure why they give me so much trou­ble. But, it seems that the pep­pers are always shriv­eled, super mushy and or tough by the time they fin­ish bak­ing. I tend to eat the fill­ing and leave the pep­per. I LOVE pep­pers, so that's always disappointing.
In my deli­cious Stuffed Pep­per Soup the pep­pers are soft­ened, but still have a lit­tle crisp fresh­ness to them. The savory toma­to broth is fla­vored with gar­lic, onion, Ital­ian sea­son­ing, savory ground beef and a smidge of red pep­per flakes. Rice adds, yet anoth­er lay­er of tex­ture and makes the soup a full, hearty meal.
Soup can def­i­nite­ly be com­fort food and Stuffed Pep­per Soup is in that scrump­tious category!
Table of Contents
As always, I have includ­ed a pic­ture tuto­r­i­al. I hope it's great help. If you're a sea­soned cook, just click Jump to Recipe at the top of this page or The Recipe in the Table of Con­tents. Enjoy, Friends! Have a won­der­ful­ly blessed week­end! ~ Glenda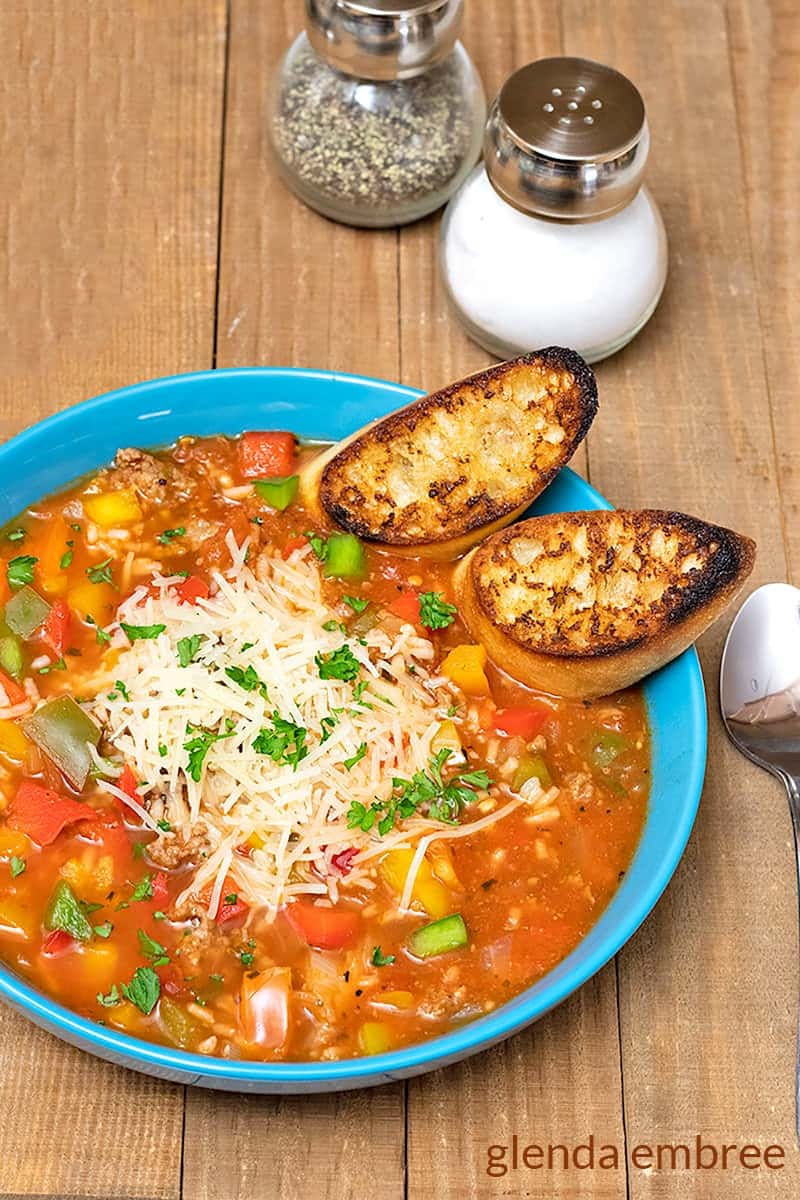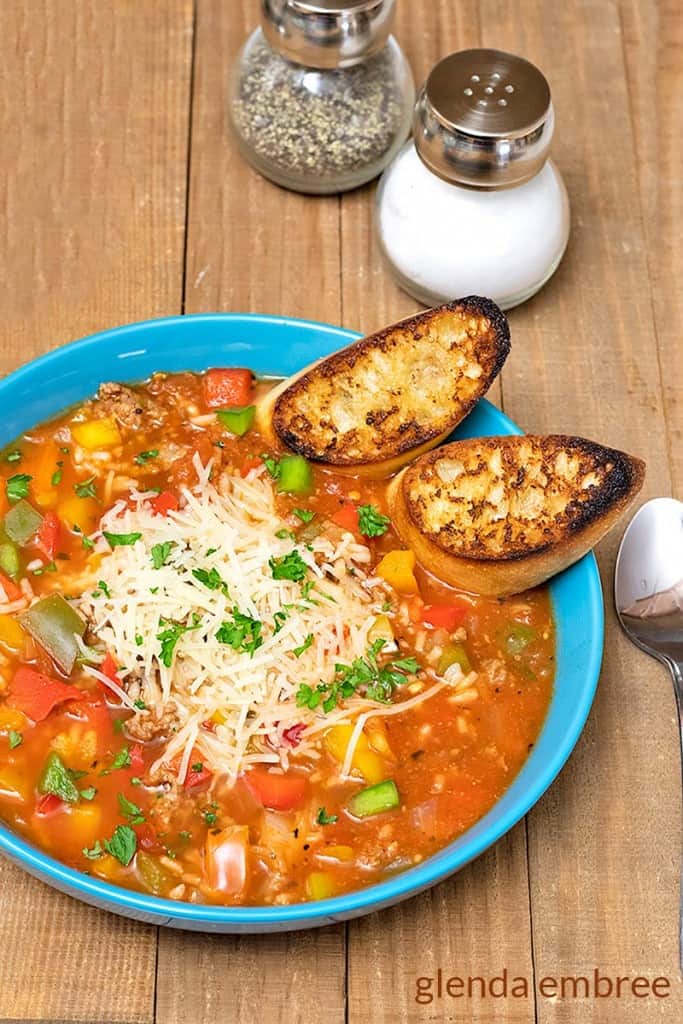 The Ingredients for Stuffed Pepper Soup
Avo­ca­do Oil : We've talked about this one before. Use the oil you have on hand and are com­fort­able with. I like avo­ca­do oil because of it's high smoke point and its neu­tral flavor.
Lean Ground Beef : I use an 85/15 blend. It's a per­fect bal­ance between fla­vor and not a lot of grease, for me.
Onion : You know I usu­al­ly opt for red, but any will work. I actu­al­ly used a yel­low onion in this batch, today. Use a large one. It's a big part of the rich, savory flavor.
Gar­lic: Fresh gar­lic, minced fine. Guys, tru­ly, the fla­vor is so much bet­ter! You can even buy it pre-minced if you don't like doing it on your own.
Bell Pep­pers: I use all the col­ors! We eat first with our eyes and this bright col­or­ful soup is so appeal­ing. Choose your favorites, keep­ing in mind that green is stronger than the oth­ers. Red, yel­low and orange are sweet­er. So, do a com­bo that bal­ances every­thing. You want your stuffed pep­per soup to have notes of both.
Sea­son­ings: I used Ital­ian sea­son­ing, tar­ragon and crushed red pep­per flakes. You can be flex­i­ble and pick a fla­vor pro­file that fits you and your pantry, but I love these fla­vors together.
Toma­toes: see note, below
Toma­to Sauce
Broth: I have suc­cess­ful­ly used veg­etable, chick­en and beef broth in this recipe. Use what you have on hand. If you feel that the fla­vor is weak, add a bouil­lon cube or two or your favorite chick­en or beef base to zhoozh it up a little.
Minute Rice: see note, below
option­al, Parme­san: Is it nec­es­sary? No. Is it over the moon deli­cious? Yes!!! I'm not talk­ing about shak­er can pow­der stuff, here. Fresh grat­ed Parme­san with its savory, salty uma­mi-ness. Yum!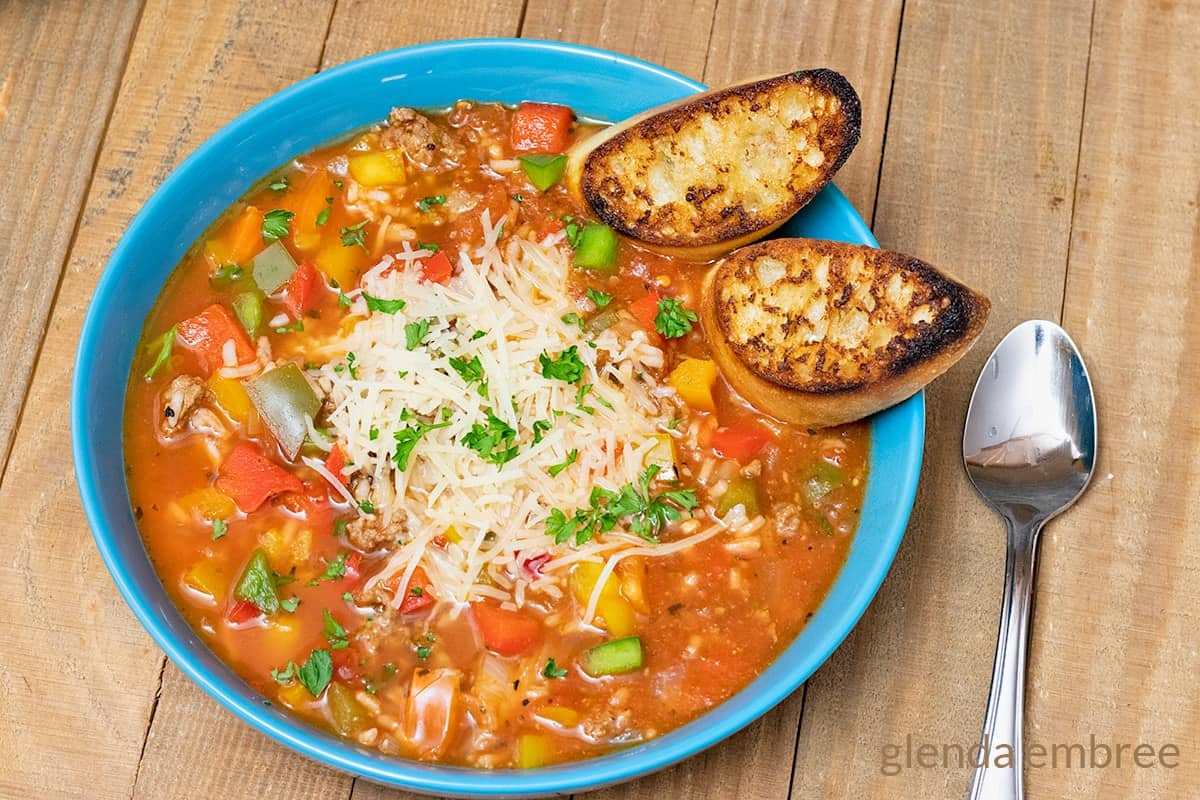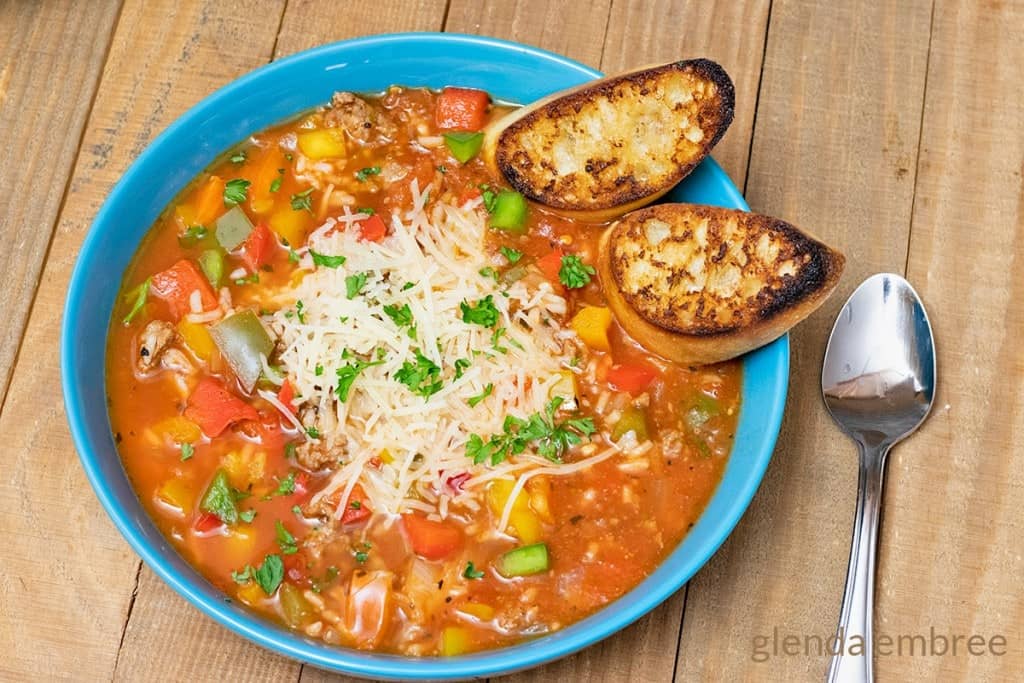 Choose the Correct Tomatoes
For Stuffed Pep­per Soup, use the best qual­i­ty, whole, peeled canned toma­toes you can afford. The toma­toes are the base fla­vor for this entire dish. You want them to be "toma­toey", not left over bits and pieces that could­n't be sold fresh.
My favorite brand is Jovial. They come canned in glass jars and they have great toma­to fla­vor. Would­n't you know, I can't get them local­ly. Small town prob­lems. ‑sigh- I order them on Vitacost.com, 10 jars at a time, since they have flat rate ship­ping and I can usu­al­ly find a coupon. If you live in a big­ger town or city, your stores prob­a­bly car­ry them.
My sec­ond choice for toma­toes would be Cen­to San Marzano toma­toes. I can buy them local­ly. And the fla­vor is good.
I use whole, peeled toma­toes and crush them in my hand as I add them to the stuffed pep­per soup. Diced toma­toes are often fine in quick recipe prepa­ra­tions. How­ev­er, I am real­iz­ing more and more as I cook, that the diced toma­toes are left over bits and pieces. You'll see a dis­tinct col­or dif­fer­ence between whole and diced. Whole are deep red, while diced are pale in com­par­i­son. The fla­vor is sim­ply bet­ter in whole peeled tomatoes.
Whole peeled toma­toes also break down more eas­i­ly in the recipes you're cook­ing. Diced have cal­ci­um chlo­ride added. That helps them retain their shape, even dur­ing cook­ing. They don't break down as easily.
Choose the Correct Rice
Minute Rice isn't always the solu­tion, but in this recipe, it's a must. This is for speed. But, it's also for texture.
Don't use reg­u­lar white or brown rice in this recipe. If you have pre-cooked rice on hand you can add that in place of the Minute Rice, but that's the only accept­able substitution.
Reg­u­lar white or brown rice will not only take longer, but will absorb all the liq­uid out of your pep­per soup while it cooks.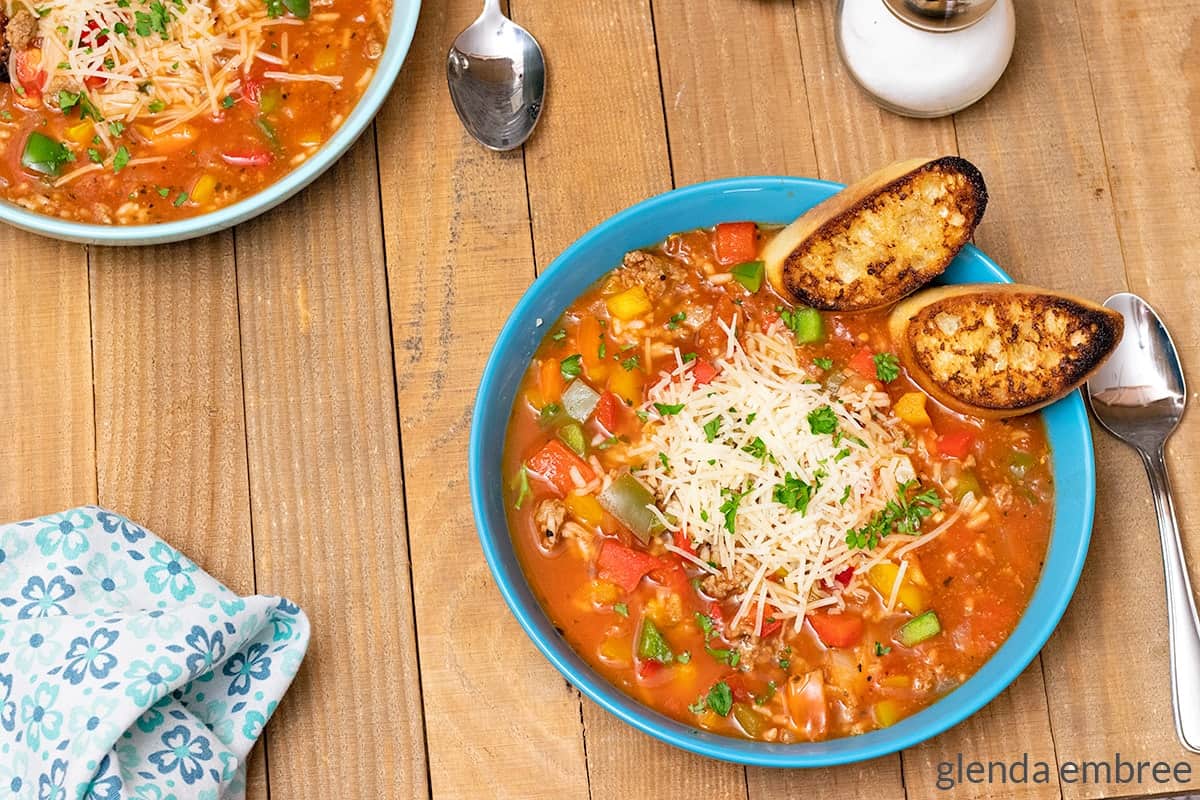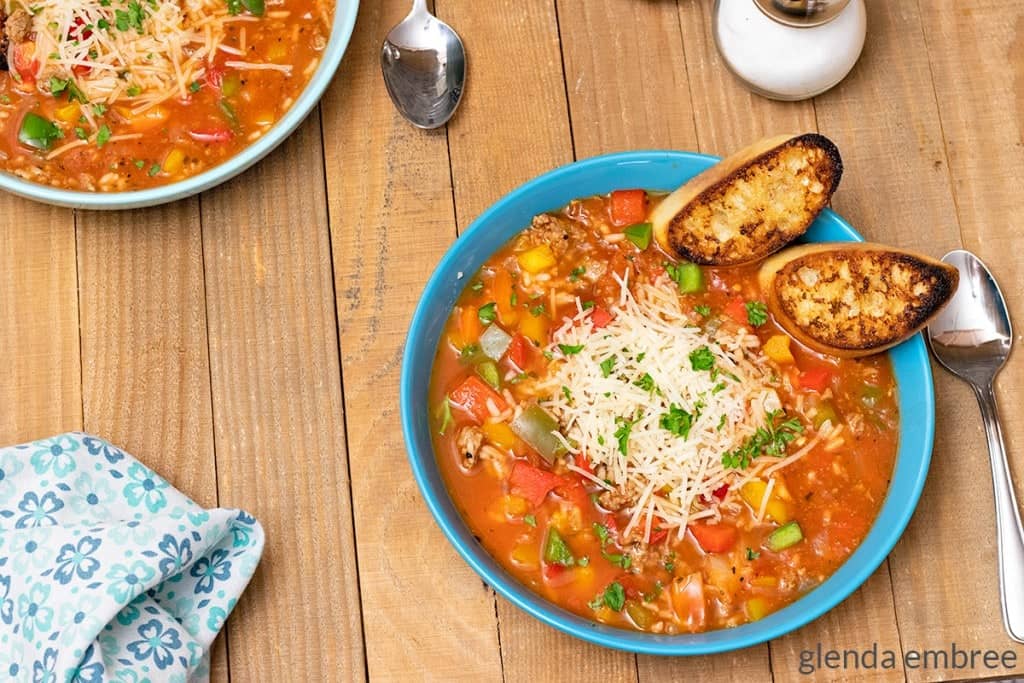 How to Make Easy Stuffed Pepper Soup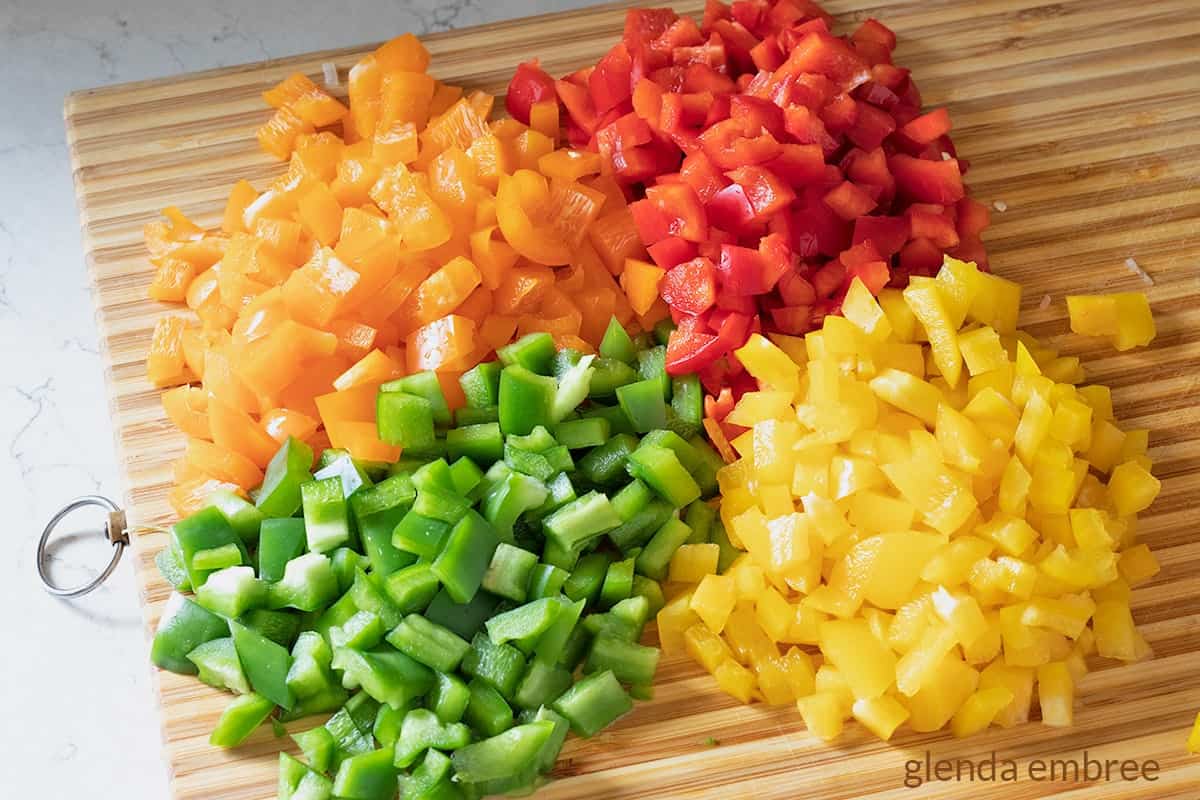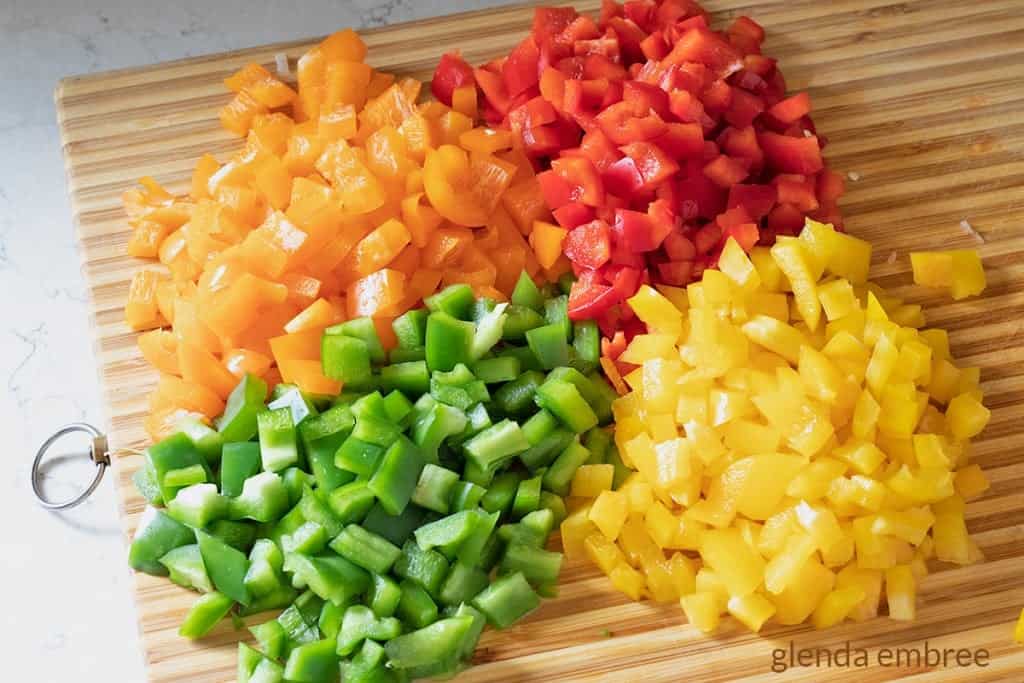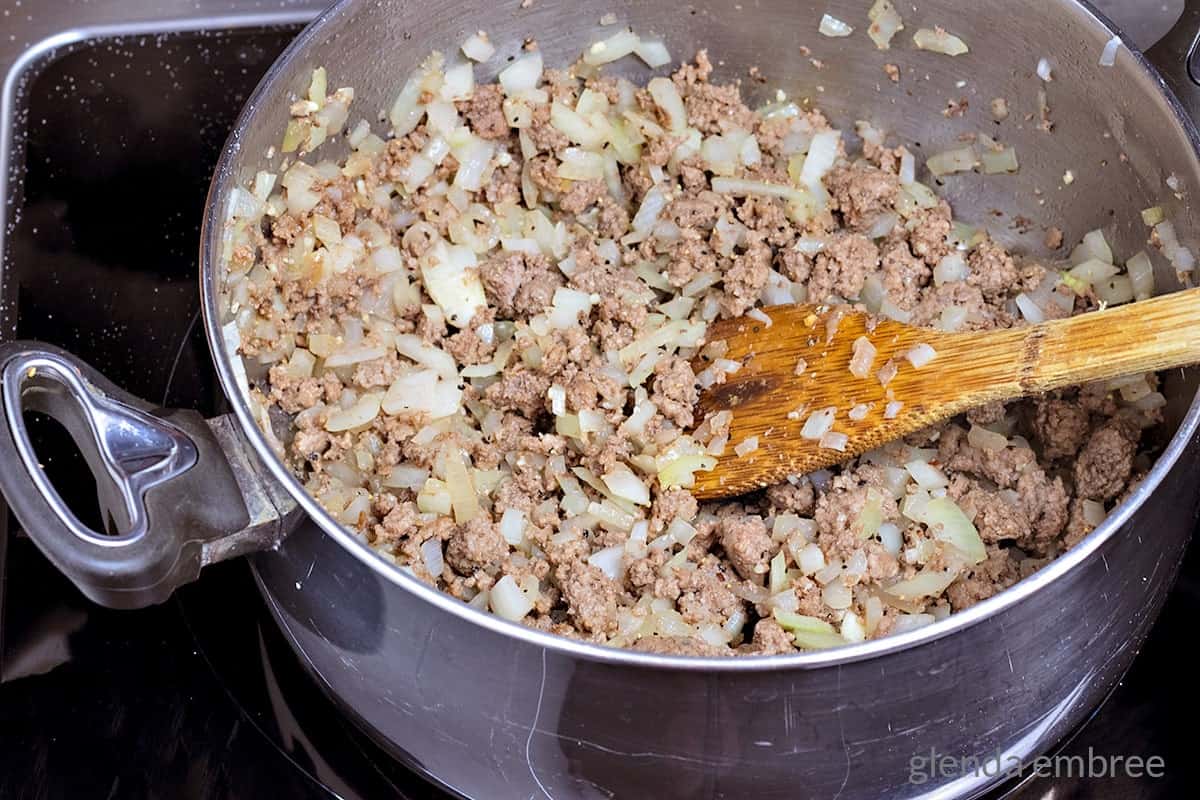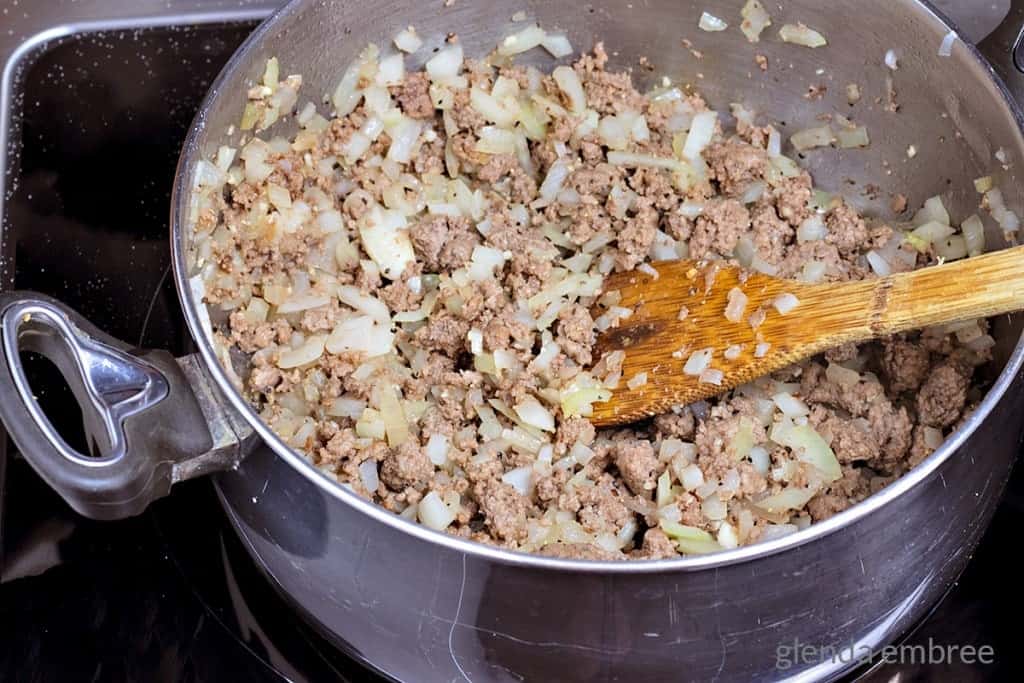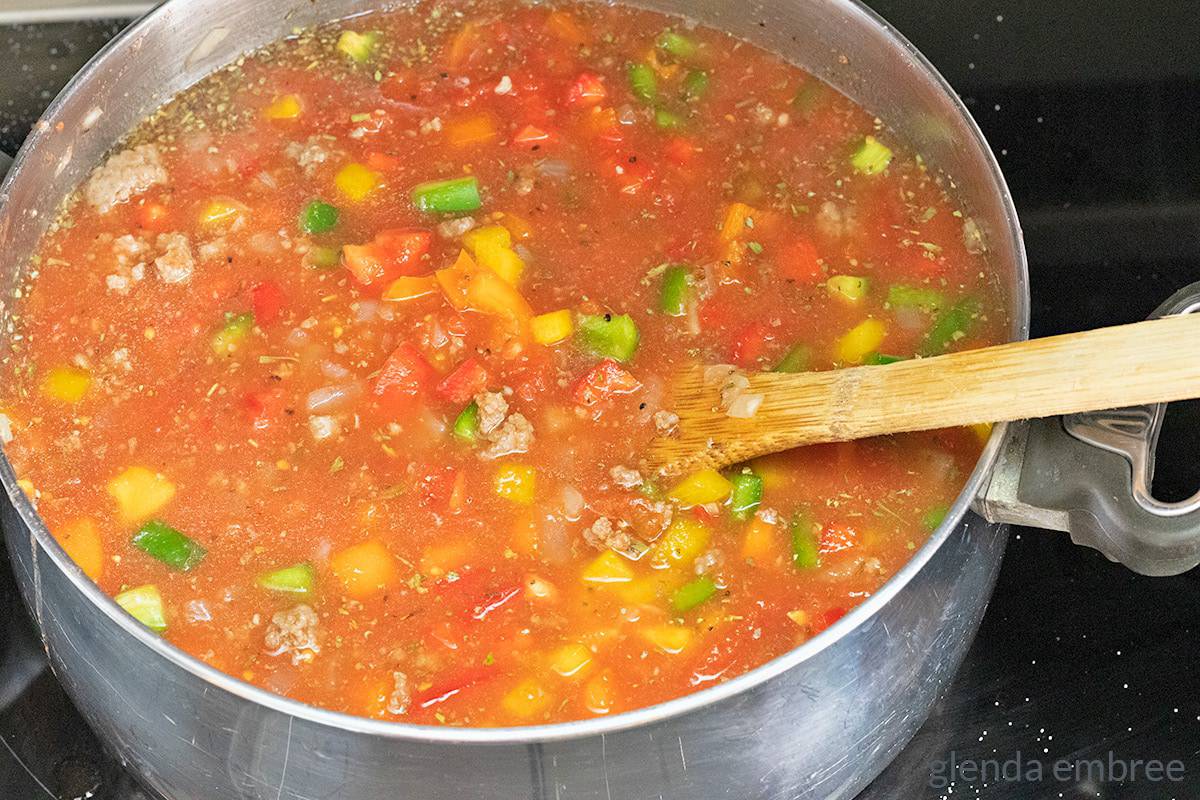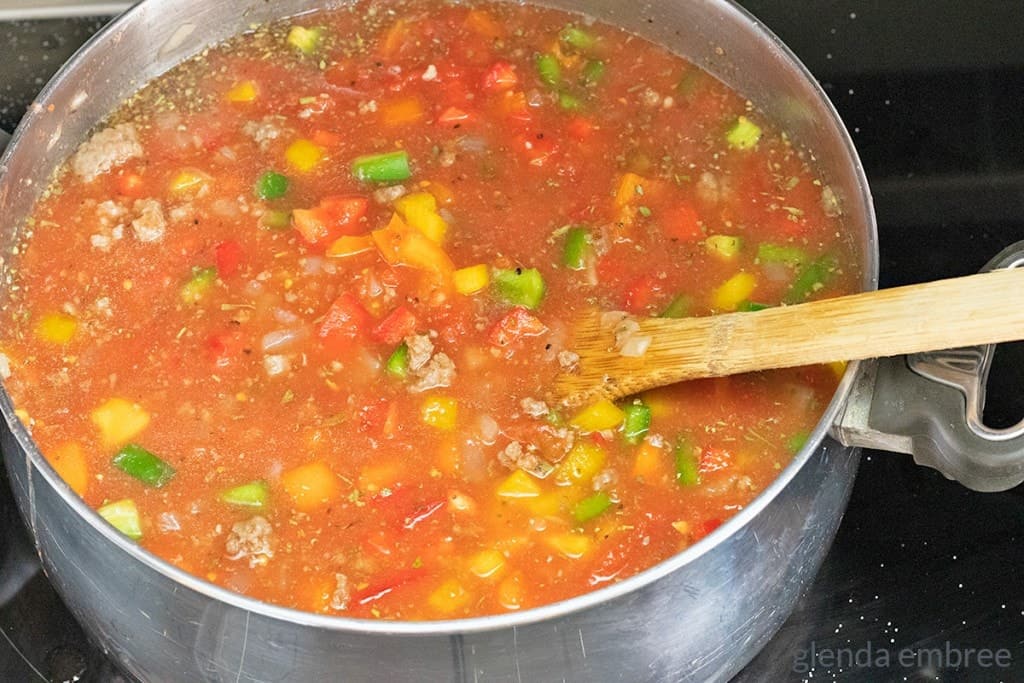 The Recipe
Print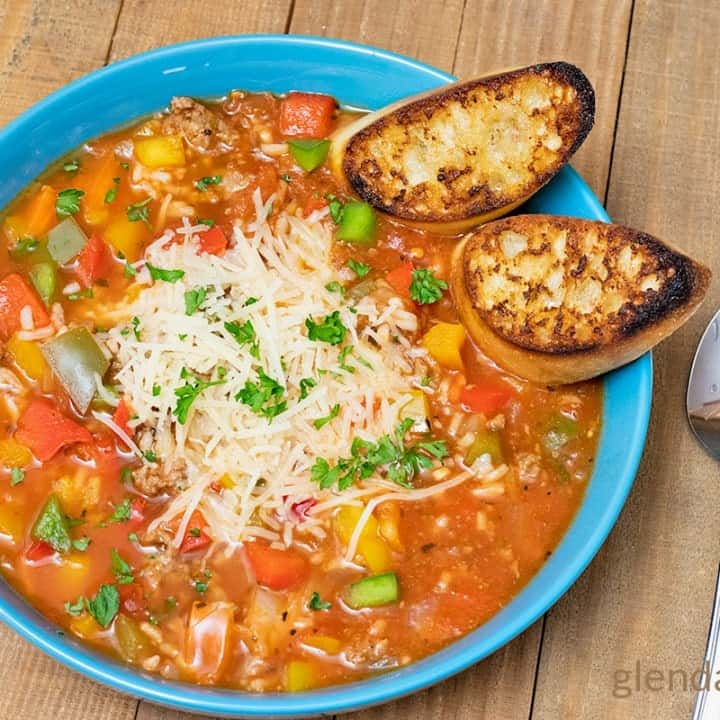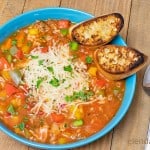 Stuffed Pepper Soup
---
Author:

Total Time:

45 min­utes

Yield:

6

to

8

serv­ings

1

x
Description
Easy Stuffed Pep­per Soup is a deli­cious, quick-fix sup­per done in 30 min­utes. All the fla­vor you love with­out the fuss.
---
1 Table­spoon

avo­ca­do oil

1

lb

. lean ground beef

1

large red onion (yel­low or white work, too)

2 Table­spoons

minced garlic
salt and pep­per, to taste

4

large bell pep­pers (any col­or — I usu­al­ly use all dif­fer­ent colors.)

1 Table­spoon

Ital­ian seasoning

1/2 tea­spoon

dried tarragon

1/4 tea­spoon

crushed red pep­per flakes

1

(28 oz.) can whole peeled toma­toes (qual­i­ty brand)

1

(15 oz) can toma­to sauce

4

cups

broth (beef, chick­en or veg­etable all work equal­ly well)

1

cup

dry Minute Rice
option­al gar­nish: grat­ed Parme­san cheese and minced parsley
---
Instructions
Mince the onion and dice the bell pep­pers. I try to get the bell pep­per pieces to be about 1/2″ square.
Heat the avo­ca­do oil in a large stock pot over medi­um high heat.
Add the ground beef. Break it into small pieces as it browns. Cook until no pink remains.
Add the onion and gar­lic to the beef and cook for 4–5 minutes.
Salt and pep­per the ground beef mix­ture, to taste.
Add the diced bell pep­pers, toma­toes, toma­to sauce, broth, Ital­ian sea­son­ing, red pep­per flakes, bay leaf and sug­ar to the pot.
Bring soup to a boil and then reduce to a simmer.
Cook for 15 min­utes or until pep­pers are tender.
Remove from heat and add 1 cup of Minute Rice to the pot. Stir to dis­trib­ute even­ly. Cov­er with a lid and allow to sit for 5 minutes.
Prep Time:

15 min­utes

Cook Time:

30 min

Cat­e­go­ry:

Soup

Method:

Stove Top

Cui­sine:

Amer­i­can
Key­words: bell pep­pers, ground beef, tomato,
More Quick Fix Supper Ideas
Creamy Spinach Arti­choke Chicken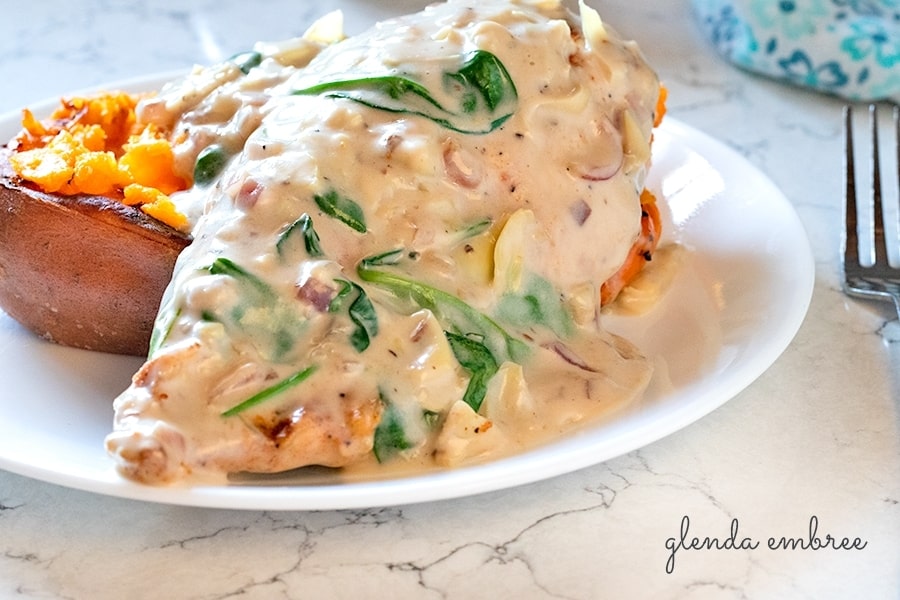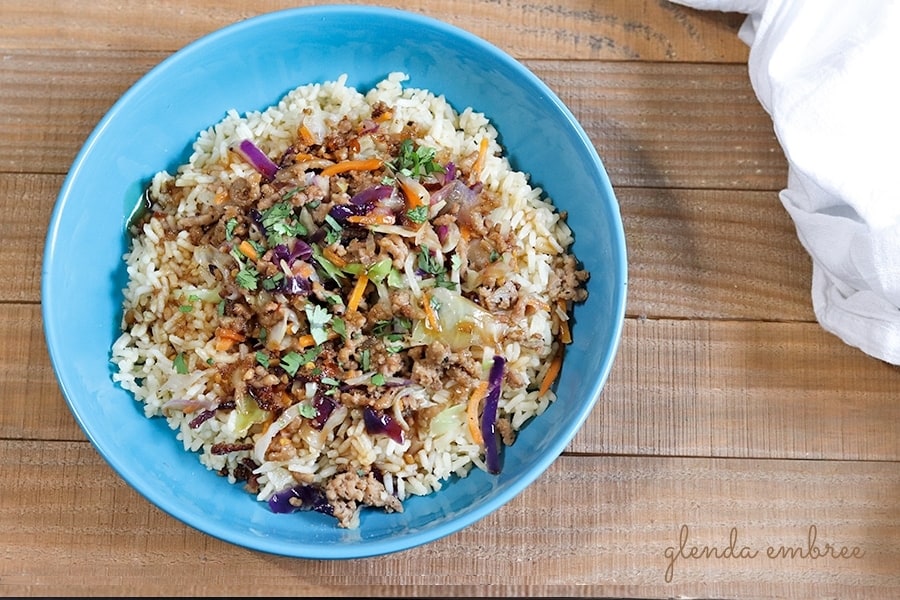 Enchi­la­da Casse­role | 5‑Ingredient Simple