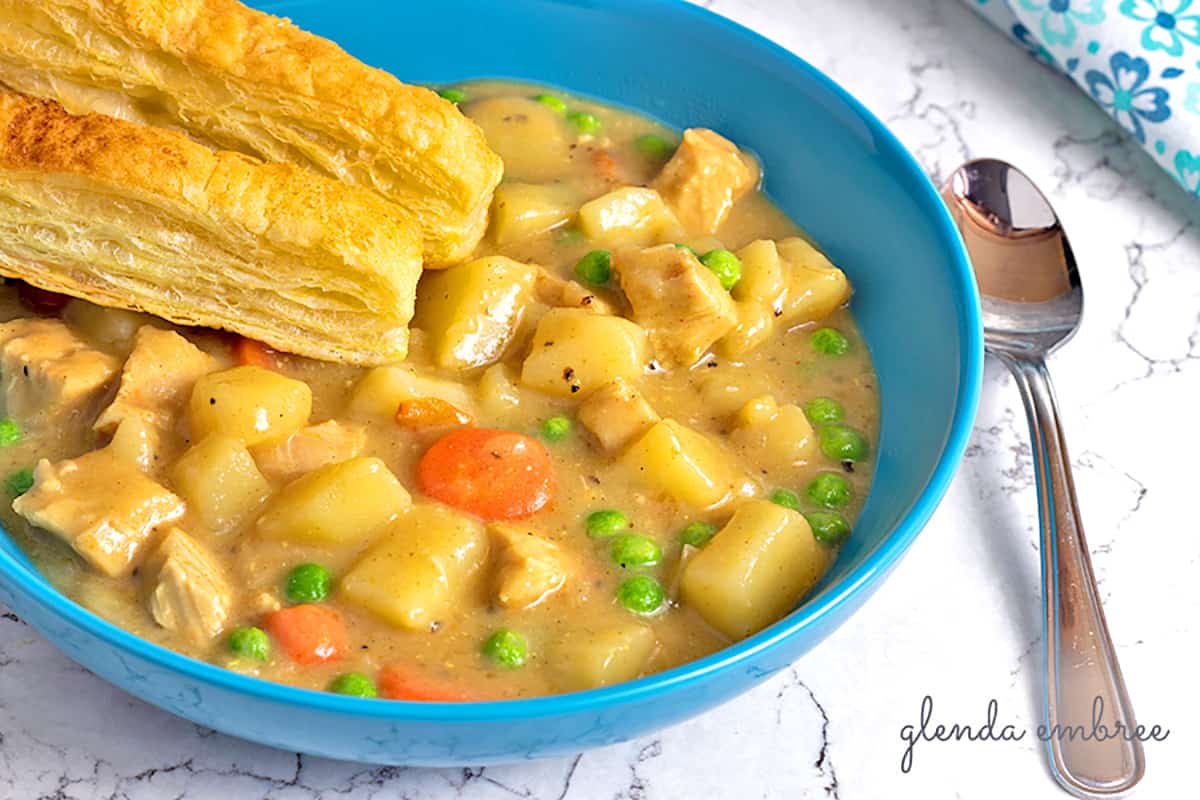 Chick­en Pot Pie Soup is a savory, creamy soup stud­ded with chunks of chick­en, pota­toes, car­rots and peas. The broth is infused with onion and gar­lic, plus fla­vor­ful herbs. It's the per­fect warm com­fort food hug on a win­ter night.
Our kids have always loved pot pies. When all 5 of them were younger and still at home, it was actu­al­ly a big treat when I would buy frozen pot pies to have for din­ner. lol Back then we could usu­al­ly get them 4 for $1, so it was an eco­nom­i­cal meal, too.
Over the years, I have learned to make a few dif­fer­ent ver­sions of pot pie and they are always met with wel­come ooohs and aah­h­hhs. But, the truth is, when I am in a hur­ry to put a meal on the table, stop­ping to make pie crust and con­struct a com­plete pot pie isn't in the cards.
Luck­i­ly, you can achieve all the same savory deli­cious­ness found in a pot pie by turn­ing it into a quick 30 minute soup. Chick­en Pot Pie Soup is hearty and sat­is­fy­ing and this recipe will leave you with left­overs for tomor­row's lunches!
Chick­en Pot Pie Soup is also easy to make as a gluten-free, dairy-free meal, so you can pro­vide a healthy option for those on restrict­ed diets.
Ingredients You'll Need for Chicken Pot Pie Soup and How to Prep Them
Chick­en — This recipe calls for 4 large, pre-cooked bone­less skin­less chick­en breasts. I love batch cook­ing chick­en and hav­ing it the freez­er for quick meal fix­es. Choose a dif­fer­ent cut if that's your pref­er­ence. And, if you don't have pre-cooked chick­en in the freez­er, you could just as eas­i­ly use a rotis­serie chick­en from the store with great results.
Pota­toes — I peel the pota­toes. It def­i­nite­ly isn't nec­es­sary. Your fam­i­ly pref­er­ence should be the decid­ing fac­tor. I feel like pota­toes are as inte­gral to pot pie as the chick­en, though. So don't skip this ingre­di­ent. It is impor­tant that the pota­toes be cut into 1″ or small­er chunks to be sure they cook through in 30 minutes.
Car­rots — I scrub them, but don't peel them. Again, it's a mat­ter of pref­er­ence. You do you. Slice the car­rots into 1/8″ rounds.
Onion — I use a large red. Yel­low or white will be deli­cious, too.
Milk or Dairy-Free Milk — This choice will depend on who you're cook­ing for. If you can use dairy milk, that's awe­some. If not, use a thick and creamy dairy-free alter­na­tive like my Cashew Coconut Milk. It's what I use in this recipe and it's scrumptious!
Chick­en Stock — be sure your brand is gluten-free if that's needed.
Frozen Peas
Sea­son­ings & Herbs — I use bouil­lon (again, check for gluten-free if need­ed.), minced gar­lic, bay leaves and poul­try sea­son­ing.
Arrow­root — This is for thick­en­ing. You can use corn­starch if that's what you have on hand. I was going for a com­plete­ly gluten/­grain-free dish, so arrow­root was my choice.
A Note About Bouillon
My all-time favorite bouil­lon is Bet­ter than Bouil­lon Chick­en base. None of the ingre­di­ents list­ed should tech­ni­cal­ly have gluten. How­ev­er, the com­pa­ny states it is made in a plant where wheat prod­ucts are processed. There­fore, they can't cer­ti­fy it as gluten-free. If you're high­ly sen­si­tive to gluten, it is not a good option for you.
Cur­rent­ly, the safest brands offer­ing gluten-free bouil­lons are Herb-Ox, Orring­ton Farms, and BOU because each of these brands will label gluten-free fla­vors and are very trans­par­ent about ingre­di­ents that may con­tain gluten. I have used both Herb-Ox and BOU with good results, but they are much more expen­sive. When I need to be sure my dish is 100% gluten-free, I rec­om­mend *Orring­ton Farms Chick­en Broth Base and Sea­son­ing [affil­i­ate link]. You can receive 6 jars through this link for only $3.00 per jar.
You may also already have a favorite gluten-free bouil­lon. Absolute­ly use it in this recipe and adjust the amount to suit your tastes and spe­cif­ic brand.
What To Serve With Chicken Pot Pie Soup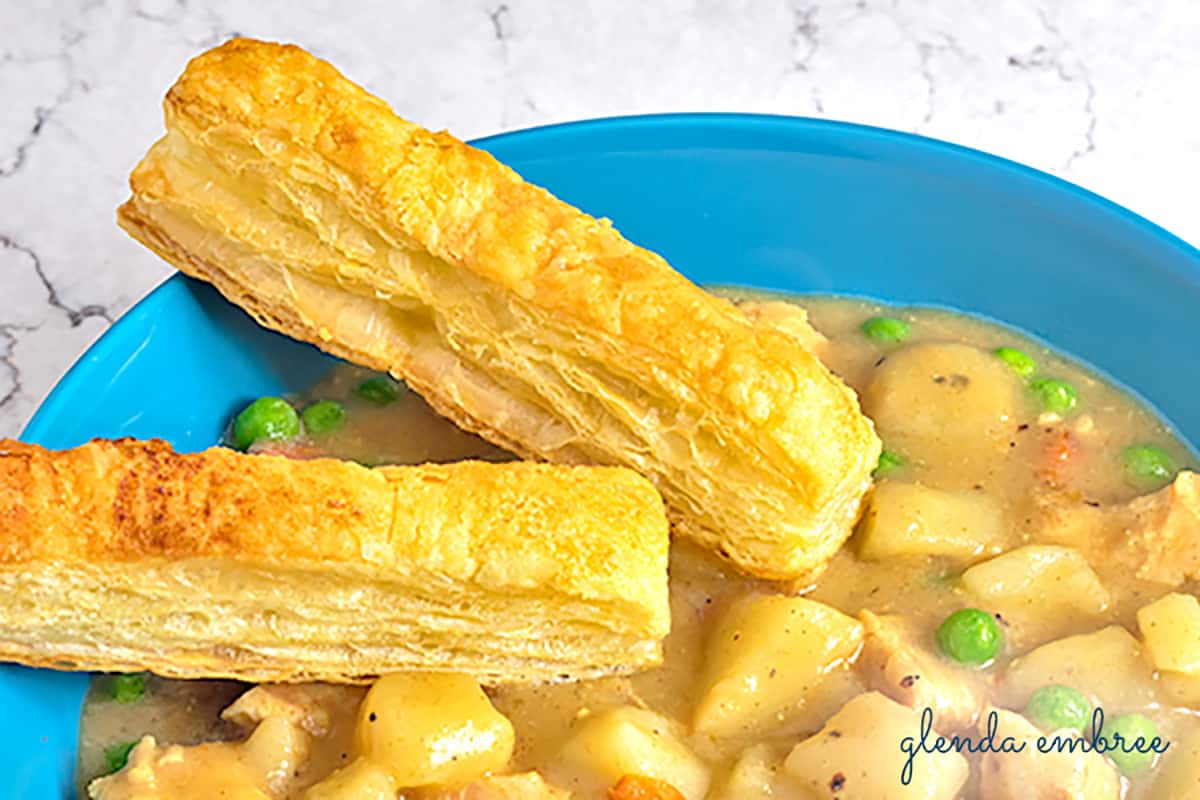 You can see in the pic­tures that I went super-sim­ple with my sides, this time. I used one sheet of puff pas­try, brushed it with melt­ed but­ter and then cut it into short strips. I baked them at 400° for around 10–12 min­utes until they were browned and crispy. They were per­fect soup "dip­pers".
Bis­cuits would be anoth­er nat­ur­al side with this homey, deli­cious meal. Check out my Easy Bis­cuit recipe to have home­made bread quick and easy for any meal.
Anoth­er great side for soup is a sim­ple green sal­ad or some crunchy veg­gie sticks. This deli­cious broc­coli sal­ad would be fab­u­lous, too!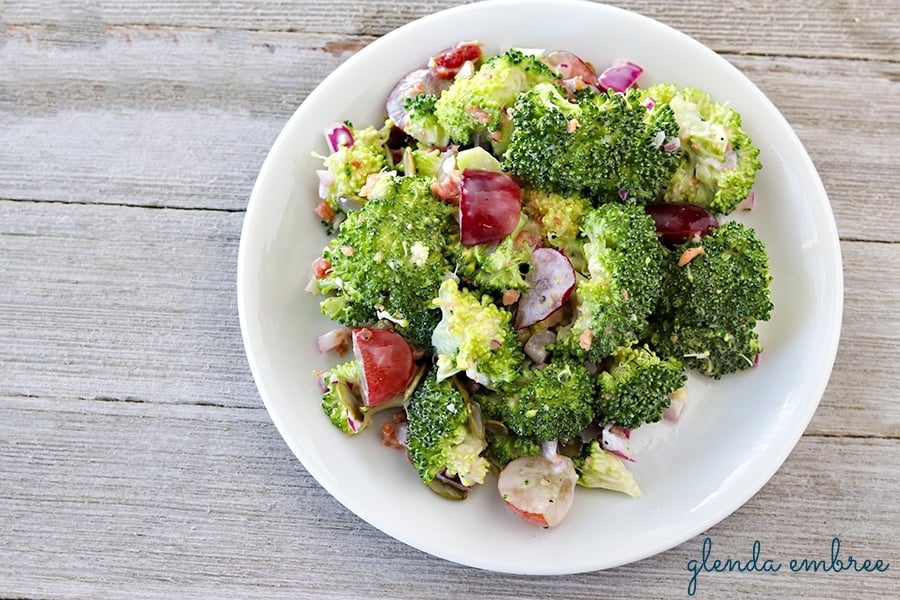 AND…Every great soup sup­per needs a deli­cious­ly sim­ple dessert! I think these McDon­ald's Choco­late Chip Cook­ies would be the per­fect way to end a meal of Chick­en Pot Pie Soup. Grab the recipe on the One Sweet Har­mo­ny blog.
Or how about com­fort food in a cook­ie?!!! These Molasses Cook­ies from Lau­ra, over at Lit­tle House Big Alas­ka would be a scrump­tious fin­ish to a Chick­en Pot Pie Soup dinner.
Are you look­ing for more clas­sic chick­en soup recipes? Check out this recipe for Chick­en and Dumplings on the blog at Lit­tle House Big Alaska.
The Easy Recipe for Chicken Pot Pie Soup
I hope you get a chance to make a batch of my scrump­tious Chick­en Pot Pie Soup, this week­end. Share it with the peo­ple you love and be blessed, my friend!
Print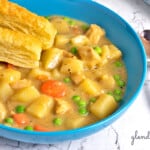 Chicken Pot Pie Soup
---
Author:

Total Time:

40 min­utes

Yield:

10

-

12

serv­ings

1

x
Description
A hearty, sat­is­fy­ing meal in one com­fort food bowl! Every­thing you love about Chick­en Pot Pie with­out the extra work of pie crust. You can whip this up quick­ly, even on busy week­nights. It's sure to become a fam­i­ly favorite!
---
1

large red onion

1 Table­spoon

cook­ing oil ( I use avo­ca­do oil.)

4

large pre-cooked bone­less skin­less chick­en breasts (around

3

lbs)

3

lbs of rus­set pota­toes, peeled and cut into 1″ cubes

1

lb

car­rots, sliced into 1/8″ thick rounds

1 qt

(

4 cups

) chick­en stock

3

cups

alter­na­tive milk or dairy milk

1

-

2

Table­spoons Bet­ter than Bouil­lon Chick­en Base (or your *favorite gluten-free bouil­lon), to taste

1 Table­spoon

minced garlic

2

Bay Leaves

1 tea­spoon

poul­try seasoning

2

cups

frozen peas

1/2

cup

water

3 Table­spoons

arrow­root pow­der (or corn starch)
salt and pep­per, to taste
---
Instructions
Peel pota­toes and cut into 1″ cubes.
Slice the car­rots into 1/8″ rounds.
Shred or chop pre-cooked chicken.
Mince the onion and saute it in the cook­ing oil, in a deep stock pot, for 3 or 4 min­utes until it begins to soft­en and be aromatic.
Add in the cubed pota­toes and carrots.
Pour the chick­en stock and the milk of your choice into the pan over the vegetables.
Stir in the bouil­lon, minced gar­lic, bay leaves and poul­try seasoning.
Bring the pot to a boil and then reduce to medi­um heat. You may want to stir occa­sion­al­ly as the pot comes to a boil to make sure noth­ing is sticking.
Allow the mix­ture to cook over medi­um heat until the pota­toes are fork-tender.
Whisk the arrow­root pow­der (or corn­starch) into the 1/2 cup of cold water. Pour the slur­ry into the soup pot and stir to combine.
The soup will begin to thick­en in just a minute or two.
Shut off the heat and stir in the frozen peas. The heat of the soup will be enough to warm them and they will retain their bright green color.
Serve with bis­cuits, puff pas­try sticks or even a green sal­ad on the side.
Prep Time:

10 min­utes

Cook Time:

30 min­utes

Cat­e­go­ry:

Soup, Chick­en

Method:

stove top

Cui­sine:

Amer­i­can
Key­words: soup, pot pie, chicken