My Zup­pa Toscana is a scrump­tious, rus­tic, com­fort food soup. It's loaded with chunks of pota­to, Ital­ian sausage and aro­mat­ic veg­gies all nes­tled in a lus­cious, deeply savory and sat­is­fy­ing broth. Zup­pa Toscana is easy to make and it's gluten free and dairy free, so every­one can enjoy it!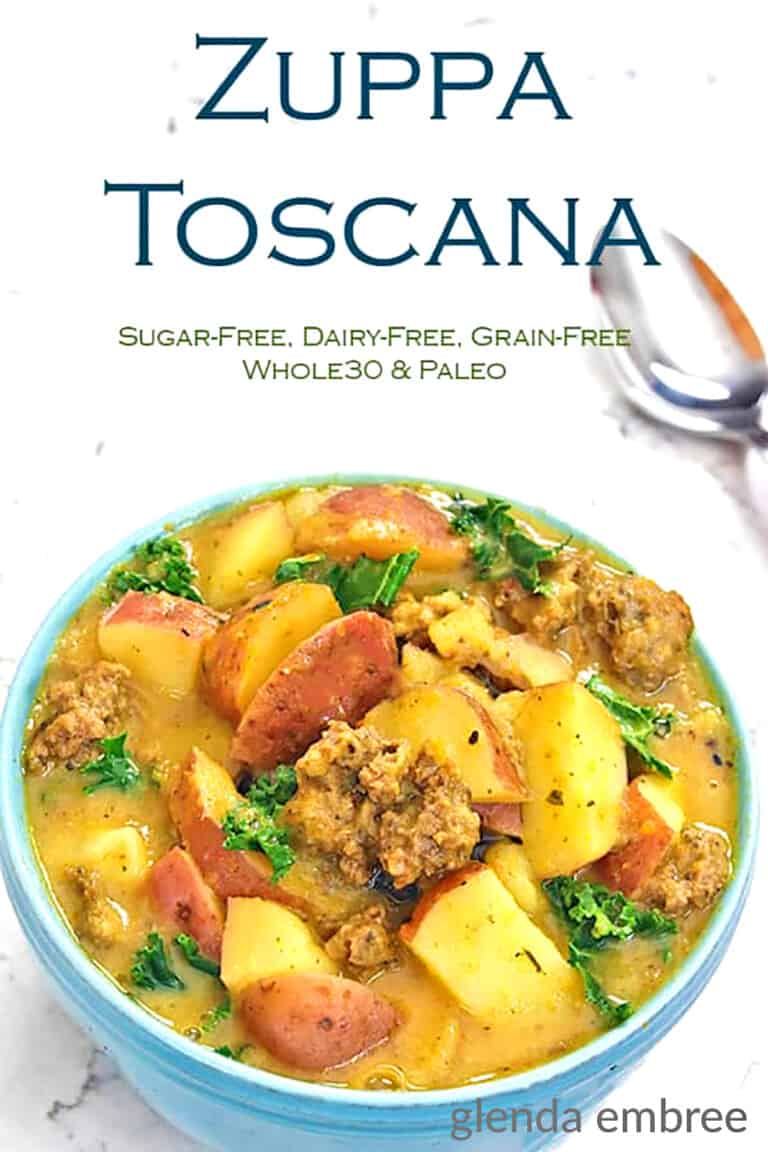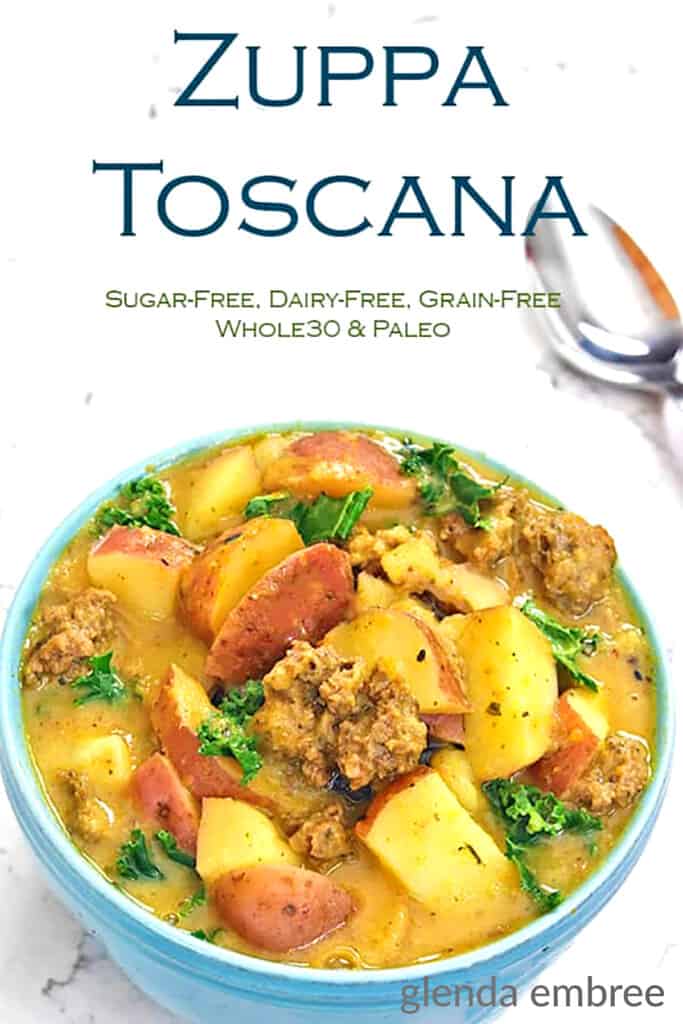 What Is Zuppa Toscana
Tra­di­tion­al Zup­pa Toscana orig­i­nat­ed in the Tus­cany area and in its clas­sic form, would include can­neli­ni beans and tons of veg­gies, like zuc­chi­ni, car­rots, cel­ery, pota­toes, kale and even toma­to pulp. It would also include Ital­ian bacon, chili pow­der and toast­ed bread. It makes me think more of a mine­strone. That's def­i­nite­ly not how we pic­ture Zup­pa Toscana in the U.S.
The Amer­i­can­ized ver­sion of Zup­pa Toscana, that is so pop­u­lar in the Unit­ed States, elim­i­nates beans and most of the veg­eta­bles in the soup. It also adds heavy cream and amps up the calo­ries sub­stan­tial­ly. Since I'm doing Whole 30, this month; and super con­scious of gluten free, grain free, eat­ing, my ver­sion will be a mod­i­fied ver­sion that comes some­where in the mid­dle of the clas­sic and Amer­i­can recipes.
I want­ed my soup to include all the fla­vor and nutri­tion that comes from veg­gies, but allow it to have more of the appear­ance of the famil­iar restau­rant chain Zup­pa Toscana, that my fam­i­ly loves and accepts. lol
How I Make My Non-Traditional Gluten Free Zuppa Toscana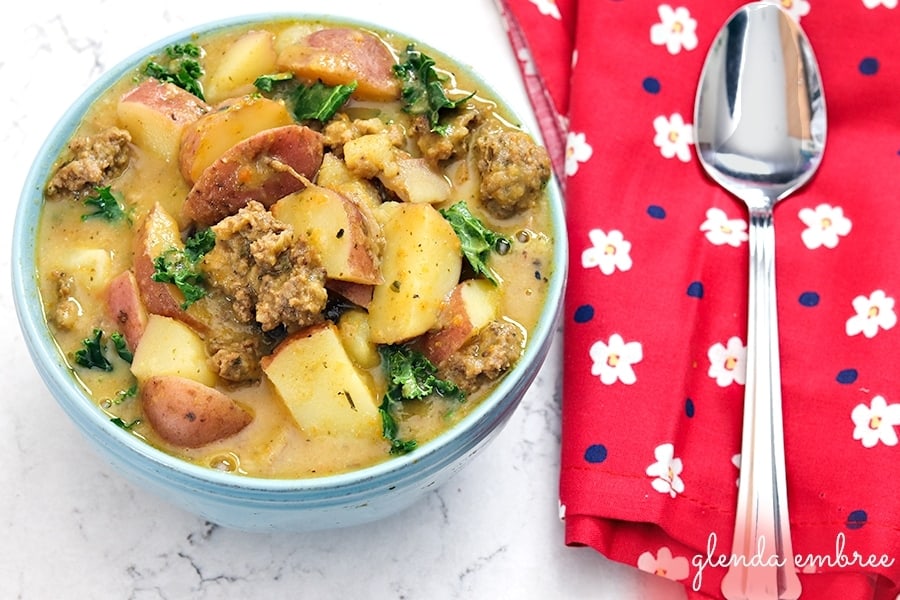 I minced the veg­eta­bles up, fine­ly, in my food proces­sor. Then I cooked them down in part of the chick­en stock until they all but dis­ap­peared. After that, I used my stick blender to fin­ish them off. lol No one in my fam­i­ly will EVER be able to detect them, except for the love­ly fla­vors. That's a win for Mom. Thank you very much.
I also want­ed to amp up the fla­vor of the chick­en stock. As you know from pre­vi­ous soup recipes, I would typ­i­cal­ly add bouil­lon to do that. That is not gluten free or Whole 30 com­pli­ant, how­ev­er. My solu­tion was nutri­tion­al yeast, and believe it or not, apple cider vine­gar. They worked perfectly!
So, like the famous restau­rant chain, my Zup­pa Toscana recipe is far from tra­di­tion­al, but it is out-of-this-world deli­cious! If you're look­ing for warm and fla­vor­ful com­fort food to get you through the snowy day blues, this recipe is a win­ner! I hope you enjoy this deli­cious soup as much as we do!
How To Make Gluten Free Zuppa Toscana
Brown the Home­made Ital­ian Sausage (or your store-bought sausage). Drain it and set it aside.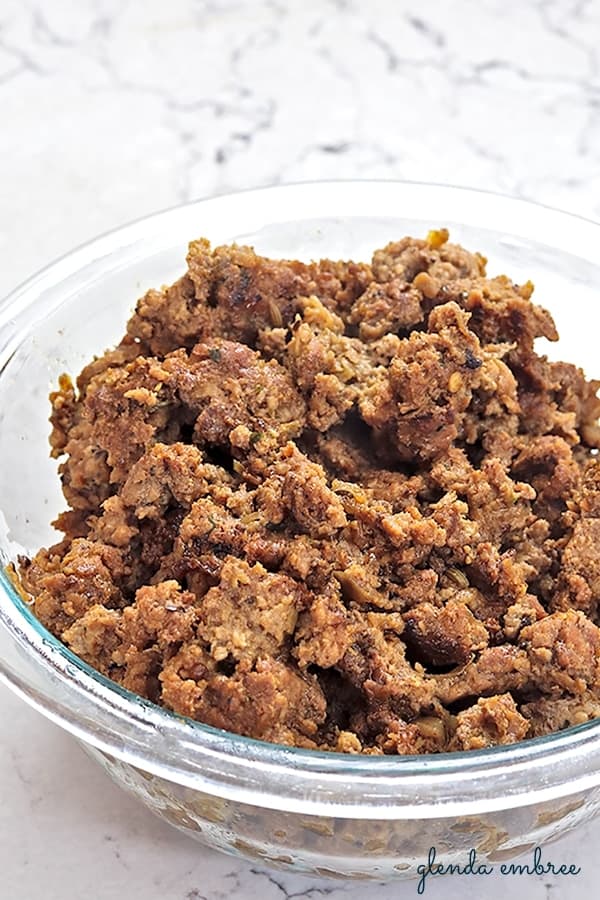 Next prep the zuc­chi­ni, onion, car­rots and cel­ery. Wash them and then cut them in chunks that will eas­i­ly fit the bowl of your *food proces­sor. Pulse mul­ti­ple times to grind the veg­eta­bles to a very fine mince. You want them to cook away in the broth, leav­ing only their fla­vor, so they should be very small.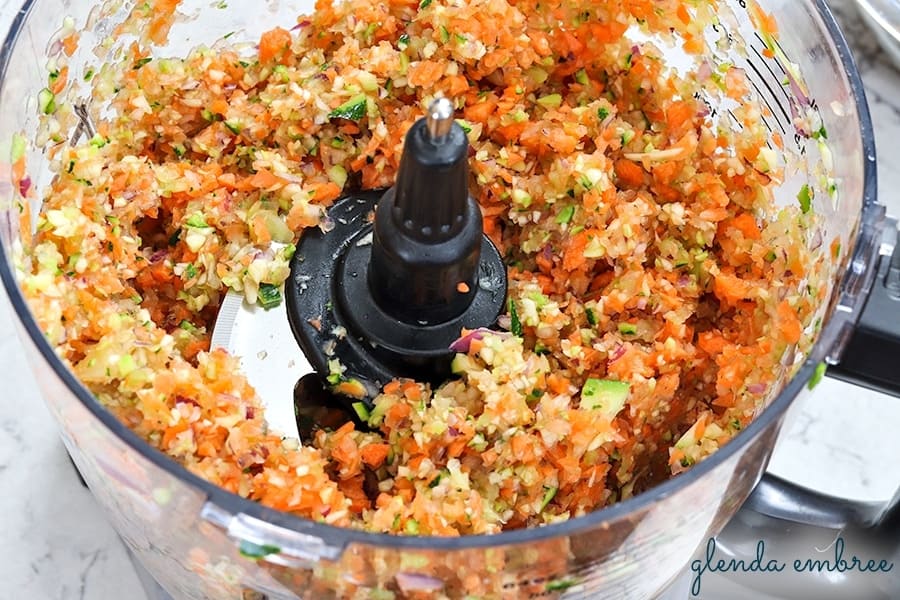 *Affiliate  Link
Put the minced veg­gies, gar­lic, Ital­ian sea­son­ing, red pep­per flakes and salt into your favorite stock or soup pot. Pour 8 cups of the chick­en stock over the veg­gies and bring to a boil over medi­um high heat. Once it's boil­ing, reduce the heat to a sim­mer and let the veg­gies cook down for bout 30 minutes.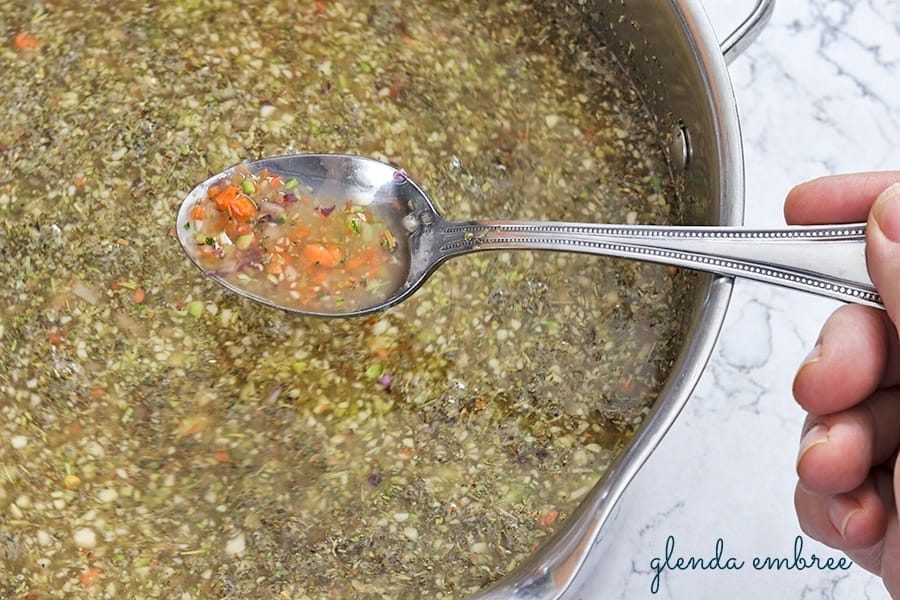 Dice the pota­toes while the veg­gies are cook­ing. Scrub them well and leave the skins on. Cut them into bite-size pieces so they're easy to eat and will cook quick­ly, too. Set them aside until the veg­gies and stock are ready.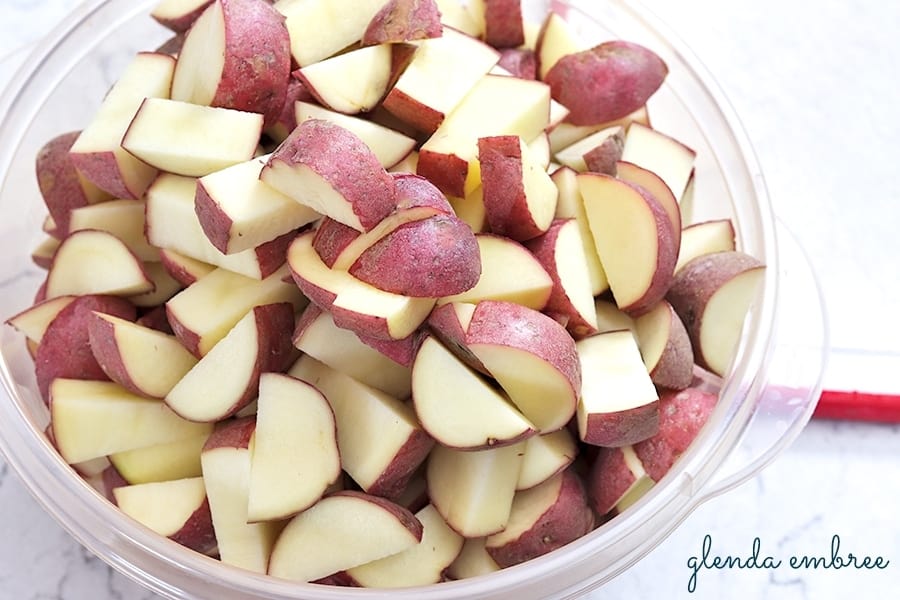 After 30 min­utes, your chick­en stock will have reduced and your veg­eta­bles will prob­a­bly have melt­ed right into the broth. If you want the veg­gies even smoother, use a stick blender to puree them com­plete­ly. That will thick­en the broth and that's ok, because you're going to add the last 4 cups of the broth, soon. Taste the broth, now, and add salt and pep­per to taste.
When you have the soup broth just the way you want it, bring it to a boil over medi­um high heat. Add the diced pota­toes and cook until the pota­toes are tender.
When the pota­toes are done, add the vine­gar, nutri­tion­al yeast and the coconut milk. Con­tin­ue to cook until the soup comes back up to tem­per­a­ture. Just one or two minutes.
You can add chopped kale to the pot and then remove it from the heat, or you can put a lit­tle chopped kale in the bot­tom of each bowl and ladle the soup over it. That's what we do at our house, because I have one who does­n't care for kale. This method also keeps the kale bright green and fresh. It gets more dark and limp the longer it sits in the broth, so left­overs would­n't be as vibrant, unless you use the bowl method. You decide what works best for your fam­i­ly. Enjoy, this deli­cious Whole 30 com­pli­ant com­fort food, my Friend!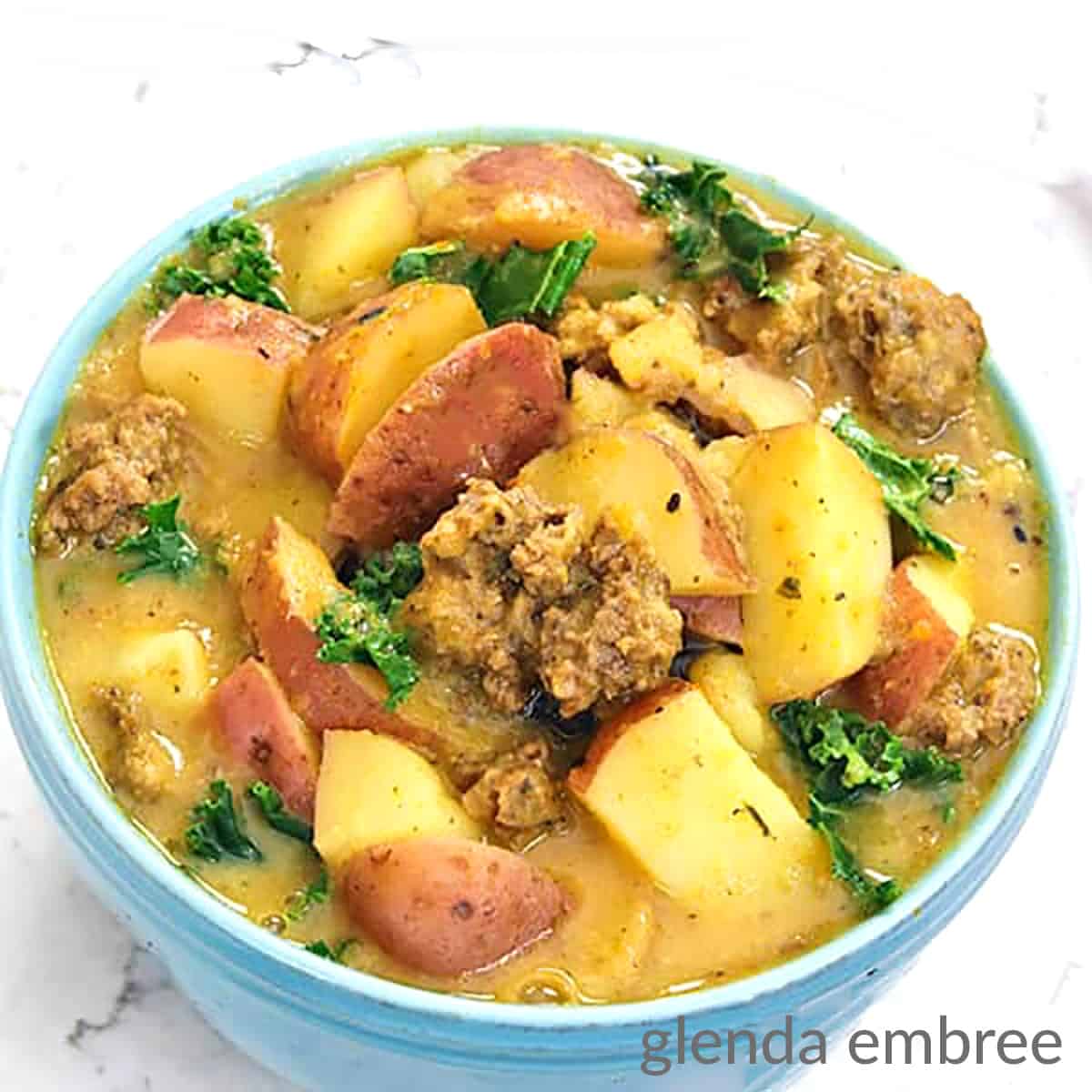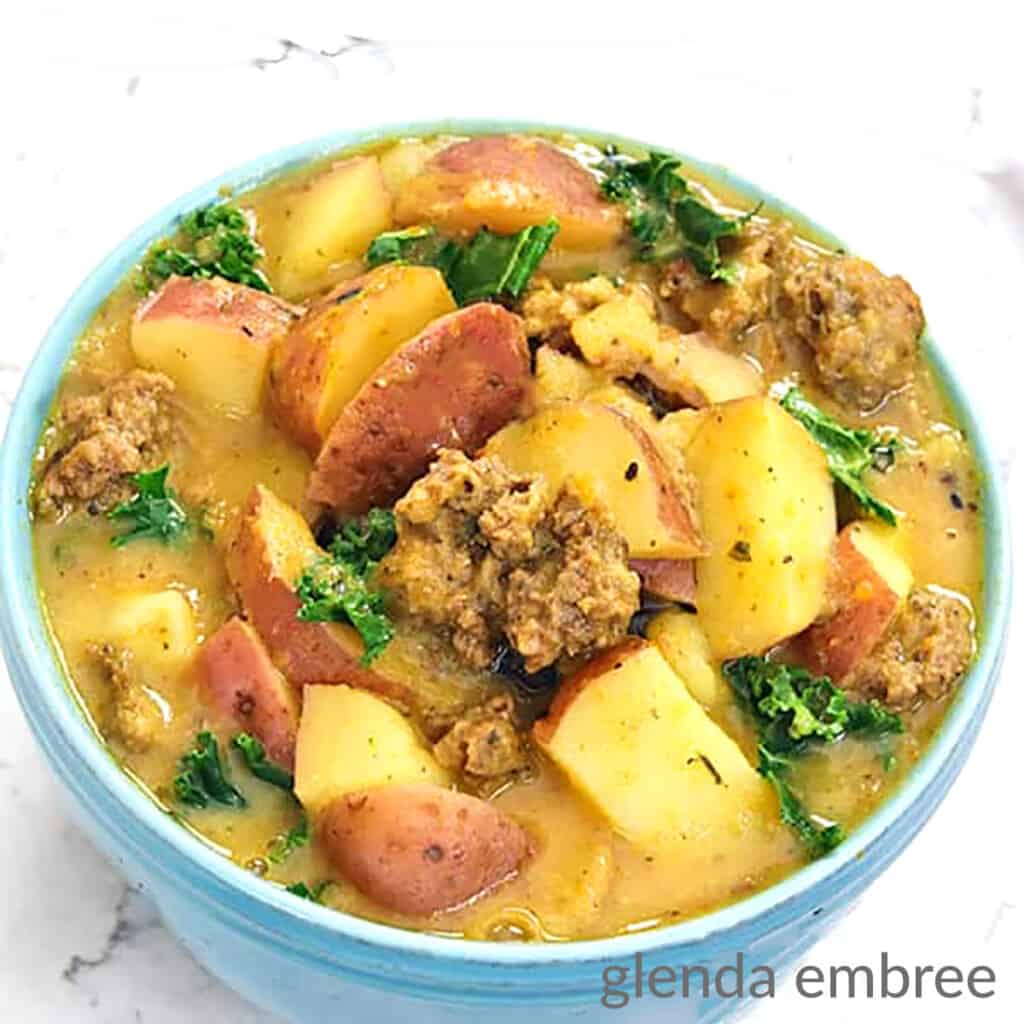 Print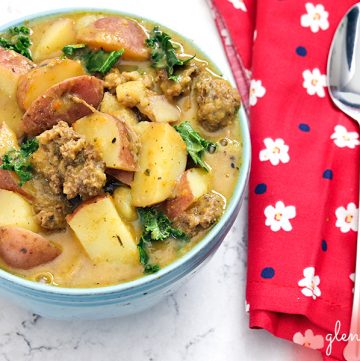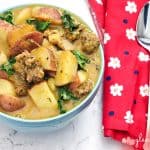 Delicious Zuppa Toscana
---
Author:

Total Time:

1 hour

Yield:

8

-

10

serv­ings

1

x
1

lb home­made Ital­ian sausage (or store-bought, if that's what you have)

12 cup

s chick­en broth (Make sure it's com­pli­ant if you're doing Whole30.)

3

lbs red pota­toes, diced to bite-size (leave the skin on)

3

car­rots, minced

3

stalks cel­ery, minced

1

small zuc­chi­ni, minced

1

medi­um red onion, minced

3 cup

s chopped kale

1/2 cup

canned full-fat coconut milk

2 Table­spoons

nutri­tion­al yeast

1 Table­spoon

apple cider vinegar

1

Table­spoon minced garlic

1

Table­spoon Ital­ian seasoning

1/2 tea­spoon

red pep­per flakes

1 tea­spoon

salt
addi­tion­al salt and pep­per, to taste
option­al gar­nish: crum­bled Whole30 com­pli­ant bacon and chopped parsley
---
Instructions
Brown and drain the Ital­ian sausage. Set aside.
Cut the cel­ery, car­rots, zuc­chi­ni and onion into chunks and pulse in the food proces­sor until they are very fine mince. The goal is to have the fla­vor and nutri­tion of the veg­gies in our soup, with­out nec­es­sar­i­ly see­ing them. By minc­ing them fine, they will melt away into the broth, adding body and won­der­ful savory flavor.
Put the minced veg­eta­bles, gar­lic, Ital­ian sea­son­ing, red pep­per flakes and salt into a large stock pot.
Pour 8 cups of the chick­en broth over the ingre­di­ents in the pan and stir to combine.
Bring to a boil and then reduce the heat to allow it to con­tin­ue to sim­mer. Sim­mer for 30 min­utes or until most of the veg­eta­bles have melt­ed into the broth. Your broth will have reduced down and the mix­ture will be thick. Don't pan­ic. We're adding more stock in a bit.
While the veg­gies sim­mer, chop the pota­toes into bite-size dice. (I leave the skins on.) Set the pota­toes aside for just a bit.
Just to appease my picky veg­gie peo­ple, I run my stick blender through the broth and blend in the remain­ing specks of veg­eta­bles. This also thick­ens and gives body to the broth. Which is per­fect for achiev­ing restau­rant-style creami­ness when you add the coconut milk, lat­er. You decide what you and your fam­i­ly pre­fer, though — blend­ed or not.
Add the last 4 cups of stock to the pot.
Add the apple cider vine­gar and nutri­tion­al yeast. Stir to combine.
Taste the broth and sea­son with salt and pep­per, to taste.
Bring every­thing back to a boil.
Add the bite-size pota­to pieces and cook until they are tender.
When the pota­toes are ten­der, add the sausage and coconut milk and sim­mer just one or two min­utes until they are warmed by the soup. (Remem­ber to stir the coconut milk, before mea­sur­ing, if it has sep­a­rat­ed in the can.)
At this point, you can stir in the chopped kale and remove the pot from the heat. If you're expect­ing to have left­overs, though, I have anoth­er sug­ges­tion. I don't mix the kale into the soup pot. I put chopped kale in the bot­tom of the indi­vid­ual bowls and ladle the soup over it. Left in the soup, stored in the fridge, the kale would get dark and limp. But, by using the bowl method, it's vibrant­ly green and fresh even in left­overs. So, it's up to you. If you're going to eat it in one sit­ting, stir the kale into the pot. If not, I rec­om­mend adding it to indi­vid­ual bowls.
Serve with a gar­nish of chopped bacon and parsley.
Prep Time:

15 min

Cook Time:

45 min

Cat­e­go­ry:

Main Dish, Soup

Cui­sine:

Amer­i­can
Key­words: soup, sausage, potatoes