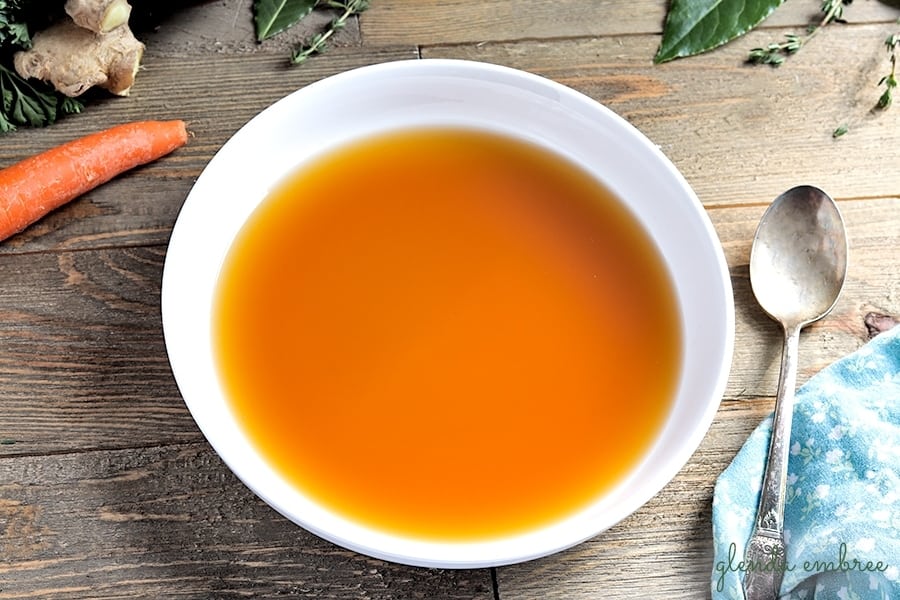 Best Home­made Veg­etable Stock recipe. Hand's down! With a title like that, you'd think I'd be feel­ing a lit­tle pres­sure about hav­ing to deliv­er. But you guys…this is seri­ous­ly the best veg­etable stock I have ever tast­ed. No com­par­isons. And it will be the base for so many things I cook, from soups and stews, to rice and quinoa or roasts.
I've hon­est­ly tried mak­ing home­made veg­etable stock in the past, but the fla­vor nev­er real­ly grabbed me. It was­n't any dif­fer­ent than the car­tons of stock I could buy at the store. And to tell the truth, I always "doc­tor" those up when I use them. They just don't have much flavor.
After dozens of stock pots of tri­al and error exper­i­ments, I'm hap­py to announce I have dis­cov­ered the best home­made veg­etable stock recipe. This beau­ti­ful veg­gie broth has a rich, savory fla­vor that makes you think meat, even though there isn't any. That uma­mi is com­ing from lots of onions and gar­lic, a bit of nutri­tion­al yeast and the earth­i­ness of baby bel­la mush­rooms. Car­rots bring the sweet and the toma­toes and cider vine­gar reign them in, so there's a per­fect bal­ance of sweet and acid. The fin­ish is an unex­pect­ed kick of gen­tle heat from some jalapeno and ginger.
The nutri­tion is off the charts, too. My home­made veg­etable broth boasts all the col­ors of the rain­bow in veg­gies, herbs and spices, so the vit­a­mins and min­er­als are all in there.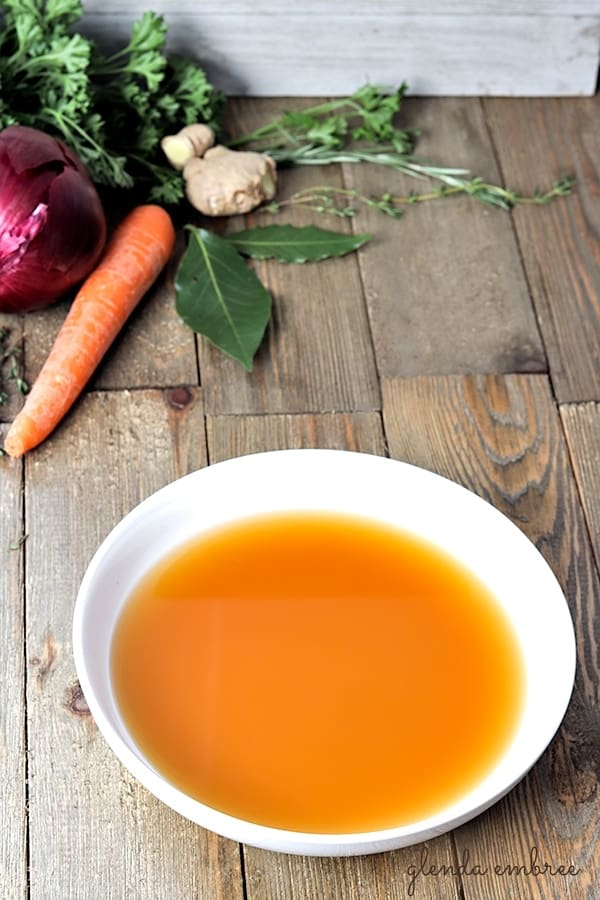 The Best Homemade Vegetable Stock Ingredients
Does It Make Economic Sense?
The great news is, it did­n't cost me any more to make this from scratch than it costs to buy those car­tons of stock I'm used to. And if you fac­tor in every­thing I add to car­ton broth, it prob­a­bly costs a lit­tle less, to make it at home.
The rea­son this stock is so much more afford­able than meat broths is that it starts with veg­gie scraps. All the peels and car­rot tops, all the root ends of cel­ery, rub­bery zuc­chi­ni from the back of the crisper, onion skins, roots & tops, bell pep­per ends and stems and all the rest.
Save Veggie Scraps in the Freezer
I keep a one-gal­lon zip-top bag in my fridge freez­er. I use it to col­lect all the bits and ends of veg­gies I've used in oth­er dish­es or ones that have got­ten too old before I get them used. When the bag is full, it's time to make home­made veg­etable stock.
A recipe with so many pos­si­ble vari­a­tions can seem com­pli­cat­ed. Trust me! This is 10 min­utes to get every­thing into the stock pot and that's it. I add fresh veg­eta­bles to the bits and pieces from the freez­er with a few herbs and some water. 10 min­utes of prep and then I'm off about my busi­ness. The stock pot and my stove do all the work for the next 8 hours, so I can just get on with my day.
The beau­ty of this kind of stock is you are work­ing with a few sta­ple basics and then the rest can be altered to use what you have on hand. It's hard to call it a recipe because so many vari­ables can change, depend­ing on what's in your pantry. And the end result, 4 beau­ti­ful quarts of stock! Yup. One whole gallon!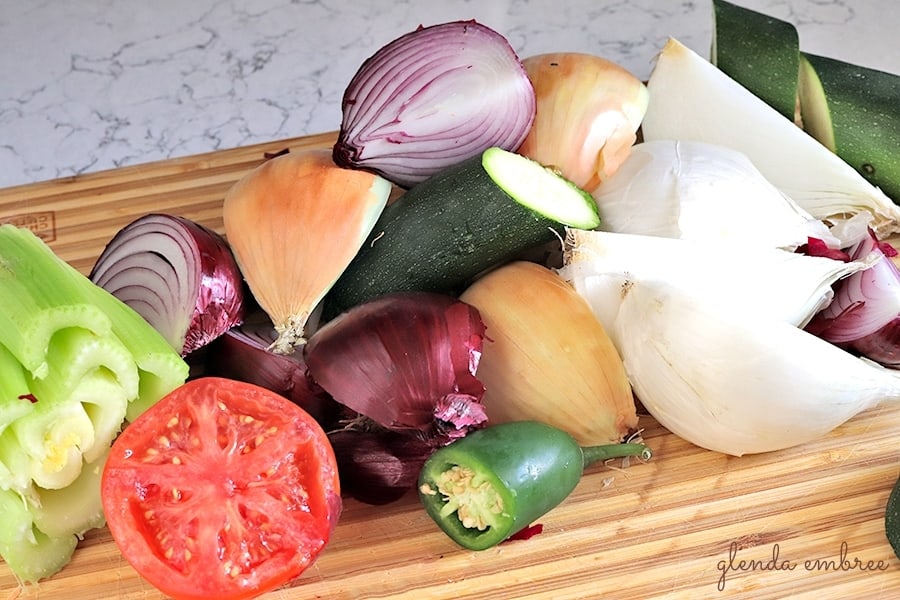 You need 8.5 pounds of veg­gies in your stock pot [affil­i­ate link]. (That's the link to my favorite stock pot. I've had it since 2003 and after two decades, it's still going strong.)
Of course you're going to have a bag of odds and ends from the freez­er. Perfect!
And you're going to get every stray brus­sels sprout, aspara­gus spear and bell pep­per from the back of the crisper draw­er. Outstanding!
Your home­made veg­etable stock will be a mix-up of all the favorite veg­gies that you're used to buy­ing. But, there are some ingre­di­ents, after all my test­ing, that I would con­sid­er crit­i­cal to a great end prod­uct, above and beyond those items. To get the same results, you will need to add these.
"Must Have" Ingredients
Onions, at least 3 very large — I actu­al­ly used 1 large red, white and yel­low and then two more small­er red ones.
Gar­lic — a cou­ple Table­spoons of minced gar­lic will add to the savori­ness of your fin­ished veg­etable broth
Mush­rooms — I used 1 pound of baby bel­las. My guess is any "meaty"-type mush­room will do the same thing.
Whole Peeled or Diced toma­toes — these canned toma­toes will add col­or and nutri­tion, but they'll essen­tial­ly "melt" away into your stock, giv­ing it body, acid and meatiness.
*Nutri­tion­al Yeast [affil­i­ate link] — I've sprung this ingre­di­ent on you in oth­er recipes. It is that kick of amped up fla­vor that many veg­gie dish­es ben­e­fit from. If you've nev­er tried it, you will be blown away by the depth of fla­vor it can add to a dish. I would­n't leave this out. I've pur­chased it at Wal­mart, but most often order in bulk, online.
Apple Cider Vine­gar- The vine­gar cre­ates a good sweet and acid bal­ance that is a nice fin­ish to the broth.
Bay leaves, jalapeno and gin­ger — Bay leaves are an herb I con­sid­er essen­tial to any broth, stock, soup, stew, or roast meat dish. No oth­er herb brings that spe­cif­ic aro­ma and fla­vor. I only used half a jalapeno and you can use even less if you want, but that pep­per along with the gin­ger, leave that lit­tle bit of sat­is­fy­ing heat at the back of your throat when you fin­ish a bite of this home­made veg­etable broth. You would be miss­ing that spec­tac­u­lar lay­er of fla­vor if you omit­ted them.
Your Favorite Herbs — Use the com­bi­na­tions you love best. Fresh or dried real­ly does­n't mat­ter. Remem­ber that with dried the fla­vor is con­cen­trat­ed, though, so only use 1/3 the amount you would with fresh. I raid­ed the last of my dry­ing up herb gar­den for these. They worked perfectly!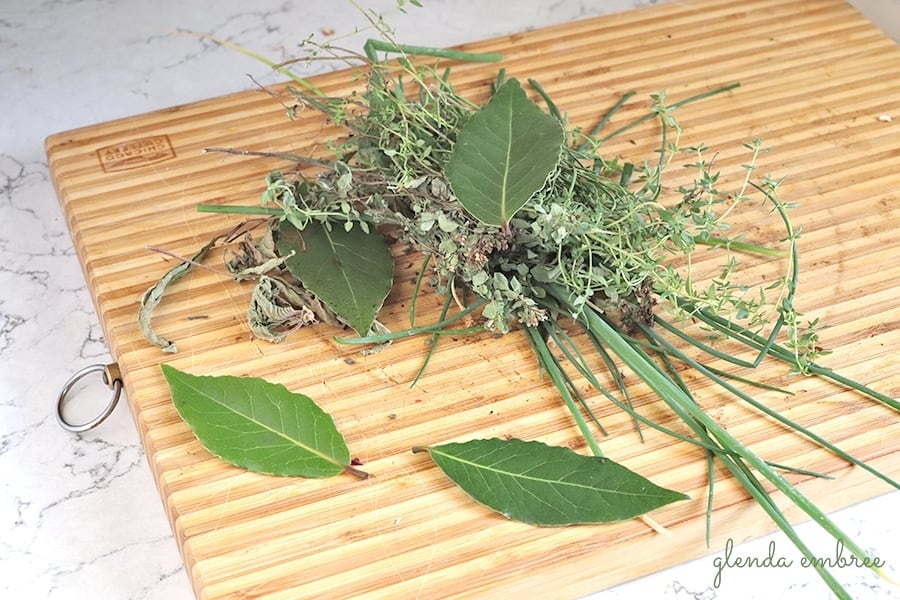 How to Make the Best Homemade Vegetable Broth
Print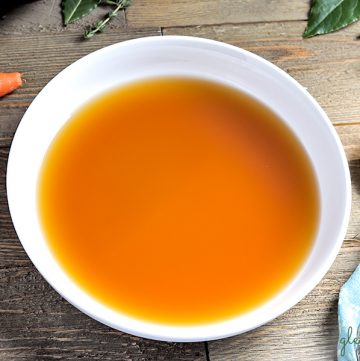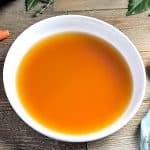 Best Homemade Vegetable Stock Ever!
---
Author:

Total Time:

8 hours 10 minutes

Yield:

4 quarts

(

16 cups

)

1

x
Description
Best Home­made Veg­etable Stock has a rich, savory fla­vor that makes you think meat, even though there isn't any.
---
8.5

lbs of fresh veg­eta­bles and veg­etable scraps (should include onions, gar­lic and mushrooms)


1

(28 oz) can of whole peeled (or diced) toma­toes ( or

2

-

14

oz cans)

24 cups

(6 quarts) of water

2 Table­spoons

sea salt

2 Table­spoons

of coarse black pepper

2 Table­spoons

minced garlic

3

-

4

bay leaves (If you have no oth­er herbs, these are essential.)

4

-

5

Table­spoons of mixed fresh herbs (or

2

-

2 1/2

Table­spoons dried)

1/4 cup

nutri­tion­al yeast

2 Table­spoons

apple cider vinegar
Veg­gies I used today in addi­tion to my frozen scraps. These with my scraps com­prised the total 8.5 pounds of veggies.

1 large red onion and 2 small­er red onions, quartered

1 large white onion, quartered

1 large yel­low onion, quartered

an old rub­bery zucchini

1/2 a toma­to we had used for slic­ing sev­er­al days ago

half a bag of wrinkly baby bell peppers

half a jalapeno with seeds

wilt­ed rem­nants of a bag of fresh spinach

1 1/2 lbs car­rots (mix of old­er baby car­rots and 1 lb of whole new carrots)

old cel­ery root and 4 fresh ribs, rough diced

1 lb of baby bel­la mushrooms

2"knob fresh gin­ger, unpeeled and quartered

2 sprigs fresh rosemary

7 or 8 sprigs fresh thyme

2 sprigs fresh sage
---
Instructions
Rough chop all the veg­gies and put them in a LARGE (at least 16 quart)

stock pot [affil­i­ate link]. If your stock pot is small­er, cut this recipe in half. If half the recipe won't fit in your cur­rent stock pot, you need to invest in a great stock pot as an essen­tial kitchen tool. I use mine, at least once a week and often, even more. It's a great item to add to your Christ­mas or birth­day wish list if you don't have the cash to invest, right away. But get a good one. Some­thing sol­id. Mine are hard core, heavy duty stain­less steel and will lit­er­al­ly be passed down to my kids and prob­a­bly my grand­kids, even with all the use they get. I have a *

16 quart

and a *

12 quart

that I pur­chased in 2003. They're still going strong!


Add the canned toma­toes, salt, pep­per, gar­lic, bay leaves and oth­er herbs.

Pour 24 cups (6 quarts) of water over every­thing. Veg­gies will be show­ing above the water and that's fine. As this cooks, the veg­gies will cook down and shriv­el as they release their own liq­uid. You don't need every­thing sub­merged right now.

DON'T ADD the yeast or vine­gar until the end, after the broth has been strained.

Turn the heat on high to get the water to come to a boil.

Once it's boil­ing, reduce it to medi­um-low (On my stove, that's 4 out of 10.) You don't want it to stay at a hard boil, just to con­tin­ue to bub­ble and sim­mer. Now, go about your busi­ness and enjoy your day. Your house is going to start smelling like someone's Grand­ma invad­ed and is cook­ing you a sump­tu­ous meal from the "old coun­try". The aro­ma will be intox­i­cat­ing! Enjoy!

If you pass the kitchen through the day, check your water lev­el. You're going to allow this to sim­mer a min­i­mum of 8 hours, so start­ing first thing in the morn­ing is a good plan. Try and keep the water lev­el about at the same lev­el as when you first began. It will def­i­nite­ly drop some over time. So, if you're pass­ing and it seems a lit­tle low, you can add some more water. I added an addi­tion­al 5 cups of water about 4 hours in.

After 8 hours, place a strain­er over a large pot and strain what's left of the veg­eta­bles out of the stock. They will look like a sad, pile of brown mush. All the good­ness has cooked into your veg­etable stock! Dis­card the spent veggies.

Stir the nutri­tion­al yeast and apple cider vine­gar into your strained stock.

Taste the stock and addi­tion­al salt if it's needed.

Trans­fer to con­tain­ers for the fridge or freez­er. The stock will be good in the fridge for about a week and up to six months in the freezer.
Prep Time:

10 min­utes

Cook Time:

8 hours

Cat­e­go­ry:

Soups

Method:

Slow Cook

Cui­sine:

Amer­i­can
Key­words: veg­etable, broth, stock, herbs
Recipes for Using Homemade Vegetable Stock