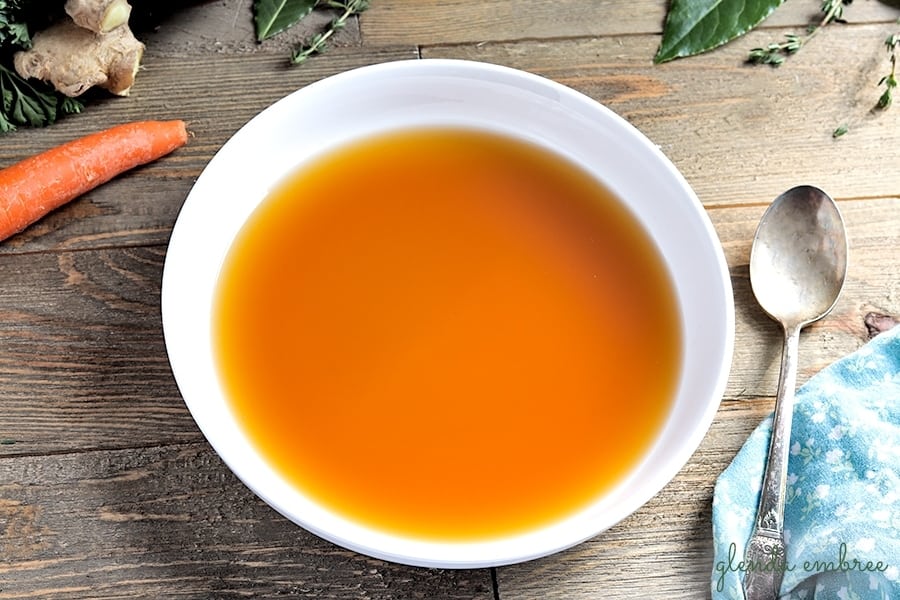 Best Homemade Vegetable Stock. Hand's down! With a title like that, you'd think I'd be feeling a little pressure about having to deliver. But you guys…this is seriously the best vegetable stock I have ever tasted. No comparisons. And it will be the base for so many things I cook, from soups and stews, to rice and quinoa or roasts.
I've honestly tried making homemade vegetable stock in the past, but the flavor never really grabbed me. It wasn't any different than the cartons of stock I could buy at the store. And to tell the truth, I always "doctor" those up when I use them. They just don't have much flavor.
After dozens of stock pots of trial and error experiments, I'm happy to announce I have discovered the best homemade vegetable stock recipe. This beautiful veggie broth has a rich, savory flavor that makes you think meat, even though there isn't any. That umami is coming from lots of onions and garlic, a bit of nutritional yeast and the earthiness of baby bella mushrooms. Carrots bring the sweet and the tomatoes and cider vinegar reign them in, so there's a perfect balance of sweet and acid. The finish is an unexpected kick of gentle heat from some jalapeno and ginger.
The nutrition is off the charts, too. My homemade vegetable broth boasts all the colors of the rainbow in veggies, herbs and spices, so the vitamins and minerals are all in there.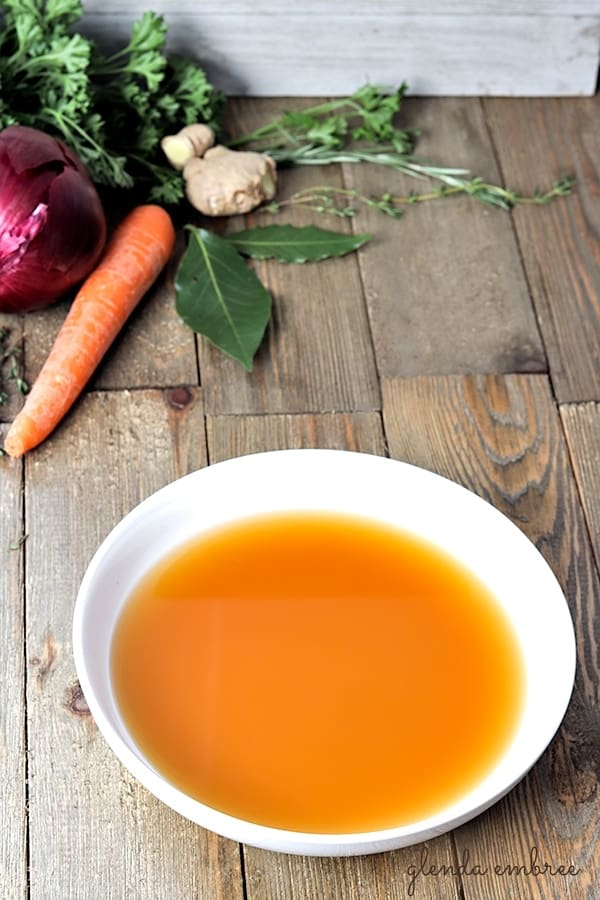 The Best Homemade Vegetable Stock Ingredients
Does It Make Sense, Economically to Make It from Scratch?
The great news is, it didn't cost me any more to make this from scratch than it costs to buy those cartons of stock I'm used to. And if you factor in everything I add to carton broth, it probably costs a little less, to make it at home.
The reason this stock is so much more affordable than meat broths is that it starts with veggie scraps. All the peels and carrot tops, all the root ends of celery, rubbery zucchini from the back of the crisper, onion skins, roots & tops, bell pepper ends and stems and all the rest.
Save Veggie Scraps in the Freezer
I keep a one-gallon zip-top bag in my fridge freezer. I use it to collect all the bits and ends of veggies I've used in other dishes or ones that have gotten too old before I get them used. When the bag is full, it's time to make homemade vegetable stock.
A recipe with so many possible variations can seem complicated. Trust me! This is 10 minutes to get everything into the stock pot and that's it. I add fresh vegetables to the bits and pieces from the freezer with a few herbs and some water. 10 minutes of prep and then I'm off about my business. The stock pot and my stove do all the work for the next 8 hours, so I can just get on with my day.
The beauty of this kind of stock is you are working with a few staple basics and then the rest can be altered to use what you have on hand. It's hard to call it a recipe because so many variables can change, depending on what's in your pantry. And the end result, 4 beautiful quarts of stock! Yup. One whole gallon!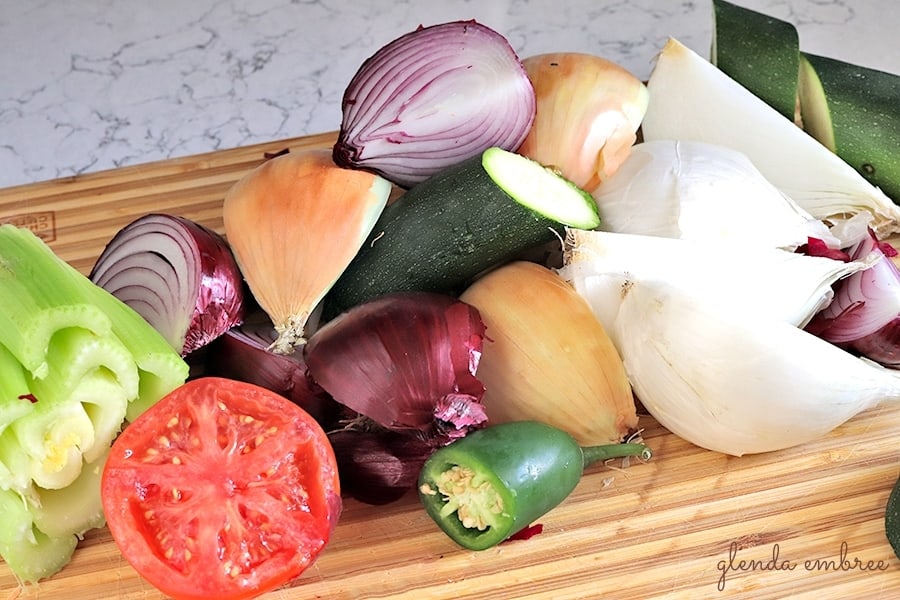 You need 8.5 pounds of veggies in your *stock pot. Of course you're going to have a bag of odds and ends. Perfect! And you're going to get every stray brussels sprout, asparagus spear and bell pepper from the back of the crisper drawer. Outstanding! Your homemade vegetable stock will be a mix-up of all the favorite veggies that you're used to buying. But, there are some ingredients, after all my testing, that I would consider critical to a great end product, above and beyond those items. To get the same results, you will need to add these.
"Must Have" Ingredients
Onions, at least 3 very large – I actually used 1 large red, white and yellow and then two more smaller red ones.
Garlic – a couple Tablespoons of minced garlic will add to the savoriness of your finished vegetable broth
Mushrooms – I used 1 pound of baby bellas. My guess is any "meaty"-type mushroom will do the same thing.
Diced tomatoes – these canned tomatoes will not only add color and nutrition but will essentially "melt" away into your stock, giving it body, acid and meatiness.
*Nutritional Yeast – I've sprung this ingredient on you in other recipes. If you've never tried it, you will be blown away by the depth of flavor it can add to a dish. I wouldn't leave this out. I've purchased it at Walmart, but most often order in bulk, online.
Apple Cider Vinegar– The vinegar creates a good sweet and acid balance that is a nice finish to the broth.
Bay leaves, jalapeno and ginger – Bay leaves are an herb I consider essential to any broth, stock, soup, stew, or roast meat dish. No other herb brings that specific aroma and flavor. I only used half a jalapeno and you can use even less if you want, but that pepper along with the ginger, leave that little bit of satisfying heat at the back of your throat when you finish a bite of this homemade vegetable broth. You would be missing that spectacular layer of flavor if you omitted them.
Your Favorite Herbs – Use the combinations you love best. Fresh or dried really doesn't matter. Remember that with dried the flavor is concentrated, though, so only use 1/2 the amount you would with fresh. I raided the last of my drying up herb garden for these. They worked perfectly!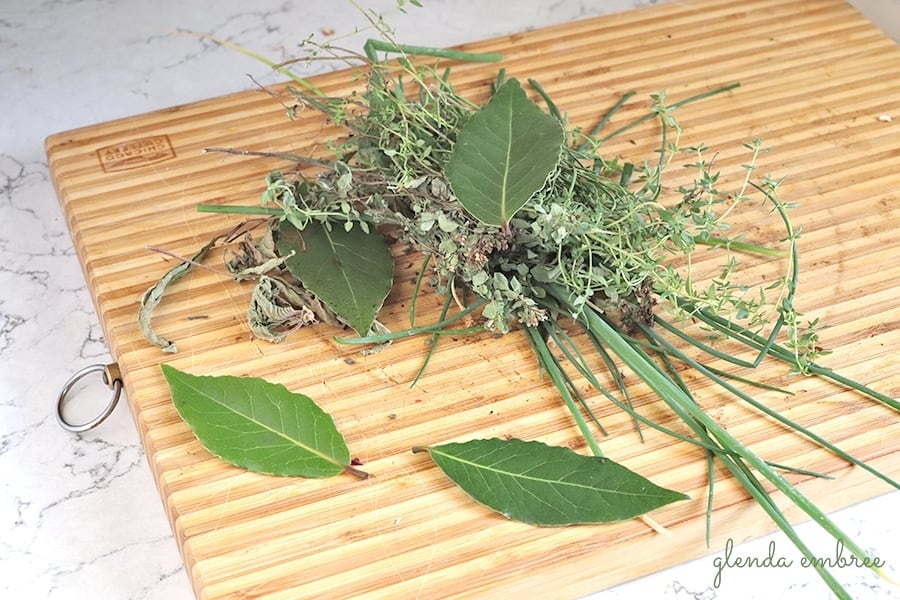 How to Make the Best Homemade Vegetable Broth
Print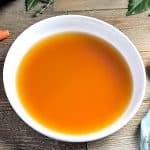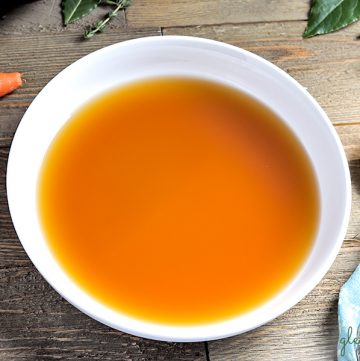 Best Homemade Vegetable Stock Ever!
---
Author:

Prep Time:

10 minutes

Cook Time:

8 hours

Total Time:

8 hours 10 minutes

Yield:

4 quarts

(

16 cups

)

1

x
Scale
Ingredients
8.5

lbs of fresh vegetables and vegetable scraps  (should include onions, garlic and mushrooms)


1

(28 oz) can of diced tomatoes ( or

2

–

14

oz cans)

24 cups

(6 quarts) of water

2 Tablespoons

sea salt

2 Tablespoons

of coarse black pepper

2 Tablespoons

minced garlic

3

–

4

bay leaves  (If you have no other herbs, these are essential.)

4

–

5

Tablespoons of mixed fresh herbs (or

2

–

2 ½

Tablespoons dried)

¼ cup

nutritional yeast

2 Tablespoons

apple cider vinegar
Veggies I used today in addition to my scraps.  These with my scraps comprised the total 8.5 pounds of veggies.

1 large red onion and 2 smaller red onions, quartered

1 large white onion, quartered

1 large yellow onion, quartered

an old rubbery zucchini

½ a tomato we had used for slicing several days ago

half a bag of wrinkly baby bell peppers

half a jalapeno with seeds

wilted remnants of a bag of fresh spinach

1 ½ lbs carrots (mix of older baby carrots and 1 lb of whole new carrots)

old celery root and 4 fresh ribs, rough diced

1 lb of baby bella mushrooms

2"knob fresh ginger, unpeeled and quartered

2 sprigs fresh rosemary

7 or 8 sprigs fresh thyme

2 sprigs fresh sage
---
Instructions
Rough chop all the veggies and put them in a LARGE (at least 16 quart) *

stock pot

.  If your stock pot is smaller, cut this recipe in half.  If half the recipe won't fit in your current stock pot, you need to invest in a great stock pot as an essential kitchen tool.  I use mine, at least once a week and often, even more.  It's a great item to add to your Christmas or birthday wish list if you don't have the cash to invest, right away.  But get a good one.  Something solid.  Mine are hard core, heavy duty stainless steel and will literally be passed down to my kids and probably my grandkids, even with all the use they get.  I have a *

16 quart

and a *

12 quart

.

Add the canned tomatoes, salt, pepper, garlic, bay leaves and other herbs.

Pour 24 cups (6 quarts) of water over everything.  Veggies will be showing above the water and that's fine.  As this cooks, the veggies will cook down and shrivel as they release their own liquid.  You don't need everything submerged right now.

DON'T ADD the yeast or vinegar until the end, after the broth has been strained.

Turn the heat on high to get the water to come to a boil.

Once it's boiling, reduce it to medium-low (On my stove, that's 4 out of 10.) You don't want it to stay at a hard boil, just to continue to bubble and simmer.  Now, go about your business and enjoy your day.  Your house is going to start smelling like someone's Grandma invaded and is cooking you a sumptuous meal from the "old country".  The aroma will be intoxicating!  Enjoy!

If you pass the kitchen through the day, check your water level.  You're going to allow this to simmer a minimum of 8 hours, so starting first thing in the morning is a good plan.  Try and keep the water level about at the same level as when you first began.  It will definitely drop some over time.  So, if you're passing and it seems a little low, you can add some more water.  I added an additional 5 cups of water about 4 hours in.

After 8 hours, place a strainer over a large pot and strain what's left of the vegetables out of the stock.  They will look like a sad, pile of brown mush.  All the goodness has cooked into your vegetable stock!  Discard the spent veggies.

Stir the nutritional yeast and apple cider vinegar into your strained stock. 

Taste the stock and additional salt if it's needed.

Transfer to containers for the fridge or freezer.  The stock will be good in the fridge for about a week and up to two months in the freezer.
---
Category:

Soups

Method:

Slow Cook

Cuisine:

American
Keywords: vegetable, broth, stock, herbs
Recipes for Using Homemade Vegetable Stock
My 10-Minute Easy Mexican Rice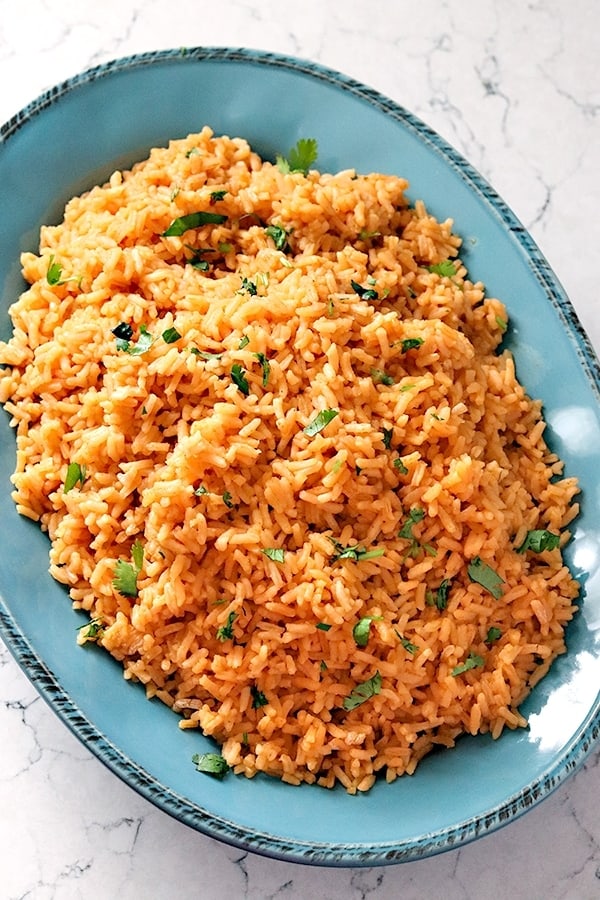 Best Ever Slow Cooker Refried Beans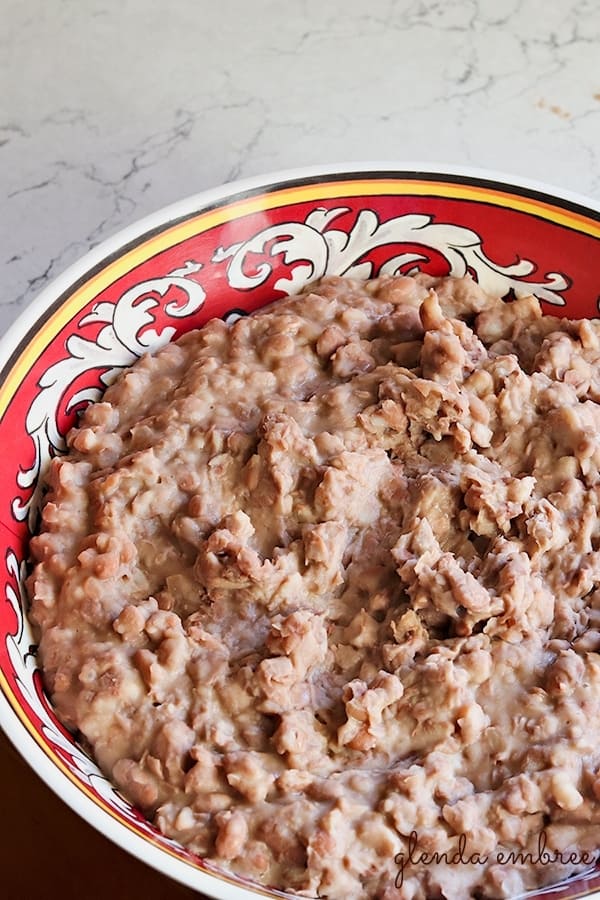 Jalapeno Chicken and Corn Chowder
I'll bet I won't need the extra bouillon in this recipe, now that I can make it with my Homemade Vegetable Broth!