Meatball Stew uses the scrumptiously spicy meatballs I taught you to make, early in the fall. Pull some out of the freezer or mix up a new batch to get the maximum flavor from this delicious, comfort-food stew. (You could, technically, buy a bag of frozen meatballs to use in this recipe. But, I promise you will not experience the same depth of savory kick as with my original meatballs.) If you're like me and always keep some of those meatballs in the freezer, this recipe will go together, quickly.
Meatball Stew will warm you to your toes on cold winter days. It will fill your home with warm, spicy aromas and it makes enough to have leftovers for lunch, tomorrow.
Enjoy!
Print
Magnificent Meatball Stew
---
Author:

Prep Time:

10 min

Cook Time:

45 min

Total Time:

55 minutes

Yield:

10

–

12

servings

1

x
Scale
Ingredients
2

–

2 1/2

lbs frozen meatballs (at least 30) from my recipe (Buy a bag of frozen if you forgot to make these.)

1

lb small pasta (I use ditalini, but small shells would also work)

8 cups

beef stock

1 Tablespoon

beef bouillon (I use Better than Bouillon brand.)

1

lb carrots, minced

6

stalks celery, minced

2

lg (or

3

medium) onions, minced

1

(14.5 oz) can petite diced, or crushed, tomatoes

3

(8 oz) cans tomato sauce

1 Tablespoon

minced garlic

1 Tablespoon

Italian seasoning

1

bay leaf

1 teaspoon

salt

1 teaspoon

black pepper
---
Instructions
Mince/grind the carrots, celery and onion in the *food processor (or by hand, if preferred).
Put minced veggies in the bottom of a large stock pot or dutch oven.
Add tomatoes, tomato sauce, bay leaf, Italian seasoning, salt and pepper.
Add beef stock.
Bring to a boil over high heat.  After the mixture begins boiling, reduce the heat to medium and allow to simmer for 30 minutes.
After 30 minutes add the meatballs. Stir to separate and then allow to continue heating through for 15 minutes.
Stir in the pasta and allow to continue cooking until pasta is cooked to al dente.  Stir frequently to prevent the pasta from sticking to the bottom of the pan and scorching.
Serve warm with crusty bread and a big green salad.
---
Category:

Soup, Stew

Cuisine:

Italian
Prepping the Vegetables
How you prep your veggies is going to depend on how your family likes them in soup. If I'm making vegetable soup, then I slice and chop the vegetables in larger chunks and pieces to make them the star of the bowl. But, for my family, I typically hide all the exquisite flavor and nutrition of veggies in the broth of my soups and stews.
In this recipe the meatballs are the star, with the pasta playing a close second in its supporting role. Most of my family would turn up their noses at large pieces of vegetables floating around with them. No worries, though. My solution to not losing one gram of the nutrition and flavor that veggies bring to the table is to grind/mince them in my *food processor.
By adding them to the pot in such a tiny form, they literally melt into the simmering broth and no one even knows they're there. Win for vitamins and minerals; and win for pleasing every palate.
So you decide what works best for your family. This recipe was prepped with all the veggies minced up fine. And there are more than TWO pounds of them! It's delicious stew, friends!
How to Make Meatball Stew
Start by prepping the vegetables. I had to do two batches in my food processor. I put the veggies in raw, with no added anything (not even a drop of water). The food processor literally ground them for me. P.S. You can add other veggies, too. Have a bell pepper or some zucchini that need used? Add them. It only adds more flavor and health-building nutrition. Go for it!
When the carrots, celery and onions (the standard veggie base of every soup I make) are minced, put them in a soup pot or Dutch oven with salt, pepper, Italian seasoning, minced garlic and a bay leaf.
Then add the petite diced tomatoes and tomato sauce. I use petite diced tomatoes for the same reason I mince all the other vegetables. They'll melt away into the broth. Crushed tomatoes should work like that, as well.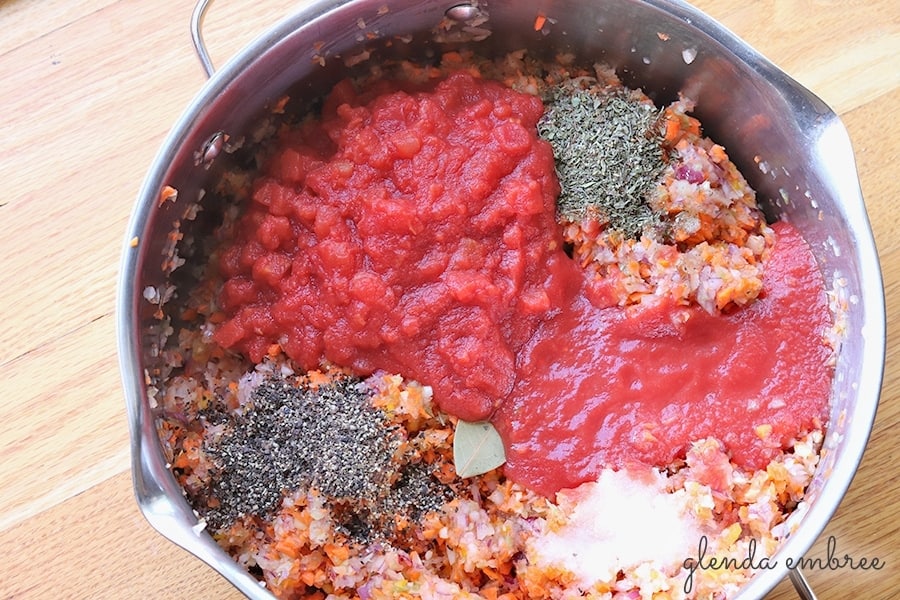 Finally, stir in the beef broth and bouillon. As you can see in the photo, below, my 4 quart dutch oven wasn't quite big enough to handle this recipe. There aren't even meatballs or pasta in there, yet. At that point, I transferred to my favorite stock pot and everything worked a lot easier.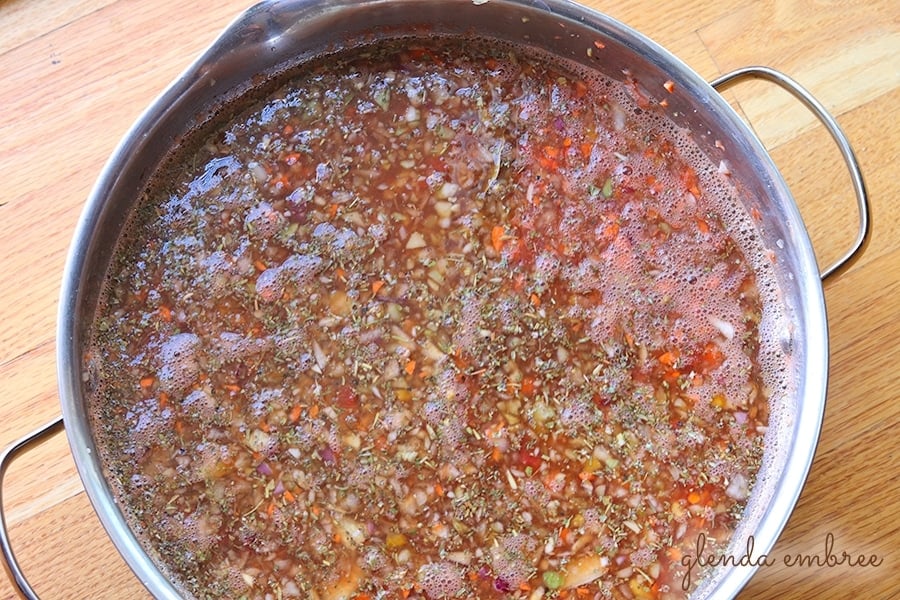 The Cooking
Begin cooking the broth on high heat until it comes to a boil. Once it's boiling, reduce the heat to medium and allow the broth and veggies to simmer for about 30 minutes. At the end of 30 minutes you could put your broth through a blender (I use a *stick blender for those kinds of jobs.) for 100% smoothness, but I find that the majority of veggies have already "disappeared".
Add the meatballs, (it's okay if they're frozen), and let them start warming through for about 15 minutes. Then add your pasta.
I use Ditalini Pasta in Meatball Stew. Any shape of small pasta should be good, however. The small shells would probably be good, too.
Continue to simmer the Meatball Stew on medium heat, until the pasta is cooked al dente (soft, but with a little bite to them – not mushy).
Serve your stew with some crusty bread and a big green salad. This is the dinner that all of us want to come home to on cold winter nights. Having meatballs pre-made and waiting in the freezer, makes it simple.
Enjoy, my friend!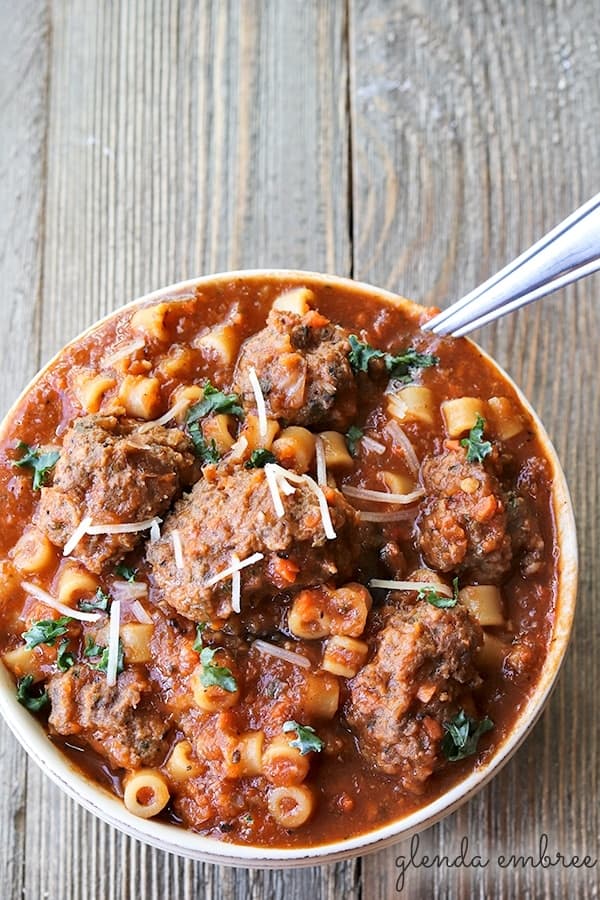 The Leftovers and More Soup Recipes
This soup will keep in the fridge for about 7 days. Like most soups and stews, the flavor gets even better the longer it sits. The pasta has a tendency to soak up more and more broth, though, so it becomes really thick. It WILL heat up in the microwave, that way. My personal preference, though, is to thin it with a little beef stock or water before I reheat mine, so I can enjoy it in a little more "soupy" form.
If you're looking for more great recipes to keep you warm this winter, try this Jalapeno Chicken and Corn Chowder.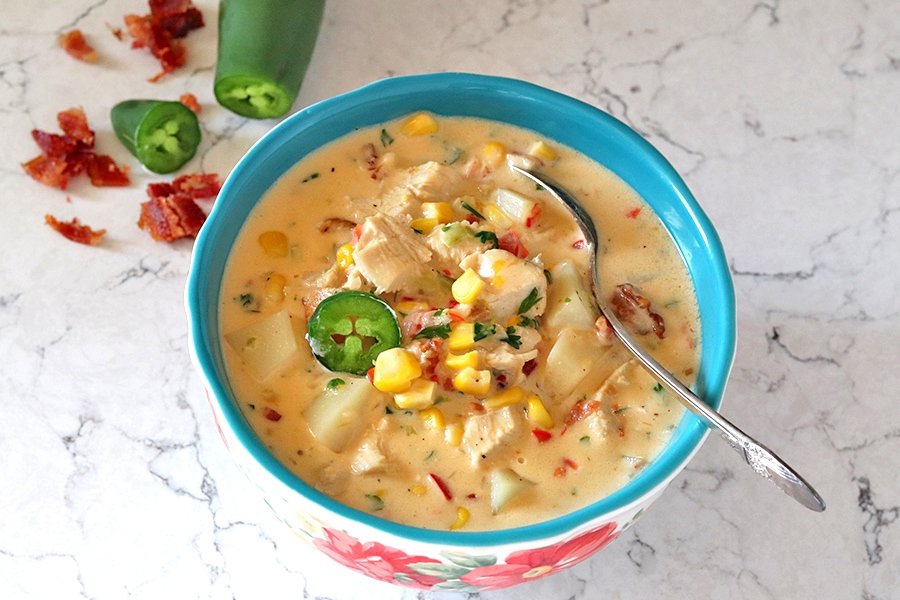 Or make a batch of my Creamy White Chicken Chili. Yum!