My Meat­ball Stew Recipe will fill your home with warm, spicy aro­mas and make enough to feed a crowd. It's easy to make and loved by both kids and adults.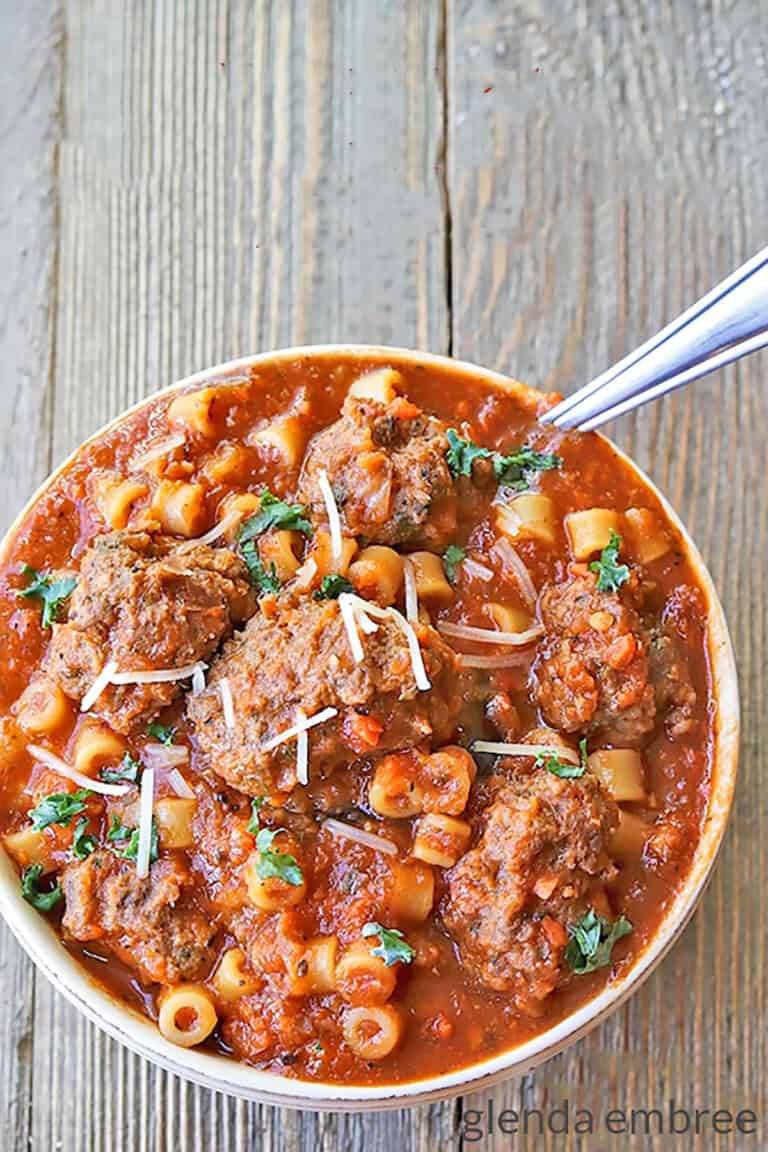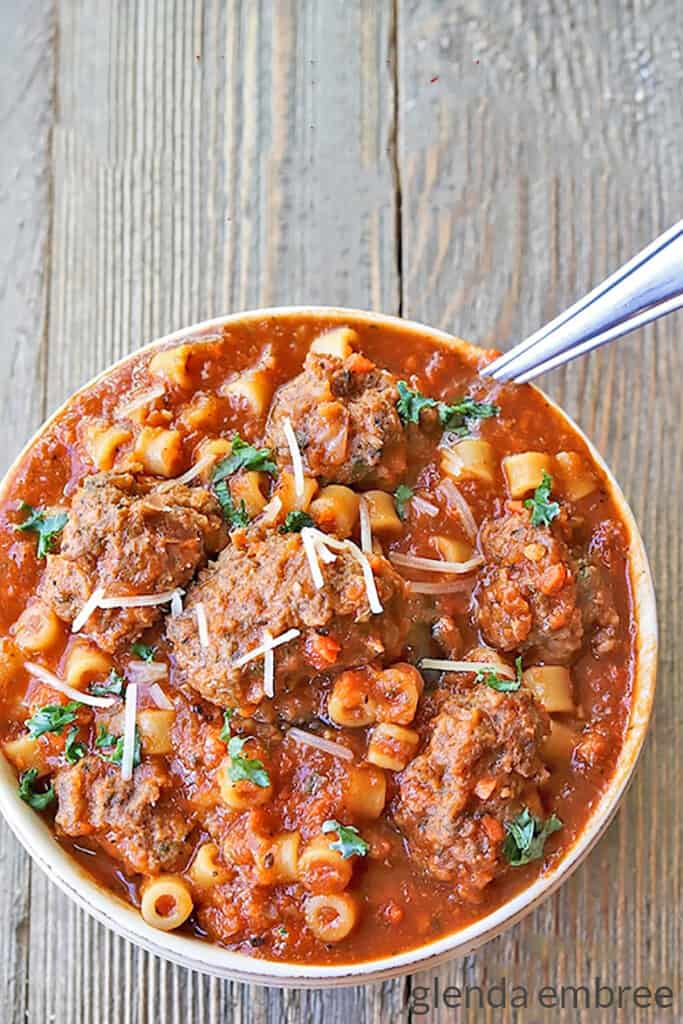 A beau­ti­ful­ly sea­soned, rich toma­to and aro­mat­ics broth forms the base of this fill­ing meat­ball soup meal. The star of the dish is def­i­nite­ly the spicy ground beef meat­balls, though. And, pas­ta is per­fect in the sup­port­ing role.
Meat­ball Stew will warm you from head to toe on chilly fall and win­ter days and become a fam­i­ly favorite com­fort food sup­per from the very first time that you serve it.
This recipe uses the scrump­tious­ly beefy and spicy ground beef meat­balls I taught you how to make back in 2019. You can use frozen meat­balls from the store, but …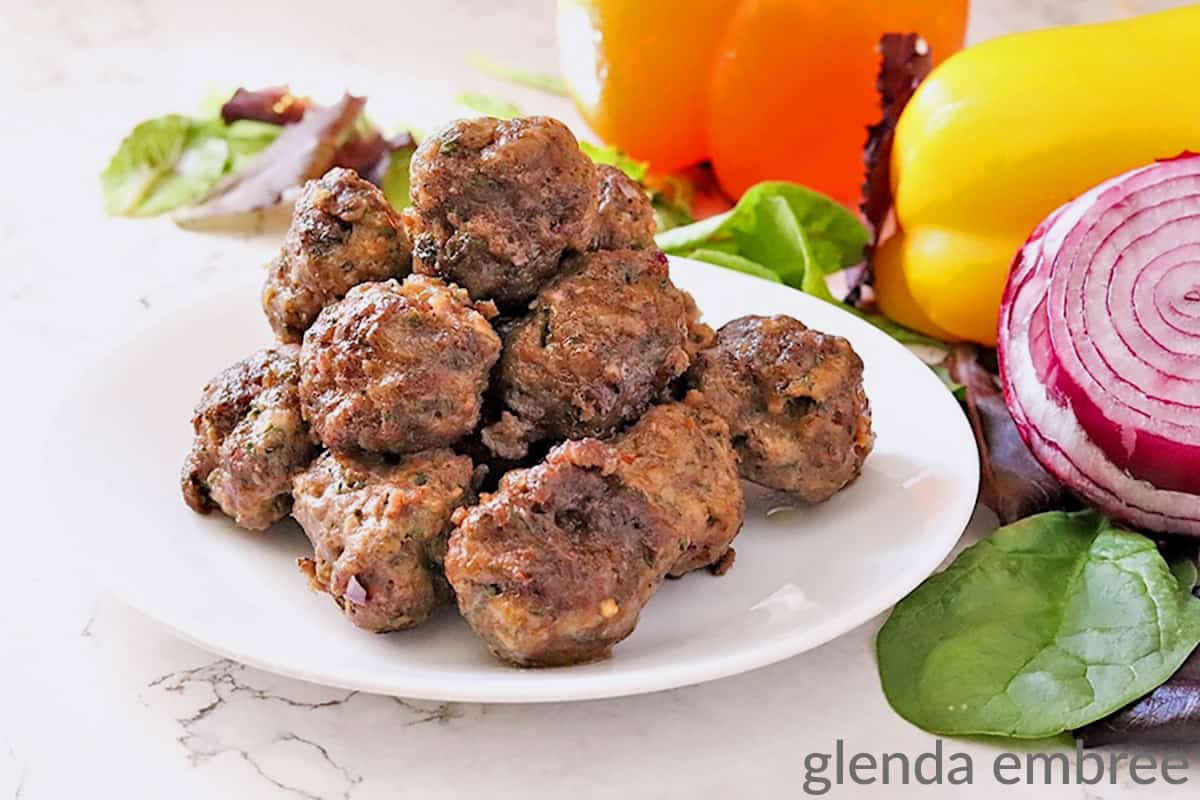 In my opin­ion, you want the best, most fla­vor­ful meat­balls in this meat­ball stew. That would be my easy, oven baked meat­balls made from ground beef. No question!
Pull some of those tasty lit­tle orbs from the freez­er to get the max­i­mum fla­vor from this deli­cious, com­fort-food stew.
Using pre-made meat­balls also means this recipe comes togeth­er quick­ly. (You can sub in com­mer­cial frozen meat­balls, but the fla­vor will def­i­nite­ly not be the same.)
If you're look­ing for hearty, DELISH com­fort food that comes togeth­er in under an hour, your search is over, my friend. My Meat­ball Stew will be a wel­come addi­tion to your recipe collection.
Enjoy!
The Ingredients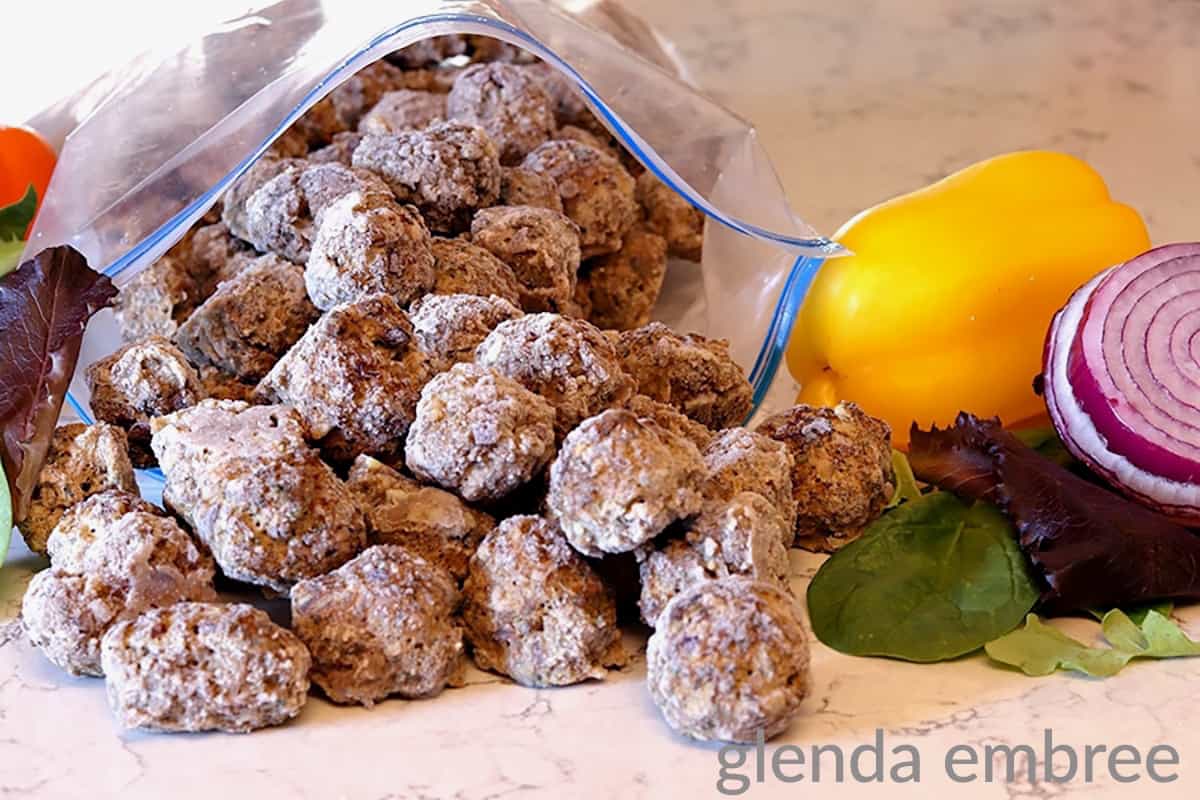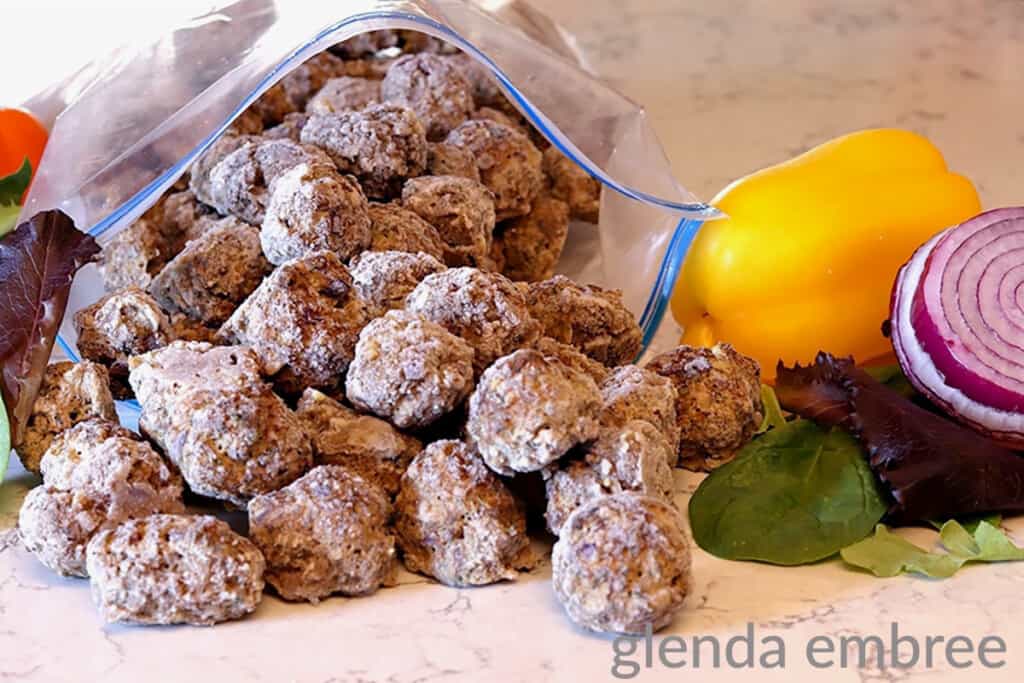 Frozen Meat­balls: I won't even mince words, here. My Home­made Meat­balls are the most deli­cious you will ever enjoy. They will be the dif­fer­ence between this Meat­ball Stew being good or being extra­or­di­nary.

I encour­age you to make a batch of these extra­or­di­nary ground beef meat­balls and always have them on hand in the freez­er for this and oth­er quick-fix meat­ball recipes.

(If you have a favorite com­mer­cial brand of frozen meat­balls, those will work, too. I can't guar­an­tee the fin­ished prod­uct will be near­ly as fla­vor­ful, however.)

Pas­ta: Any small pas­ta. I used dital­i­ni, but small shells could work, in this meat­ball soup /stew, too.
Beef Stock
Beef Base or my home­made Beef Bouil­lon powder
The Aro­mat­ics: Onions, cel­ery, car­rots and gar­lic are almost always the base lay­er of build­ing savory fla­vor into soups and stews in my kitchen.
Canned Toma­toes: I use whole, peeled toma­toes and crush them in my hand as I add them to the Meat­ball Stew pot.

Prepping the Vegetables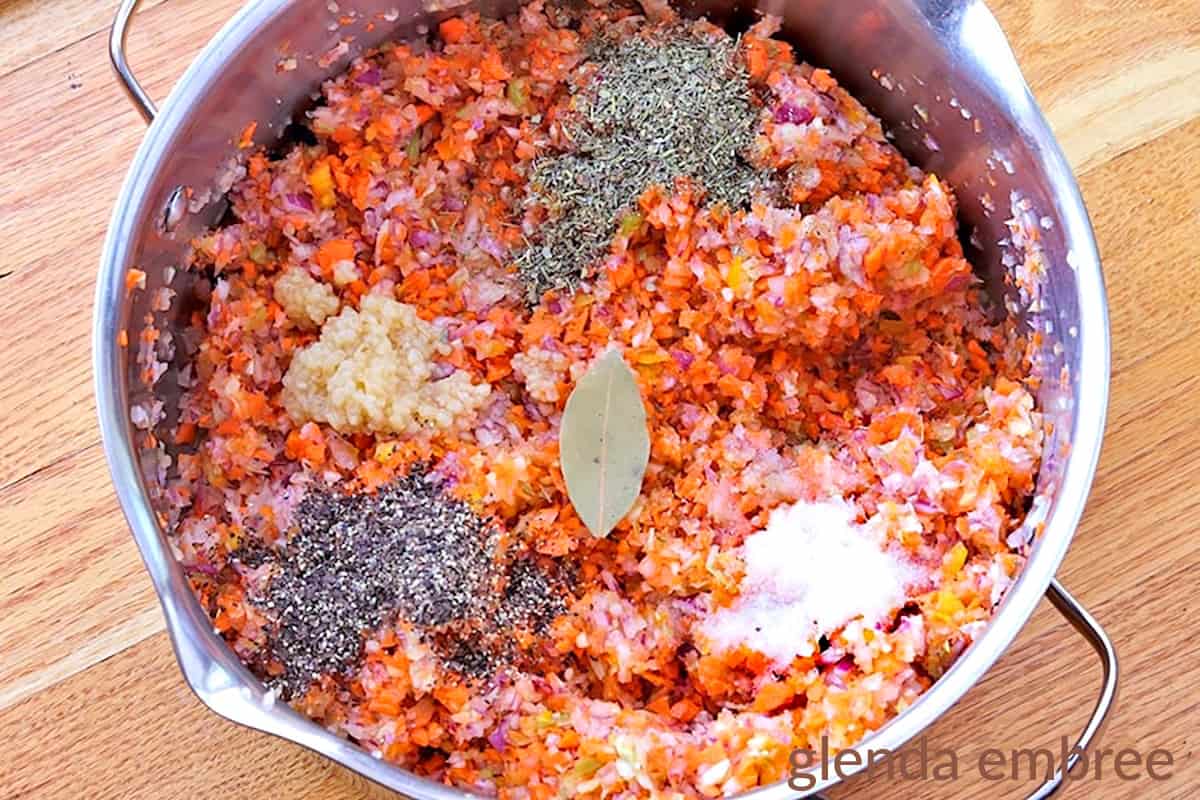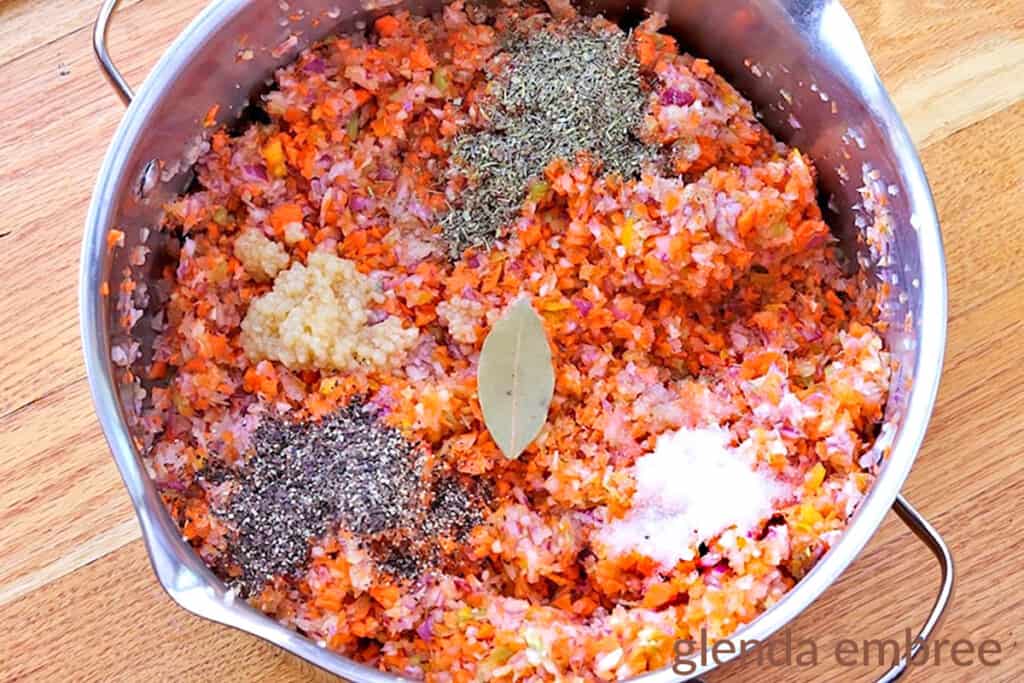 How you prep your veg­gies for Meat­ball Stew is going to depend on how your fam­i­ly likes them in soup. If I'm mak­ing veg­etable soup, then I slice and chop the veg­eta­bles in larg­er chunks and pieces to make them the star of the bowl. But, for my fam­i­ly, I typ­i­cal­ly hide all the exquis­ite fla­vor and nutri­tion of veg­gies in the broth of my soups and stews.
In this recipe the meat­balls get top billing, but the pas­ta is a close sec­ond. Most of my fam­i­ly would turn up their noses at hav­ing large pieces of veg­eta­bles float­ing around with them. No wor­ries, though. My solu­tion to not los­ing one gram of the nutri­tion and fla­vor that veg­gies bring to the table is to grind/mince them in my *food proces­sor [affil­i­ate link].
By adding them to the pot in such a tiny form, they lit­er­al­ly melt into the sim­mer­ing broth and no one even knows they're there. Win for vit­a­mins and min­er­als; and win for pleas­ing every palate.
So you decide what works best for your fam­i­ly. This recipe was prepped with all the veg­gies minced up fine. And there are more than TWO pounds of them! It's deli­cious stew, friends!
How to Make Meatball Stew
Start by prep­ping the veg­eta­bles. I had to do two batch­es in my food proces­sor. I put the veg­gies in raw, with no added any­thing (not even a drop of water). The food proces­sor lit­er­al­ly ground them for me. P.S. You can add oth­er veg­gies, too. Do you have a bell pep­per or some zuc­chi­ni that need used? Add them. It only adds more fla­vor and health-build­ing nutri­tion. Go for it!
When the car­rots, cel­ery and onions (the stan­dard veg­gie base of every soup I make) are minced, put them in a soup pot with salt, pep­per, Ital­ian sea­son­ing, minced gar­lic and a bay leaf.
Then add the toma­toes and toma­to sauce. I pre­fer whole peeled toma­toes that I crush into very small pieces, by hand, as I add them to the Meat­ball Stew pot. I feel that they have supe­ri­or fla­vor to oth­er pre-chopped vari­eties. That being said, petite diced toma­toes work in this recipe, too.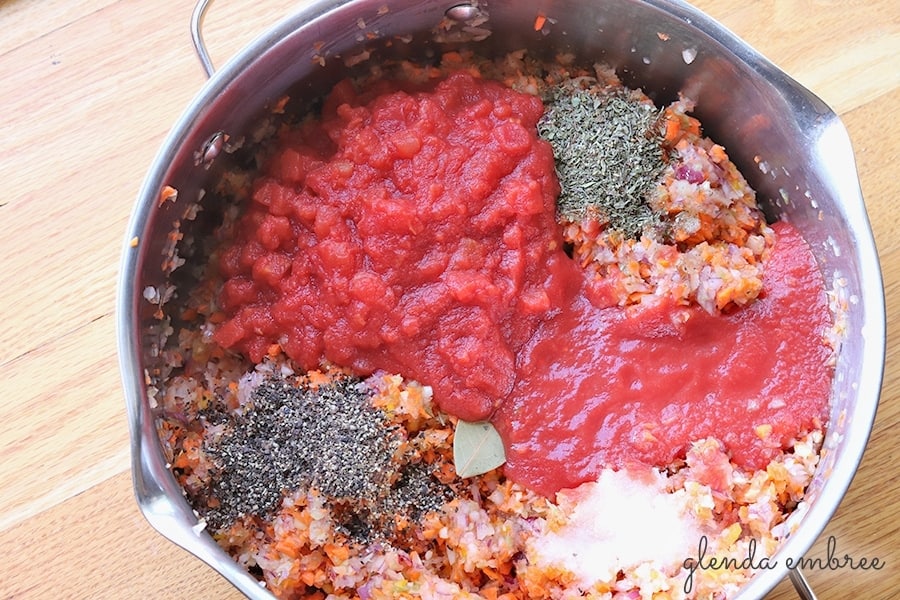 Final­ly, stir the beef broth and bouil­lon into the meat­ball stew. As you can see in the pho­to, above, my 5 quart dutch oven was­n't big enough to han­dle this recipe. There aren't even meat­balls or pas­ta in there, yet. At that point, I trans­ferred to my favorite *stock pot [affil­i­ate link] and every­thing worked a lot easier.
The Cooking
Begin cook­ing the broth on high heat until it comes to a boil. Once it's boil­ing, reduce the heat to medi­um and allow the broth and veg­gies to sim­mer for about 30 min­utes. At the end of 30 min­utes you could put your broth through a blender (I use a *stick blender [affil­i­ate link] for those kinds of jobs.) for 100% smooth­ness, but I find that the major­i­ty of veg­gies have already "dis­ap­peared" and for our tastes, sim­ply isn't necessary.
Add the meat­balls, (it's okay if they're frozen), and let them start warm­ing through for about 15 minutes.
Then add your pas­ta. I use Dital­i­ni Pas­ta in Meat­ball Stew. Any shape of small pas­ta should be good, how­ev­er. The small shells would prob­a­bly be good, too.
Con­tin­ue to sim­mer the Meat­ball Stew on medi­um heat, until the pas­ta is cooked al dente (soft, but with a lit­tle bite to them — not mushy).
Serve your stew with some crusty bread and a big green sal­ad. This is the din­ner that all of us want to come home to on cold fall and win­ter nights. Hav­ing meat­balls pre-made and wait­ing in the freez­er, makes it simple.
Enjoy, my friend!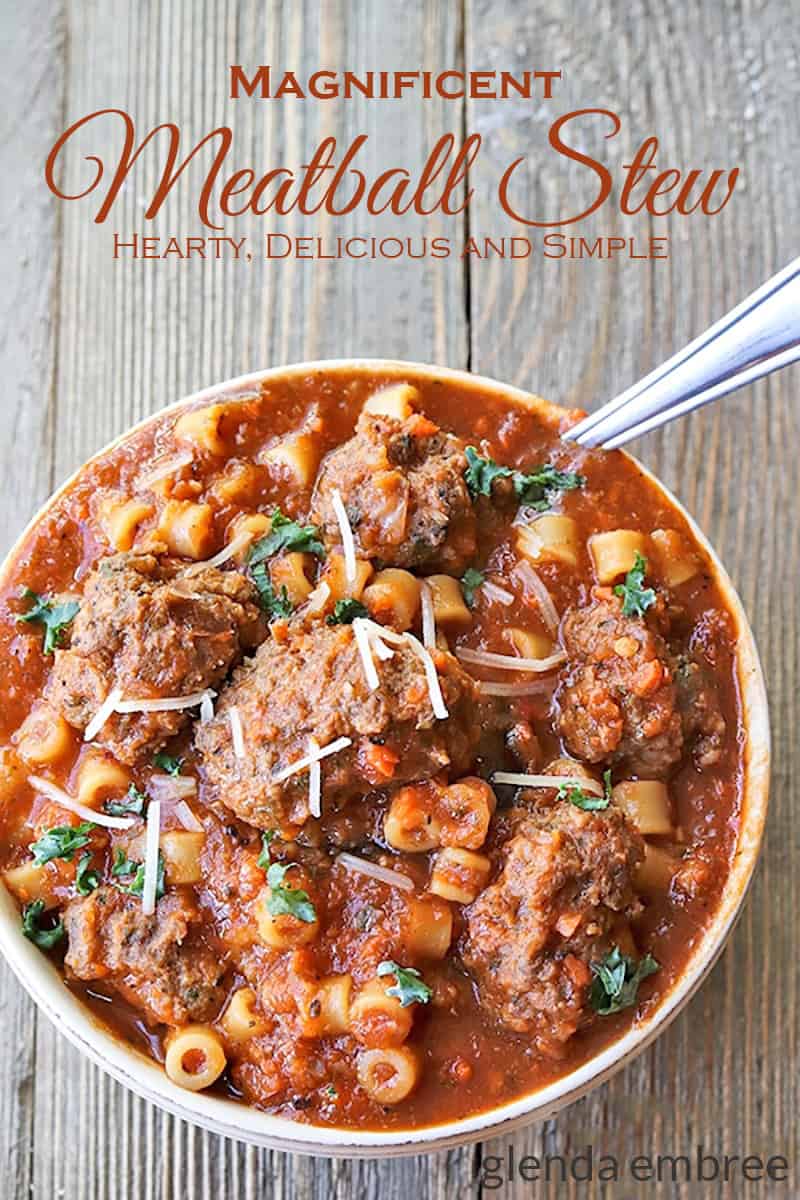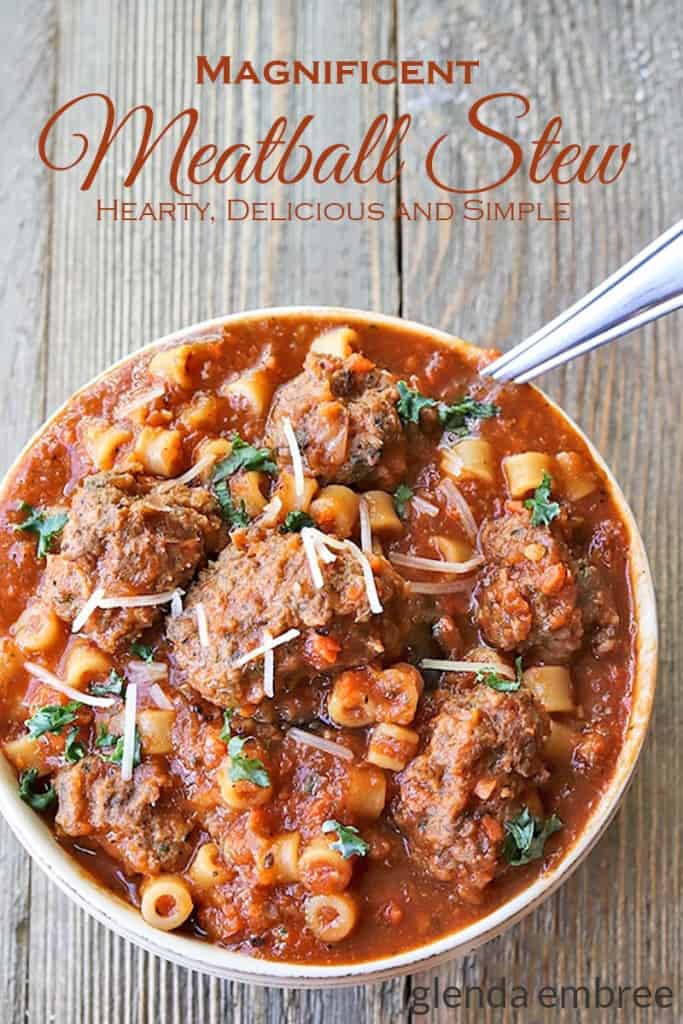 The Leftovers
This meat­ball soup will keep in the fridge for at least 5 days. Like most soups and stews, the fla­vor gets even bet­ter the longer it sits.
The pas­ta has a ten­den­cy to soak up more and more broth as it rests, though, so it becomes real­ly thick. It WILL heat up in the microwave, that way. My per­son­al pref­er­ence, though, is to thin it with a lit­tle beef stock or water before I reheat mine, so I can enjoy it in a lit­tle more "soupy" form.
Print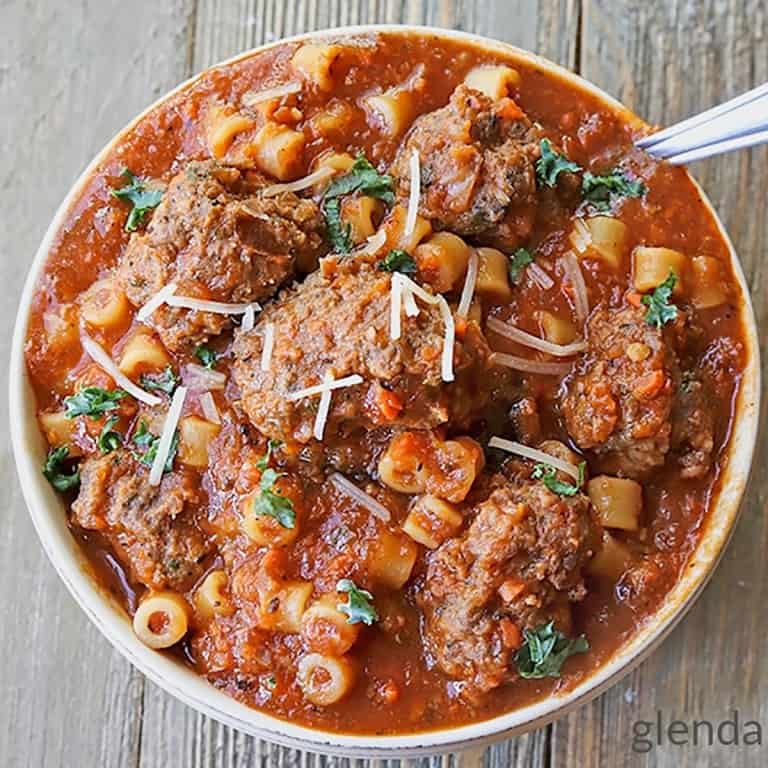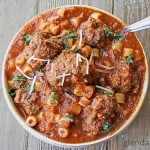 Best Meatball Stew
---
Author:

Total Time:

55 min­utes

Yield:

12

-

15

serv­ings

1

x
Description
Meat­ball Stew is an easy, hearty meal that has blow-your-mind fla­vor your fam­i­ly will love! My meat­balls are the secret. Your fam­i­ly will love this excel­lent meat­ball soup and you're going to love how easy it is to prepare!
---
1

lb

car­rots, minced

6

stalks cel­ery, minced

2

lg (or

3

medi­um) onions, minced

8

cups

beef stock

1

(14.5 to 18.3 oz) can/jar toma­toes; whole peeled crushed by hand as you add them or petite diced

3

(8 oz) cans toma­to sauce

1 Table­spoon

home­made Beef Bouil­lon Pow­der or 1 Table­spoon beef base

1 Table­spoon

minced garlic

1 Table­spoon

Ital­ian seasoning

1

bay leaf

1 tea­spoon

salt

1 tea­spoon

black pepper

2

—

2 1/2

lbs

frozen meat­balls (at least 30) from my recipe (Buy a bag of frozen if you for­got to make these.)

1

lb

small pas­ta (I use dital­i­ni, but small shells would also work)
option­al: 1 or 2 cups of chopped kale to stir into the indi­vid­ual bowls of those who like it

---
Instructions
Mince/grind the car­rots, cel­ery and onion in the *food proces­sor (or by hand, if preferred).
Put minced veg­gies in the bot­tom of a large stock pot or dutch oven.
Add toma­toes, toma­to sauce, bay leaf, Ital­ian sea­son­ing, salt and pepper.
Add beef broth.
Bring to a boil over high heat. After the mix­ture begins boil­ing, reduce the heat to medi­um and allow to sim­mer for 30 minutes.
After 30 min­utes add the meat­balls. Stir to sep­a­rate and then allow to con­tin­ue heat­ing through for 15 minutes.
Stir in the pas­ta and allow to con­tin­ue cook­ing until pas­ta is cooked to al dente. Stir fre­quent­ly to pre­vent the pas­ta from stick­ing to the bot­tom of the pan and scorching.
Serve warm with crusty bread and a big green salad.
Notes
I LOVE chopped kale stirred into a bowl of this stew. But, some of my fam­i­ly mem­bers are not real­ly fans. So, I chop it and set it along­side the soup pot. Those that want it can stir it into their bowl as they ladle it in. The kale will warm and soft­en quick­ly right in the bowl.
Prep Time:

10 min

Cook Time:

45 min

Cat­e­go­ry:

Soup, Stew

Cui­sine:

Ital­ian