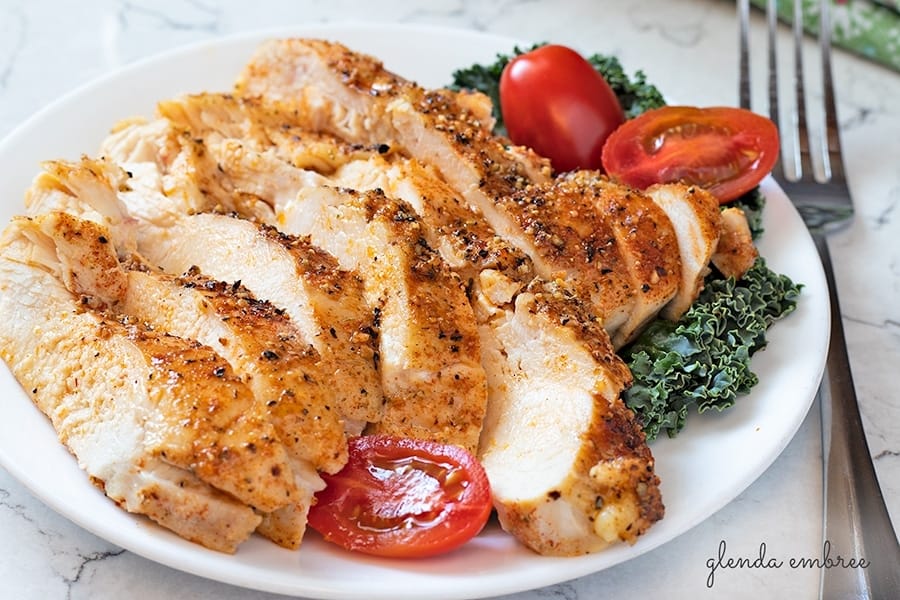 Per­fect Baked Chick­en Breasts are one of my main go-to quick-fix ingre­di­ents. They are juicy and ten­der every time and the prep takes only minutes.
These Baked Chick­en Breasts are deli­cious on their own, paired with a baked pota­to, rice or baked sweet pota­to and a green sal­ad. I batch cook them and keep them in fridge (or freez­er) to be able to quick­ly and eas­i­ly pre­pare delec­table week­night dinners.
I store Baked Chick­en Breasts whole, diced, sliced or shred­ded, depend­ing on how I plan to use them. Think about the dish­es you have planned for this week's din­ners and prep yours accord­ing­ly. Your fam­i­ly's favorite dish­es will come togeth­er even more quick­ly when you have the main ingre­di­ent already done.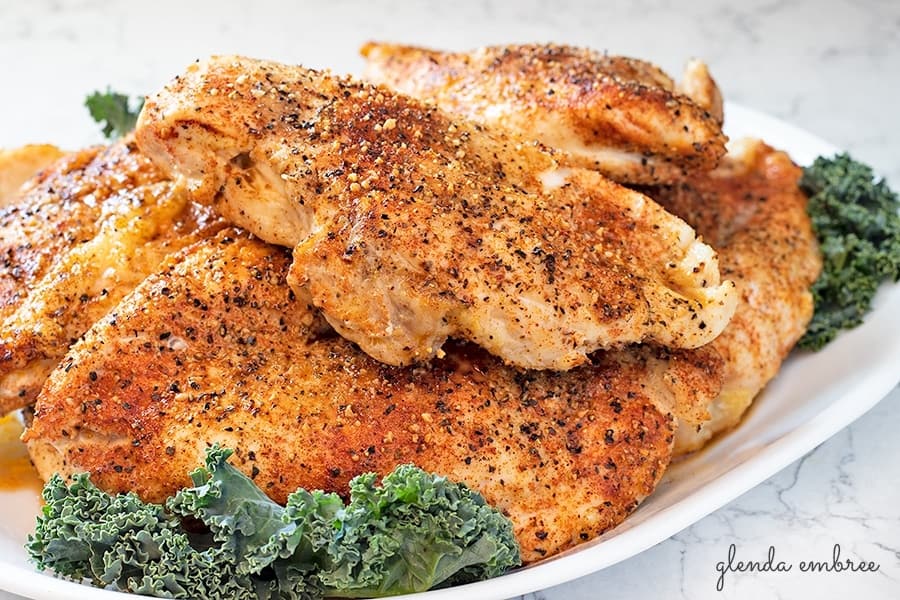 What Is Batch Cooking?
Won­der­ing what batch cook­ing is and why any­one would bother?
Batch cook­ing is prepar­ing large quan­ti­ties of an ingre­di­ent for quick use in future recipes and meals.
Ground beef, chick­en, rice, dry beans, and quinoa are just a few of my favorite ingre­di­ents to batch cook. The prep for each only takes min­utes and they all keep well in the fridge and/or freezer.
I can make favorite recipes in a frac­tion of the nor­mal time, because I don't have to stop and pre­pare those ingre­di­ents first. I can just toss the ingre­di­ents togeth­er and get a meal on the table. The small invest­ment of time to pre-prep pays huge div­i­dends on busy weeknight!
Batch Cooking Perfect Baked Chicken Breasts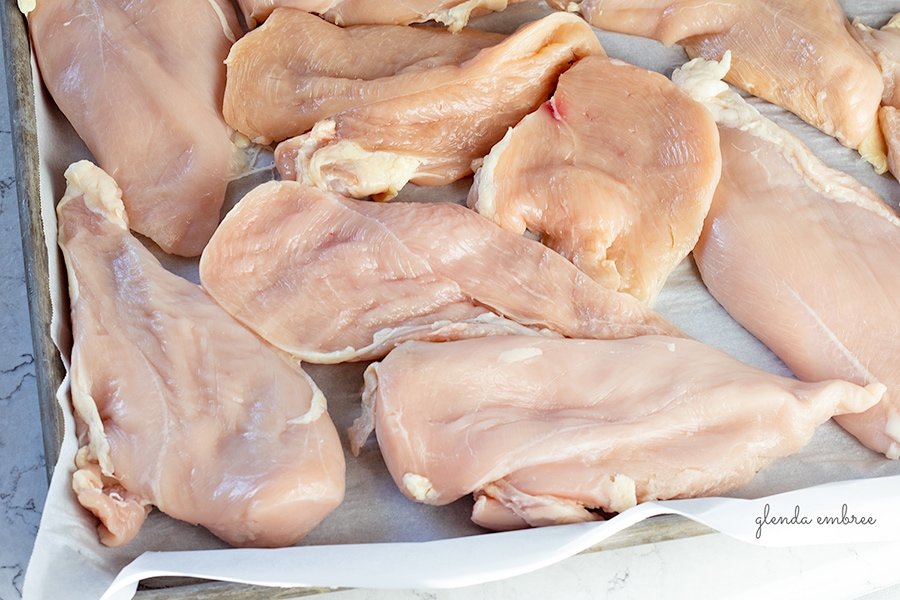 When I batch cook Per­fect Baked Chick­en Breasts I usu­al­ly make about 10 pounds. That's typ­i­cal­ly 12–15 chick­en breasts, depend­ing on their size. You can do more or less depend­ing on your needs.
That means I will need to bake two sheet trays to get them all to fit. I use bak­ing trays with rimmed sides and line them with parch­ment paper.
If the chick­en breasts are super thick, I slice them in half, hor­i­zon­tal­ly, to make two por­tions. Or, using a rolling pin and a zip-top bag, I pound each piece out to an even ½" thick­ness. If they get real­ly wide after pound­ing, I cut them in half down the mid­dle, mak­ing two por­tions. This means that even with only 12–15 chick­en breasts, I may end up with up to 20 (or more) gen­er­ous portions.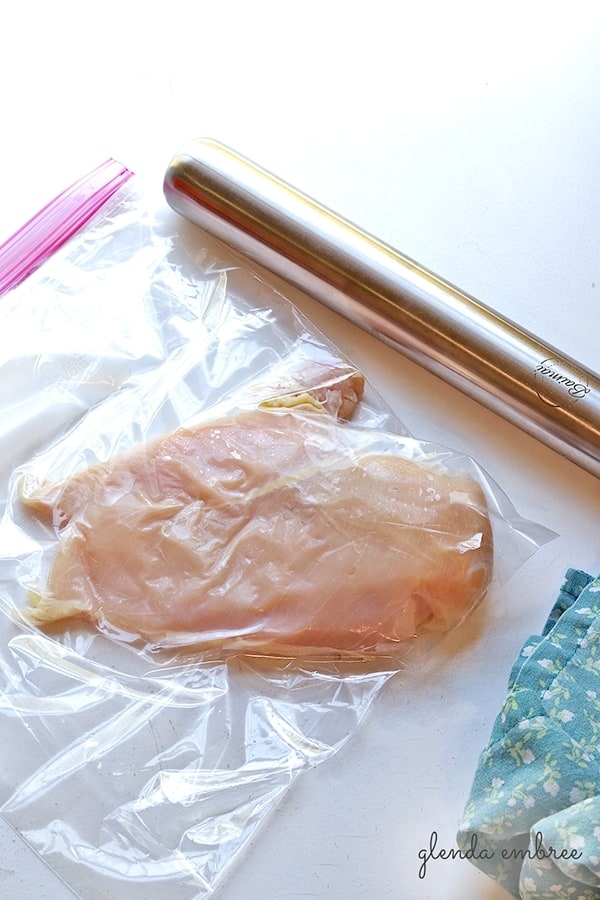 Even if the chick­en breasts are small, I still pound them to ½" thick­ness, so they cook quick­ly and even­ly. I don't want any over- or under-done chick­en. Just ten­der and juicy Per­fect Baked Chick­en Breasts.
Ingredients and Tools
Only two ingre­di­ents are nec­es­sary for this fla­vor­ful bone­less skin­less chick­en breast recipe.
Bone­less Skin­less Chick­en Breasts
Home­made All Pur­pose Sea­son­ing (or com­mer­cial sea­son­ing of your choice) You can def­i­nite­ly choose any sea­son­ing that you pre­fer, how­ev­er I high­ly rec­om­mend my all-pur­pose sea­son­ing blend. I cre­at­ed it specif­i­cal­ly to add scrump­tious fla­vor to meat. It won't detract from the over­all fla­vor of the cui­sine you pre­pare. Mex­i­can food still tastes Mex­i­can. Ital­ian fla­vors still shine through in Ital­ian dish­es. And, so on.
Tools are sim­ple, as well: rimmed bak­ing sheets, chef's knife, rolling pin, zip-top bags and parch­ment paper. Parch­ment paper isn't real­ly a neces­si­ty, but it makes clean-up so easy! (*These are affil­i­ate links for my favorites.)
Perfect Baked Chicken Breasts Recipe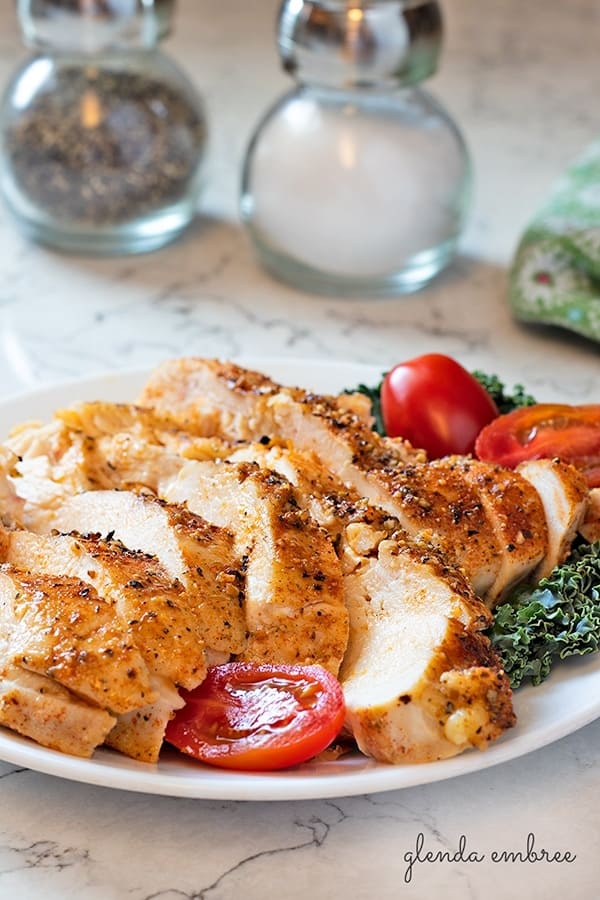 Print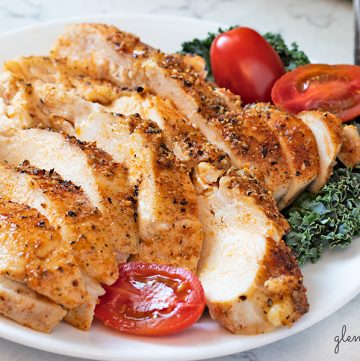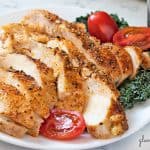 Perfect Baked Chicken Breasts
---
Author:

Total Time:

30 min­utes

Yield:

10

lbs

1

x
Description
Easy, batch-cooked and scrump­tious bone­less skin­less chick­en breasts bake in about 20 min­utes and pro­vide the main ingre­di­ent for scrump­tious meals all week long!
---
---
Instructions
Pre­heat oven to 400°.
Pound chick­en breasts to an even ½" thick­ness. Extra large pieces can be sliced hor­i­zon­tal­ly to make two por­tions of ½" thickness.
Place the chick­en pieces in a sin­gle lay­er on rimmed bak­ing sheets lined with parch­ment paper.
Sea­son both sides of each piece with all-pur­pose seasoning.
Bake at 400° for about 15–20 min­utes. A ther­mome­ter insert­ed into the cen­ter of the thick­est por­tion should read 160°.
Remove the chick­en breasts from the oven and allow to rest on the bak­ing sheet for 10 to 15 min­utes. They will con­tin­ue to cook on the sheet until the USDA rec­om­mend­ed safe eat­ing temp of 165° is reached. This also helps to keep the chick­en juicy and tender.
Serve with your favorite sides or cool com­plete­ly and store for use in future dishes.
Prep Time:

10 min

Cook Time:

20 min

Cat­e­go­ry:

Main Dish, Meat, Chicken

Method:

bak­ing

Cui­sine:

Amer­i­can
Key­words: chick­en, baked, home­made all pur­pose seasoning
Serving and Storing Perfect Baked Chicken Breasts
Once the meat is rest­ed, it is ready to serve. Cool it com­plete­ly before refrig­er­at­ing or freez­ing it for future meals.
I usu­al­ly dice, shred and/or slice up at least part of the chick­en and store it in zip-top bags in the fridge or freez­er. I use it in things like que­sadil­las, enchi­ladas, sand­wich­es, home­made soup and casseroles.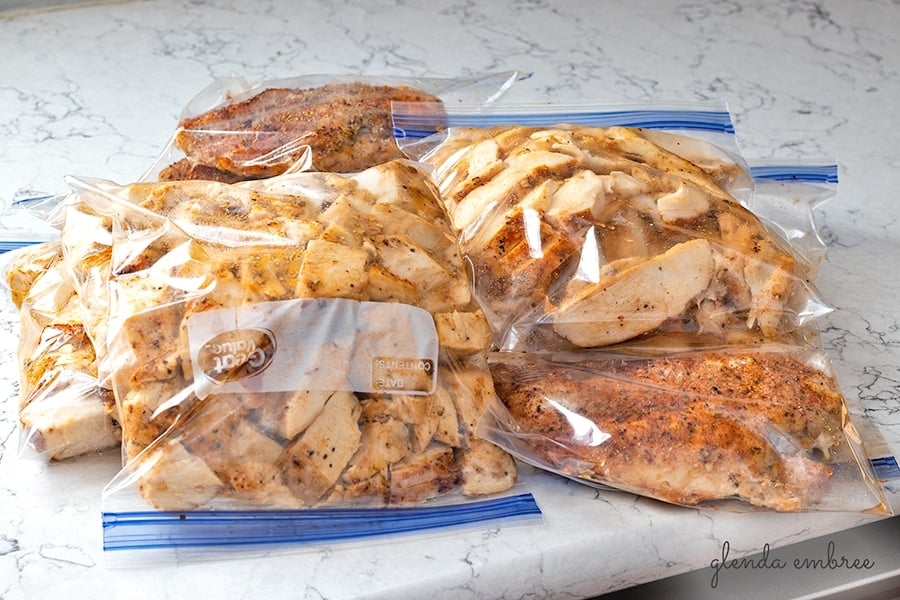 Slice baked chick­en breasts to add to stir-fries and sal­ads. Leave a few chick­en pieces whole, too. Warm them lat­er in delec­table main dish­es like my Spinach Arti­choke Chick­en or Chick­en Parme­san.
Start putting fast and easy meals on the table by batch cook­ing Per­fect Baked Chick­en Breasts. Save time in the kitchen. Quell the urge to grab take-out, which will save your health and your mon­ey. Enjoy deli­cious and nutri­tious meals with your fam­i­ly with­out any strug­gle. This recipe is a din­ner win!!!
Enjoy!
More Recipes to make with Perfect Baked Chicken Breasts
All of these recipes will be fab­u­lous with my Per­fect Baked Chick­en Breasts, but if your fam­i­ly prefers dark meat, rather than chick­en breasts, you should check out Sarah's Baked Chick­en Leg Quar­ters over at Feast for a Fraction!