Creamy White Chick­en Chili is a favorite, back-to-school, fall and win­ter meal. Easy, deli­cious and 30-min­utes to the table. Sat­is­fy­ing com­fort food dinner!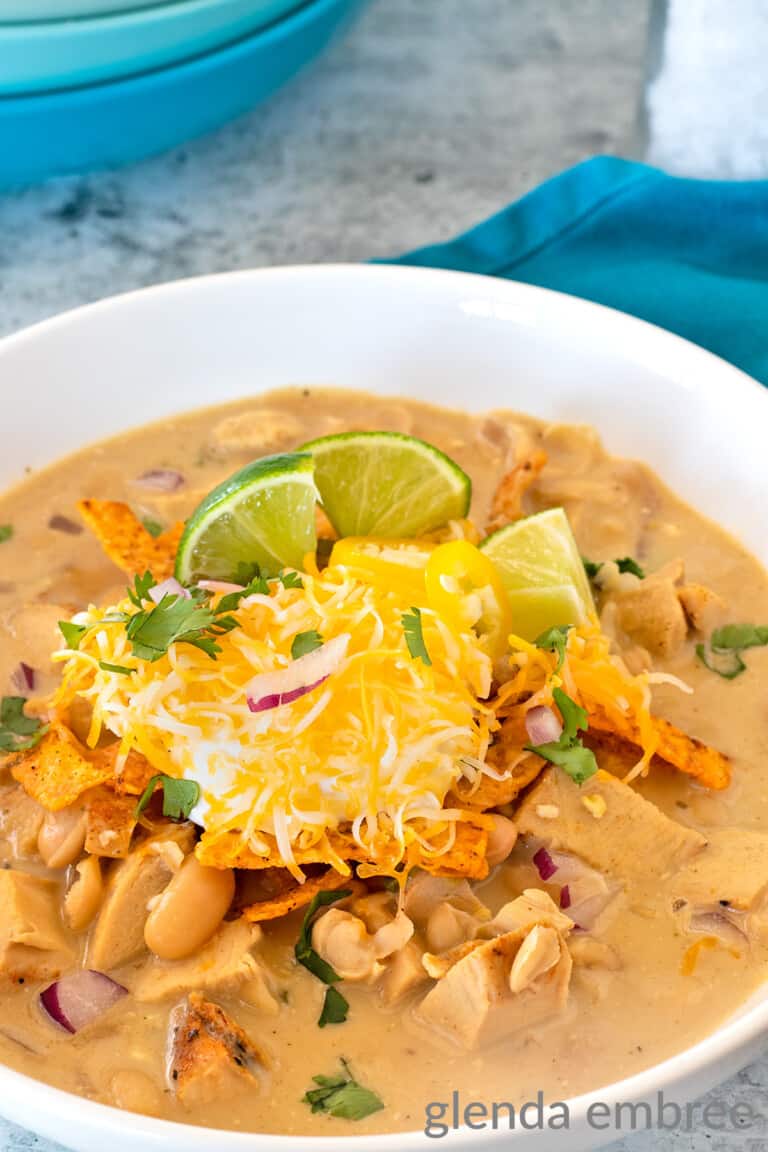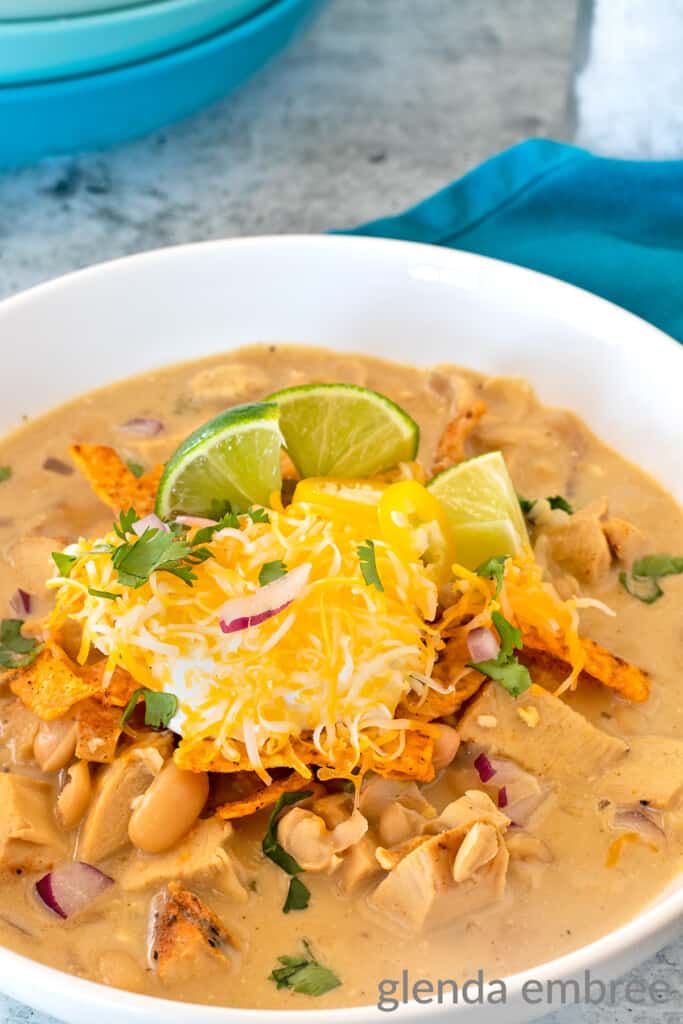 Quick, Easy & Affordable
If I'm truth­ful, this creamy white chick­en chili recipe is an afford­able meal we enjoy all year around. It's a fill­ing and spicy vari­a­tion of chick­en soup that's well received on any cool and rainy day.
Break out your *stock pots and warm your fam­i­ly with toe-toast­ing com­fort food. They're gonna want sec­onds and even then, you'll still get to enjoy some left­overs the next day.
White Chick­en Chili is an easy recipe that comes togeth­er with a few sta­ple pantry ingre­di­ents and can even uti­lize chick­en left­overs. It's nat­u­ral­ly gluten free.
I had South­west Chick­en left over from anoth­er meal, so no extra cook­ing. Just chop it and add it in.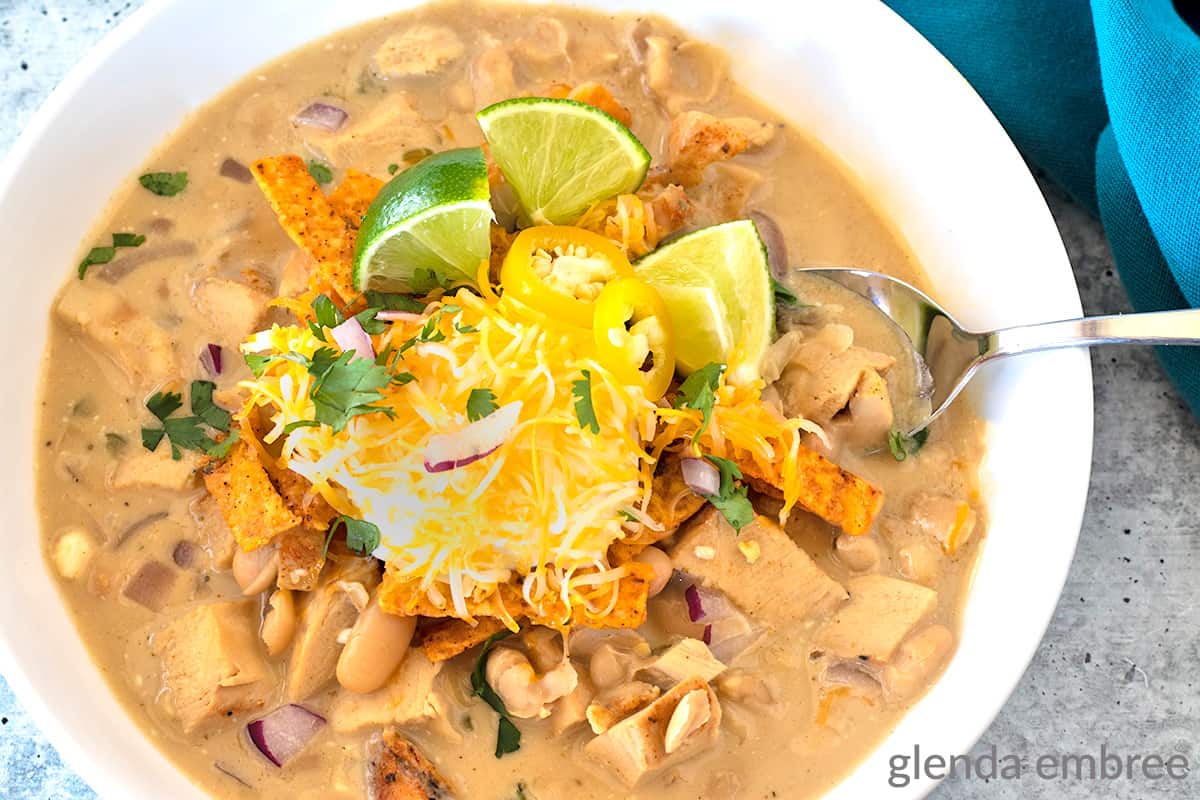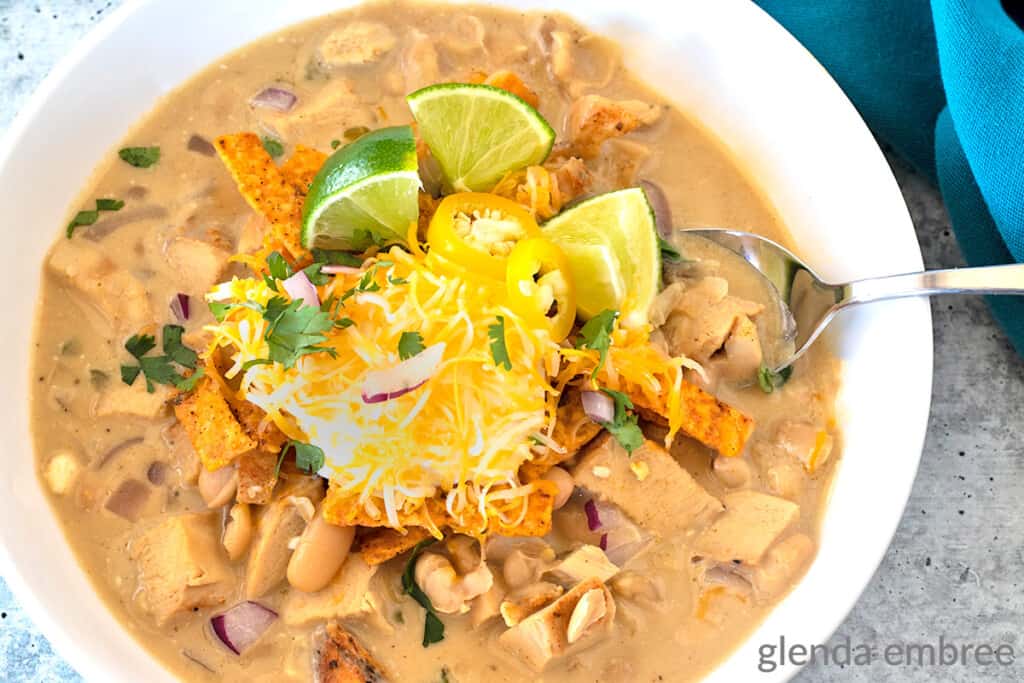 You can do that with my juicy, deli­cious slow cook­er chick­en breasts or best juicy baked chick­en breast if you have left­overs, too. Even a rotis­serie chick­en will be great in this recipe!
A Delicious "Welcome to Our Home"
When soup is cook­ing, bread is bak­ing or hol­i­day treats are in the oven, the whole house is awash with "homey" aro­mas that wel­come any guest or fam­i­ly mem­ber who walks through the door. Those won­der­ful smells are the best "wel­come to my home" you can offer!
Smiles will abound, and mem­o­ries will be made, over meals like Creamy White Chick­en Chili and our Favorite Sweet Corn­bread. If you love this white chick­en chili, try my Best Easy Chili recipe, too, for quick and easy warm-ups with deli­cious flavor.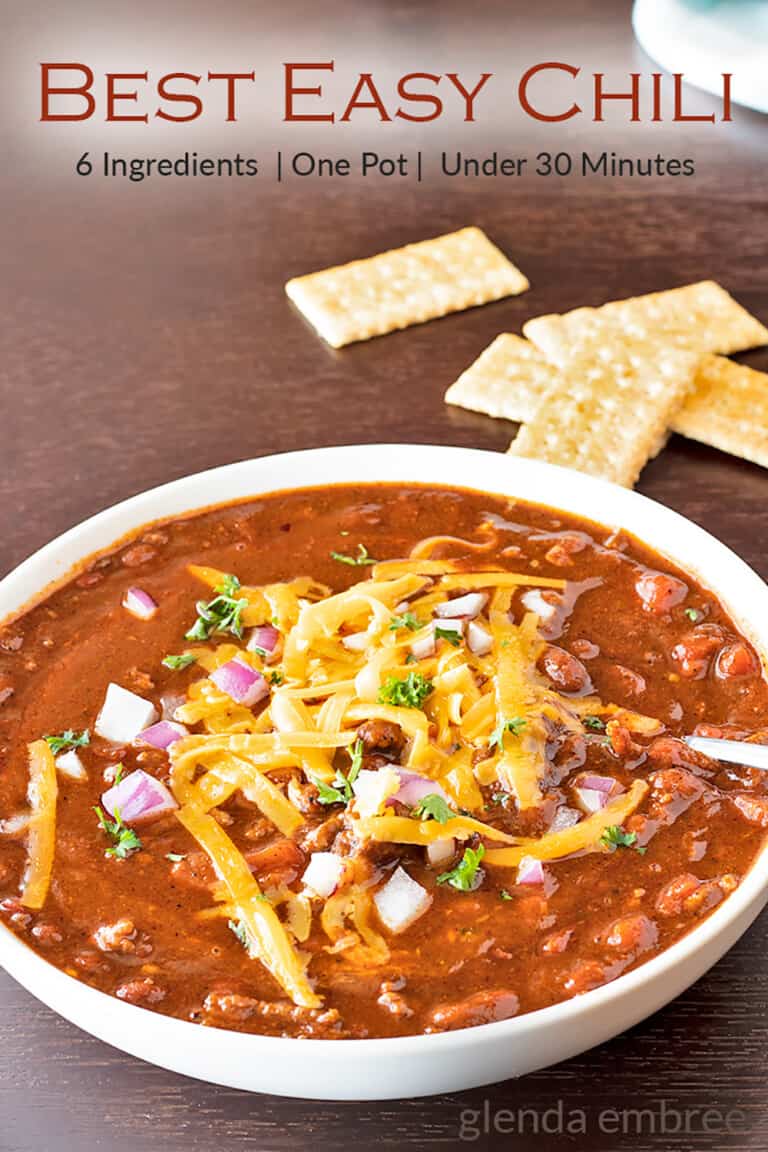 The best news is both White Chick­en Chili and Best Easy Chili are EASY to make and tasty enough to serve com­pa­ny at foot­ball get-togeth­er or a neigh­bor­hood bonfire.
You'll spend time enjoy­ing both recipes with your fam­i­ly and friends, instead of spend­ing tons of time at the stove!
Keep white chick­en chili warm in a slow cook­er on the counter, so it's easy for guests to help them­selves at any time.
Keep some col­or­ful gar­nish­es near­by along with some corn­bread and or Bis­cuits.
Add a rel­ish tray with fresh veg­gies and dip and you'll have the par­ty spread every­one keeps talk­ing about and enjoying.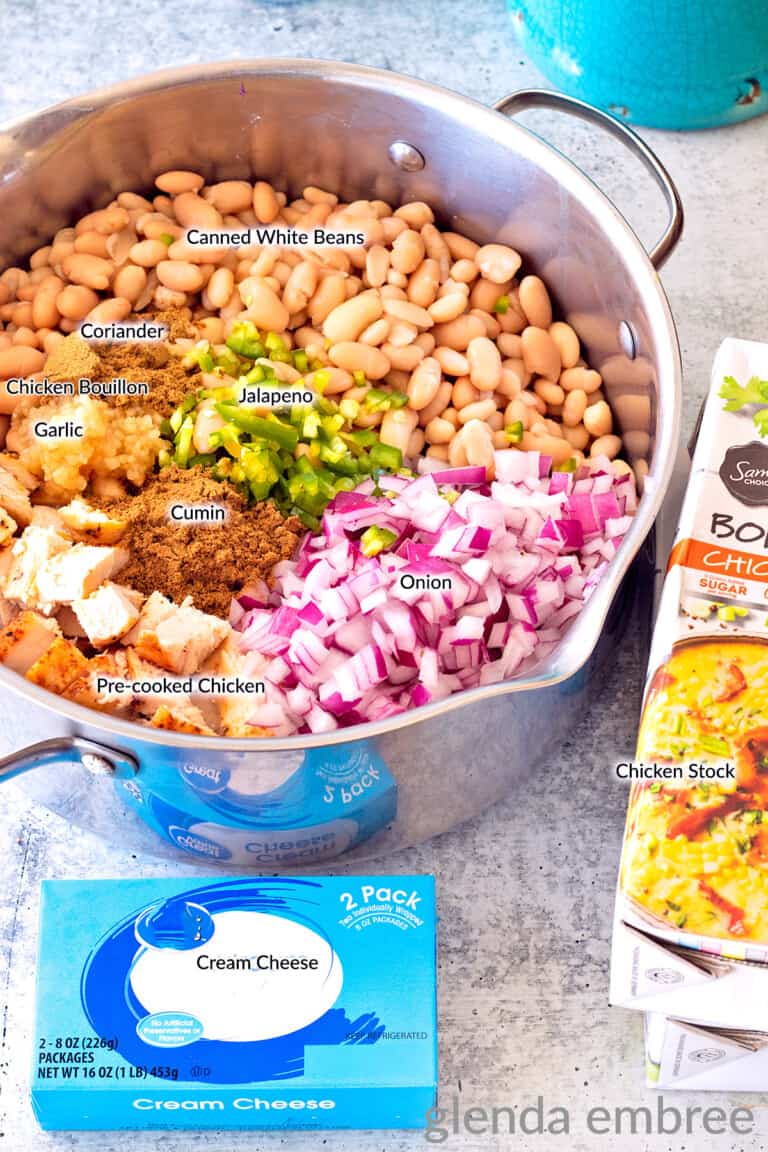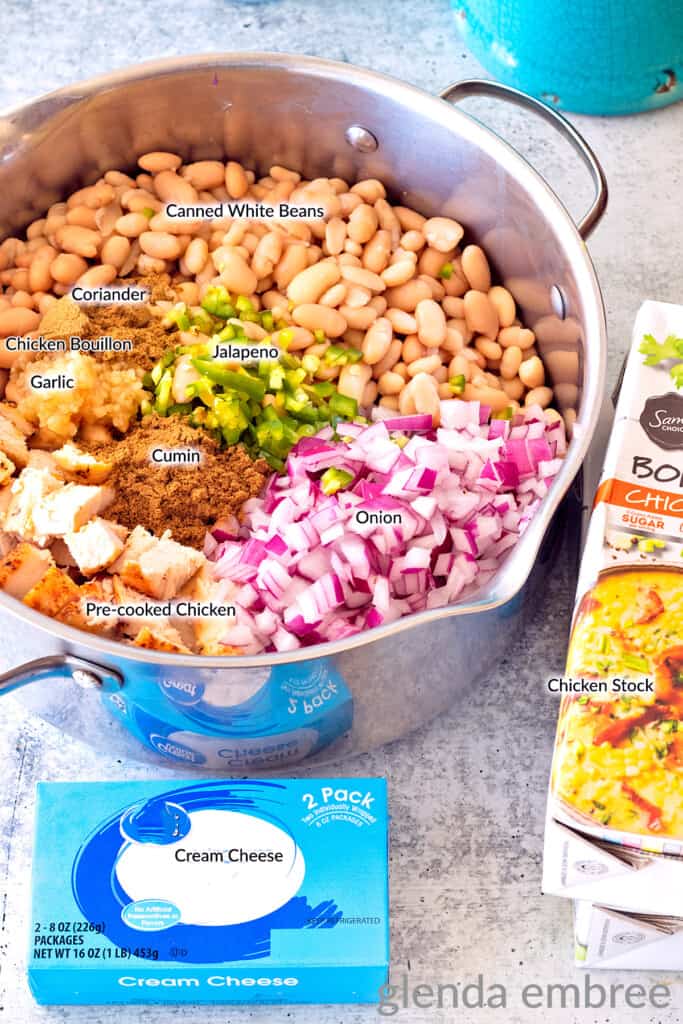 The Ingredients
This creamy, deli­cious soup has a warm, spicy kick. Like most soups and stews, it's even tasti­er on the sec­ond day. Left­overs will be a hit, plus, save you time and money.
The ingre­di­ents are com­mon pantry stock. You will prob­a­bly already have most of them on hand.
To make Creamy White Chick­en Chili you'll need:
Pre-cooked chick­en, I use pre-cooked Slow Cook­er Chick­en Breasts or Juicy Baked Chick­en Breasts, that I have prepped and frozen. Any chick­en left­overs or even rotis­serie chick­en will work, as well.
White Beans, canned (I have suc­cess­ful­ly used can­neli­ni beans, great north­ern beans and/or navy beans)
Chick­en Broth or Stock
Chick­en Bouil­lon Pow­der (I use my home­made, but use your favorite brand.)
Jalapeno, minced
Onion (white, yel­low or red), minced
Minced Gar­lic
Corian­der
Cumin
Cream Cheese.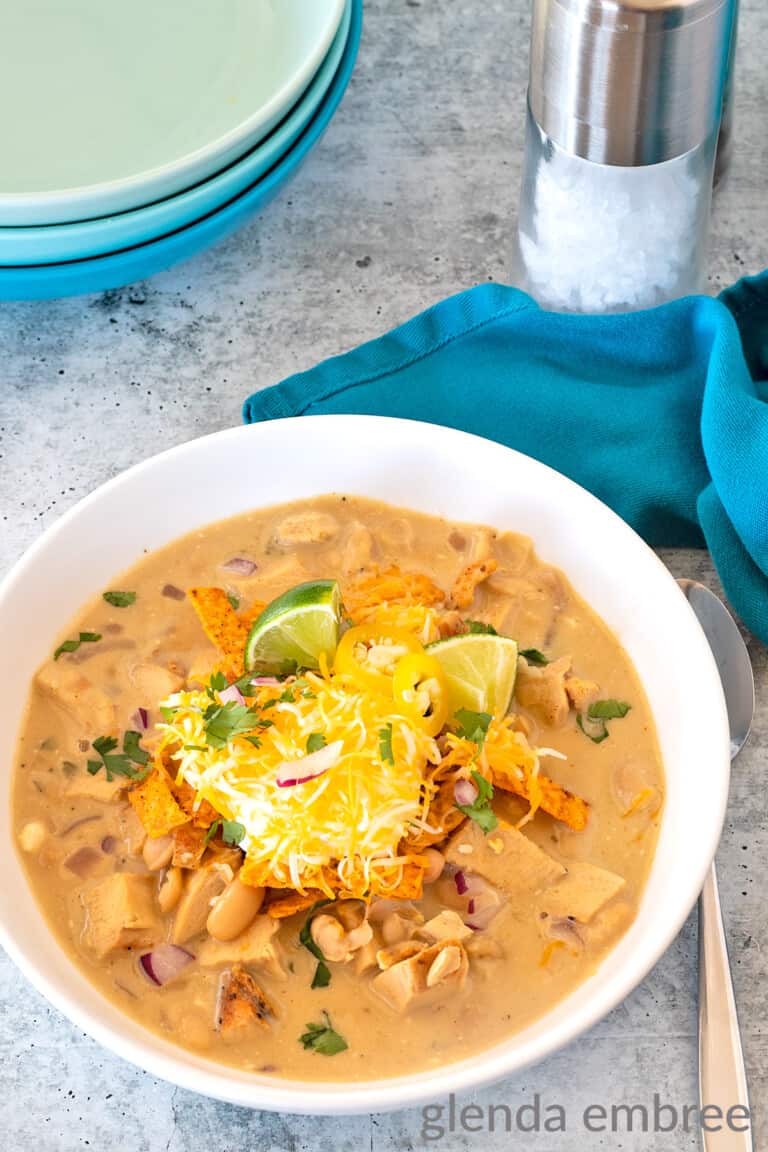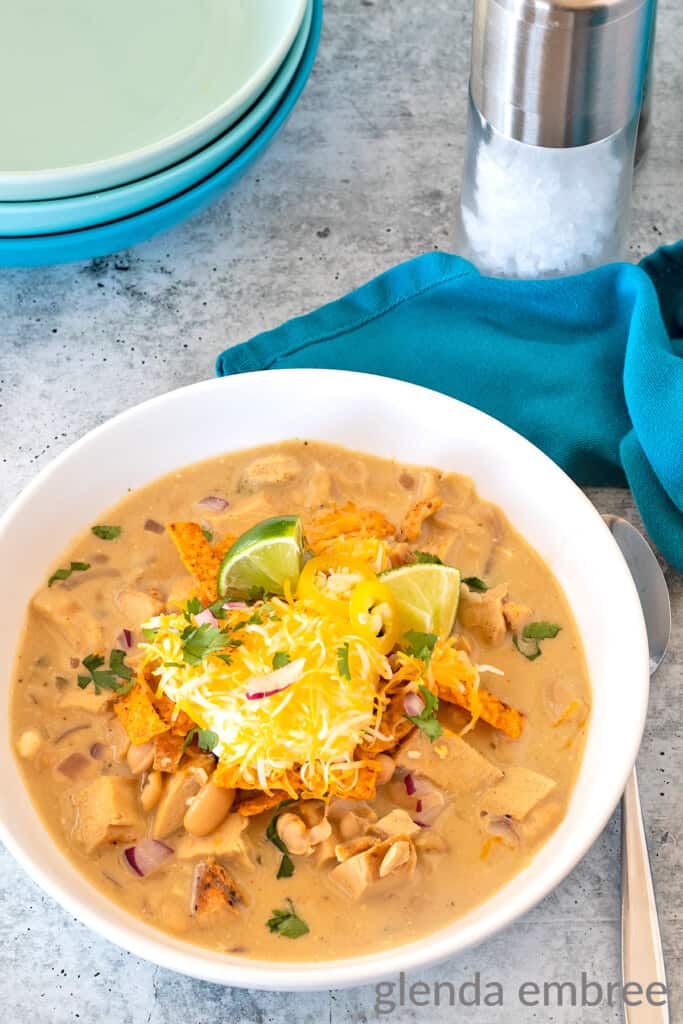 How to Make Creamy White Chicken Chili
Get­ting this hearty, deli­cious white chick­en chili on the table is a quick and sim­ple task.
If you have the pre-cooked chick­en in the fridge or freez­er, it's a breeze. (Shred­ded rotis­serie chick­en would work well in this recipe, too. )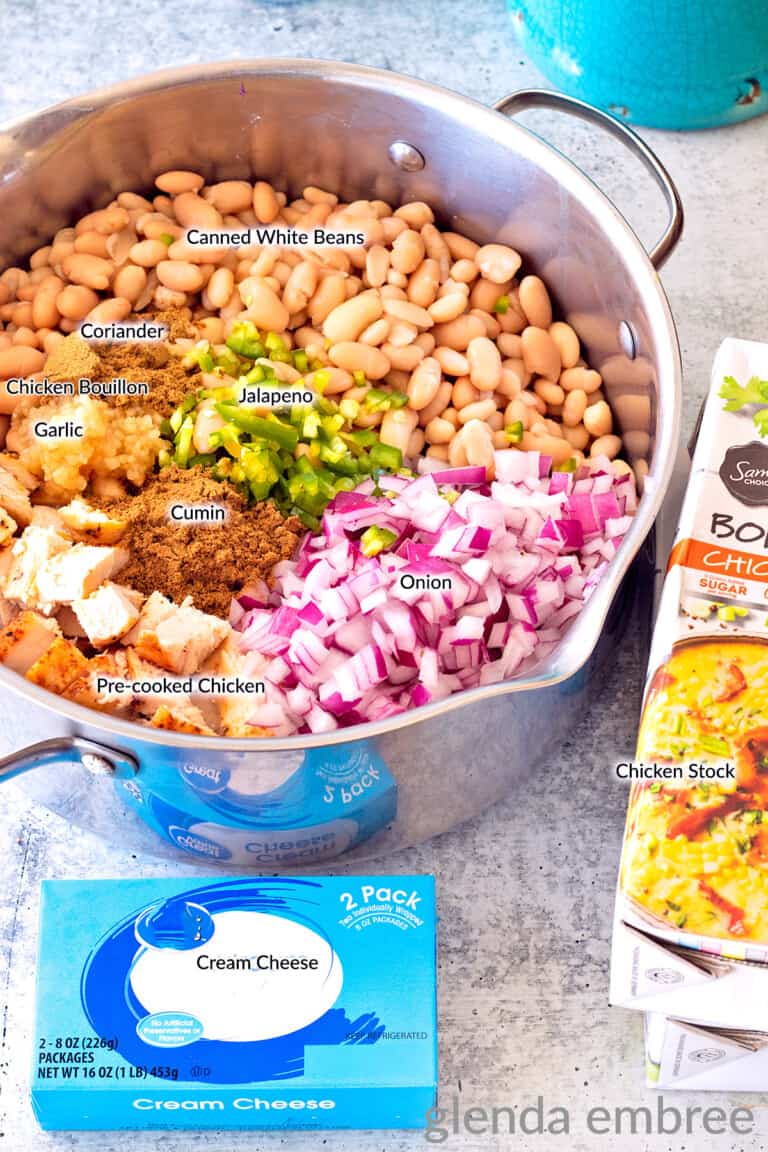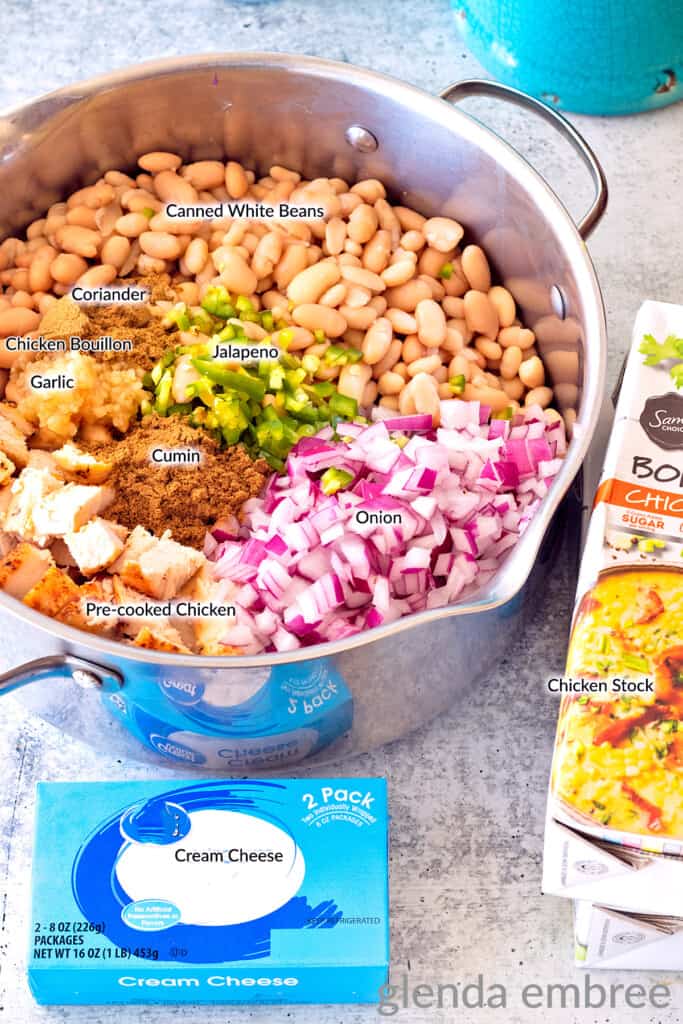 Sim­ply drain and rinse the canned beans.
Add the beans and all oth­er ingre­di­ents, except the cream cheese, to your favorite stock pot.
Heat over medi­um heat until soup comes to a slow boil.
Reduce the heat and sim­mer for about 15 minutes.
Remove from the heat and stir in the soft­ened cream cheese. Stir until cream cheese has ful­ly melt­ed and been incorporated.
Serve your hearty deli­cious meal.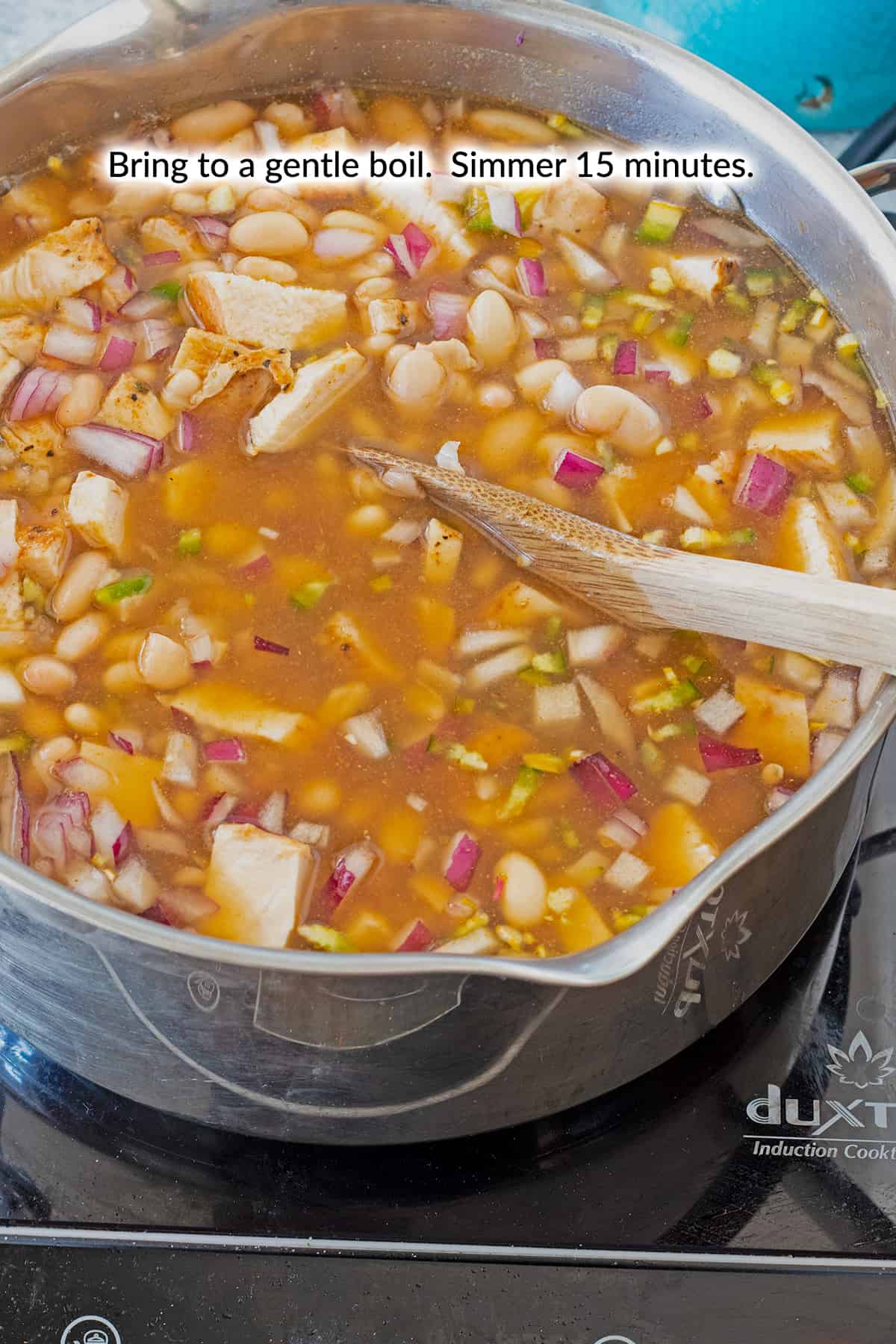 Serving White Chicken Chili
You can top your white chick­en chi or leave it plain. We love to serve it with a few garnishes.
I like to serve Creamy White Chick­en Chili with some fresh­ly grat­ed ched­dar cheese or col­by jack cheese and hand-torn cilantro leaves.
We also enjoy it with diced avo­ca­do, sour cream, minced onion, tor­tilla strips or chips or sliced jalapenos.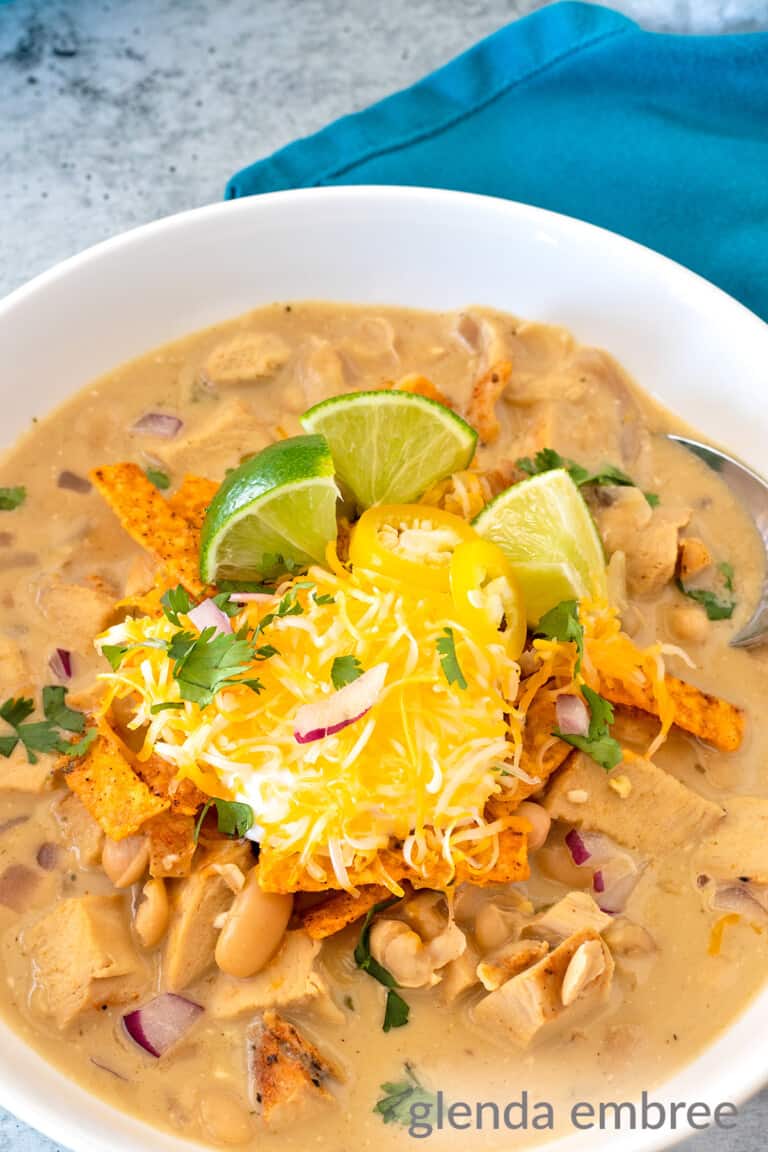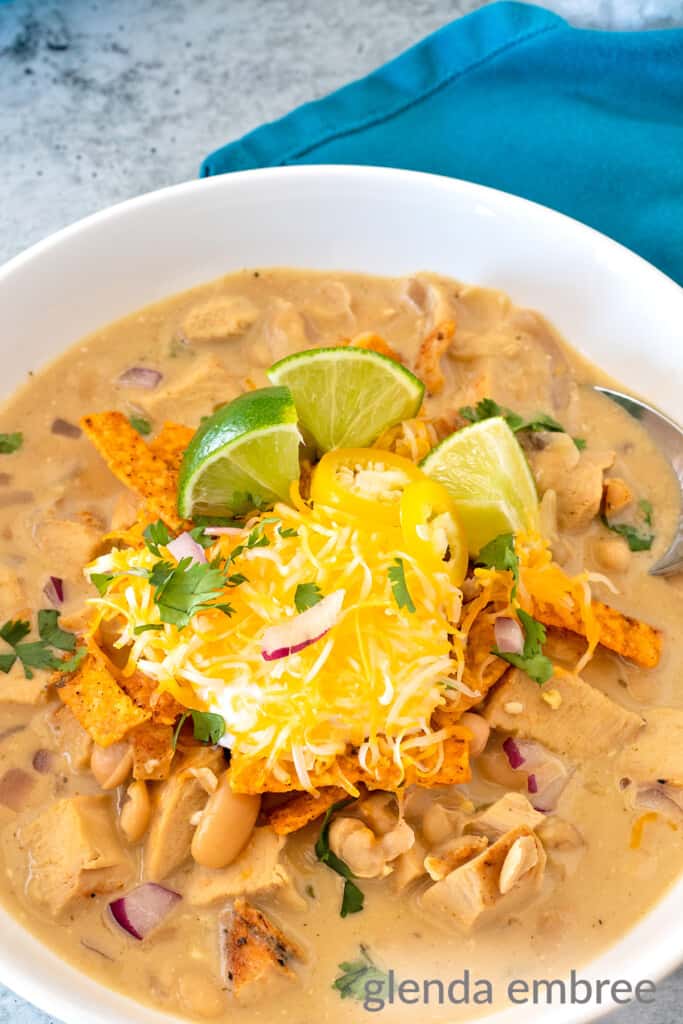 What to Serve with White Chicken Chili
It is absolute­ly stun­ning with our Favorite Sweet Corn­bread as a side. The savory spice of the soup is per­fect­ly com­ple­ment­ed by the sweet, moist cornbread.
You'll also love it with my Easy 30-Minute Bis­cuits. Home­made bread fast enough to have for week­night dinners!
Add a green sal­ad and your meal is complete!
Stay warm and enjoy, my friend!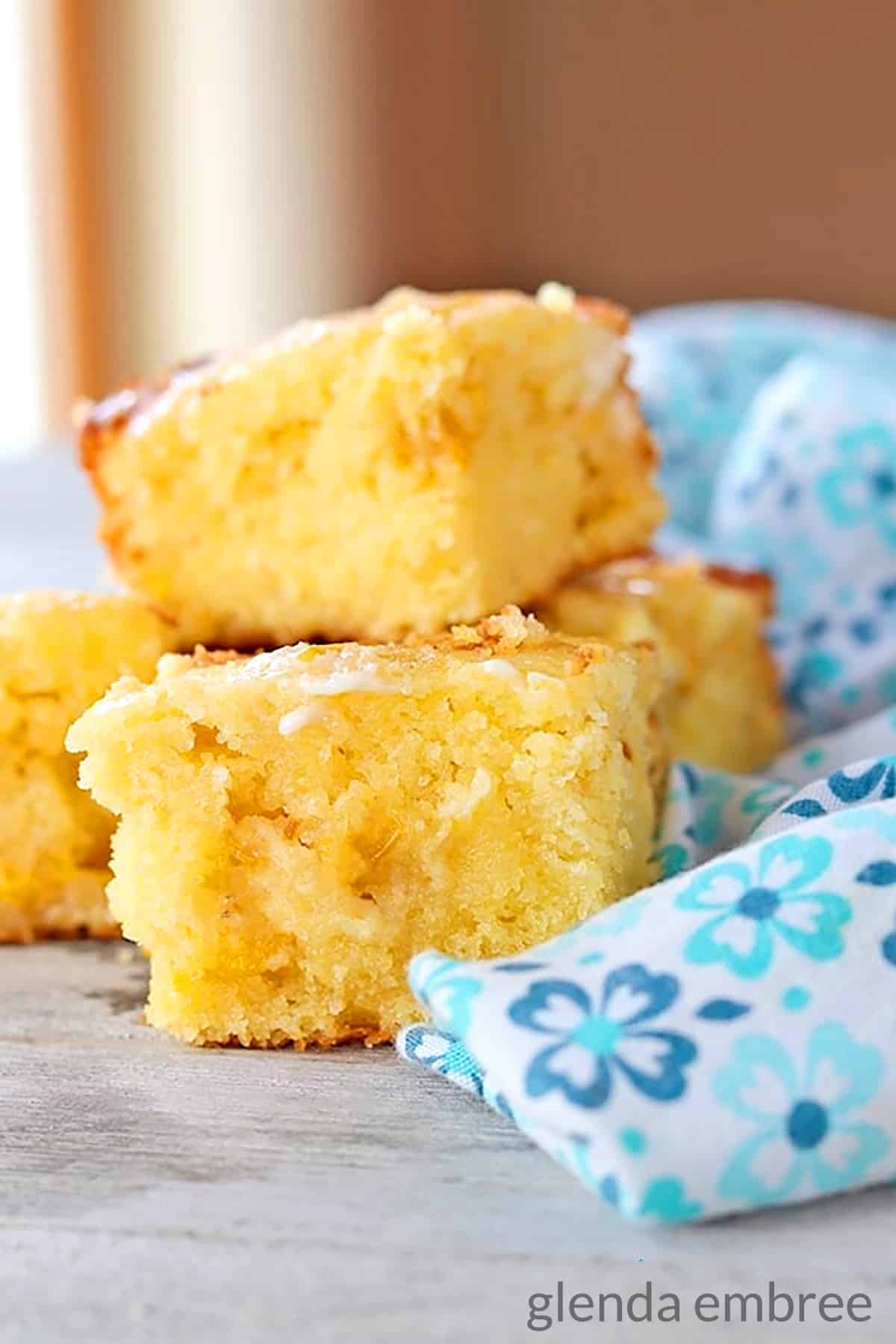 Print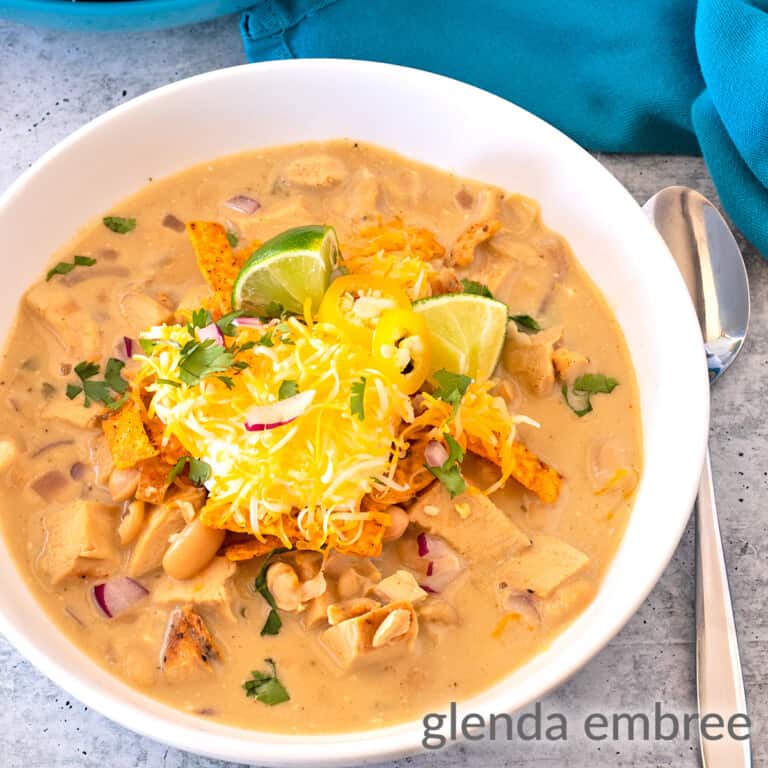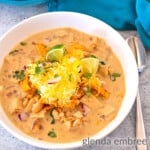 Creamy White Chicken Chili
---
Author:

Total Time:

30 min­utes

Yield:

10

-

12

serv­ings

1

x

Diet:

Gluten Free
Description
A sim­ple and extra­or­di­nar­i­ly fla­vor­ful soup, with a spicy kick. It will warm both body and soul. Ter­rif­ic with corn­bread or even tor­tilla chips.
---
4

chick­en breasts, cooked and shredded

4

(15.5 oz) cans can­neli­ni beans (or great north­ern beans)

6

cups

chick­en broth

1

large jalapeno, minced (

3

-

4

Table­spoons minced)

1

medi­um yel­low onion, minced (red or white work, as well)

1 Table­spoon

home­made chick­en bouil­lon (or your favorite brand, to taste)

1 Table­spoon

gar­lic, minced

1 tea­spoon

corian­der powder

1 Table­spoon

cumin

1

(8 oz) block cream cheese, softened
---
Instructions
Drain and rinse the beans.
Add beans and all ingre­di­ents, except cream cheese to stock pot.
Bring to a gen­tle boil over medi­um heat.
Reduce heat and sim­mer for 15 minutes.
Remove from heat and stir in the soft­ened cream cheese. Con­tin­ue stir­ring until the cream cheese has com­plete­ly melt­ed and is incor­po­rat­ed into the broth.
Serve with any of your favorite gar­nish­es. I love it with grat­ed ched­dar and cilantro. A dol­lop of sour cream or thin­ly sliced green onions would be good, too.
Prep Time:

10 min

Cook Time:

20 min

Cat­e­go­ry:

Soup

Method:

Stove Top

Cui­sine:

Mexican/American
21 Easy Chili Recipes A roundup of chili recipes from some of my favorite bloggers.