This easy coleslaw recipe is a fam­i­ly favorite side dish any time of the year. It's a 4‑ingredient quick-fix with creamy, tangy and deli­cious home­made coleslaw dressing.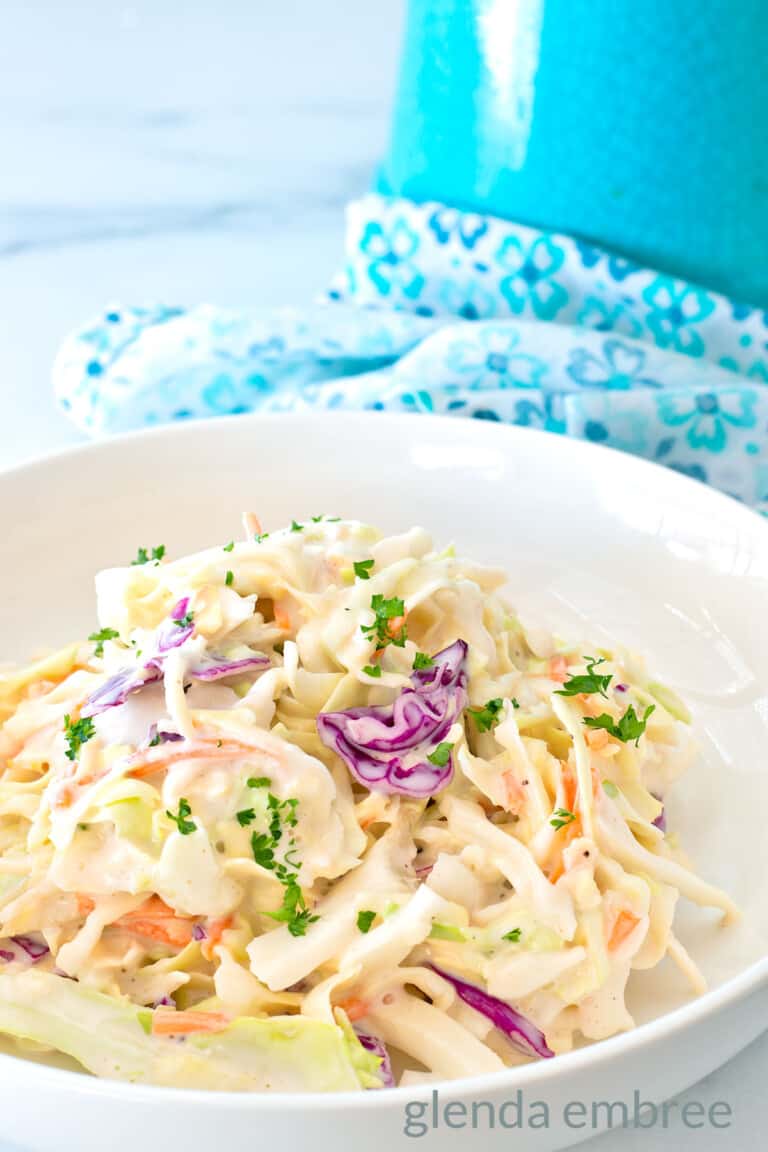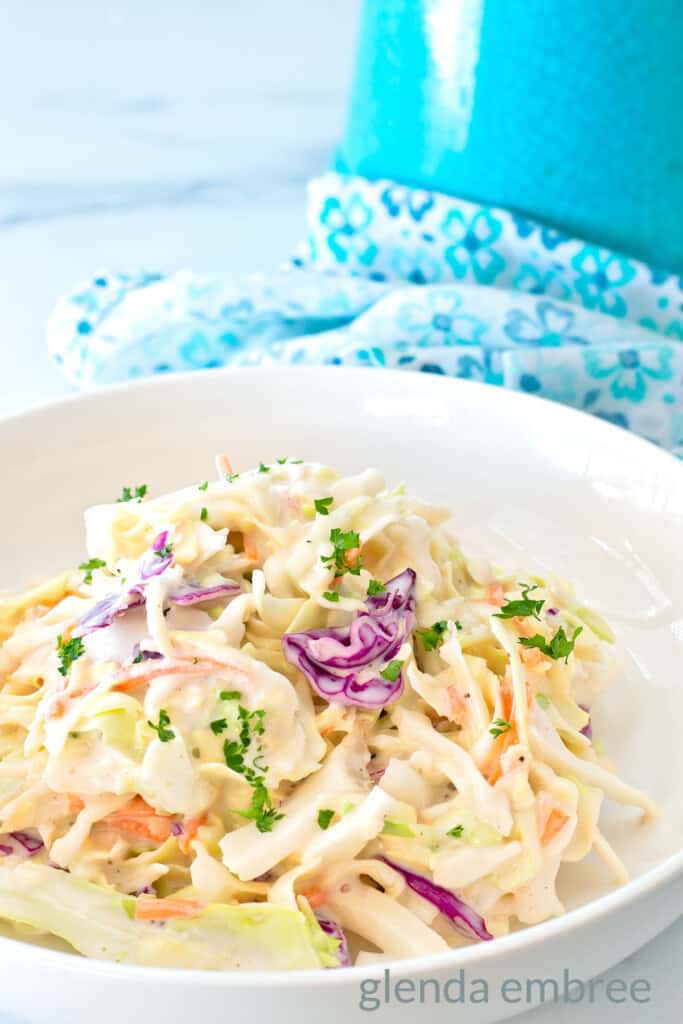 Easy coleslaw with creamy home­made coleslaw dress­ing is out­ra­geous­ly sim­ple to make and packs a real fla­vor punch.
This is one of those recipes that becomes so per­son­al and a part of tra­di­tion in fam­i­lies that it won't sur­prise you when I say it's real­ly the only coleslaw recipe my fam­i­ly eats.
Just like with pota­to sal­ad or mac­a­roni sal­ad, fam­i­lies can become polar­ized around a recipe that has been hand­ed down for gen­er­a­tions. It's the one that tastes best to them and I think that's as it should be.
From that one favorite base recipe, all kinds of vari­a­tions can be born. But to come up with vari­a­tions, you first have to have a tried and true fam­i­ly favorite coleslaw recipe.
If you don't have a fam­i­ly recipe hand­ed down for gen­er­a­tions, yet, today is the day you start your tra­di­tion. You're gonna love my sim­ple creamy coleslaw with home­made coleslaw dressing.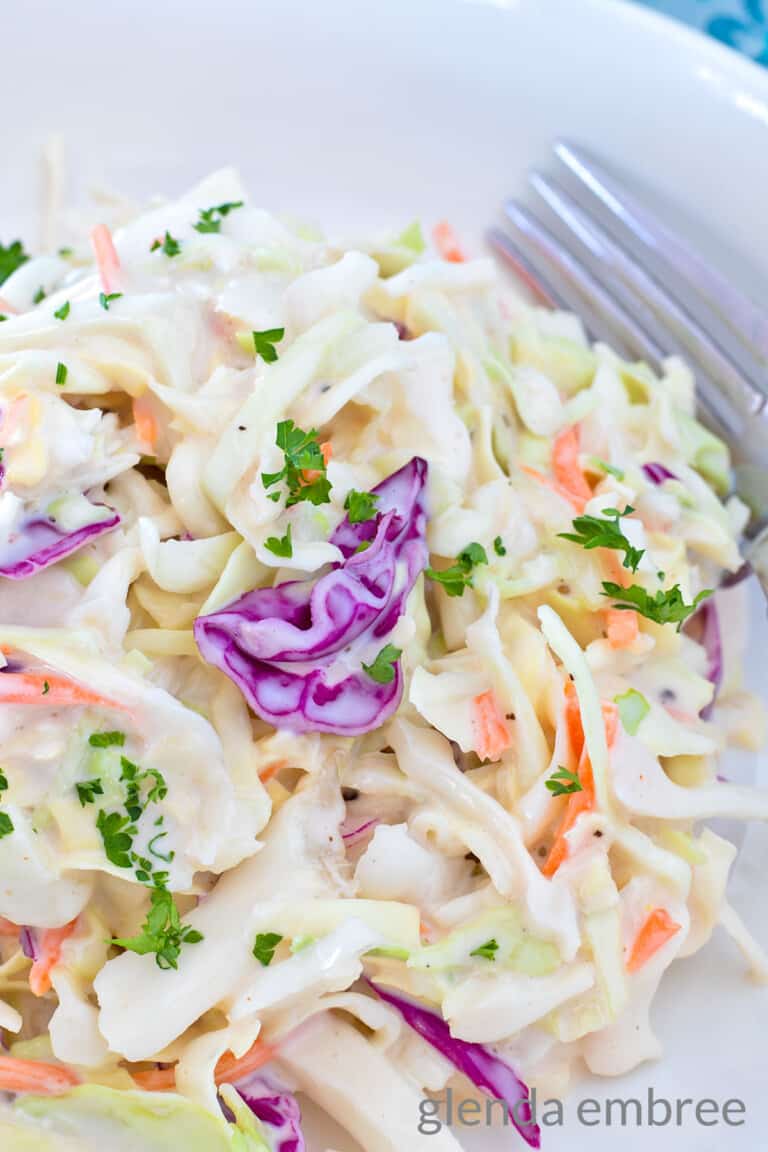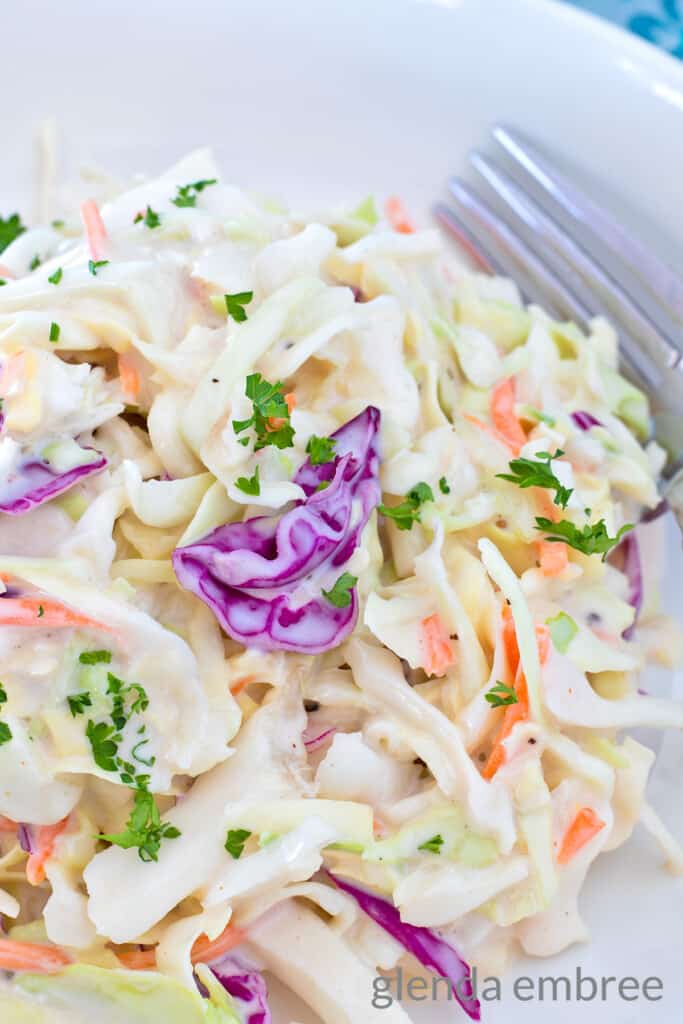 The Ingredients
Coleslaw Mix — You can cer­tain­ly grate or chop fresh cab­bage if you pre­fer not to buy the already grat­ed coleslaw mix. I love it because it saves me so much time and already has a mix of both green cab­bage and red cab­bage along with grat­ed carrots.
May­on­naise — Home­made May­on­naise or store bought may­on­naise work equal­ly well in coleslaw. As a mat­ter of fact I have made it with dress­ings like Mir­a­cle Whip with good suc­cess, too. It's just sweet­er. Choose what you like best. My go-to stan­dard is mayonnaise.
Red Wine Vine­gar — Again, this is a mat­ter of per­son­al pref­er­ence. There is a slight nat­ur­al sweet­ness to red wine vine­gar and I love it in this home­made coleslaw dress­ing. How­ev­er, you can sub­sti­tute white vine­gar, apple cider vine­gar or white wine vine­gar and it will be scrump­tious. Choose your favorite or what's already in your pantry.
Gran­u­lat­ed Sug­ar — We've talked about gran­u­lat­ed sug­ar before. I use Zul­ka More­na which is less processed, which is why it appears tan in pho­tos. What ever brand you choose will be fine.
Salt and Pep­per — Use it to taste. Every palate is dif­fer­ent, but most will want at least some sea­son­ing in their coleslaw. Start in small incre­ments and add more after tasting.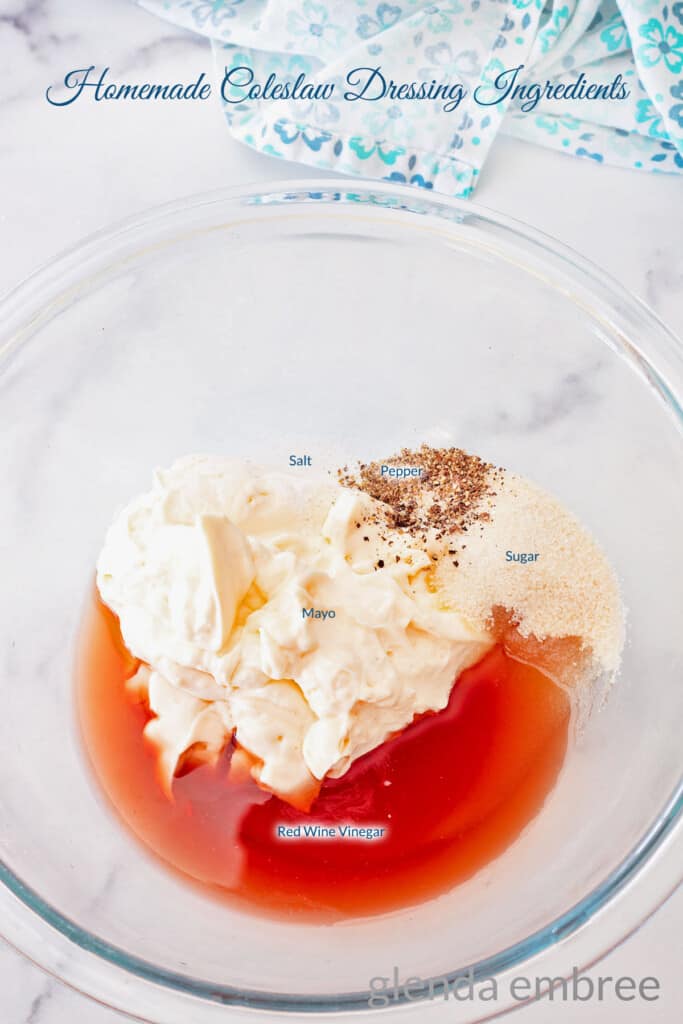 What Is Coleslaw?
Our Eng­lish word coleslaw, or cole slaw, comes from a Dutch word, kool­sla. Kool­sla is trans­lat­ed as cab­bage sal­ad. Even though it orig­i­nat­ed in the Nether­lands, recipes for coleslaw were used in Amer­i­can homes as ear­ly as the late 1700's.
There­fore, we can assume that the main ingre­di­ent in coleslaw is typ­i­cal­ly cab­bage, though it's not unusu­al to include oth­er veg­eta­bles or greens in Amer­i­can coleslaw recipes.
Coleslaw (cab­bage sal­ad) dress­ings are what brings all the fla­vor to this scrump­tious­ly crunchy sal­ad. Home­made coleslaw dress­ing can fall into one of two vari­eties: may­on­naise dress­ing or vine­gar based dressing.
The dress­ing you choose deter­mines the tex­ture and fla­vor of your coleslaw. And there are lots of pos­si­ble variations.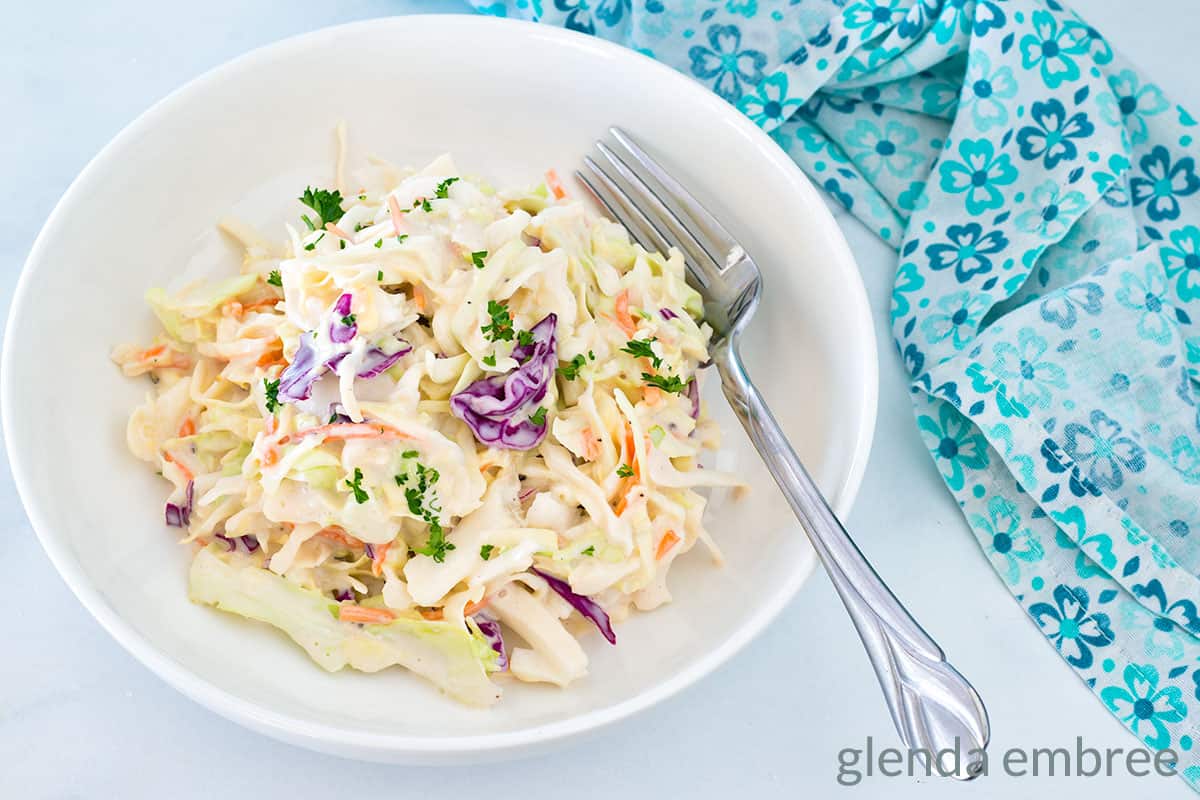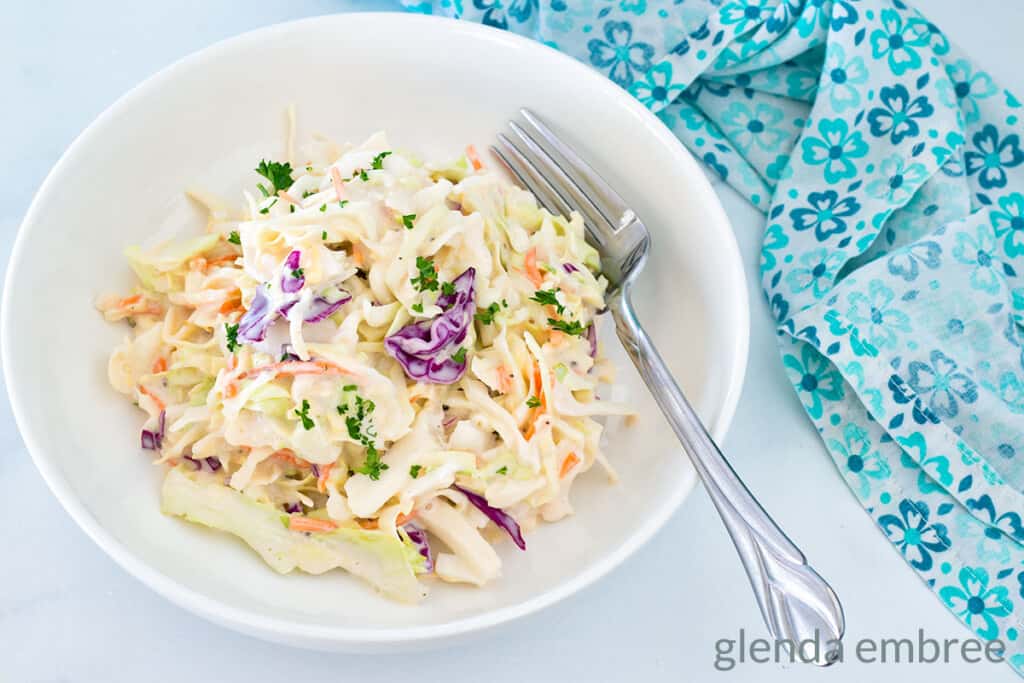 How Long Does Coleslaw Last?
How long can I keep coleslaw in the fridge?
The USDA rec­om­mend­ed time for any left­overs is not more than 4 days. And that seems right to me when it comes to coleslaw. If it lasts that long, (It does­n't in our house), 3 or 4 days will be the lim­it before the cab­bage starts break­ing down and weeps a lot of its mois­ture into the dress­ing. Store it in an air­tight con­tain­er in the fridge and enjoy it for up to 4 days.
Coleslaw Recipe Variation Possibilities
When you're mak­ing coleslaw, the dish­es you're serv­ing it with will often deter­mine the coleslaw dress­ing recipe that you use. And let's be hon­est, the dress­ing is what makes the coleslaw.
This creamy, mayo-based coleslaw dress­ing recipe is my go-to for most any meal. And, for potlucks or tail­gat­ing. It's quick and easy to prep and I always have the ingre­di­ents on hand. Plus, it com­ple­ments almost any main dish or sand­wich with ease.
But you can def­i­nite­ly get cre­ative with this coleslaw recipe, too.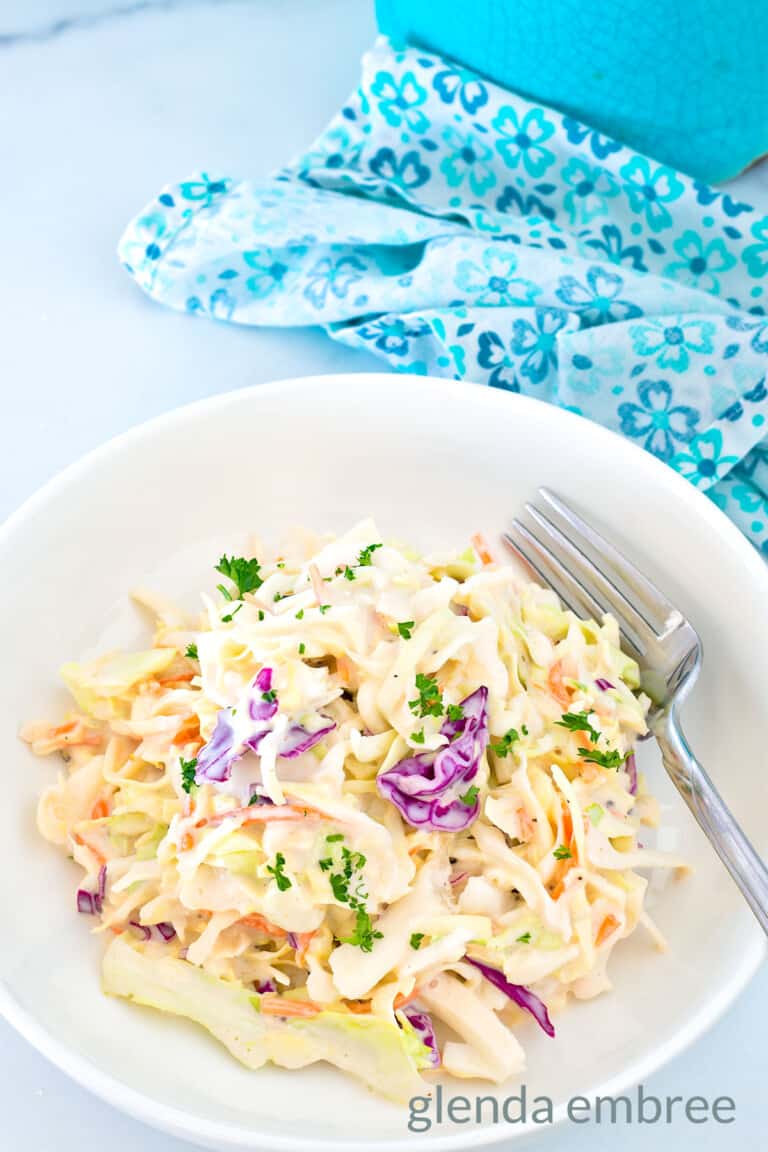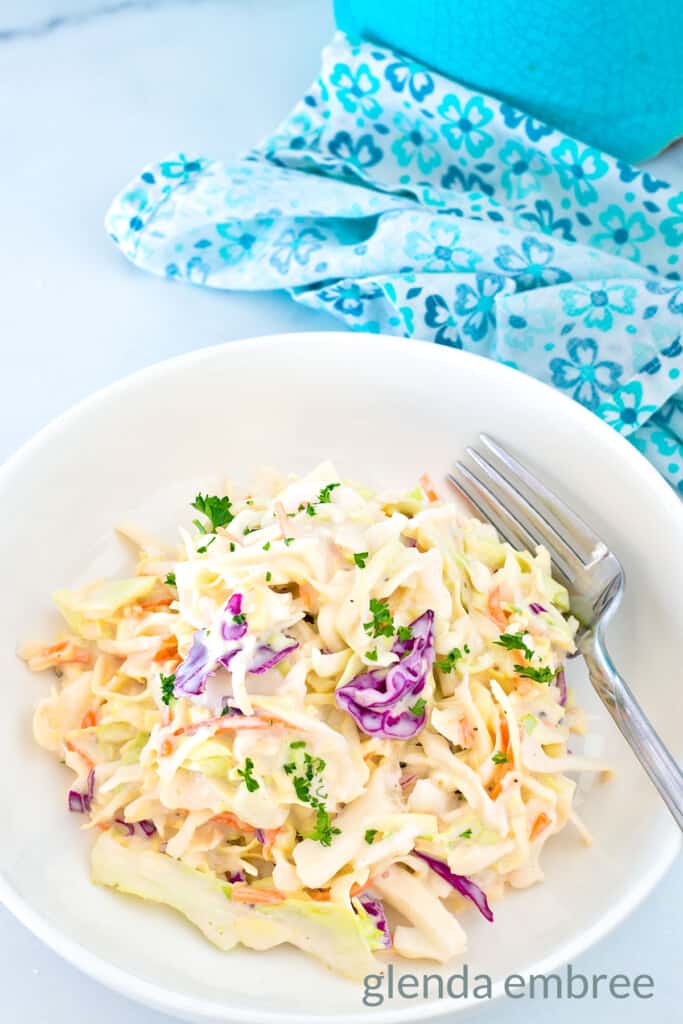 Add more veg­gies or fruit. I've been know to use half cab­bage slaw and half broc­coli slaw in this recipe. Any col­or of bell pep­pers, green or red onions, grat­ed apple and grat­ed jica­ma are all deli­cious addi­tions to coleslaw.
Add herbs sea­son­ings and spices to cre­ate com­plete­ly dif­fer­ent fla­vor profiles.

Mex­i­can Coleslaw — Most Mex­i­can coleslaw recipes are vine­gar based. But you can add some south­west­ern flair to this creamy ver­sion by using half mayo and half sour cream and adding cumin and cilantro to the dress­ing. Sub­sti­tute lime juice for the vine­gar. And if you want some spicy kick, try adding minced jalapeno or my South­west­ern Sea­son­ing.
Greek Coleslaw — Sub­sti­tute lemon juice for the vine­gar and Greek yogurt for the mayo. Add chopped pep­per­onci­nis, olives, bell pep­per, chick­peas and oregano. Toss in a lit­tle feta and some fresh­ly chopped dill or mint.
Asian Coleslaw — Asian Coleslaw does­n't have to be vine­gar-based. Try Kew­pie mayo instead of tra­di­tion­al. Sub­sti­tute rice vine­gar for the red wine vine­gar. Add soy sauce, grat­ed gin­ger and sesame oil to the dress­ing, too. Green onions, sliced almonds and sesame seeds would be scrump­tious add-ins, as well. (You may also like my Broc­coli Ramen Coleslaw, which IS vinegar-based.)
Regard­less of how you dress it up, coleslaw is a quick and easy side dish. It's ver­sa­til­i­ty makes it a great com­ple­ment to any main dish. And it can almost always be on the table in about 30 minutes.
What To Serve with Coleslaw with Creamy Homemade Coleslaw Dressing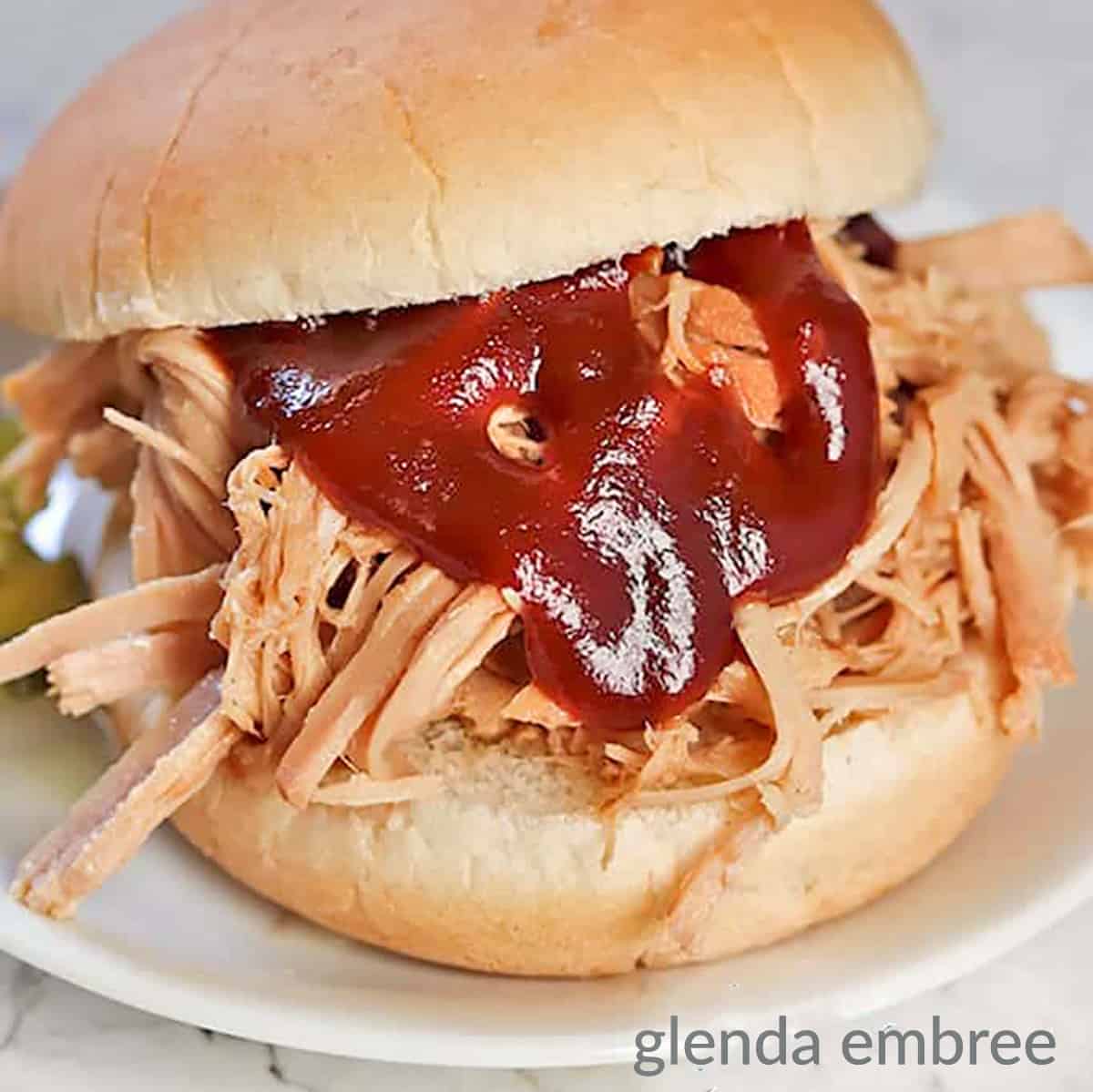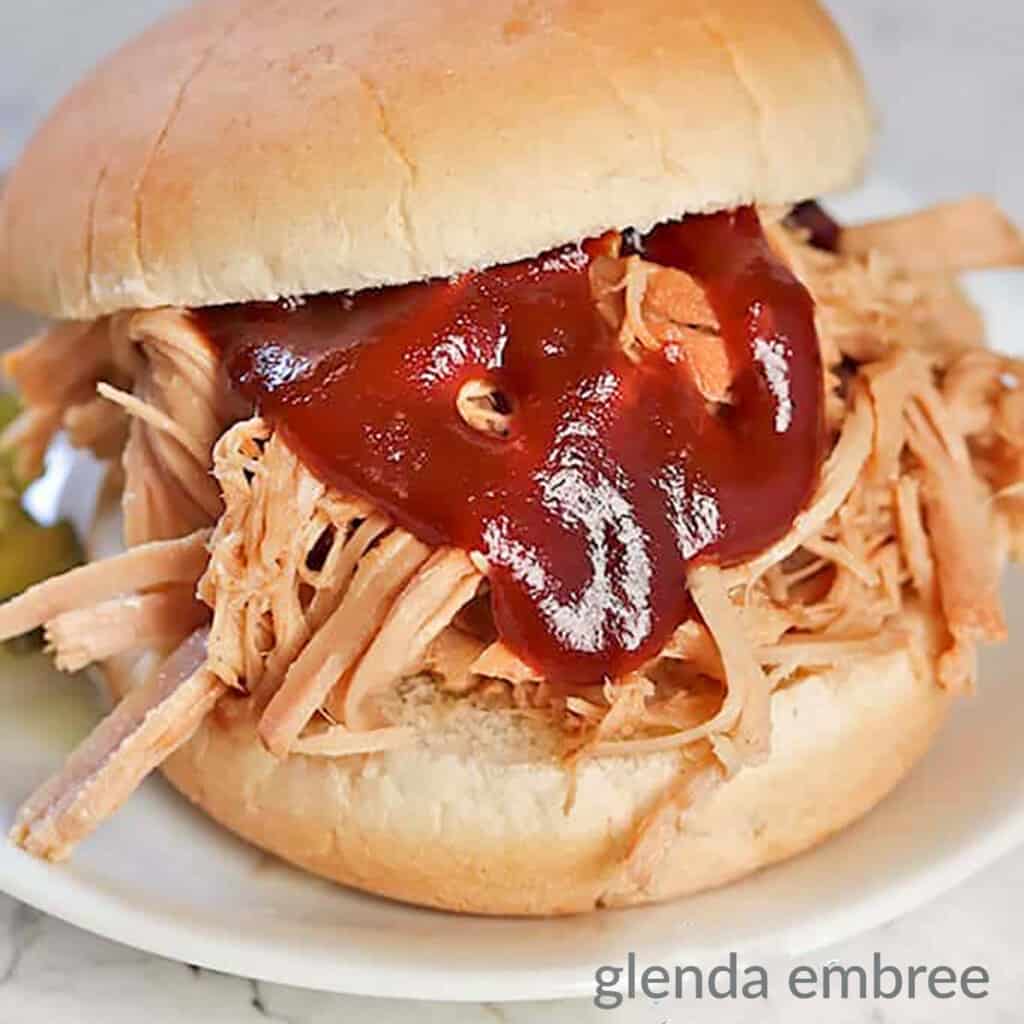 Coleslaw can be served with almost any main dish or sand­wich. But, here are a few of our favorite recipes to serve it alongside.
We love this easy, light­ly sweet coleslaw with my two-ingre­di­ent Per­fect Pulled Pork. And best easy coleslaw is also a fab­u­lous side dish for juicy and ten­der Baked Chick­en Breasts.
Coleslaw with creamy coleslaw dress­ing along­side my Best Slop­py Joes is an over-the-top deli­cious quick and easy meal. And this crunchy coleslaw recipe is the per­fect com­ple­ment to my deli­cious 5‑ingredient Meat­loaf.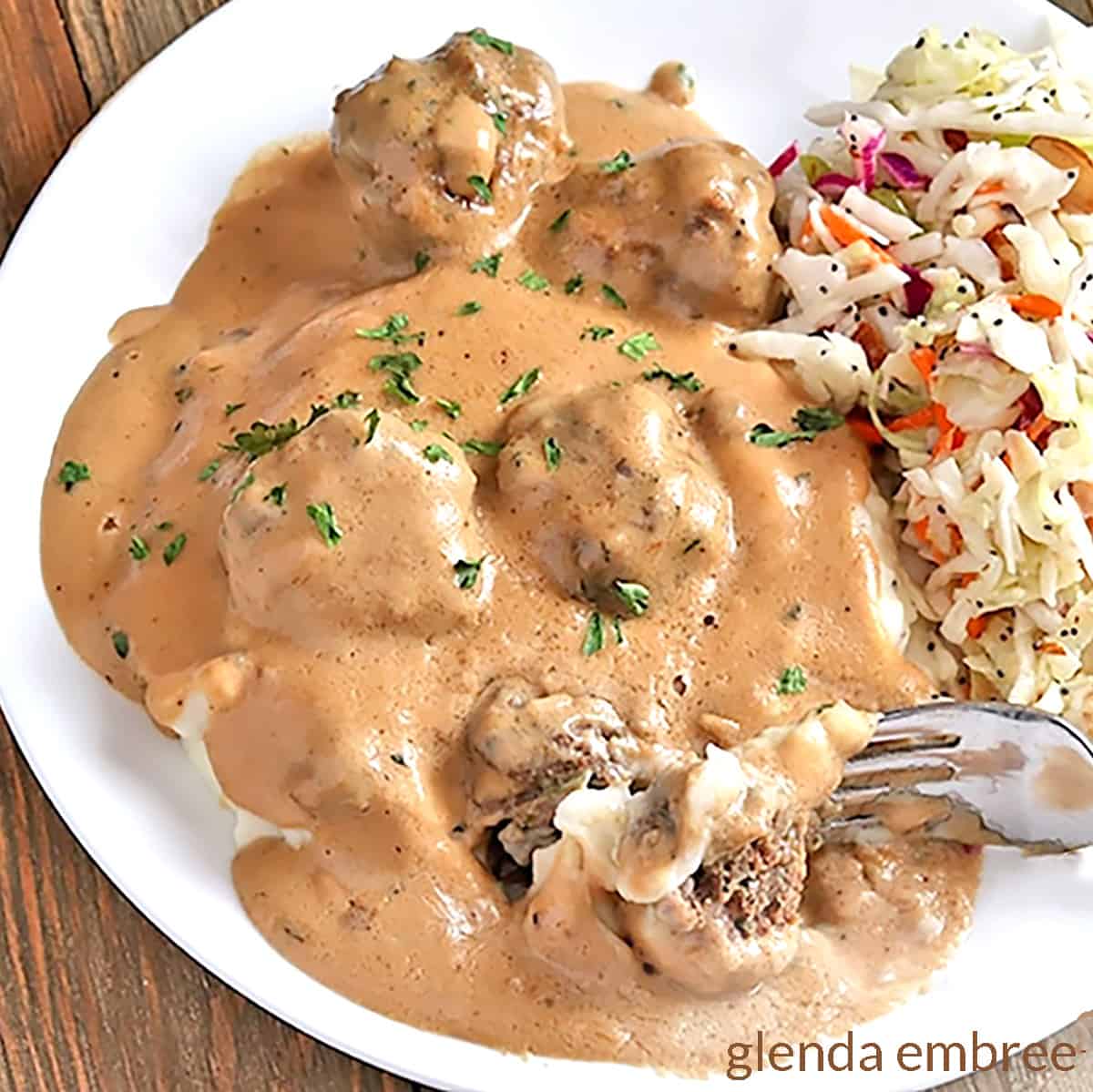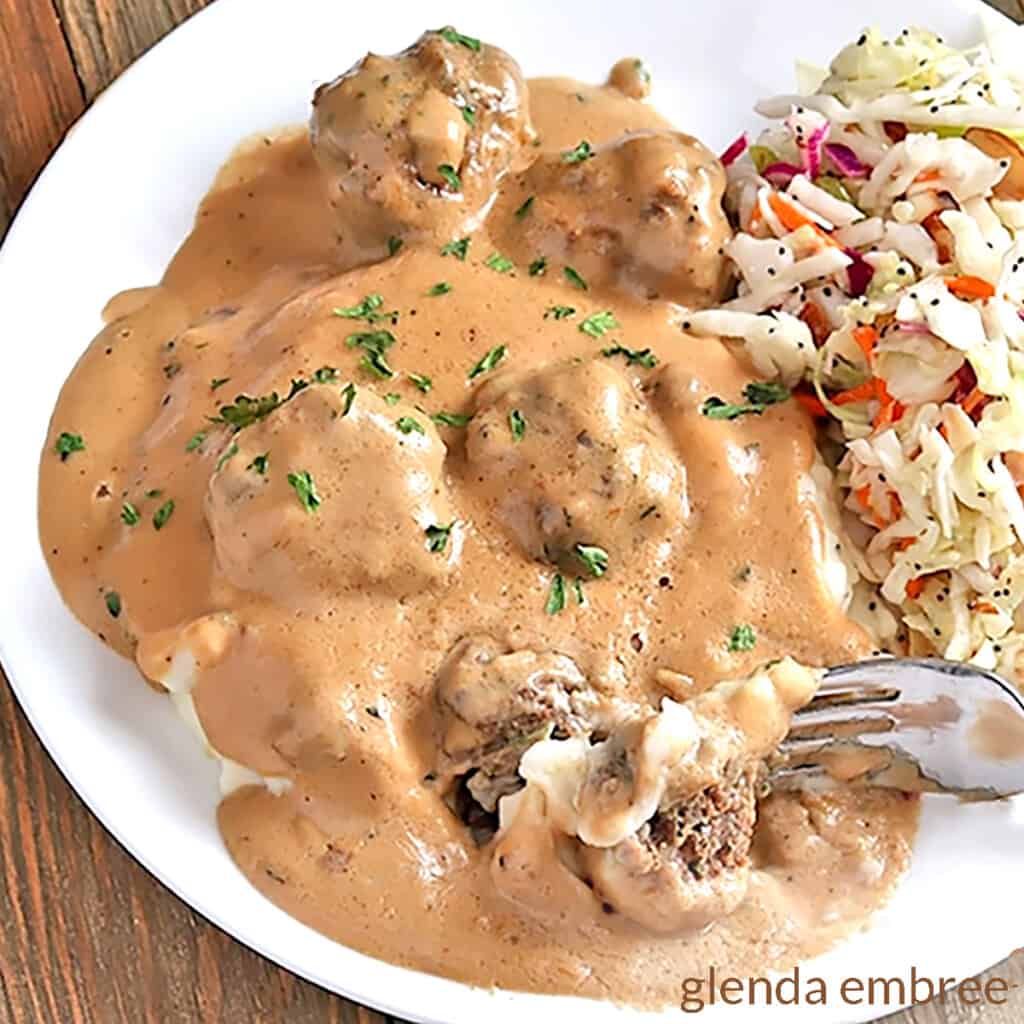 Meat­balls in Brown Gravy or our favorite Creamy Sour Cream Chick­en Enchi­ladas are also per­fect­ly com­ple­ment­ed by creamy coleslaw.
We also enjoy coleslaw as a side dish for this easy 5‑ingredient Beef Enchi­la­da Casse­role. And, it has just enough acid­i­ty from red wine vine­gar to cut per­fect­ly through the rich­ness of easy and deli­cious Crock­pot Cube Steak.
Hon­est­ly, this delight­ful­ly fla­vor­ful coleslaw is the creamy, acidic pop that goes well with almost any pro­tein. We even love it in tacos. Espe­cial­ly, BBQ Pulled Pork Tacos!
How to Make Homemade Coleslaw Dressing and the Best Coleslaw Ever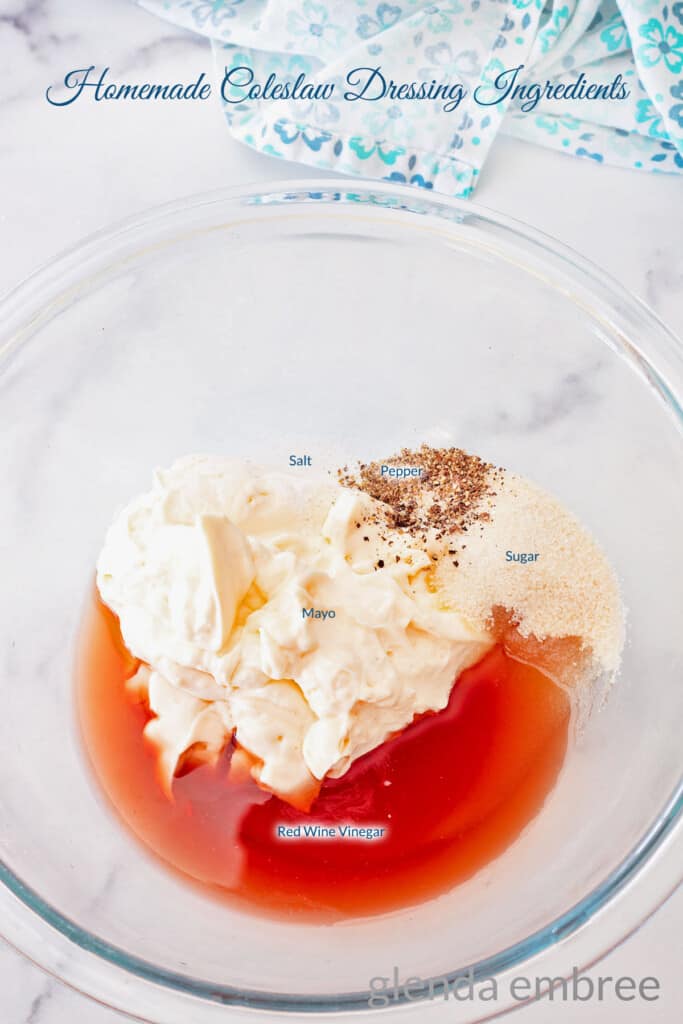 Mix the dress­ing ingre­di­ents togeth­er in a large mix­ing bowl.
Add the coleslaw mix and stir to thor­ough­ly coat the cab­bage and veg­gies in dressing.
Refrig­er­ate for at least 30 minutes.
Serve with your favorite fam­i­ly meals.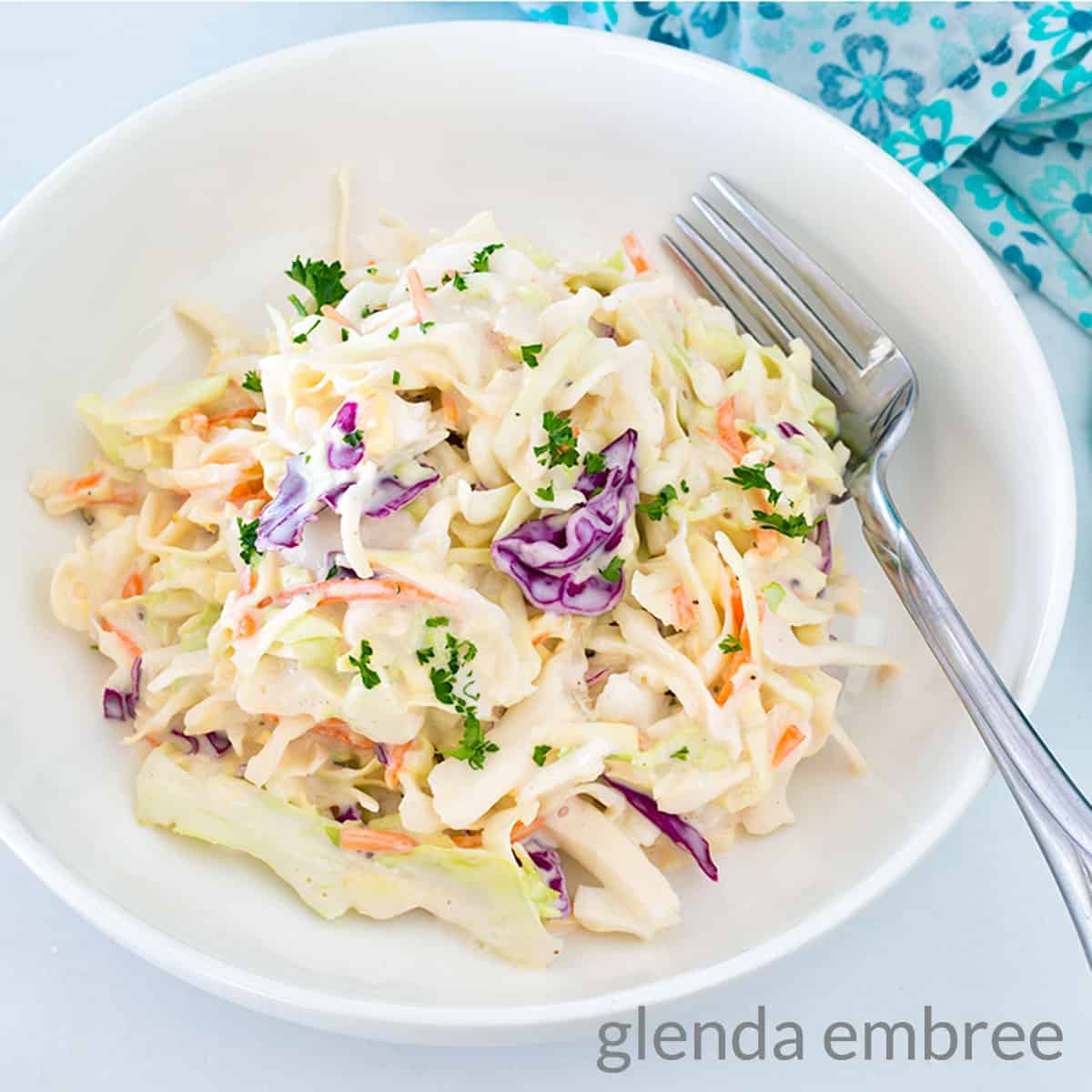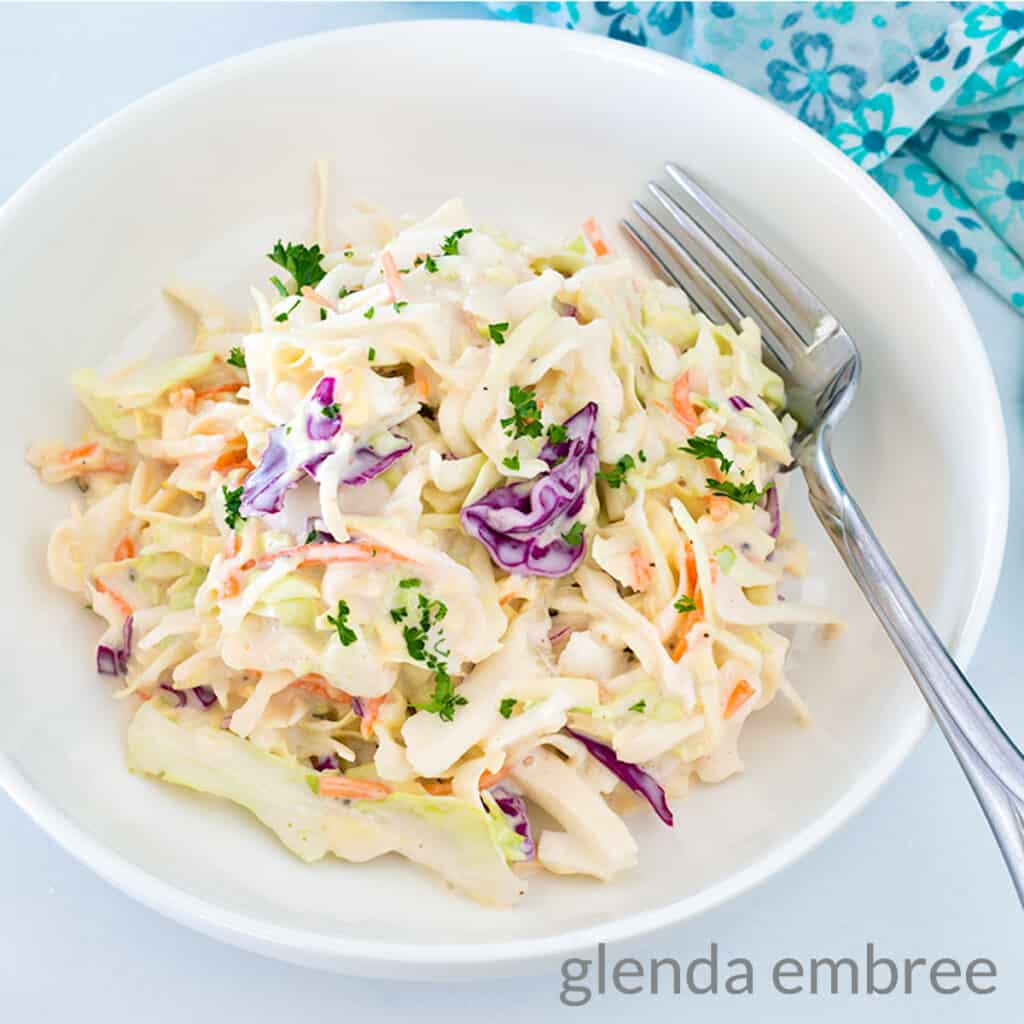 The Recipe
Print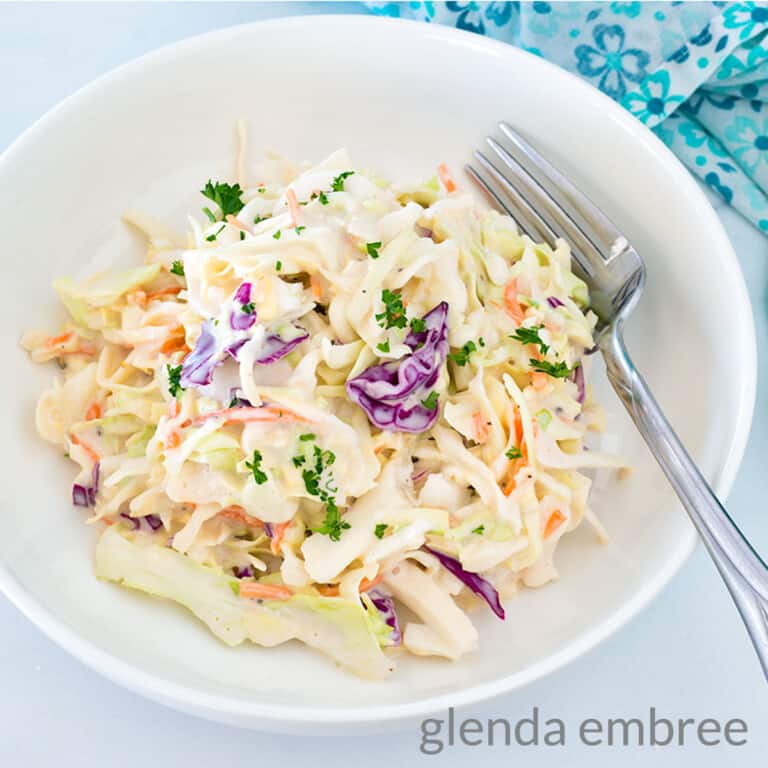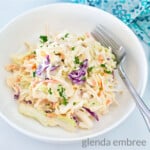 Best Easy Coleslaw Recipe
---
Author:

Total Time:

30 min­utes

Yield:

8

—

10

serv­ings

1

x
Description
This easy coleslaw recipe is a fam­i­ly favorite side dish any time of the year. It's a 4‑ingredient quick-fix that's creamy, tangy and delicious!
---
16 oz

bag coleslaw mix (or

16 oz

. fresh­ly grat­ed cab­bage and carrots)

1 1/2

cups

may­on­naise

1/4

cup

red wine vinegar

3 Table­spoons

gran­u­lat­ed sugar
salt and pep­per, to taste
---
Instructions
Whisk the dress­ing ingre­di­ents (may­on­naise, vine­gar, sug­ar, salt and pep­per) togeth­er in a large mix­ing bowl.
Add the coleslaw mix and stir to thor­ough­ly coat the cab­bage and veg­gies in dressing.
Refrig­er­ate for at least 30 minutes.
Serve with your favorite fam­i­ly meals.
Prep Time:

5 min

Chill Time:

25 min

Cat­e­go­ry:

Sal­ad, Side Dish, Vegetable

Method:

Cold Prep

Cui­sine:

Amer­i­can