Per­fect Pulled Pork is easy to achieve with your slow cook­er. In 5 min­utes or less, you can get this tasty dish start­ed and get on with your day.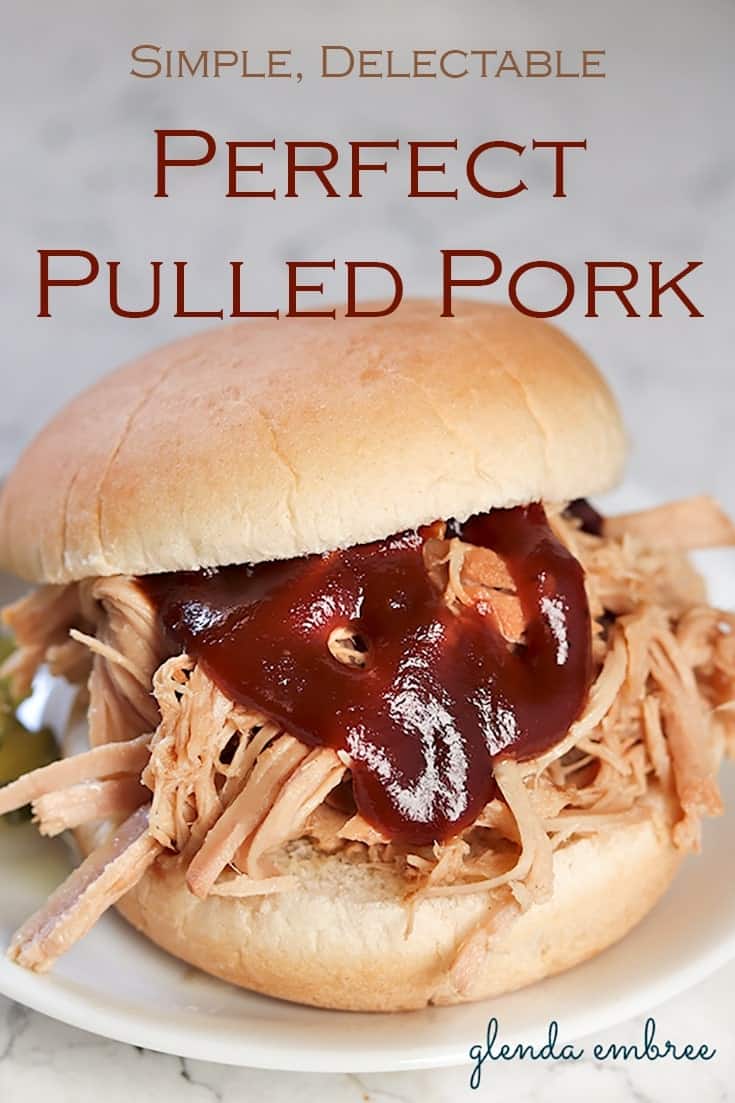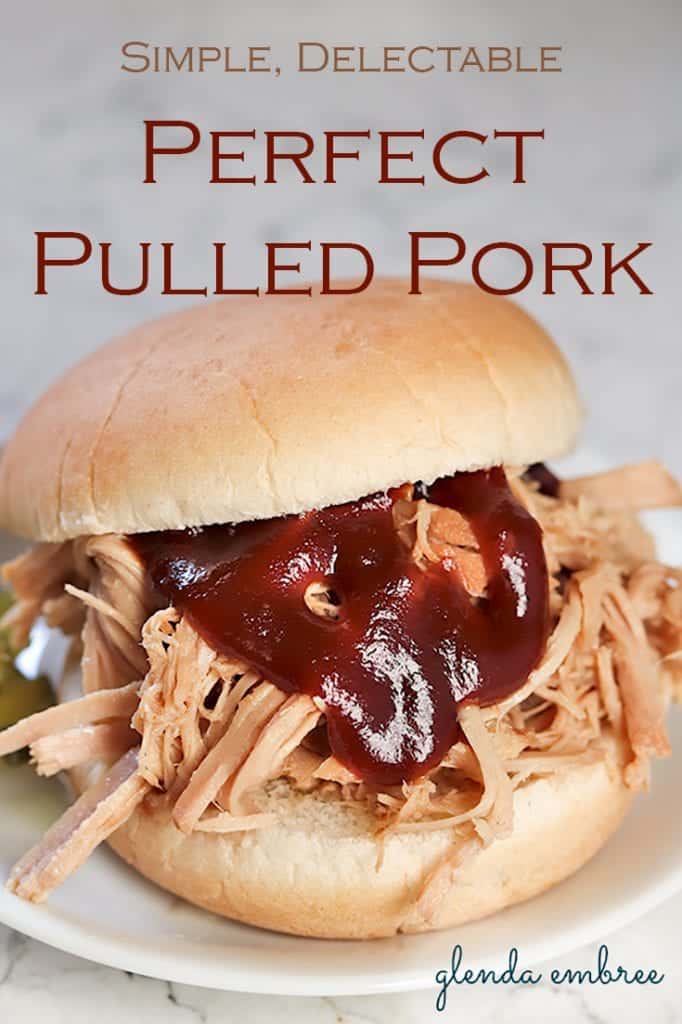 It's one of my favorite meals for hec­tic days, because it requires so lit­tle time and effort. It also yields a fla­vor­ful, scrump­tious sup­per with left­overs to make so many oth­er tasty lunch­es and dinners.
The Ingredients
Two sim­ple ingre­di­ents will make this deli­cious pork ten­der­loin din­ner for your fam­i­ly. All you need is a 4 or 5 pound pork loin roast and a box of onion soup mix (one with 2 pack­ets of soup mix).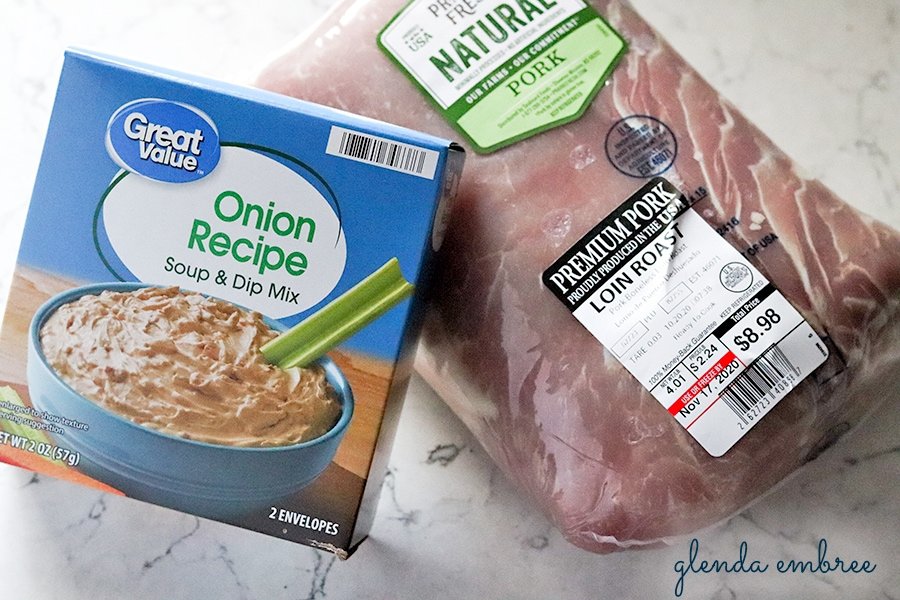 As you can see, this is an afford­able meal. As a mat­ter of fact, for $10, you will have prepped the meat for mul­ti­ple deli­cious lunch­es and/or dinners!
I almost nev­er cooked pork for my fam­i­ly until about 4 years ago. I ate a lot of it grow­ing up, but real­ly, we were more of a beef and chick­en fam­i­ly. Pork was­n't my favorite. It seemed to have lots of fat and not much fla­vor. So, I have pret­ty much ignored it most of my adult life.
A few years back, I real­ized how much more afford­able pork is and I start­ed exper­i­ment­ing with dif­fer­ent cuts and fla­vors. And, I learned how to cook it well. It real­ly takes on what­ev­er fla­vors you cook with it.
So, pork loin roasts have been one of my favorites to cook with ever since. I cut them into thick, bone­less pork chops, use them to make rice bowls and noo­dle bowls. I use it for bar­be­cue and so many oth­er fla­vor-rich soups, stews and recipes. It's a pro­tein that I hope you'll give more con­sid­er­a­tion after you taste this yum­my per­fect pulled pork!
How to Make Perfect Pulled Pork
One whole side of your pork loin will be cov­ered in a thick lay­er of fat. That's the fat cap. Don't remove it until after cook­ing. That's mois­ture and fla­vor that will make your pork irre­sistibly delicious!
Remove the loin from it's pack­age and place it in your *slow cook­er with the fat cap UP. As it cooks that fat will melt and drip down, fla­vor­ing your meat and keep­ing it ten­der and moist.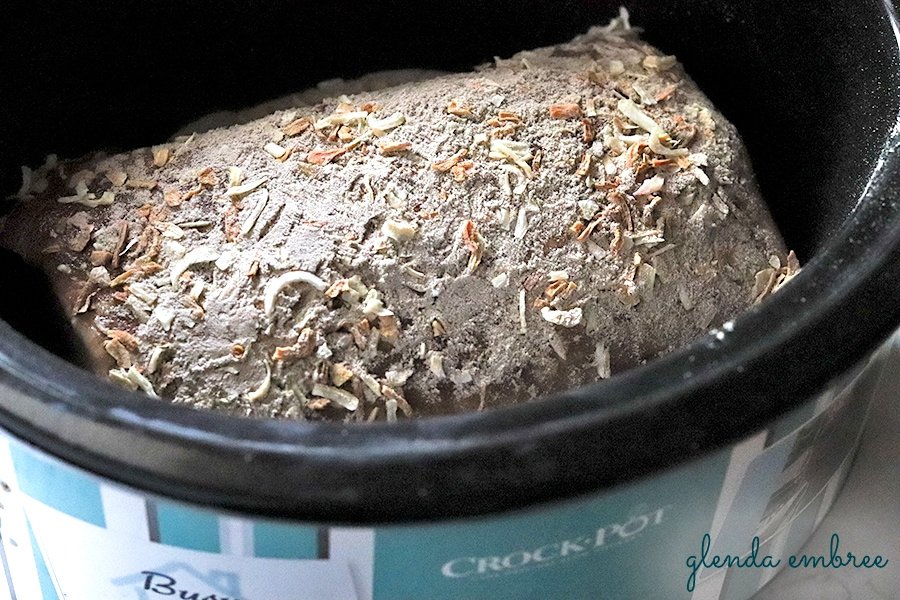 Emp­ty both envelopes of onion soup mix over the top of the pork loin, allow­ing it to run over the sides of the roast, into the bot­tom of the *slow cook­er.
That's it! You don't need any­thing else. No water, no stock, no salt. Just cov­er the slow cook­er with its lid and set it to LOW. Allow the pork to cook slow­ly for 4–6 hours through your day. The USDA rec­om­mends an inter­nal tem­per­a­ture of 145° with a 3 minute rest time for test­ing done­ness of pork loin.
When the Pork Loin is Finished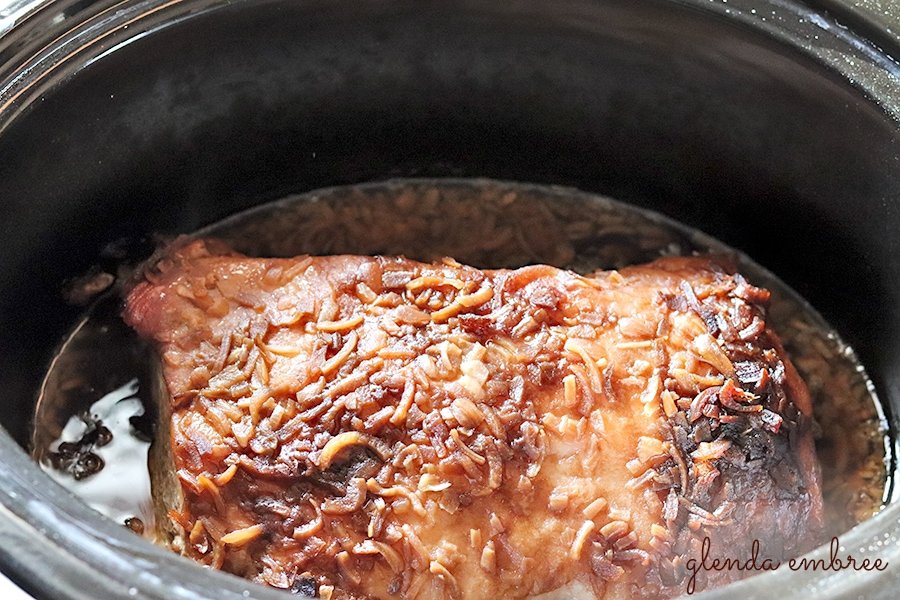 Oh my heav­ens! This pork loin roast is call­ing my name. Look at all the drip­pings that the meat and onion soup mix cre­at­ed on their own!
You could have roast­ed the meat with pota­toes and car­rots in there, too. Then, you'd be ready to slice it up, make some gravy with the drip­pings and enjoy a roast din­ner. But, tonight, we're prep­ping it for pulled pork sand­wich­es and meals through the week with the leftovers.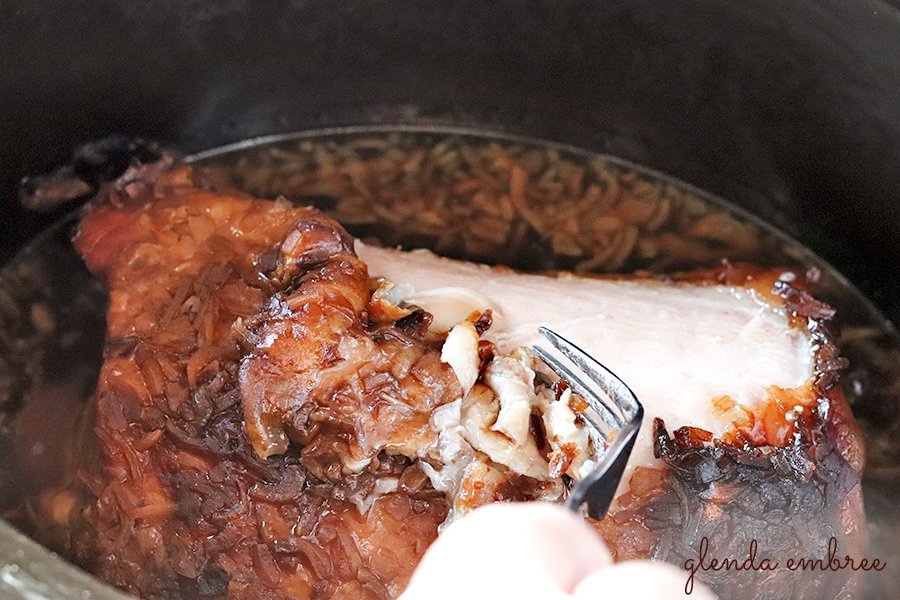 Start by remov­ing the fat cap, now that the roast is done cook­ing. I just use the edge of a fork to scrape and remove it. And I remove ALL of it. I don't want any left in my fin­ished dish­es. Some will argue with me, but that is my per­son­al pref­er­ence. Dis­card the fat and the pork is ready to be pulled.
Use the same fork to shred or "pull" your pork loin roast. Toss it with all the deli­cious brothy drip­pings in the bot­tom of the slow cook­er, so every mouth­ful is moist and won­der­ful. So sim­ple! It's ready to make sand­wich­es for dinner.
Pile it high on buns with your favorite bar­be­cue sauce and top­pings. It's absolute­ly delec­table with vine­gar-based coleslaw, cheese, pick­led onions and jalapenos or any oth­er top­pings your fam­i­ly enjoys. I tried to keep my pho­tos min­i­mal so you could real­ly see the fab­u­lous pork, but go ahead, pile on what you love.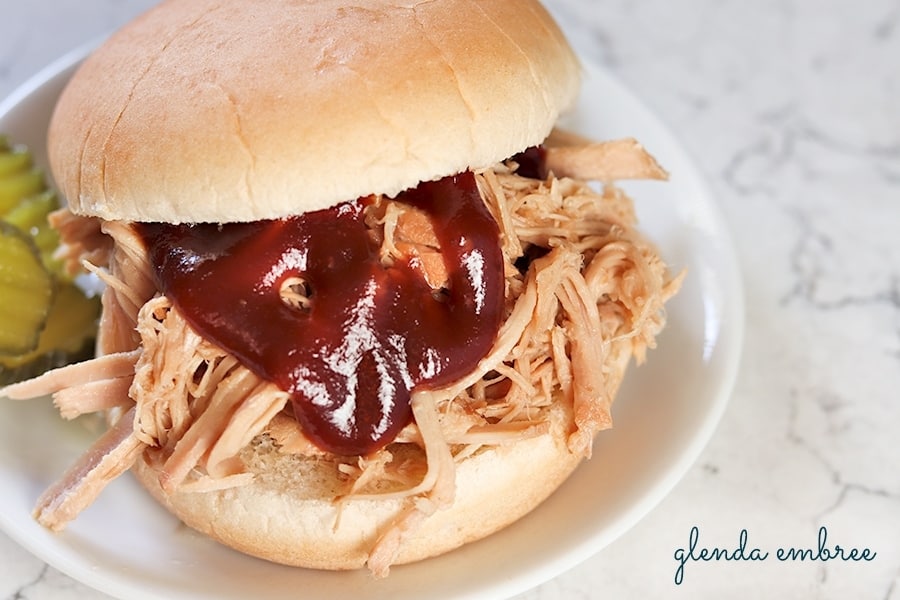 How to Use Leftover Pulled Pork
I made the tacos in this pic­ture by cook­ing the pork in a slow cook­er, too, with dif­fer­ent sea­son­ings, specif­i­cal­ly for car­ni­tas. But, you can take your pulled pork left­overs and do the same thing.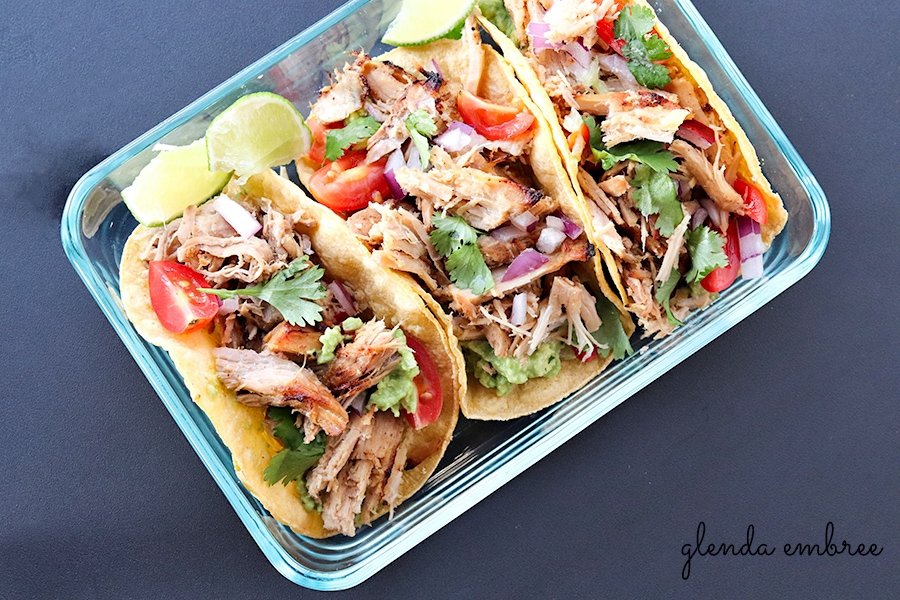 Just toss the pork in a cast iron skil­let with about 2 Table­spoons of oil and some cit­rus juice and zest. I like mix­ing orange and lime. Sprin­kle in a lit­tle cumin and chili pow­der and heat every­thing togeth­er for a few min­utes until the pork starts to get crispy around the edges.
Serve it in warm corn tor­tillas with your favorite taco top­pings! SO GOOD!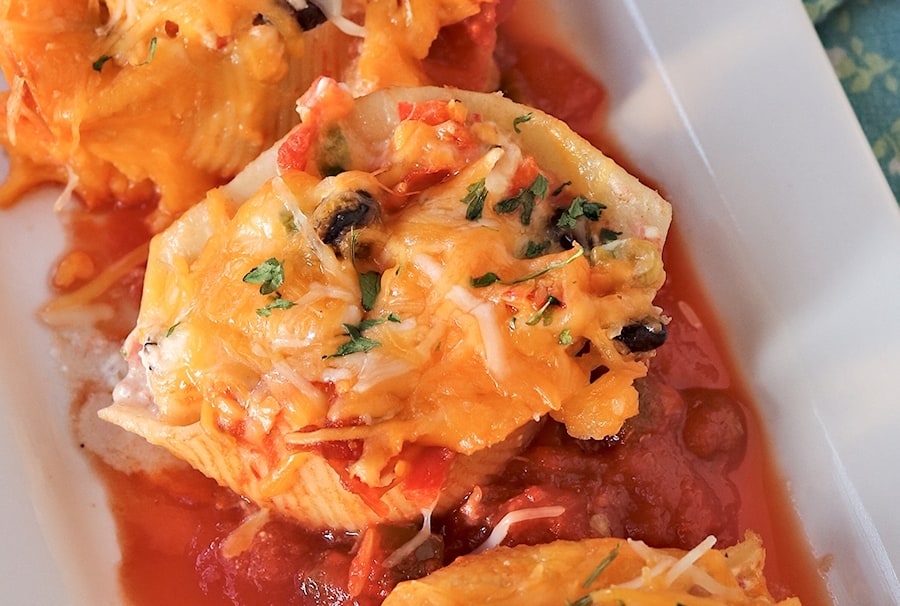 This is a pic­ture of my Mex­i­can Stuffed Pas­ta Shells, made with chick­en. Sub­sti­tute the pulled pork for the chick­en for a deli­cious result. Or use your favorite sauce and cheese mixed with the pork and some minced onion, gar­lic and veg­gies to cre­ate your own ver­sion of a stuffed shell.
The pos­si­bil­i­ties are pret­ty much end­less. If you can make it with chick­en, you can make it with pork. Use it in stir fries, noo­dle casseroles, soup, rice bowls, noo­dle bowls or so much more.
These aren't a "dish" in their own right, but they are some­thing you'll want around for serv­ing pulled pork sand­wich­es and lots of oth­er dish­es. Mix up a sim­ple batch soon and you won't regret it. Hon­est­ly, the onions and the jalapenos are some of our favorite pickles.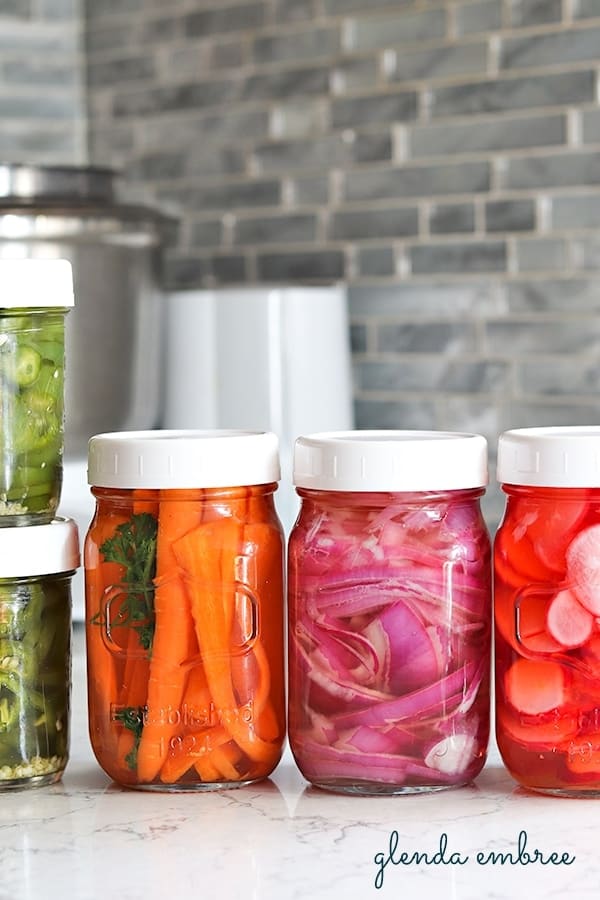 You can also make a deli­cious bar­be­cue piz­za, a quick Chi­nese stir fry or deli­cious bur­ri­tos and que­sadil­las with left­over pulled pork. The pos­si­bil­i­ties are as lim­it­less as your creativity!
Freezing Leftover Pulled Pork
You can put the left­overs into a zip-top bag with the air pushed out and freeze them, too. They'll keep in the freez­er for about 3 months and you can pull them out when you need pre-cooked meat for a meal in a hurry.
Seri­ous­ly, you guys have to try this! It's so fla­vor­ful and so ver­sa­tile and it's the begin­ning of so many afford­able dish­es your fam­i­ly will love.
Big hugs to all! I pray that you and yours are healthy! And, no mat­ter where you are hun­kered down dur­ing this time, I hope you're mak­ing great mem­o­ries with the peo­ple you love. Shar­ing time cook­ing and enjoy­ing the meals you make togeth­er can be some of the best times of your life! Don't miss it!
Enjoy this recipe, my friend!
Print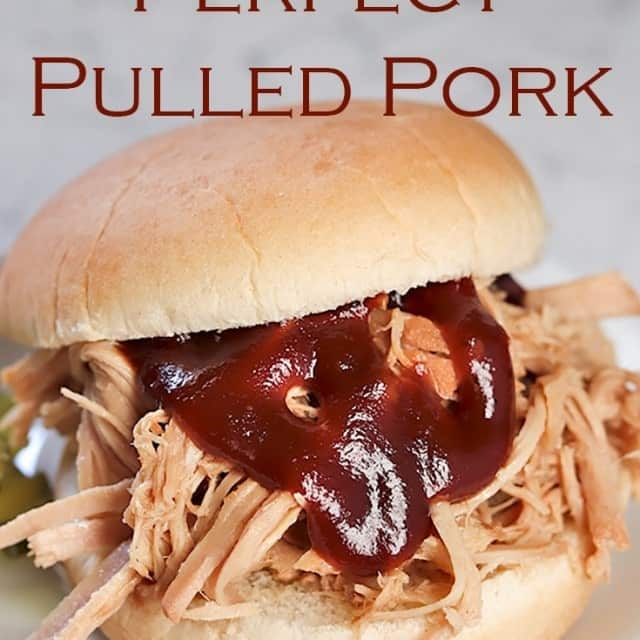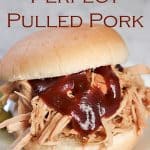 Perfect Pulled Pork
---
Author:

Total Time:

8 hours 5 minutes

Yield:

16

-

20

serv­ings

1

x
Description
This delec­tably easy pulled pork will be one of your most favorite "go-to" recipes. It's so ver­sa­tile and afford­able. Loaded with fla­vor and adapt­able to so many dishes.
---
4

-

5

lb

pork loin roast

1

box (2 envelopes) onion soup mix
---
Instructions
Place the pork loin roast, fat cap up, into your slow cooker.
Pour both envelopes of onion soup mix over the top, allow­ing some to run over the sides of the roast into the bot­tom of the slow cook­er, too.
Put the lid on the slow cook­er and set it on LOW.
Cook the roast for 4–6 hours or an inter­nal tem­per­a­ture of at least 145° with a 3 minute rest time.
Remove the fat cap.
Shred the pork loin roast with a fork and toss with the drip­pings at the bot­tom of the slow cooker.
Serve in pulled pork sand­wich­es or add to any recipe you would use pre-cooked chick­en in.
Notes
Left­overs can be frozen up to 3 months. Seal them in a zip-top bag with the air pressed out and freeze until need­ed for a quick and easy dinner.
Prep Time:

5 min

Cook Time:

8 hours

Cat­e­go­ry:

Main Dish, Meat

Method:

Slow Cook­er

Cui­sine:

Amer­i­can
More Delicious Slow Cooker Recipes