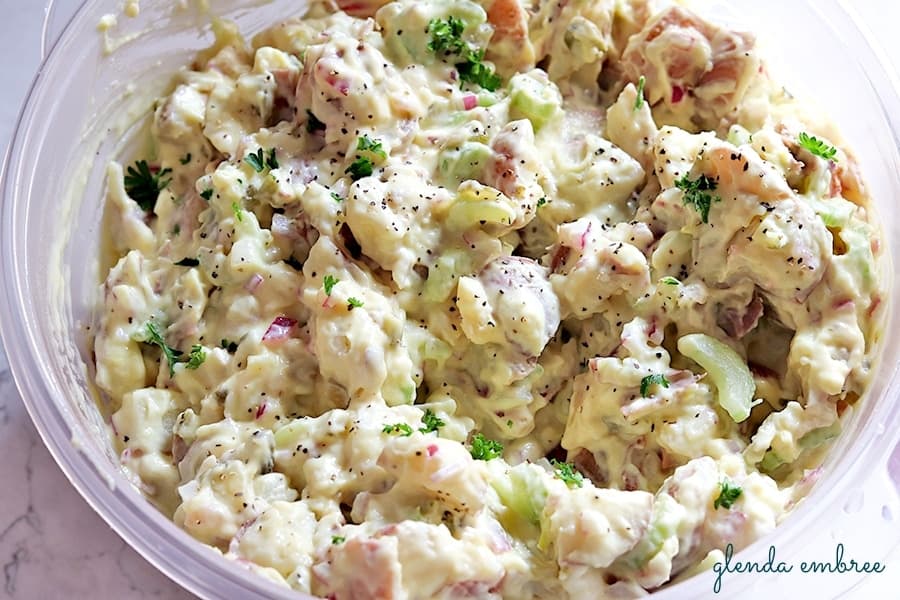 Pota­to Sal­ad is one of those dish­es that can become very per­son­al depend­ing on where, geo­graph­i­cal­ly, you grew up. There are just some recipes that we tend to make the way they have always been made through gen­er­a­tions in our fam­i­ly. Two exam­ples of that are coleslaw and pota­to salad.
My fam­i­ly is the same. Most of my kids don't real­ly eat pota­to sal­ad or coleslaw any­where but here. Keep in mind our five kids range in age from 18 — 36, now. lol Still, mom's pota­to sal­ad is the stan­dard all oth­er's are mea­sured by. I'll bet you are the same. So this recipe may seem odd to you, but I hope you get a chance to give it a try. It is one of our all-time favorite side dishes.
Ingredients for MY Perfect Potato Salad
Pota­to sal­ad hap­pens to be some­thing that I'm not sure is region­al, for us, because there are peo­ple from our area whose eye­brows go up when they hear my recipe. It's adapt­ed from the recipe I grew up with.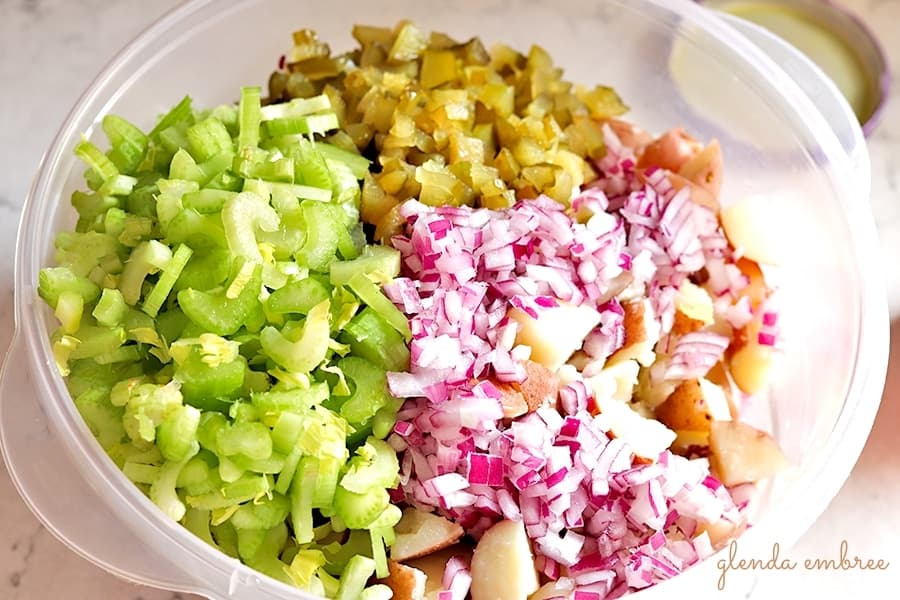 The way we made pota­to sal­ad when I was grow­ing up is the way I make it now. Except for hard-boiled eggs. I don't like them, so I don't use them. Mom, did we put eggs in our pota­to sal­ad? I don't remem­ber. But, see, that's how these recipe tra­di­tions come about. I don't like hard boiled eggs, so my kids don't eat pota­to sal­ad with eggs. AND I have a secret ingredient.
To make my pota­to sal­ad you will need:
pota­toes (red or rus­set work great)
red onion, minced
sliced cel­ery
sweet pick­les, minced
Mir­a­cle Whip (You can use mayo, but it won't taste the same. lol)
yel­low mustard
the secret ingre­di­ent — sweet pick­le juice

Yup! Pick­le juice. I know. It sounds weird, but trust me. It's the bomb in the bomb-diggety for this deli­cious pota­to salad.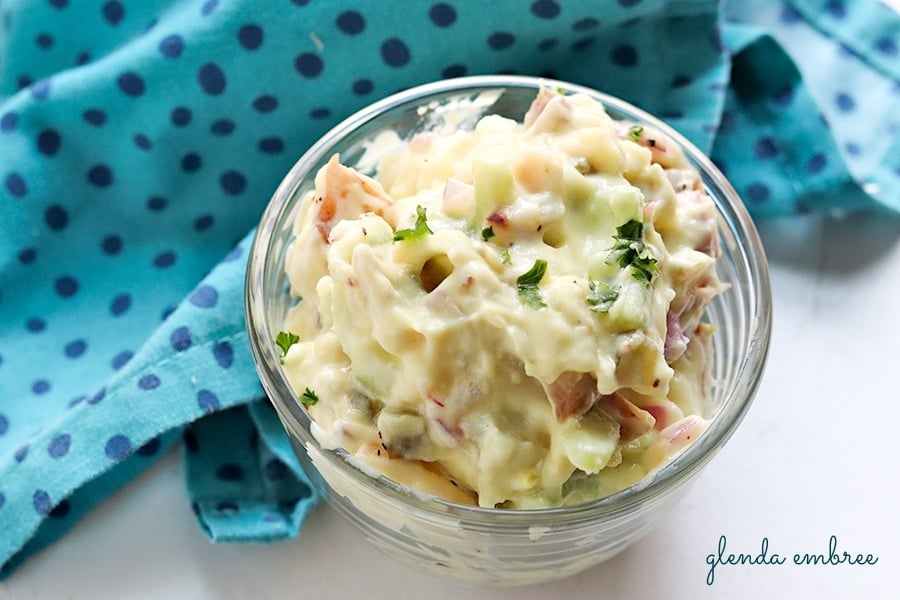 Prepping the Potatoes
Cook­ing the pota­toes is easy, but it's also impor­tant. First of all, just like pas­ta, make sure the water you boil them in is prop­er­ly salt­ed. A drop of it on your tongue should taste salty. I use a Table­spoon in about 2 ½ to 3 quarts of water. It's hard to get fla­vor into pota­toes AFTER they are cooked, so sea­son the cook­ing water well.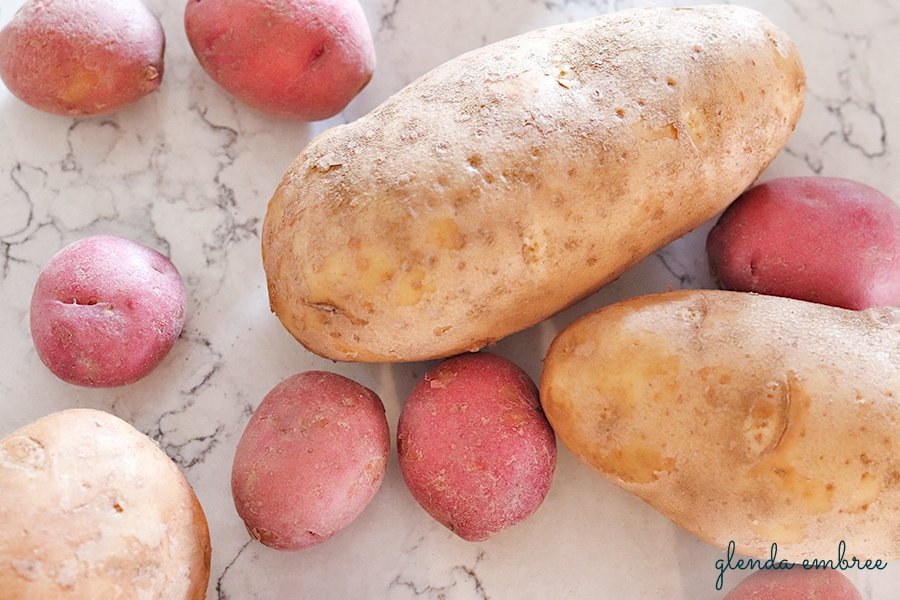 Pota­toes can be peeled or unpeeled. Usu­al­ly, if I use rus­sets, I *peel them. If I use red pota­toes I leave the skins on.
There isn't a log­i­cal rea­son for those choic­es. It's just the way I do it. Now, that I'm forced to think about it for this post, the skin on red pota­toes may be thin­ner and smoother. That could be why. Skin-on is a more rus­tic and col­or­ful sal­ad. Go with your mood and what's in your pantry.
Do your best to cut the pota­toes into uni­form sizes for boil­ing, so they cook even­ly. I just go ahead and cut them the size I want for the sal­ad, so I don't have to waste time re-cut­ting them after they're cooked.
Boil the pota­toes in a *large sauce pan or pot, until they are ten­der, but still firm. If they're cut small, like these, it will only take about 15 min­utes once they start boil­ing. You don't want to take it too far or they get grainy and have too soft a texture.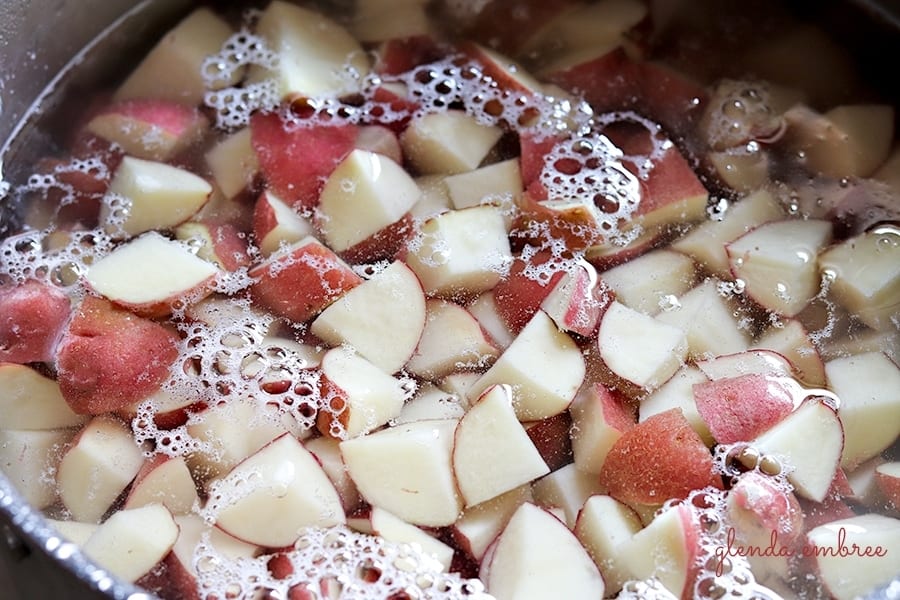 Assembling the Potato Salad
You want the pota­toes to be com­plete­ly cool, before mix­ing up the pota­to sal­ad. Try­ing to stir them and mix up the sal­ad when they're warm results in "mashed pota­to" sal­ad. The tex­ture is just not right.
After drain­ing them, I run cool water over the pota­toes for about 60 sec­onds to help take the heat out and stop the cook­ing process.
Then, I like to spread the pota­toes on a dry bak­ing sheet and pop them in the freez­er for a few min­utes while I cut up the oth­er veg­gies for the sal­ad. They're only in there for a few min­utes, so they don't actu­al­ly freeze, but it quick cools them enough I can get the sal­ad mixed up.
Mince the onion, slice the cel­ery and mince up the sweet pick­les. Remem­ber to reserve ½ cup of the pick­le juice.
Once the pota­toes are cool, stir all the veg­eta­bles togeth­er and then add the Mir­a­cle Whip to the top. Dol­lop the mus­tard on top of the mayo and use your spoon to sort of swirl them togeth­er. Pour the secret ingre­di­ent — pick­le juice — over the top of every­thing. Then, mix it all into the sal­ad. That's it! Salt and pep­per, to taste and a gar­nish of fresh chopped pars­ley if you have it.
SO DELICIOUS! I hope you give it a try!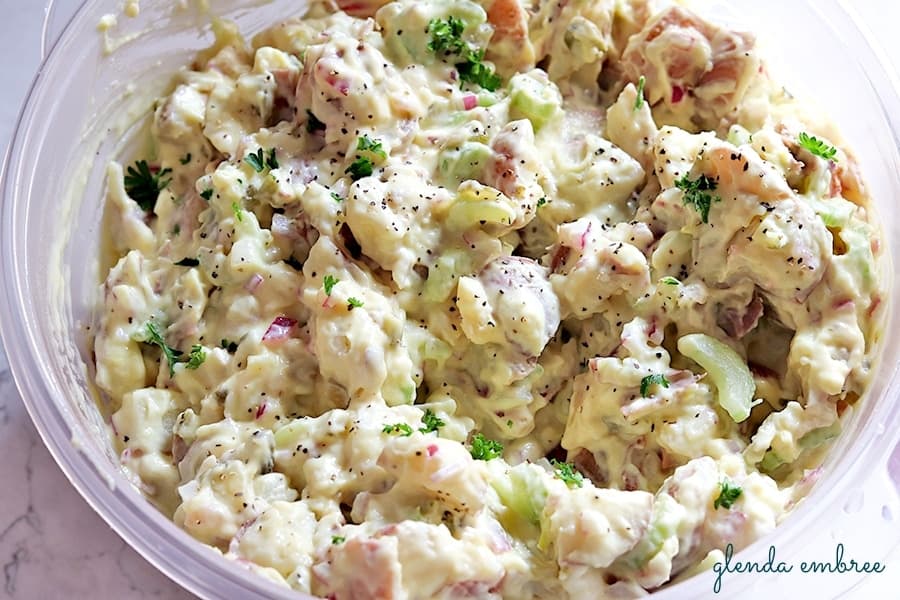 Print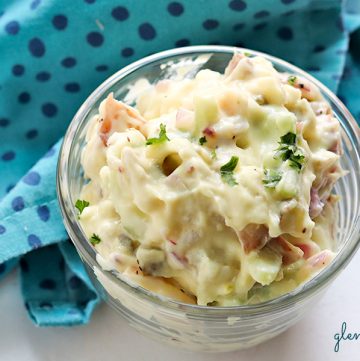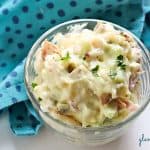 Perfect Potato Salad and My Secret Ingredient
---
Author:

Total Time:

30 min­utes

Yield:

12

-

16

serv­ings

1

x
Description
Our fam­i­ly's favorite pota­to sal­ad. The secret ingre­di­ent is sweet pick­le juice. Oh and Mir­a­cle Whip. Change those two ele­ments and it just won't be the same. Absolute­ly scrumptious!
---
3

-

4

lbs pota­toes (peeled or not), cut into uni­form bite-size pieces

1

medi­um red onion, minced

1 cup

thin­ly sliced celery

1 ½ cups

minced sweet pick­les (gherkins)

2 ¼ cups

Mir­a­cle Whip

2 Table­spoons

mustard

½ cup

sweet pick­le juice
---
Instructions
Wash and/or peel the potatoes.
Cut the pota­toes into uni­form, bite-size pieces.
In a large sauce pan or pot, cov­er the pota­toes with salt­ed water and bring to a boil. Once boil­ing, reduce the heat to medi­um-high, so they keep boil­ing, but won't boil over. It should only take around 15 min­utes for them to cook at this point.
When the pota­toes are fork-ten­der, drain them in a colan­der. Run cool water over the pota­toes to begin the cool­ing and stop the cook­ing. Spread them in a sin­gle, even lay­er on a bak­ing sheet and pop them in the freez­er (or even the fridge) to cool while you cut up the oth­er veggies.
Make sure the pota­toes are com­plete­ly cooled. They will end up as mashed pota­toes if you try to stir them into the sal­ad warm.
Once the veg­gies are prepped, place them in a large sal­ad bowl, with the pota­toes and stir them all together.
Add the Mir­a­cle Whip right on top and then add the mus­tard to the top of that. Use your mix­ing spoon to swirl them togeth­er a bit.
Pour the pick­le juice over the top of every­thing and then fold the dress­ing into the sal­ad. Stir until all the veg­gies are coat­ed and the dress­ing is even­ly distributed.
Refrig­er­ate the sal­ad until you are ready to serve. It will keep sev­er­al days in the fridge, but prob­a­bly won't last long enough for you to find out.
Prep Time:

10

Cook Time:

20

Cat­e­go­ry:

Sal­ad, Side Dish

Method:

Stove-Top

Cui­sine:

Amer­i­can
More Delicious Salads to Try