Soft Chewy Gin­ger Cook­ies are made with all the warm, aro­mat­ic spices that I love and asso­ciate with Fall. Cin­na­mon, gin­ger, nut­meg, all­spice and cloves are fla­vors and smells that make me swoon. lol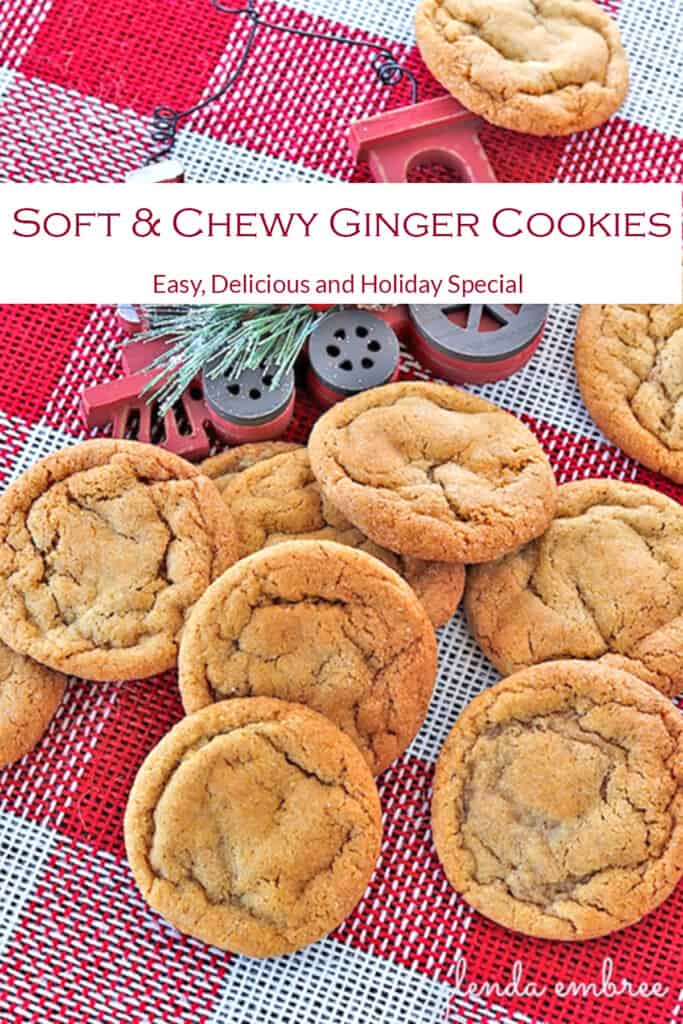 I even buy can­dles in those fra­grances and burn them year-round. There's some­thing so homey and warm and wel­com­ing about their scents. Well, no need for can­dles, today.
My Soft Chewy Gin­ger Cook­ies have filled the house with the won­der­ful aro­mas of love­ly, toasty, warm spices. They make me want to curl up by a warm fire with some cocoa, a good book and a plate­ful of these deli­cious cook­ies! Enjoy!
The Ingredients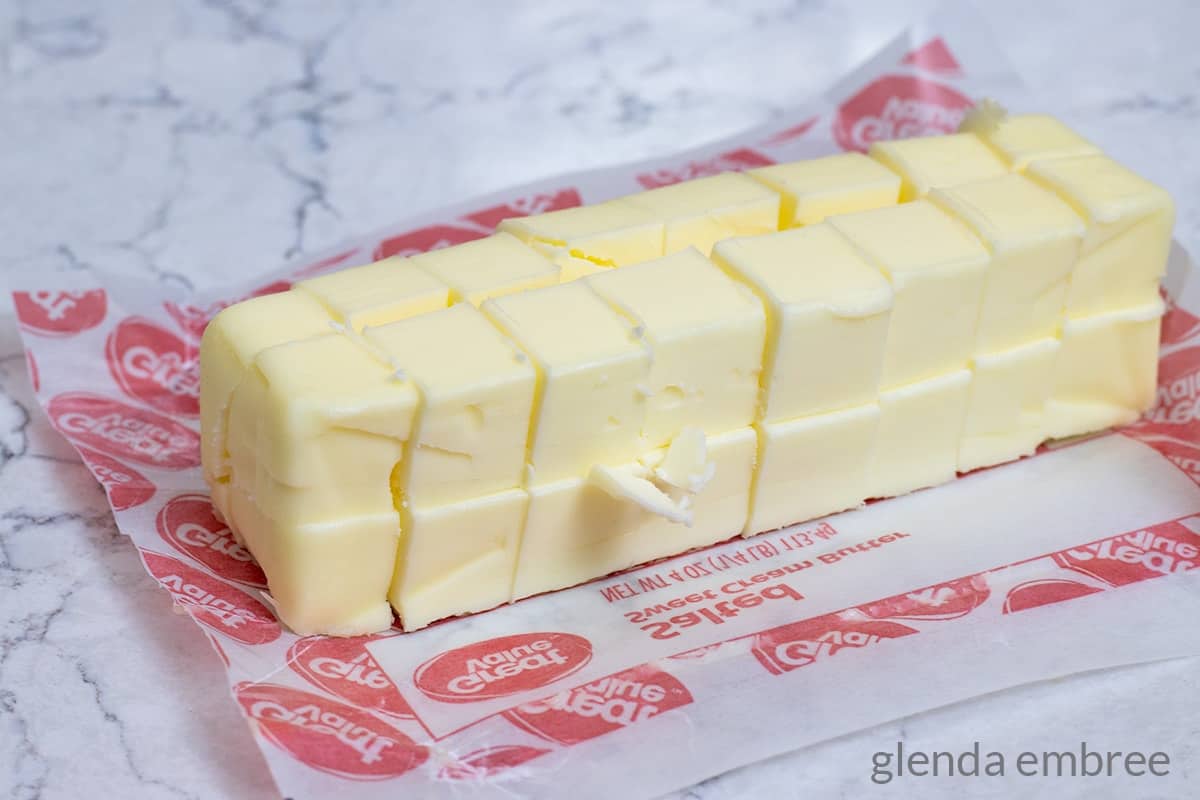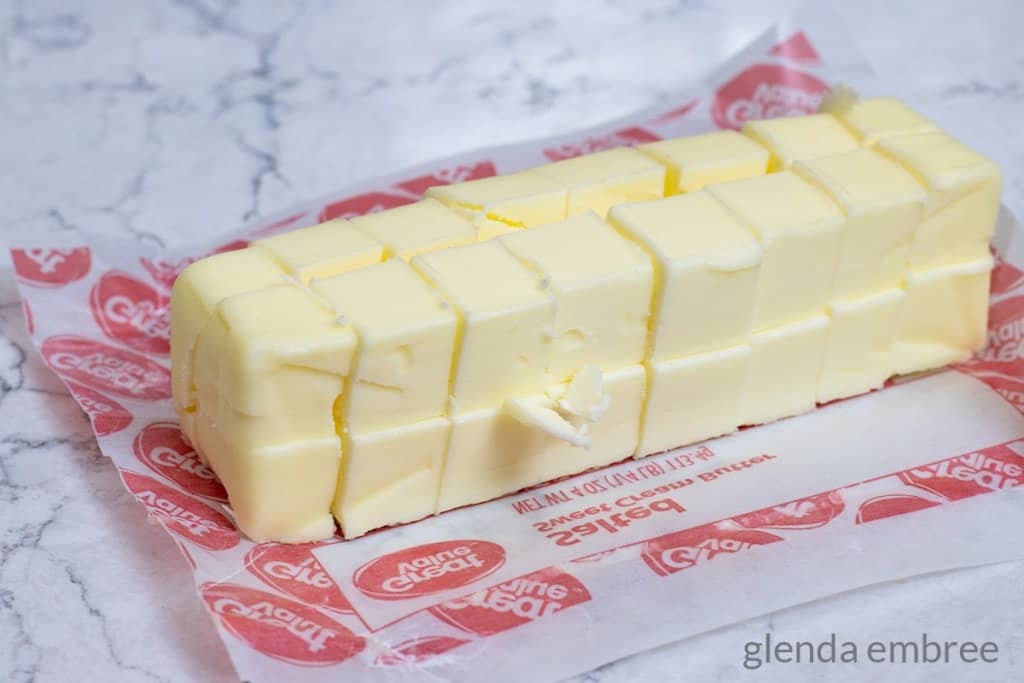 But­ter: It needs to be room temperature.
Sug­ars: This recipe uses both gran­u­lat­ed and dark brown sugar.
Hon­ey: I buy local, raw and unfil­tered hon­ey. It should be at room temperature.
Eggs: I use large eggs in all my recipes. They need to be room tem­per­a­ture for best results.
Vanil­la: I use my easy home­made vanil­la.
Unbleached all-pur­pose flour
bak­ing soda
Spices: ground gin­ger, cin­na­mon (I love the deep fla­vor of *Saigon cin­na­mon, [affil­i­ate link] but use your favorite.) and cloves
salt
option­al, crys­tal sug­ar to sprin­kle on stamped cook­ies before baking
Why are Room Temperature Ingredients Important?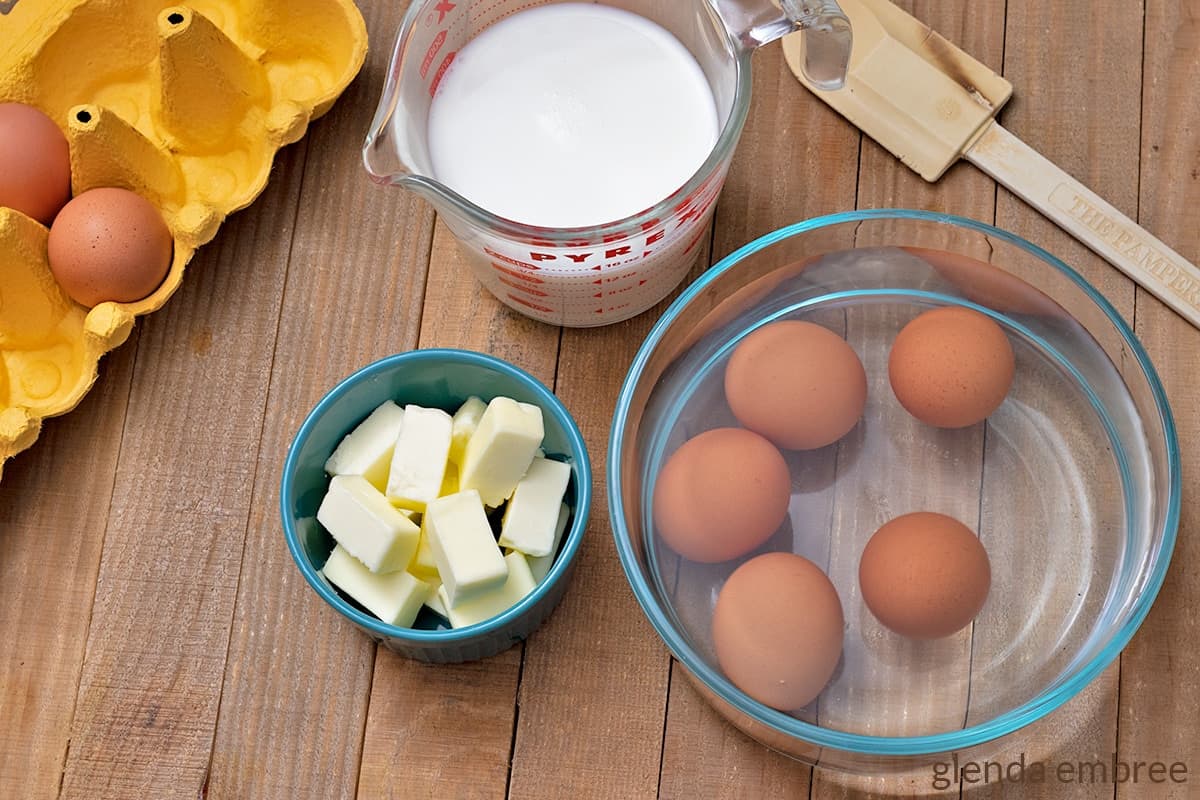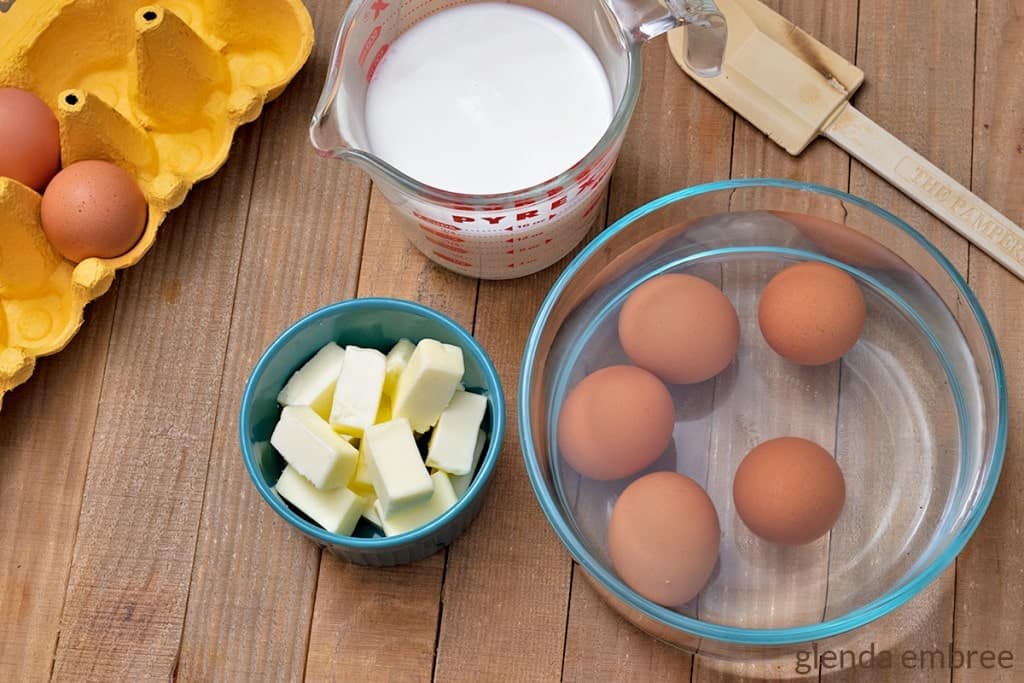 At room tem­per­a­ture but­ter, eggs and dairy prod­ucts like milk, cream cheese or but­ter­milk form an emul­sion when blend­ed. That emul­sion of fats traps air, which in turn, cre­ates light and airy cakes, cook­ies and baked goods.
If a recipe calls for room tem­per­a­ture ingre­di­ents, it will def­i­nite­ly be impor­tant to the tex­ture, struc­ture, sta­bil­i­ty and fla­vor of your fin­ished prod­uct to use them.
Room tem­per­a­ture does­n't mean melt­ed though or even warm to the touch. Melt­ing but­ter or cream cheese will change the tex­ture of your fin­ished baked goods, too. About 65° F is per­fect for room tem­per­a­ture bak­ing ingredients.
Don't pan­ic if you for­got to take some­thing out of the fridge. Those items can be brought to room tem­per­a­ture quick­ly, in a pinch. Read my post, How to Bring Dairy and Eggs to Room Tem­per­a­ture Fast for com­plete instruc­tions.
My Favorite Tools for Making Cookies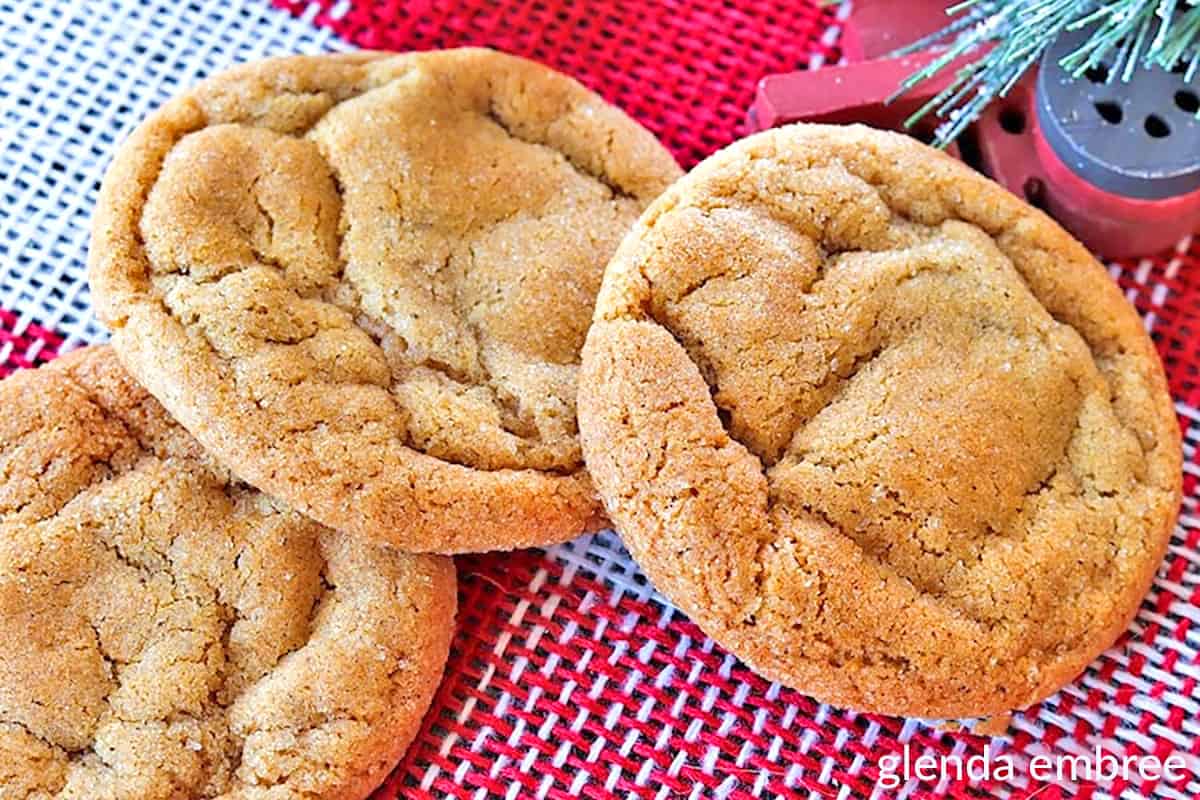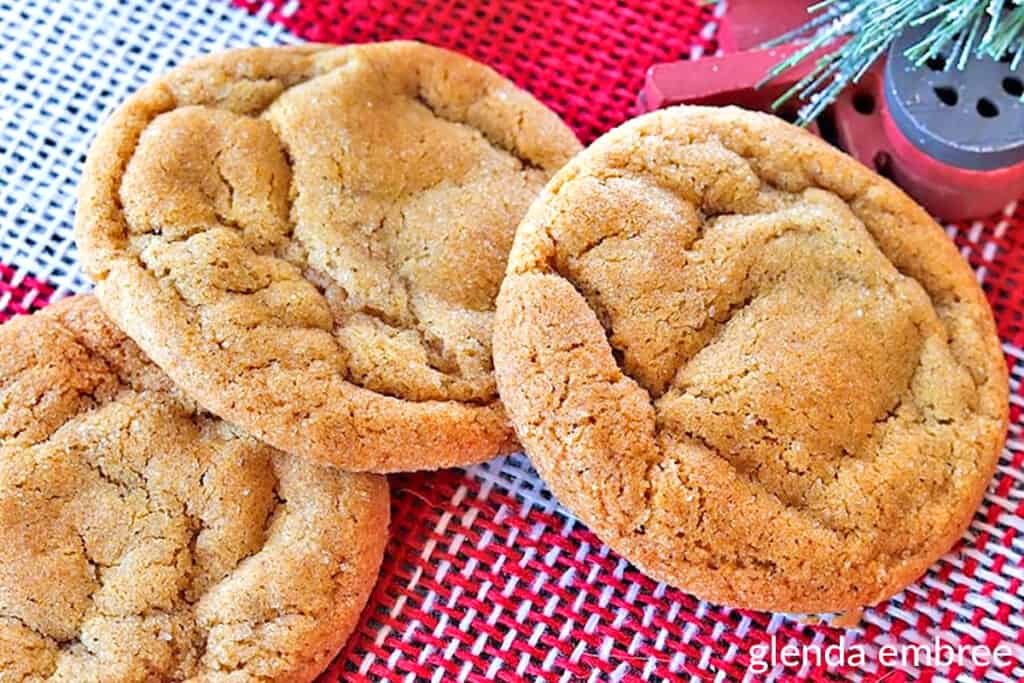 How to Make Soft Chewy Ginger Cookies
This is anoth­er tried and true cook­ie recipe that fol­lows the tra­di­tion­al cook­ie formula.
Cream the but­ter and sugars/honey.
Beat in the eggs.
Add the dry ingre­di­ents and mix to combine.
SO sim­ple for some­thing so exquis­ite­ly scrump­tious! Like Snick­er­doo­dles or Peanut But­ter Blos­soms, these cook­ies are rolled into balls which are rolled in sug­ar and then baked.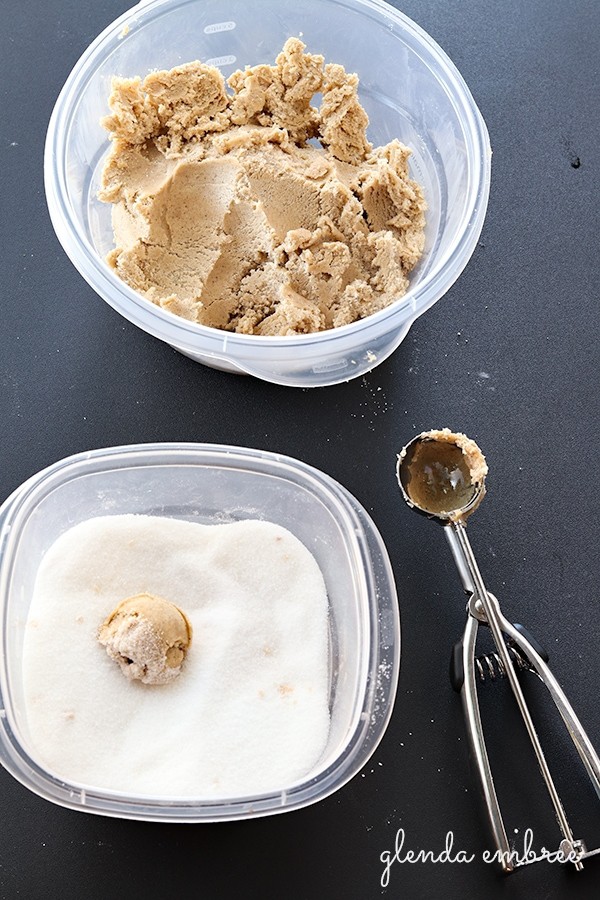 You've prob­a­bly already mem­o­rized my mot­to with mak­ing cook­ies. "Resist the urge to over­bake these." Like any cook­ie that you want to be soft and chewy, remov­ing them from the oven just slight­ly under­baked is the secret. Put the cook­ie sheet on a cool­ing rack for two or three min­utes to let the cook­ies con­tin­ue to "bake" and set up, even though they're no longer in the oven.
My trusty cook­ie dough scoop [affil­i­ate link, sil­i­cone mats [affil­i­ate link and bak­ing sheets [affil­i­ate link} helped me make quick work of this process.
After 2 or 3 min­utes, trans­fer the cook­ies from the bak­ing sheet to the cool­ing rack. These cook­ies don't need any more fuss­ing or dec­o­ra­tion. They are fan­tas­tic and sim­ple and they taste like "home".
Enjoy your deli­cious masterpieces!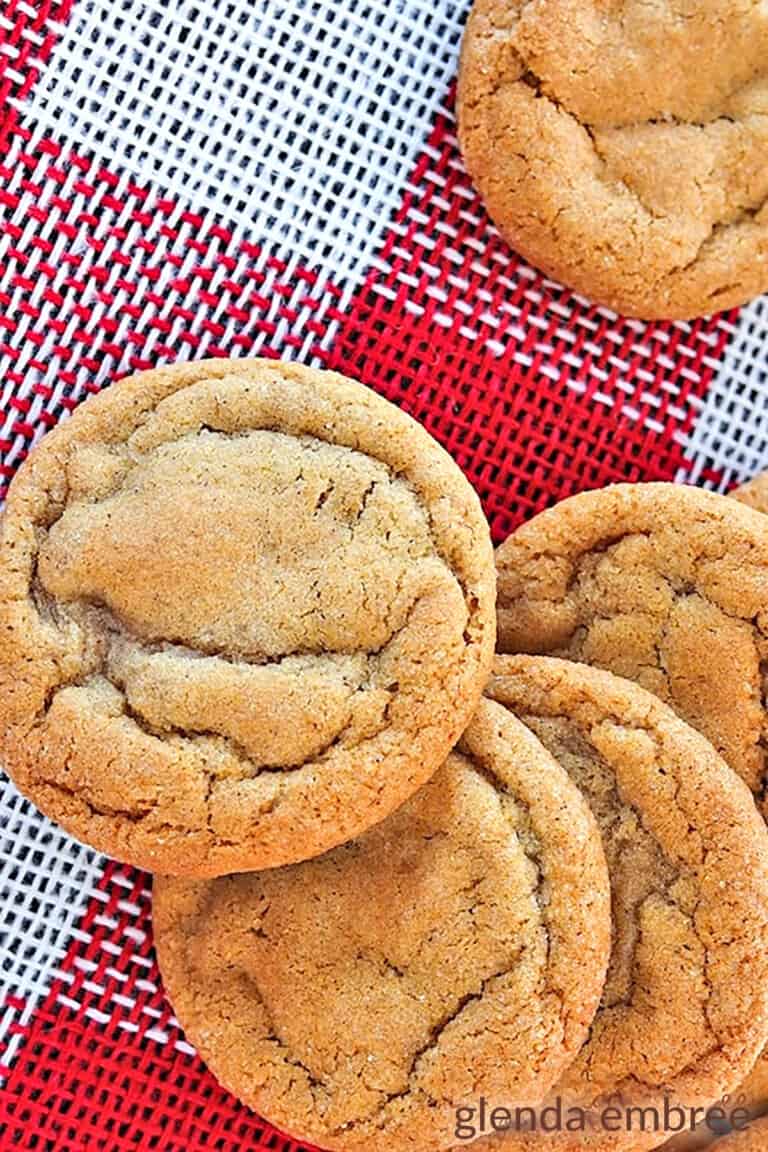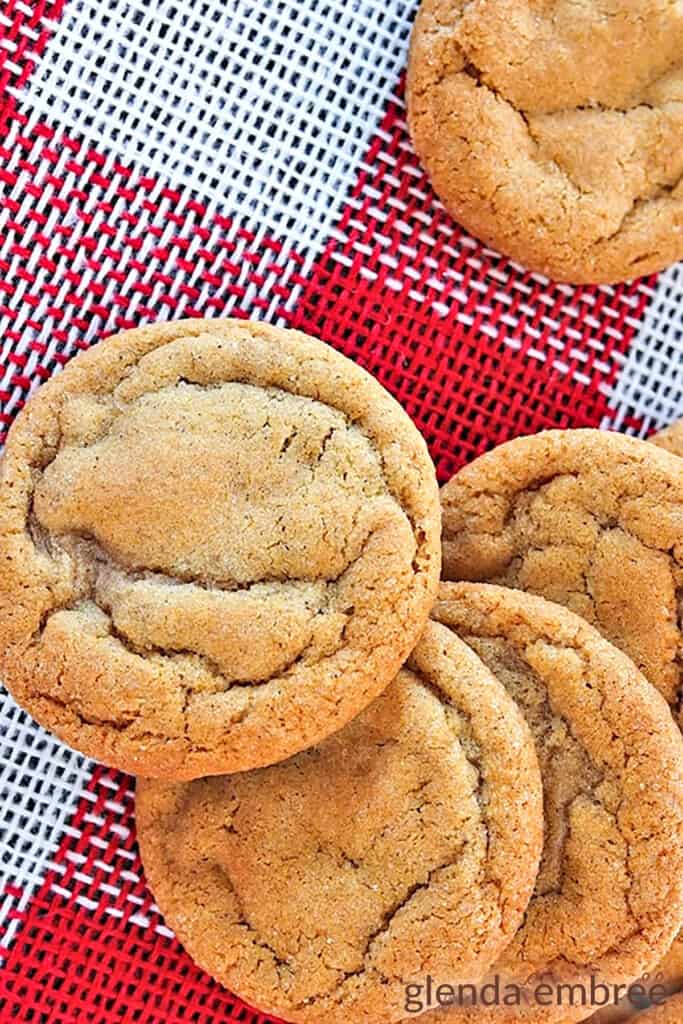 The Recipe
Print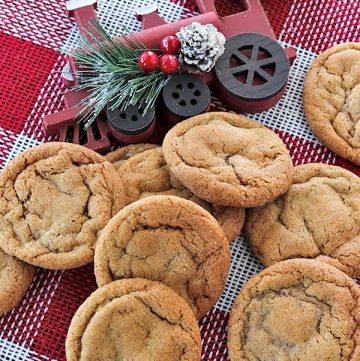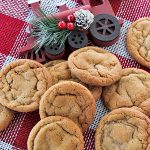 Soft Chewy Ginger Cookies
---
Author:

Total Time:

20 min­utes

Yield:

3

dozen

1

x
Description
Soft and chewy with a deep caramel‑y fla­vor and a warm, light­ly spiced fin­ish from the gin­ger, cin­na­mon and cloves. One of my any­time favorite cook­ies, but they're espe­cial­ly love­ly for the hol­i­days. Per­fect for gift box­es, too.
---
1 1/2

cup

but­ter, soft­ened to room temperature

1

cup

sugar

1

cup

dark brown sugar

2/3

cup

hon­ey, room temperature

2

eggs, room temperature

1 Table­spoon

vanilla

4 1/2

cups

unbleached all-pur­pose flour

2 tea­spoon

bak­ing soda

2 tea­spoons

ground ginger

3/4 tea­spoon

ground cinnamon

1/2 tea­spoon

ground cloves

1/4 tea­spoon

salt
Addi­tion­al sugar
---
Instructions
Cream togeth­er the but­ter, hon­ey and sug­ars in the bowl of a stand mix­er (or a large mix­ing bowl if mak­ing by hand).
Beat in the egg.
Add flour, bak­ing soda, gin­ger, cin­na­mon, cloves and salt to the bowl. Mix to thor­ough­ly com­bine all ingredients.
Pour sug­ar in the bot­tom of a bowl for rolling cook­ie dough in.
Using a cook­ie scoop, drop 1 1/2 inch diam­e­ter balls of dough into the bowl of sug­ar and roll around until all sides are coated.
Place cook­ies on a greased or lined cook­ie sheet and bake at 350° for 8–11 min­utes, depend­ing on your oven and the desired soft­ness or crisp­ness of your cook­ie. For our fam­i­ly, I remove while the cook­ies are puffy, but still soft in the cen­ter and bare­ly crisp around the edges. Cook­ies will con­tin­ue to set up on the cook­ie sheet. Over-bak­ing will result in a crunchi­er, rather than chewy cookie.
Prep Time:

10 min

Cook Time:

10 min

Cat­e­go­ry:

Dessert, Cook­ies

Method:

Bak­ing

Cui­sine:

Amer­i­can
More Delicious Cookie Recipes
Here are three more DELISH cook­ie recipes from our 12 Days of Christ­mas Cook­ies blog­ger event.
Chocolate Crinkles
Waffle Iron Turtle Cookies