Choco­late Crin­kles are fudgy, chewy, "please don't inter­rupt me" deli­cious! And they are cook­ie #1 in my 12 Days of Christ­mas Cook­ies posts. This recipe is one that I made as a kid and have con­tin­ued bak­ing for my own crew. It's a hands-down fam­i­ly favorite! I think you'll love it, too.
Print
Chocolate Crinkles
---
Author:

Prep Time:

10 min

Cook Time:

10 min

Total Time:

20 min­utes

Yield:

3

dozen

1

x
½ cup

butter

1 cup

cocoa

2 cups

sugar

2 tea­spoons

vanilla

4

eggs

2 cups

flour

2 tea­spoons

bak­ing powder

1 tea­spoon

salt
pow­dered sug­ar, to roll cook­ie dough in
---
Instructions
Mix but­ter, cocoa, sug­ar and vanil­la in the bowl of your *stand mix­er (or by hand).
Beat in the eggs.
Add the flour bak­ing pow­der and salt and mix until every­thing is thor­ough­ly combined.
Refrig­er­ate dough for 30 min­utes to an hour to make it eas­i­er to handle.
Once the dough has chilled, use a *cook­ie scoop to drop 1 ½ inch diam­e­ter cook­ie dough balls into a bowl of pow­dered sug­ar. Roll the dough around until all sides are covered.
Place cook­ie dough balls on a greased or lined cook­ie sheet.
Bake at 350 degrees for 8–11 min­utes. Tops will lose their damp sheen and have cracks in them, but the insides will still be soft when the cook­ies are done. Allow them to rest on the sheet when you first take them from the oven and they will con­tin­ue to set up.
Remove from the oven and allow to stay on the sheet for 3–5 min­utes, before remov­ing to a cool­ing rack.
Store in an air­tight container.
Cat­e­go­ry:

Desserts, Cook­ies

Cui­sine:

Amer­i­can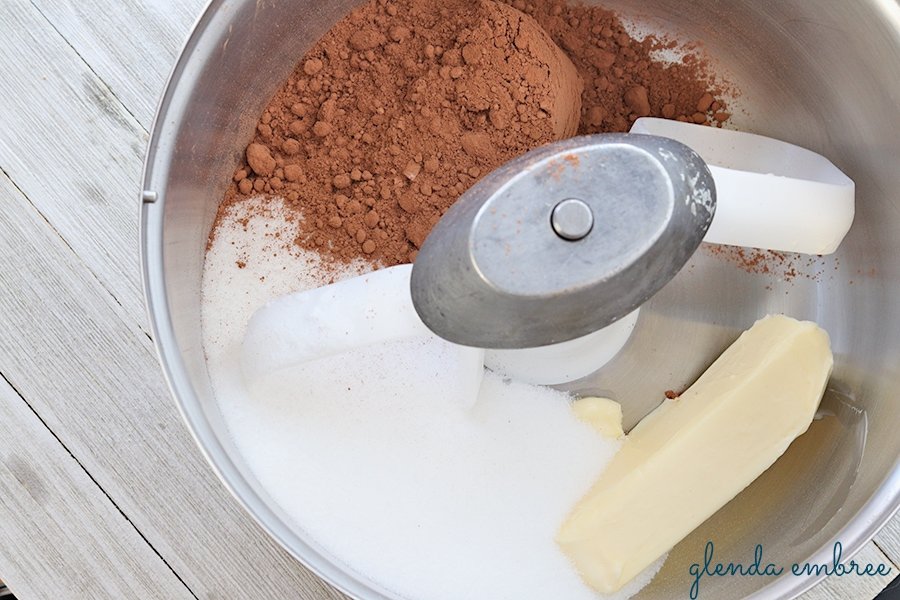 How to Make Chocolate Crinkles
Choco­late Crin­kles are sim­ple to make. They require a lit­tle pre-plan­ning because the dough needs to chill, but the actu­al mix­ing of the dough requires 10 min­utes or less. Mix it up. Cov­er the dough and pop it in the fridge. Come back to it when you have time to roll them and get them baked. I have suc­cess­ful­ly kept the dough in the refrig­er­a­tor for an entire week, just bak­ing a few cook­ies at a time, as we need­ed them.
This recipe devi­ates a lit­tle from the typ­i­cal "cream the but­ter and sug­ar; add the eggs" method, so I'm includ­ing a cou­ple of pho­tos for you. Start by putting the but­ter, sug­ar, cocoa and vanil­la in the bowl of your mix­er (or in a mix­ing bowl if you're mak­ing these by hand). Mix them until every­thing is com­bined. (The mix­ture will look grainy and choco­latey.) Then you can mix in the eggs.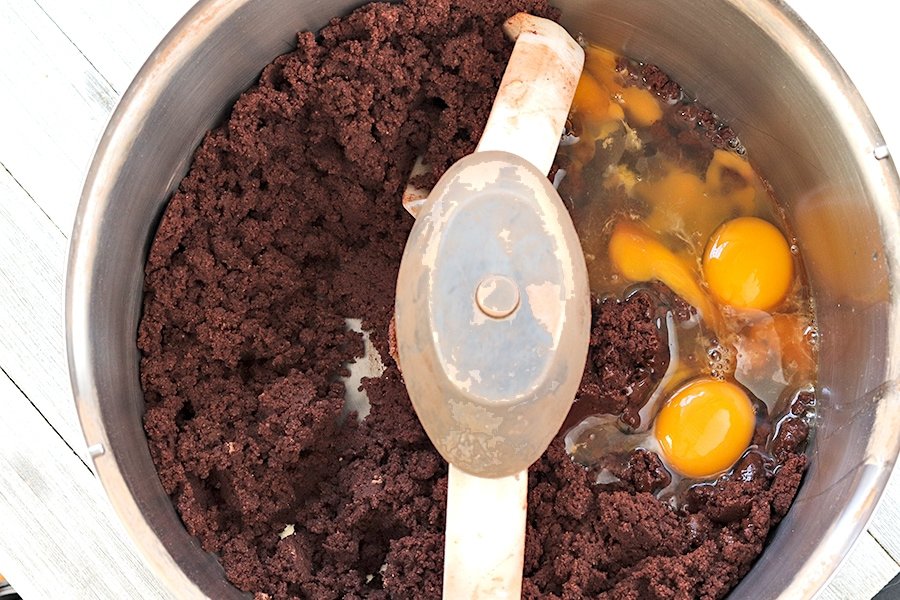 Once the eggs are mixed in, you can add the dry ingre­di­ents. Then, when every­thing is incor­po­rat­ed, the dough will still seem pret­ty sticky. That's just right. It is thick, but too soft to roll in your hand. So that's where the chill­ing comes in.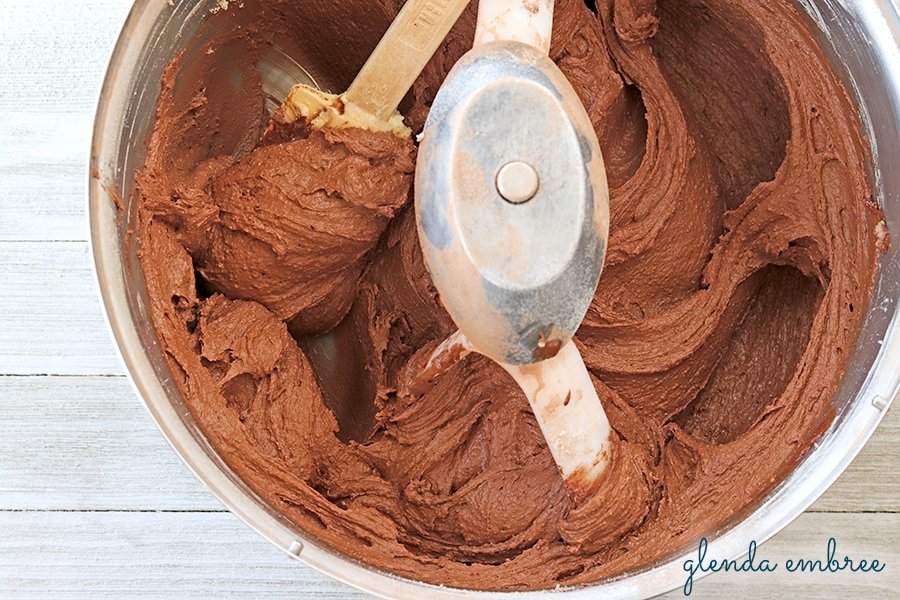 Once the dough has chilled and you have a few min­utes to bake them, take the dough out of the fridge. Roll the dough into 1 ½" balls. (I use a *cook­ie scoop to make it eas­i­er to keep them uni­form, but you can def­i­nite­ly do it just by hand.) Put the balls into a bowl with some pow­dered sug­ar in the bot­tom. Roll them around to be sure the out­side of each one is com­plete­ly coated.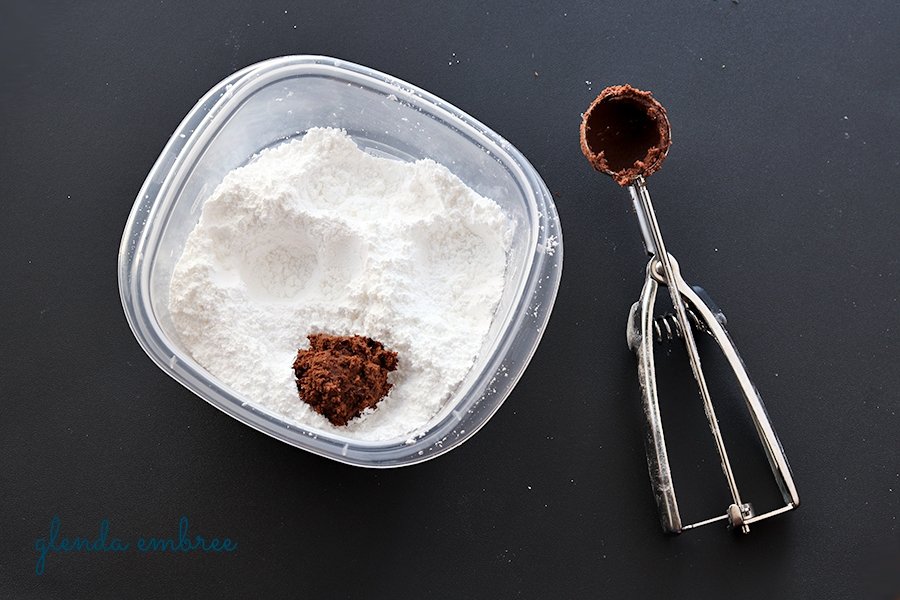 This is the point where you will roll the dough into a smooth ball. The pow­dered sug­ar will help, but you're still going to get a lit­tle messy. It's def­i­nite­ly worth it!
Determining Doneness of Chocolate Crinkles
Once you have the dough balls rolled and shaped, place them on a greased or lined bak­ing sheet and bake. I put a time range of 8–11 min­utes on the recipe card, since I under­stand all ovens are dif­fer­ent. I want to stress how impor­tant it is not to over­bake these, though.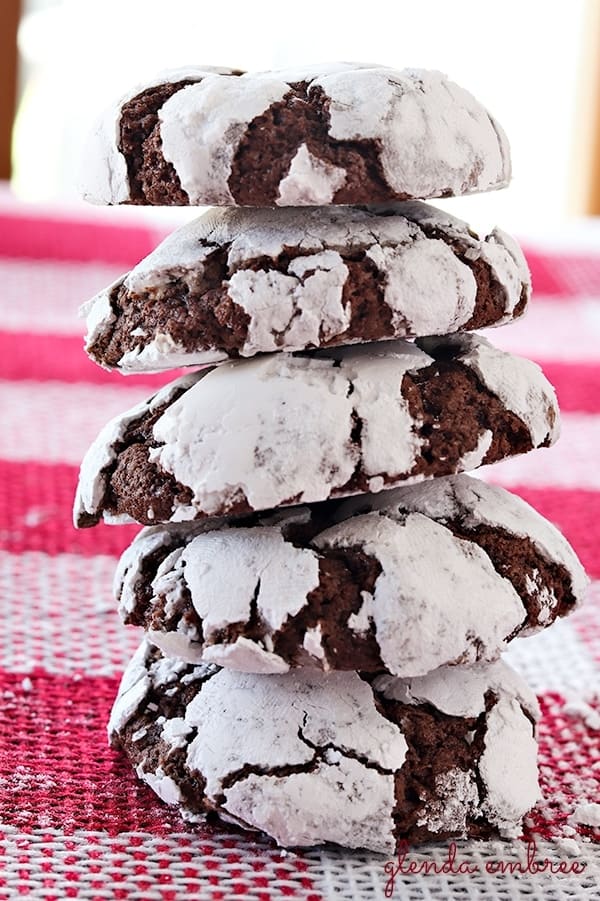 Start with the short­est time and add one minute at a time until they are done. The cook­ies will puff up. The tops will be cracked and the choco­late part of the tops will be dry to the touch. The cook­ies will still seem very soft in the mid­dle, though, when you touch them. That's exact­ly per­fect. They will con­tin­ue to set up on the cook­ie sheet, even after they're out of the oven.
Set the sheet on a cool­ing rack and let the cook­ies rest for 3–5 min­utes. Then, you'll be able to put them direct­ly onto the cool­ing rack to fin­ish cool­ing and you can keep work­ing on a new pan of cookies.
Store Choco­late Crin­kles in an air­tight con­tain­er. They are cel­e­brat­ed at every gath­er­ing I've ever shared them and they are beau­ti­ful in Christ­mas cook­ie trays. You'll be a hero any­where you decide to take them. Enjoy, my friend!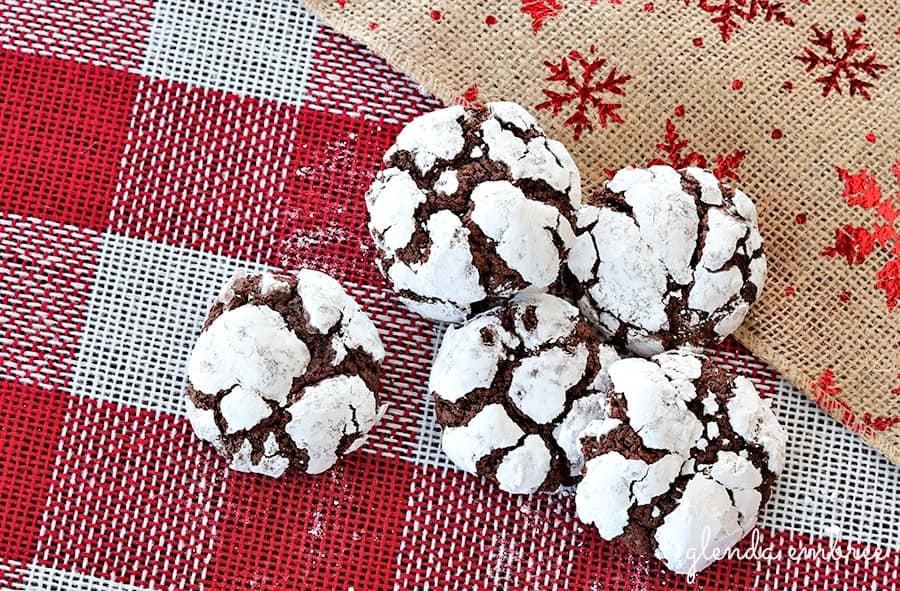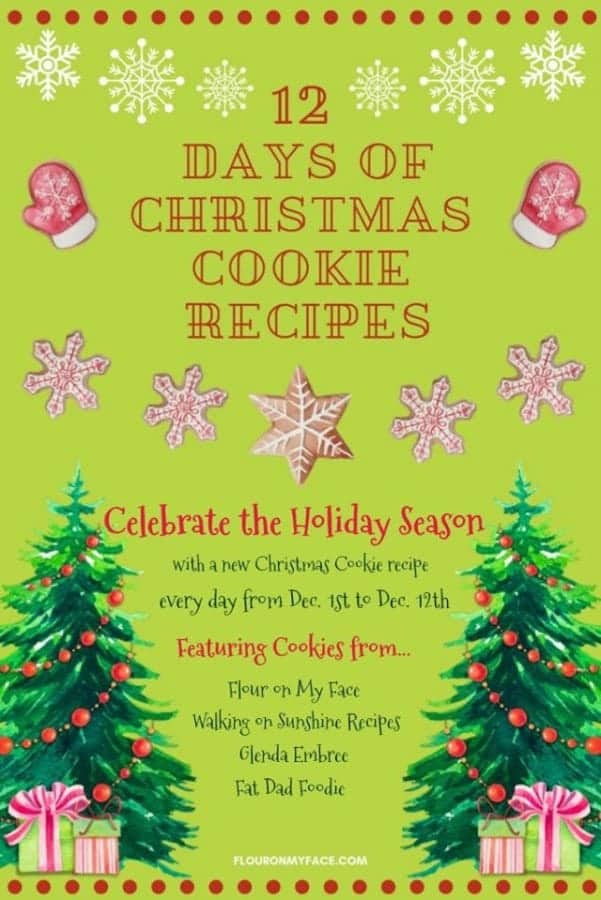 More Cookie Recipes from the 12 Days of Christmas Cookies Event
Here are three more DELISH cook­ie recipes from our 12 Days of Christ­mas Cook­ies blog­ger event.
And, if you're look­ing for even more cook­ie recipes to add to your hol­i­day reper­toire, check out my recipe for these yum­my Pota­to Chip Cook­ies.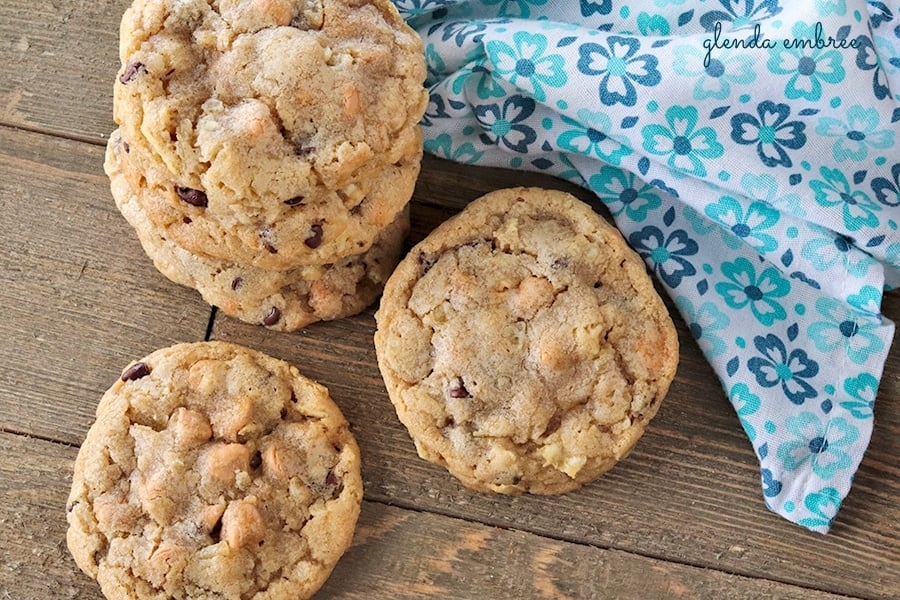 THE GIVEAWAY
ENTER THE 12 Days of Christmas Cookies
KITCHENAID MIXER GIVEAWAY
One lucky win­ner will receive a KitchenAid Arti­san Series 5‑Qt Stand Mix­er with Pour­ing Shield!
FEATURES OF THE KITCHENAID ARTISAN SERIES STAND MIXER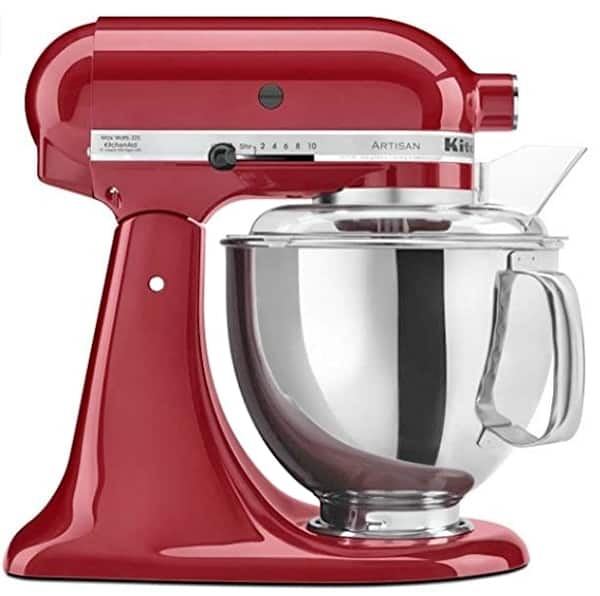 10-speed slide con­trol ranges from a very fast whip to a very slow stir
Includes Flat Beat­er, Dough Hook and Wire Whip
Pow­er Hub for Addi­tion­al Attachments
Unique Mix­ing Action
Assem­bled with Pride in Greenville, Ohio.Electrical: 60 Hz
Choose from all the col­or options to find the one that best match­es your style and personality.
The pow­er hub turns your stand mix­er into a culi­nary cen­ter with more than 15 option­al attach­ments available.
5‑Qt. stain­less steel bowl with com­fort­able han­dle offers enough capac­i­ty to mix dough for 9 dozen cook­ies or 4 loaves of bread in a sin­gle batch.
59-Point Plan­e­tary Mix­ing Action means 59 touch points per rota­tion around the bowl for thor­ough ingre­di­ent incorporation.
The tilt-head design allows clear access to the bowl and attached beat­er or acces­so­ry so you can eas­i­ly add ingre­di­ents for a recipe.
Pow­er­ful enough for near­ly any task or recipe, whether you're stir­ring wet and dry ingre­di­ents togeth­er, knead­ing bread dough or whip­ping cream.
Includes coat­ed flat beat­er, coat­ed dough hook, 6‑wire whip and 1‑piece pour­ing shield. The flat beat­er and dough hook are dishwasher-safe.
Offi­cial Rules and Con­di­tions for the 12 Days of Christ­mas Cook­ies Give­away:
One win­ner will be receive a KitchenAid Arti­san Series 5‑Qt. Stand Mix­er with Pour­ing Shield (Val­ue $279.00 USD).
Open to US res­i­dents adults 18+.
One (1) win­ner will be chosen.
Prize must be claimed with­in 48 hours of announce­ment or a new win­ner will be drawn.
Prize will be deliv­ered via Amazon.
All entries will be verified.
This give­away is in no way asso­ci­at­ed with Face­book, Pin­ter­est, Twit­ter, Insta­gram, Raf­fle­copter, Ama­zon, KitchenAid or any oth­er enti­ty unless oth­er­wise specified.
Give­away ends Decem­ber 12th, 2019 at midnight.
Blog­gers are not respon­si­ble for the deliv­ery of the prize.
ENTER USING THE RAFFLECOPTER FORM, BELOW
a Raf­fle­copter giveaway