House Sal­ad is a per­fect quick and easy side dish that com­pletes any meal. Crisp, crunchy and cold, it's greens and col­or­ful veg­gies full of fla­vor, driz­zled with your favorite sal­ad dressing.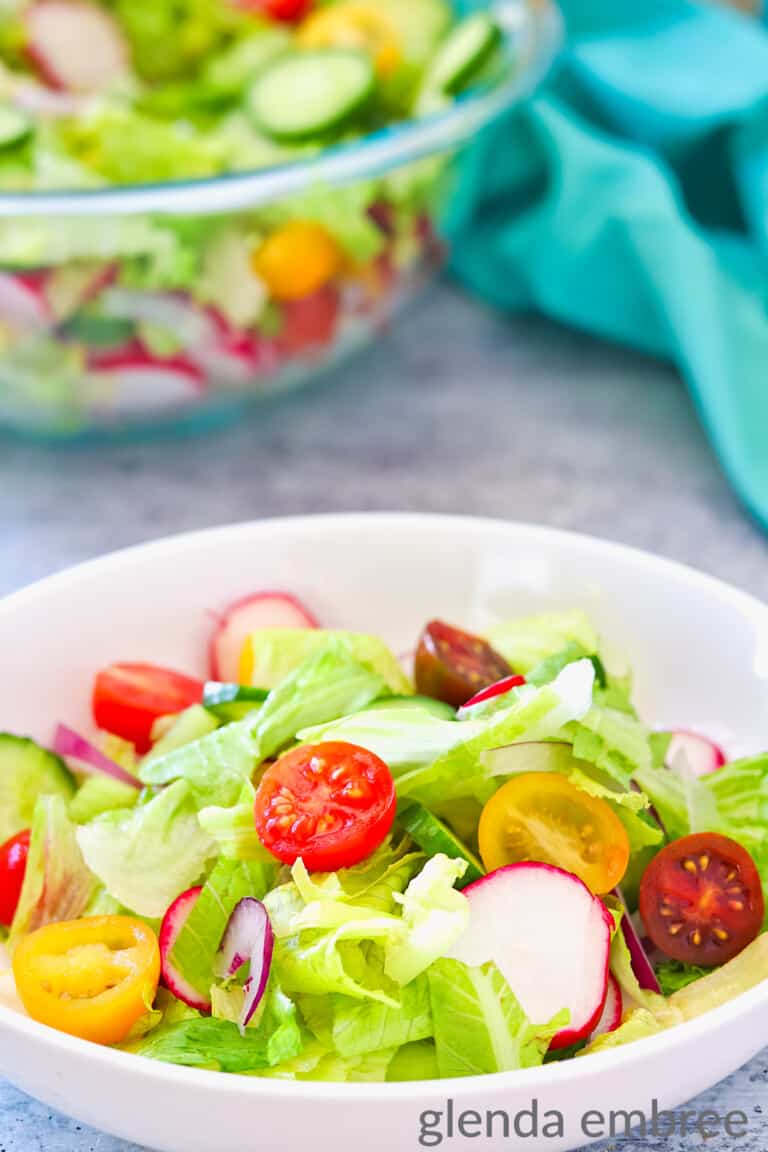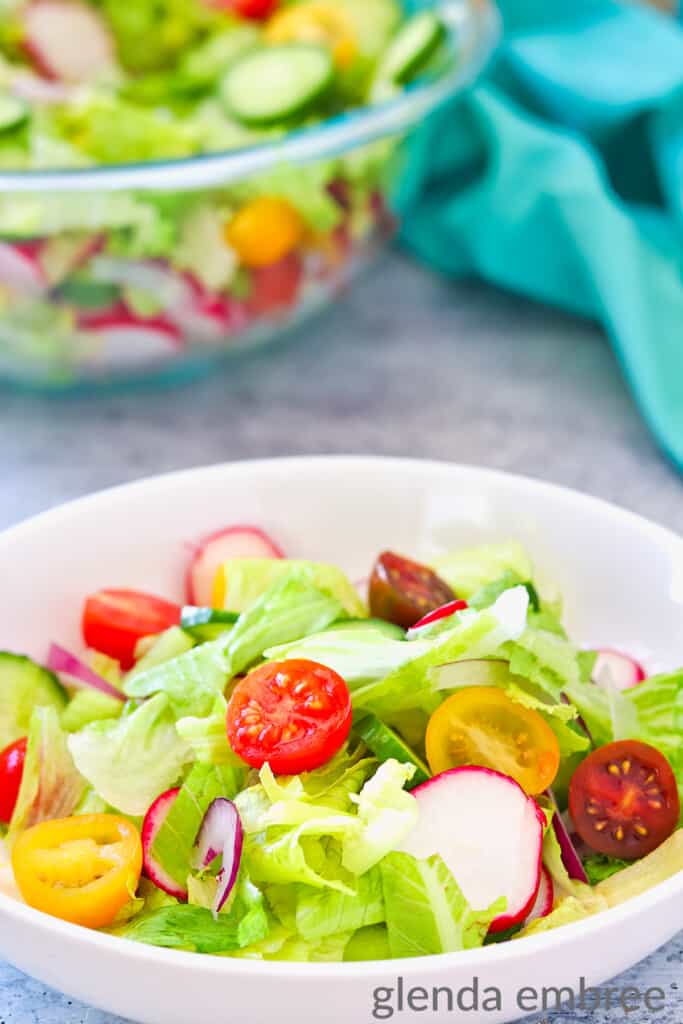 It does­n't mat­ter what sea­son we're in, this House Sal­ad recipe is a sta­ple side at our house. It's quick and easy. Plus, House Sal­ad can be cus­tomized to the peo­ple you're serv­ing and with the in-sea­son pro­duce of your choice.
House Sal­ad recipes can be tossed togeth­er in min­utes and com­ple­ment any main dish you serve. Every­body loves them and can select a sal­ad dress­ing of their choice.
What is House Salad?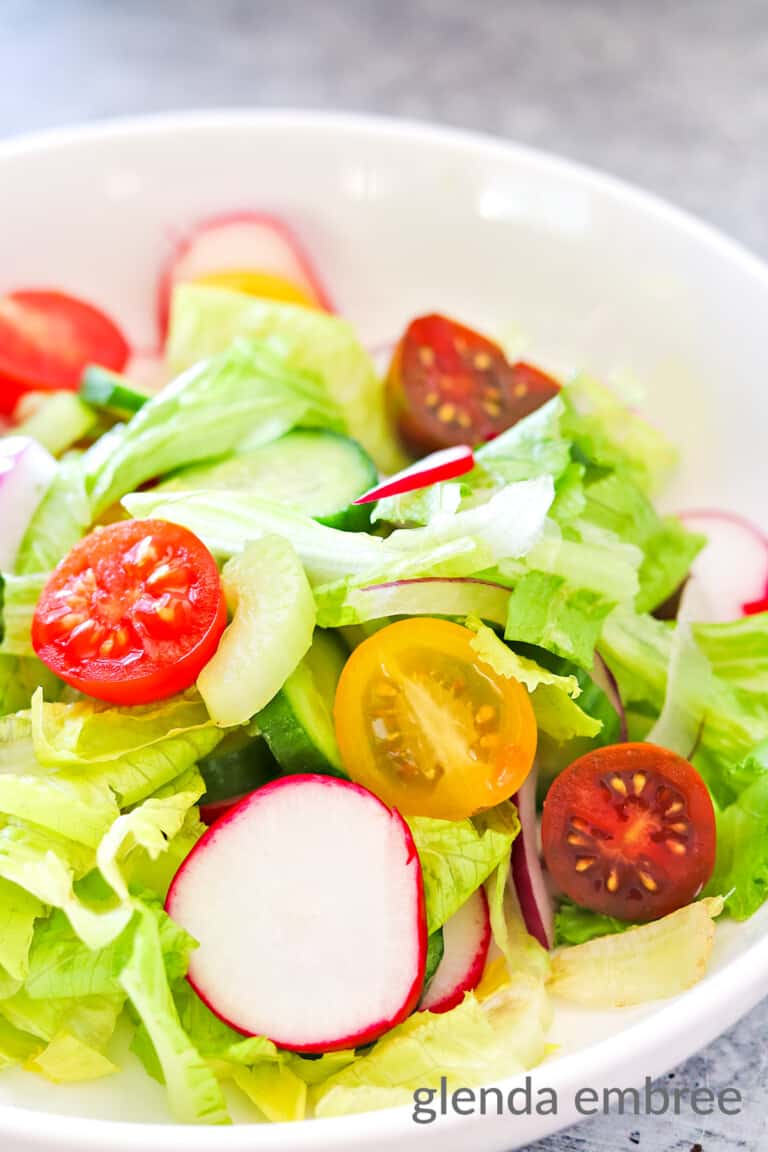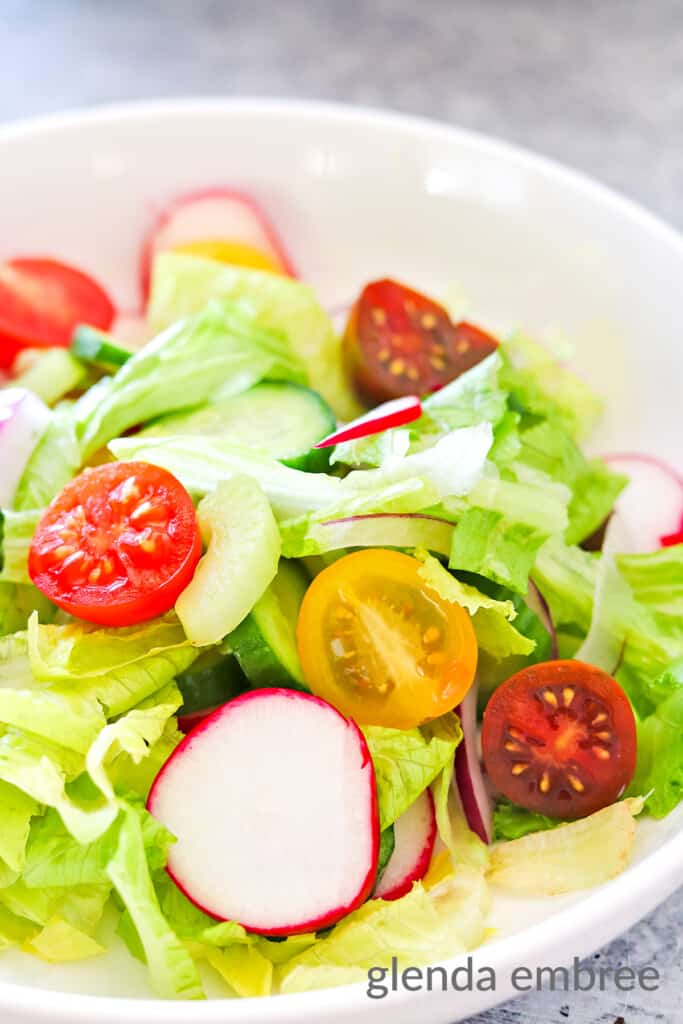 Who does­n't love the house sal­ad before a restau­rant meal? House Sal­ad recipes are usu­al­ly sim­ple tossed green sal­ads with a few fresh veg­gies, that whets your appetite for the meal to come OR is an accom­pa­ny­ing side for the main dish.
Our youngest daugh­ter (now 21) was about 7 when she asked, "Mom can I order a before sal­ad?" lol She had appar­ent­ly watched me order­ing a sal­ad on the side, for years, and got brave enough to ask for her own. Who could say, "No" to that cute­ness!!??! Bring on anoth­er $5 side sal­ad! lol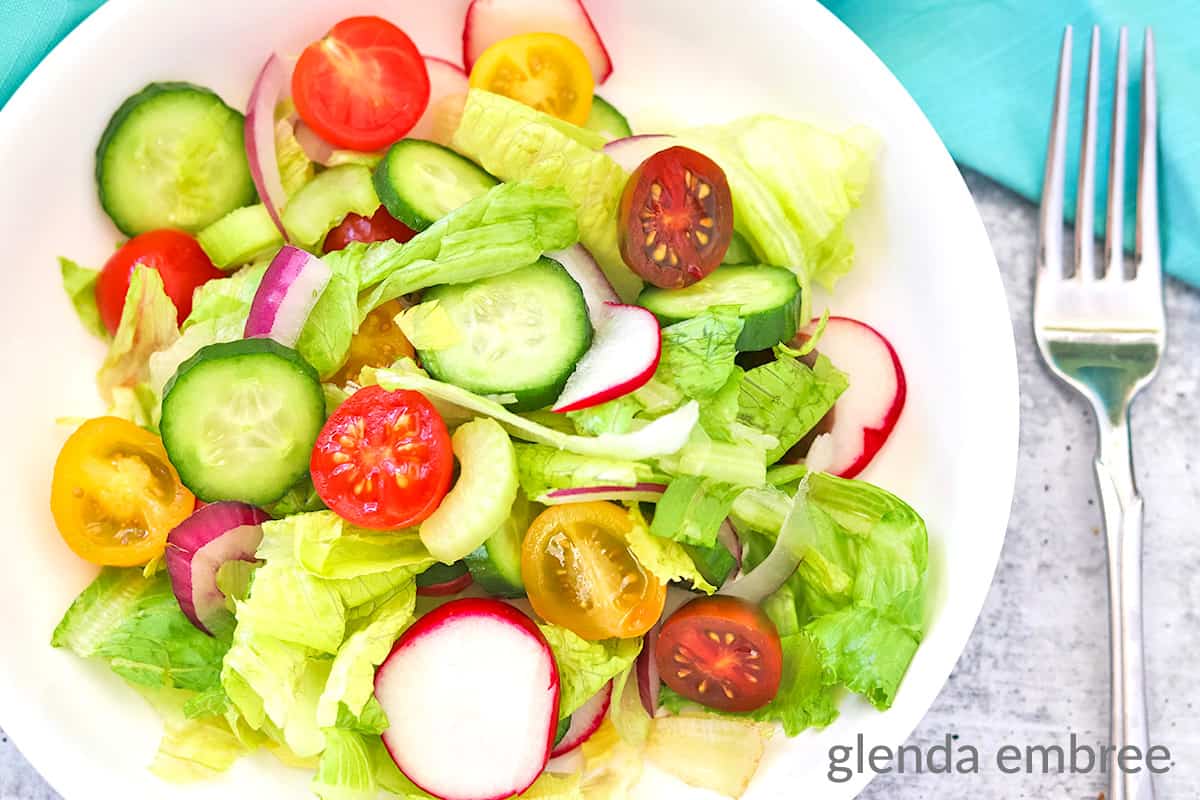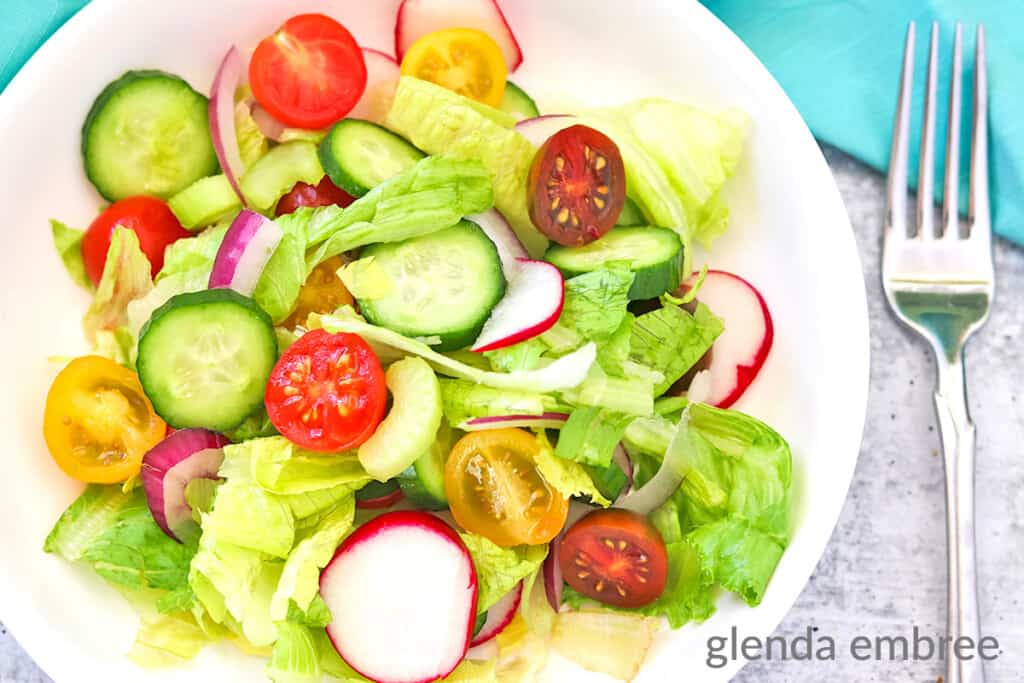 And hon­est­ly, I have made this easy house sal­ad recipe since my old­est girls (now 38 and 36) were small. I'd say, "Let's make a love­ly sal­ad." They knew exact­ly what I meant and loved them. They'd even help me make them.
There's a rea­son for the appeal of house sal­ad recipes. A clas­sic house sal­ad recipe, well done, can set the tone for the entire meal. It needs the fresh­est, crispy ingre­di­ents, vivid col­or and fla­vor that wakes up your taste buds.
And as far as the name, I think it sim­ply refers to the fact that it is that par­tic­u­lar restau­ran­t's per­son­al side sal­ad recipe. The "house­'s" recipe. Their own sig­na­ture "house" salad.
Well friends, they have noth­ing on us. We can all have our own fab­u­lous House Sal­ad recipe to share and enjoy, right in the com­fort of our own homes!
As sal­ad recipes go, I believe this sim­ple side sal­ad is one of the most ver­sa­tile and easy to pre­pare. I hope you love it!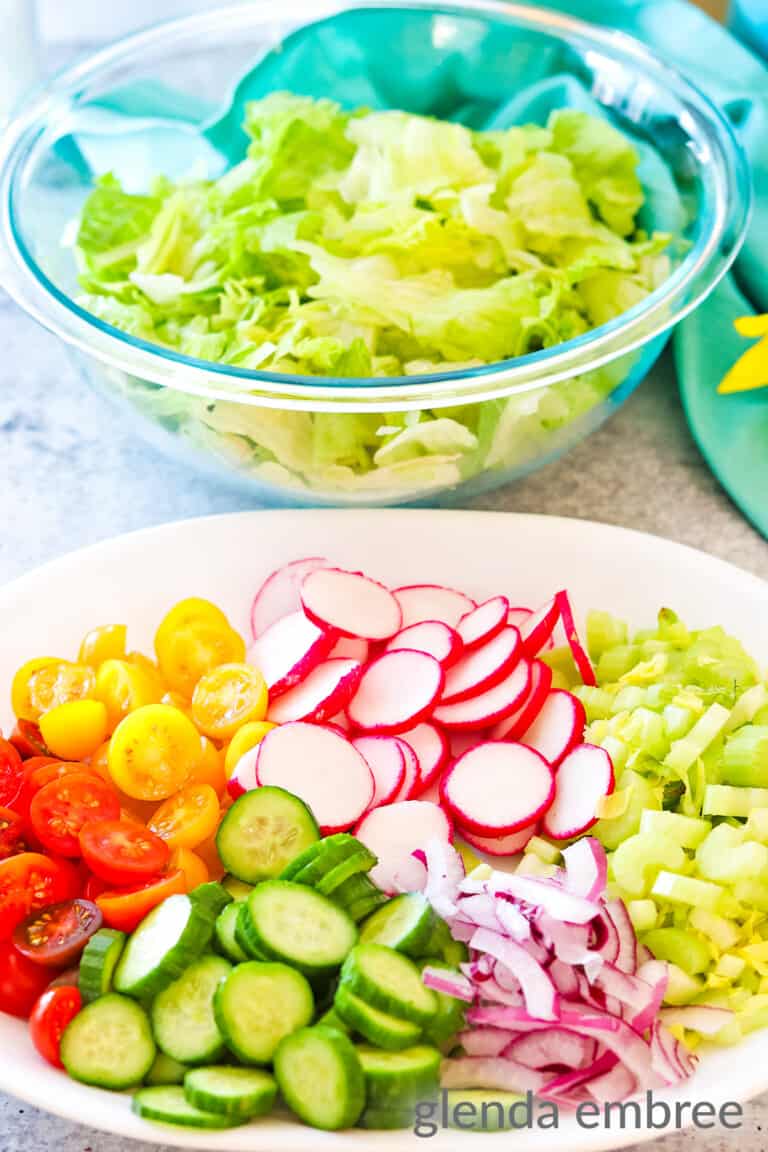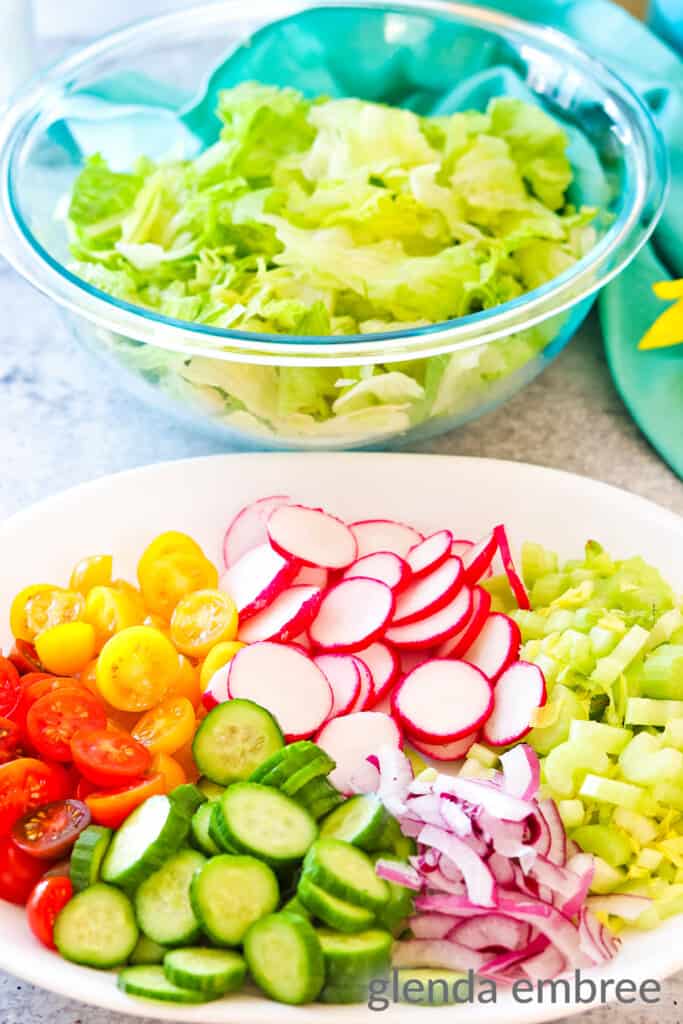 House Salad Recipe Ingredients
There are cer­tain sal­ad ingre­di­ents and ingre­di­ent qual­i­ties that are absolute "musts" in our House Sal­ad recipe. Your list might look a lit­tle dif­fer­ent, but my guess is that it's fair­ly sim­i­lar. The beau­ty of mak­ing a clas­sic house sal­ad recipe is that you can real­ly make it your own.
Fresh, crisp, bright green let­tuce and greens. We typ­i­cal­ly choose Romaine and Ice­burg Let­tuce to make house sal­ad. How­ev­er, if we have them on hand, we will def­i­nite­ly add baby spinach, kale, leaf let­tuce, but­ter let­tuce or mixed greens to a side sal­ad. So, you do you. Make your House Sal­ad with your per­son­al favorites.
Crunchy, crisp cucum­ber slices. In sea­son cucum­bers are the ulti­mate for mak­ing clas­sic house sal­ad recipes. But, nobody loves rub­bery, past their prime cucum­bers. Choose gar­den cucum­bers in sea­son. Out­side of gar­den sea­son, I have bet­ter luck with thin skinned baby cucum­bers or Eng­lish cucum­bers. They add that famil­iar light and crisp fla­vor that adds so much to our house salad.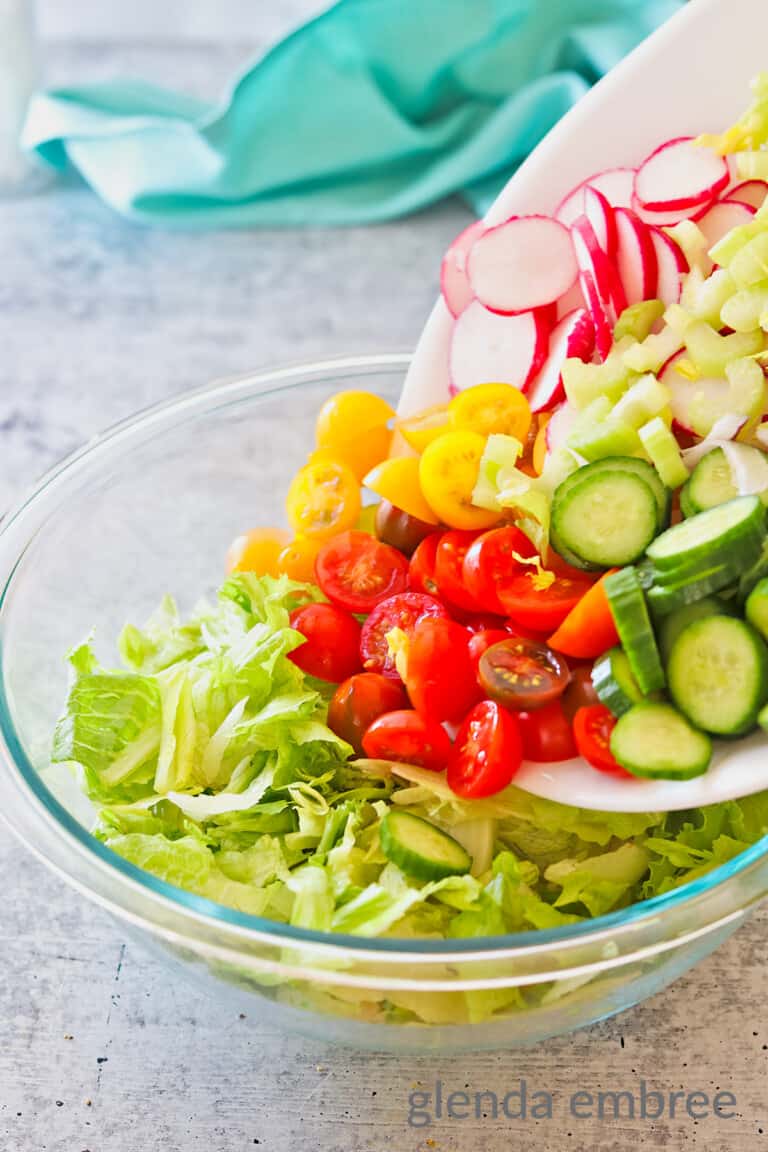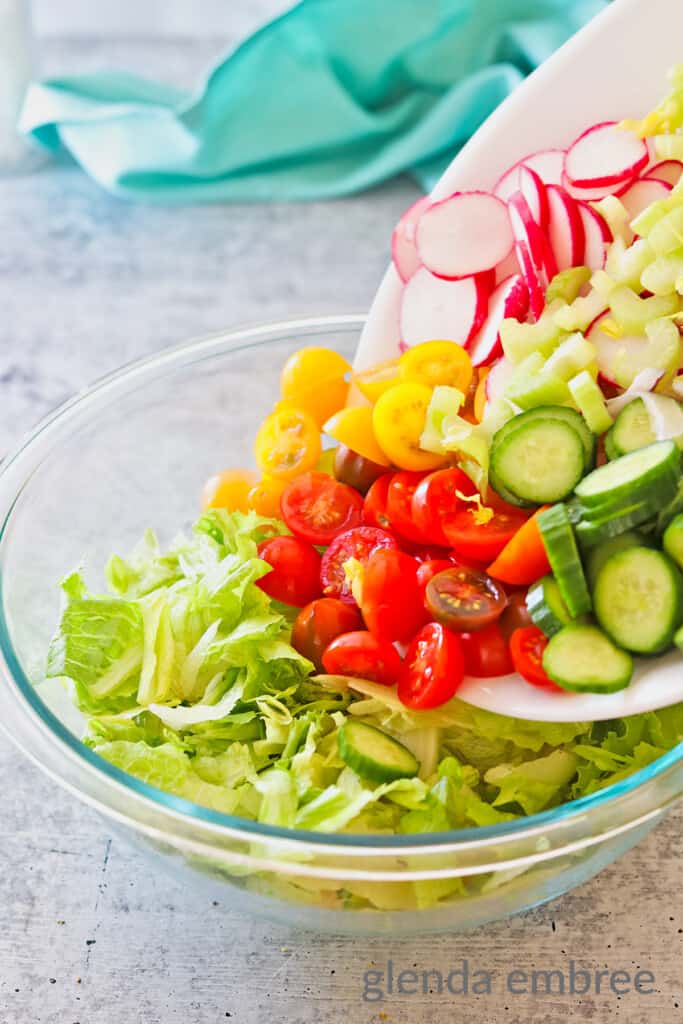 Firm, very ripe toma­toes. Again, sum­mer gar­den toma­toes are the ide­al. How­ev­er, the vari­eties of grape and cher­ry toma­toes avail­able all year long, now, make a great sub­sti­tute for full-size toma­toes when the sum­mer gar­den is done. They add sweet tart acidic pops of fla­vor and juici­ness plus eye-catch­ing col­or. And there fla­vor is usu­al­ly bet­ter than their full-sized coun­ter­parts in the off-season.
Radish­es. Also, eas­i­ly avail­able to us year round. Crisp, bold fla­vor and gor­geous col­or that we love in a side salad.
Cel­ery. This does­n't seem as nat­ur­al to some, but for me, it's a non-nego­tiable in House Sal­ad, both for crunch and for flavor.
Red Onions. I would be "chopped" every time on my favorite Food Net­work cook­ing show, because I LOVE raw red onion. Sliv­ers of red onion are a must in my house salad.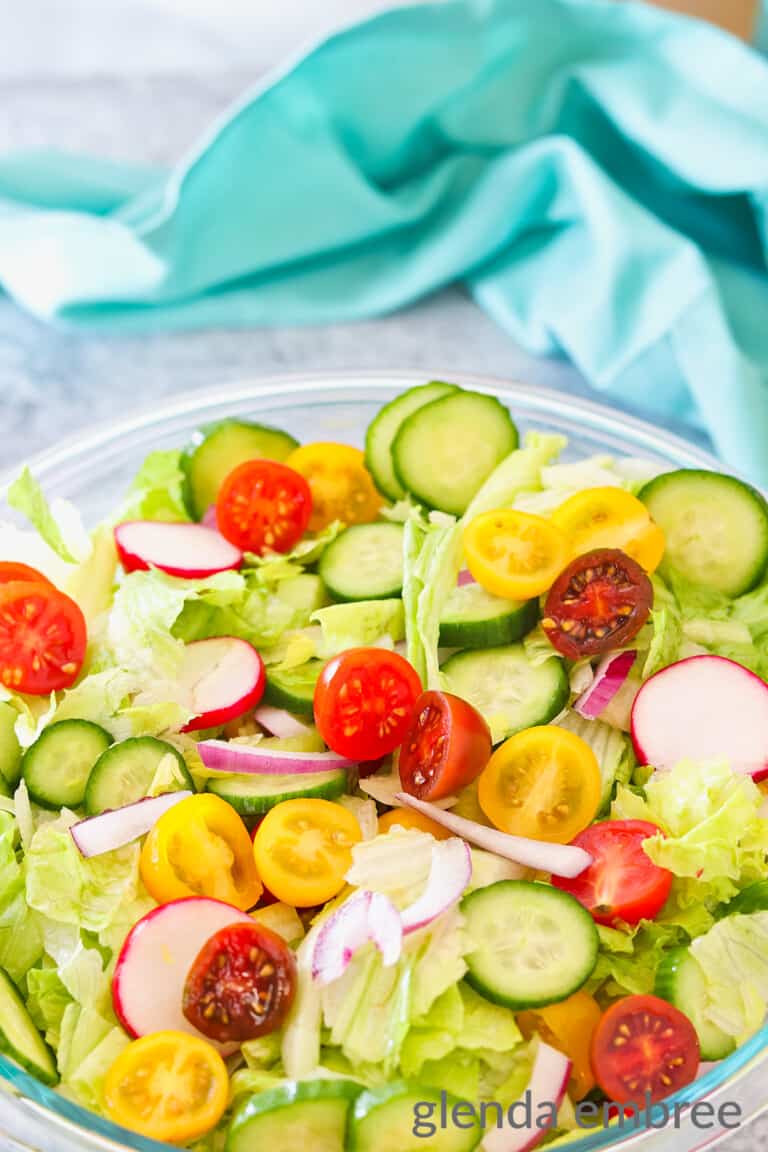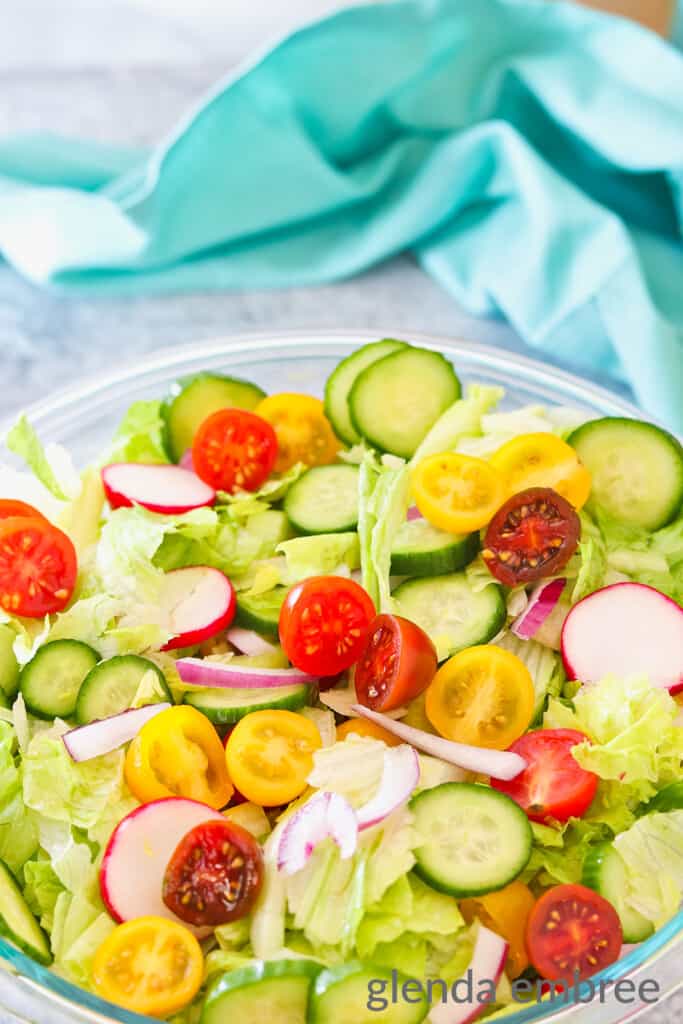 Optional, But So Delicious
Those are all the non-nego­tiables for me, but there are oth­er ingre­di­ents that can cus­tomize your per­fect home­made house sal­ad and make it SO scrumptious.
Crou­tons. Hel­lo! Crunchy, sea­soned cubes of bread deli­cious­ness. Yes, please. I nor­mal­ly buy them ready-made, but you can make fab­u­lous crou­tons at home, too. Check out these awe­some recipes from a few of my friends.
Cheese. Fresh­ly hand grat­ed or cubed cheese in any of your favorite vari­eties is always a wel­come addi­tion to House Salad.
Bacon Bits or Crum­bles. Fresh bacon, chopped into salty nuggets of smoky, savori­ness are deli­cious scat­tered through a mouth­wa­ter­ing din­ner salad.
Our Favorite Salad Dressings
for a Classic House Salad
Some­times, I'm in a hur­ry and just putting din­ner on the table quick. On those nights, I pull our favorite store-bought sal­ad dress­ing bot­tles from the fridge with­out an ounce of guilt. Do what you need to do to make a great din­ner for your fam­i­ly when you have to hurry.
There is always ranch, because some peo­ple in our fam­i­ly will ONLY eat ranch on a House Sal­ad. lol Tell me you have at least one of those.
Then we usu­al­ly have an Olive Oil Ital­ian Vinai­grette and a Blush Vinai­grette. We also have a sal­ad dress­ing I have come to under­stand is a sort of Nebras­ka phe­nom­e­non. And not every­one knows about it. Dorothy Lynch. I'll let you Google that one.
When it comes to home­made sal­ad dress­ing I have two favorites: Avo­ca­do Ranch Sal­ad Dress­ing and Creamy South­west Sal­ad Dress­ing. But, there are dozens of possibilities.
I pre­fer to make home­made dress­ings with either olive oil or avo­ca­do oil. Olive oil is used when I want that dis­tinc­tive olive oil fla­vor. And avo­ca­do oil is my choice when I want some­thing neu­tral that lets the oth­er fla­vors shine. Both olive oil and avo­ca­do oil are super good for you. So, they make excel­lent bases for any dress­ing you use to top your side salad.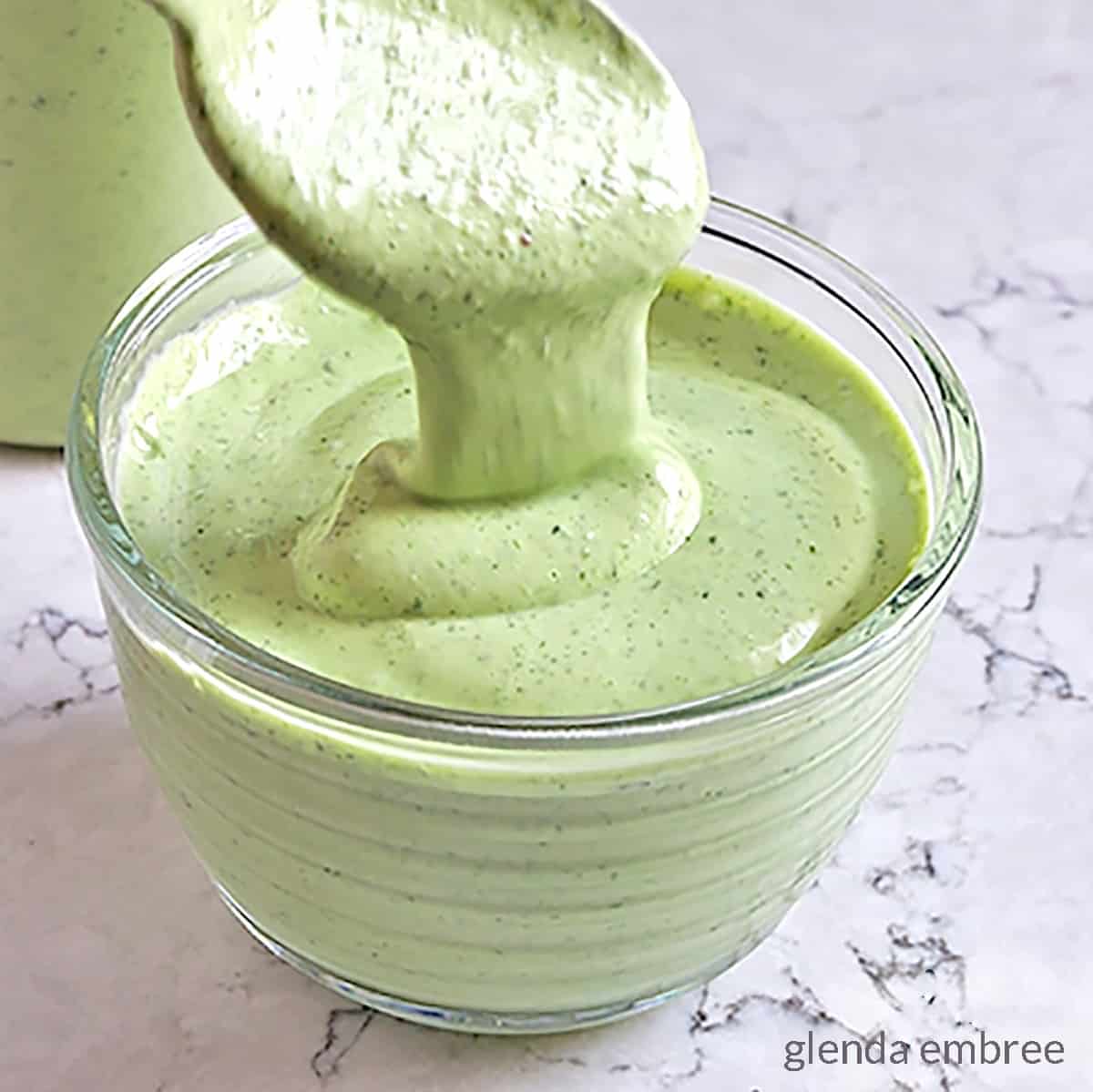 Possible Variations and Substitutions
Vari­a­tions in a per­fect house sal­ad can be as wild­ly dif­fer­ent and cre­ative as the per­son who is mak­ing it. When mak­ing a side sal­ad, indi­vid­u­al­i­ty and cre­ativ­i­ty are a plus.
There is a whole world of veg­eta­bles (and fruit) that can be fan­tas­tic in a clas­sic house sal­ad. Choose by sea­son­al­i­ty for the best qual­i­ty and fla­vor in the per­fect side salad.
Def­i­nite­ly "mix it up". Make your side sal­ad your own per­fect cre­ation. The info graph­ic below, is divid­ed into the four sea­sons, with lists of which fruits and veg­eta­bles will be at peak per­fec­tion dur­ing each time.
Of course, there will be some vari­a­tion based on your loca­tion, but as a gen­er­al rule it's an excel­lent guide. Use it to help you build the per­fect side sal­ad recipe.
Click on this image to open a down­load­able and print­able pdf
to help you choose the best in-sea­son produce.
How to Make a Salad
This is where some of those spe­cif­ic "char­ac­ter­is­tics" of a tru­ly excel­lent house sal­ad come in. And, if I'm hon­est, I'm picky about them.
So, here's the list of what I believe makes a per­fect house sal­ad, regard­less of what ingre­di­ents you choose. Fol­low these and your House Sal­ad is going to be spectacular! 🙂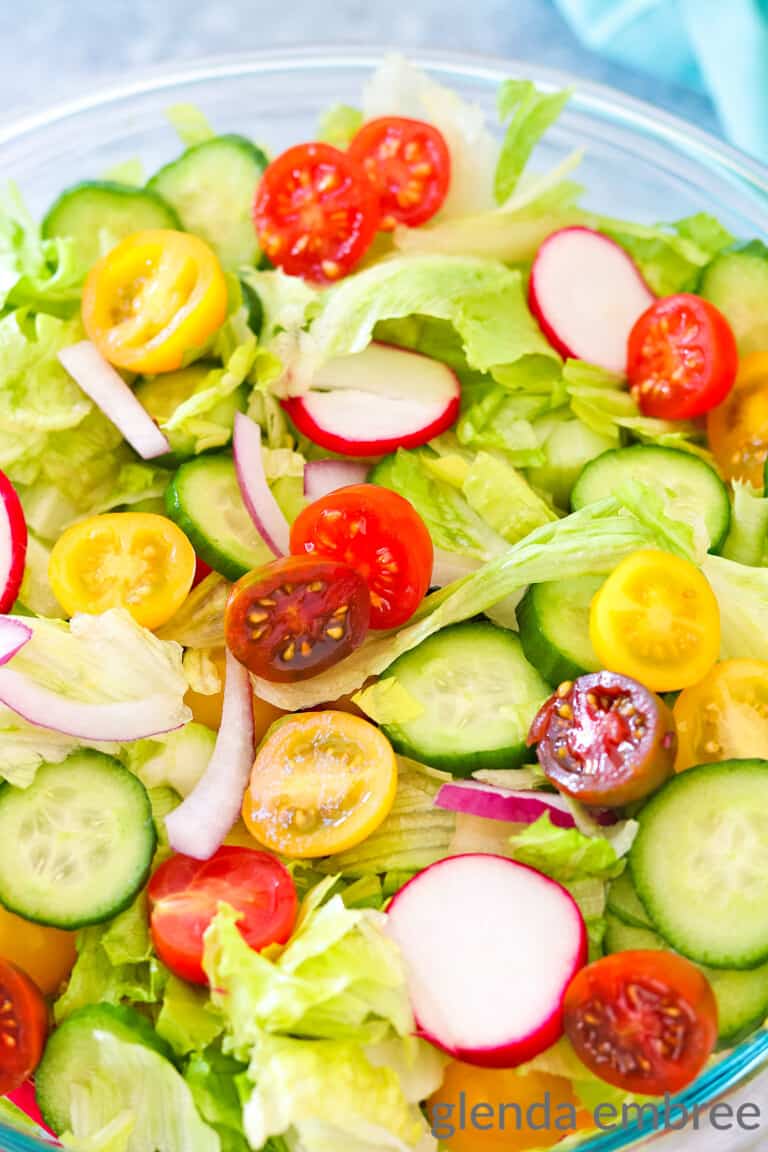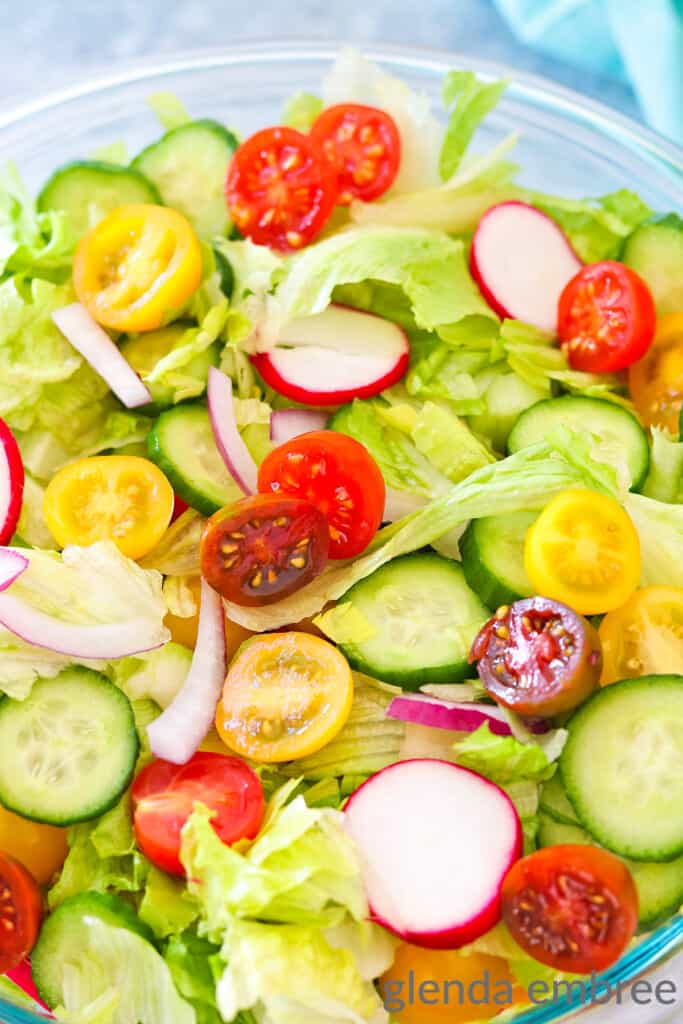 Tips for Preparing a Great House Salad
Tear the let­tuce, instead of cut­ting it, unless the entire house sal­ad will be eat­en imme­di­ate­ly. Oxi­da­tion of the edges of the let­tuce leaves hap­pens more quick­ly when they are cut. If you tear the leaves, they will break along nat­ur­al fault lines in the leaf which means few­er cells are rup­tured and brown­ing is slowed. Tear­ing, instead of cut­ting, can extend the life of your side sal­ad one to two days.
Tear the let­tuce into BITE-SIZED pieces. There is noth­ing more frus­trat­ing than sit­ting down to a sal­ad with gigan­tic pieces of romaine let­tuce or ice­burg leaves in it. Stab­bing a gar­gan­tu­an piece of let­tuce and then try­ing to maneu­ver it into your mouth or back onto the plate to be cut table side is not fun.
Choose vari­ety in col­or and tex­ture when select­ing veg­gies for your sal­ad. Select­ing many bright, vibrant col­ors means a wide vari­ety of nutri­ents are being added to your house sal­ad, as well as mak­ing it beau­ti­ful to look at. It real­ly is true that we eat with our eyes, first.


Select the fresh­est pro­duce avail­able. It goes with­out say­ing, nobody wants limp, wilt­ed or spongy veg­eta­bles in a deli­cious sal­ad. Let­tuce should be bright green and crisp. Oth­er veg­eta­bles should be firm and vibrant­ly col­ored. Choose what is at it's best in-sea­son qual­i­ty in that moment.
Wash and dry all your greens and veg­eta­bles before you start tear­ing and chop­ping. It makes prep work go quick­ly. Plus, when the greens and veg­eta­bles are com­plete­ly dry, the sal­ad will keep longer.
Cut or slice veg­eta­bles into thin, bite-size pieces.
Store toma­toes at room tem­per­a­ture for the best fla­vor. Only refrig­er­ate when it's nec­es­sary for slow­ing down the dete­ri­o­ra­tion process. See this arti­cle for more infor­ma­tion.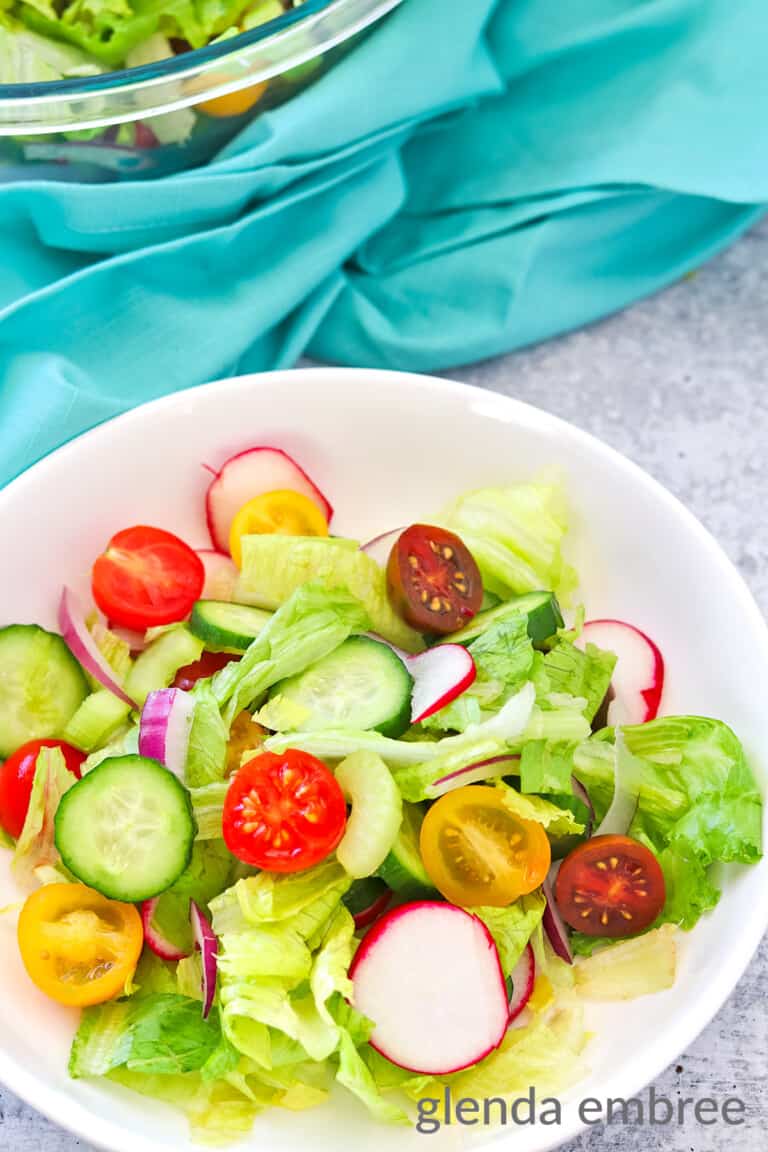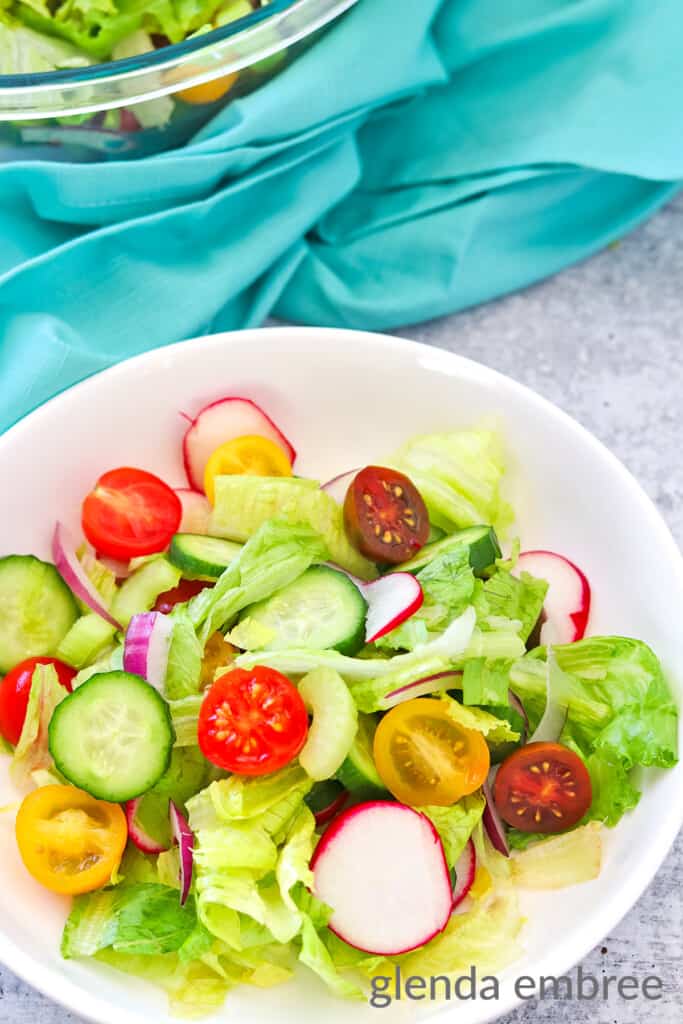 Assembling Your House Salad Recipe Ahead of Time
Can I pre­pare sal­ad ahead?
Of course. Tear the greens and slice every­thing except the toma­toes up to 24 hours ahead of time. Instead of assem­bling the sal­ad, place each of the com­po­nents in indi­vid­ual con­tain­ers and store in the fridge. When you're ready to serve your house sal­ad, halve the toma­toes and then sim­ply toss all the prepped ingre­di­ents with the sal­ad greens and serve.
Assembling Your House Salad to Serve Immediately
Okay, now you've already select­ed and prepped all your ingre­di­ents. The rest is simple.
Com­bine the greens and cut veg­eta­bles (or fruit) in your sal­ad bowl. Be sure to toss thor­ough­ly so all the ingre­di­ents are even­ly dis­trib­uted. It's that easy!
Take the sal­ad to the table with your favorite sal­ad dress­ings on the side. And oh my gra­cious, is it ever going to be delicious!
What to Serve with House Salad
I hope you love this house sal­ad recipe! And I hope it serves you well as a quick and easy, nutri­tious side for your fam­i­ly meals.
If you get a chance to make and enjoy it, I would love for you to come back and leave a com­ment with a 5 star rat­ing, to let me know. Your 5 star rat­ing helps oth­ers to find our recipe when they do a Google search. Thanks so much for your support!
The Recipe
Print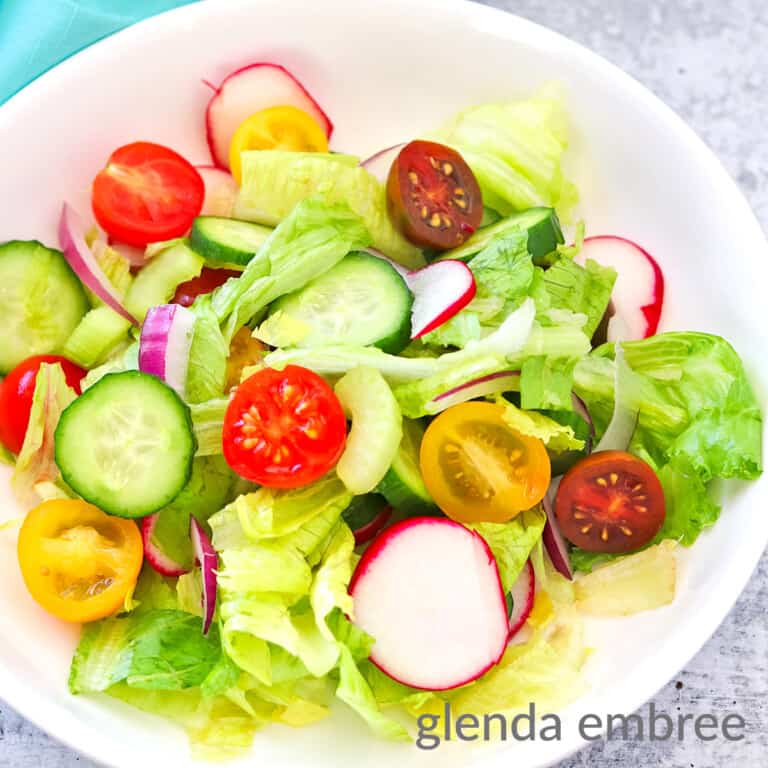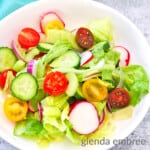 House Salad, a Quick and Easy Favorite
---
Author:

Total Time:

15 min­utes

Yield:

6

serv­ings

1

x
Description
House Sal­ad is a for­mu­la or guide to help you make one of my favorite sal­ad recipes, ever. Use the tips and infor­ma­tion in the post, along with this recipe, to cre­ate a tru­ly spec­tac­u­lar clas­sic din­ner sal­ad for your next meal. Every­body loves a great sal­ad and it can com­ple­ment any main dish you're serving.
---
ice­burg let­tuce, 1 small head
Romaine let­tuce, 1 heart

3

baby cucum­bers (or

1

Eng­lish cucum­ber), cut into 1/8th inch rounds

6

ounces

cher­ry or grape toma­toes, halved

3

stalks cel­ery, cut into

1/4

th inch slices

5

radish­es, cut into thin rounds

1/4

cup

red onion, cut into slivers
---
Instructions
Clean and dry the pro­duce you've selected.
Tear the greens into bite-sized pieces and place them in a large sal­ad bowl.
Slice the cum­bers and radish­es into thin rounds.
Cut the cel­ery into 1/4‑inch slices (half moons).
Cut thin, slices and sliv­ers of red onion until you have about 1/4 cup.
Add the cut veg­eta­bles to the torn greens and toss to com­bine and even­ly dis­trib­ute everything.
Serve with your favorite sal­ad dress­ing and option­al top­pings, like cheese, bacon pieces and/or croutons.
Notes
Choose the sal­ad greens and veg­eta­bles that you and your fam­i­ly prefer.
Choose in-sea­son produce.
Make this sal­ad recipe your own.
To Make Salad Ahead of Time
Tear the greens and slice every­thing except the toma­toes up to 24 hours ahead of time. Instead of assem­bling the sal­ad, place each of the com­po­nents in indi­vid­ual con­tain­ers and store in the fridge. When you're ready to serve your house sal­ad, halve the toma­toes and then sim­ply toss all the prepped ingre­di­ents with the sal­ad greens and serve.
Prep Time:

15 min

Cat­e­go­ry:

Side Dish, Sal­ad, Vegetable

Method:

Cold Prep

Cui­sine:

Amer­i­can