Once you have baked with Home­made Vanil­la Extract, you will nev­er go back to adding store-bought vanil­la to your fam­i­ly-favorite recipes!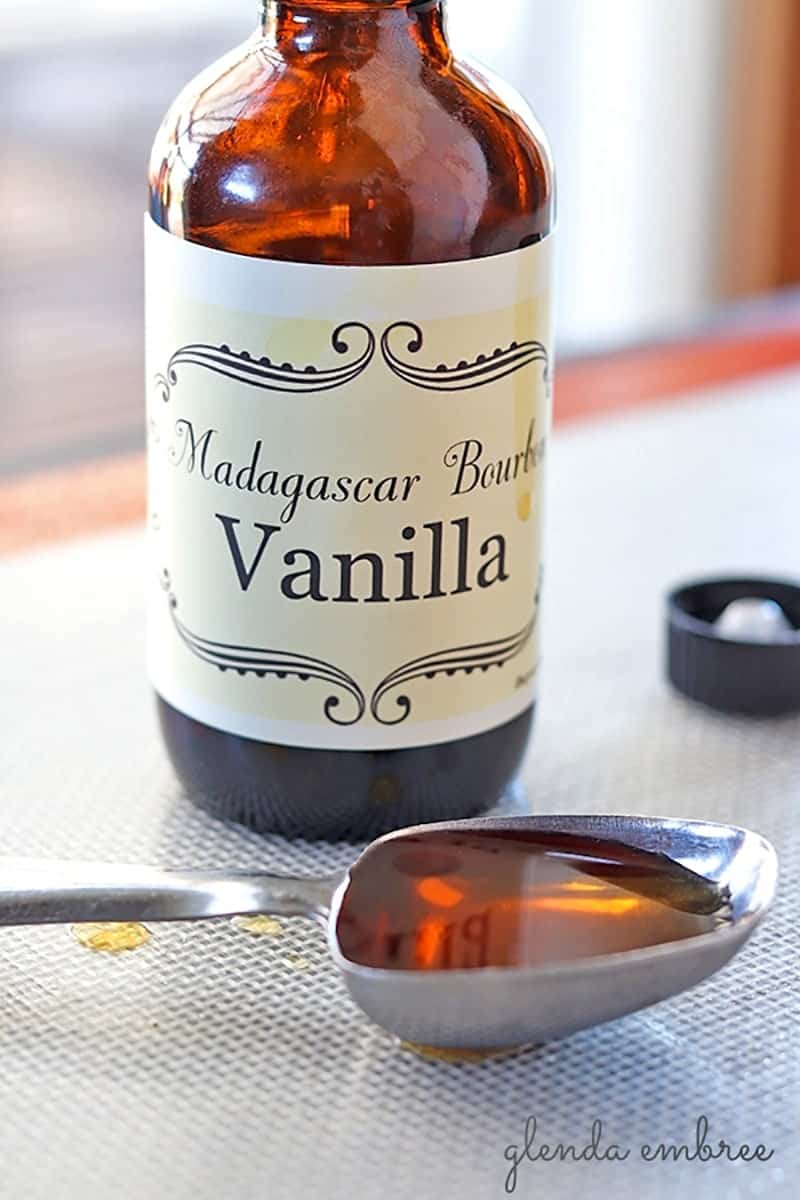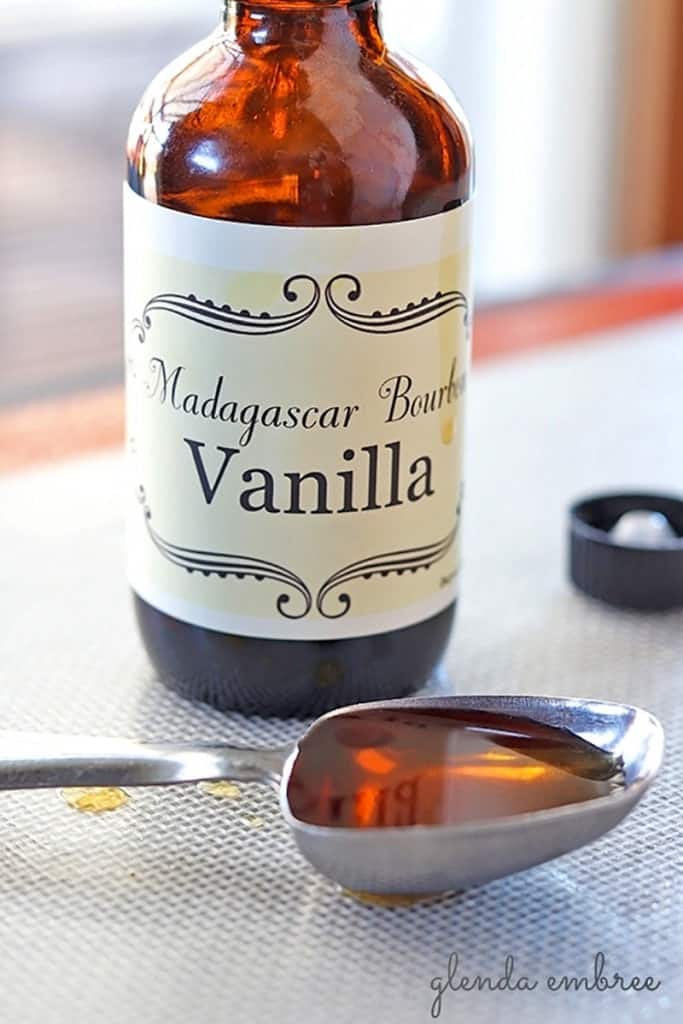 Home­made Vanil­la Extract is a must in my kitchen, now. Cer­tain recipes can nev­er have the rich, depth of fla­vor we rec­og­nize and love, with­out the addi­tion of vanil­la. It has nev­er been more evi­dent to me that the qual­i­ty of the vanil­la has a tremen­dous impact on the fla­vor of what you're bak­ing, than when I was mak­ing our daugh­ter's wed­ding cake.
That there is a fla­vor dif­fer­ence between "Imi­ta­tion" Vanil­la and "Pure" Vanil­la Extract is hard­ly a kitchen secret. (Anoth­er fla­vor­ing syrup/extract that is so much bet­ter made from scratch is my friend Kris­ten's Elder­flower Cor­dial.) Once you begin mak­ing your own extracts and syrups, it will be hard to accept any­thing less.
It's a fair­ly uni­ver­sal piece of knowl­edge. But, what I, (and maybe you), did­n't know is that even when I was buy­ing "pure" vanil­la extract, some brands were adding water, sug­ar or oth­er ingre­di­ents. Be sure to read your labels.
Anoth­er key fact to keep in mind is that many vanil­la extracts avail­able at the store are "sin­gle-fold" vanil­las, using only one or two beans per cup of alco­hol. This results in a much weak­er fla­vored vanil­la. We will be cre­at­ing high-qual­i­ty "dou­ble-fold vanil­la". It uses 6 beans per cup (8 oz) of alcohol.
The Ingredients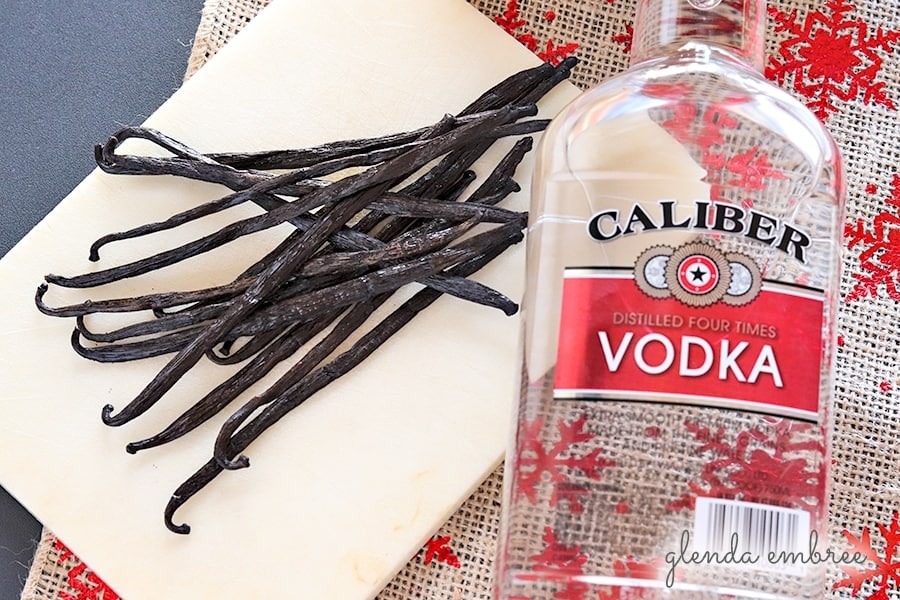 Vod­ka: You can use dif­fer­ent kinds of alco­hol to make vanil­la. It just needs to be a neu­tral fla­vored one. Vod­ka, bour­bon, brandy, or even rum, should work. Be sure not to use any fla­vored or spiced alco­hols as they can over­whelm the fla­vor of the vanil­la. What­ev­er alco­hol you choose should be between 70 and 90 proof to make the best vanil­la. I, per­son­al­ly, pre­fer the least expen­sive vod­ka, I can find.
I've used brandy, before, and felt that the alcohol's fla­vor over­whelmed the vanil­la aro­ma and the taste I want­ed. Bour­bon made fab­u­lous vanil­la, but the fla­vor was not appre­cia­bly dif­fer­ent from that made with vod­ka, and vod­ka is much less expen­sive. I have nev­er tried rum, but if you do, I would love to hear your expe­ri­ences. The nice thing about the alco­hol for extracts is that it doesn't have to be expen­sive to make high-qual­i­ty vanil­la. I buy the bot­tom-shelf, cheap­est brand I can find at Wal­mart and my vanil­la is always spectacular!
Vanil­la Beans: I pre­fer *Mada­gas­car Bour­bon Vanil­la Beans (affil­i­ate link). They pro­vide the vanil­la fla­vor we are most used to. The bour­bon does not refer to the alco­hol used in the extract, but to the island where the beans are grown.
Tahit­ian Vanil­la Beans are more flo­ral with a strong aro­ma. They also have notes of cher­ry and almond.
Mex­i­can Vanil­la Beans are moist and fla­vor­ful. They have sweet and woodsy notes accom­pa­nied by spicy under­tones that resem­ble clove and nutmeg.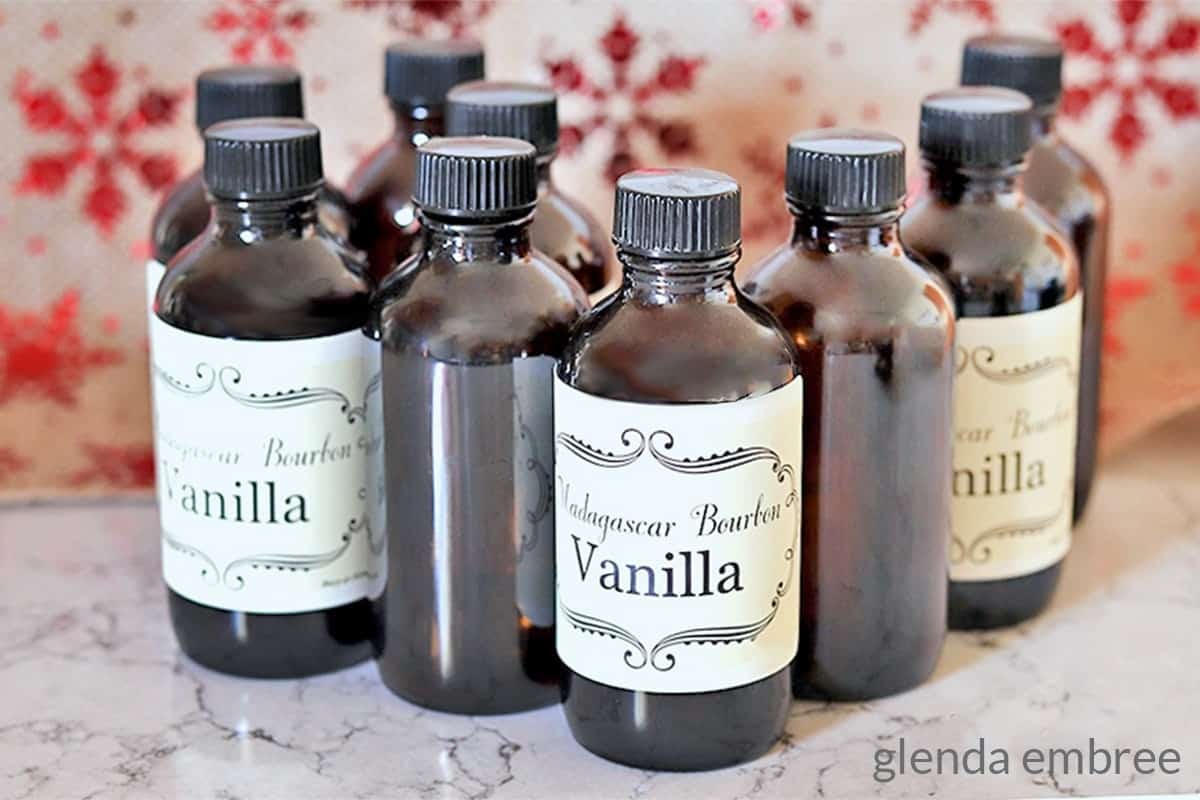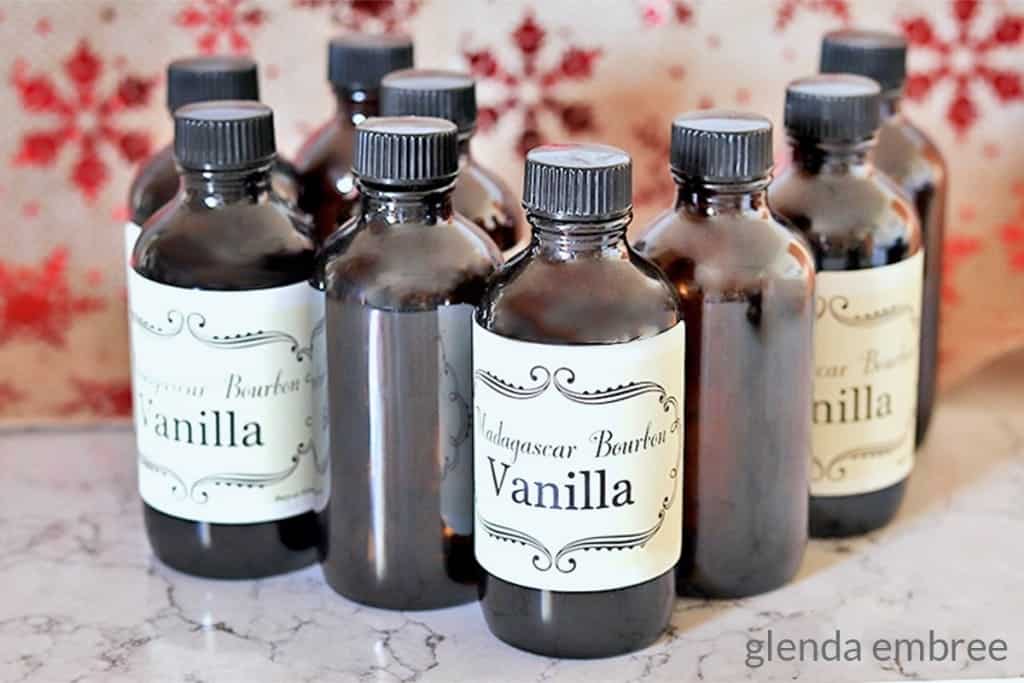 Why Making Your Own Vanilla Makes Sense
With the sig­nif­i­cant dif­fer­ence in qual­i­ty and fla­vor, comes a sig­nif­i­cant dif­fer­ence in cost. Weath­er con­di­tions, plant short­ages and mar­ket con­cerns all affect the price of vanil­la beans, through­out the year. Over the past five years, dra­mat­ic short­ages have mul­ti­plied that cost many times over, as you must cer­tain­ly have rec­og­nized when you pur­chased vanil­la extract, at the store, now.
So, when I pay the extra for a "pure" prod­uct, like Mada­gas­car Bour­bon Vanil­la, that's exact­ly what I want it to be. I've decid­ed the one way to be cer­tain I get the best val­ue for my extract dol­lars is to make my own. When you see how easy it is to make and how much the rich, depth of vanil­la fla­vor enhances your baked goods, you'll be a con­vert, too!
The recipe I'm shar­ing will make EIGHT 1/2 cup (4 oz) bot­tles of Mada­gas­car Bour­bon Vanil­la Extract. It's the vanil­la bomb! You'll have plen­ty for your own kitchen and some for gift­ing, if you like. What a great addi­tion to gift bas­kets you make for Christ­mas! Any­one would love to receive this won­der­ful bak­ing elixir, fash­ioned by your very own hands.

Homemade Vanilla Extract Recipe Saves You $$$
Com­par­ing the prices of two dif­fer­ent brands of Mada­gas­car Bour­bon Vanil­la, I found at Wal­mart, one was $20.95 for a 4 oz bot­tle and the oth­er was $6.44 for 1 oz (that's $25.76 for 4 oz).
Our cost for this recipe, all in, using Grade A beans, and includ­ing the vod­ka and the bot­tles which are only need­ed for gift­ing, is only $5.95 per 4 oz bot­tle! That's less than 1/4 the cost of store-bought and YOU con­trol the ingredients.
If I make this for per­son­al use, I elim­i­nate the cost of bot­tles and my cost per 4 oz. is only $4.62. Less than 1/5 the cost of store-bought vanilla.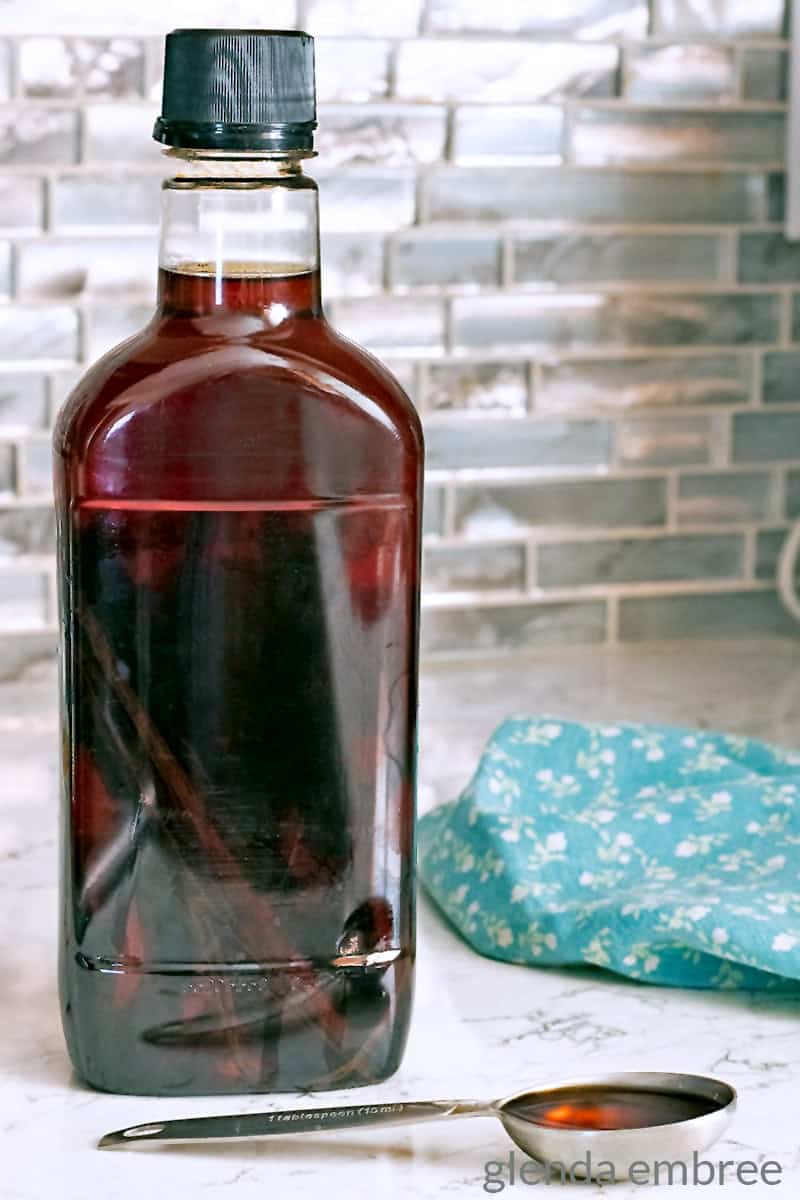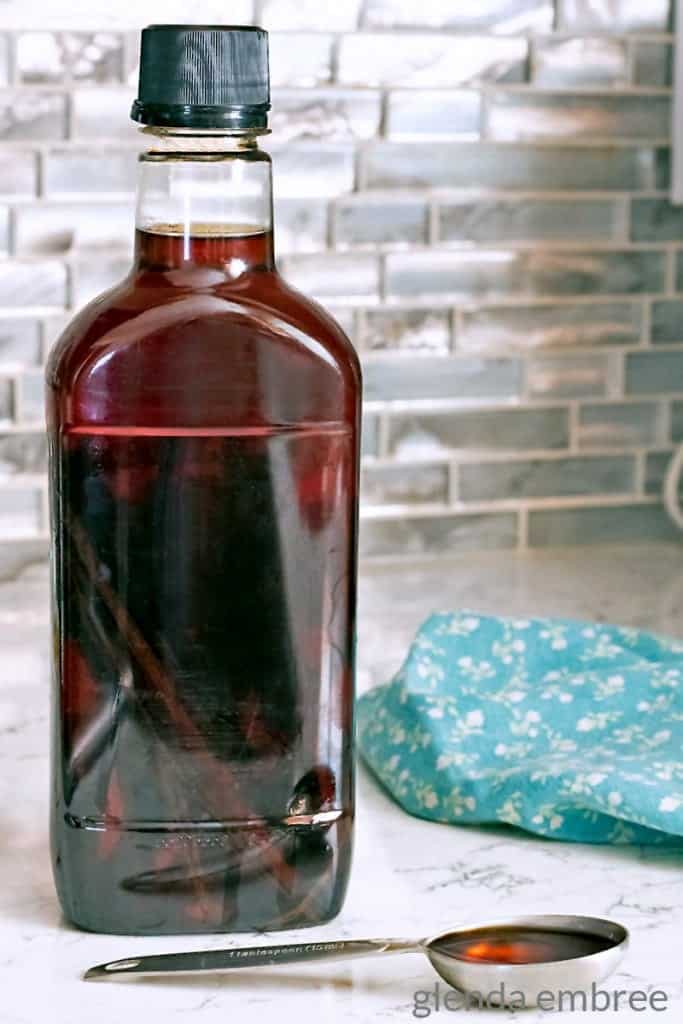 The Bot­tles: $15.99/12 (which comes to $1.33 per 4 oz. bot­tle ) I only pur­chase these for gift giv­ing. See my note below on how I bot­tle this for us at home which is ZERO cost for bottles.
If you make this for your own per­son­al use, and not for gift­ing, you can cer­tain­ly use one large bot­tle and place all the beans into it. I put the beans direct­ly into the bot­tle the vod­ka comes in. That's no cost for bot­tles. Since I bake often, and use quite a lot of vanil­la that makes the most sense for my own kitchen.
The Beans: $31.96/25 beans (which is $3.84 per 4 oz. bot­tle ) This is for the Grade A Mada­gas­car Bour­bon Vanil­la Beans, I prefer.
The Vod­ka: $10.98/1.75 liter (which is $ .78 per 4 oz. bot­tle) It comes out to about $1.56 per cup and the recipe calls for 4 cups to make 8 (4 oz) bot­tles. I buy the 1.75 liter bot­tle at Wal­mart and it's the cheap­est bot­tom shelf brand I can find. Find the cheap­est in your area.
The Difference Between Grade A and Grade B Vanilla Beans
I buy *Grade A Mada­gas­car Bour­bon Vanil­la Beans. Grade A beans should be soft, flex­i­ble and moist. The vanil­la oil from the beans should be obvi­ous on the out­sides of the skin. High-qual­i­ty beans pro­duce extra­or­di­nar­i­ly fla­vor­ful extract. Mada­gas­car Bour­bon beans pro­duce a rich, dark and creamy fla­vor with sweet and but­tery under­tones that are supe­ri­or for bak­ing and for drink recipes. The beans are won­der­ful­ly fra­grant and your lus­cious vanil­la extract will be, too.
*Grade B Mada­gas­car Bour­bon Vanil­la Beans work just as well, as A, but they are dri­er and will most like­ly need to soak even longer, in the alco­hol before your vanil­la is ready to use. The ben­e­fit is that they are slight­ly less expen­sive. Whichev­er grade you pre­fer, it will always be more cost-effec­tive to make your own Home­made Vanil­la Extract.
How to Make My Homemade Vanilla Extract Recipe
Clean and ster­il­ize the bot­tles and lids you'll be using by run­ning them through the hottest cycle on your dishwasher.
I pre­fer these *dark amber bot­tles, I found on Ama­zon, when I make extracts for gift­ing. The bot­tles are a per­fect 1/2 cup (4 oz) size, that's great for gift­ing or for use in your own kitchen, too. I like the "vintage‑y" look of them, plus dark bot­tles help to keep the light from degrad­ing your extract. Like high-qual­i­ty oils and vine­gars, always store vanil­la extract in a cool, dark cab­i­net or pantry.
Cut the vanil­la beans down the side, length­wise. And then, cut the pieces small enough to fit inside your bot­tle (2″-3″).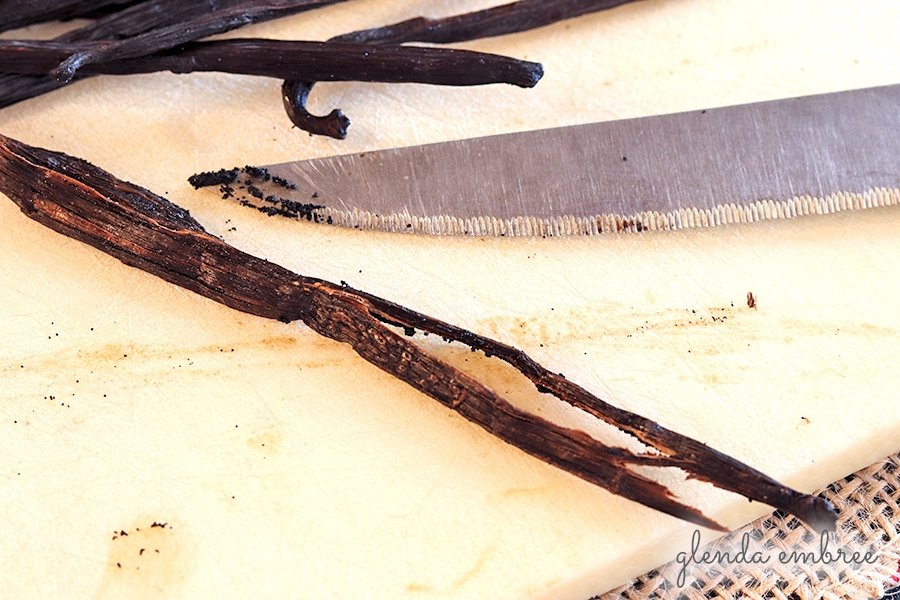 Place the pre­pared beans in the bot­tles and cov­er with alcohol.
Inex­pen­sive vod­ka, high-qual­i­ty vanil­la beans and some bot­tles to store it in are all you need to make pre­mi­um Home­made Vanil­la Extract. You can TOTALLY do this!
NOTE: For some­one like me, who bakes fre­quent­ly and goes through a lot of vanil­la, you can do what I do. Amber bot­tles are saved for gift­ing, only. For per­son­al use, I add the vanil­la beans direct­ly to the vod­ka bot­tle. One large bot­tle of vanil­la extract makes more sense for me. I just store it in my dark pantry, out of the light. Take out the cost of the bot­tles and my vanil­la costs even less than we cal­cu­lat­ed, above. Yay, for sav­ing money!
The Recipe
Print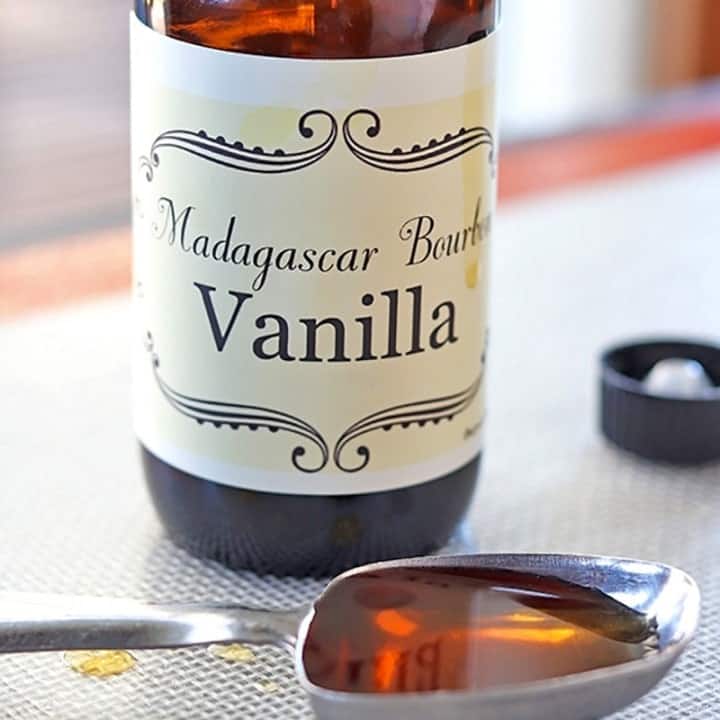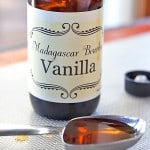 Homemade Vanilla Extract
---
Author:

Total Time:

10 min­utes

Yield:

4 cups

1

x
Description
Home­made Vanil­la Extract will put you off of ever buy­ing it in the store, again. The deep, rich fla­vor is unmatched!
---
24

Grade A Mada­gas­car Bour­bon Vanil­la Beans (or beans of your choice)

4

cups

vod­ka (least expen­sive you can find)

8

(4 oz) *amber bot­tles with lids (if you will be gift­ing the vanilla)
---
Instructions
Slice vanil­la beans open, lengthwise.
Place 3 split beans in each of eight (4 oz) bot­tles cut­ting them into small enough pieces to make them fit the bottles.
Pour 1/2 cup vod­ka over the beans in each bottle.
Tight­en lids on bot­tles and tuck away in a cool dark cab­i­net to "ripen". Let the vanil­la set at least 2 months. The fla­vor will be deep­er and rich­er the longer you let it sit. A good way for me to know when I need to make the next batch is to start a new batch when I hit the half-way point on the last batch.
Notes
To cut costs and make stan­dard sin­gle-fold vanil­la, cut the num­ber of beans to 12 and add 1 1/2 beans to each bottle.
If you make this for your own per­son­al use, and not for gift­ing, you can cer­tain­ly use one large bot­tle and place all the beans into it. Since I bake often, that's exact­ly what I do for my own kitchen. I buy a 750 ml bot­tle of vod­ka, then split and drop 18 beans right into the bottle.
Prep Time:

10 min

Cook Time:

0 min

Cat­e­go­ry:

Sea­son­ing

Method:

hand mix

Cui­sine:

Amer­i­can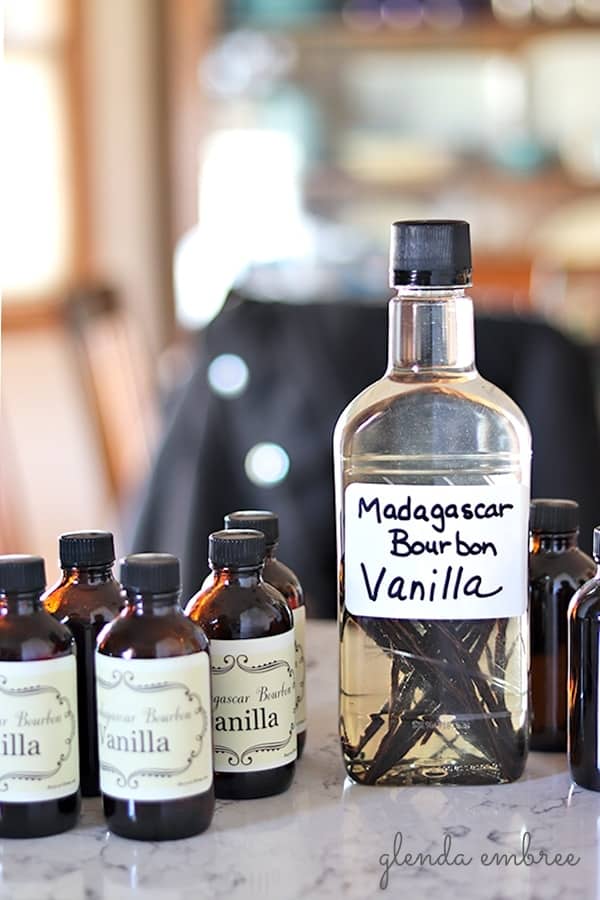 Com­pare the pic­ture above, to the one below. On Novem­ber 25, I start­ed a new bot­tle of vanil­la. Now, only eight days lat­er, look at what has already begun to hap­pen! Imag­ine the full­ness of fla­vor that will have devel­oped at the end of the full two months!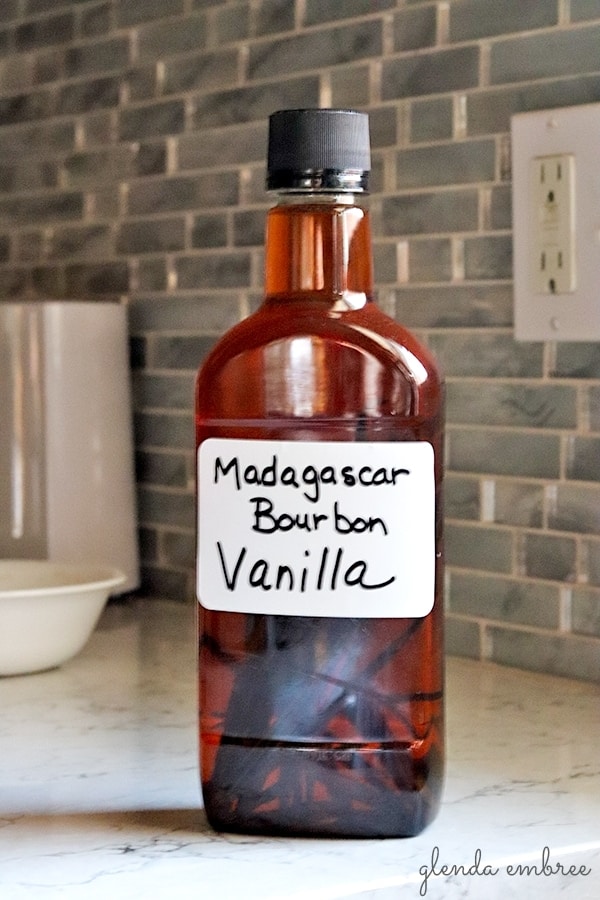 Finishing Touches
Now, just screw the lids on your bot­tles and store in a cool, dark place to allow it to "ripen". It will take a min­i­mum of 2 months and the fla­vor will become deep­er and rich­er, the longer it sets.
I do add one more step if I'm giv­ing the vanil­la as gifts. I like to add pret­ty labels, so every­one knows what's inside and the date it will be ready to use. That way, if I grab a bot­tle out of the cab­i­net for a quick gift, it's already labeled. I can just place it in the bas­ket or gift bag, with­out hav­ing to stop and label it. Down­load some free print­able labels HERE or by click­ing the image below. Just print them out on peel and stick labels. I for­mat­ted them to fit on Avery Labels #25395.
Go! Be a vanil­la extract cre­at­ing champ! Make fab­u­lous and afford­able gifts for the bak­ers in your life. You can do this! Your baked goods and the peo­ple who love to eat them will adore you.
Recipes to Use Homemade Vanilla Extract In