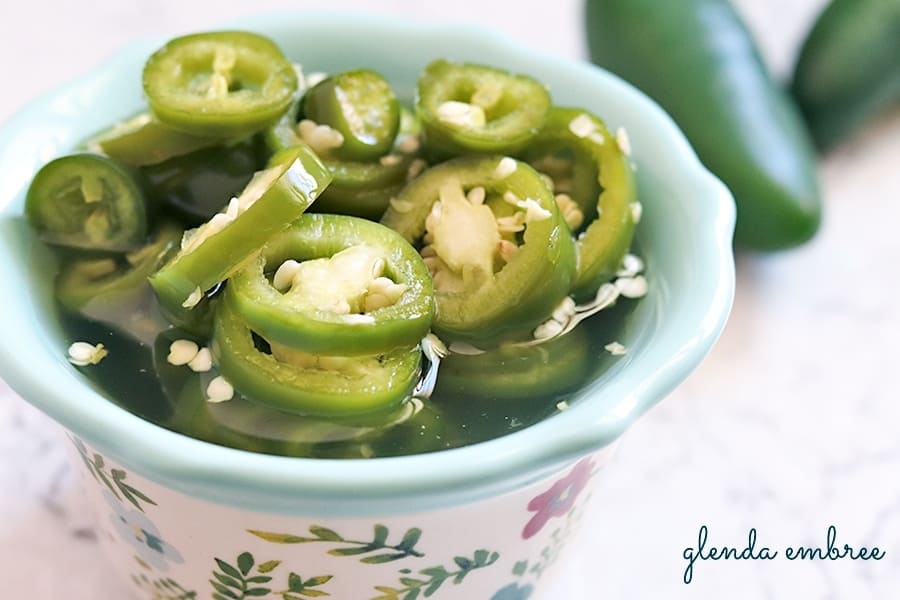 I love quick pick­led jalapenos — well any veg­etable, real­ly! They're that per­fect crunchy, acidic bite to com­ple­ment the rich, cheesy, fat­ty com­fort foods that we all love. Pick­led Jalapenos are per­fect in tacos, sand­wich­es and sal­ads that need a spicy kick. They're great on meat dish­es and can even be a good addi­tion to Mex­i­can casse­role sup­pers or in empanadas.
Cab­bage, car­rots, pep­pers, red onions, radish­es, cucum­bers, cau­li­flower and so many oth­er veg­gies make fab­u­lous quick pick­led veg­eta­bles, too. Mmm­mm… think of a scrump­tious bar­be­cue pulled pork sand­wich with a crunchy pick­led veg­gie slaw! Or how about top­ping for your favorite cheese­burg­er? Heaven!
Pick­led veg­eta­bles look so pret­ty lined up in their jars in the spe­cial­ty condi­ments row at the store. But they are pricey. And they've lost some of their won­der­ful crunch and col­or in the can­ning process.
You can use sta­ple pantry ingre­di­ents and cre­ate some­thing even more deli­cious and crisp, right at home. Then your fridge will be the one lined with beau­ti­ful jars of pick­led jalapenos and pick­led vegetables!
The Simple Process for Making Pickled Jalapenos and Vegetables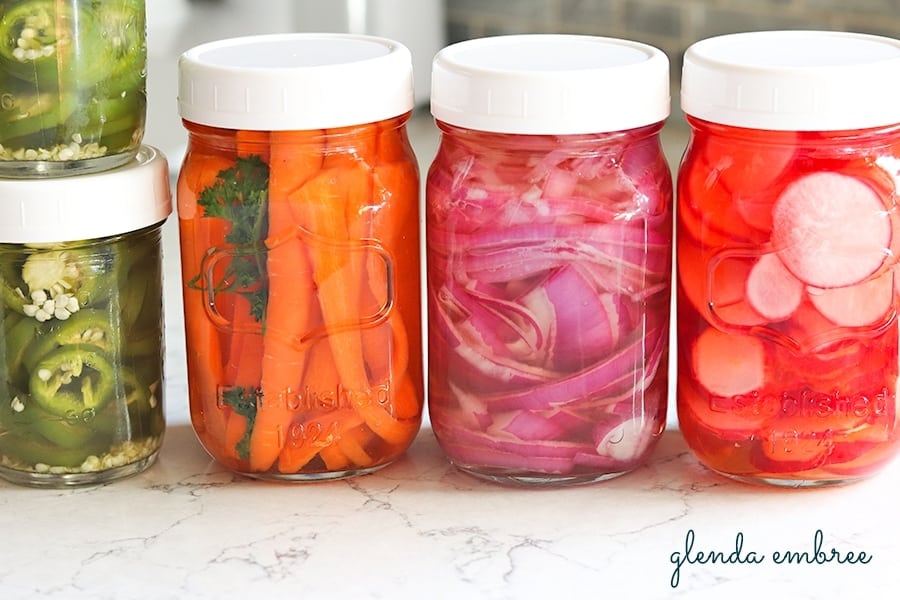 Mak­ing pick­led jalapenos and veg­gies is not only a sim­ple process, it's also very quick.
Put vine­gar, warm water, salt and sug­ar into a bowl and whisk vig­or­ous­ly until the sug­ar and salt dis­solve. Set aside.
Slice up 2 pints (I usu­al­ly put jalapeno slices in two half-pint jars and do a pint of some oth­er veg­gies.) of your desired veg­eta­bles and pack them into your jars. For car­rots, pep­pers and aspara­gus long strips stand­ing on end in the jar works best. For radish­es, cucum­bers, and jalapenos I usu­al­ly cut rings or discs. With onions I pack the jar full of thin strips.
Pour the brine over the veg­gies. There should be just enough to cov­er all the veg­eta­bles right to the top of your jar.
Screw on the lids and set the jars in the fridge. Your pick­led jalapenos will be ready to use in just about 15 min­utes. (Hard veg­gies like car­rots may take a lit­tle more time to absorb the pick­ling liquid).
They will be at their pre­mi­um best, though, if you let them sit in the refrig­er­a­tor overnight. The brine will mel­low the heat of the jalapenos (They'll still have some kick.) and let the deli­cious fla­vor shine through.
How Long do Quick Pickled Vegetables Keep?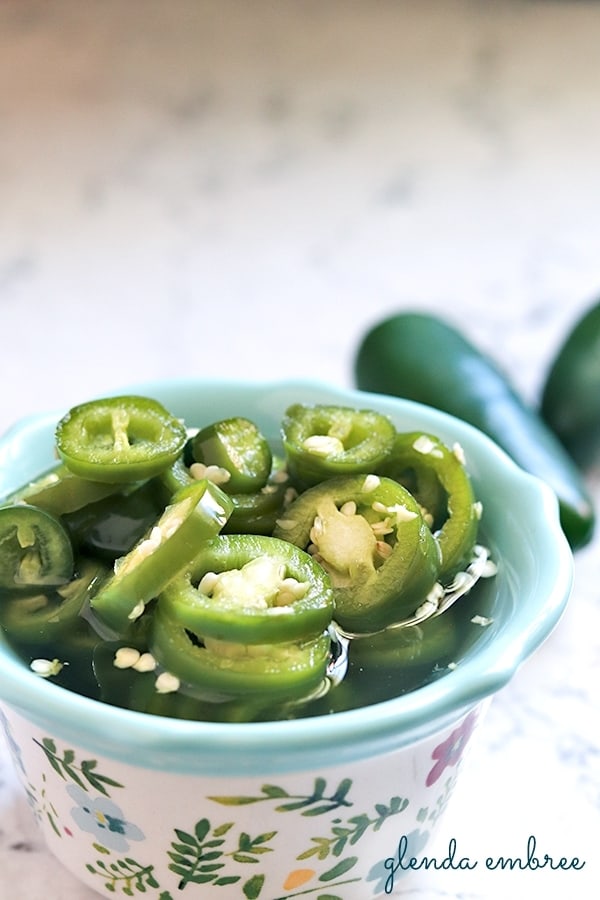 Because they haven't been canned, your quick pick­les DO have to stay in the fridge. The vine­gar and salt will pre­serve them for quite awhile. We have nev­er had any spoil before we gob­bled them up.
Quick pick­led onions will last 2–3 weeks in the fridge and most oth­er quick pick­led veg­eta­bles will be fan­tas­tic for 2–3 months.
Flavoring Quick Pickled Jalapenos and Quick Pickled Vegetables
Your pick­les will be out-of-this-world scrump­tious if you do noth­ing else to them How­ev­er, if you want to amp up the fla­vors and be more cre­ative for gift-giv­ing or for dish­es on a char­cu­terie board over the hol­i­days you can mix and match veg­gies in the jars. You can also add gar­lic and herbs, fresh or dried.
Add pep­per­corns or red pep­per flakes. Try some herbs like gar­lic, dill, turmer­ic, gin­ger, thyme, pars­ley, tar­ragon and rose­mary. Thyme is deli­cious with red onions and try some rose­mary or tar­ragon with aspara­gus. Car­rots with pars­ley or sage makes a fan­tas­tic jar of pick­led veg­eta­bles. The lus­cious com­bi­na­tions are lim­it­ed only by your imagination!
Tools I Use to Make Quick Pickles
These are tools I use for mak­ing quick pick­les. The man­dolin helps with mak­ing uni­form­ly sliced thick­ness­es and my trusty chef's knife has been with me for more than a decade. I like the plas­tic lids for our jars because they don't rust and can be washed eas­i­ly. The links below are Ama­zon affil­i­ates. I would make a small com­mis­sion if you pur­chase using the link.
The Quick Pickled Jalapenos Recipe
Print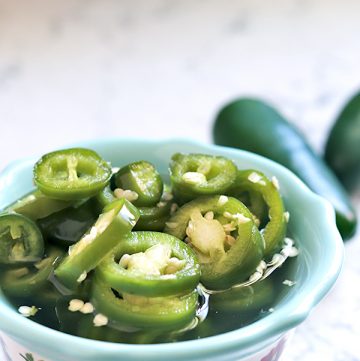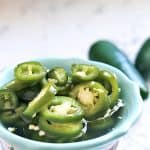 Quick Pickled Jalapenos (and Quick Pickled Vegetables)
---
Author:

Total Time:

10 min­utes

Yield:

2 pints

1

x
Description
Pick­led veg­eta­bles can make a deli­cious taco, sand­wich or cheesy dish into some­thing spec­tac­u­lar! Crunchy, tart and deli­cious with the per­fect amount of acidic kick to cut through rich, creamy and cheesy dish­es. Best of all, they could­n't be eas­i­er to make!
---
2

pints

of sliced veg­eta­bles of your choice, packed into jars

1

cup

white vine­gar (I used white wine vinegar)

1

cup

warm water

3 Table­spoons

of sugar

2 Tea­spoons

of salt
---
Instructions
Slice the jalapenos or veg­eta­bles into no thick­er than 1/4″ slices. You can make them thin­ner if you prefer.
Pack the sliced veg­eta­bles into two pint jars or four half pint jars.
Place the vine­gar, warm water, sug­ar and salt into a bowl and whisk until sug­ar and salt are dissolved.
Pour the pick­ling brine over the pre­pared veg­gies in your jars.
Screw on the lids and refrig­er­ate. Overnight cre­ates the best fla­vor, but most veg­eta­bles will already begin to be "pick­ley" deli­cious in 15 to 30 minutes.
Prep Time:

10 min

Cat­e­go­ry:

Pick­les, Condi­ments, Vegetables

Method:

stove top

Cui­sine:

Amer­i­can
Key­words: pick­les, jalapenos, vegetables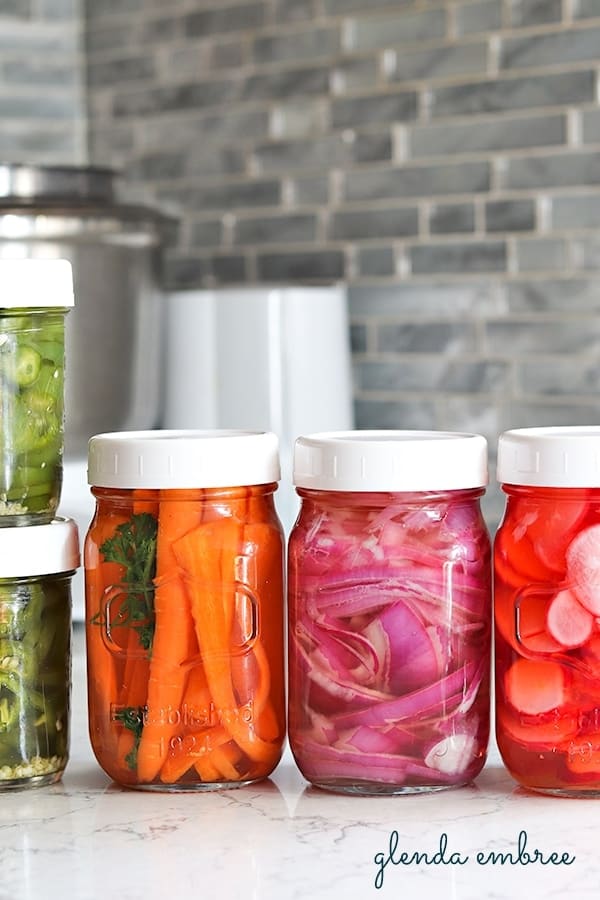 Quick pick­led jalapenos, or any quick pick­led veg­eta­bles real­ly, would make great addi­tions to hol­i­day gift bas­kets. With the hol­i­days just around the cor­ner, it's a good time to start think­ing about adding them to par­ty char­cu­terie boards and fes­tive buf­fet tables, too.
Whether you make them for every­day yum­mi­ness or for a spe­cial meal or gath­er­ing, I think you're going to love being able to cre­ate your own bright and crunchy pick­led veg­eta­bles at home. Enjoy!
Dishes that Would Be Perfect for Enjoying Quick Pickled Vegetables
a Deli­cious Meat­loaf Sandwich