Baked Bean Casse­role is a crowd-pleas­er whether it's at a Fourth of July potluck or for a hearty, com­fort food sup­per to warm up the fam­i­ly on a cold win­ter evening. It's nat­u­ral­ly gluten and dairy free, so it can be enjoyed by everyone.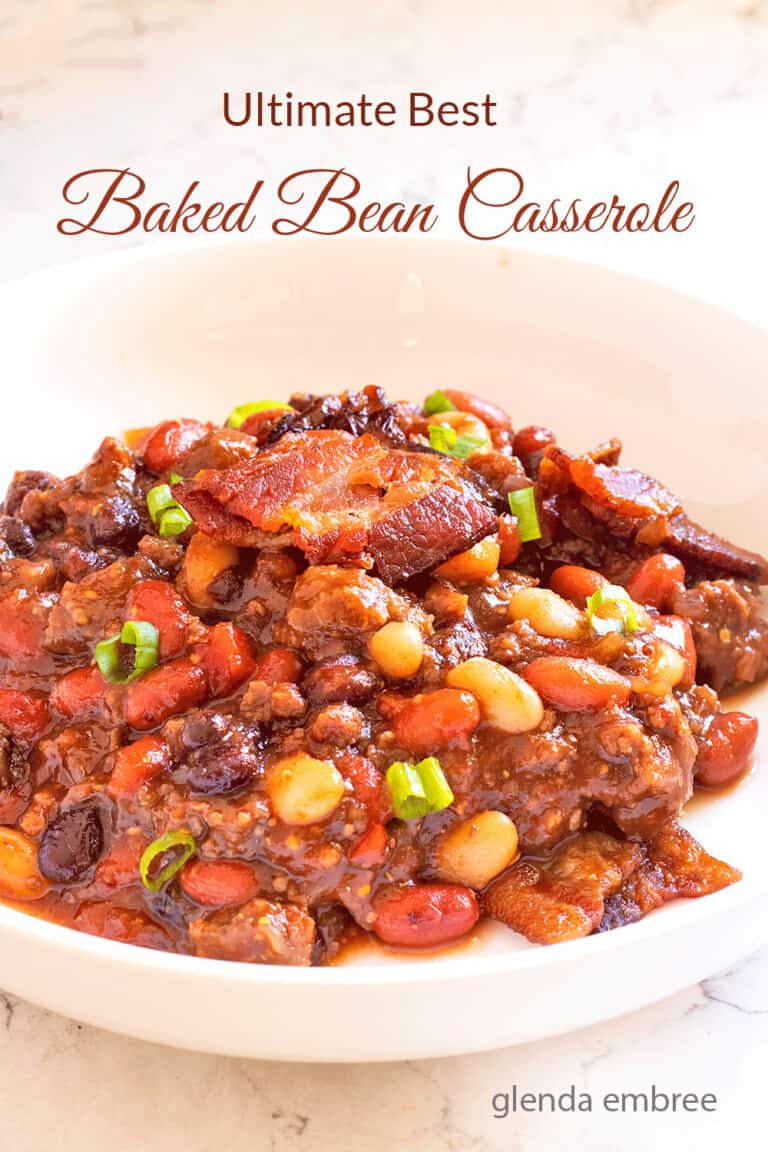 You and your fam­i­ly will love the smoky fla­vor of bacon and bar­be­cue sauce blend­ing beau­ti­ful­ly with the tang of stone ground mus­tard and Worces­ter­shire sauce. Caramel­ly dark brown sug­ar adds that under­tone of sweet­ness that rounds every­thing out to a beau­ti­ful blend of scrump­tious flavors.
The recipe is so easy to put togeth­er. 15 to 20 min­utes of your time and then you'll leave the rest to the oven. I love sim­ple to make sup­pers like this one.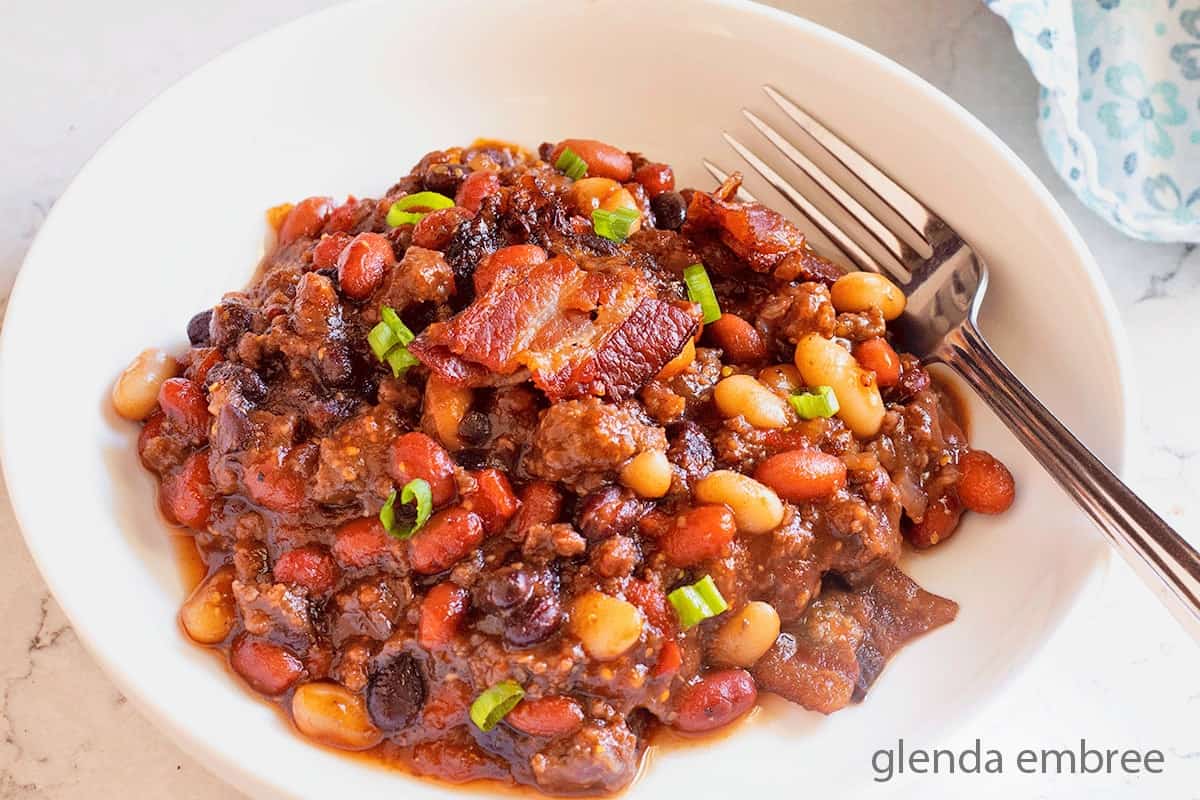 Baked Bean Casse­role is a very ver­sa­tile and hearty dish. I mix and match the beans to what­ev­er is in the pantry at the time. My favorites are black beans, red beans and can­nelli­ni or great north­ern beans. I've also used gar­ban­zo beans (chick­peas) or pork and beans. They're stu­pen­dous­ly deli­cious no mat­ter which ones you choose.
You could also make these yum­my baked beans with­out the ground beef and serve them as a tasty side dish. Go com­plete­ly meat­less and omit the bacon and ground beef. This recipe will still be a fab­u­lous veg­e­tar­i­an meal.
What­ev­er cre­ative spin you decide to put on it, Baked Bean Casse­role will become one of your favorite easy to make sup­pers! Enjoy!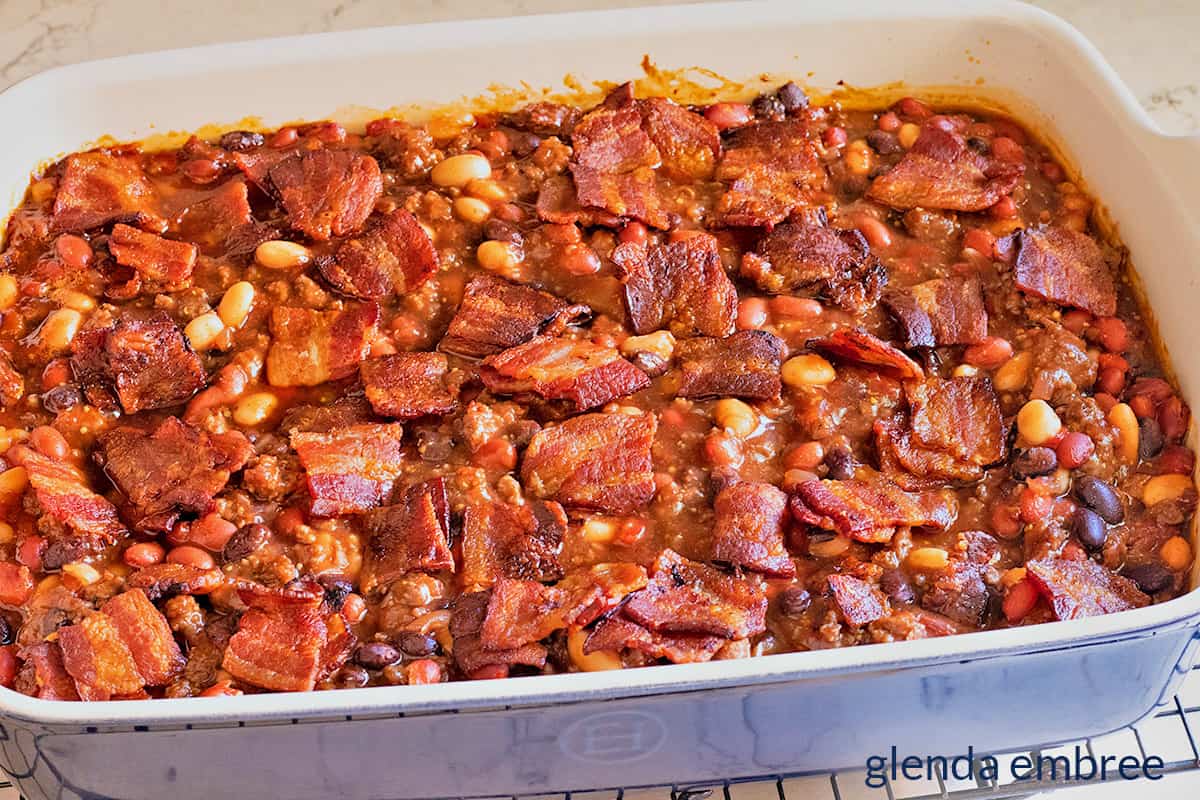 The Ingredients
Ground Beef: I use an 85/15 blend. Lean is good, but you need a lit­tle fat for the best flavor.
The Aro­mat­ics: Begin build­ing lay­ers of savory fla­vor with stan­dard aro­mat­ic veg­eta­bles and herbs — onion, bell pep­pers and garlic.
Beans: I have used many vari­eties suc­cess­ful­ly in this recipe. I typ­i­cal­ly mix and match from what's in my pantry. You can use black beans, red beans, can­nelli­ni beans, Great North­ern, chick­peas, pin­to beans or even pork & beans.
Sauces and Fla­vor­ings: Ketchup, bar­be­cue sauce, Worces­ter­shire Sauce, stone ground mus­tard and soy sauce.
Dark Brown Sugar
Bacon: The smoky, savory fin­ish to this com­fort food sup­per. I use thick cut bacon, but your usu­al brand should work beautifully.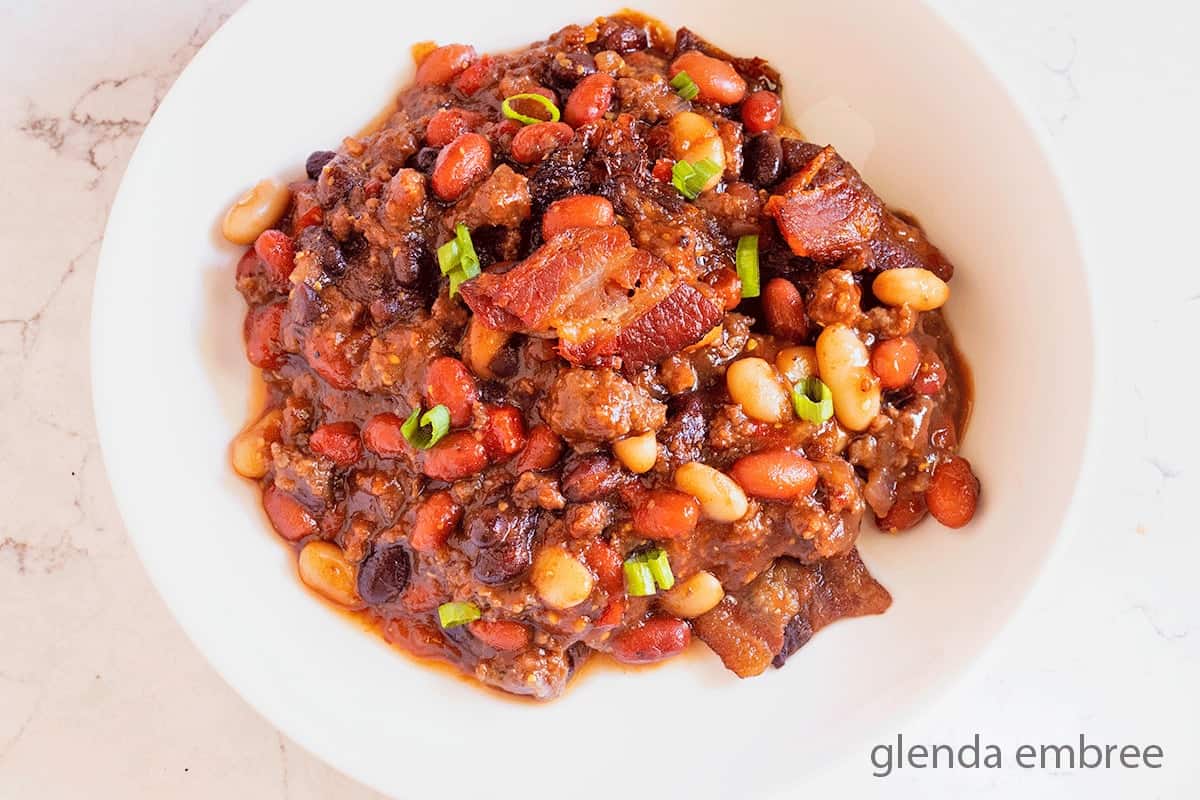 How to Make Baked Bean Casserole
Cook the bacon. I bake mine in the oven, but use your pre­ferred method. Drain and set aside.
Pre­heat the oven to 350° F and spray a 9x13 bak­ing dish with cook­ing spray.
Mince the onions, gar­lic and bell peppers.
Brown the ground beef, onions, pep­pers and gar­lic in a very large pan or a stock pot while the bacon cooks.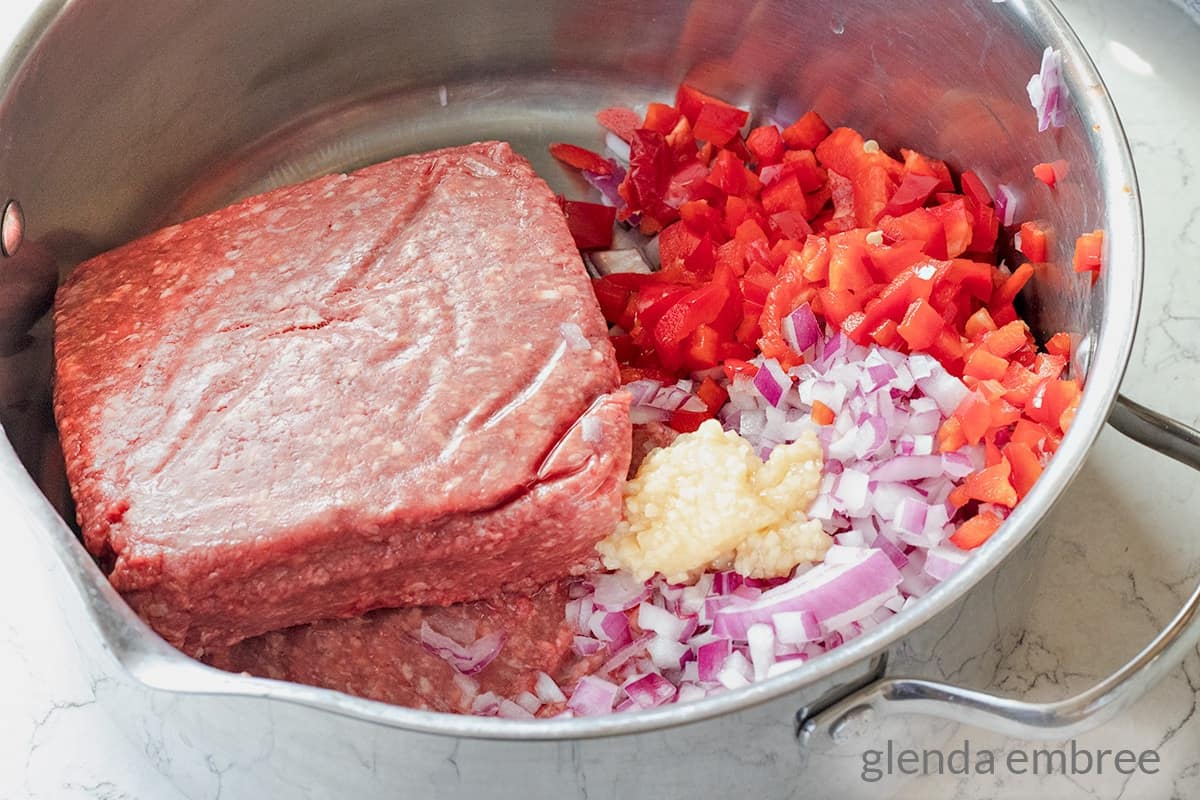 Con­tin­ue cook­ing until the beef is cooked through (no pink remains).
Drain the beef mix­ture and add it back to the pan.
Add the beans, bar­be­cue sauce, ketchup, mus­tard, Worces­ter­shire sauce, soy sauce and brown sug­ar to the mix­ture. Sim­mer it all togeth­er for 5 min­utes. Pour it into your pre­pared casse­role dish.
Sprin­kle the cooked and drained bacon pieces over the top of the casse­role. Cov­er the dish with alu­minum foil and bake for 40–45 min­utes. Remove the foil and con­tin­ue to bake for an addi­tion­al 10 min­utes. Let dish sit for 10 min­utes before serving
The Recipe
Print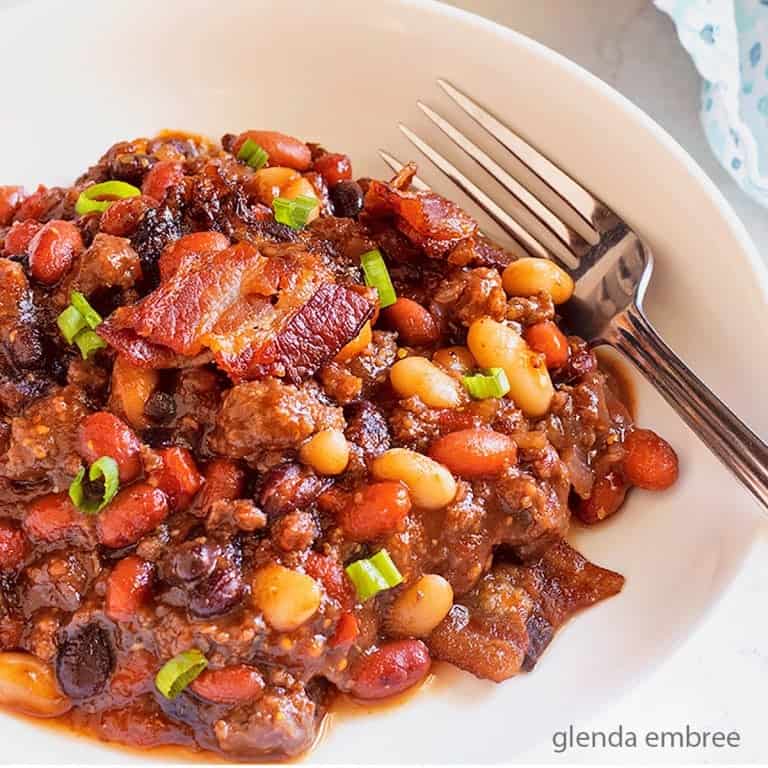 Best Baked Bean Casserole
---
Author:

Total Time:

1 hour 5 minutes

Yield:

12

serv­ings

1

x

Diet:

Gluten Free
Description
Best Baked Bean Casse­role takes the ulti­mate baked beans and makes them a full meal by adding ground beef and bacon! Com­fort food heaven!
---
2

lbs. ground beef (I use 85/15)

1

lg. red onion, minced

1

red bell pep­per, minced

1 Table­spoon

minced garlic
salt and pep­per, to taste


4

(15-oz cans) beans, rinsed and drained (Mix and match what you have. Black beans, red beans, can­nelli­ni, Great North­ern, chick­peas, or pork & beans all work well.)

1 1/2 cups

ketchup

1 cup

bar­be­cue sauce

1 cup

dark brown sug­ar, packed

2 Table­spoons

stone ground mustard

1 Table­spoon

soy sauce

1 Table­spoon

Worces­ter­shire sauce

8

slices bacon, cooked, drained and bro­ken into

1

-inch pieces
---
Instructions
Cook the bacon. I bake mine in the oven, but use your pre­ferred method. Drain and set aside.

Pre­heat the oven to 350° F and spray a 9x13 bak­ing dish with cook­ing spray.

Mince the onions, gar­lic and bell peppers.

Brown the ground beef, onions, pep­pers and gar­lic in a very large pan or a stock pot while the bacon cooks.

Con­tin­ue cook­ing until the beef is cooked through (no pink remains). Drain the beef mix­ture and add it back to the pan.

Add the beans, bar­be­cue sauce, ketchup, mus­tard, Worces­ter­shire sauce, soy sauce and brown sug­ar to the mix­ture. Sim­mer it all togeth­er for 5 min­utes. Pour it into your pre­pared casse­role dish.

Sprin­kle the cooked and drained bacon pieces over the top of the casse­role. Cov­er the dish with alu­minum foil and bake for 40–45 min­utes. Remove the foil and con­tin­ue to bake for an addi­tion­al 10 min­utes. Let dish sit for 10 min­utes before serving
Prep Time:

20 min­utes

Cook Time:

45 min­utes

Cat­e­go­ry:

Main Dish, Casserole

Method:

Baked

Cui­sine:

Amer­i­can
Key­words: beans, ground beef, bacon, casserole
Great Side Dishes for Baked Bean Casserole