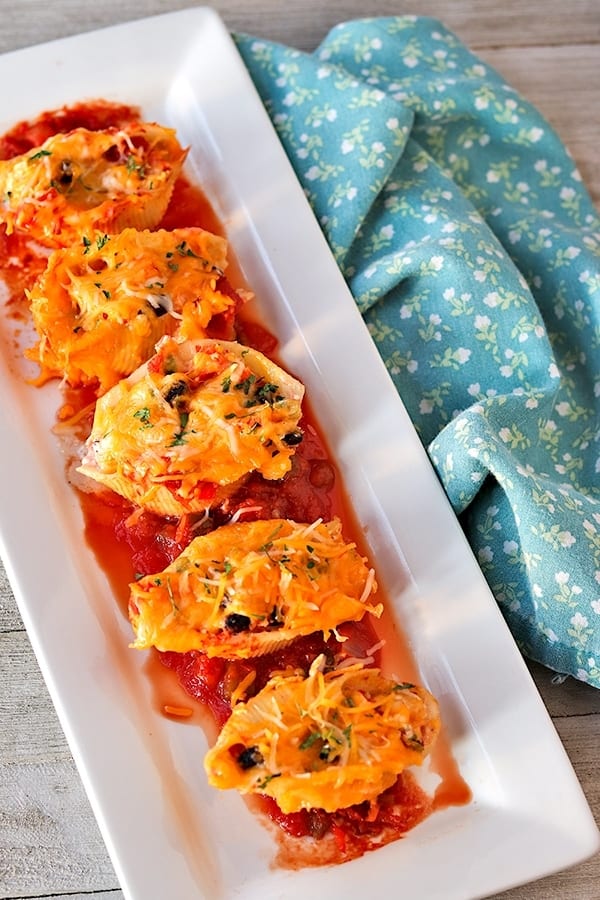 I cre­at­ed this Mex­i­can Chick­en Stuffed Shells recipe in 2011, in an attempt to do some­thing "not Ital­ian" with pas­ta. I exper­i­ment­ed, focus­ing on my family's love of Mex­i­can and south­west fla­vors. The hap­py result was these Mex­i­can Chick­en Stuffed Shells.
My recipe makes enough to feed a crowd (about 40 shells) and it freezes eas­i­ly. My favorite prep ses­sion for the cheesy, south­west-inspired stuffed shells is to pre­pare them into a vari­ety of foil pans for the freez­er and still have one for our din­ner, that night. Then, I have plen­ty for future meals, as well as to share with friends or fam­i­ly who just need a break from cook­ing for a night.
Left­overs heat up beau­ti­ful­ly in the microwave and the fla­vor is as cheesy, spicy-sat­is­fy­ing as the night the Mex­i­can Chick­en Stuffed Shells were orig­i­nal­ly made.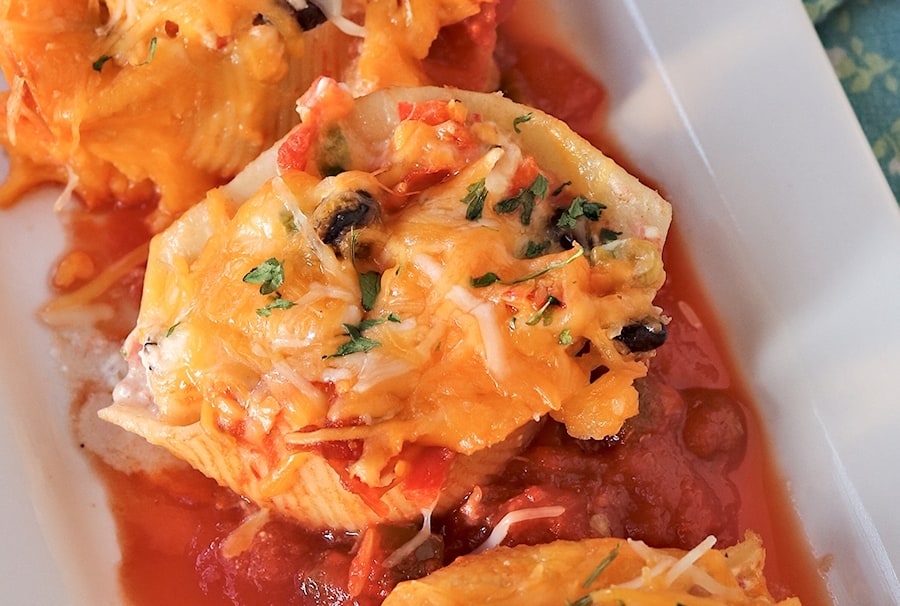 How to Make Mexican Chicken Stuffed Shells
Start with any pre-cook­ing and chop­ping you need to do. If you don't have pre-cooked chick­en in your freez­er, (We need to talk. 🙂 ) that's the first order of busi­ness. You want to prep enough to make 4 cups of chopped chick­en. That's prob­a­bly 4 or 5 bone­less skin­less chick­en breasts. Rotis­serie chick­en, or even left­over chick­en if you have enough, would work real­ly well, too.
You also need to pre-cook your pas­ta shells. Leave them slight­ly al dente (cooked, but with a firm bite). The shells will con­tin­ue to cook as you bake them, so you don't want them to be too soft. They will also be eas­i­er to stuff.
Chop the cooked chick­en into ⅜‑inch or small­er cubes. You could shred it, too, if you pre­fer that tex­ture. Mince the pep­pers and green onions. Once you have this lit­tle bit of prep done, the recipe goes togeth­er quick­ly. One of the best invest­ments I ever made was a *high-qual­i­ty chef's knife for my kitchen. It makes my cut­ting and chop­ping jobs go so much more quick­ly and smooth­ly. When it fits your bud­get, it's a tool I high­ly recommend.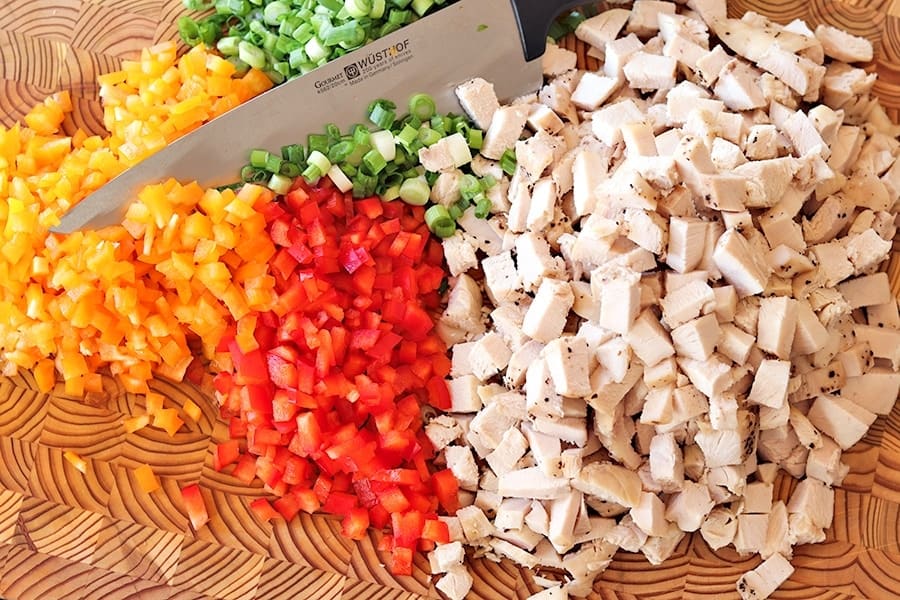 Put the chopped chick­en and veg­gies in a large mix­ing bowl and add black beans.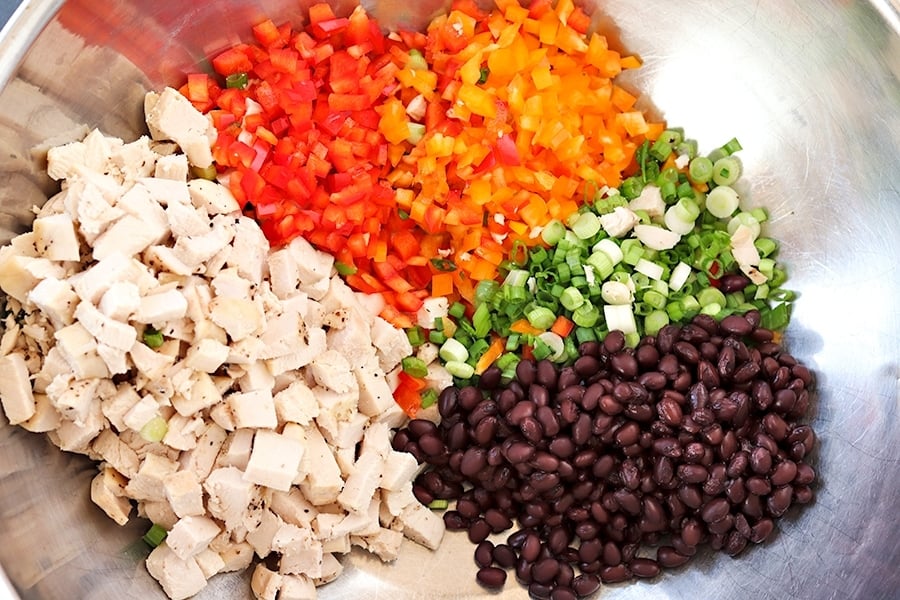 Mix Up the Sauce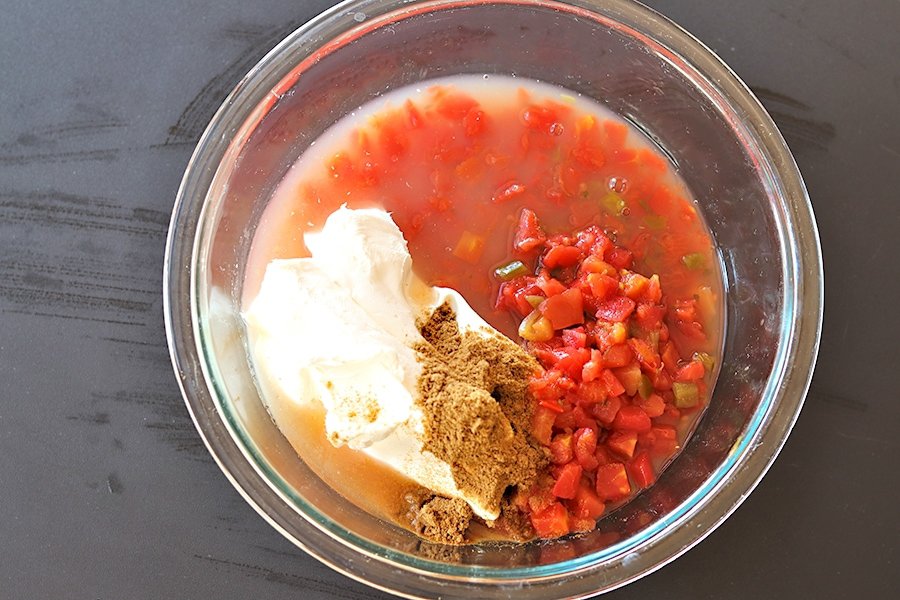 In a sep­a­rate bowl, mix togeth­er soft­ened cream cheese, cumin, toma­toes with chiles (like Rotel) and chick­en broth. This sauce adds scrump­tious fla­vor to the Mex­i­can Chick­en Stuffed Shells. As a pho­to, it's not par­tic­u­lar­ly appeal­ing, but I want­ed you to see how it looks mixed up. It won't be smooth and I want­ed you to see you're doing it right.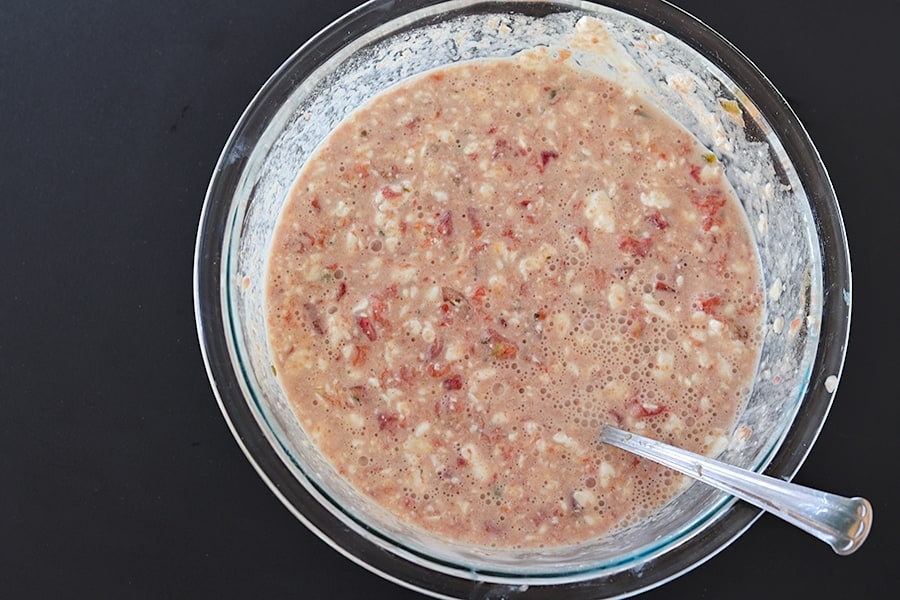 Pour the sauce over the chick­en, beans and veg­gies in the oth­er bowl. Mix until the fill­ing is thor­ough­ly com­bined. Now, you're ready to stuff the shells.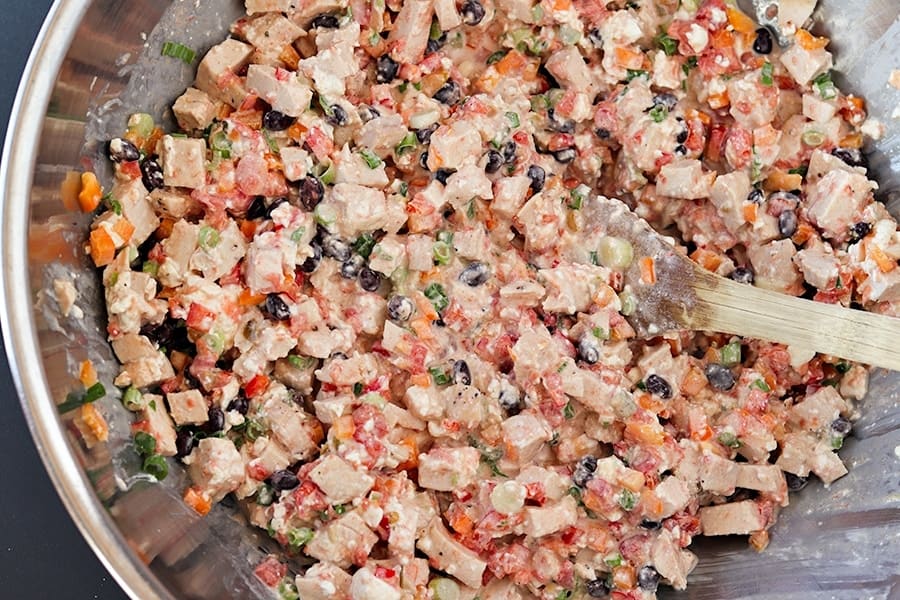 Add sal­sa or picante sauce to the bot­tom of a large rec­tan­gu­lar bak­ing pan. I used a 13x18x2 pan, for this batch, but you could use two 9x13s or even four 8x8 pans.
Prepare the Pan and Stuff the Shells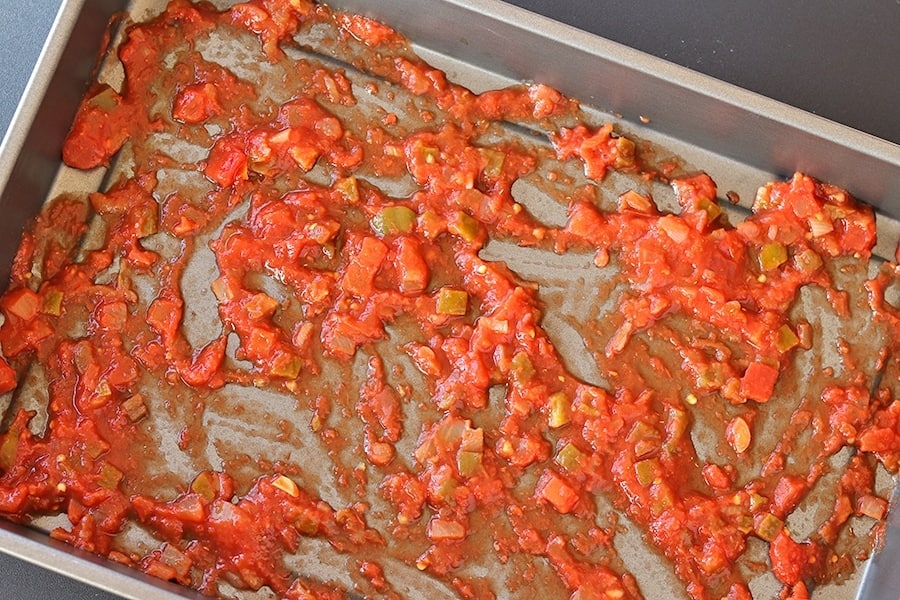 You're ready to stuff the pas­ta shells. Use a spoon to scoop mix­ture into each cooked shell. Fill them full and then place them into the pre­pared bak­ing pan.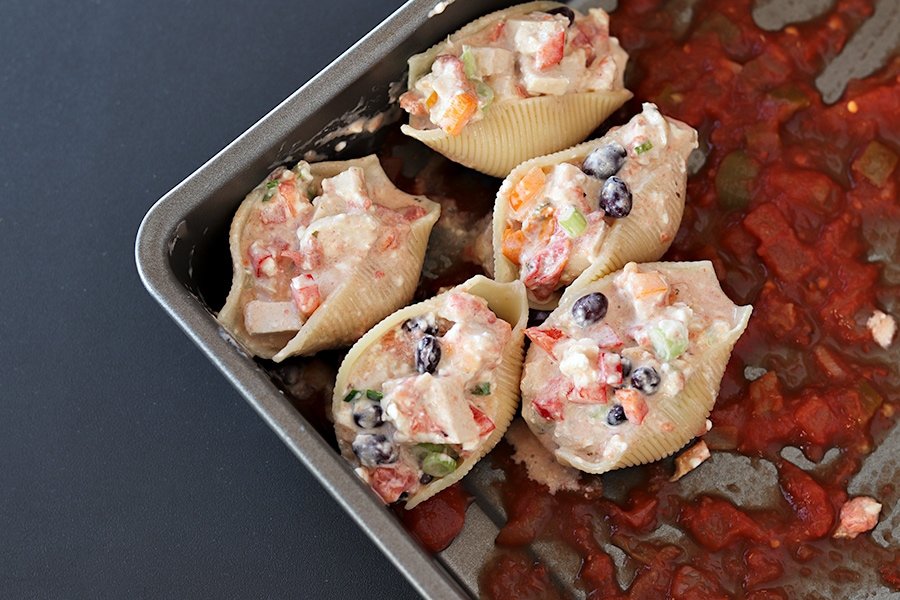 Once the pan is full, driz­zle the remain­ing picante or sal­sa over the pre­pared shells. Then spread the grat­ed Mex­i­can blend cheese over the whole pan. You can use sharp ched­dar, if you pre­fer, but I find that the Mex­i­can blend melts more easily.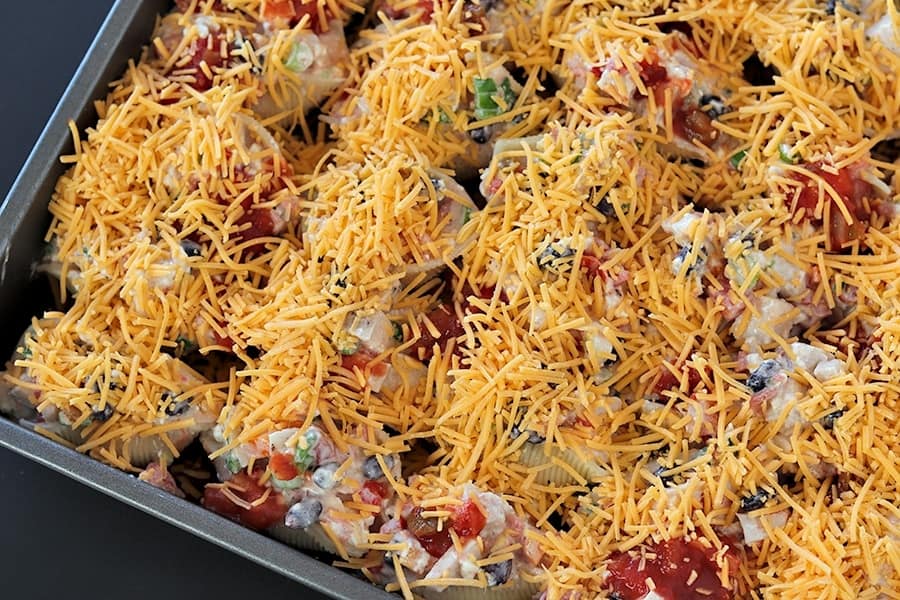 Secure­ly cov­er the pan (or pans) with foil. At this point you can freeze for lat­er use, or bake the Mex­i­can Stuffed Shells at 350° for 30 minutes.
Remove the foil and serve Mex­i­can Stuffed Shells with a big green sal­ad or your favorite steamed veg­gies. They're going to blow your mind!
Enjoy!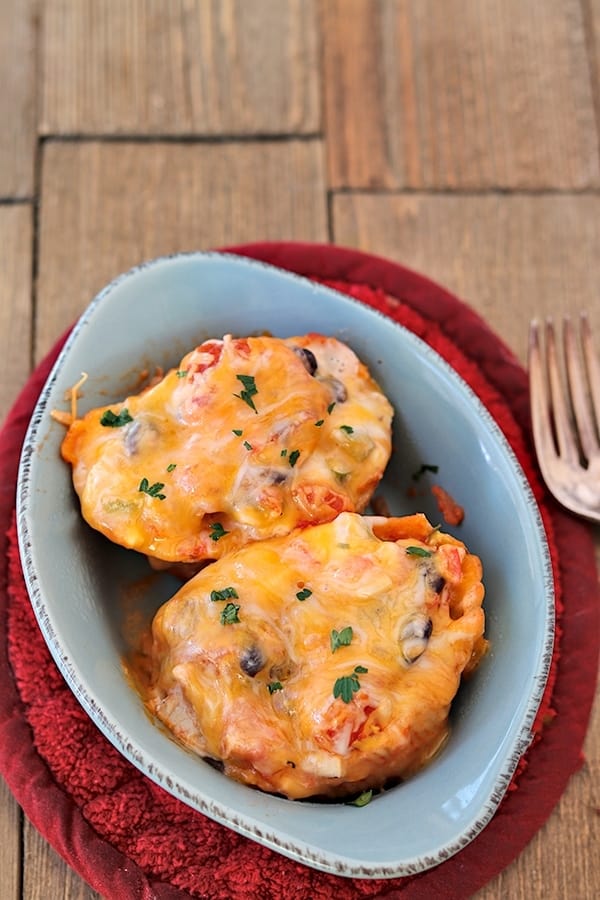 Print
Mexican Chicken Stuffed Shells
---
Author:

Total Time:

1 hour

Yield:

40

shells

1

x
Description
Hearty, deli­cious chick­en and pas­ta dish with a lit­tle south­west­ern flair. The stuffed shells are mild­ly spicy. Make them for com­pa­ny and you'll be the hit of the party!
---
4 cups

chick­en breast, cooked and chopped or shredded

1

can black beans, rinsed and drained

6

green onions, sliced thin

2

large bell pep­pers (any col­or), minced

2

(8 oz.) blocks cream cheese, soft­ened (not melted)

2

cans diced toma­toes with chiles (don't drain) (Rotel or store brand, either works)

½ cup

chick­en stock

1 Table­spoon

cumin

1½ cups

shred­ded Mex­i­can Blend Cheese

1 cup

of sal­sa or picante sauce + extra for drizzling

40

large pas­ta shells, cooked al dente
---
Instructions
Cook pas­ta shells in well salt­ed, boil­ing water until al dente (still have a lit­tle bite to them). If you cook them too long, they will be dif­fi­cult to stuff. They are going to have addi­tion­al cook­ing time in the oven. Drain the pas­ta and set aside while you make the filling.
Cook and dice, or shred, enough chick­en breast to make 4 cups.
To assem­ble the fill­ing, mix diced chick­en, drained black beans, green onions, diced pep­pers, and cumin in a large mix­ing bowl. Thor­ough­ly incor­po­rate all the ingredients.
In a sep­a­rate bowl, mix the cream cheese, chick­en stock and undrained toma­toes with chiles. When the sauce is com­bined, pour it over the chick­en mix­ture and mix well.
Spread 1 c. sal­sa or picante sauce in the bot­tom of a large bak­ing pan. (I used an 18x12x2, but I'm guess­ing that two 9×13s or four 8x8s would also work.)
Using a spoon, or your fin­gers, fill each of your cooked and cooled pas­ta shells, set­ting them into the picante cov­ered pan. Con­tin­ue until all shells are filled and arranged in the pan.
When the pan is full, driz­zle the shells with a lit­tle more sal­sa or picante and then sprin­kle with the shred­ded cheese.
Cov­er the bak­ing pan tight­ly with foil and bake at 350 degrees 30 min­utes or until hot and bubbly.
Notes
I also think the addi­tion of 2 cups of frozen corn to the fill­ing would be real­ly good.
Prep Time:

30

Cook Time:

30

Cat­e­go­ry:

Main Dish

Cui­sine:

Mex­i­can
If you're hun­gry for even more Mex­i­can-inspired dish­es, be sure to check out my Easy Sheet Pan Chick­en Faji­tas, Enchi­la­da Casse­role or Jalapeno Chick­en and Corn Chow­der.