Home­made pas­ta only requires two sim­ple ingre­di­ents — flour and eggs. Since those are fair­ly stan­dard pantry ingre­di­ents in most house­holds, you almost always have what you need for this sim­ple base to any scrump­tious meal.
These ingre­di­ents are inex­pen­sive which means mak­ing your own noo­dles is a great way to stretch your din­ner dol­lars and make a meal more fill­ing for less money.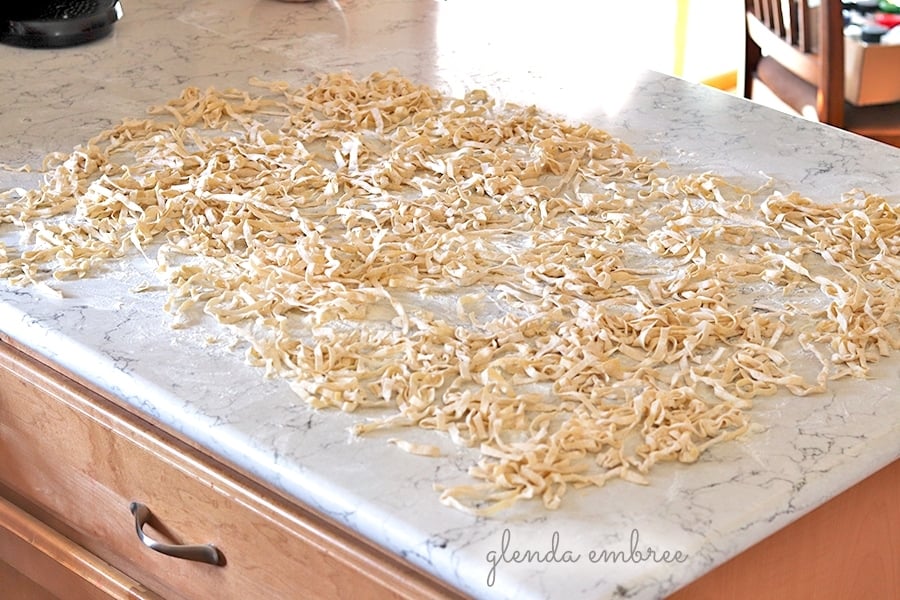 You're going to think I'm nuts, but there is some­thing about work­ing with pas­ta dough — any dough, real­ly — that is SO ther­a­peu­tic for me. It real­ly gives me such joy! Then, I get to share it with my fam­i­ly. You def­i­nite­ly need to give this a try.
Home­made pas­ta is incred­i­bly easy to make. It does require more of your time than just open­ing a pre-pack­aged dry pas­ta, but the fla­vor and tex­ture dif­fer­ence is worth the extra effort and will pay huge div­i­dends with the oooohs and aaaaahs of your delight­ed fam­i­ly and friends.
Home­made noo­dles are a go-to in our house with dish­es like Chick­en Parme­san, but most espe­cial­ly with my hus­band's all-time favorite, Chick­en and Noo­dles over Mashed Pota­toes. There's no need to be intim­i­dat­ed by the idea of mak­ing your own noo­dles. You def­i­nite­ly CAN cre­ate fresh, deli­cious pas­ta for your fam­i­ly and guests, any­time the urge over­takes you.
The Secret Homemade Pasta Formula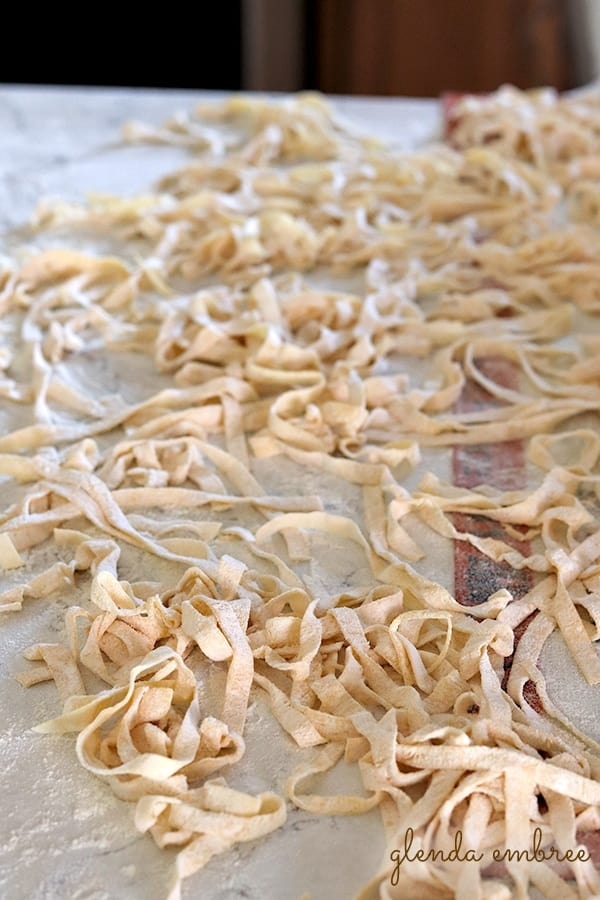 The "secret for­mu­la" is real­ly a ratio. And once you under­stand it, home­made pas­ta for any num­ber of serv­ings, will be simple.
The ratio that gives beau­ti­ful home­made egg noo­dles their ten­der, deli­cious tex­ture is 1 part eggs to 1.5 parts flour. Sim­ple! With this ratio you can cre­ate the per­fect num­ber of pas­ta serv­ings by remem­ber­ing to use 1 egg per por­tion of pas­ta. Serv­ing 2 peo­ple? Then start with 2 eggs and add 1.5 times the flour. 12 peo­ple? You'll need a dozen eggs and 1.5 times the flour.
I already know your next ques­tion. How do I mea­sure flour based on num­ber of eggs? You can't. Most of you will be able to crack your eggs into a liq­uid mea­sur­ing cup and read the mea­sure­ment, then mul­ti­ply it by 1.5 to mea­sure your flour with a dry mea­sur­ing cup. This can work. But, for many rea­sons, it's not near­ly as accu­rate (and 100% suc­cess­ful every time), as the method I'm about to show you.
We're going to get into the rea­sons you should real­ly be weigh­ing flour when you mea­sure it, in a dif­fer­ent post. For today, let me say that the sim­plest way to ensure your home­made pas­ta is per­fect every time, is to use a kitchen scale for the mea­sur­ing. Here's how I do it.
How to Use the Tare Feature on a Kitchen Scale
A *good kitchen scale does­n't need to be cost­ly, but I do rec­om­mend dig­i­tal and it must have a tare feature.
The tare fea­ture is what allows you to have a bowl or con­tain­er on the scale, but weigh only the ingre­di­ents inside it. The weight of the bowl will not be cal­cu­lat­ed with your ingredients.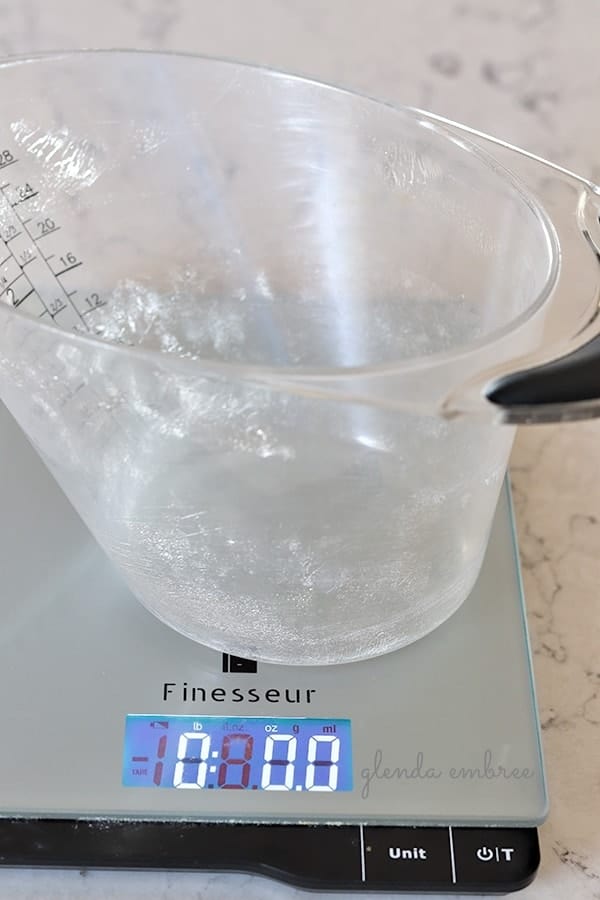 Set the emp­ty con­tain­er on the scale and push the tare but­ton. This will set the dig­i­tal dis­play to zero, even though the bowl is actu­al­ly sit­ting on the scale.
Now, mea­sure the ingre­di­ents into the bowl and the scale will give you the accu­rate weight of just that item, with­out the weight of the con­tain­er added in. How sim­ple and won­der­ful is that?!!
Using a Kitchen Scale to Measure Ingredients for Homemade Noodles
Set the scale to weigh in grams. Then set a bowl, or in my case a mea­sur­ing cup, on the scale. Select the tare but­ton to zero out the display.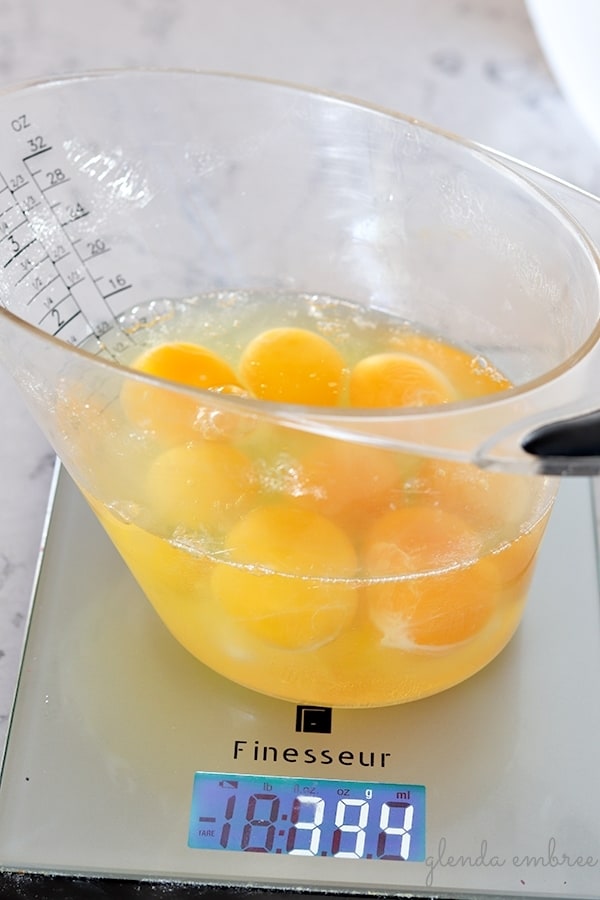 Now, crack the num­ber of eggs you need for the por­tions of pas­ta you'll be mak­ing into the bowl you have tared on your kitchen scale. In my expe­ri­ence, a large egg usu­al­ly weighs around 50 grams.
I made 8 por­tions of home­made pas­ta, so need­ed 8 eggs. As you can see, they came in at just under 400 grams, as I expected.
Now, know­ing the weight of my eggs, I can accu­rate­ly mea­sure the need­ed flour by sim­ply mul­ti­ply­ing that num­ber by 1.5. I will need around 600 grams of flour — 591 grams to be exact.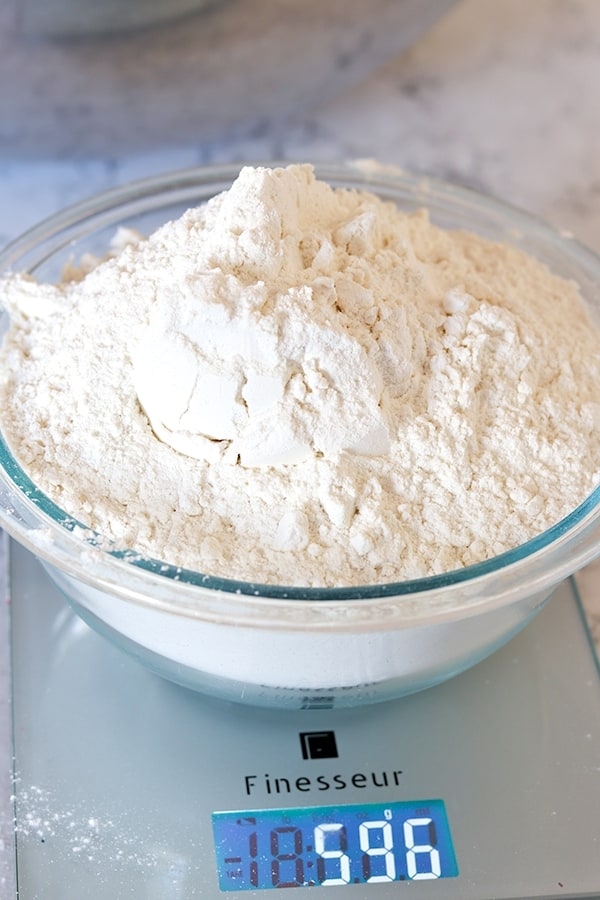 I was eas­i­ly able to remove the extra 5 grams of flour from the bowl and have the per­fect amount for the num­ber of eggs I had cho­sen. This is a pre­cise and sim­ple way to ensure suc­cess with ANY recipe.
How to Make Homemade Pasta
Mix your mea­sured eggs and flour in a large bowl. You can accom­plish this most eas­i­ly with a wood­en spoon or with your hands.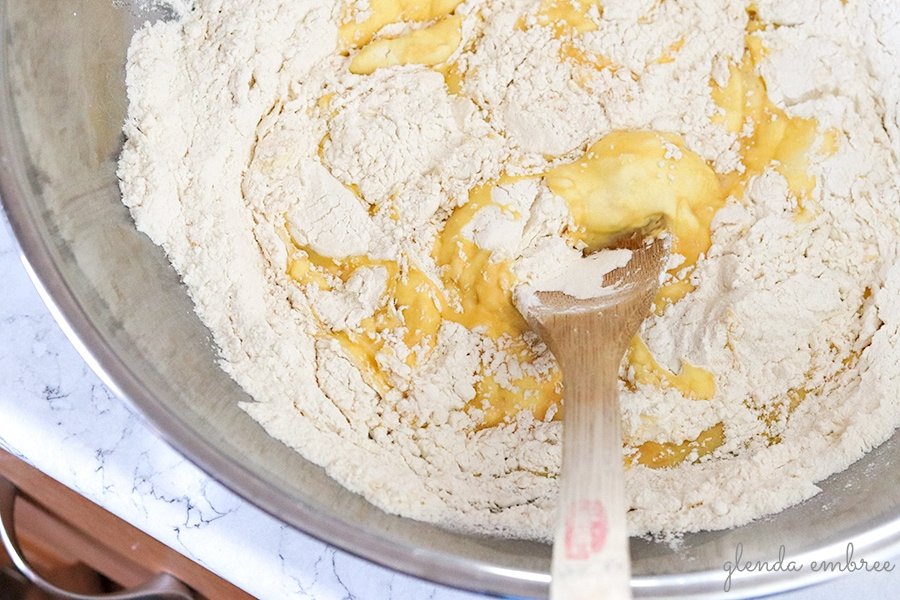 The flour and eggs will begin to come togeth­er in a shag­gy mass of dough.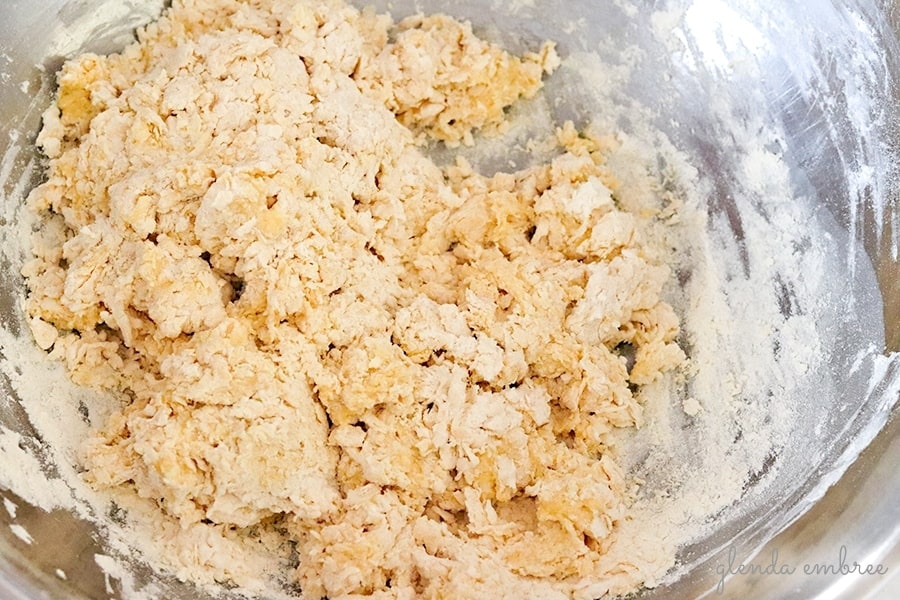 Light­ly flour your work sur­face or counter top and pour the shag­gy dough out. Begin work­ing it togeth­er with your hands until it forms a ball.
Knead the dough for 5 to 10 min­utes until the ball of dough is smooth. Flat­ten the dough ball into about a 1‑inch disc, cov­er and let it rest for 20–30 minutes.
After the dough has rest­ed, it will be eas­i­er to roll, whether using a pas­ta machine or rolling it out by hand. I have rolled it with a rolling pin and cut the noo­dles with a piz­za wheel for decades. I have had a pas­ta machine for 7 or 8 years, now, but nev­er actu­al­ly spent any time with it to learn how to use it. (It was still in the box when I pulled it out for this post. lol) What a waste of a won­der­ful kitchen gad­get! I'm a con­vert for sure! I loved using it and the pas­ta was beautiful!
Using a Pasta Machine to Make Your Pasta
Divid­ing my rest­ed dough into quar­ters, I used one quar­ter at a time to begin rolling. I put it through the roller on the *pas­ta machine, mak­ing sure it was set at the thick­est set­ting. Three times I ran the dough through at that thick­ness. Then I fold­ed the strip of dough into thirds, took this new, thick­er strip and ran it through the machine, three more times, at the thick­est setting.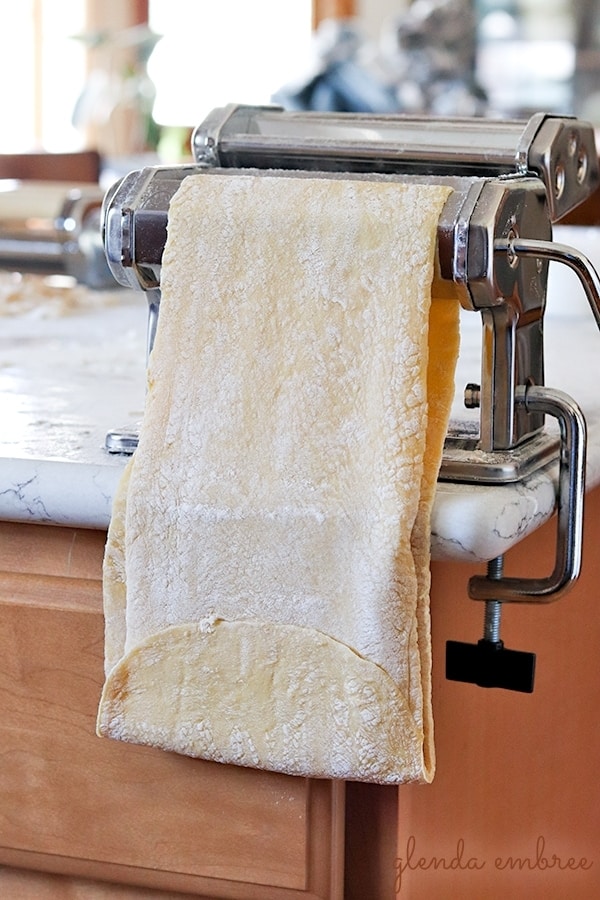 Before I start­ed reduc­ing the thick­ness of the noo­dles, I sealed the ends of my strip togeth­er in a loop. Then, as the noo­dles got thin­ner and the strip got longer and longer, I was bet­ter able to hold and con­trol it.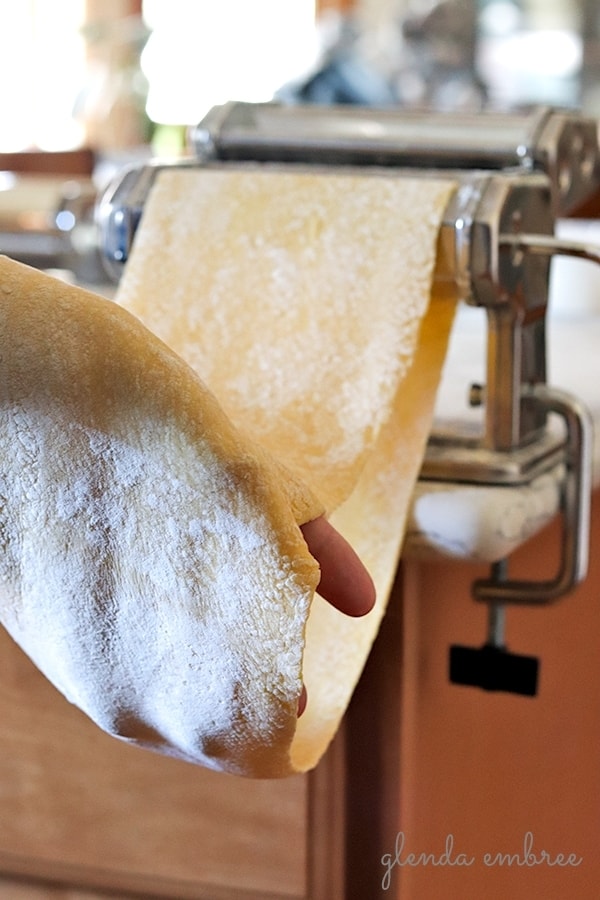 Then, it was as sim­ple as turn­ing the dial on the side of my pas­ta machine. I rolled the dough through and lit­tle by lit­tle, reduced the thick­ness of my home­made pas­ta. It would­n't have been nec­es­sary to go quite as thin as I did, but I want­ed to see just how thin it would go. The pas­ta was ten­der and light — real­ly love­ly. Perfection!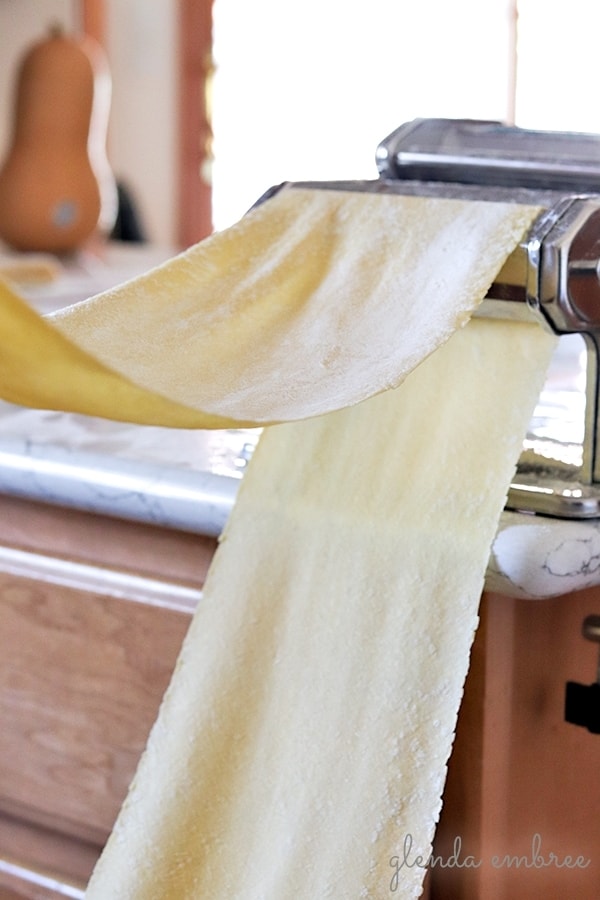 After get­ting the dough rolled to the desired thick­ness, I cut through the loop to remove the strip of dough. Attach­ing the wide noo­dle head, I fed the sheet of dough back into the pas­ta machine. I cut the pas­ta to the length I want­ed for fet­tuc­cine. It would have been just as easy to cut them short for egg noodles.
Now all that's left is to boil and eat these love­ly home­made noo­dles. Home­made pas­ta can also be dried and frozen to use for future meals! Check the recipe card, below, for details.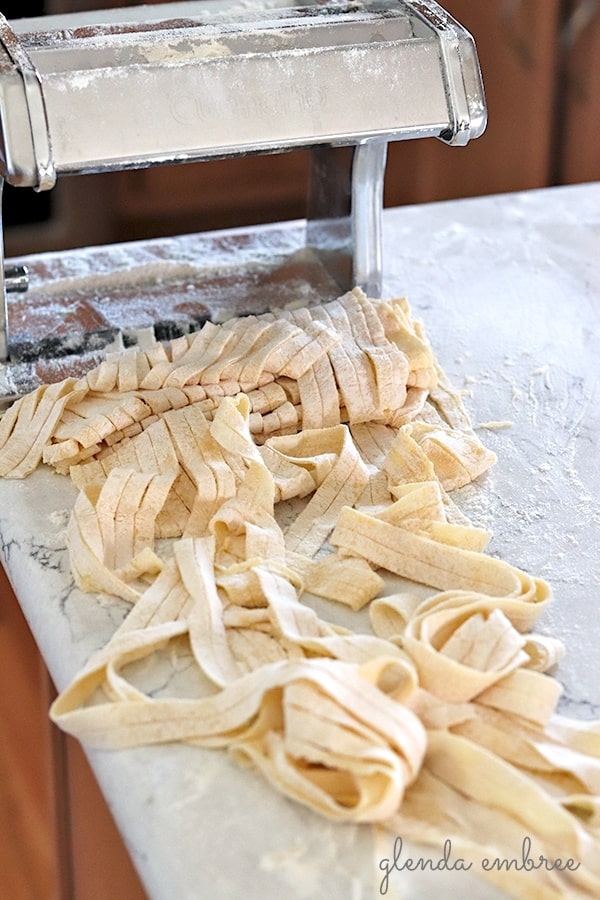 Print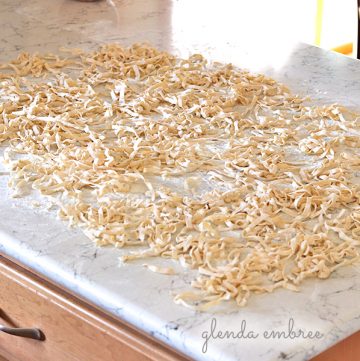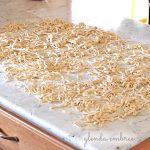 Homemade Pasta
---
Author:

Total Time:

55 min­utes

Yield:

8

serv­ings

1

x
Description
This sim­ple for­mu­la will allow you to pre­pare home­made pas­ta for one to dozens. Ten­der, deli­cious home­made noo­dles are easy to make and real­ly stretch food dol­lars by mak­ing a dish more filling.
---
1

egg per person/portion being served (I used 8 eggs [

394 grams

].)
flour at

1.5

times the amount/weight of the eggs (I used

591 grams

.)
---
Instructions
Set the tare func­tion on your kitchen scale and mea­sure the weight (in grams) of the num­ber of eggs you will be using.
Mul­ti­ply the weight of the eggs by 1.5 and then mea­sure out that weight of flour.
Stir the flour and eggs togeth­er until they begin to form a shag­gy mass.
Once it has come togeth­er, into that shag­gy mass, pour every­thing out onto a light­ly floured work sur­face or counter top.
Knead the dough, press­ing it with the heel of your hand, fold­ing it over, knead­ing, fold until it is vel­vety smooth. This will take around 5–10 minutes.
Cov­er (I just set a bowl over the top, right there on the counter.) and allow to rest for about 20 min­utes. The rest­ing peri­od is impor­tant, so the gluten can relax and the home­made noo­dles will be easy to roll.
After the rest peri­od, roll and cut the home­made pas­ta dough. SEE NOTES.
Home­made pas­ta can be added to boil­ing liq­uid and cooked imme­di­ate­ly after cut­ting. Fresh pas­ta cooks in about half the time as dried, so be sure to check it ear­li­er than you do pre-pack­aged dried vari­eties. Always sea­son plain boil­ing water with abun­dant amounts of salt to boil pas­ta. A drop of the water on the tongue should taste salty or like broth for noo­dles to be prop­er­ly sea­soned. Alter­na­tive­ly, home­made pas­ta can be cooked in stock, instead of water, for addi­tion­al flavor.
Home­made pas­ta can also be left to dry on the counter and then frozen to store for lat­er. Leave it to dry on the counter for sev­er­al hours. I usu­al­ly leave mine overnight, espe­cial­ly if the home­made noo­dles are thick. The impor­tant fac­tor is that the noo­dles be com­plete­ly dry all the way through. You want them to snap, not bend. Freeze the dried pas­ta in a zip-top bag for up to three months.
Notes
You can flour the counter top and use a rolling pin to roll out the noo­dle dough. Roll it to your desired thick­ness. The rolled dough can then be cut with a sharp knife, though I feel a piz­za wheel makes this job so much easier.
My per­son­al pre­ferred method is to use a *pas­ta machine to roll and cut the home­made pas­ta. I am able to roll the dough much thin­ner and the noo­dles can quick­ly be cut to uni­form widths.
Both meth­ods work, so if you don't have a pas­ta machine don't allow that to pre­vent you from mak­ing home­made pas­ta. I have made this recipe for decades using the rolling pin and piz­za wheel method. Now, that I have a pas­ta machine, I just pre­fer that method.
Prep Time:

45 min­utes

Cook Time:

10 min­utes

Cat­e­go­ry:

Pas­ta, Side Dish

Method:

Boil­ing

Cui­sine:

Amer­i­can
Key­words: pas­ta, noo­dles, homemade
Dishes that Would Be Fantastic with Pasta Made from Scratch
There are tons of recipes that would be fab­u­lous with my home­made pas­ta! Check out this scrump­tious Baked Feta Pas­ta. And this recipe for Gar­lic Noo­dles makes my mouth water, just think­ing about it!
Home­made Noo­dles are per­fect with these recipes, too! Try one or two, or even more, today!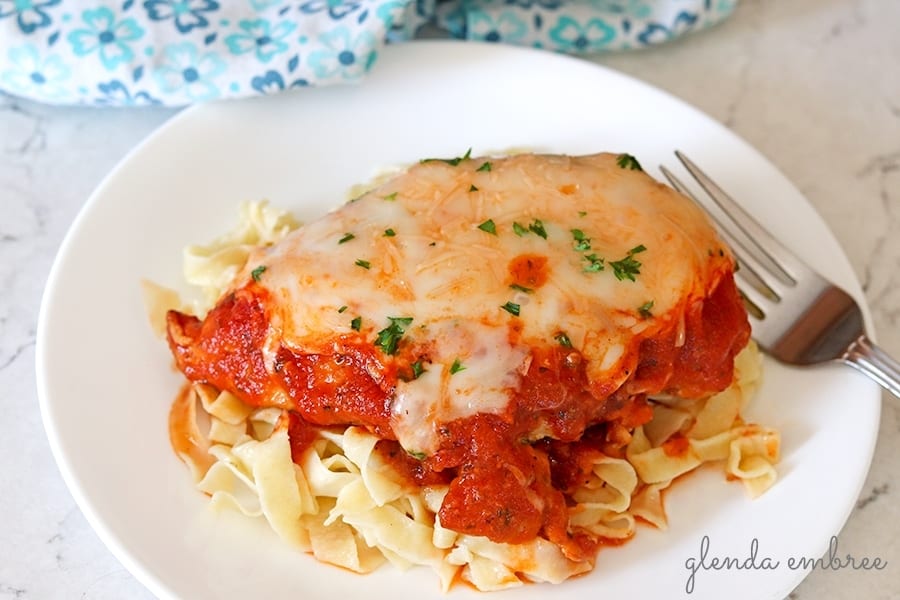 Best Home­made Veg­etable Stock