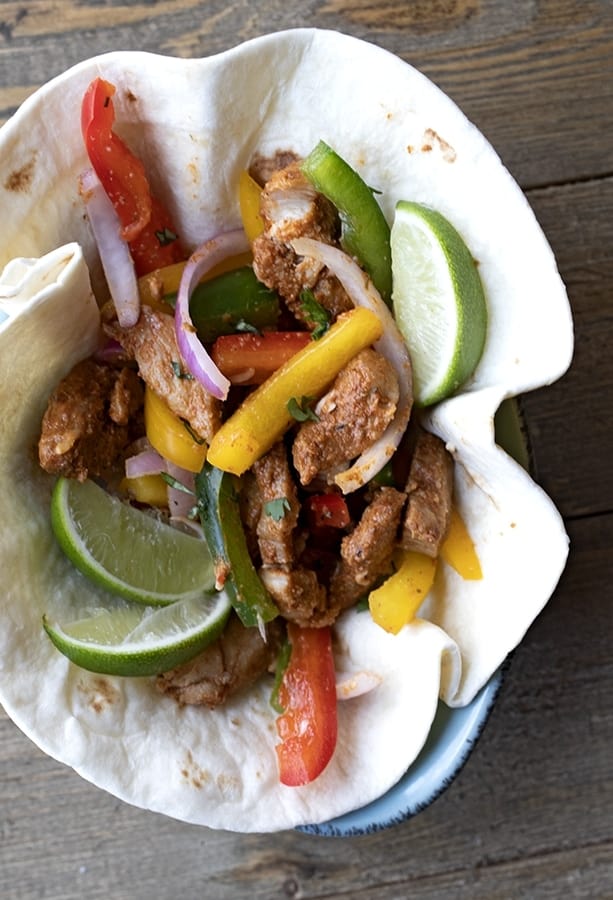 Sheet Pan Chick­en Faji­tas are a crowd-pleas­ing sen­sa­tion! Even on a busy week­night after work, you'll knock this easy meal out of the park and have a deli­cious din­ner on the table in around 30 min­utes. The sim­ple recipe is quick to pre­pare and easy to clean-up. It's gonna be a fam­i­ly favorite and your go-to easy recipe for some­thing dif­fer­ent on "taco night".
Plus, you get so much more bang for your buck! When I make Sheet Pan Chick­en Faji­tas, I make enough chick­en to have mul­ti­ple meals. Not just plain faji­ta meals, either! Once this meat is done, it can be used for Chick­en Faji­ta Sal­ad or Faji­ta Chick­en Rice Bowls — even nachos or que­sadil­las. The pos­si­bil­i­ties are only lim­it­ed by your imag­i­na­tion and you reap the ben­e­fits of cook­ing once to eat many times!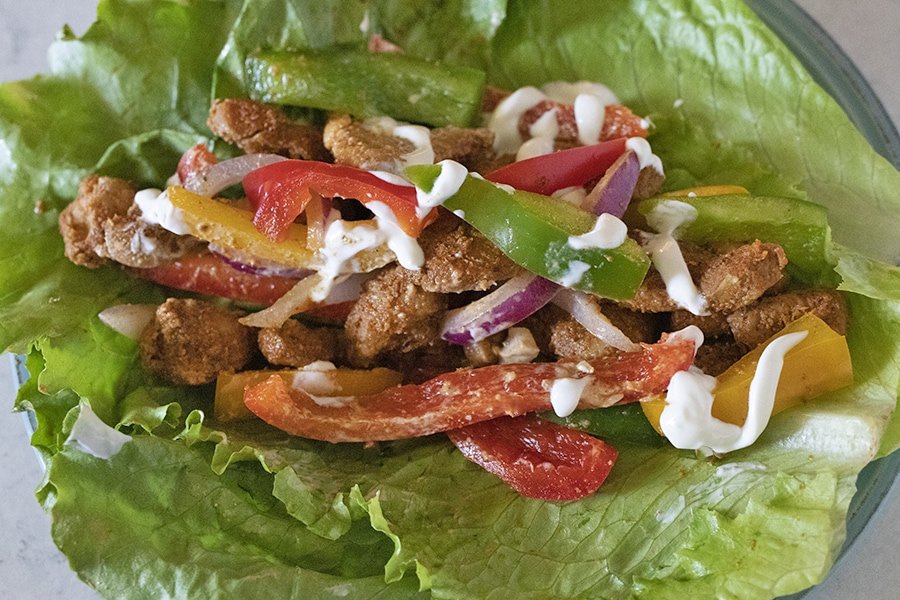 How Can You Get Sheet Pan Chicken Fajitas on the Table So Quickly?
If you're like me, you've prob­a­bly expe­ri­enced hit­ting the "five o'clock wall" that sends you into a tail­spin about what to feed your fam­i­ly. I hate that stressed out feel­ing. I'm also not a fan of what hap­pens to our bud­get, if I give in to the pan­ic and head for the drive-thru.
I'm learn­ing that tak­ing ten sim­ple min­utes the night before, to prep for tomor­row's din­ner, saves me stress and mon­ey, plus it usu­al­ly ensures a more nutri­tious meal. Give it a try! You've got this!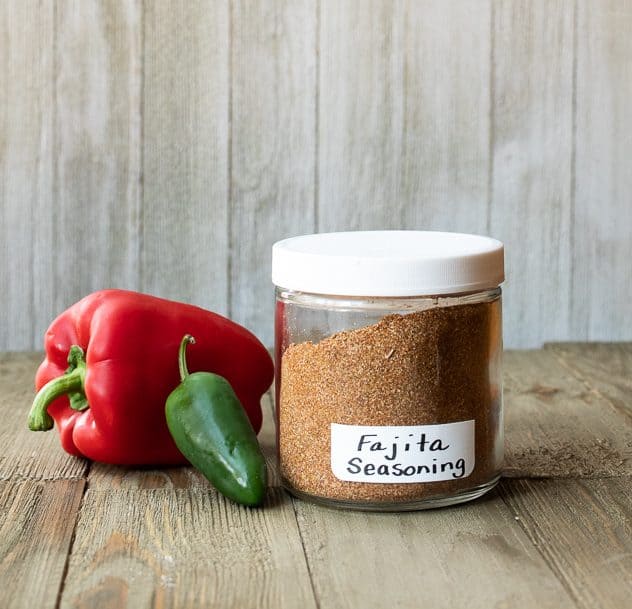 Do you have a favorite faji­ta sea­son­ing? By all means, grab a pack­et or two when you're shop­ping and sim­pli­fy your life even more. I make my own faji­ta sea­son­ing with a blend of herbs and spices I always have on hand in my pantry. It's the bomb! Seri­ous­ly, an explo­sion of Mex­i­can fla­vors that's as near as my pantry when I need some. Grab the recipe for my Faji­ta Sea­son­ing.
How to Make Sheet Pan Chicken Fajitas
So, prep your chick­en ahead. Slice it into ¼‑inch strips. Toss the strips in sea­son­ing, thor­ough­ly coat­ing each strip. Refrig­er­ate the chick­en in a cov­ered con­tain­er, until you're ready to bake it.
You can use any sheet pan you own to bake your faji­ta chick­en. I do rec­om­mend one with sides, though. These are my favorite sheet pans and the ones I use for EVERYTHING. I have 7 of these beau­ties. lol Yeah, I may have a prob­lem. Seri­ous­ly though, I've had mine for over ten years and I use them sev­er­al times a week. They're still going strong.
Pro Tip: Cov­er your sheet pan with parch­ment paper before bak­ing the chick­en. Clean-up will be as sim­ple as crum­pling the paper and toss­ing it in the trash. No time wast­ed on scrub­bing. Win­ner! Win­ner! Chick­en din­ner! (Sor­ry. I could­n't resist.)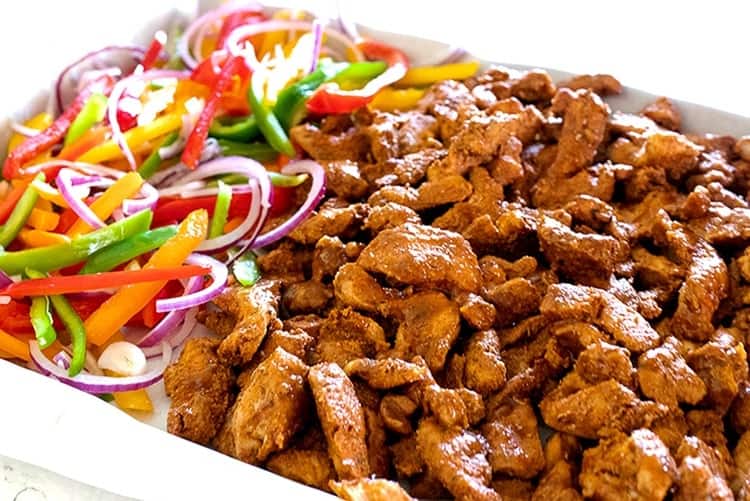 Spread the chick­en in an even lay­er over the sheet tray and then bake, adding the pep­pers and onions dur­ing the last 10 min­utes. While the meat's in the oven, you can prep any side dish­es and set up your build-your-own faji­ta bar. Then, when the chick­en comes out of the oven in 25 min­utes, din­ner is served!
How to Serve Sheet Pan Chicken Fajitas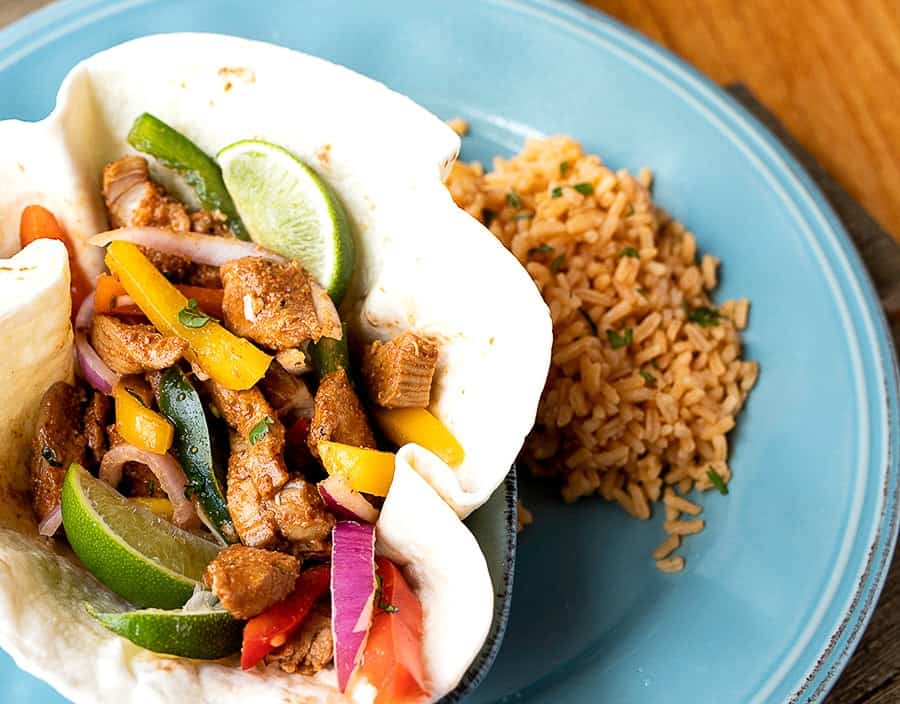 I like to serve our faji­tas with Easy 10-Minute Mex­i­can Rice and a green sal­ad or veg­gie. If you're feed­ing some­one who's watch­ing carbs, or eat­ing gluten-free, use let­tuce wraps instead of tor­tillas. (If you have enough time to try long-cook rice, as your side, you might like to try this Mex­i­can Red Rice at Recipe Tin Eats. )
Hap­py dances WILL be hap­pen­ing when you add Sheet Pan Chick­en Faji­tas to your menu, this week. You're going to be excit­ed about the fresh ingre­di­ents, how quick­ly and sim­ply they come togeth­er and the mon­ey you'll save by skip­ping the dri­ve-thru. Woot! You're a rock star! C'mon! Let's make some!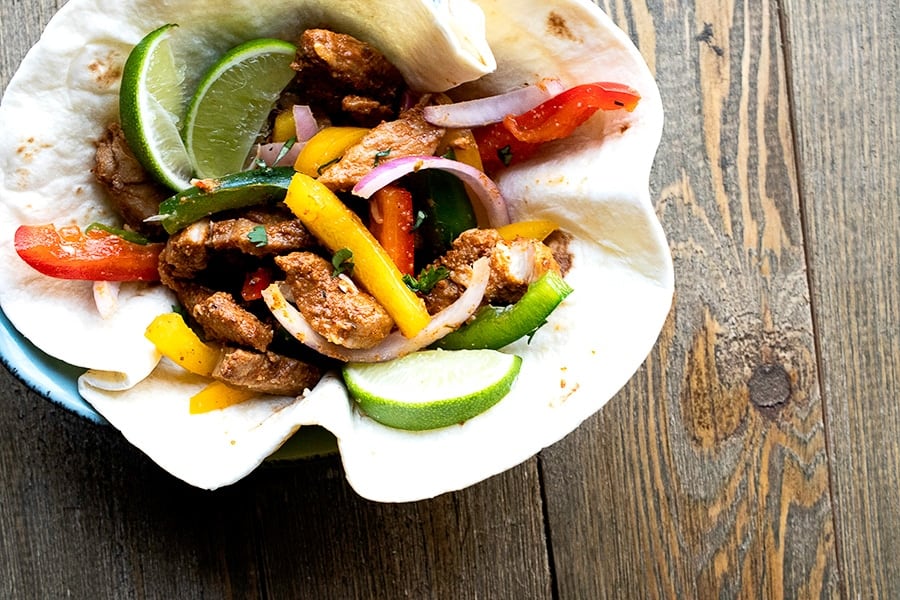 Print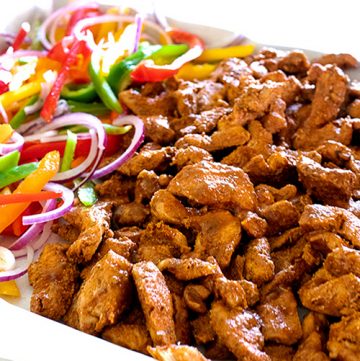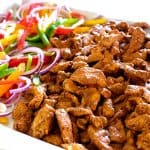 Sheet Pan Chicken Fajitas
---
Author:

Total Time:

35 min­utes

Yield:

16

-

20

serv­ings

1

x
8

-

10

flour tor­tillas, (we use the taco size)

4

-

5

lbs bone­less skin­less chick­en breasts (

6

to

8

pieces, depend­ing on the size)

¼ cup

(

4 Tbsp

) faji­ta sea­son­ing (pur­chase your favorite pack­ets or make my home­made ver­sion)

3

large bell pep­pers (mix your favorite colors)

½

large red onion
zest of

1

lime
juice of

2

limes
option­al top­ping ideas: sour cream, sal­sa, gua­camole, grat­ed ched­dar or Mon­terey Jack cheese, diced toma­toes, diced avo­ca­do, cilantro, lime
---
Instructions
Pre-Prep the Chicken the Day Before Cooking and Serving
Slice the thawed chick­en breasts into ¼‑inch thick strips.
Place the strips of chick­en in a large bowl with a lid.
Add the lime juice, zest and faji­ta sea­son­ing to the bowl and toss to coat every strip of chicken.
Put the lid on your bowl and place it in the fridge until you're ready to cook fajitas.
Cook the Chicken and Prep Veggies for Serving
Place a sheet of parch­ment paper over a sheet pan and spread the prepped chick­en in an even lay­er across the sheet.
Bake in a 350° oven for 20–25 min­utes, until the chick­en is done.
While the chick­en is cook­ing, quick­ly slice your bell pep­pers into ¼- to ⅜‑inch wide strips.
Cut the red onion into ¼‑inch thick, round slices and then cut the rounds in half, so the onion sep­a­rates into thin strips.
Add the pep­pers and onions to the sheet tray for the last 10 min­utes of baking.
After the final ten min­utes, remove the chick­en & pep­pers from oven, plac­ing the sheet pan on a cool­ing rack to rest a few minutes.
Set Up Your "Fajita Bar" for Serving
If you did­n't get it done while the chick­en cooked, set up your "faji­ta bar" while the meat is rest­ing. Warm the tor­tillas, (I use the microwave) and set out your favorite top­pings, like: sour cream, sal­sa, gua­camole, grat­ed ched­dar or Mon­terey Jack cheese, diced toma­toes, diced avo­ca­do, cilantro, lime. The sky's the lim­it, real­ly. Choose your fam­i­ly's favorites.
Let every­one build their own cus­tom faji­tas! Serve with 10-Minute Mex­i­can Rice and a favorite veg­gie side or salad.
Store left­overs in the fridge for quick and easy lunch­es, like: Chick­en Faji­ta Sal­ad or a Faji­ta Chick­en Rice Bowl.
Notes
You can, def­i­nite­ly, sea­son the chick­en and cook it right away. I pre­fer to pre­pare it the night before, or even a few days ahead, when I have a spare 15 min­utes. Then when I get home in the evening and I'm ready to cook, all I have to do is put the chick­en on the sheet pan and straight into the oven.
The pep­pers and onions can go on the sheet tray with the chick­en, from the begin­ning, if you pre­fer. They will just be soft­er than when added for the last 10 min­utes. We pre­fer-ten­der crisp.
I always start a batch of Easy 10-Minute Mex­i­can Rice, when I put the chick­en in the oven. It's a per­fect side dish and ready to go when the chick­en comes out of the oven.
This chick­en freezes won­der­ful­ly! To use it lat­er, thaw in the fridge and then warm up the amount you plan to use in the microwave or in a skil­let on your stove­top. We use these deli­cious left­overs for more faji­tas, for rice bowls, for que­sadil­las, even for nachos and in sal­ads. DELISH!
Prep Time:

10 min

Cook Time:

25 min­utes

Cat­e­go­ry:

Main Dish

Cui­sine:

Mex­i­can