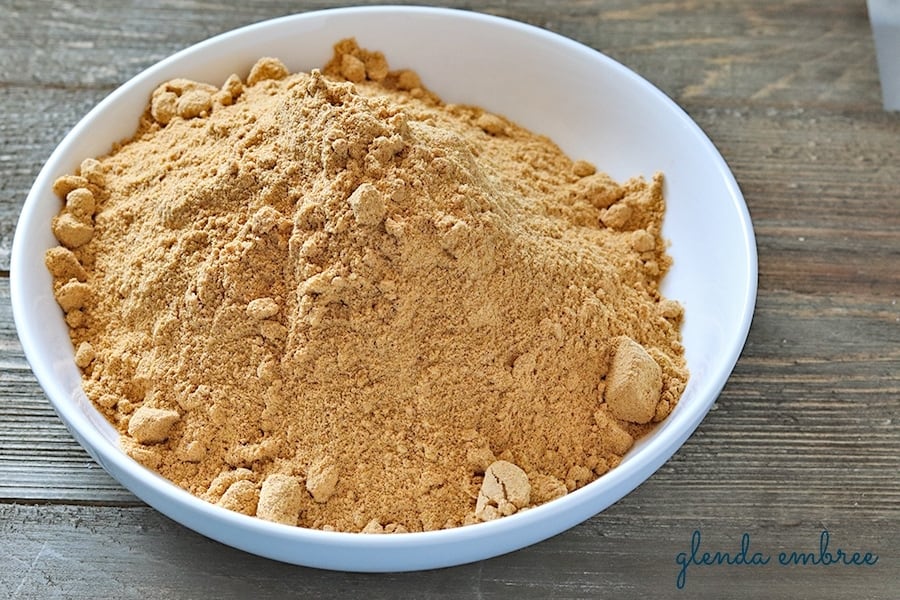 Homemade Taco Seasoning is a recipe I started making several years ago. It's so much more flavorful than the store-bought packets. Plus, we seem to go through a LOT at our house. With this recipe, I can make a big enough batch to always have plenty on hand.
My homemade taco seasoning recipe is pretty unique, compared to others you might see, too. The deep, rich, herb and spice flavors of cumin and peppers linger on your palate and are reminiscent of traditional taco seasoning. But, the finishing taste is cheesy. That comes from a secret ingredient that vegans have known about for a long time — *nutritional yeast flakes.
Print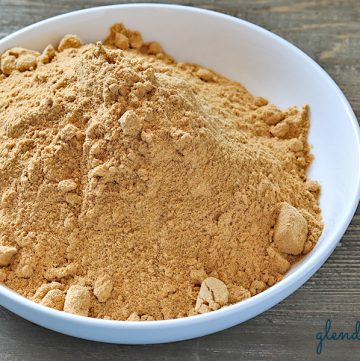 Homemade Taco Seasoning
---
Author:

Prep Time:

5 min

Total Time:

5 min

Yield:

3/4 cup

1

x
Description
This simple seasoning blend is not only delicious, it's nutritious!  No fillers, no sugar, and no additives or preservatives.  Just your own healthy ingredients.
---
Scale
Ingredients
½ cup

 nutritional yeast

2 teaspoon

garlic powder

2 teaspoon

onion powder

2 teaspoon

cumin

2 teaspoon

paprika

2 teaspoon

 chili powder

4 teaspoons

salt
---
Instructions
Mix all the ingredients until thoroughly combined. I actually just toss it all in my blender and whir it together. That way everything has the same consistency and combines evenly.
Use this instead of commercial taco seasoning in any dish or recipe. It's so much better for you and the taste is fantastic!
Store it in a pint-sized mason jar or a zip-top bag.
I typically use 3 – 4 Tablespoons to replace a commercial packet of taco seasoning.
---
Category:

Seasonings, Seasoning Mix, Seasoning Blend

Cuisine:

Mexican
Keywords: taco, seasoning, seasoning blend
By adding nutritional yeast to my taco seasoning, I not only enhance the flavor, but add to the nutrition. Plus, I eliminate all the non-food fillers, preservatives, refined sugar, soy and other questionable ingredients common in commercial brands.
*Affiliate Link
What IS Nutritional Yeast?
Nutritional yeast is loaded with vitamins, minerals and proteins and it's a completely natural food. It is NOT the same thing as baker's yeast, for making bread, or brewer's yeast; so please don't try to use either of those as a substitute.
Nutritional yeast grows on sugar cane and beet molasses. Producers heat the yeast to deactivate it, after it's harvested. It's a good source of B vitamins, folate and niacin. It contains 18 amino acids, 9 of which make it a complete protein. Fiber and glutathione are more beneficial components of nutritional yeast. Plus, it's dairy-free, soy-free and gluten free.
I use *nutritional yeast in a lot of my recipes. It's a wholesome ingredient I always keep on my pantry shelves.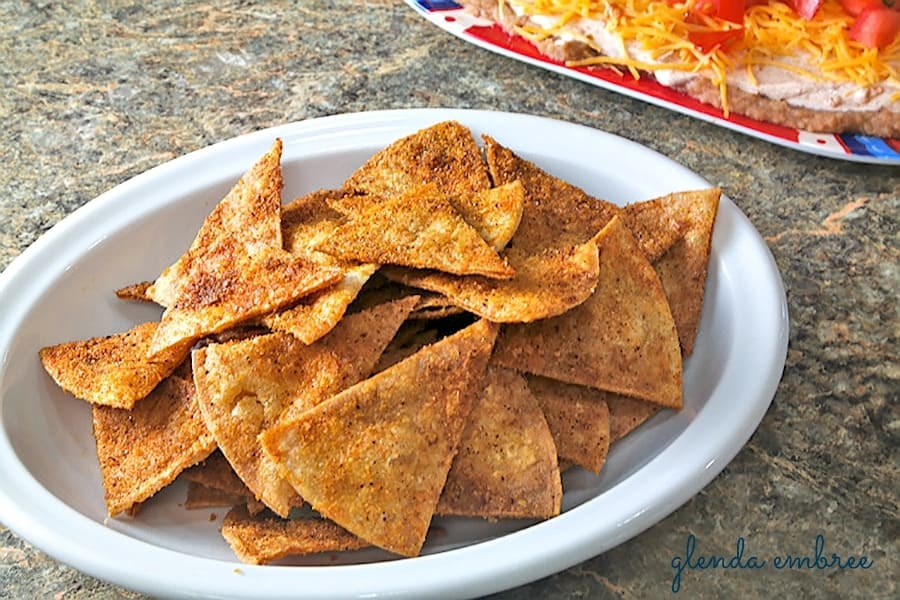 How to Use Homemade Taco Seasoning
Besides using this taco seasoning in my famous Taco Dip, I also love to make fresh taco chips with it. While I wouldn't say my recipe is a dead-ringer for those "-oritos" brand chips we all love, it's definitely cheesy-taco-y delicious! Popcorn is another good spot to shake a little of this homemade taco seasoning. Homemade burritos and tacos will get standing ovations from your favorite people when you use this seasoning recipe. Really… start practicing your curtsy. Just sayin'. 🙂
How to Make Homemade Taco Seasoning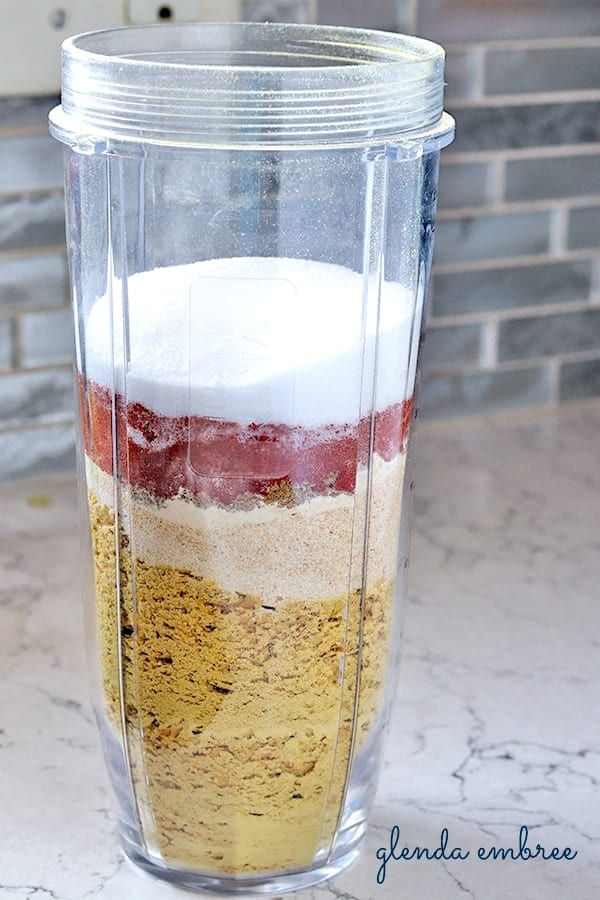 Simply place all the ingredients in a blender jar or pitcher and pulse to blend. Blend until all ingredients are evenly distributed. Store your Homemade Taco Seasoning in a canning jar or container with tight sealing lid. Use 3-4 Tablespoons of the seasoning to replace a packet of any of the commercial brands.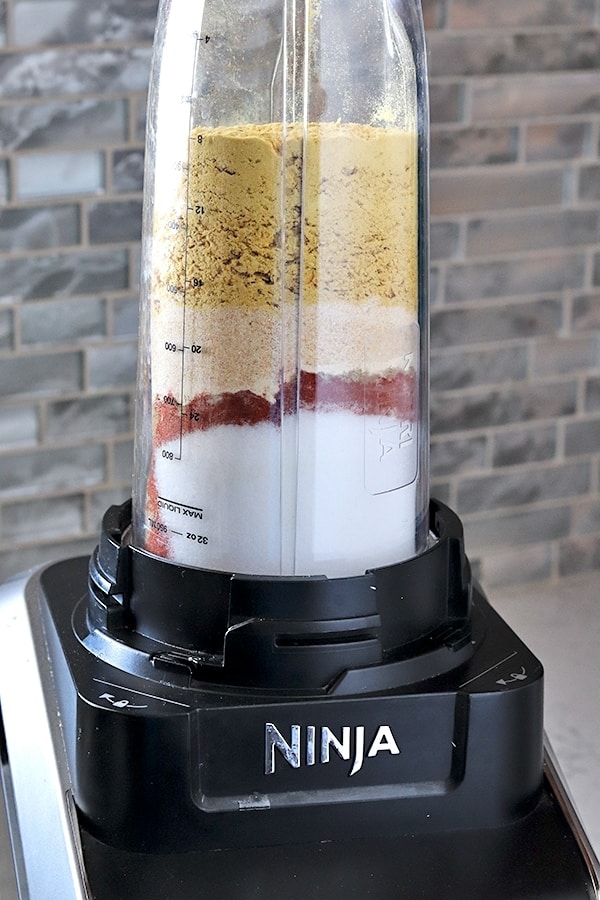 *Affiliate Link: my favorite high-speed blender system
Other Delish Snack Recipes