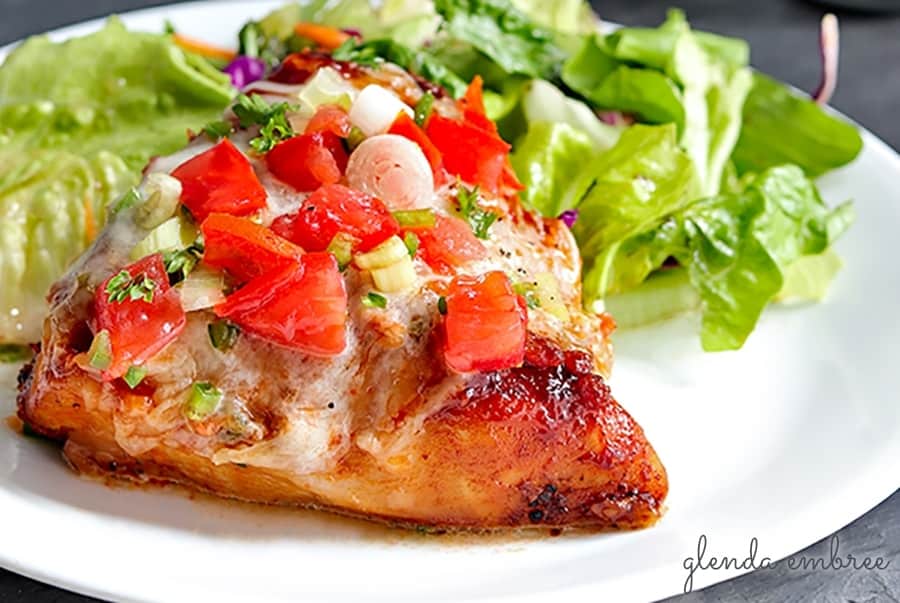 Monterey Chicken is a flavorful main dish that takes only minutes to prepare. It's tender, moist and savory. Picture barbecue sauce studded with minced jalapeno and then crowned with bacon and melted Monterey jack cheese. Top the whole masterpiece with some diced tomatoes and green onions. What a quick and delicious weeknight supper treat! Yum!!
You're only going to need a few items from the pantry and garden and you'll be able to set a platter of juicy and delicious Monterey Chicken on the table.  My favorite sides with it are home fries and a green salad. Since my home fries cook in about the same amount of time, I get them in the oven and then get the chicken going. Add your greens and in 30 minutes, you can have a full meal completed.  Enjoy!
How to Prep the Chicken
The secret to getting this dish on the table so quickly is being sure you have pounded the chicken breasts to an even, 1/2-inch thickness, before you start cooking. That two minutes of prep will save you 20-30 minutes of cook time! The chicken breasts for Monterey Chicken will cook through in 10 to 15 minutes (depending on your range's heat settings) and be tender and juicy.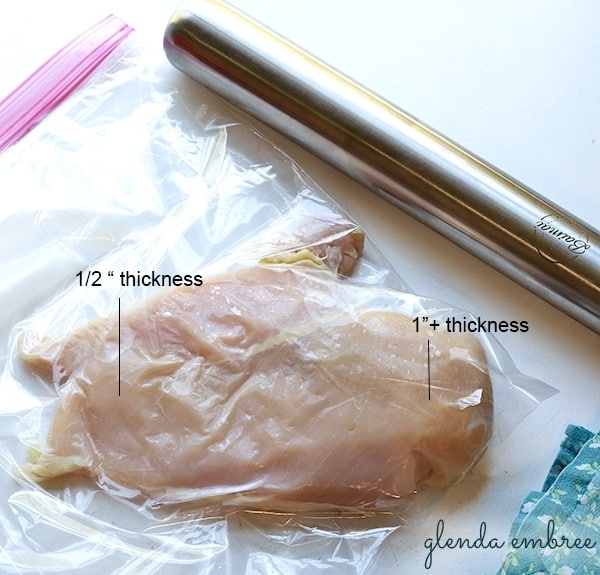 Start by prepping the chicken breasts. They are always thicker at one end than the other, which results in uneven cooking and more cooking time than is necessary. Place the chicken breast inside a gallon zip-top bag. Don't close it. I use my *rolling pin to gently pound the thicker end until it is an equal thickness to the other. A heavy skillet or the flat side of a meat mallet would work, too.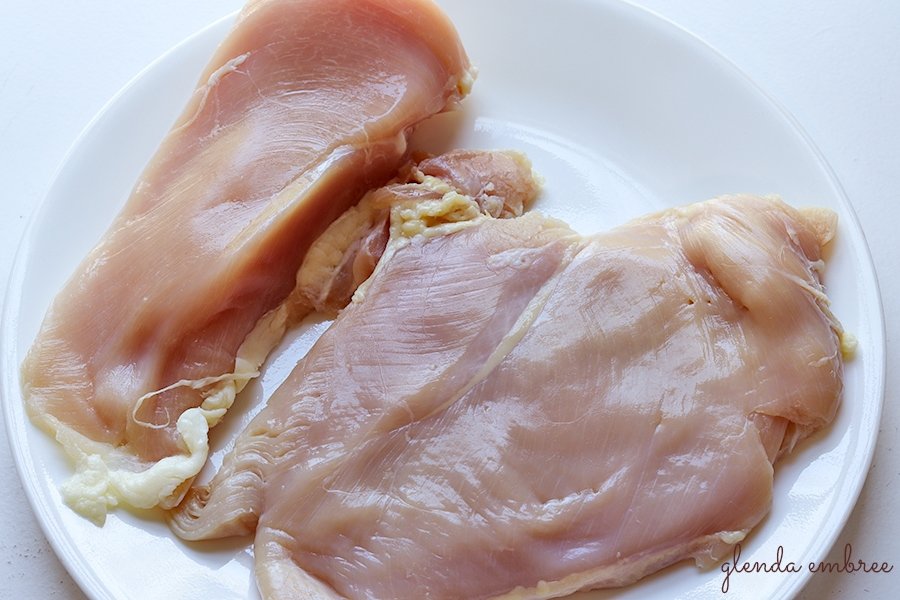 It's definitely a huge difference when you get it pounded out. The other nice thing is that it can save money. I most often will cut that flattened chicken breast in half and make it into two servings. At 1/2″ thickness on medium-high heat, I am able to cook these breasts to temperature (165°) at about 5-6 minutes per side, or 10-15 minutes, total. That's so much quicker than if I hadn't pounded them out. And the cook is even, so they are tender and juicy throughout!
Another Time-Saving Short Cut
I don't actually cook the bacon for this recipe. If you check the aisle at your grocery store where they have salad dressing and croutons, you'll find my secret weapon for getting lots of main dishes on the table so quickly.
There will be a variety of brands, so choose the one you like best. What you're looking for are resealable bags of REAL bacon pieces. Don't grab those hard, imitation bacon bits. That would be very disappointing. But the real bacon is just that. It's already in small pieces and great on salads and in recipes like this one. If you're not going to need a full strip of bacon, why go to the extra work and mess? I love this delicious short-cut option!
So, go ahead! Make your family this delicious dish and get ready to take in all the accolades and excitement! I hope you love Monterey Chicken, as much as we do, and get the chance to put it into your regular quick and easy meal rotation. Have a wonderfully blessed week!
How to Make Monterey Chicken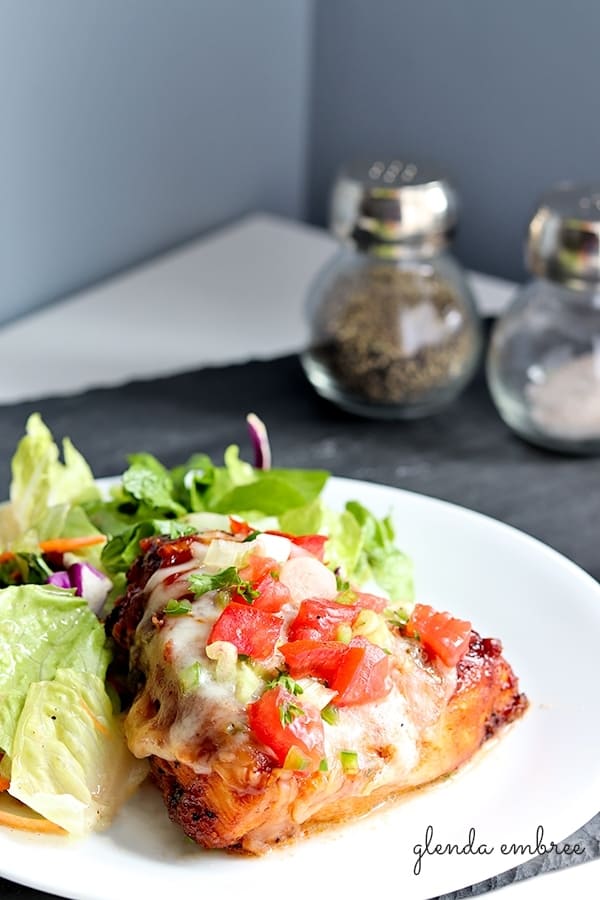 Print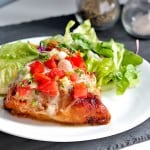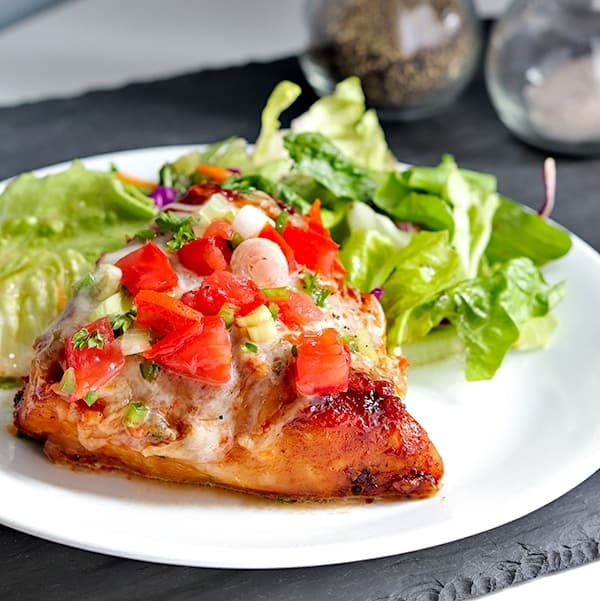 Monterey Chicken
---
Author:

Prep Time:

5

Cook Time:

15

Total Time:

20 minutes

Yield:

8

servings

1

x
Description
Tender savory chicken breasts brushed with barbecue sauce and sprinkled with minced jalapeno and bacon, then crowned with melted Monterey Jack cheese.  We top them with diced tomatoes and thinly sliced green onions and I usually serve them with home fries and a green salad.  Delish!
---
Scale
Ingredients
4

boneless, skinless chicken breasts

2 Tablespoons

avocado oil (or cooking oil of your choice)

2 teaspoons

paprika
salt and pepper, to taste

¼ cup

barbecue sauce, use your family's favorite

1

jalapeno, minced (veins and seeds removed)

1½ cups

Monterey Jack cheese, grated

1/4 cup

bacon, fried and finely chopped (I use pre-cooked REAL bacon pieces from the salad dressing and crouton section of the grocery store.)

1

large tomato, small diced

3

green onions, thinly sliced
---
Instructions
Pound all 4 chicken breasts to an even 1/2″ thickness.  After pounding, cut them in half to make 8 portions.
Sprinkle both sides of each portion with paprika, salt and pepper.
Heat the avocado oil in a *heavy skillet over medium-high heat.
Place the chicken breast portions into the skillet and allow them to brown on that first side for 4-6 minutes.  Check occasionally to see if they are getting a nice golden brown caramelization.  When they have, flip them over.
Put a lid on the skillet, reduce the heat to medium and let chicken finish cooking while you prep the rest of the meal. (Start checking the internal temperature after about 6 minutes.  You're looking for 160°.  Remember, it will continue to cook as it rests and reach the recommended 165°.)
Turn off the heat, when the chicken is done.
Brush each portion with your favorite barbecue sauce.
Sprinkle minced jalapeno and bacon over the barbecue sauce and then top with grated Monterey Jack cheese.
Put the skillet back on the heat (keep it low) and put a lid on the skillet.  Leave it just until the cheese has gotten warm and melty.
To serve the chicken, top each piece with fresh, diced tomatoes and sliced green onion.
---
Category:

Meat, Main, Entree

Method:

Stove Top

Cuisine:

American
Keywords: chicken, main dish, monterey
More Quick & Easy, Delicious Chicken Dishes
Easy Sheet Pan Chicken Fajitas