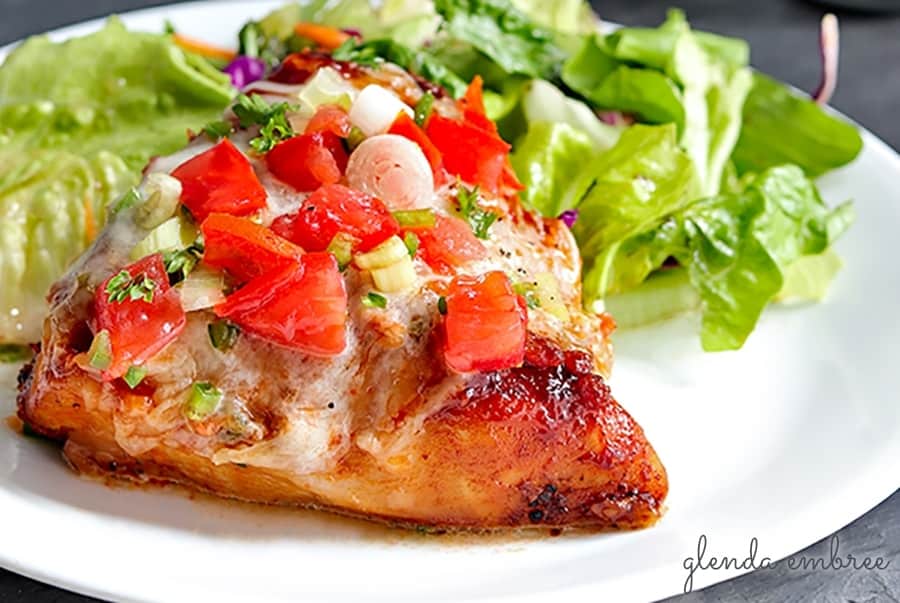 Mon­terey Chick­en is a fla­vor­ful main dish that takes only min­utes to pre­pare. It's ten­der, moist and savory. Pic­ture bar­be­cue sauce stud­ded with minced jalapeno and then crowned with bacon and melt­ed Mon­terey jack cheese. Top the whole mas­ter­piece with some diced toma­toes and green onions. What a quick and deli­cious week­night sup­per treat! Yum!!
You're only going to need a few items from the pantry and gar­den and you'll be able to set a plat­ter of juicy and deli­cious Mon­terey Chick­en on the table. My favorite sides with it are home fries and a green sal­ad. Since my home fries cook in about the same amount of time, I get them in the oven and then get the chick­en going. Add your greens and in 30 min­utes, you can have a full meal com­plet­ed. Enjoy!
How to Prep the Chicken
The secret to get­ting this dish on the table so quick­ly is being sure you have pound­ed the chick­en breasts to an even, 1/2‑inch thick­ness, before you start cook­ing. That two min­utes of prep will save you 20–30 min­utes of cook time! The chick­en breasts for Mon­terey Chick­en will cook through in 10 to 15 min­utes (depend­ing on your range's heat set­tings) and be ten­der and juicy.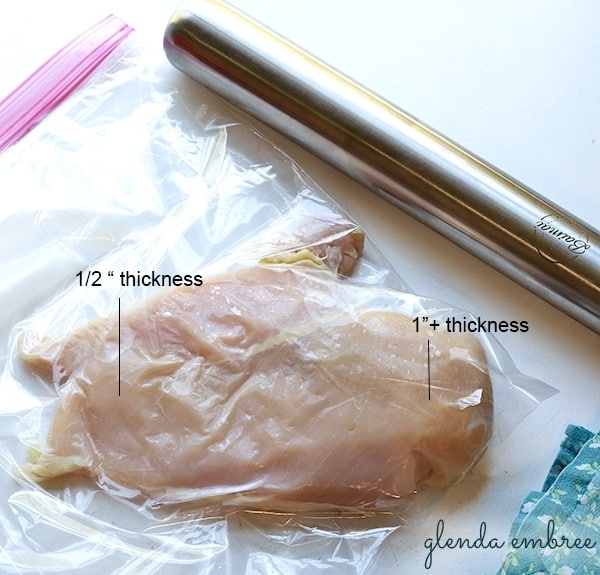 Start by prep­ping the chick­en breasts. They are always thick­er at one end than the oth­er, which results in uneven cook­ing and more cook­ing time than is nec­es­sary. Place the chick­en breast inside a gal­lon zip-top bag. Don't close it. I use my *rolling pin to gen­tly pound the thick­er end until it is an equal thick­ness to the oth­er. A heavy skil­let or the flat side of a meat mal­let would work, too.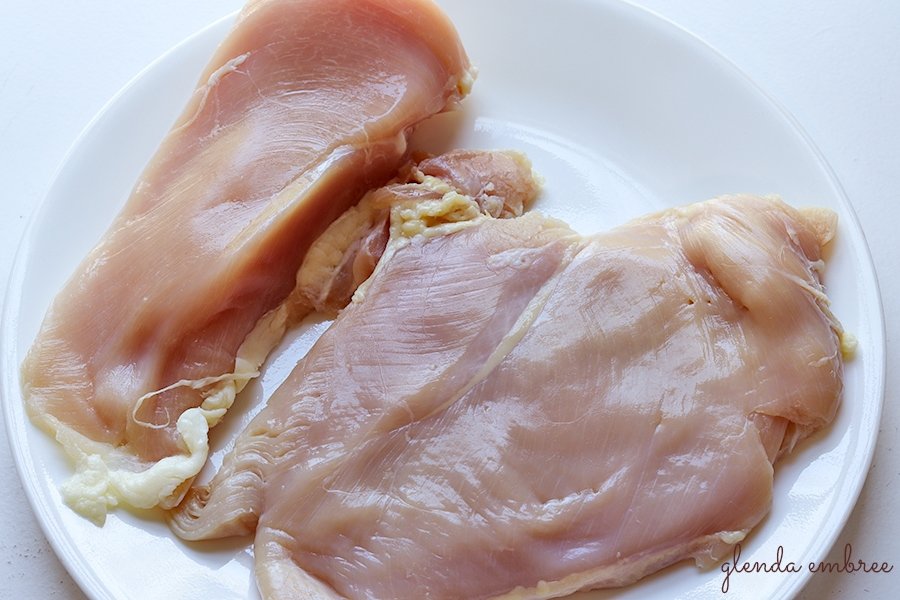 It's def­i­nite­ly a huge dif­fer­ence when you get it pound­ed out. The oth­er nice thing is that it can save mon­ey. I most often will cut that flat­tened chick­en breast in half and make it into two serv­ings. At 1/2″ thick­ness on medi­um-high heat, I am able to cook these breasts to tem­per­a­ture (165°) at about 5–6 min­utes per side, or 10–15 min­utes, total. That's so much quick­er than if I had­n't pound­ed them out. And the cook is even, so they are ten­der and juicy throughout!
Another Time-Saving Short Cut
I don't actu­al­ly cook the bacon for this recipe. If you check the aisle at your gro­cery store where they have sal­ad dress­ing and crou­tons, you'll find my secret weapon for get­ting lots of main dish­es on the table so quickly.
There will be a vari­ety of brands, so choose the one you like best. What you're look­ing for are reseal­able bags of REAL bacon pieces. Don't grab those hard, imi­ta­tion bacon bits. That would be very dis­ap­point­ing. But the real bacon is just that. It's already in small pieces and great on sal­ads and in recipes like this one. If you're not going to need a full strip of bacon, why go to the extra work and mess? I love this deli­cious short-cut option!
So, go ahead! Make your fam­i­ly this deli­cious dish and get ready to take in all the acco­lades and excite­ment! I hope you love Mon­terey Chick­en, as much as we do, and get the chance to put it into your reg­u­lar quick and easy meal rota­tion. Have a won­der­ful­ly blessed week!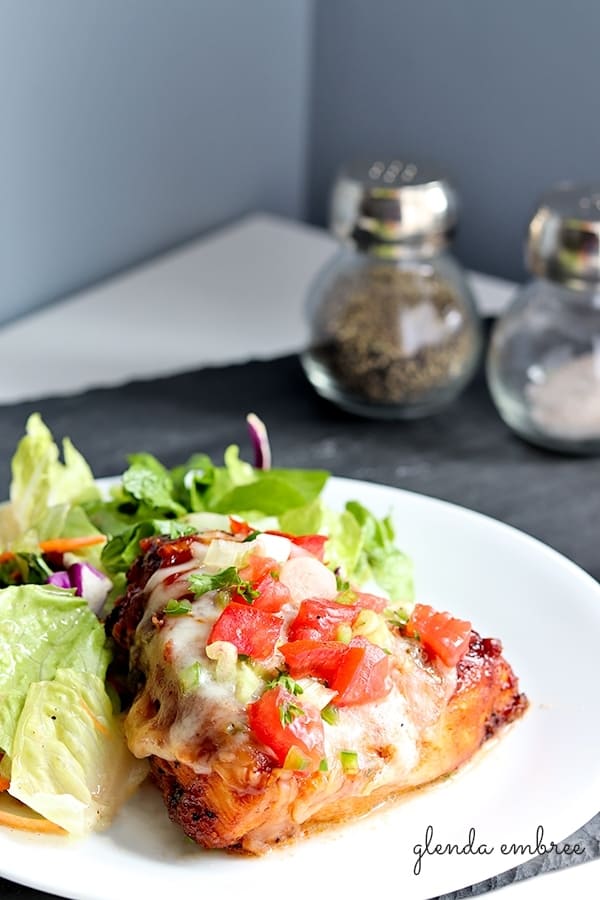 How to Make Monterey Chicken
Pound out the chick­en breasts to an even thick­ness and then sea­son them.
Sear the chick­en on both sides in a cast iron skil­let with a lit­tle avo­ca­do oil.
When the chick­en reach­es an inter­nal tem­per­a­ture of 160° F, shut off the heat, but leave the chick­en in the skillet.
Brush each breast with bar­be­cue sauce and then sprin­kle with minced jalapeno and bacon. Top with grat­ed Mon­terey Jack cheese.
Cov­er the skil­let and turn the heat to low, just until the cheese melts.
Serve the chick­en topped with diced toma­toes and sliced green onions.
The Recipe
Print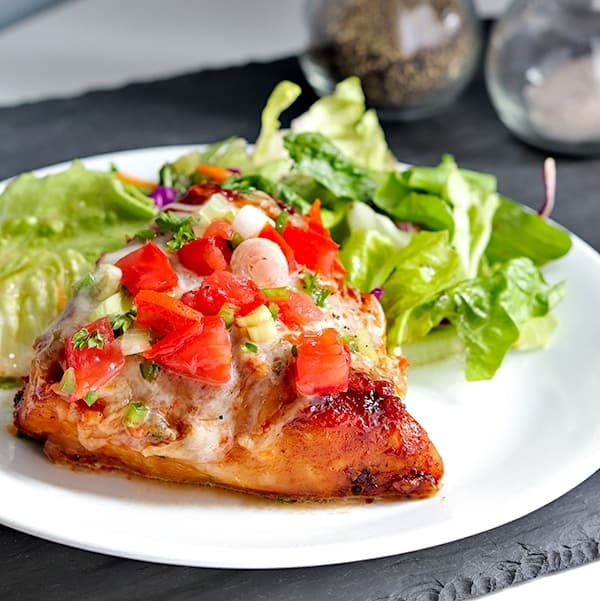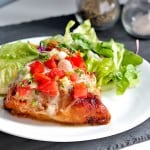 Monterey Chicken
---
Author:

Total Time:

20 min­utes

Yield:

8

serv­ings

1

x
Description
Ten­der savory chick­en breasts brushed with bar­be­cue sauce and sprin­kled with minced jalapeno and bacon, then crowned with melt­ed Mon­terey Jack cheese. We top them with diced toma­toes and thin­ly sliced green onions and I usu­al­ly serve them with home fries and a green sal­ad. Delish!
---
4

bone­less, skin­less chick­en breasts

2 Table­spoons

avo­ca­do oil (or cook­ing oil of your choice)

2 tea­spoons

paprika
salt and pep­per, to taste

1/4

cup

bar­be­cue sauce, use your fam­i­ly's favorite

1

jalapeno, minced (veins and seeds removed)

1 1/2

cups

Mon­terey Jack cheese, grated

1/4

cup

bacon, fried and fine­ly chopped (I use pre-cooked REAL bacon pieces from the sal­ad dress­ing and crou­ton sec­tion of the gro­cery store.)

1

large toma­to, small diced

3

green onions, thin­ly sliced
---
Instructions
Pound all 4 chick­en breasts to an even 1/2″ thick­ness. After pound­ing, cut them in half to make 8 portions.
Sprin­kle both sides of each por­tion with papri­ka, salt and pepper.
Heat the avo­ca­do oil in a *heavy skil­let over medi­um-high heat.
Place the chick­en breast por­tions into the skil­let and allow them to brown on that first side for 4–6 min­utes. Check occa­sion­al­ly to see if they are get­ting a nice gold­en brown carameliza­tion. When they have, flip them over.
Put a lid on the skil­let, reduce the heat to medi­um and let chick­en fin­ish cook­ing while you prep the rest of the meal. (Start check­ing the inter­nal tem­per­a­ture after about 6 min­utes. You're look­ing for 160°. Remem­ber, it will con­tin­ue to cook as it rests and reach the rec­om­mend­ed 165°.)
Turn off the heat, when the chick­en is done.
Brush each por­tion with your favorite bar­be­cue sauce.
Sprin­kle minced jalapeno and bacon over the bar­be­cue sauce and then top with grat­ed Mon­terey Jack cheese.
Put the skil­let back on the heat (keep it low) and put a lid on the skil­let. Leave it just until the cheese has got­ten warm and melty.
To serve the chick­en, top each piece with fresh, diced toma­toes and sliced green onion.
Prep Time:

5

Cook Time:

15

Cat­e­go­ry:

Meat, Main, Entree

Method:

Stove Top

Cui­sine:

Amer­i­can
Key­words: chick­en, main dish, monterey
More Easy Delicious Chicken Recipes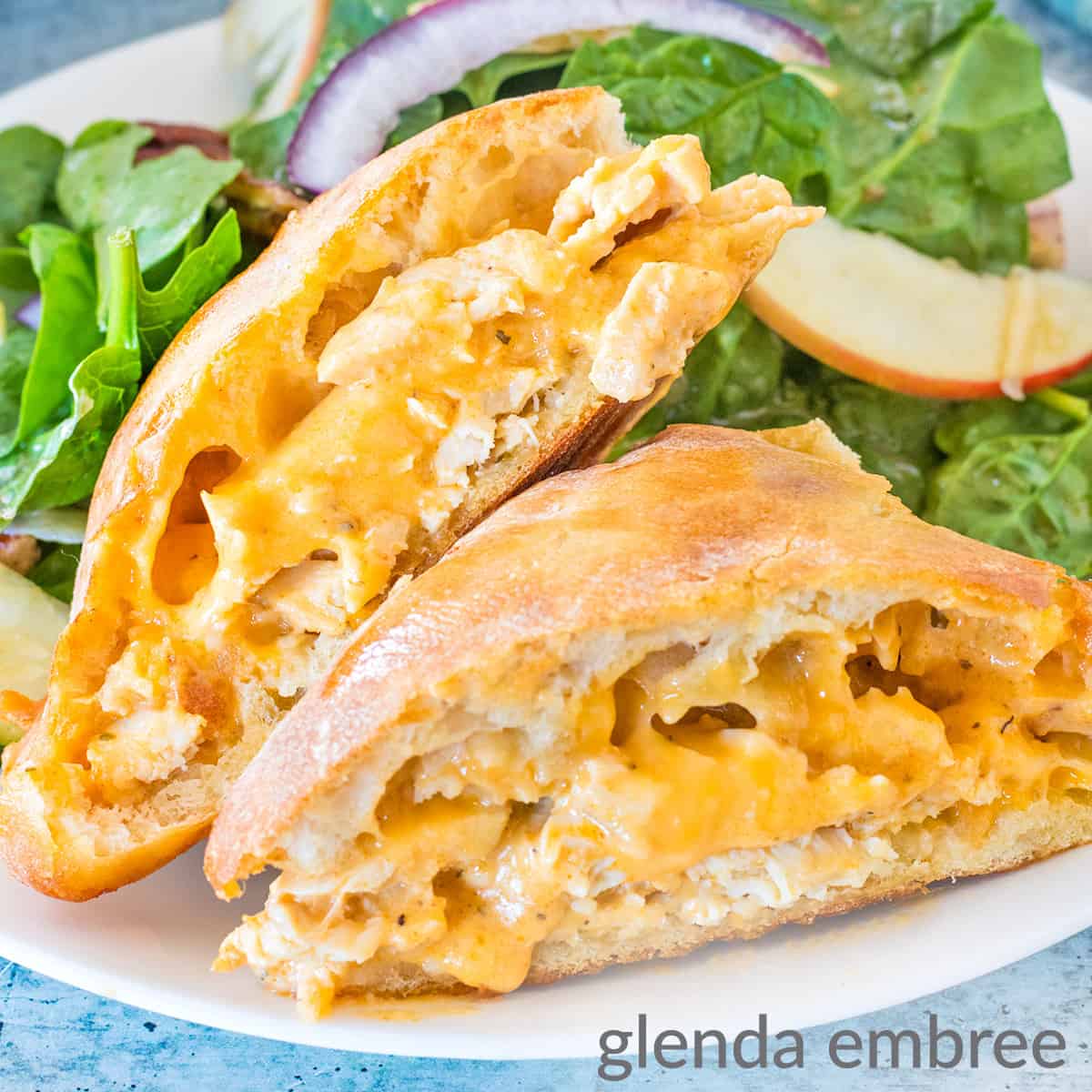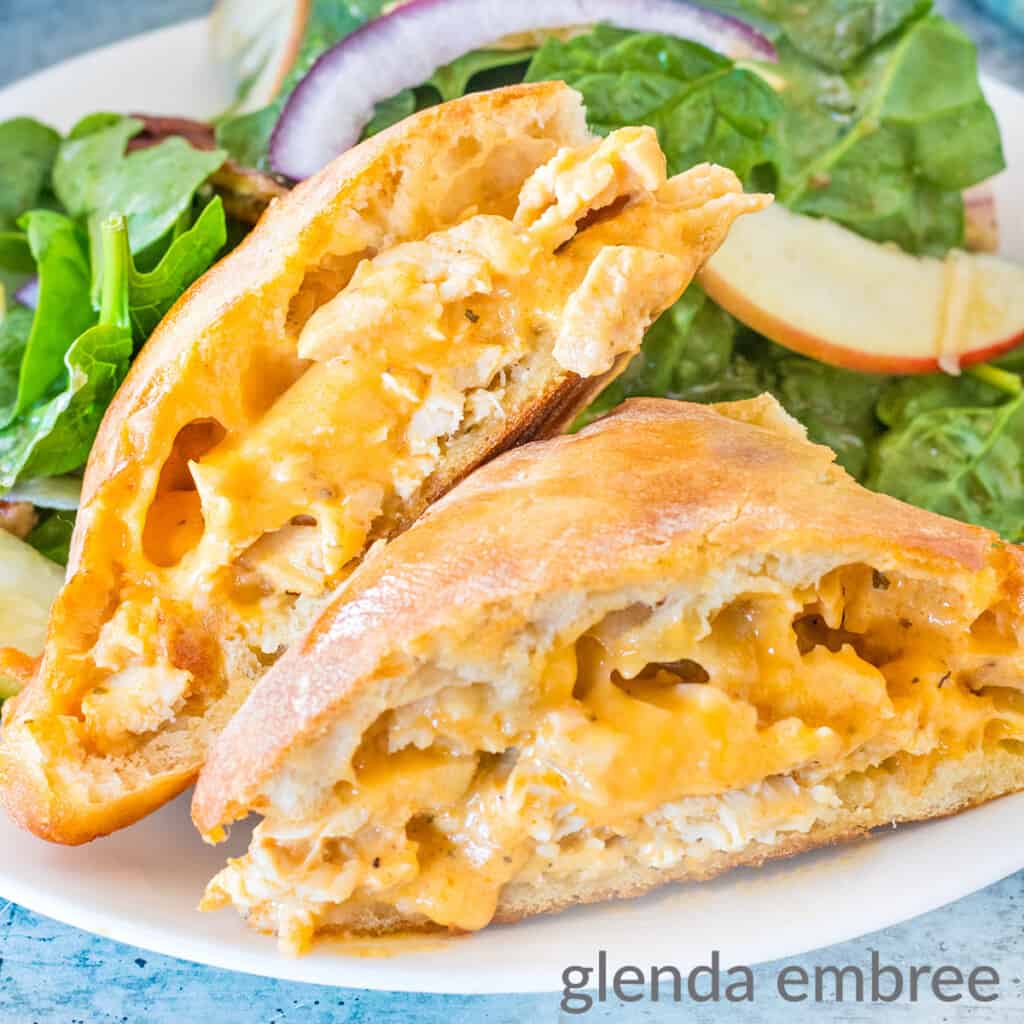 Juicy, Slow Cook­er Chick­en Breasts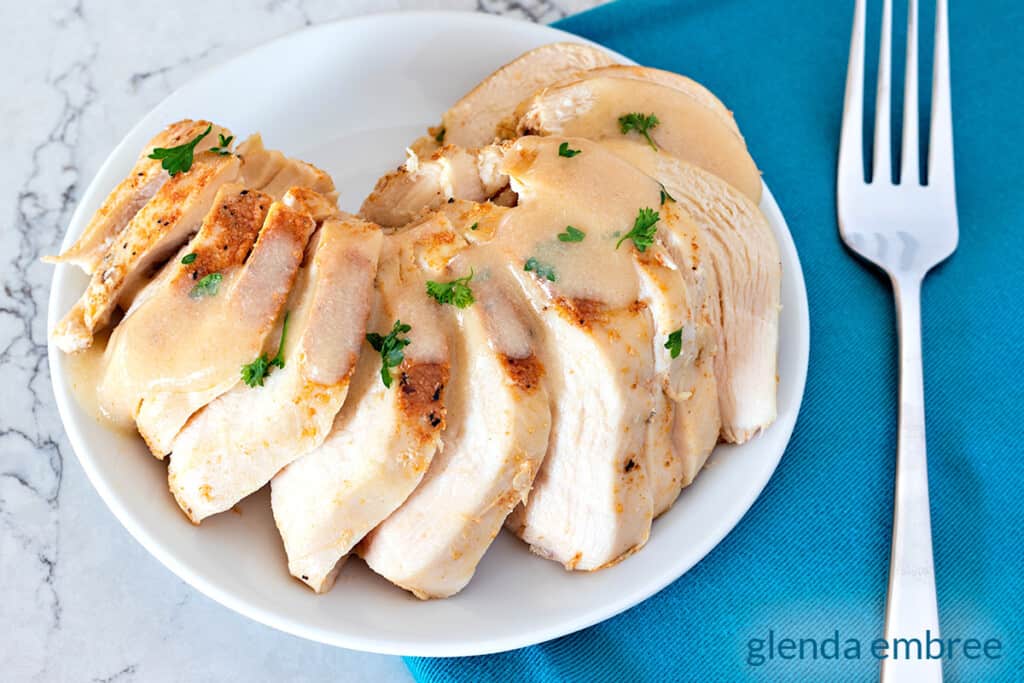 Easy Sheet Pan Chick­en Fajitas