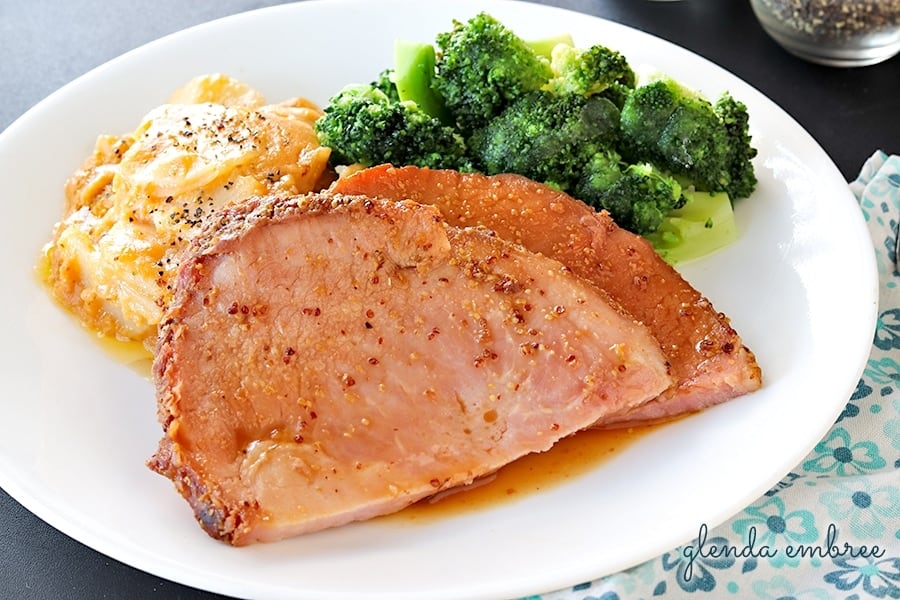 My Best Slow Cook­er Ham is deli­cious­ly ten­der, smoky, savory and just the slight­est touch of sweet. Per­fect, real­ly. lol No, seri­ous­ly, you guys. It's so good! This could be your East­er ham and you'd be the din­ner hero!
Serv­ing ham always makes the meal feel a lit­tle bit cel­e­bra­to­ry and yet, cook­ing a ham is very sim­ple. I'm not sure why we don't do it more often.
As pro­teins go, I would say ham is mid-range on price, It's not quite as inex­pen­sive as chick­en, how­ev­er, it is much cheap­er than ground beef, per pound. I pur­chased a whole ham, this week, and it was only $3.48 per lb. It was almost 9 pounds, so of course the ini­tial cost was more at once, than a pound of ham­burg­er, but I will get 5 or 6 dif­fer­ent meals from it. That's eco­nom­i­cal to me.
What Other Recipes Can I Make with Leftovers from Best Slow Cooker Ham?
There are so many ideas for using left­over ham, that it won't seem like left­overs at all when you're enjoy­ing the meals. Remem­ber, adding meat to any side dish instant­ly trans­forms it into a meal/casserole! Think mac and cheese and stir in chopped ham and frozen peas. Instant meal!
Crazy Good Grilled Ham and Cheese Sandwiches
Ham Sand­wich­es
Pas­ta Sal­ad with Ham
Cheesy Ham Chowder
Sweet Pota­to Hash with Ham
Den­ver Omelet
Chef Sal­ad
Ham and Cheese Scones
Ham and Beans Soup
Hawai­ian Fried Rice
Cres­cent Dough Ham and Cheese Pinwheels
Cheesy Pull-Apart French Bread with Ham
Baked Beans with Ham
Eggs Bene­dict Casserole
Cheesy Pota­toes with Ham
Wild Rice and Ham Soup
Hawai­ian Pizza
Chick­en Cor­don Bleu — essen­tial­ly a chick­en breast stuffed with ham and cheese. Delish!
And, that's a small list. There are so many more. An invest­ment in a whole bone­less ham nets tons of mon­ey-sav­ing meals for the rest of the week, for lunch­es or for the freezer!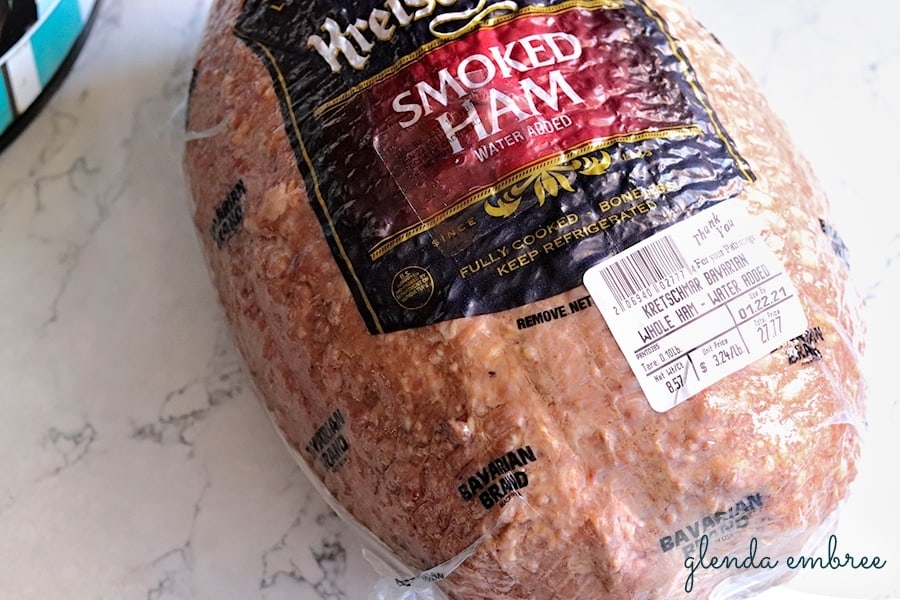 How to Make My Best Slow Cooker Ham
Don't blink. These instruc­tions are short. Remove the net­ting from the out­side of the ham. Place the ham into your slow cook­er. Mix the brown sug­ar and mus­tard paste and spread it over the top of the ham. Cook the ham on low for 6–8 hours. Ta Da! Best Slow Cook­er Ham deli­cious­ness! See this does­n't just have to be East­er ham. This scrump­tious, savory and sim­ple ham recipe is for any time of year.
Whole bone­less hams are usu­al­ly "net­ted". Hold­ing every­thing togeth­er after the bone has been removed is made eas­i­er with the net­ting, so the ham can be smoked. You will want to take that off before you cook the ham.
Mix togeth­er the stone ground mus­tard and brown sug­ar to make a paste. Yel­low mus­tard or even Dijon would work, too. I always have dark brown sug­ar in my pantry, but if yours is light that's per­fect­ly fine. Go for it.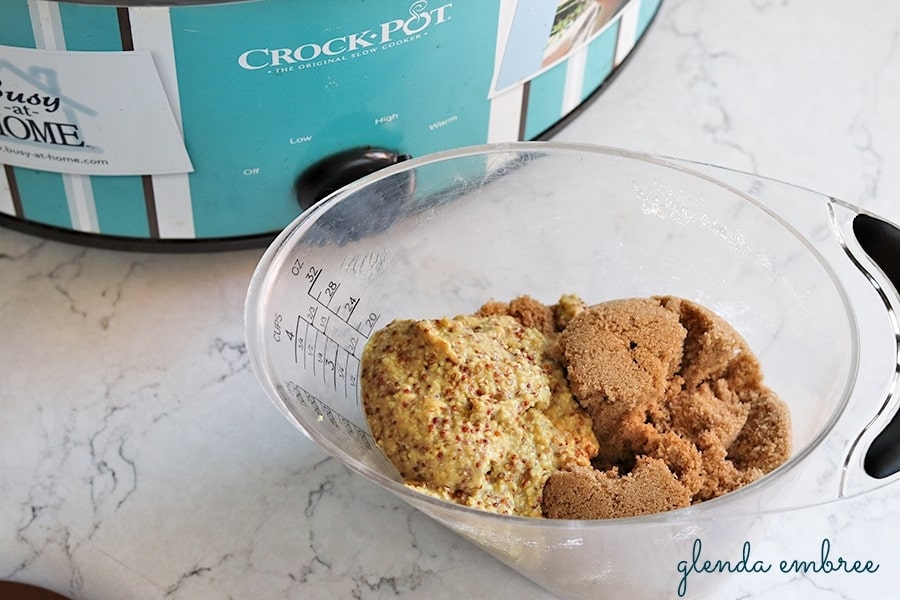 Smear the mustard/brown sug­ar paste over the top of the ham. As the Best Slow Cooked Ham is cook­ing, the paste will melt and drip down the ham. Their won't be a mas­sive amount of drip­pings in the bot­tom of the slow cook­er when the ham is done. It will be just enough for driz­zling the deli­cious slices and adding a per­fect­ly bal­anced sweet acidic zing to the meat's flavor.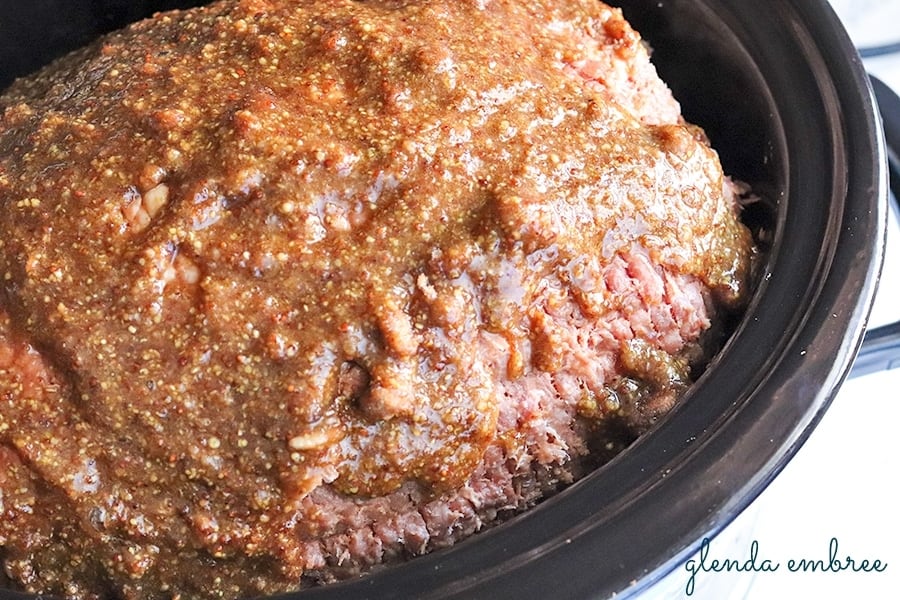 Boneless Hams vs Bone-In
My per­son­al pref­er­ence is bone­less. It slices eas­i­er, cooks faster and I don't have the fat, gris­tle and bone waste of a bone-in-ham.
My guess is you could use the Best Slow Cook­er Ham recipe on a bone-in ham, but would prob­a­bly need to roast it in the oven. My slow cook­er sure would­n't accom­mo­date one.
The bone in ham will require extra work after cook­ing, too. You'll want to remove the excess fat and bone etc. before slic­ing it for the table. You will most like­ly have a lot more drip­pings in the bot­tom of the roast­er, too.
The real­i­ty is there is no right or wrong. It is 100% a per­son­al pref­er­ence. Since, meal­time is usu­al­ly hec­tic for me, I go with ease of serv­ing and cleanup. For me, that's a bone­less ham.
This deli­cious ham will make a fab­u­lous din­ner for your fam­i­ly whether it's an East­er ham or an every­day easy din­ner ham. And you won't believe the fla­vors from just 3 easy ingre­di­ents! Enjoy!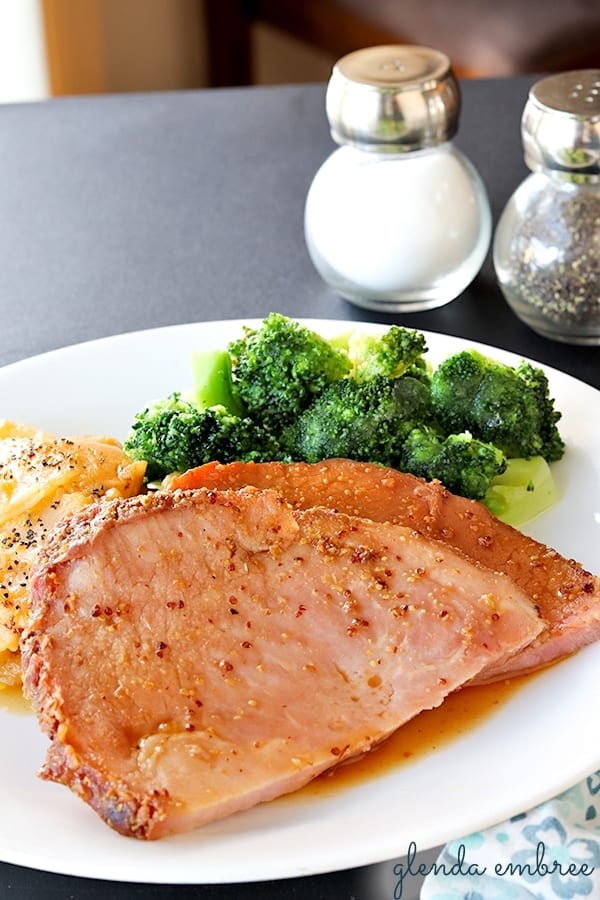 Print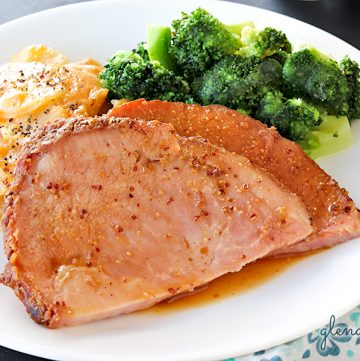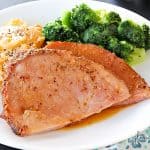 Best Slow Cooker Ham: 3‑Ingredient Simple
---
Author:

Total Time:

6 hours 5 minutes

Yield:

25

-

35

serv­ings

1

x
Description
This ham tastes too good to be such a sim­ple recipe. But the real­i­ty is din­ner could­n't be more spe­cial, or easy, with this dish. The recipe makes left­overs for many, many more dish­es through­out the week. The num­ber of serv­ings will hon­est­ly depend on all the dif­fer­ent ways you use it. Enjoy!
---
8

-

9

lb

whole bone­less ham

1

cup

dark brown sugar

1/2

cup

stone ground mustard
---
Instructions
Remove the net­ting from the ham and place the ham into an 8 qt slow cooker.
Mix the brown sug­ar and mus­tard to form a thick paste.
Spread the paste over the top of the ham.
Cov­er the slow cook­er and cook the ham on low for 6 to 8 hours.
Notes
You can sub yel­low mus­tard or Dijon for the stone ground.
Light brown sug­ar can be sub­sti­tut­ed for the dark.
Prep Time:

5 min­utes

Cook Time:

6 hours

Cat­e­go­ry:

Main Dish, Meat

Method:

Slow Cook­er

Cui­sine:

Amer­i­can
What to Serve with Best Slow Cooker Ham