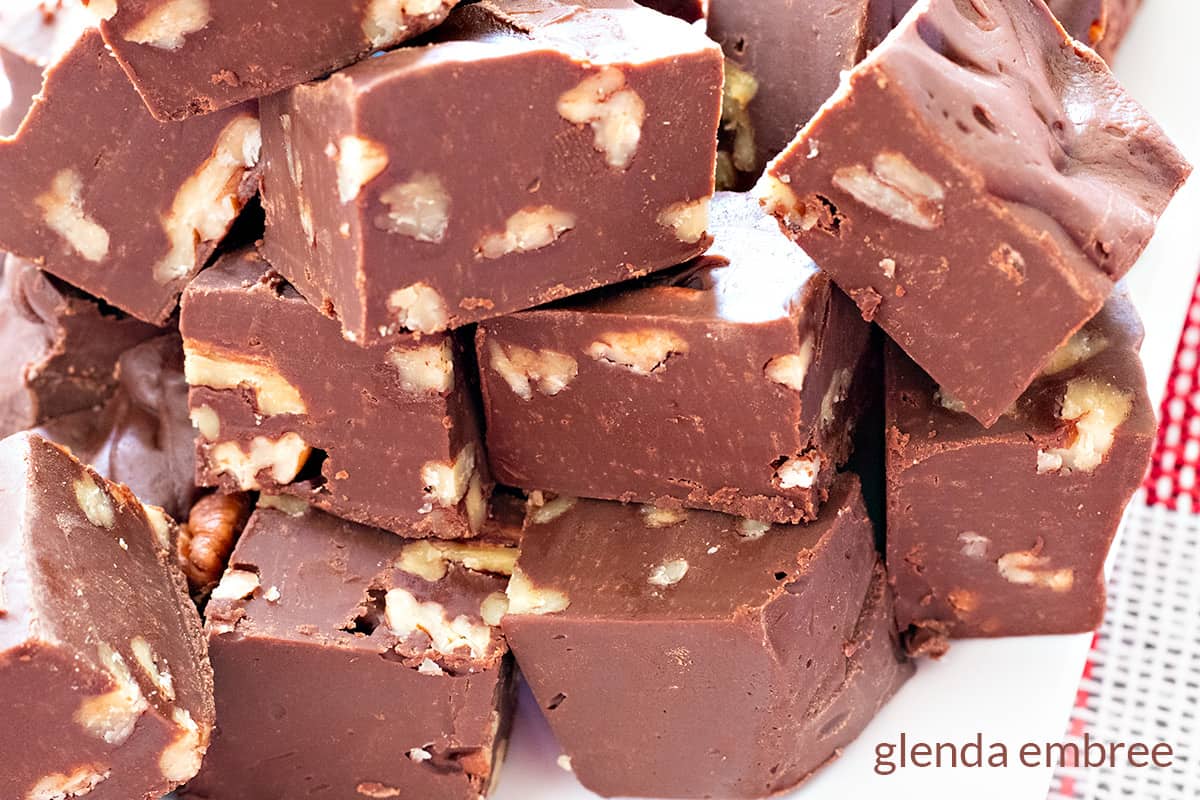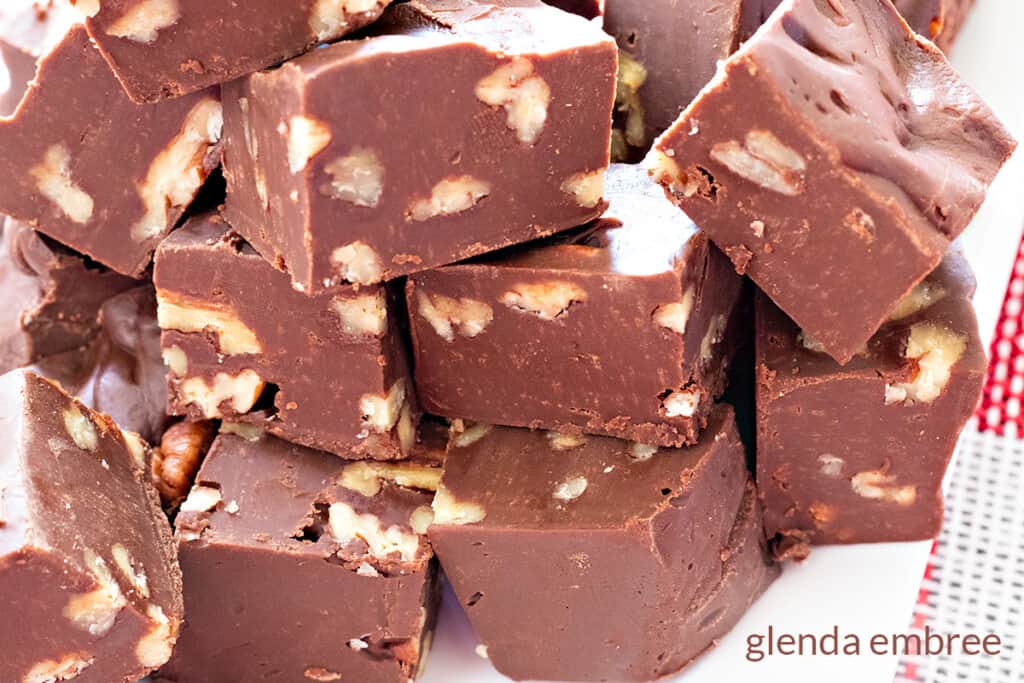 Home­made Fudge is a hol­i­day tra­di­tion I can get behind! Among all the Christ­mas cook­ies and can­dies set out on our dessert table, there will always be a plate of rich, but­tery fudge at the cen­ter. This recipe makes a creamy, deeply-choco­late fudge that melts in your mouth. And, it uses NO marsh­mal­low creme.
My mom was the champ of good old fash­ioned boiled fudge. Deli­cious! The gold stan­dard of choco­late deca­dence. It's a vivid and won­der­ful child­hood mem­o­ry. Alas, I have nev­er mas­tered that tech­nique. And after years of try­ing, I switched to a method that works for me.
This easy Home­made Fudge recipe still does­n't have the boiled fudge tex­ture that I love. It is soft­er, like marsh­mal­low creme fudge, but with­out hav­ing to have the marsh­mal­low fla­vor. It's my favorite alter­na­tive to tra­di­tion­al boiled fudge for both fla­vor and for sim­plic­i­ty. With only 4 or 5 pantry ingre­di­ents, you'll be able to eas­i­ly cre­ate this dreamy choco­late con­fec­tion for your own hol­i­day gift­ing and treats.
It's fast and it's sim­ple. You can make it ahead and freeze it. (instruc­tions in recipe card) You've def­i­nite­ly got to try this. Let's make some sweet choco­late satisfaction!
The Ingredients
Semi-Sweet Choco­late Chips: You could use milk choco­late if that's your pref­er­ence, but this deli­cious home­made fudge is already pret­ty rich. If you have real­ly good bak­ing choco­late on hand, you could break that up and use it, too. You'll need a total of 36 ounces.
Sweet­ened Con­densed Milk: Not evap­o­rat­ed milk. You'd be sur­prised how many peo­ple con­fuse those two, though they are VERY dif­fer­ent things. Sweet­ened con­densed milk has sug­ar added and is cooked down until it is thick and creamy, almost caramel. Cook it a lit­tle longer and it WILL become caramel. Evap­o­rat­ed milk is sim­ply milk with the milk solids con­cen­trat­ed by evap­o­rat­ing some of the water.
But­ter: I don't think it makes a dif­fer­ence in this recipe, but I always buy salt­ed but­ter. So, that's what I use in my fudge.
Vanil­la: I make my own vanil­la extract, but if you have a favorite high qual­i­ty vanil­la you can def­i­nite­ly use that.
option­al: Nuts — We love pecans or wal­nuts, but choose your favorite. If you have aller­gies or don't like them, just leave out the nuts.
An Easy DIY Double Boiler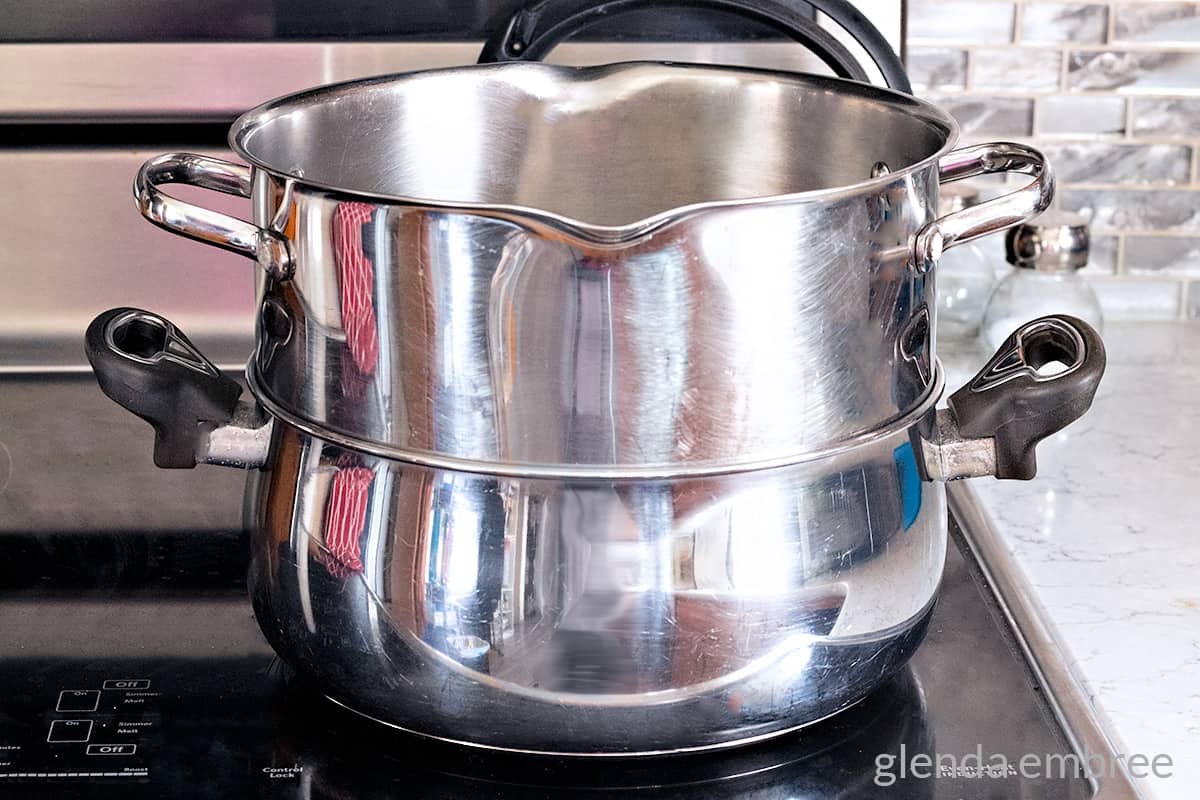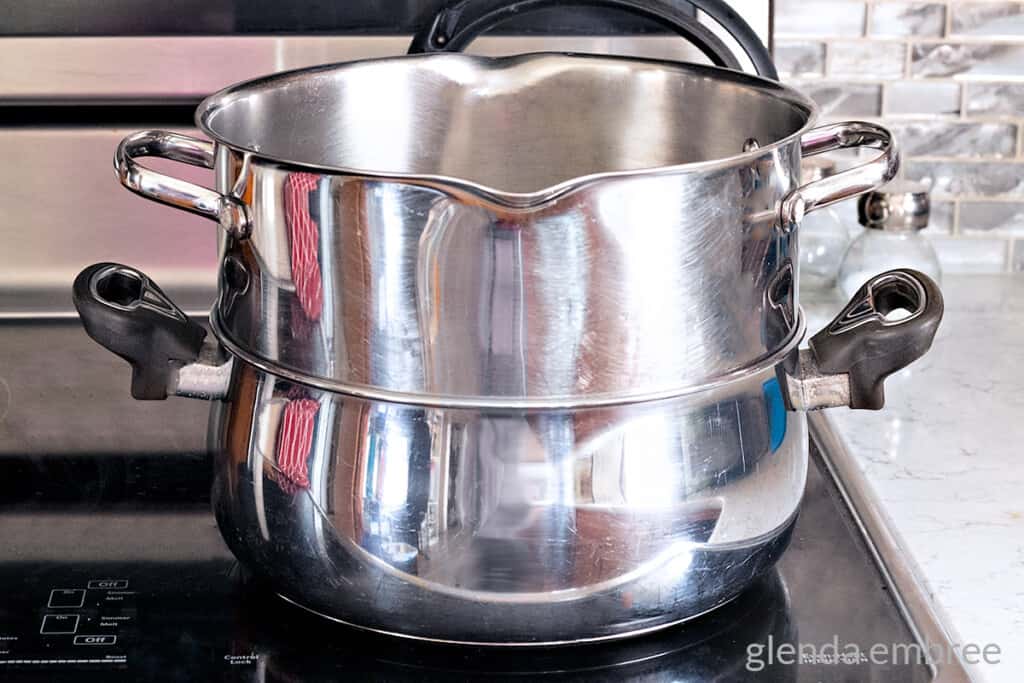 If you have a dou­ble boil­er, by all means use it. But, if you don't, it in no way pre­vents you from mak­ing this recipe or any oth­er can­dy recipe that calls for one.
A dou­ble boil­er is essen­tial­ly one pan sit­ting over anoth­er. The top pan is heat­ed by the steam from boil­ing water in the bot­tom pan. It cre­ates a much gen­tler heat that is per­fect for melt­ing and tem­per­ing choco­late or mak­ing curds and cus­tards. You can make a DIY dou­ble boil­er at home with­out buy­ing spe­cial equipment.
You'll need two pans. The top pan should fit just inside the rim of the bot­tom pan. It's impor­tant that the boil­ing water in the bot­tom pan nev­er touch­es the bot­tom of the top pan, so choose pans that will allow enough of a gap between the two.
Any two stack­able pans will work as long as the top pan sits sta­bly over the top of the bot­tom one. Add one to two inch­es of water to the bot­tom pan. Bring the water to a boil and set the sec­ond pan inside the upper rim of the first pan.
Now, add ingre­di­ents to the top pan and pro­ceed as the recipe instructs. Magic!
How to Make Homemade Fudge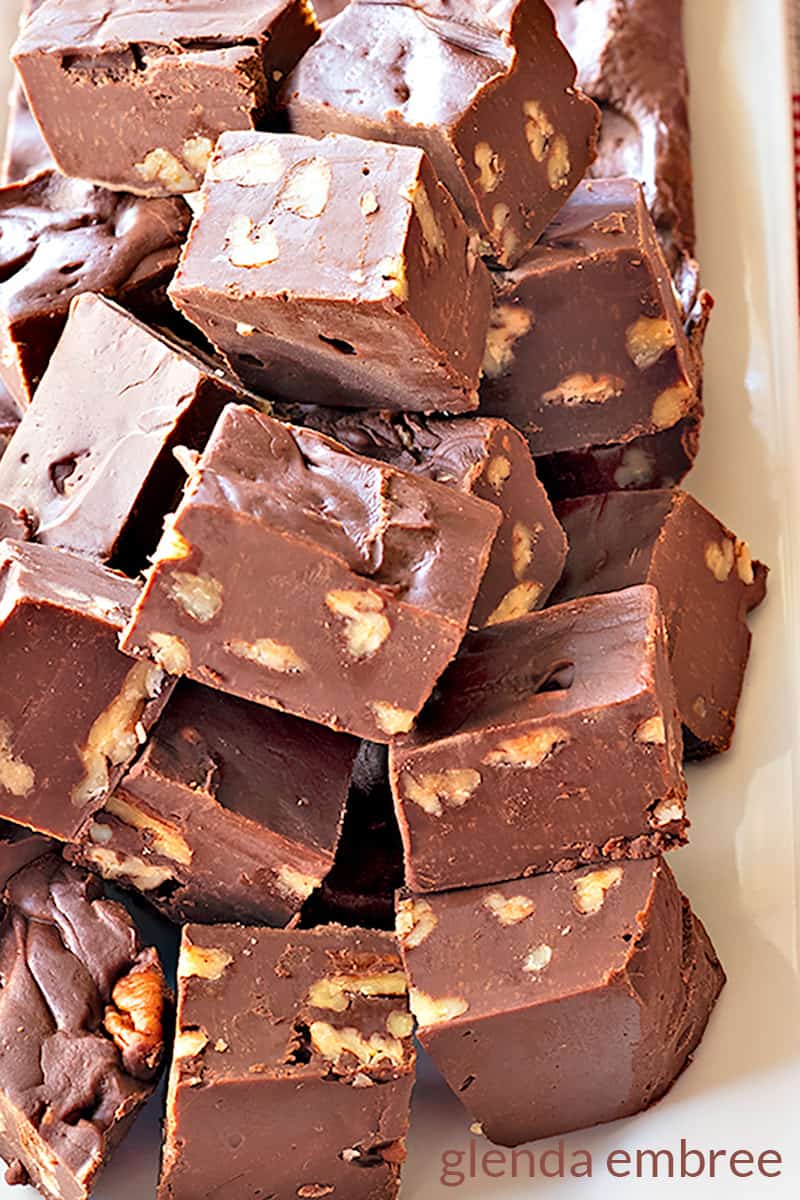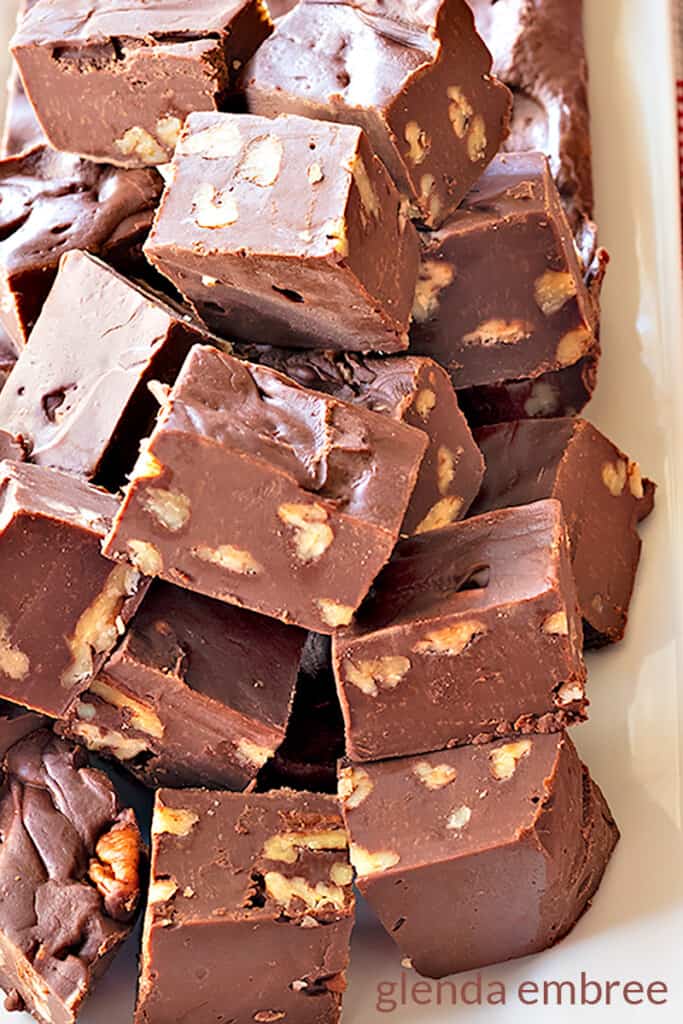 This may be one of the sim­plest can­dy recipes you'll ever make.
Spray two 8x8 pans or one 9x13 pan. Then line them with foil leav­ing enough of an over­hang to lift the fudge out of the pan when it has set up.
Put the con­densed milk, choco­late chips, vanil­la and but­ter into the top pan and set that over the pan with the boil­ing water.
Allow the choco­late and but­ter to ful­ly melt, stir­ring to incor­po­rate all the ingredients.
The mix­ture will be smooth, thick and glossy when it is done. It will only take a few minutes.
Pour the fudge into your pre­pared pan and use a spat­u­la to spread it to an even thick­ness. I fold the foil over­hangs in to some­what cov­er the fudge while it is in the refrigerator.
Refrig­er­ate for at least 1 hour. Use the foil to lift your home­made fudge out of the pan. Cut the block of can­dy into small squares and arrange on a plat­ter or can­dy dish for serving.
You should get at least 36–48 (prob­a­bly more) pieces of fudge, depend­ing on the size of squares you cut. It's very rich, so small pieces of fudge are usu­al­ly bet­ter than large ones.
The Recipe
Print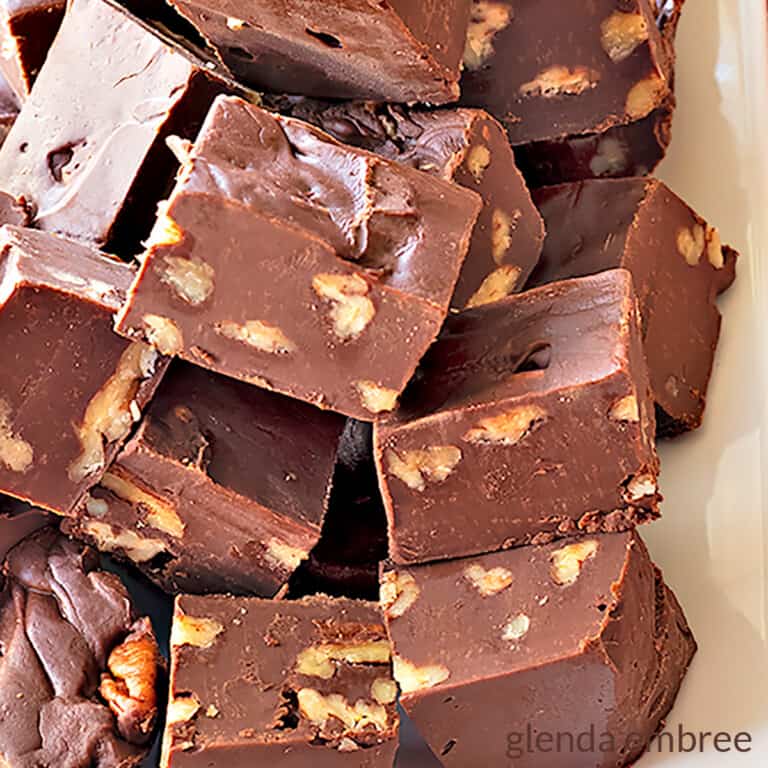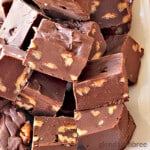 Homemade Fudge
---
Author:

Total Time:

15 min­utes

Yield:

36–48 pieces of fudge
Description
Creamy, rich­ly choco­late deli­cious­ness! Home­made fudge is so sim­ple to make and is one of those tra­di­tion­al hol­i­day treats that shows up in gift bas­kets and on all the best hol­i­day dessert tables. Don't reserve it just for Christ­mas, though. It's sweet choco­late sat­is­fac­tion all year long.
---
---
Instructions
Prep 2 (8x8 or 9x9) square pans by light­ly spray­ing them and then lin­ing each pan with plas­tic wrap. ( You could also use a 9x13 pan, but for stor­age pur­pos­es, the square pans work more eas­i­ly, for me.)
Make the strips of plas­tic wrap long enough to hang out of the pan and be able to wrap back over the top, again, lat­er. The plas­tic wrap will help lift the fudge from the pan when it's done, but it will also cov­er and wrap the fin­ished fudge. So be sure to use long enough strips.
Use a dou­ble boil­er, or if you're like me and don't have one, place one pan over anoth­er or a large heat-proof mix­ing bowl over a pan. The bot­tom pan should have 1 or 2 inch­es of water in it. Bring it to a boil and reduce the heat to just keep it boil­ing but not evap­o­rat­ing dry. The water should be at least one-inch below the bot­tom of the mix­ing bowl. You nev­er want it to touch. The steam is what will melt your chocolate.
Add all ingre­di­ents, except the nuts, to the mix­ing bowl. Heat and stir until the choco­late is com­plete­ly melt­ed and all ingre­di­ents are able to be ful­ly incorporated.
Add the nuts and stir to dis­trib­ute them evenly.
Pour the mix­ture into the pre­pared pan and pull the extra plas­tic wrap up over the top to cov­er the pan.
Refrig­er­ate until the fudge has set and is firm.
Lift the fudge out of the pan and cut into small pieces.
Serve.
Notes
How to Freeze Fudge:
Fudge can be frozen, if you plan to make it in advance. The secret is to wrap it care­ful­ly, first.
Once you have removed the block of fudge from the pan, prep it for freez­ing BEFORE cut­ting. Com­plete­ly wrap it in plas­tic wrap. Next, wrap it in foil and seal the edges tight.
Insert the wrapped block of fudge into a gal­lon-size zip-top freez­er bag. Remove any air from the bag as you seal it shut. Now, you can freeze your fudge safe­ly for up to 6 months.
You can store indi­vid­ual pieces of home­made fudge in the same way, if you like. It def­i­nite­ly makes it easy to remove them just a piece or two at a time. I, per­son­al­ly, don't usu­al­ly like to take the time to wrap indi­vid­ual pieces, so I freeze the entire block and cut it after thawing.
How to Thaw Frozen Fudge
Leave the wrap­pings in place and set the block of fudge in the refrig­er­a­tor. You want to make sure the fudge retains its mois­ture, so don't remove the wrap­pings until it is com­plete­ly thawed. Once the fudge has com­plete­ly thawed allow it to set out at room tem­per­a­ture for 20 min­utes. Care­ful­ly remove the wrap­pings and cut to serve. It should be as won­der­ful as when it was fresh­ly made.
Prep Time:

5

Cook Time:

10

Cat­e­go­ry:

Dessert, Can­dy

Method:

stove top

Cui­sine:

Amer­i­can
Key­words: choco­late, fudge
More Great Holiday Treats