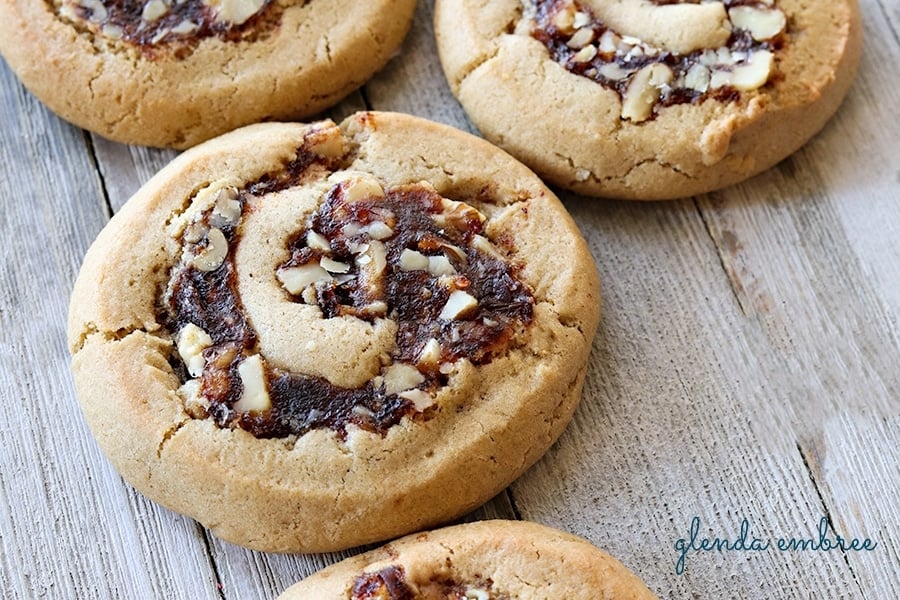 Date Wal­nut Filled Cook­ies are ten­der, pil­lows of caramel‑y cook­ie. These tasty cook­ies are moist and loaded with deli­cious, home­made date nut jam. They're a nod to an old clas­sic Christ­mas cook­ie, but with my own twist. The ten­der cook­ie dough is sim­ple and basic with the caramel fla­vor we expect from dark brown sug­ar. And the jam will rock your world! So good!
Print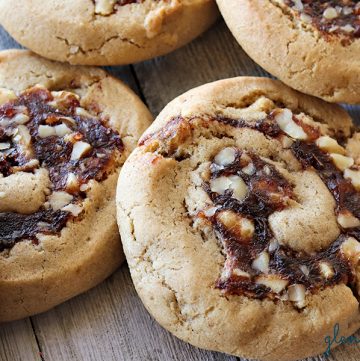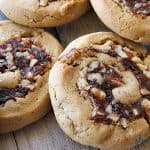 Date and Walnut Filled Cookies
---
Author:

Total Time:

2 hours 10 minutes

Yield:

3

dozen

1

x
For the Cook­ie Dough:
¾ cup

butter

2 cups

dark brown sugar

3

large eggs

4 cups

unbleached all-pur­pose flour

2 tea­spoons

vanilla

1 ½ tea­spoons

salt

½ tea­spoon

bak­ing soda
For the Date Filling:
3 ½ cups

chopped dates (I weighed mine. They were

554g

.)

1 ½ cup

sugar

1 ½ cup

water

¼ tea­spoon

salt

3 cups

chopped walnuts
---
Instructions
Cream the but­ter and brown sug­ar togeth­er. I used my *Bosch stand mix­er, but these are eas­i­ly made by hand, too.)
Beat in the eggs and vanilla.
Add the dry ingre­di­ents and mix until com­plete­ly incorporated.
Divide the dough in half and place each half of the dough in a gal­lon zip-top bag, press it down flat and refrig­er­ate for 1 hour. You want the dough to be chilled enough that you will be able to roll it out.
While the dough is chill­ing make the date nut jam fill­ing. Put the dates, water, sug­ar and salt in a medi­um sauce pan. Bring to a boil over medi­um-high heat.
Reduce the heat and allow the jam to con­tin­ue to boil, very gen­tly, for 10–15 min­utes. Remove from the heat when the date mix­ture becomes the con­sis­ten­cy of soft jam.
Stir in the chopped wal­nuts and set aside to cool to room temperature.
When the dough is ful­ly chilled, roll each half out into a ¼‑inch thick rec­tan­gle, (each rec­tan­gle will be 9x12) on a sheet of parch­ment paper.
Spread one half of the cooled jam across each of the rec­tan­gles of cook­ie dough, spread­ing it to the edges.
Work­ing from the long edge, use the parch­ment paper to help you roll the dough and fill­ing into a log. The log will be fair­ly big around, 3 ‑3.5 inch­es in diam­e­ter. Because the fill­ing lay­er is thick, it will not be tight swirls like pin­wheel cook­ies. Work from the long edge and tuck the dough into the jam as you get the roll start­ed. Keep rolling, using the parch­ment to help you, tuck­ing as you go to keep the roll being formed. In the end the roll will have a swirl of dough at the cen­ter, sur­round­ed by jam and then dough encas­ing it all. It won't form the tight pin­wheel like the cook­ies from the past that had just a tiny thin rib­bon of filling.
Wrap and chill the logs for at least 6 hours.
To bake, cut the logs into ⅓" slices and place on a cook­ie sheet leav­ing at least 2 inch­es in between, for spread­ing. (If you rotate the log a quar­ter turn after each slice you make, it will help the cook­ies stay round instead of going flat on one side.)
Bake at 400° for 8–10 min­utes. The cook­ie will be light­ly browned around the edges, but still soft and tender.
Remove from the oven and allow to cool on the *bak­ing sheet for 3 min­utes, before remov­ing to cool­ing racks.
Prep Time:

2 hours

Cook Time:

10 min

Cat­e­go­ry:

Desserts, Cook­ies

Cui­sine:

Amer­i­can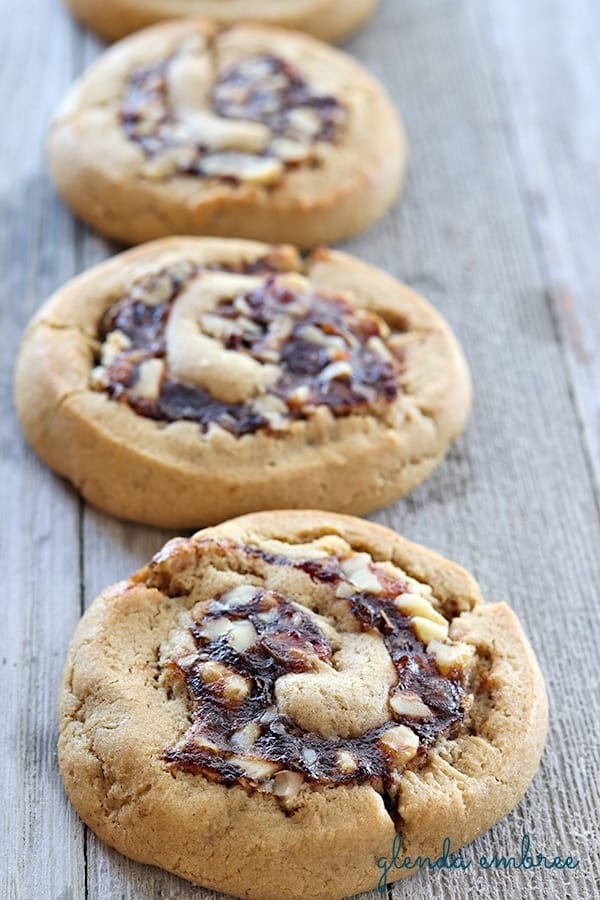 I have a vague rec­ol­lec­tion of date nut pin­wheel cook­ies from my child­hood. They were most­ly cook­ie, fla­vor­less and hard, with a thin, thin, thin rib­bon of date fill­ing swirled round and round in the cook­ie. To get the pat­tern to work so nice­ly, the fill­ing lay­er need­ed to be super thin. It looked cool, but the cook­ie's fla­vor suffered.
I love dates and use them for sweet­en­ing desserts with no processed sug­ar at all. I make a car­rot cake with zero processed sug­ar and zero grain that you would walk for days to get a bite of. Dates are the only sweet­en­er and it's phe­nom­e­nal. Dates are def­i­nite­ly an under­rat­ed ingre­di­ent. They have a deep, rich caramel fla­vor and when you pair them with nuts, it real­ly is some­thing to cel­e­brate! I hope you'll give this recipe for Date Wal­nut Filled Cook­ies a try and dis­cov­er the mer­its of this deli­cious fruit!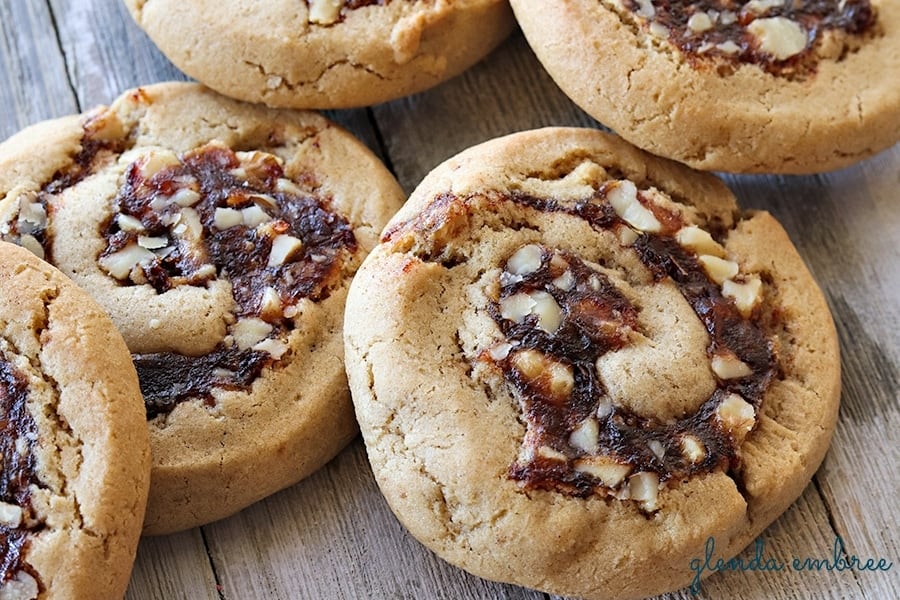 More Cookie Recipes from the 12 Days of Christmas Cookies Event
Here are three more DELISH cook­ie recipes from our 12 Days of Christ­mas Cook­ies blog­ger event.
And, if you're look­ing for even more cook­ie recipes to add to your hol­i­day reper­toire, check out my recipe for these yum­my Choco­late Crin­kles.