Gluten Free Oat­meal Choco­late Chip Cook­ies are gold­en brown home­made cook­ies with slight­ly crisp edges and soft, chewy cen­ters. You will lit­er­al­ly be in love from the very first, ooey, gooey, choco­latey bite.
Dark brown sug­ar cre­ates the carame­ly col­or and deep, rich fla­vor that's so impor­tant in choco­late chip cook­ies. And the melty semi-sweet choco­late is a hap­py sur­prise in every mouth­ful. You'll get a tiny hint of cin­na­mon right at the end of each bite. The cin­na­mon is a per­fect com­ple­ment to the cook­ie's oatey goodness.
Avoid­ing gluten or not, these Gluten Free Oat­meal Choco­late Chip cook­ies are some of the best cook­ies you'll ever eat! If you don't tell any­one that the cook­ies are gluten free, no one will ever guess. I am proud to serve them to any guest.
Lets Talk About Gluten Free Flour
There are so many gluten free flours avail­able. It can be over­whelm­ing and con­fus­ing, if you don't under­stand some basics about gluten free baking.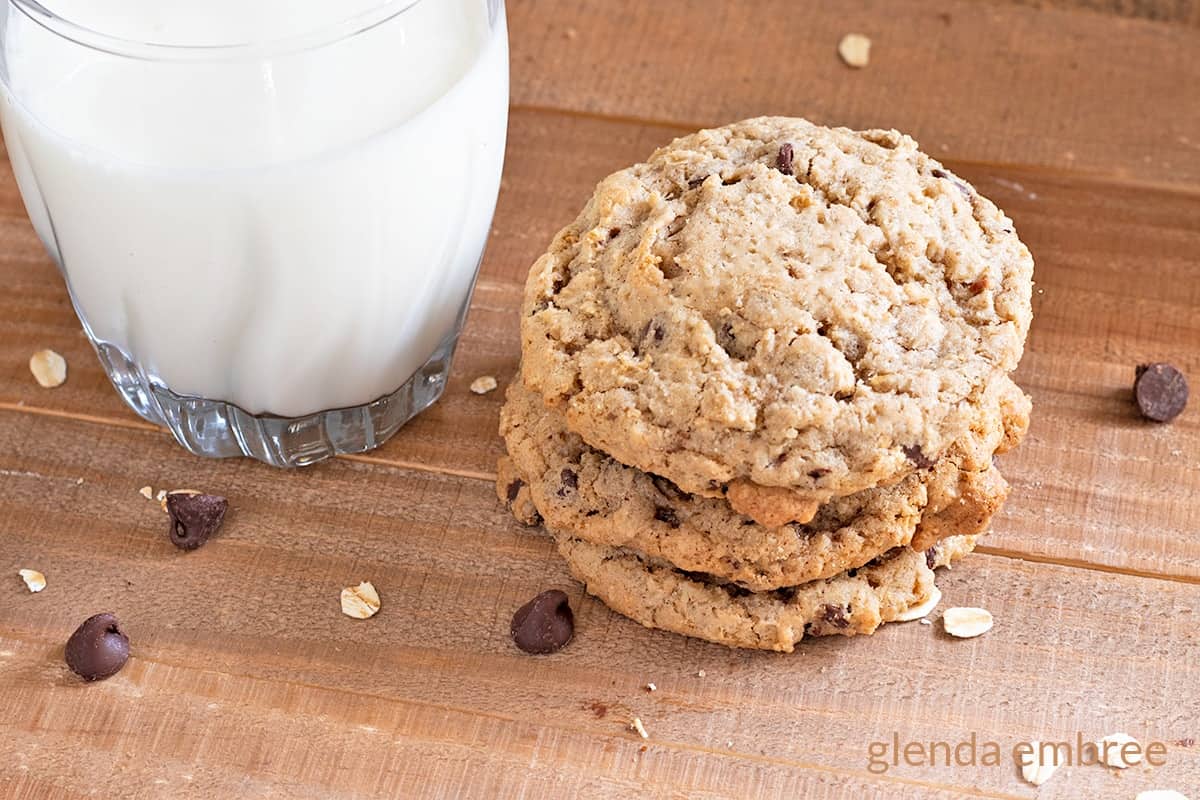 Gluten free flours can include: almond (or oth­er nuts) flour, buck­wheat flour, sorghum flour, ama­ranth flour, and teff. Arrow­root, brown rice flour, white rice flour, oat flour, corn flour and chick­pea flour are also gluten free. Coconut, tapi­o­ca, arrow­root, cas­sa­va and tiger nut flours round out the list of ones I'm famil­iar with.
While all of these are gluten free, it does­n't work to bake with just one on its own. You need a blend/combination of three or more gluten free flours. And your blend needs a bind­ing agent (xan­than gum) for good results with baking.
In the begin­ning, it was dif­fi­cult to find a gluten free blend that had the tex­ture and fla­vor I liked. There are still blends on the mar­ket that have much the same ingre­di­ents as my favorites. But, the way the grains are milled can often leave a grit­ty tex­ture. That was not some­thing that worked for me.
I made my own blend, in the begin­ning and had fair­ly good suc­cess. But the con­ver­sion for­mu­la was a lit­tle to com­pli­cat­ed to use con­sis­tent­ly on the blog. I am thrilled at the progress in com­mer­cial gluten free flour blends. And, I'm thrilled to be able to share gluten free recipes I know you can have suc­cess with.
I have three favorite com­mer­cial brands that I use in gluten free bak­ing, now. Three because each has a dif­fer­ent ratio of binder (xan­tham gum). This is impor­tant to cre­ate the struc­ture that gluten usu­al­ly pro­vides in bak­ing. Depend­ing on the ratio of binder to flour used, one gluten free blend is bet­ter than the oth­er for a par­tic­u­lar type of baking.
Choosing the Best Gluten Free Flour Blend for Oatmeal Chocolate Chip Cookies
*Bet­ter Bat­ter All Pur­pose Gluten Free Flour Blend : This is a sim­ple, cup-for-cup gluten free flour blend that works for almost any bak­ing. It's a good all pur­pose one to keep in your pantry. It's also dairy and corn free. Bet­ter Bat­ter will give great results for bak­ing cook­ies, cakes, bis­cuits, quick breads and muffins. The cost for me on Ama­zon is about $5.79/pound. Cur­rent­ly, you can order it direct­ly from Bet­ter Bat­ter and for first time pur­chasers use the 35% off pro­mo code, TRYME.
*Cup4Cup All Pur­pose Gluten Free Blend : Again, all the math is done for you and this is an easy cup-for-cup exchange in your favorite recipes. This one DOES con­tain dairy and corn, how­ev­er. It's great for things like bis­cuits, choux pas­try (for eclairs and cream puffs), muffins, cook­ies, cakes and gravies and sauces. It costs me around $6.12/pound. (Keep in mind, I can't buy any of them local­ly. I am order­ing off Ama­zon. If you have a Whole Foods in your area, it looks like they do car­ry it. And I know it can be ordered online from Walmart.com. You may find oth­er less expen­sive sources. If you do, I'd love to hear about them.) Cup4Cup is what I used in this oat­meal choco­late chip cook­ie recipe, today. Although any of these three would have net­ted the same great results.
*gfJules Gluten Free Flour Blend: This is the holy grail of gluten free flour blends. It pro­vides the most struc­ture of any of the three blends. Enough so that you can make gor­geous yeast breads with it. It is not only gluten free, but also nut free. If you could only choose one gluten free flour for bak­ing, this one can do it all. It is also anoth­er sim­ple cup-for-cup exchange with all pur­pose (wheat) flour. So, you can con­vert your favorite fam­i­ly recipes. It costs me around $6.11/pound order­ing in small bags on Ama­zon. But, I can order from gfJules.com and get the 25 lb bag at only $4.28 per pound and with free ship­ping. That's a HUGE sav­ings. I usu­al­ly use it for yeast doughs (think sand­wich bread, hot­dog buns and cin­na­mon rolls) and for gravies and sauces. But, it's also per­fect for quick breads, cook­ies, cakes, muffins and biscuits.
How to Make Gluten Free Oatmeal Chocolate Chip Cookies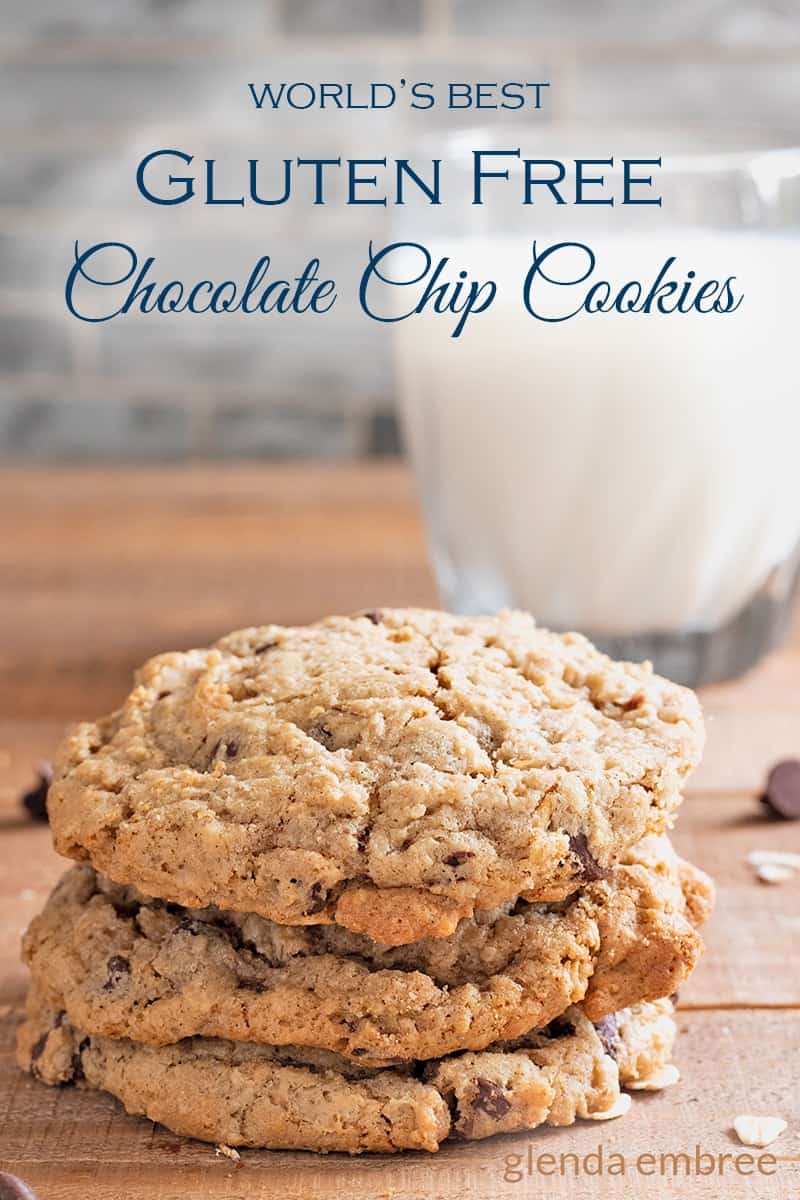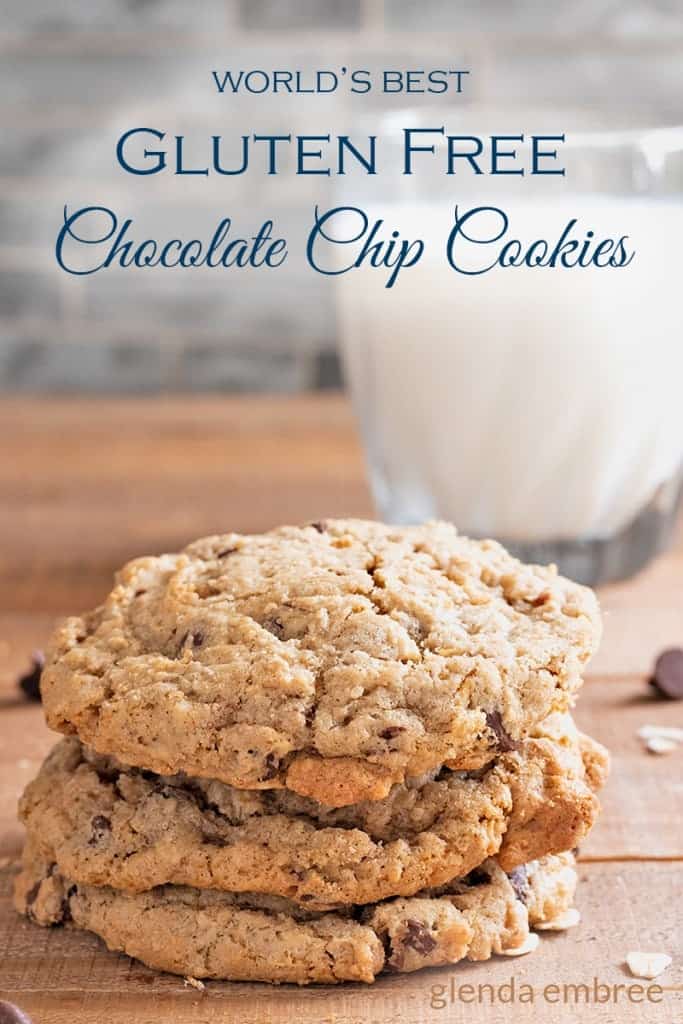 This recipe is so easy because you don't need to do any­thing spe­cial to make it gluten free. Just sub in a gluten free flour blend and mix up the cook­ies like usual.
Start by cream­ing the but­ter and sug­ars together.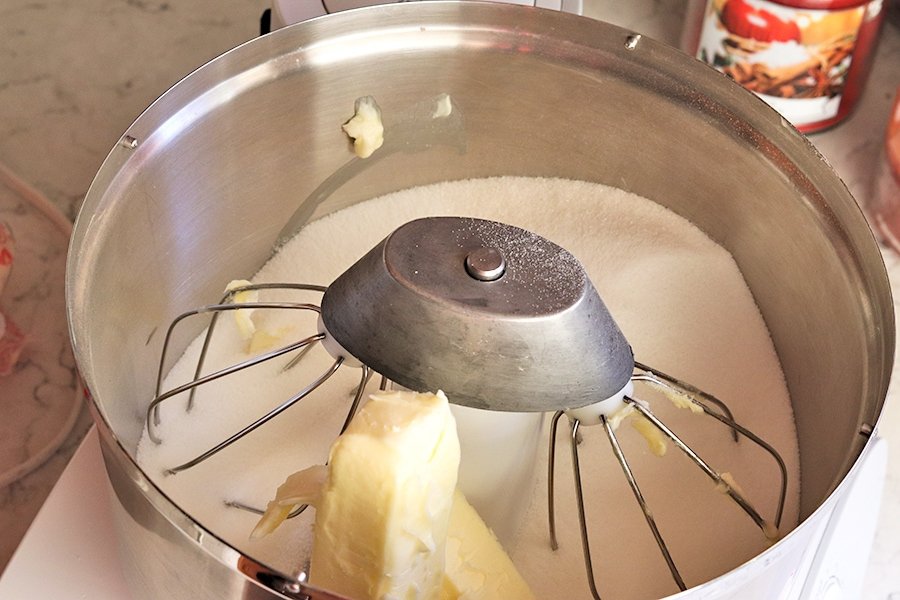 Add the eggs and vanil­la. Then mix in the dry ingredients.
Bake the cook­ies on a light­ly greased cook­ie sheet for 9 min­utes at 350°.
I use this *#20 scoop to make the Gluten Free Oat­meal Choco­late Chip cook­ies. It cre­ates a beau­ti­ful 3‑inch cook­ie. You can make them small­er for a greater yield. Just be sure to watch and adjust the bak­ing time if you're mak­ing small­er cookies.
It's eas­i­er and eas­i­er to accom­mo­date fam­i­ly mem­bers and friends who need to eat gluten free. With sim­ple recipes like this one you will def­i­nite­ly be able to make them feel wel­come and cared for around your table.
I hope you get a chance to try these deli­cious Gluten Free Oat­meal Choco­late Chip Cook­ies. They'll be per­fect for every­one lucky enough to eat from YOUR cook­ie jar!
Enjoy the recipe and have a won­der­ful­ly blessed week, friend!
The Recipe : Easy and Delicious
Print
Gluten Free Oatmeal Chocolate Chip Cookies
---
Author:

Total Time:

19 min­utes

Yield:

30

-

36

cook­ies

1

x

Diet:

Gluten Free
Description
If I was­n't telling you right now, you would have no idea these cook­ies are gluten free! They're sim­ply that deli­cious. Fla­vor and tex­ture are every­thing a choco­late chip cook­ie should be. They're gold­en brown with light­ly crisp edges, soft chewy cen­ters and loaded with melty, gooey choco­late chips. Unbe­liev­ably scrumptious!
---
1 cup

but­ter, soft­ened (not melted)

1 cup

sugar

1 cup

brown sugar

2

eggs

1 tea­spoon

vanilla

2 cups

Cup4Cup Gluten Free Flour (or Bet­ter Bat­ter or gf Jules)


2 cups

rolled oats

1 tea­spoon

bak­ing soda

1 tea­spoon

cin­na­mon, optional

1

bag (12 oz.) semi-sweet choco­late chips
---
Instructions
Cream but­ter and sugars.

Add eggs and vanil­la and mix until combined.

Add gluten free flour, oats and bak­ing soda and mix until all ingre­di­ents are incor­po­rat­ed and soft dough has formed.

Stir in choco­late chips.

Scoop onto light­ly greased

*cook­ie sheet

, spac­ing cook­ies 2 across and 4 down to give them room to spread. (I use this

#20-sized scoop

, which holds just under 3 Table­spoons of dough. This makes a per­fect 3‑inch cook­ie. You can make them small­er, if you choose, but you will need to adjust the bak­ing time and of course, will enjoy a larg­er yield.)

Bake at 350° for 9 ‑11 min­utes. Cook­ies will be only light­ly browned, but dry on the sur­face. Edges will be golden.

Remove bak­ing sheet from oven to a cool­ing rack and allow cook­ies to rest on bak­ing sheet for at least 5 min­utes before remov­ing them. That will allow them to set up as they cool.
Prep Time:

10 min

Cook Time:

9 min

Cat­e­go­ry:

Cook­ies, Desserts

Method:

Bak­ing

Cui­sine:

Amer­i­can
Key­words: oat­meal choco­late chip cook­ies, gluten free, choco­late chip cookies
More Gluten Free Recipes to Try
Gluten Free Gra­nola | 5‑Minute Sim­ple and Delicious
Deli­cious Zup­pa Toscana | Gluten Free and Whole 30 Compliant