Braised Beef Short Ribs are ten­der, savory, saucy deli­cious­ness. They burst with fla­vor. These suc­cu­lent beef ribs lit­er­al­ly fall from the bone. The sauce is made from the brais­ing liq­uid and it's deeply beefy, rich and complex.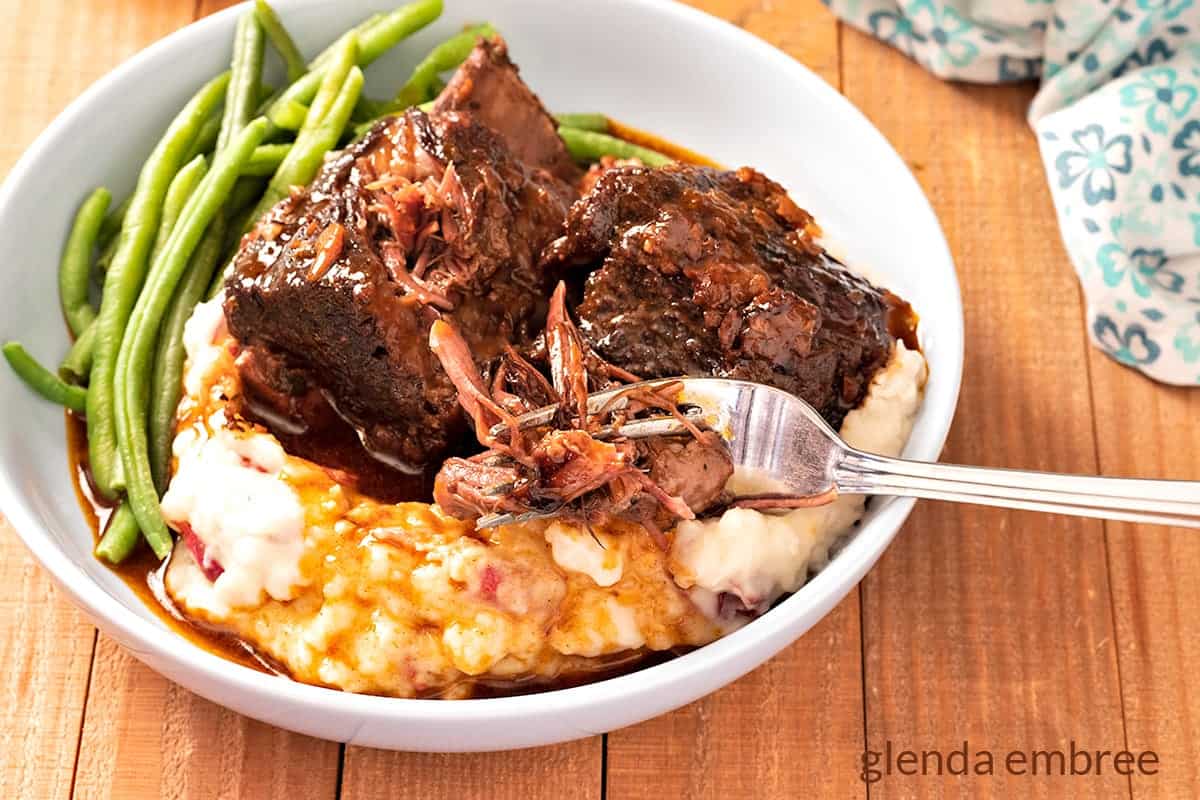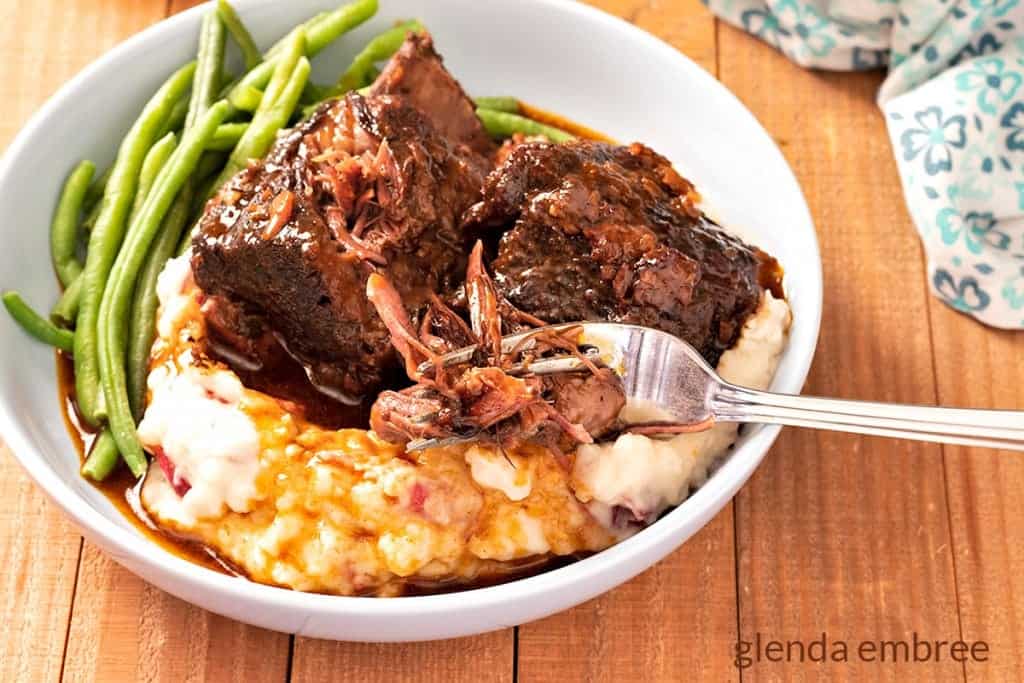 I sup­pose you can't real­ly call ribs an ele­gant meal. But, Braised Short Ribs is def­i­nite­ly a spe­cial meal, for a cou­ple of impor­tant reasons.
First of all, we all know that as cuts of meat go, ribs can be pricey. They're not an every day in the bud­get meal. But, when they are, mmmmm.…what a scrump­tious and indul­gent treat! (You can use this same process, sub­sti­tut­ing a beef chuck roast for equal­ly deli­cious and more eco­nom­i­cal results.)
Sec­ond­ly, I would actu­al­ly clas­si­fy Braised Beef Short Ribs as date-night-com­fort-food-spe­cial. It's an ele­vat­ed and deeply fla­vor­ful meal you'll want to share with some­one you love and appreciate.
It only takes about 15 min­utes to prep this dish. The slow brais­ing mag­ic hap­pens in the oven — all hands-off and no addi­tion­al work for you. When the ribs are done, just reduce the liq­uid to cre­ate your sauce and serve.
At first glance, the list of ingre­di­ents seems long, but real­ly look it over. Half of them are sea­son­ings. And oth­er than the ribs, them­selves, all the ingre­di­ents are typ­i­cal pantry items.
I can't wait for you to enjoy this sump­tu­ous, beefy dish with your some­one special!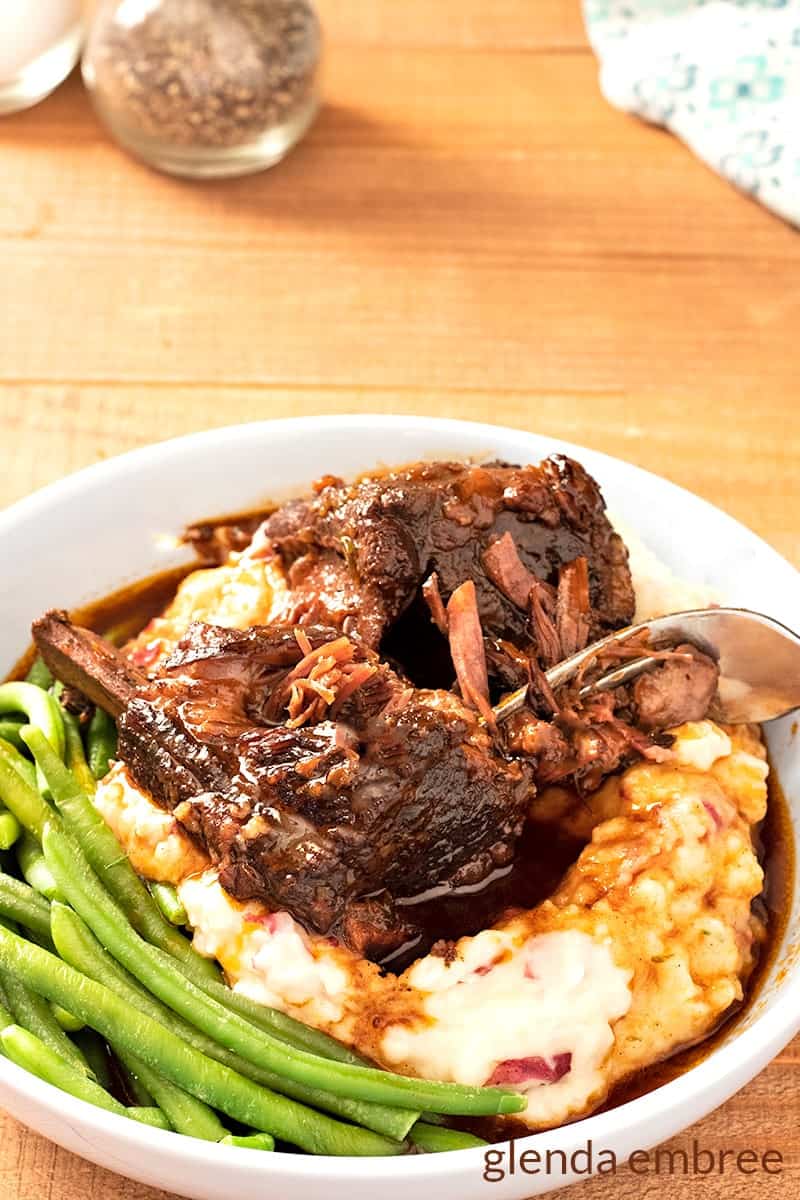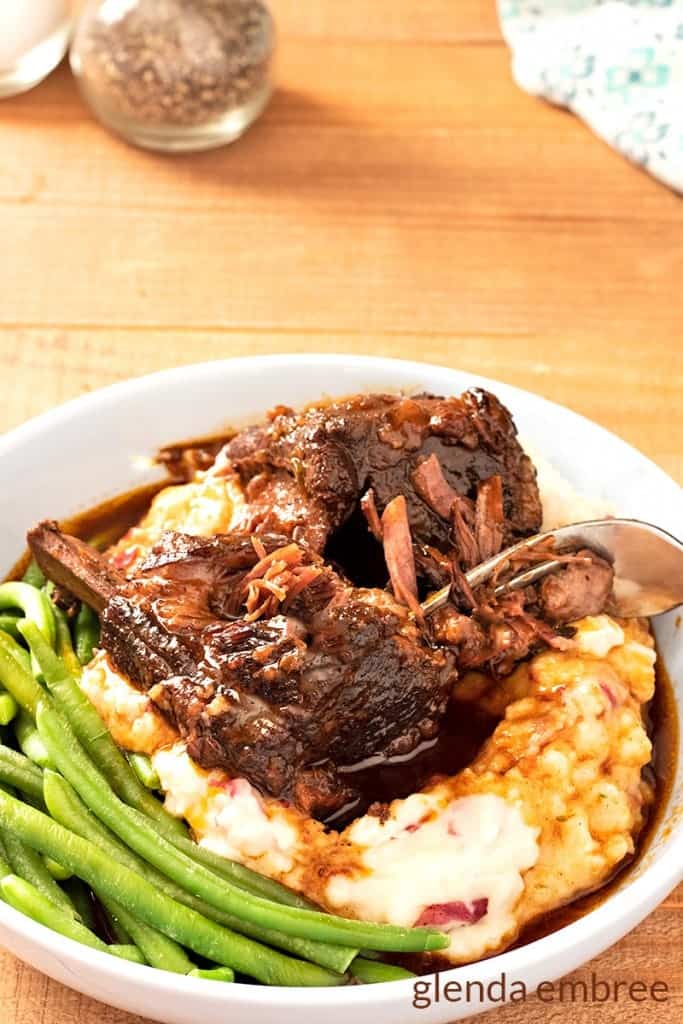 The Ingredients
Beef Short Ribs: Look for pieces 2 — 3 inch­es long that are thick and super meaty. Some­times, they come pre-pack­aged and you'll find a thin­ner piece or two mixed in. Select a pack­age with the great­est num­ber of larg­er, thick­er pieces. If you're lucky enough to know your butch­er, request thick, meaty short ribs.
The Aro­mat­ics: Veg­eta­bles that add deep, round­ed fla­vors to a dish. This quad of veg­gies is a fair­ly com­mon aro­mat­ic base for savory dish­es. You'll use red onion, car­rots, cel­ery and gar­lic.
Avo­ca­do Oil: You'll only use a cou­ple Table­spoons for sear­ing off the ribs before pop­ping them in the oven.
The Liq­uid for Brais­ing: I used a com­bi­na­tion of beef stock and red wine. You can use all beef stock, if that's your pref­er­ence. The alco­hol evap­o­rates over the long, slow brais­ing peri­od, though. So, if you do use wine, you will enjoy the earthy fruiti­ness and com­plex­i­ty it adds to the Braised Beef Short Ribs. I used Caber­net Sauvignon.
Toma­to Paste: Toma­to paste adds rich­ness and uma­mi to beef dish­es. In addi­tion, it helps to meld the fats, aro­mat­ics and spices to cre­ate a bal­anced sauce or brais­ing liquid.
The Sea­son­ings: Salt, Pep­per, Bay Leaves, Pars­ley, Tar­ragon, Thyme and Corian­der. I used all dry herbs. They are easy to find and to store. You can adjust the sea­son­ings to what you have avail­able. The herbs I chose for Braised Beef Short Ribs com­ple­ment each oth­er and the beef, per­fect­ly. They enhance and fur­ther devel­op the rich fla­vor of the brais­ing liquid.
Option­al: My beef stock was pur­chased, not home­made. It lacked the fla­vor I want­ed, so I added 1 Table­spoon of Bet­ter than Bouil­lon beef base to my stock. If yours has good fla­vor, you won't need it.
What Is Braising?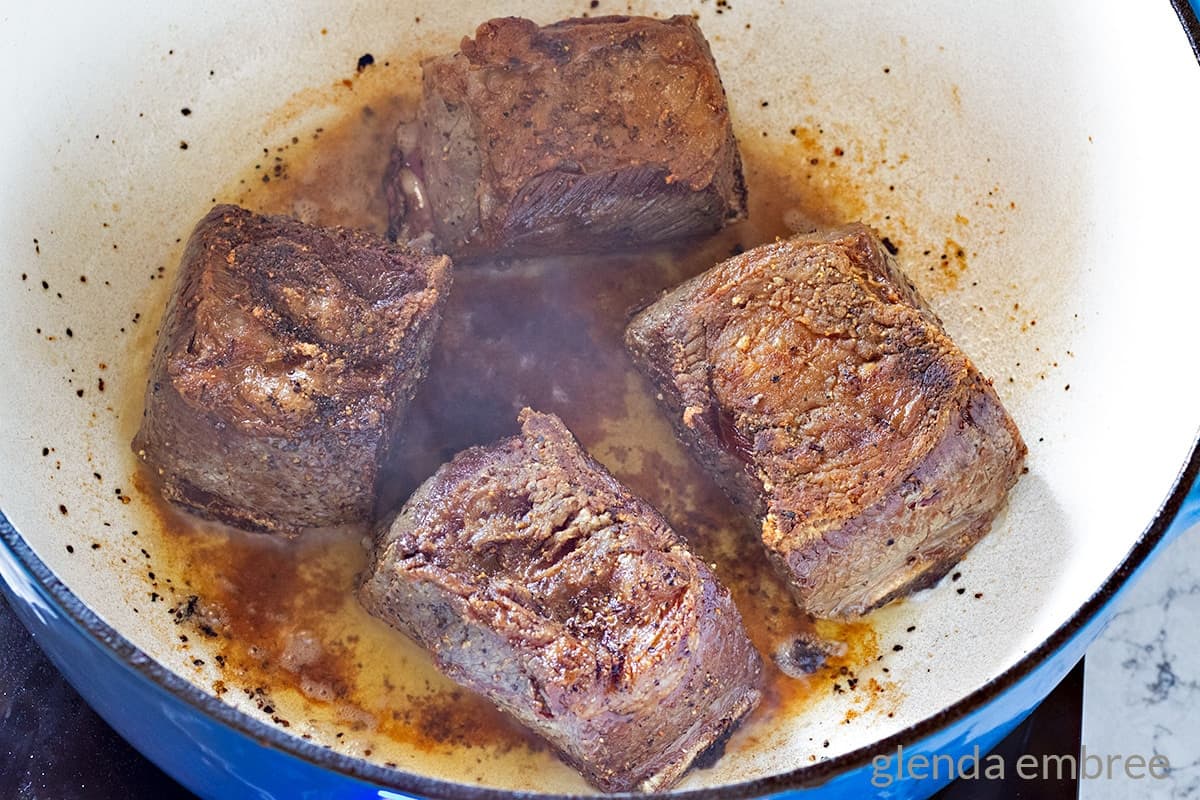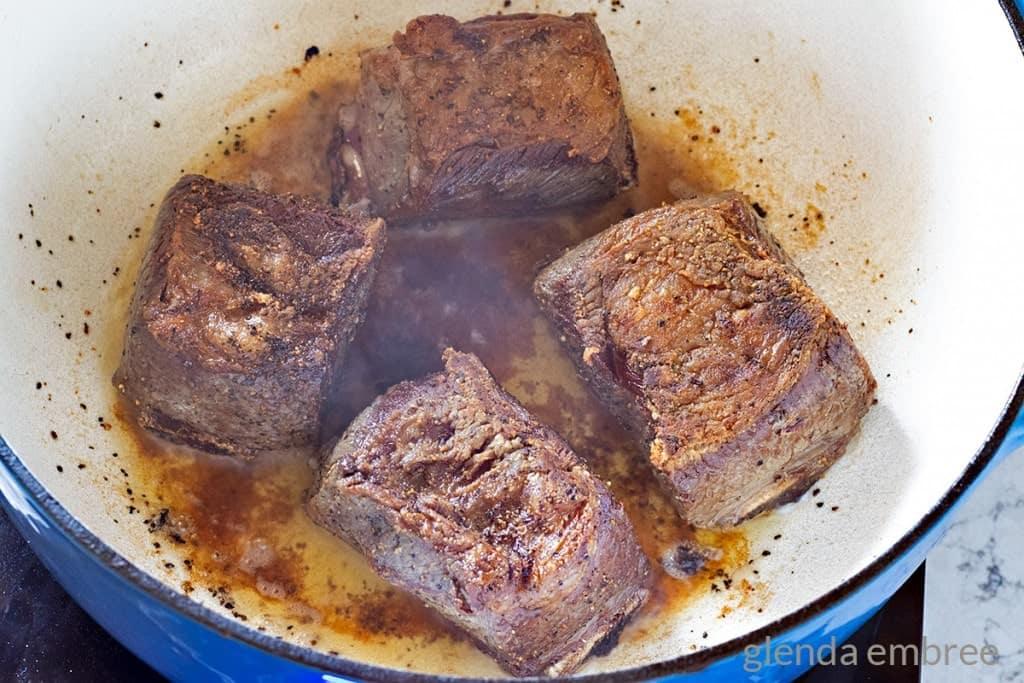 Brais­ing is a sim­ple process for cook­ing cuts of meat with more con­nec­tive tis­sue which could make them tough using oth­er cook­ing meth­ods. It com­bines both dry and liq­uid cook­ing to cre­ate the great­est depth of fla­vor and the most juicy, suc­cu­lent meat.
Brais­ing involves first pan sear­ing the meat on all sides, to caramelize the exte­ri­or. By doing this, you cre­ate fla­vor and lock in juices that will leave the meat mouth­wa­ter­ing­ly deli­cious, juicy and ten­der when it is finished.
The liq­uid por­tion of the cook­ing is the low and slow part that hap­pens in the oven. The seared meat is sub­merged in a fla­vor­ful brais­ing liq­uid whose ingre­di­ents, along with the heat of the oven, will start to break down con­nec­tive tis­sues and add fla­vor. Even with the dish cov­ered, the brais­ing liq­uid will evap­o­rate, seep into the meat and reduce sub­stan­tial­ly as it cooks. This con­cen­trates the fla­vors even fur­ther and makes the meat superbly tender.
Brais­ing ten­der­izes and cre­ates extra­or­di­nar­i­ly juicy and fla­vor­ful meat. It works well with beef, pork, lamb and chick­en. You can even braise veg­eta­bles! For an equal­ly deli­cious din­ner, that is more eco­nom­i­cal, try this process with a beef chuck roast. The results will be stunning!
How to Make Braised Beef Short Ribs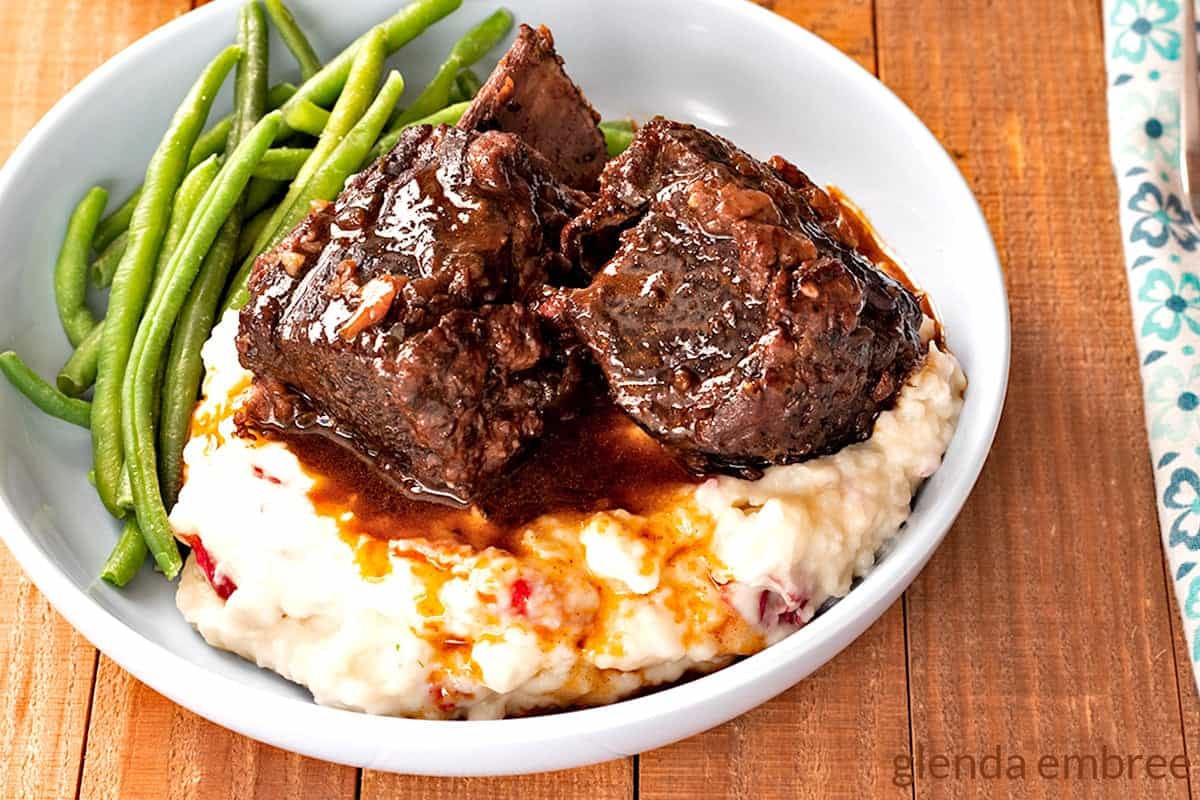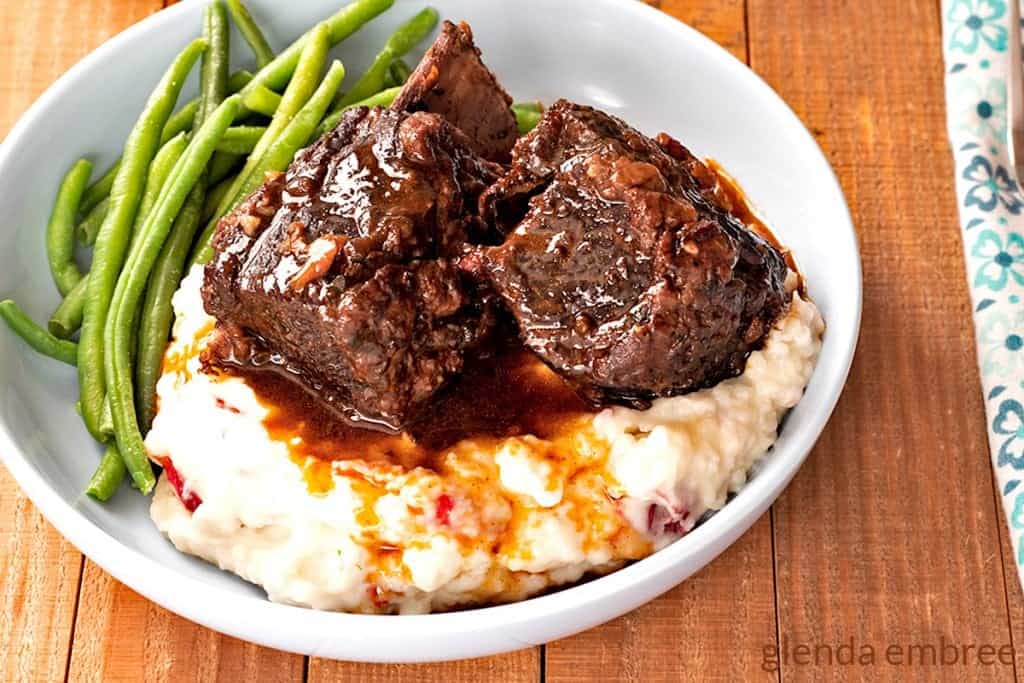 Remove the ribs from the fridge 30 min­utes pri­or to sear­ing. Sprin­kle all sides, gen­er­ous­ly, with salt and pep­per. Set the ribs aside to come to room tem­per­a­ture while you prep the veg­eta­bles and get the oven ready.
Check the rack in your oven and low­er it below cen­ter to accom­mo­date your Dutch oven. Pre­heat the oven to 325°. (Inci­den­tal­ly, my friend Jenn, over at Cook What You Love has recent­ly done an Instant Pot Dutch Oven review. It looks like it would be per­fect for mak­ing this recipe with­out need­ing the oven. Check out what she has to say.)
I mince the veg­gies all togeth­er in the food proces­sor to save time and get them small enough to melt away in the broth. You can hand cut them, if your prefer.
Heat a Dutch oven over medi­um-high heat. Then add the avo­ca­do oil.
Begin sear­ing the ribs. Add 3 or 4 at a time to the pot, being care­ful not to over­crowd them. Repeat with all the ribs, sear­ing off all sides of each piece. Set aside the ribs while you make the sauce.
Add the minced veg­eta­bles to the oil and drip­pings in the bot­tom of your Dutch oven. Cook them on medi­um heat for 1 or 2 min­utes. They will just begin to soften.
Add the toma­to paste and stir it into the veg­eta­bles, cook­ing anoth­er minute or so, until it is com­plete­ly melt­ed into the oth­er ingredients.
Pour in the beef stock and wine. Be sure you check your beef broth for fla­vor before adding it. This is the point where I also added the beef bouil­lon base. You may or may not need it.
Stir in the bay leaves and herbs. Then, bring the brais­ing liq­uid to a boil.
Once the liq­uid is boil­ing, shut off the heat and add the ribs back to the Dutch oven. Be sure each piece is submerged.
Put a lid on the pot and place it in the oven. Cook the Braised Beef Short Ribs for 3 hours at 325°.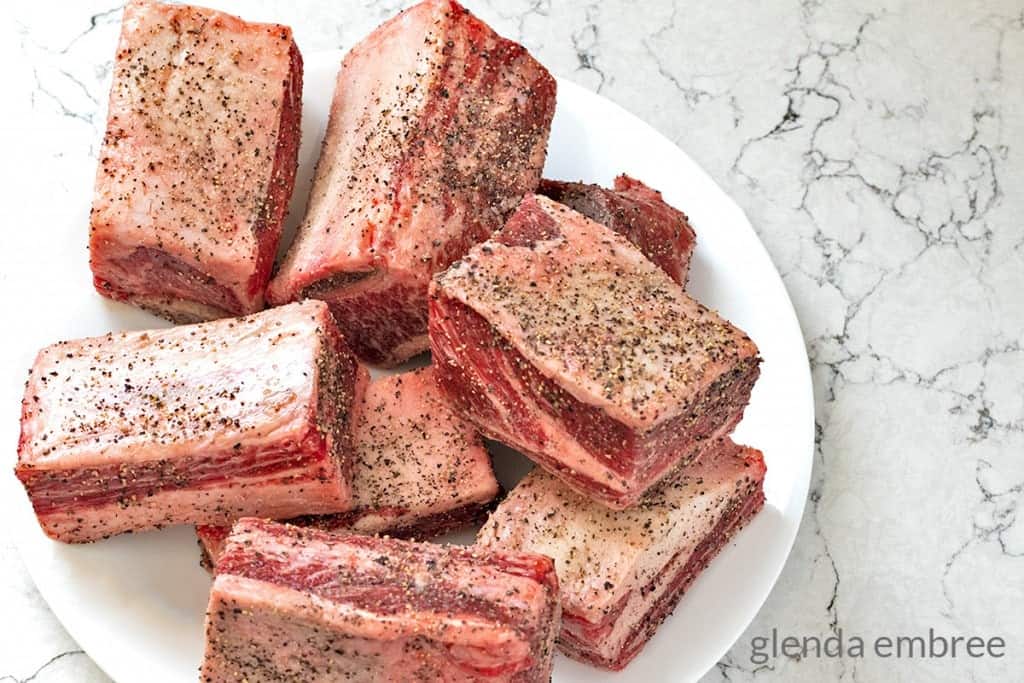 How to Make Sauce from the Braising Liquid
The sauce is fair­ly sim­ple. It is very sim­i­lar to my Roast Beef Gravy recipe but with­out a thick­en­ing agent. The Braised Beef Short Ribs can be care­ful­ly removed to a plate or plat­ter once you take the pot from the oven. They will be super ten­der, so don't be sur­prised if a bone or two slides right out. I used tongs to lift them very gen­tly and keep the ten­der ribs intact.
Strain the brais­ing liq­uid. Use a mesh strain­er over a deep bowl. With the back of a spoon, you can press the remain­ing liq­uid out of the veggies.
Put the clear brais­ing liq­uid into the Dutch oven or a small­er sauce pan and bring to a boil over medi­um high heat. The goal is to reduce the liq­uid, slight­ly. This won't be as thick as gravy, but after about 5 min­utes of boil­ing it will be thick­er than when you start­ed and will coat the back of a spoon for just a sec­ond. It's a beau­ti­ful and fla­vor­ful sauce. Driz­zle it over the ribs as you serve them.
How to Serve Braised Beef Short Ribs
I can't lie. Our favorite way to eat these deli­cious short ribs is over creamy, gar­lic mashed potatoes.
How­ev­er, they would be extra­or­di­nary served over creamy polen­ta or even rice.
You could just serve them on the plate next to your favorite sides, too. Like my roast­ed Green Beans and Pota­toes. Mac-n-cheese would not be out of the ques­tion. Nor would my favorite pota­to sal­ad. Add some greens — a big sal­ad, steamed broc­coli, aspara­gus or green beans and you have a beau­ti­ful­ly bal­anced meal that every­one will enjoy!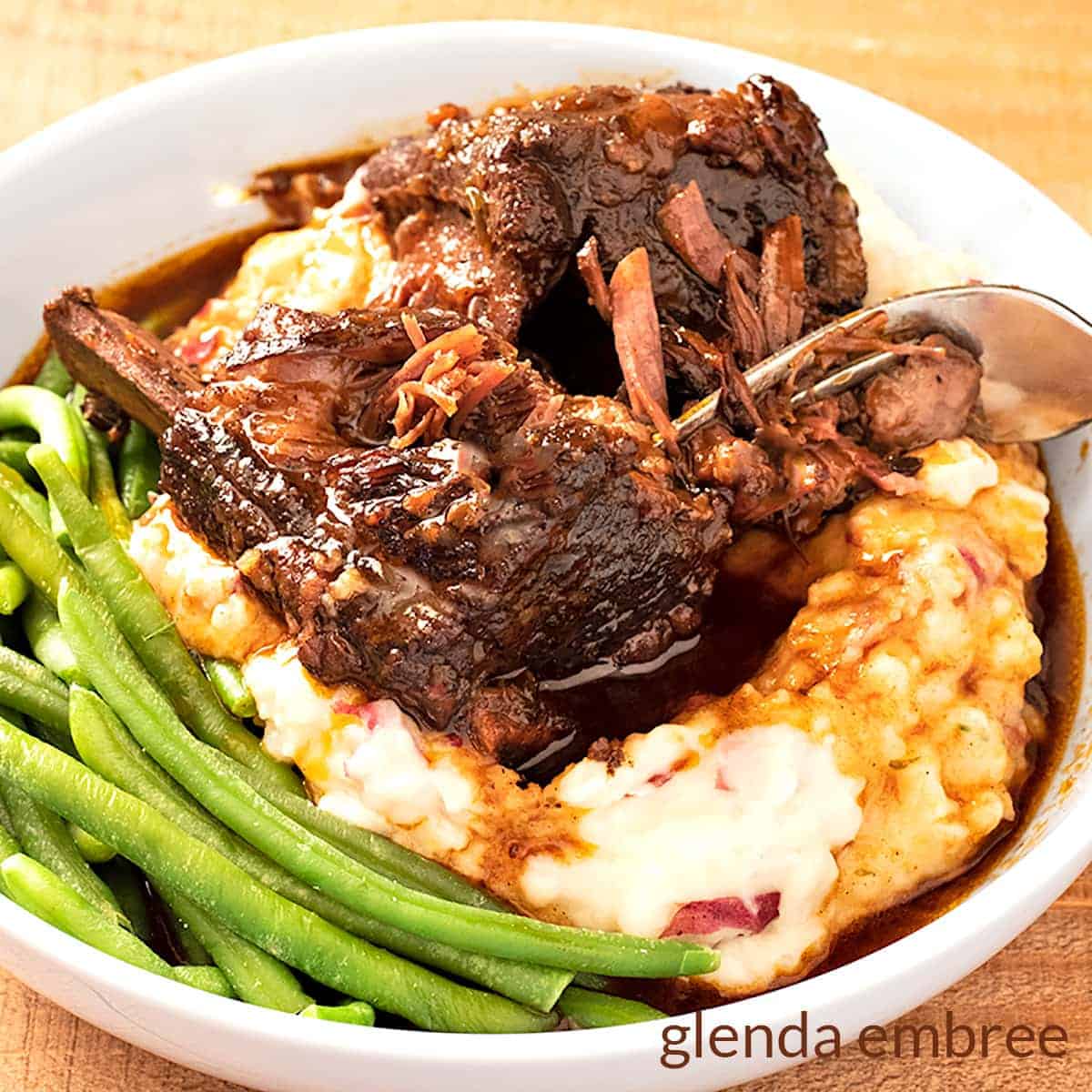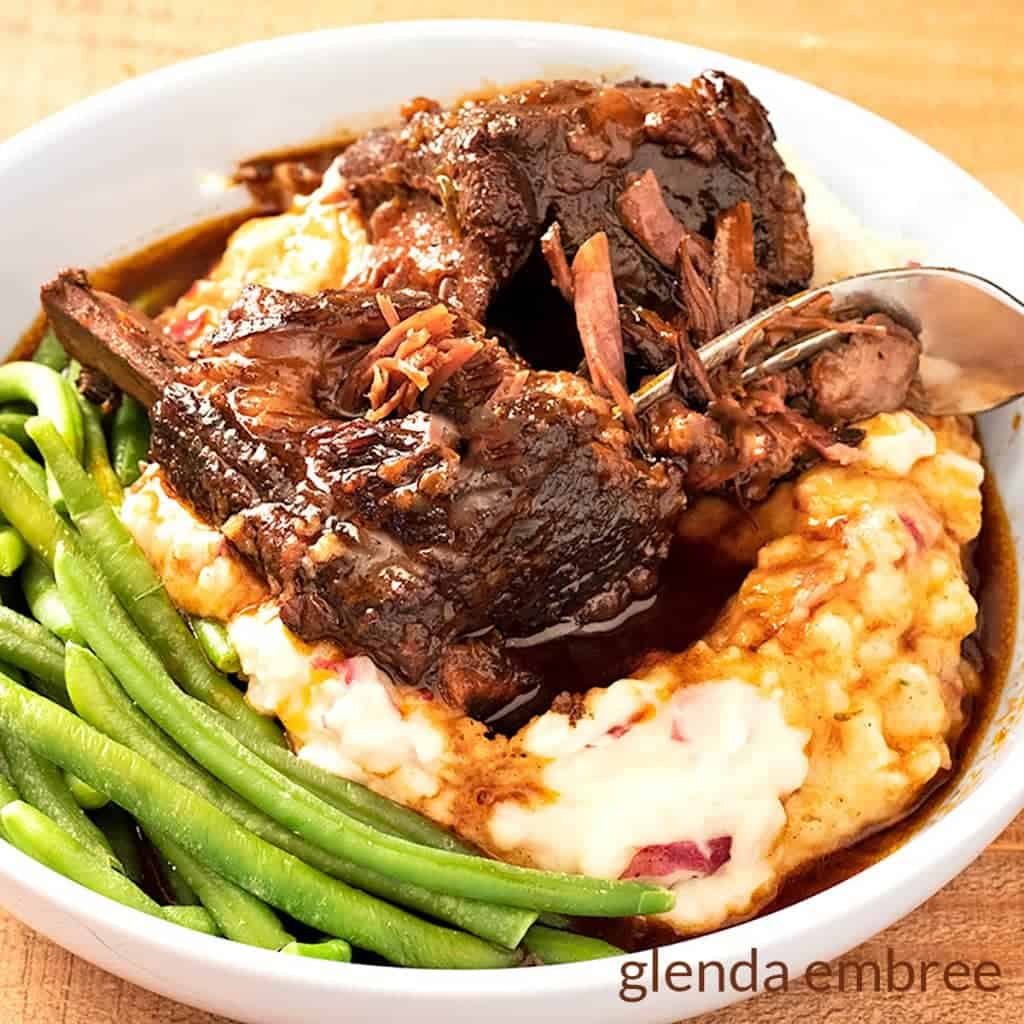 The Recipe
Print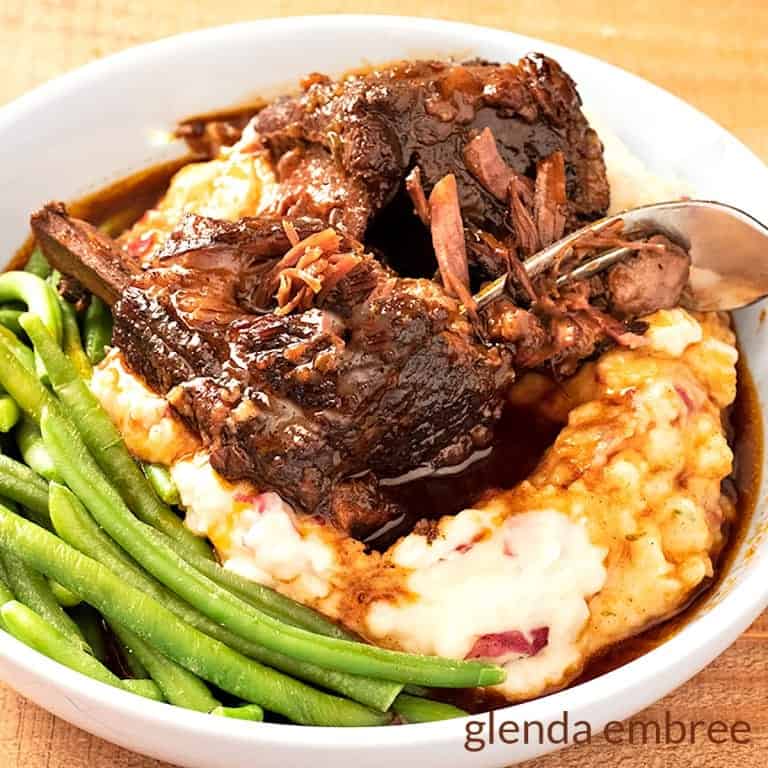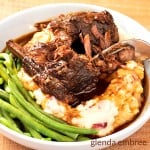 Braised Beef Short Ribs
---
Author:

Total Time:

3 hours 15 minutes

Yield:

4

serv­ings

1

x
Description
Deli­cious­ly ten­der, juicy and fla­vor­ful short ribs will make any night seem spe­cial. For a short fif­teen min­utes of prep work you will net a scrump­tious and mem­o­rable meal. Serve with mashed pota­toes, polen­ta or rice and your favorite green side.
---
4

to

5

lbs. beef short ribs

1 Table­spoon

salt

1 Table­spoon

black pepper

2 Table­spoons

avo­ca­do oil

1

large red onion, minced

3

medi­um car­rots, minced

2

cel­ery ribs, minced

1 Table­spoon

minced garlic

4 cups

beef stock

2 cups

dry red wine (Caber­net Sauvi­gnon or Merlot)

3 Table­spoons

toma­to paste

2 Table­spoons

dried parsley

2

bay leaves

1 tea­spoon

dried tarragon

1 tea­spoon

dried thyme

1 tea­spoon

dried coriander
option­al, 1 Table­spoon Bet­ter than Bouil­lon beef base (I felt like my store-bought beef broth need­ed added fla­vor. If yours is good, this ingre­di­ent is not necessary.)
---
Instructions
Pre­heat the oven to 325°. Be sure that your mid­dle rack has been low­ered to a point where your Dutch oven with a lid on it will eas­i­ly fit into the oven.

Put beef out on a plate or bak­ing sheet 30 min­utes before begin­ning the sear. Sprin­kle each piece on all sides with salt and pepper.

Cut up the veg­eta­bles in small dice if you don't have a food proces­sor. I use my food proces­sor to mince them fine, so that they will release all their fla­vor and liq­uid more quick­ly into the brais­ing liq­uid. I also do it to save me time. I throw them all in at once and pulse until they are a fine mince.

Heat the avo­ca­do oil over medi­um high heat in a heavy bot­tomed Dutch oven. When the oil is pip­ing hot, add 3 or 4 ribs at a time and sear them to gold­en brown on all sides. Don't over­crowd the pan. The beef will sear more eas­i­ly with space in between each rib. Repeat with the remain­ing pieces.

When all meat is browned, set it aside on a platter.

Turn the heat under your Dutch oven to medi­um and add the minced onion, car­rots, and celery.

Cook them for 1 to 2 min­utes, until they have soft­ened and start­ed to brown.

Add the toma­to paste and cook for 1 addi­tion­al minute.

Stir in the broth (and beef base, if using), wine, bay leaves, dried herbs and minced gar­lic. Stir until the toma­to paste has com­plete­ly melt­ed into your broth.

Add the seared beef, back to the pot. Be sure each rib is cov­ered by the broth.

Put the lid on your Dutch oven and place it in your pre­heat­ed oven.

Cook at 325° for 3 hours. The meat should be able to be eas­i­ly pulled apart with a fork when it is done.

Remove from the oven and place Dutch oven, on a wire cool­ing rack.

Care­ful­ly remove the ribs from the pot, try­ing to keep the pieces intact. Don't wor­ry if the bones fall away. That hap­pens when the meat is so ten­der. Put the ribs on a plate or plat­ter and cov­er with foil to keep them warm.

Use a mesh strain­er to strain any remain­ing veg­eta­bles and the bay leaves from the brais­ing liquid.

Return the strained brais­ing liq­uid to the Dutch oven

( or a small saucepan)

and sim­mer over medi­um heat to allow it to evap­o­rate down and thick­en, slight­ly. The sauce will still be thin, but have some body to it. Stir and taste the sauce as it sim­mers. This is the per­fect time to adjust sea­son­ings, add salt and pep­per, etc. if it's needed.

Ladle sauce over beef as you serve it.
Prep Time:

15 min­utes

Cook Time:

3 hours

Cat­e­go­ry:

Min Dish, Meat, Beef

Method:

Brais­ing

Cui­sine:

Amer­i­can
Key­words: beef, brais­ing, short ribs
More Delicious Beef Recipes
Easy Slow Cook­er Roast Beef Dinner