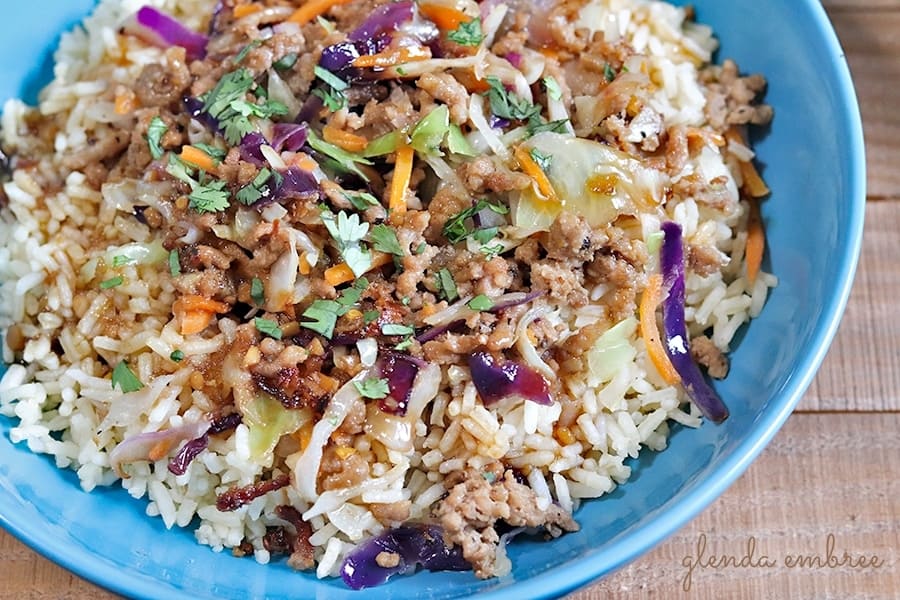 Egg Roll Bowls are a scrump­tious­ly sim­ple way to get a bal­anced, col­or­ful and fla­vor­ful meal on the table for the whole fam­i­ly. You can pre­pare it more quick­ly than you can get Chi­nese food deliv­ered! And your fam­i­ly will ask for this easy meal over and over, again.
It's per­fect­ly fluffy rice, cov­ered in my sim­ple egg roll fill­ing and driz­zled with the world's great­est 5‑Minute Stir-Fry and Dip­ping Sauce. Grain, pro­tein, veg­gies and sauce for the win! You can't lose with this recipe, my friend. You will be vot­ed mas­ter of your kitchen from the very first time you serve this won­der­ful dinner.
How to Make Egg Roll Bowls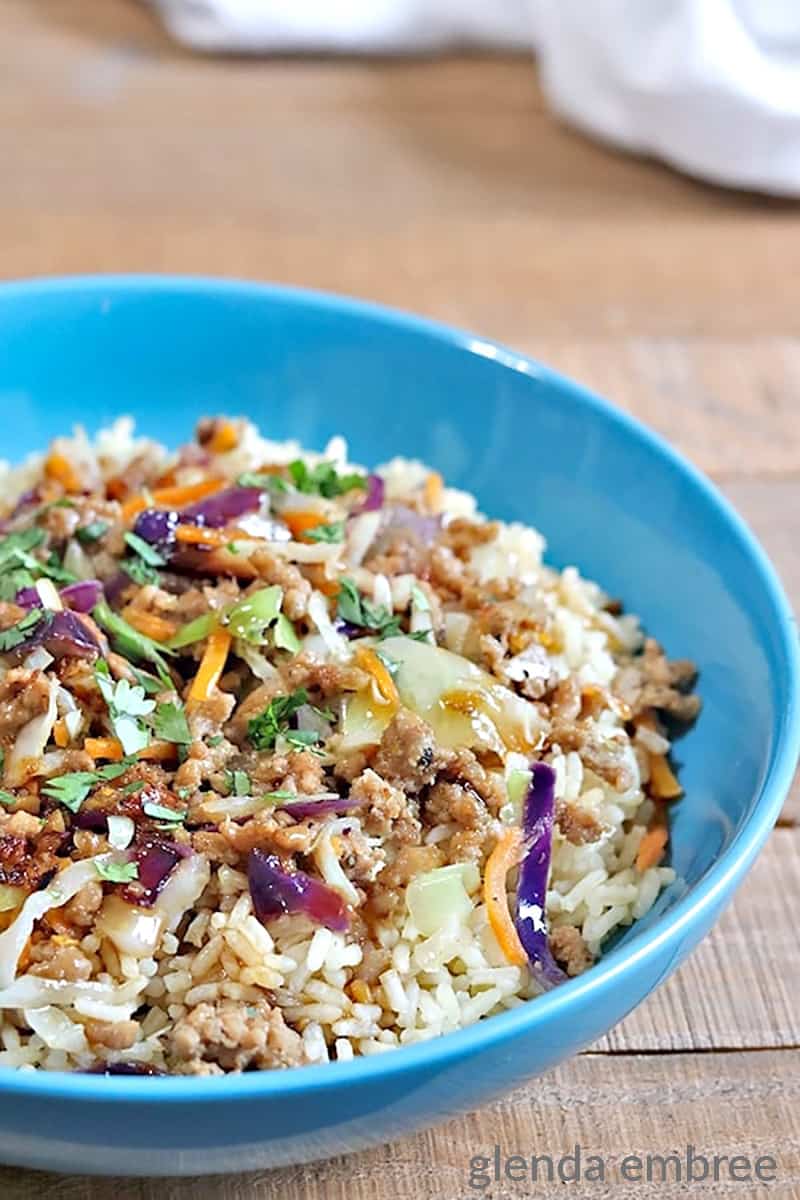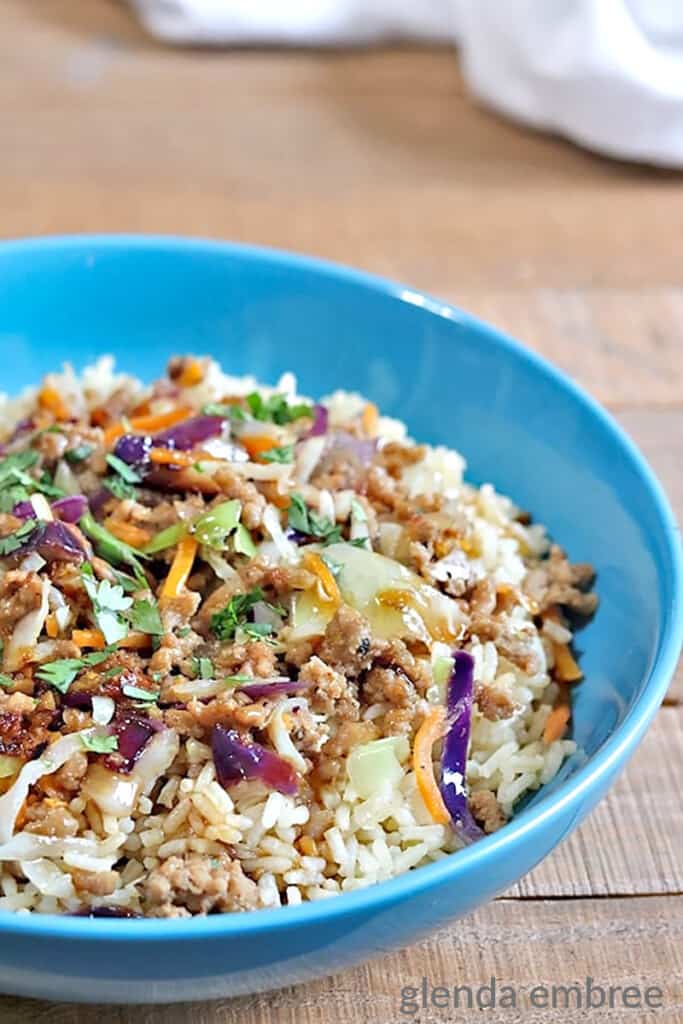 Make the sauce.
In a *12-inch cast iron skil­let, brown the pork to make the egg roll bowl filling.
Warm the rice you made ahead for this week's meals (You made a bulk batch of rice for the fridge this week, right?) OR make a batch of quick-cook rice. Any brand of minute cook­ing rice will be ready in under 10 minutes.
Next, add veg­gies to the deli­cious­ly sea­soned pork. Stir and cook the mix­ture until the veg­gies are just heat­ed through. They should be ten­der crisp, not mushy.
Serve by cre­at­ing beau­ti­ful egg roll *bowls with a lay­er of fluffy rice in the bot­tom. Top the rice with the savory egg roll fill­ing and driz­zle with my 5‑Minute Stir Fry and Dip­ping Sauce. If you like, sprin­kle some chopped cilantro and fried won­ton strips over the top for an option­al garnish.
Great Make-Ahead Meal
This is a recipe that will make 8 serv­ings, eas­i­ly. If that's enough for left­overs at your house, fan­tas­tic! You can eas­i­ly dou­ble this recipe. Store the com­po­nents in con­tain­ers in the fridge. You will have quick and easy "pick-up" meals all week.
For a fast lunch or a quick sup­per assem­ble a deli­cious egg roll bowl. Heat it in the microwave. Enjoy a healthy alter­na­tive to take-out in under 5 min­utes! How easy is that? (Be sure to check out Ground Beef and Cab­bage for anoth­er quick and easy cab­bage meal, too. And both are per­fect with a sim­ple House Sal­ad.)
I hope your fam­i­ly is over the moon for this easy and deli­cious sup­per! It's a hit at my house and one of the cur­rent favorites in our menu rotation.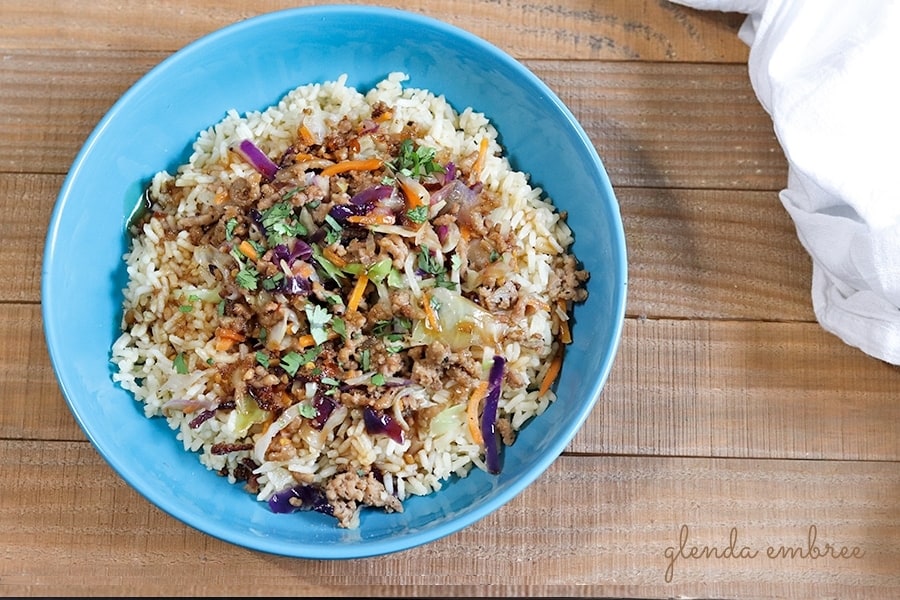 And if you love this deli­cious rice bowl, be sure to check out my Slow Cook­er Pineap­ple Chick­en Rice Bowl with Pineap­ple Sal­sa recipe!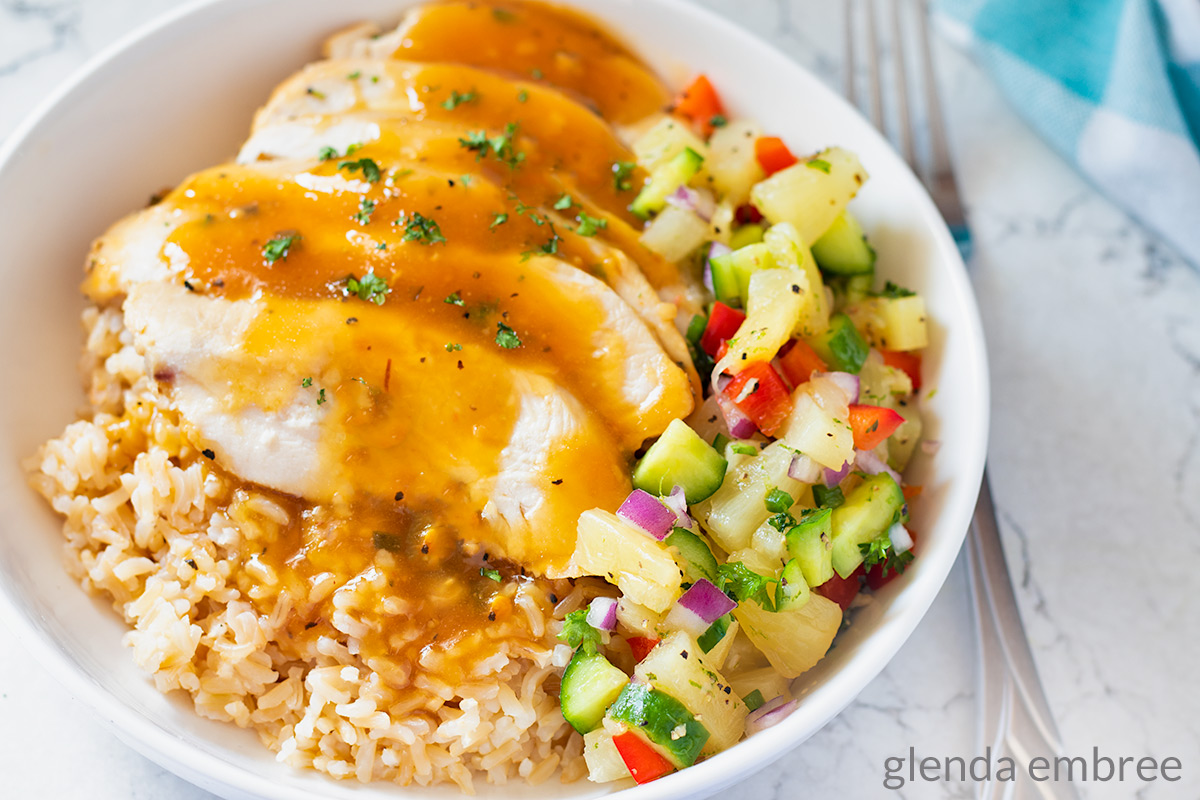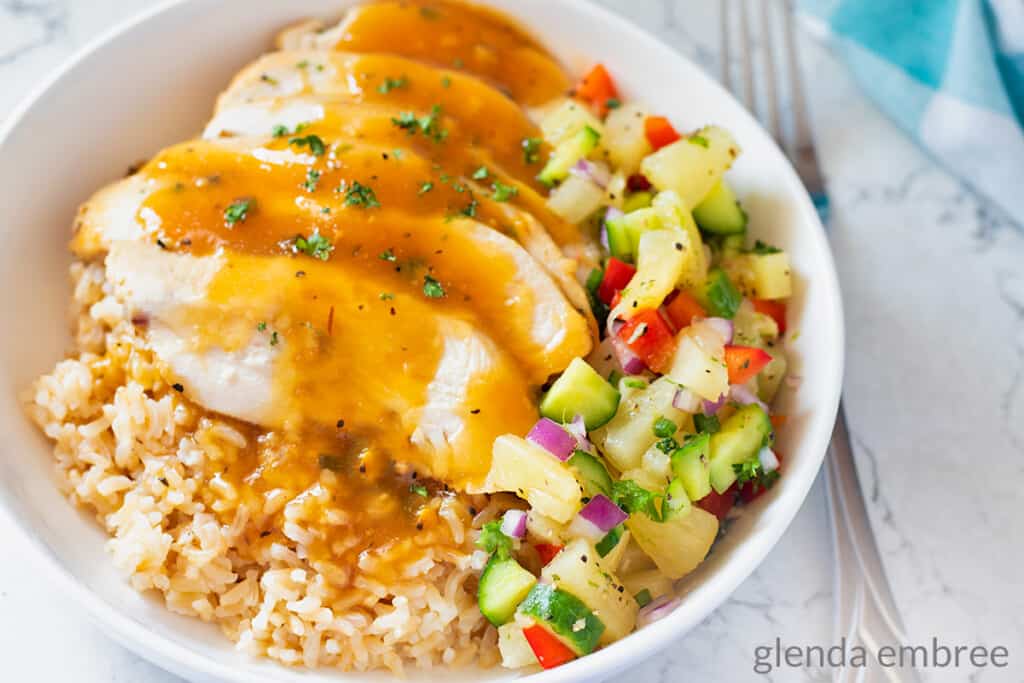 Print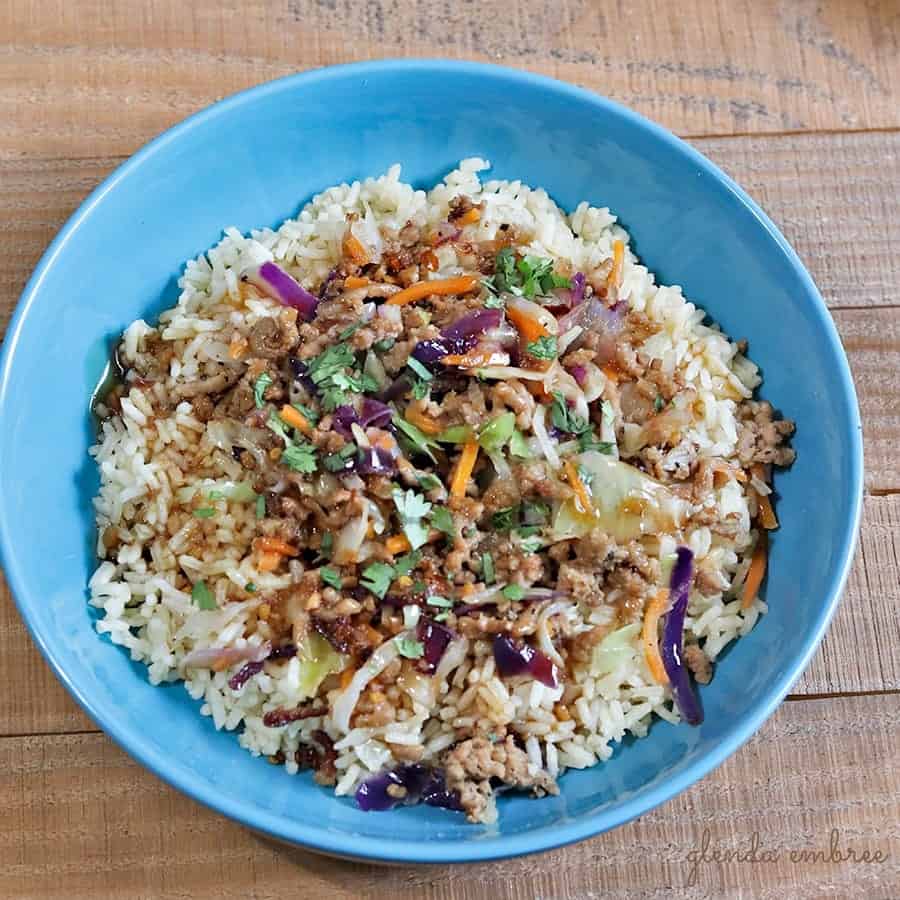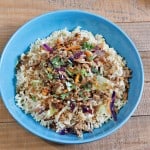 Egg Roll Bowls
---
Author:

Total Time:

25 min­utes

Yield:

8

-

10

serv­ings

1

x
Description
This easy Asian-inspired dish is a scrump­tious and quick meal for busy week­nights. Young and old will love the savory, sweet fill­ing served on fluffy rice. You'll love how sim­ple it is to make and know­ing your fam­i­ly is get­ting a bal­anced and deli­cious meal.
---
For the Egg Roll Filling:
1 Table­spoon

sesame oil

1 Table­spoon

avo­ca­do oil (or cook­ing oil of your choice)

1.5

lbs lean ground pork

1/4

cup

soy sauce

1 Table­spoon

of rice vinegar

1 Table­spoon

minced garlic

1 Table­spoon

fresh gin­ger, grat­ed (or sub­sti­tute

1.5 tea­spoons

gin­ger powder)

1 tea­spoon

black pepper

2 tea­spoons

brown sugar

1/2

cup

red onion, minced

1

(16 oz) bag of coleslaw mix (with red and green cab­bage & shred­ded carrot)
option­al gar­nish: cilantro leaves and won­ton strips
For the Rice:
1

quart

of water or chick­en stock

4

cups

of dry quick-cook rice
For the Sauce:
---
Instructions
Make 5‑Minute Stir Fry Sauce using the recipe in the notes.
Put the water or stock for rice in a pot and bring it to a boil.
Pour the sesame oil and avo­ca­do oil into a cast iron skillet.
Crum­ble ground pork into the skillet.
Add minced onion, gar­lic, gin­ger, soy sauce, rice vine­gar, black pep­per and sug­ar to the pork and stir to combine.
Begin brown­ing the pork over medi­um-high heat and cook until it is no longer pink in the center.
Add the dry, quick-cook rice to the pot of water or broth. Cov­er the pot with a lid and shut off the heat.
Add the coleslaw mix to the pork and reduce the heat to medi­um. Cook the fill­ing until the veg­gies are hot all the way through. They should be ten­der-crisp, not mushy.
Now, all the com­po­nents are cooked and you're ready to build the egg roll bowls.
Enjoy this deli­cious meal!
Notes
5‑Minute Stir-Fry and Dip­ping Sauce
1 1/2 cups soy sauce
1 cup water
1/4 cup rice vinegar
1 Table­spoon sesame oil
1/2 cup brown sugar
2 Table­spoons corn starch
1 Table­spoon fresh gar­lic, minced
1 Table­spoon fresh gin­ger, grat­ed (or sub­sti­tute 2 tea­spoons gin­ger powder)
1/2 tea­spoon red pep­per flakes
Place all the ingre­di­ents in a sauce pan and whisk to be sure the corn­starch is com­plete­ly dis­solved BEFORE you start heating.
Once the corn­starch is dis­solved, bring the sauce to a boil. Reduce heat to medi­um and con­tin­ue to boil for 1 minute or until the brown sug­ar is dissolved.
Sauce is ready to serve.
Left­overs can be kept tight­ly cov­ered in the fridge for 7–10 days.
Use as a driz­zle, sauce, dress­ing or dip with your favorite Asian dishes.
Prep Time:

5 min­utes

Cook Time:

20 min­utes

Cat­e­go­ry:

Main Dish, Entree, Pork

Method:

stove top, skillet

Cui­sine:

Asian
Key­words: egg roll, bowls, pork, Asian
More Quick and Easy Weeknight Dinners