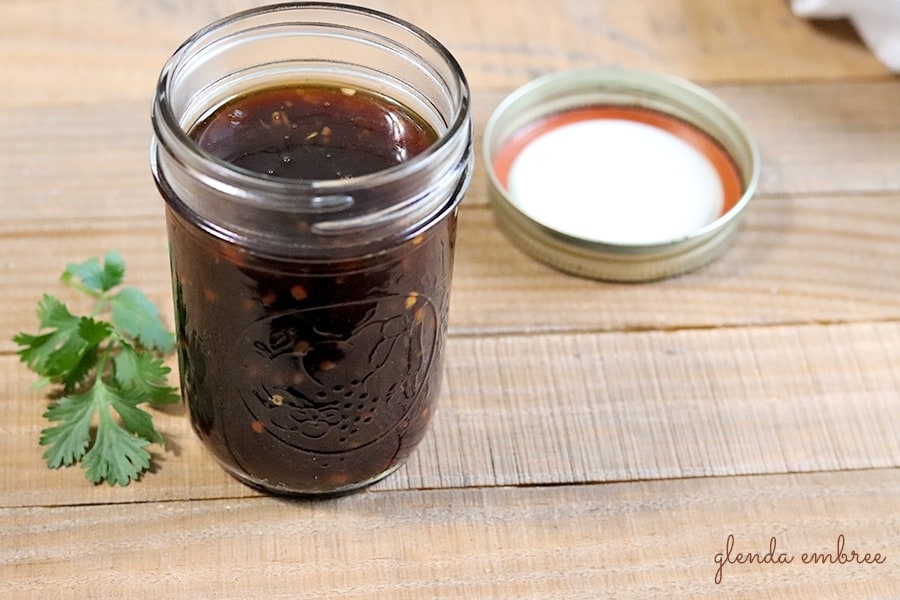 5‑Minute Stir-Fry and Dip­ping Sauce is liq­uid gold! Savory and sweet with a kick of heat, this deli­cious sauce adds zing and piz­zazz to any­thing you driz­zle it on. Hav­ing a batch pre-made and in the fridge is great when you're in a time crunch (or if you have the late night munchies). But the good news is, even if there's none in the fridge, it only takes 5 min­utes to prepare!
You want this recipe ready for every foot­ball Sat­ur­day and home­made Chi­nese din­ner! It's per­fect on rice bowls, fried rice, in stir fries, for dip­ping egg rolls or veg­gie strips and even on sal­ads. I first cre­at­ed it to use as a driz­zle over my Egg Roll Bowls. DELISH! You guys, seri­ous­ly — this is going to be your go-to Asian-inspired sauce! It's off the charts yum!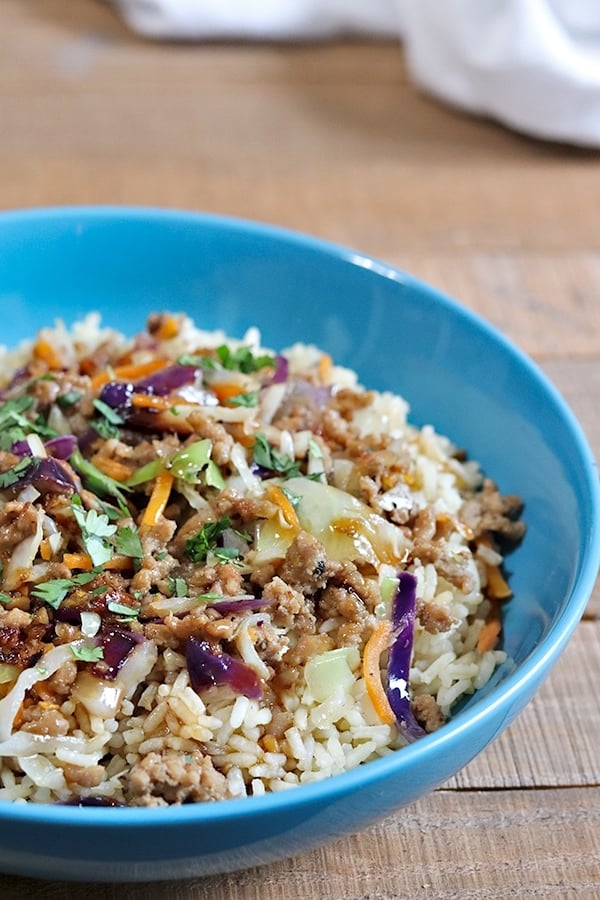 How to Make 5‑Minute Stir Fry and Dipping Sauce
Mak­ing this sim­ple sauce is as easy as putting all the ingre­di­ents in a *saucepan. The one crit­i­cal ele­ment is to remem­ber to whisk them all togeth­er and make sure the corn­starch is 100% dis­solved in the liq­uid BEFORE start­ing to heat it.
Corn starch dis­solves eas­i­ly in cold liq­uids but will clump and become a prob­lem if you try adding it to hot liq­uids. So, stir it all togeth­er, first. Then turn on the heat.
Bring the sauce to a boil and boil for one minute. That's it! It will thick­en as it cools, but can be served imme­di­ate­ly. Store it in a tight­ly sealed con­tain­er in the fridge for 7–10 days and enjoy it driz­zled on sal­ads, rice and stir fries!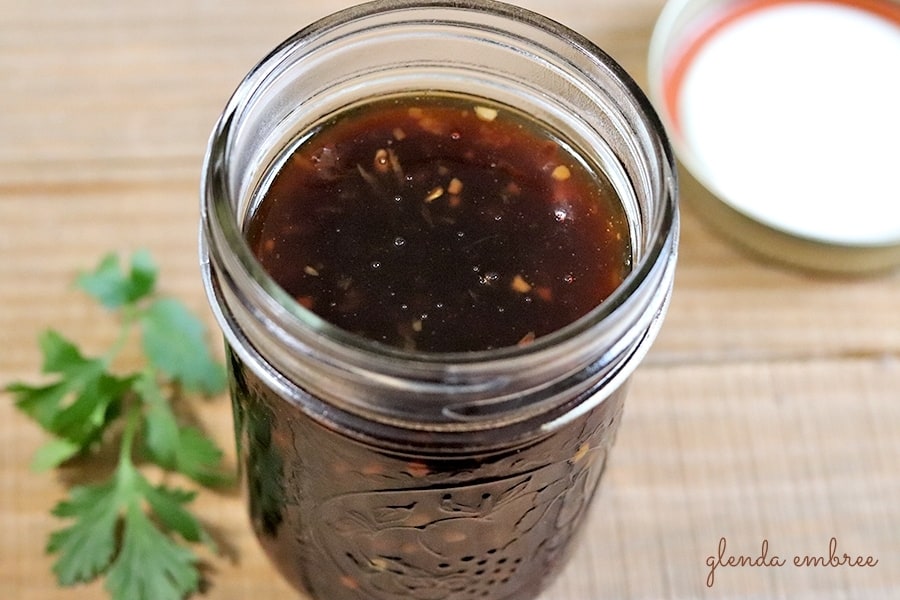 Print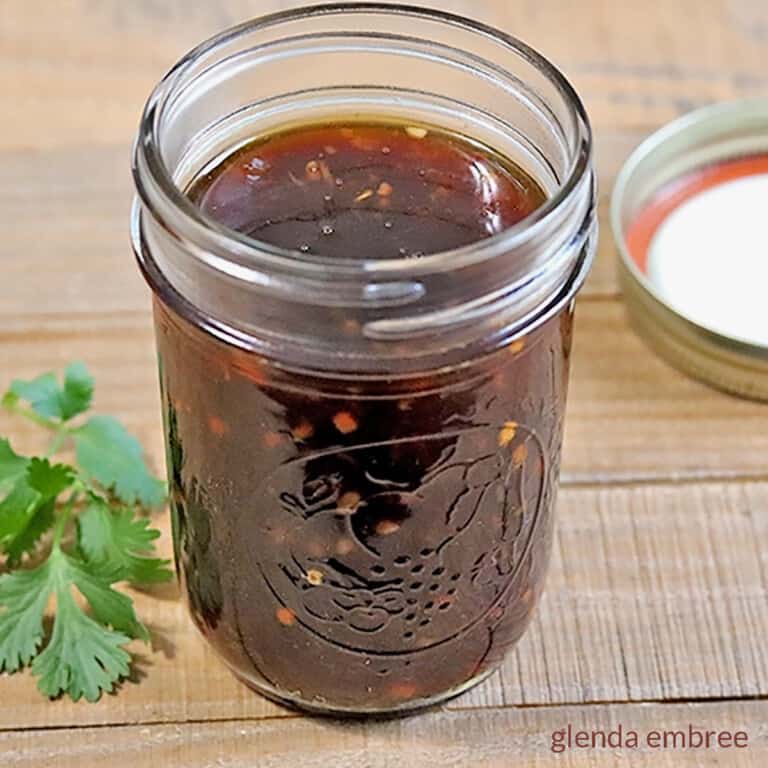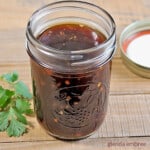 5‑Minute Stir Fry and Dipping Sauce
---
Author:

Total Time:

5 min­utes

Yield:

3 cups

1

x
1 1/2

cups

soy sauce

1

cup

water

1/4

cup

rice vinegar

1 Table­spoon

sesame oil

1/2

cup

brown sugar

2 Table­spoons

corn starch

1 Table­spoon

fresh gar­lic, minced

1 Table­spoon

fresh gin­ger, grat­ed (or sub­sti­tute

1 1/2 tea­spoons

gin­ger powder)

1/2 tea­spoon

red pep­per flakes
---
Instructions
Place all the ingre­di­ents in a sauce pan and whisk to be sure the corn­starch is com­plete­ly dis­solved BEFORE you start heating.
Once the corn­starch is dis­solved, bring the sauce to a boil. Reduce heat to medi­um and con­tin­ue to boil for 1 minute or until the brown sug­ar is dissolved.
Sauce is ready to serve.
Left­overs can be kept tight­ly cov­ered in the fridge for 7–10 days.
Use as a driz­zle, sauce, dress­ing or dip with your favorite Asian dishes.
Prep Time:

2 min­utes

Cook Time:

3 min­utes

Cat­e­go­ry:

Sauce, Condi­ment, Dip, Dressing

Method:

stove top

Cui­sine:

Asian
Key­words: stir-fry sauce, dip, dressing