Home­made Avo­ca­do Ranch Dress­ing is DELISH is rich and creamy. It bursts with fla­vor and you won't believe how easy it is to make!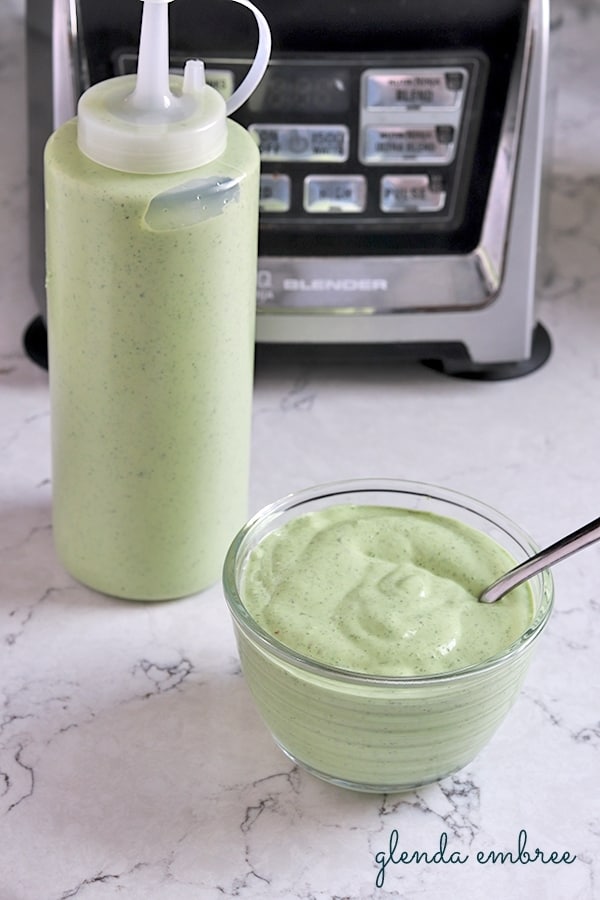 Avo­ca­do Ranch Dress­ing has the per­fect amount of acid to bal­ance the creamy, rich­ness of the healthy fats. It real­ly does taste like super creamy ranch dressing!
Best news ever? It's crazy sim­ple! Throw every­thing into the smooth­ie cup attach­ment of your blender and blend until it's com­plete­ly smooth and com­bined. It's that easy!
How to Serve Avocado Ranch Dressing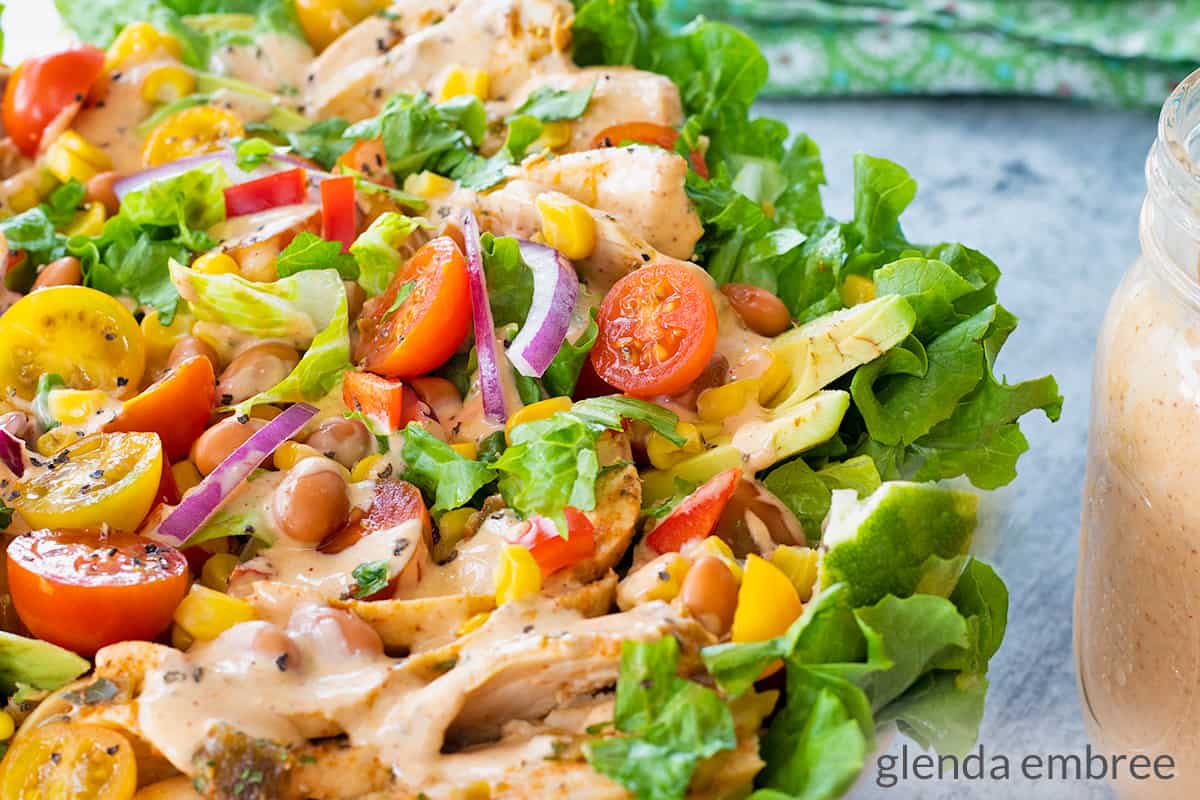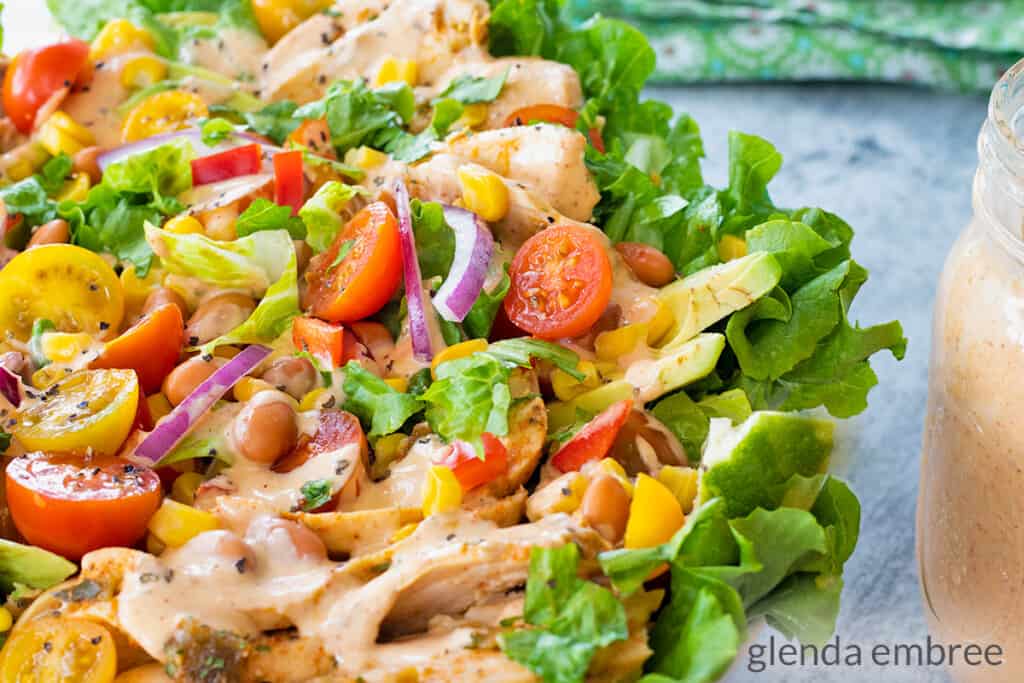 We use it on sal­ads, of course, but it's also good on wraps and for dip­ping your favorite crunchy veg­etable snacks.
Dip chick­en nuggets in this creamy, lus­cious avo­ca­do sal­ad dress­ing or driz­zle Avo­ca­do Dress­ing on fish tacos, too.
Avo­ca­do Ranch Dress­ing is fab­u­lous on eggs, and it's great for dip­ping que­sadil­las, too!
You'll love it driz­zled on South­west Chick­en or my South­west Chick­en Sal­ad. So many pos­si­bil­i­ties! I can't wait to hear all the ways you enjoy serv­ing it.
Use it as a driz­zling duo, along­side my South­west Sal­ad Dress­ing/ Dip/ Sauce. Avo­ca­do Ranch Sal­ad Dress­ing is the cool­ing bal­ance to the spicy bite of the South­west flavors.
The Ingredients
home­made may­on­naise (Use store-bought if that's all you have.)
fresh pars­ley, leaves and stems
full-fat coconut milk, ( I use Thai Kitchen organic)
an avo­ca­do
onion pow­der
minced gar­lic
dill weed
apple cider vinegar
salt and pepper
How to Cut An Avocado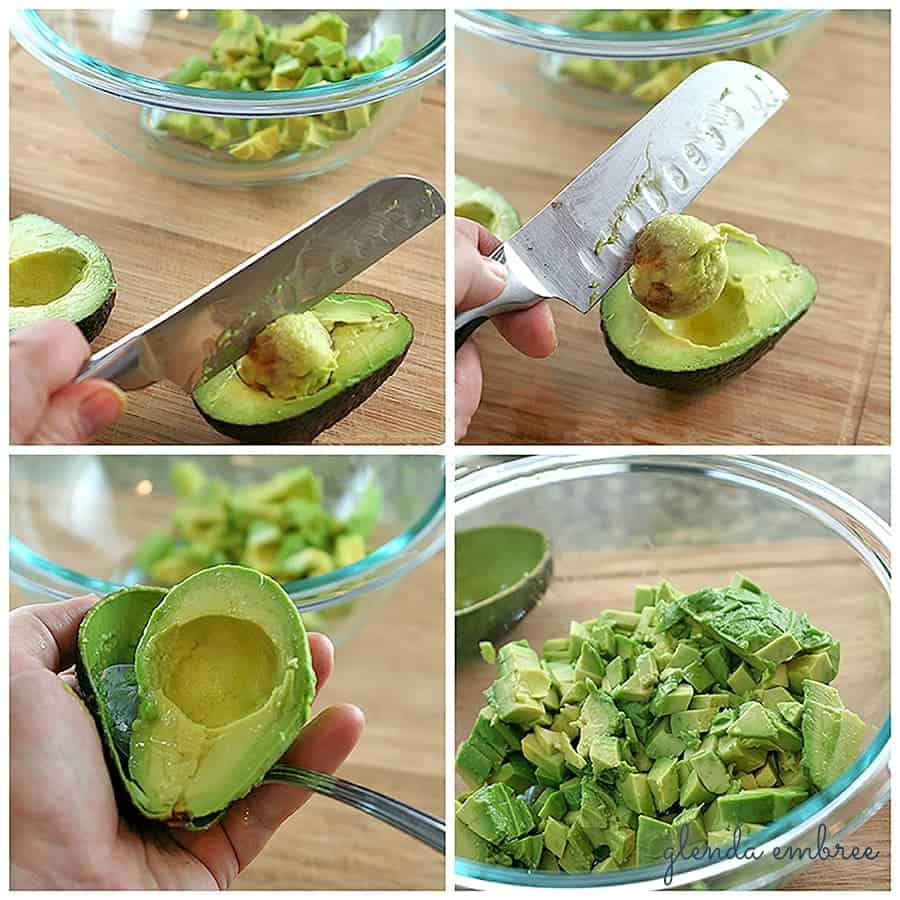 Cut the avo­ca­do in half, length­wise. Move your knife around the mid-line of the avo­ca­do. There is a large pit in the cen­ter you can't cut through.
Pull the avo­ca­do open and use give the avo­ca­do pit a sol­id chop with your knife. The knife should be able to lift the pit straight out of the avocado.
Run a spoon around the edge of the avo­ca­do rind and lift the avo­ca­do pulp straight from the shell. Slice or chop as needed.
The Tools I Use
It's quick and easy to pull this dress­ing, togeth­er. I use a *high speed blender with a smooth­ie cup attachment.
You might be able to pull this off in a reg­u­lar blender. I'm just not sure.
If the blender you use can han­dle thick­er sauces and small ingre­di­ent amounts, it's def­i­nite­ly a possibility.
Ide­al­ly, I would rec­om­mend a high speed blender like my Nin­ja [affil­i­ate link], or a Vita­Mix or BlendTec. Here's what I use.
How to Make Avocado Ranch Salad Dressing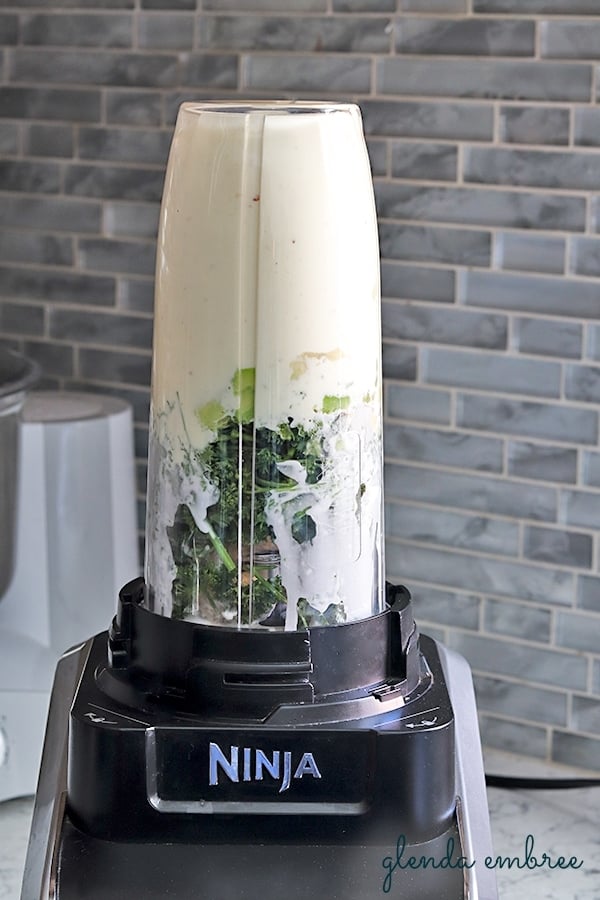 Rough chop the parsley.
Add it to the blender cup/pitcher.
Open the can of coconut milk and dump it into a con­tain­er large enough to whisk it in. The "cream" from coconut milk, sep­a­rates from the coconut milk and comes to the top of the can. Whisk it all back togeth­er, before you mea­sure the coconut milk for this recipe.
Add the remain­ing ingredients.
Pulse the blender a few times to get things start­ed, then blend on high, until the dress­ing is smooth and creamy.
Storing Avocado Ranch Dressing
Store your avo­ca­do ranch in the refrig­er­a­tor, just like reg­u­lar ranch. You can keep it in can­ning jars or any con­tain­er with a lid. I like to use the squeeze-style bot­tles you often see used for ketchup or mus­tard. That makes it so easy to dress a per­fect house sal­ad and con­trol the amount you're using!
How do you use ranch dress­ing at your house? Is it for more than just sal­ads? Leave me a com­ment and let me know how you're using this scrump­tious Home­made Avo­ca­do Ranch Dress­ing. I can't wait for you to give it a try!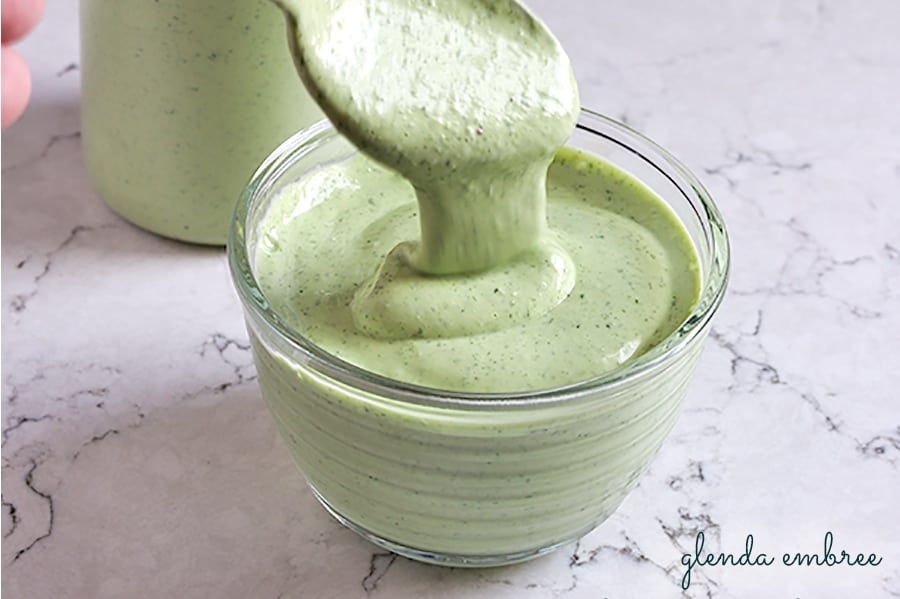 The Recipe
Print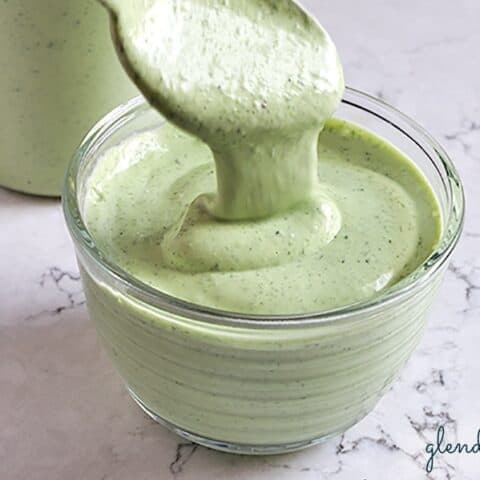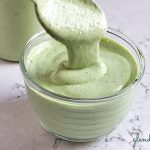 Homemade Avocado Ranch Dressing
---
Author:

Total Time:

5 min­utes

Yield:

2 cups

1

x
1 1/2

cups

home­made may­on­naise (Use store-bought if that's all you have.)

1

cup

fresh pars­ley, leaves and stems

1/3

cup

full-fat coconut milk, ( I use Thai Kitchen organic)

1

avocado

1 tsp

. onion powder

2 tsp

minced garlic

1/2 tsp

. dill weed

1 Table­spoon

apple cider vinegar
salt and pep­per, to taste
---
Instructions
Place all the ingre­di­ents in the blender cup/pitcher of your blender.
Pulse sev­er­al times to get things started.
Set blender to high pow­er and allow to con­tin­ue blend­ing until your dress­ing si smooth and creamy.
Store in an air-tight con­tain­er in the refrigerator.
Prep Time:

5 min­utes

Cook Time:

0 min­utes

Cat­e­go­ry:

Dress­ings, Condiments

Cui­sine:

Amer­i­can
More Delicious Homemade Condiments