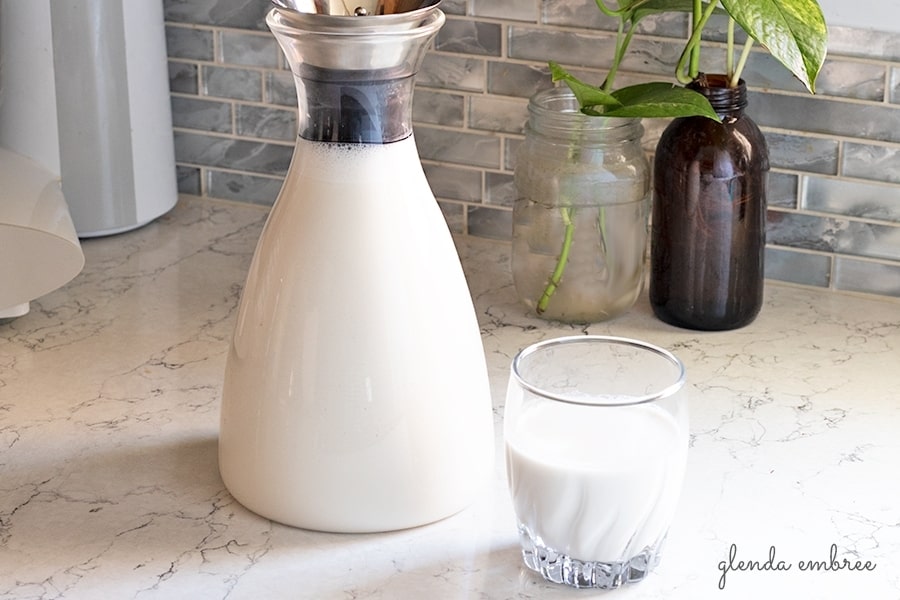 Cashew Coconut Milk is the dairy-free answer to our fam­i­ly's strug­gle with milk. It is creamy and rich, with a nat­u­ral­ly sub­tle sweet­ness. I've used it suc­cess­ful­ly in sev­er­al recipes call­ing for milk (Think gravy, white sauce, soup and cake).
That's the beau­ty of this fab­u­lous dairy-free blend. You can cook with it! Plus, it tastes scrump­tious on it's own, it's 3‑ingredient sim­ple and blends togeth­er in sec­onds, once the cashews and coconut are soaked.
We have always had one or two in our fam­i­ly that get uncom­fort­able when con­sum­ing cow's milk or prod­ucts made from it. It seems that late­ly, the num­bers in that lac­tose intol­er­ant group are grow­ing and it just makes sense to have a deli­cious and health­ful alter­na­tive on hand.
So, Cashew Coconut Milk is my answer when I want a real­ly creamy and won­der­ful dairy-free milk alter­na­tive that can be heat­ed. I sub­sti­tute it 1:1 for dairy milk in any recipe. Plus it's deli­cious on its own.
If you or some­one in your fam­i­ly is going dairy-free this deli­cious dairy-alter­na­tive milk may be your answer, too.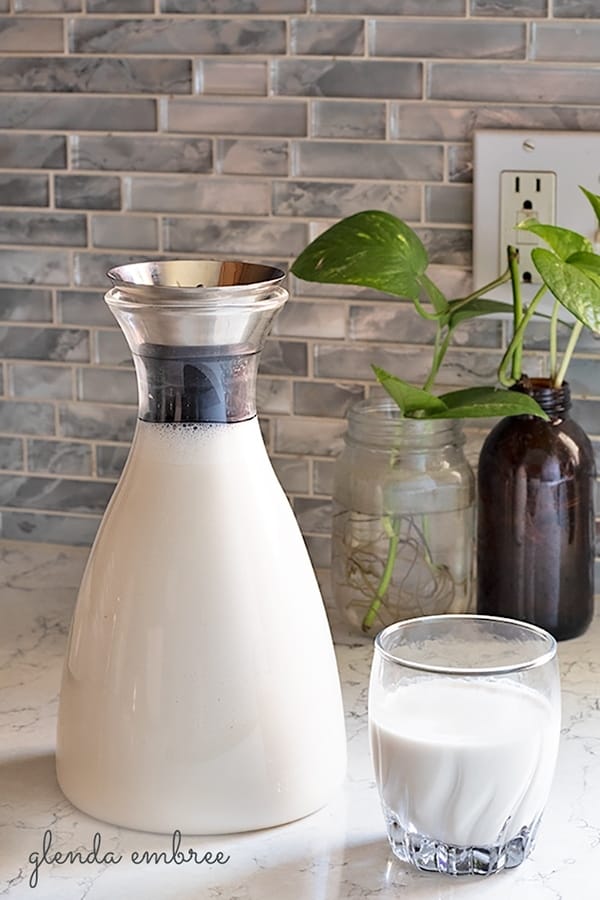 Why Make Your Own Non-Dairy Blend?
There are a pletho­ra of dairy-free milk alter­na­tives avail­able com­mer­cial­ly. So, you might be won­der­ing why I would both­er to make my own.
First­ly, those ingre­di­ents. Turn over a car­ton of oat milk, almond milk or any oth­er non-dairy vari­ety, and you might be sur­prised to find the main ingre­di­ent is water. Why pay so much for most­ly water?
Most will have added gums and preser­v­a­tives. Some will have lecithins or oth­er tex­ture enhancers and many will have added salt and sug­ar. One of the most pop­u­lar oat milks uses a large per­cent­age of a not-so-healthy oil to achieve the fat lev­els that will allow their milk to froth when heated.
You can do bet­ter. This Cashew Coconut Milk is my answer.
Inter­est­ing­ly, you don't taste the coconut. How­ev­er, the cashew coconut com­bi­na­tion pro­vides enough of those healthy fats to cre­ate a sub­lime­ly creamy tex­ture. And if you shake the jar, it def­i­nite­ly froths a bit!
Mak­ing my own just makes sense.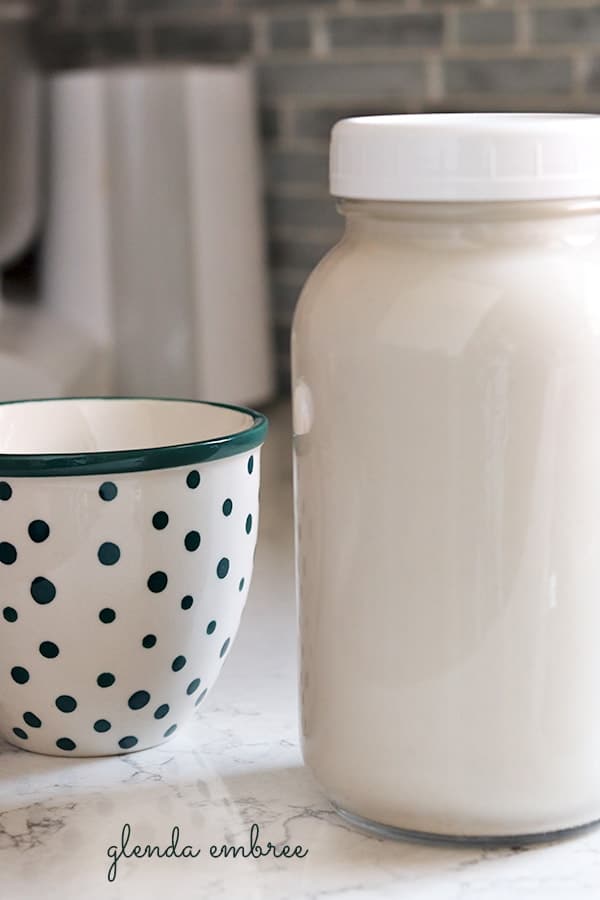 3 Simple Ingredients and Costs
*Raw Cashews — Raw is impor­tant. Not toast­ed. Not salt­ed. You may have an alter­nate source, but it's so sim­ple for me to just order these on Ama­zon. I get them 5 lbs at a time, so they last awhile. (I keep them in the freez­er.) They cost me about $2.30 per cup.
*Unsweet­ened Coconut Flakes/Chips — Again, I order these on Ama­zon. It ends up cost­ing me about $1.25 per cup. You could prob­a­bly use unsweet­ened shred­ded coconut, too, but the mea­sure­ments would be dif­fer­ent since the chips/flakes are so much larg­er. I haven't tried using shreds.
water
That brings my cost for a quart of Cashew Coconut Milk to $3.55 per quart. When I tried to com­pare that to com­mer­cial brands there weren't many with the creamy cashew-coconut com­bi­na­tion. And when I did find a cou­ple, they were much more expen­sive (about dou­ble) and con­tained a ton of additives.
If I look at plain cashew milk, most of the prod­ucts are more expen­sive than my home­made ver­sion or at about the same price. And, at the very least, all of them have added sug­ar and salt. Most had added gums and soy­bean lecithin. Some even added oth­er vari­eties of nuts, (most notably, almonds) even though they sold the prod­uct as cashew milk.
For me the costs and ingre­di­ents add up to per­fect when I'm mak­ing my Cashew Coconut Milk at home. I think you'll agree when you give this sim­ple 3‑ingredient recipe a try.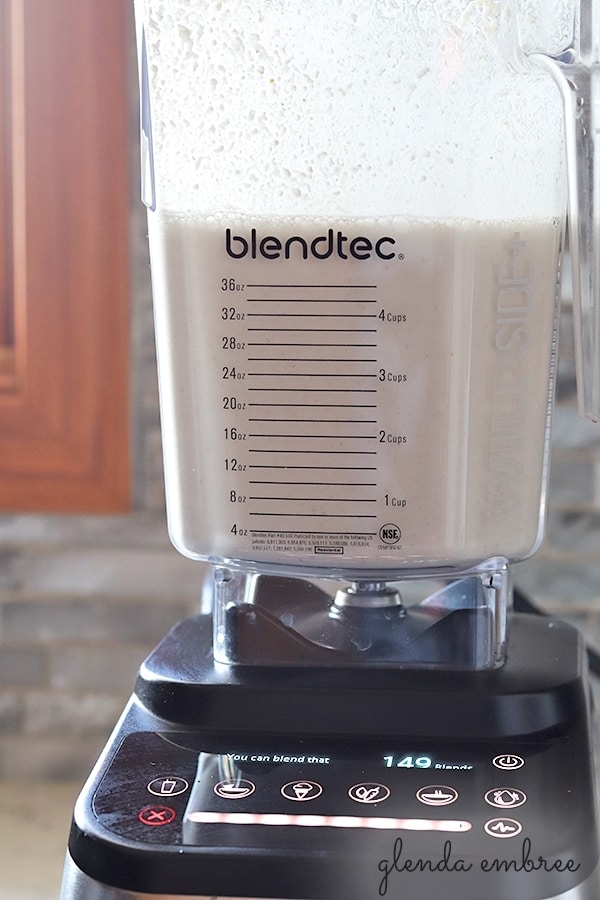 Tools for Making Coconut Cashew Milk
*High Speed Blender — I usu­al­ly use my *Blendtec, but have also used the *Nin­ja iQ blender. Any high-speed blender should do fine. Your milk will only be as good as your blender, essen­tial­ly. To get the ultra-smooth, creamy tex­ture you're look­ing for a reg­u­lar blender prob­a­bly does­n't have the need­ed power.
*Cheese­cloth or *But­ter Muslin — These are basi­cal­ly the same thing, but but­ter muslin typ­i­cal­ly has a fin­er mesh. The names are used inter­change­ably some­times though, so just be sure you pur­chase unbleached and a fine weave/mesh. Either can be washed by hand and re-used over and over.
Large Bowl — Any large bowl will work, but I love using my bat­ter bowl for this. It has a pour spout that makes it so sim­ple to pour the strained milk into my containers.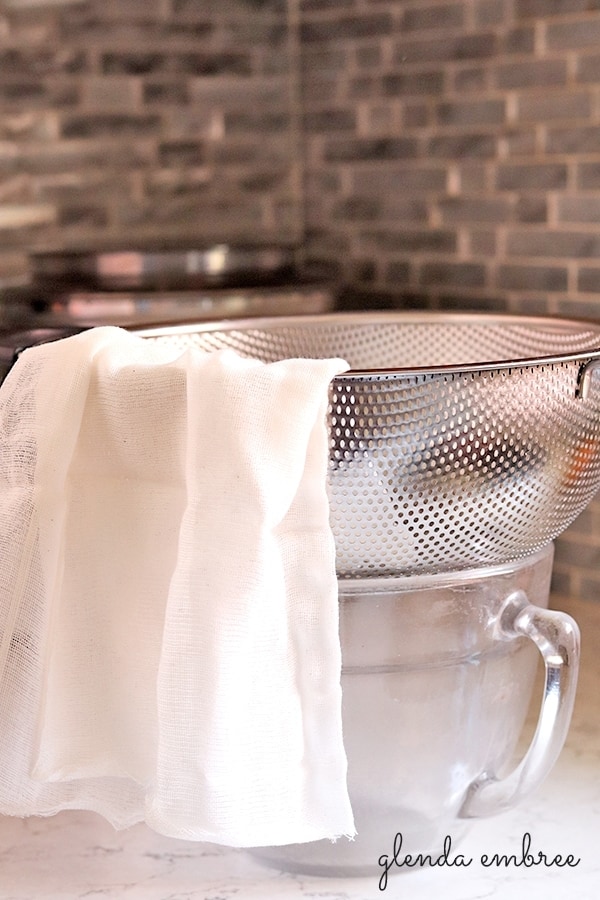 How to Make Cashew Coconut Milk
Step 1: Pour water over the cashews and coconut and give them a good soak. Make sure every­thing is sub­merged or at least float­ing. Allow them to soak for at least 12 hours. I usu­al­ly start them soak­ing at sup­per­time and then they're ready to go in the morn­ing.
The longer soak­ing time results in smoother, creami­er milk. A longer soak releas­es enzymes from the cashews that bump up the nutri­tion­al val­ue. By ful­ly hydrat­ing the cashews and coconut they become soft­er and eas­i­er to blend, too.
Step 2: Drain the cashews and coconut after their 12 hour soak.
Step 3: Place the drained cashews, coconut chips/flakes and water into a high speed blender. Blend until the mix­ture becomes smooth and creamy with no evi­dence of the cashews or coconut in sight. It will prob­a­bly be a lit­tle frothy or foamy on top. That's normal.
Straining Cashew Coconut Milk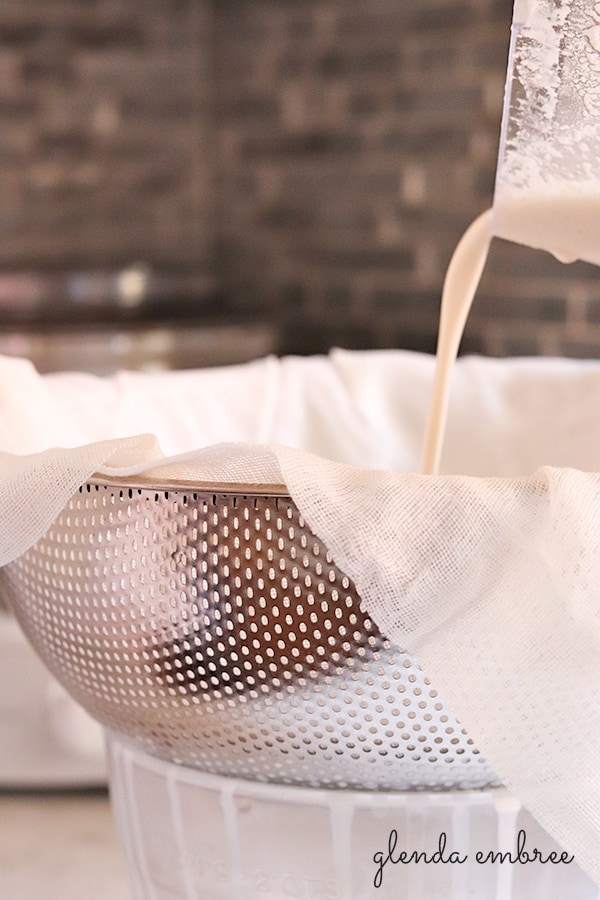 Step 4: Once your Cashew Coconut Milk is ful­ly blend­ed, place a strain­er over a large bowl. Add a lay­er of but­ter muslin inside the strain­er. I usu­al­ly make a dou­ble lay­er to be sure I get the smoothest, creami­est milk.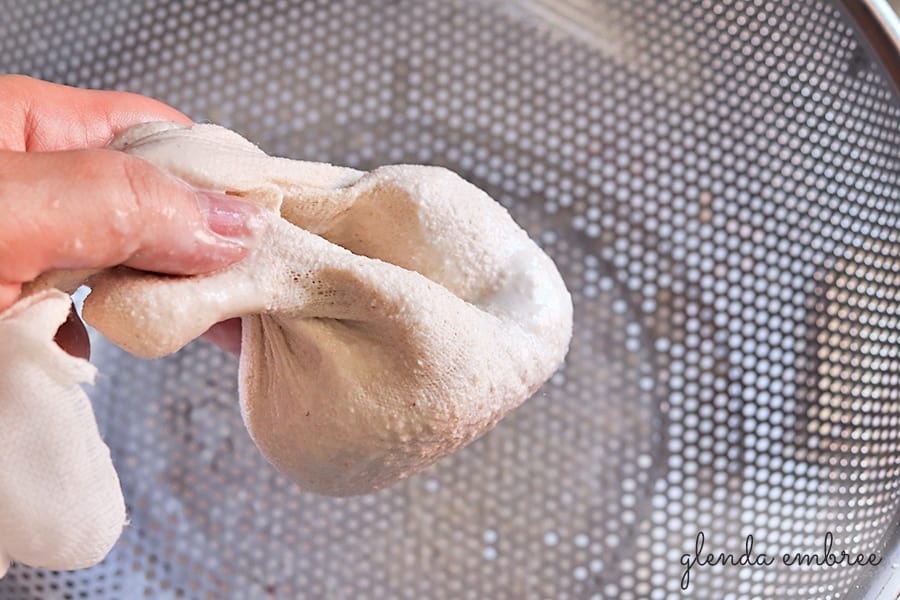 Step 5: Pour the blend­ed mix­ture into the strain­er. As the pulp is being fil­tered out of your milk, it may plug the tiny mesh of the cloth. I use a spoon to gen­tly move it off the bot­tom of the cloth/strainer and allow the milk to run through more eas­i­ly. When almost all the milk has drained through the strain­er, I pick the cloth up by the edges and twist it closed. Then, I squeeze the last drips of milk out of the makeshift "bag". All that will remain in the cloth is the dry pulp. I usu­al­ly end up with about 1 cup. Save the pulp in a cov­ered con­tain­er in the fridge, for up to a week. It can be added to the recipe when mak­ing home­made gra­nola or gluten-free crack­ers. I found a whole page of recipe ideas using nut milk pulp when I did a search.
Step 6: Pour the creamy deli­cious Cashew Coconut Milk from your bowl into a con­tain­er for stor­ing in the fridge. We have kept this milk in the fridge for up to a week, with no issues. We usu­al­ly use it before then, though. I often make two batch­es to get us through a week, espe­cial­ly if I'm cook­ing with it.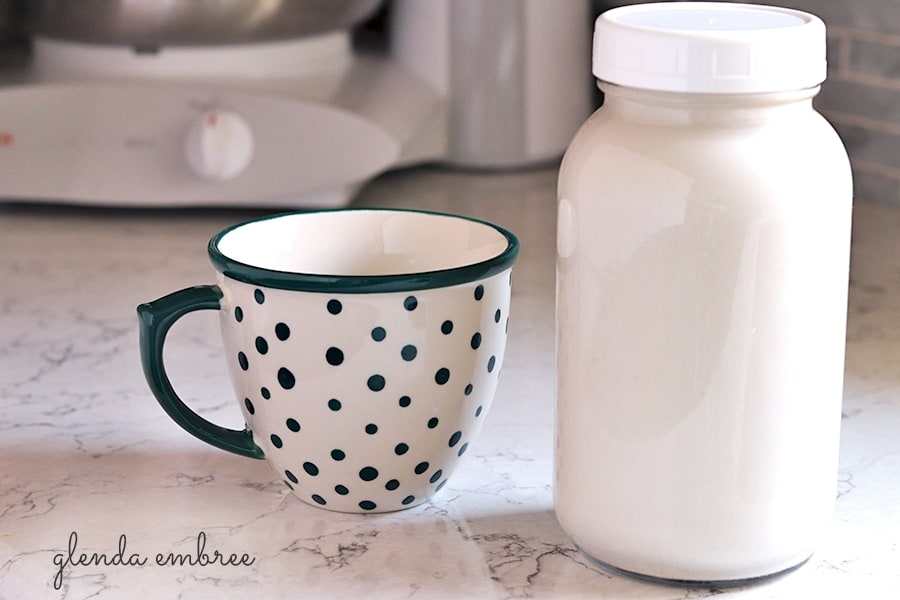 Print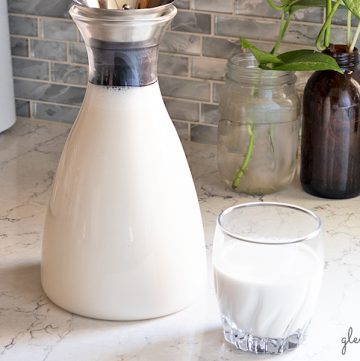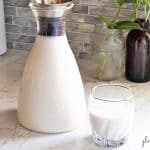 Cashew Coconut Milk
---
Author:

Total Time:

12 hours 10 minutes

Yield:

4

—

5

cups

1

x

Diet:

Gluten Free
Description
Creamy, deli­cious dairy milk alter­na­tive that the whole fam­i­ly will love. It's so sim­ple, plus you con­trol the ingre­di­ents and it's more eco­nom­i­cal than com­mer­cial brands.
---
1

cup

raw cashews

1

cup

coconut flakes/chips

4

cups

water
---
Instructions
Place the cashews and coconut in a con­tain­er large enough to cov­er them with water. Pour water over them until they are ful­ly cov­ered. Place plas­tic wrap over the con­tain­er and leave to soak for at least 12 hours.
After 12 hours, drain the cashews and coconut.
Put the drained cashews and coconut in a high speed blender with 4 cups of water and blend until smooth and creamy. Blend long enough that you can see noth­ing but liquid.
Place a strain­er over a large bowl and line it with a dou­ble lay­er of but­ter muslin or fine-mesh cheesecloth.
Pour the blend­ed Cashew Coconut Milk into the strain­er and allow it to drain through into the bowl. If the pulp begins to slow the drain­ing, use a spoon to gen­tly scrape it away from the bot­tom of the strain­er and let the milk flow freely.
Gath­er the edges of the strain­ing cloth togeth­er and twist it to squeeze the last drips of milk from the pulp.
Put the pulp in a cov­ered con­tain­er in the fridge for up to a week. Left­over pulp can be used in home­made gra­nola, in crack­er and bread recipes or even stirred into yogurt. I've hear of using about 1/4 cup in muf­fin recipes, too, though I haven't tried it yet, myself.
Pour the strained milk from the large bowl into a pitch­er or jar and store in the fridge for up to one week.
Use Coconut Cashew Milk as you would dairy milk.
Prep Time:

12 hours 10 min

Cat­e­go­ry:

Bev­er­age, Nut Milk, Dairy Alternative

Method:

Blender

Cui­sine:

Amer­i­can
More Great Recipes
Gluten-Free Gra­nola: 5‑Minute Sim­ple and Delicious