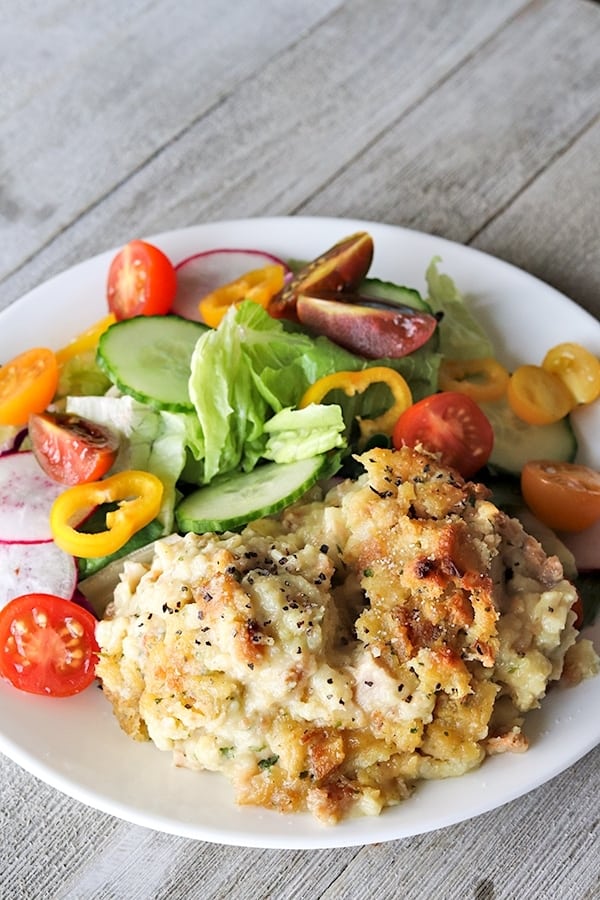 Yum! You won't celebrate holiday leftovers the same way, ever again! Your family is going to swoon for Thanksgiving Casserole. 4 ingredients leftover from any turkey dinner and about 5 minutes to mix it together, will net you the winner's trophy for best use of leftovers in the holiday season.
Thanksgiving Casserole is a family tradition that began when I was a child. My grandma put together the very first one I ever tasted and we ate it every year, after that, as I was growing up. I've continued the tradition in my own kitchen. It is the simplest, most savory and delicious casserole you will ever serve to friends and family — comfort food at its finest. And, if you are like me, you WILL serve it. It will become one of the most requested meals of your holiday season.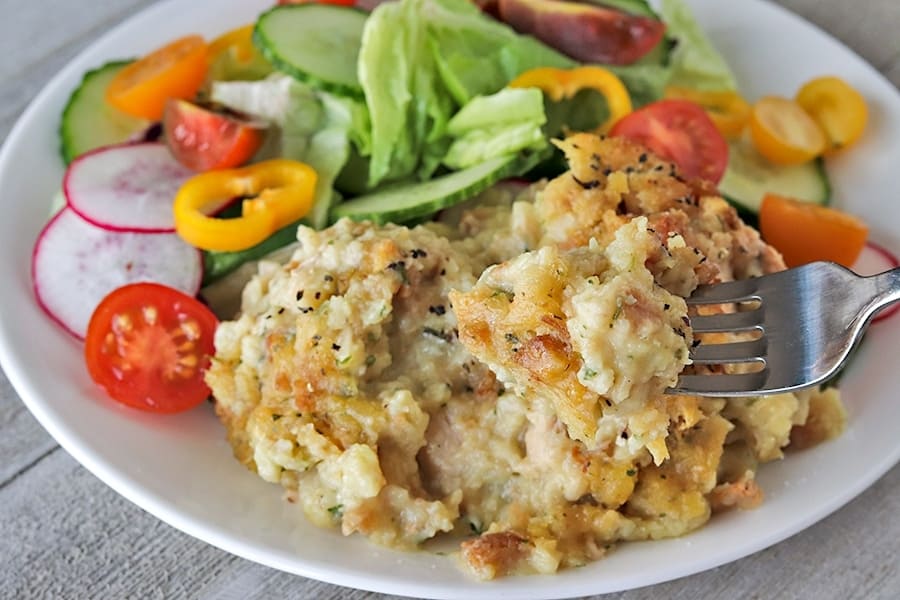 Thanksgiving Casserole Takes Advantage of Turkey's Versatility and Economy
I'm one of those crazy ladies you see right before Thanksgiving. You know the ones. Turkeys go on sale for 89¢ a pound and crazed women with glazed-over-"I'm getting a deal"-eyes, wheel carts with three or four 25-pound turkeys to the check-out stand. Yeah…I'm one of those. lol And the worst part? I usually do it twice. It's a good feeling to know the freezer is full of some of my family's most favorite recipe starters. I'll serve turkey dishes all winter and we'll still have one left for Easter dinner.
Turkeys are versatile. You can get multiple meals out of just one bird. And there are so many delicious dishes to prepare with them. Turkey saves me money AND it saves me time in the kitchen. Once it's roasted, that bird becomes the already prepped base of all kinds of delicious recipes. How can that not be a huge win!!?? Right? I know you understand. Your eyes are starting to look a little save-me-time-and money glazed, too. lol
Well, it's almost that time of year, again, and I want you to be prepared. I'm starting with Thanksgiving Casserole, because it's such a staple in our family recipe box, that it really must be shared. I can make a big turkey dinner and have all 15 of us sitting around the table and the question everyone wants answered is, "When will we have Thanksgiving Casserole?" For one of my son-in-laws, that dish is more exciting than the whole turkey dinner.
Ingredients You'll Need for Thanksgiving Casserole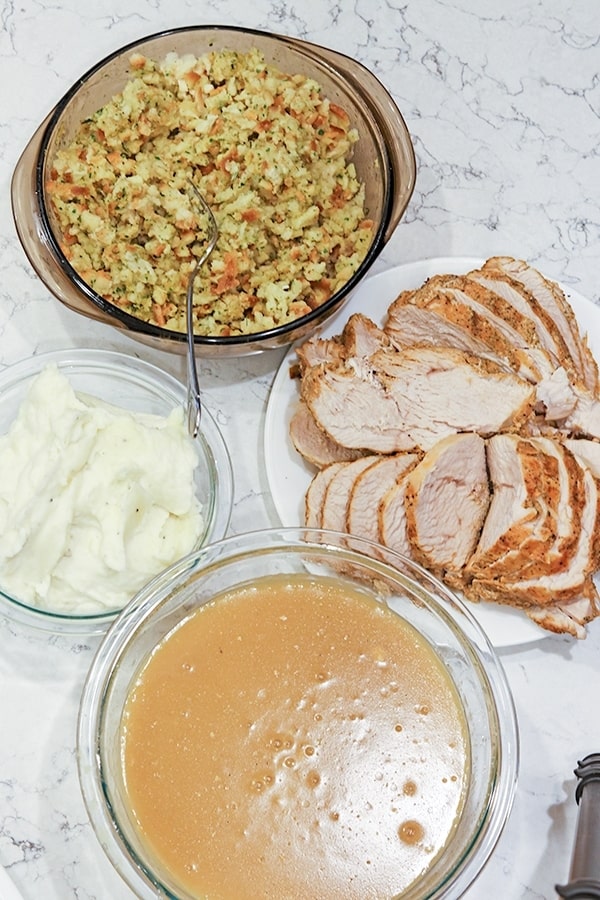 Thanksgiving Casserole has only 4 ingredients. And, you will have already prepared them for your big meal. The casserole uses only leftovers and trust me when I tell you, "Leftovers never tasted so good!".
remaining turkey from dinner
leftover mashed potatoes
gravy left from your big meal
stuffing (whatever's left or whip up a batch of Stove-Top)
There are no specific amounts, just what you have left over from your meal. I'm going to put some quantities in the recipe to give you a general idea of the ratios WE use. Just keep in mind, they are not hard and fast rules and what you use will depend more on your family preferences and the leftovers you have available. Make this your own and create a tradition your family looks forward to year after year.
I need to make a confession, at this point. In my family, there is NEVER stuffing left over — lol — no matter how much I make. This is not an issue, because my secret stuffing recipe is Stove Top. Five minutes in the microwave and I have a new batch. I definitely recommend it for quick and easy "left-overs".
How to Make Thanksgiving Casserole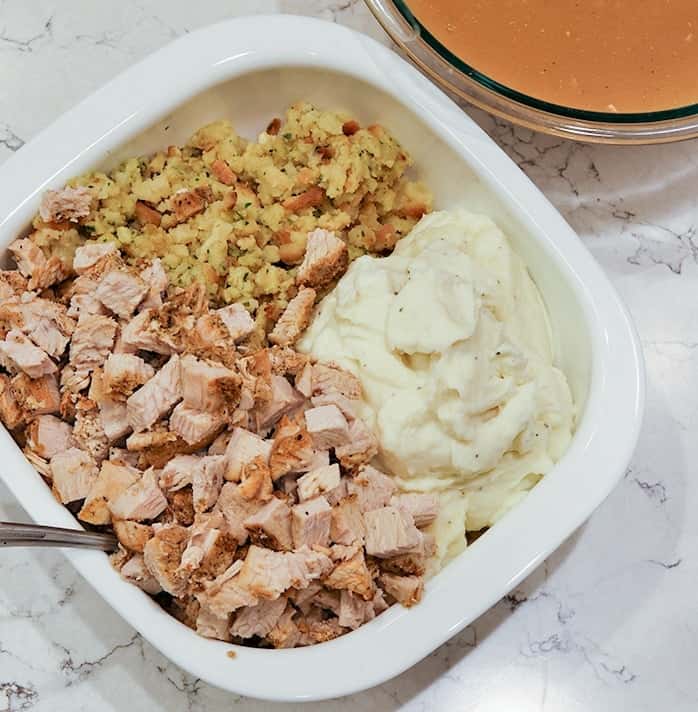 Dump leftover mashed potatoes, cubed up turkey and stuffing in a casserole dish or a *9×13 pan; whatever will accommodate your specific amount of leftovers. Then stir in gravy to moisten everything up. It's possible your gravy may have gelled up in the fridge overnight. No worries. Just stir it in, as is. It will melt and blend in as the Turkey Casserole bakes in the oven.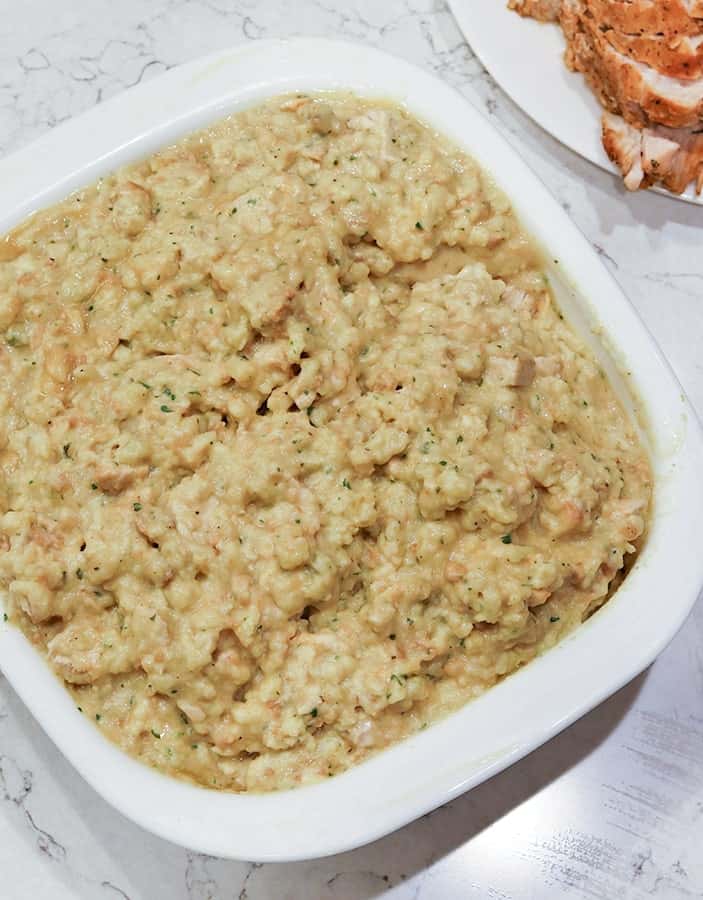 Okay, so now you've mixed everything together in your baking pan and you may think it doesn't look like much, but add a little black pepper on top, put it in a preheated 350° oven and bake. You'll soon experience casserole nirvana! lol
All the ingredients have already been cooked, so you are just waiting for it to be heated through. It will be bubbly around the edges and wonderfully browned on the top when it's ready to come out of the oven. 30-45 minutes is usually enough for it to be hot and bubbly, depending on how cold your ingredients were.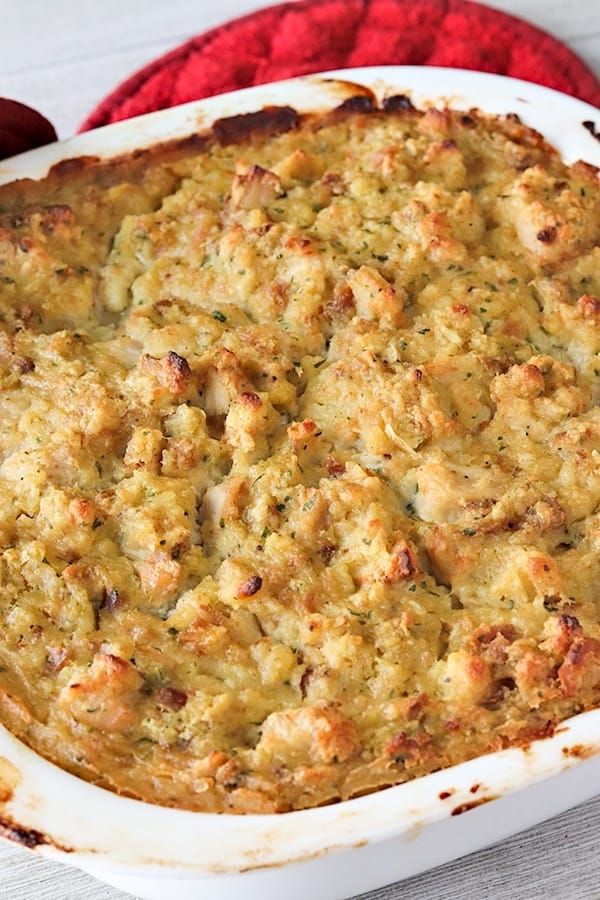 Thanksgiving Casserole is a spoonful of heaven on a plate! It's creamy and savory, studded with chunks of roast turkey and has a deliciously crusty top from the bits of browned up stuffing. Seriously, this yummy turkey casserole is a textural and flavorful sensation. We typically serve it with what we call "a lovely salad", but any side dishes you have left from your big meal would be nice complements, as well.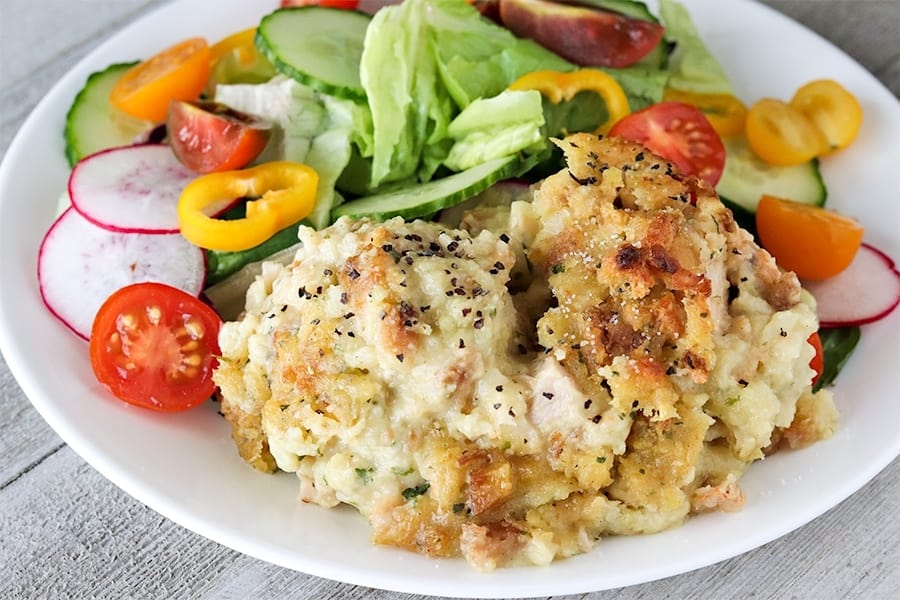 Enjoy, Friend!
Print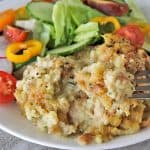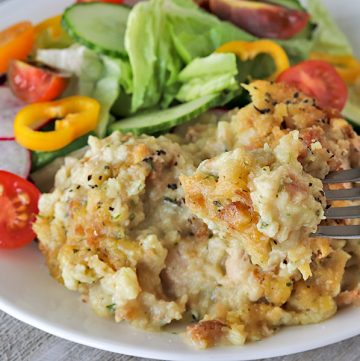 Thanksgiving Casserole
---
Author:

Prep Time:

10 minutes

Cook Time:

45 minutes

Total Time:

55 minutes

Yield:

8

–

10

servings

1

x
Description
The ingredient amounts listed, below, are for your reference only.  It gives you an idea of the ratios we typically use.  My family LOVES stuffing and we use a greater ratio of that.  Match your combination to your own family's tastes and the leftover amounts you have available.
---
Scale
Ingredients
3 cups

leftover turkey, diced

3 cups

leftover mashed potatoes

6

–

8

cups leftover stuffing

1 1/2

to

2

cups leftover gravy
---
Instructions
Mix all the ingredients in the casserole dish or pan you will use to bake it.
Bake at 350° for 30-45 minutes, until the casserole is hot and bubbling around the edges, but browned and crusty on the top.
---
Category:

Casserole, Poultry, Dinner

Cuisine:

American