Yum! You won't cel­e­brate hol­i­day left­overs the same way, ever again! Your fam­i­ly is going to swoon for Thanks­giv­ing Casserole.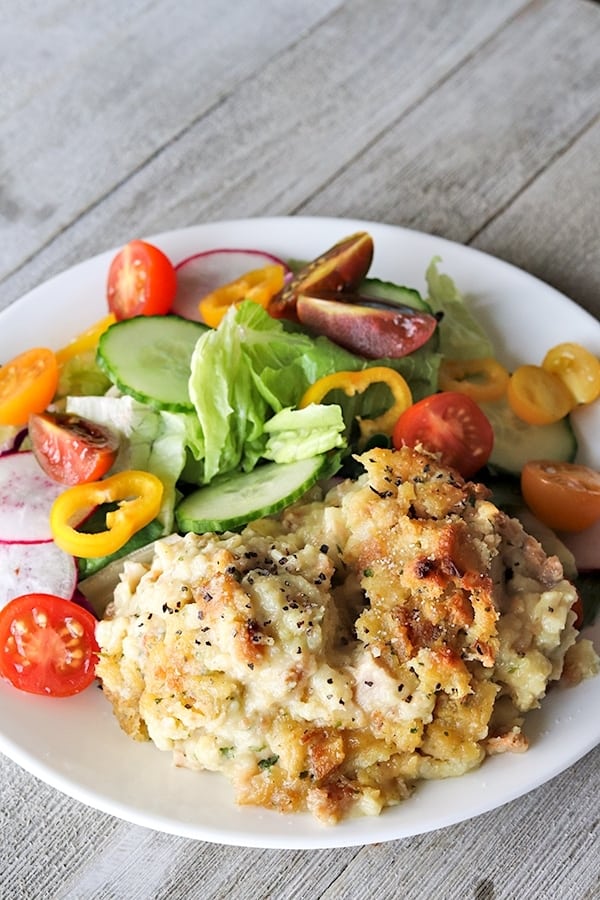 4 ingre­di­ents left­over from any turkey din­ner and about 5 min­utes to mix it togeth­er, will net you the win­ner's tro­phy for best use of left­overs in the hol­i­day season.
This deli­cious turkey casse­role recipe is a warm hug filled with the best fam­i­ly mem­o­ries your brain can muster. It's com­fort food and deli­cious food all wrapped into one amaz­ing meal!
Thanks­giv­ing Casse­role is a fam­i­ly tra­di­tion that began when I was a child. My grand­ma put togeth­er the very first one I ever tast­ed and we ate it every year, after that, as I was grow­ing up.
I've con­tin­ued the tra­di­tion in my own kitchen. It is the sim­plest, most savory and deli­cious casse­role you will ever serve to friends and fam­i­ly — com­fort food at its finest.
And, if you are like me, you WILL serve it. It will become one of the most request­ed meals of your hol­i­day season.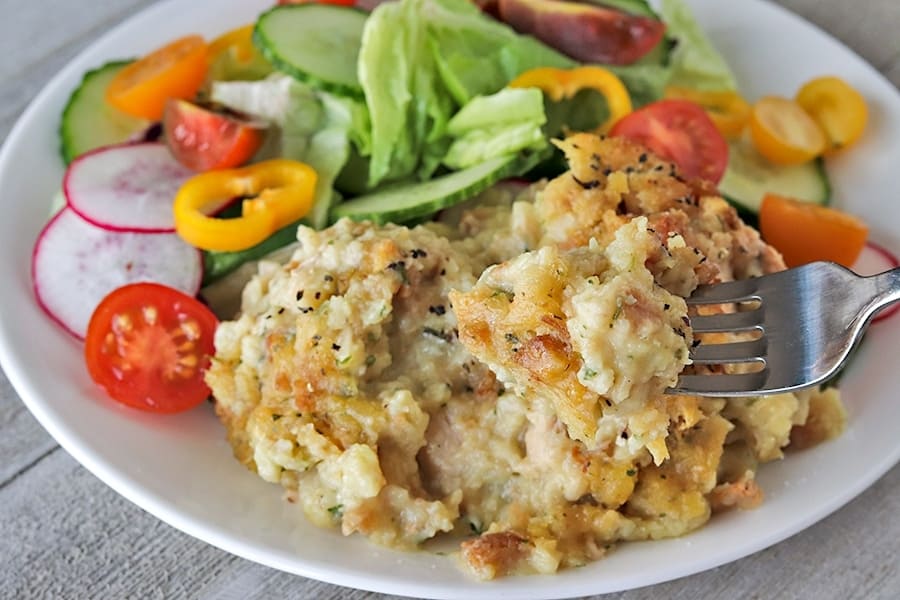 Thanksgiving Casserole Takes Advantage of Turkey's Versatility and Economy
I'm one of those crazy ladies you see right before Thanks­giv­ing. You know the ones.
Turkeys go on sale for 89¢ a pound and crazed women with glazed-over-"I'm get­ting a deal"-eyes, wheel carts with three or four 25-pound turkeys to the check-out stand. Yeah…I'm one of those. lol
And the worst part? I usu­al­ly do it twice. It's a good feel­ing to know the freez­er is full of some of my fam­i­ly's most favorite recipe starters. I'll serve turkey dish­es all win­ter and we'll still have one left for East­er dinner.
Turkeys are ver­sa­tile. You can get mul­ti­ple meals out of just one bird. And there are so many deli­cious dish­es to pre­pare with them.
Turkey saves me mon­ey AND it saves me time in the kitchen. Once it's roast­ed, that bird becomes the already prepped base of all kinds of deli­cious recipes. How can that not be a huge win!!?? Right?
I know you under­stand. Your eyes are start­ing to look a lit­tle save-me-time-and mon­ey glazed, too. lol
Well, it's almost that time of year, again, and I want you to be prepared.
I'm start­ing with Thanks­giv­ing Casse­role, because it's such a sta­ple in our fam­i­ly recipe box, that it real­ly must be shared.
I can make a big turkey din­ner and have all 15 of us sit­ting around the table and the ques­tion every­one wants answered is, "When will we have Thanks­giv­ing Casse­role?" For one of my son-in-laws, that dish is more excit­ing than the whole turkey dinner.
Ingredients You'll Need for Thanksgiving Casserole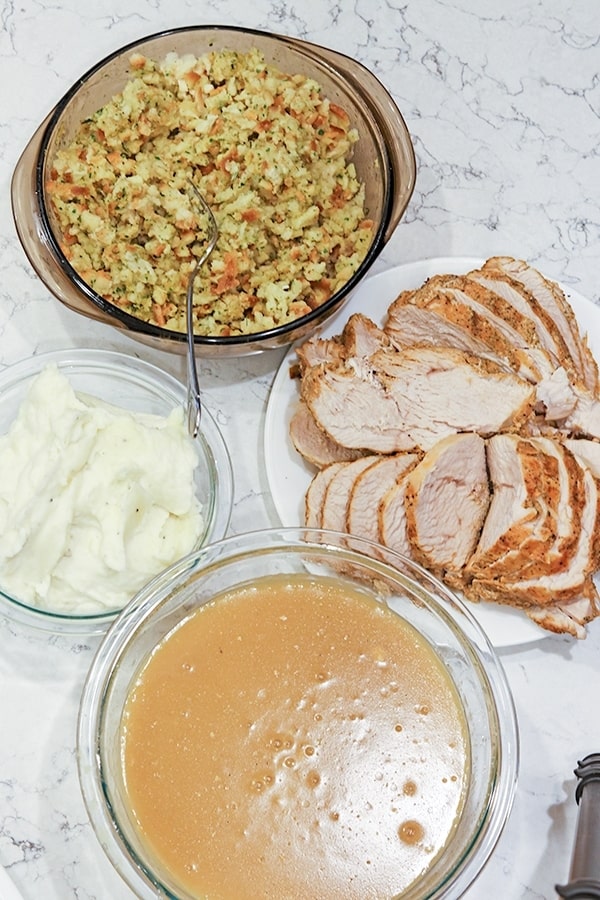 Thanks­giv­ing Casse­role has only 4 ingre­di­ents. And, you will have already pre­pared them for your big meal. The casse­role uses only left­overs and trust me when I tell you, "Left­overs nev­er tast­ed so good!".
remain­ing turkey from dinner
left­over mashed pota­toes
gravy left from your big meal
stuff­ing (what­ev­er's left or whip up a batch of Stove-Top)
There are no spe­cif­ic amounts, just what you have left over from your meal.
I'm going to put some quan­ti­ties in the recipe to give you a gen­er­al idea of the ratios WE use. Just keep in mind, they are not hard and fast rules and what you use will depend more on your fam­i­ly pref­er­ences and the left­overs you have available.
Make this your own and cre­ate a tra­di­tion your fam­i­ly looks for­ward to year after year.
I need to make a con­fes­sion, at this point. In my fam­i­ly, there is NEVER stuff­ing left over — lol — no mat­ter how much I make.
This is not an issue, because my secret stuff­ing recipe is Stove Top. Five min­utes in the microwave and I have a new batch. I def­i­nite­ly rec­om­mend it for quick and easy "left-overs".
How to Make Thanksgiving Casserole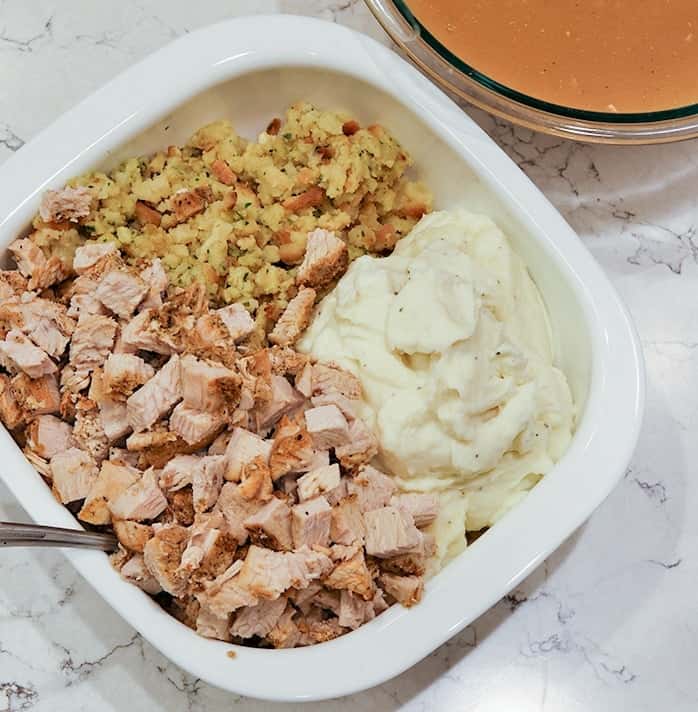 Dump left­over mashed pota­toes, cubed up turkey and stuff­ing in a casse­role dish or a *9×13 pan; what­ev­er will accom­mo­date your spe­cif­ic amount of leftovers.
Stir in gravy to moist­en every­thing up. It's pos­si­ble your gravy may have gelled up in the fridge overnight. No wor­ries. Just stir it in, as is. It will melt and blend in as the Turkey Casse­role bakes in the oven.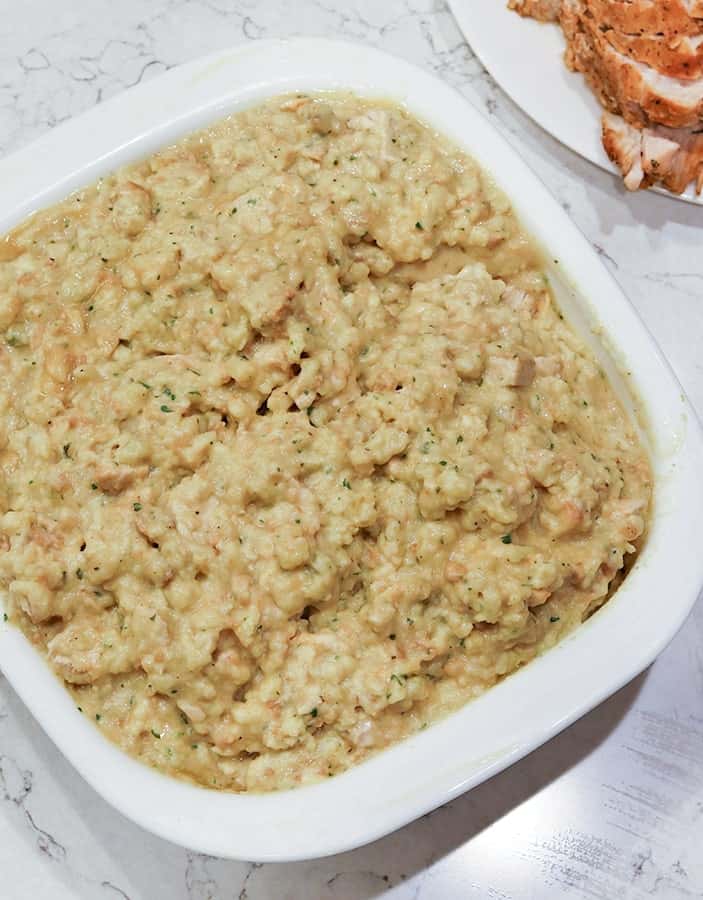 Okay, so now you've mixed every­thing togeth­er in your bak­ing pan and you may think it doesn't look like much, but add a lit­tle black pep­per on top, put it in a pre­heat­ed 350° oven and bake. You'll soon expe­ri­ence casse­role nir­vana! lol
All the ingre­di­ents have already been cooked, so you are sim­ply wait­ing for it to be heat­ed through. It will be bub­bly around the edges and won­der­ful­ly browned on the top when it's ready to come out of the oven. 30–45 min­utes is usu­al­ly enough for it to be hot and bub­bly, depend­ing on how cold your ingre­di­ents were.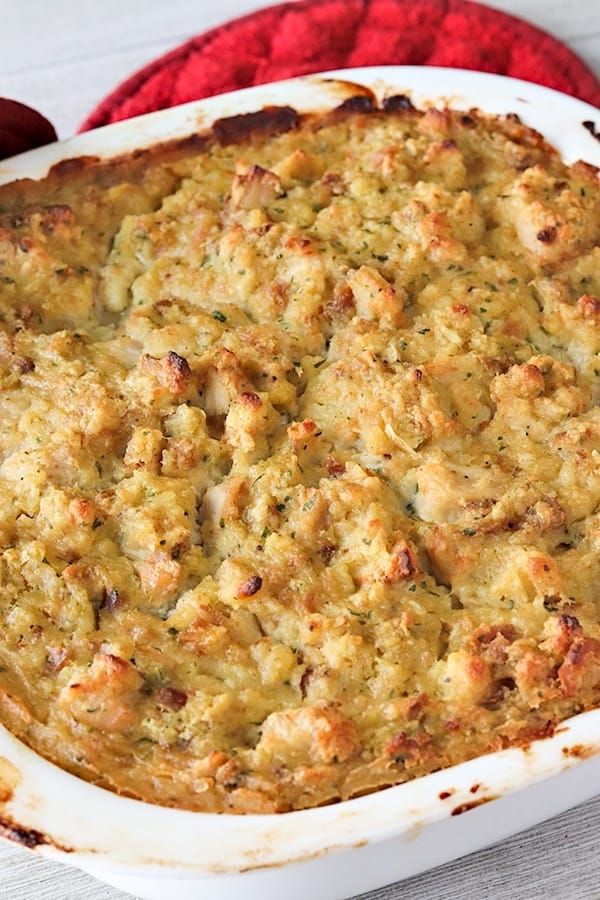 Thanks­giv­ing Casse­role is a spoon­ful of heav­en on a plate!
It's creamy and savory, stud­ded with chunks of roast turkey and has a deli­cious­ly crusty top from the bits of browned up stuffing.
Seri­ous­ly, this yum­my turkey casse­role is a tex­tur­al and fla­vor­ful sensation.
What to Serve with Thanksgiving Casserole
We typ­i­cal­ly serve it with what we call "a love­ly sal­ad", but any side dish­es you have left from your big meal would be nice com­ple­ments, as well.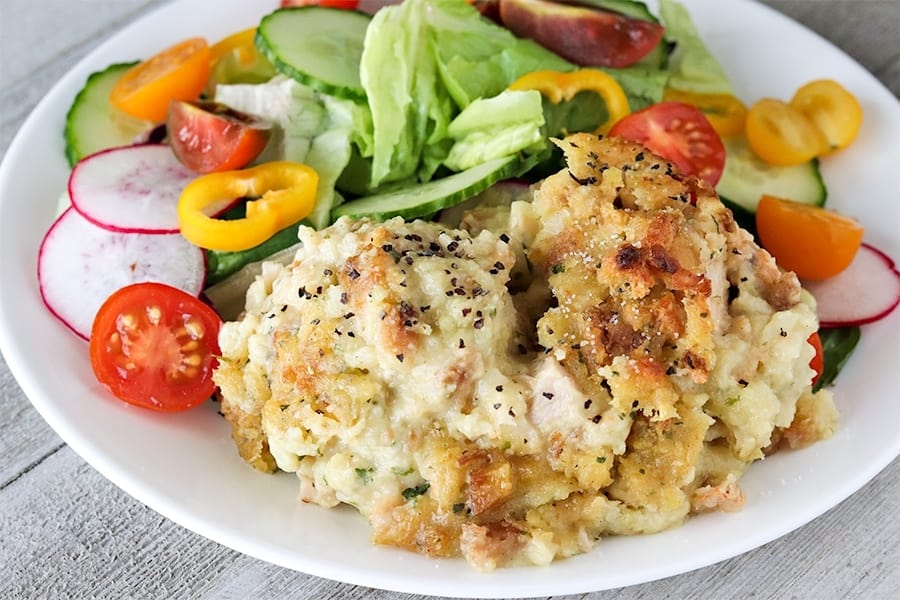 Easy Delicious Thanksgiving Sides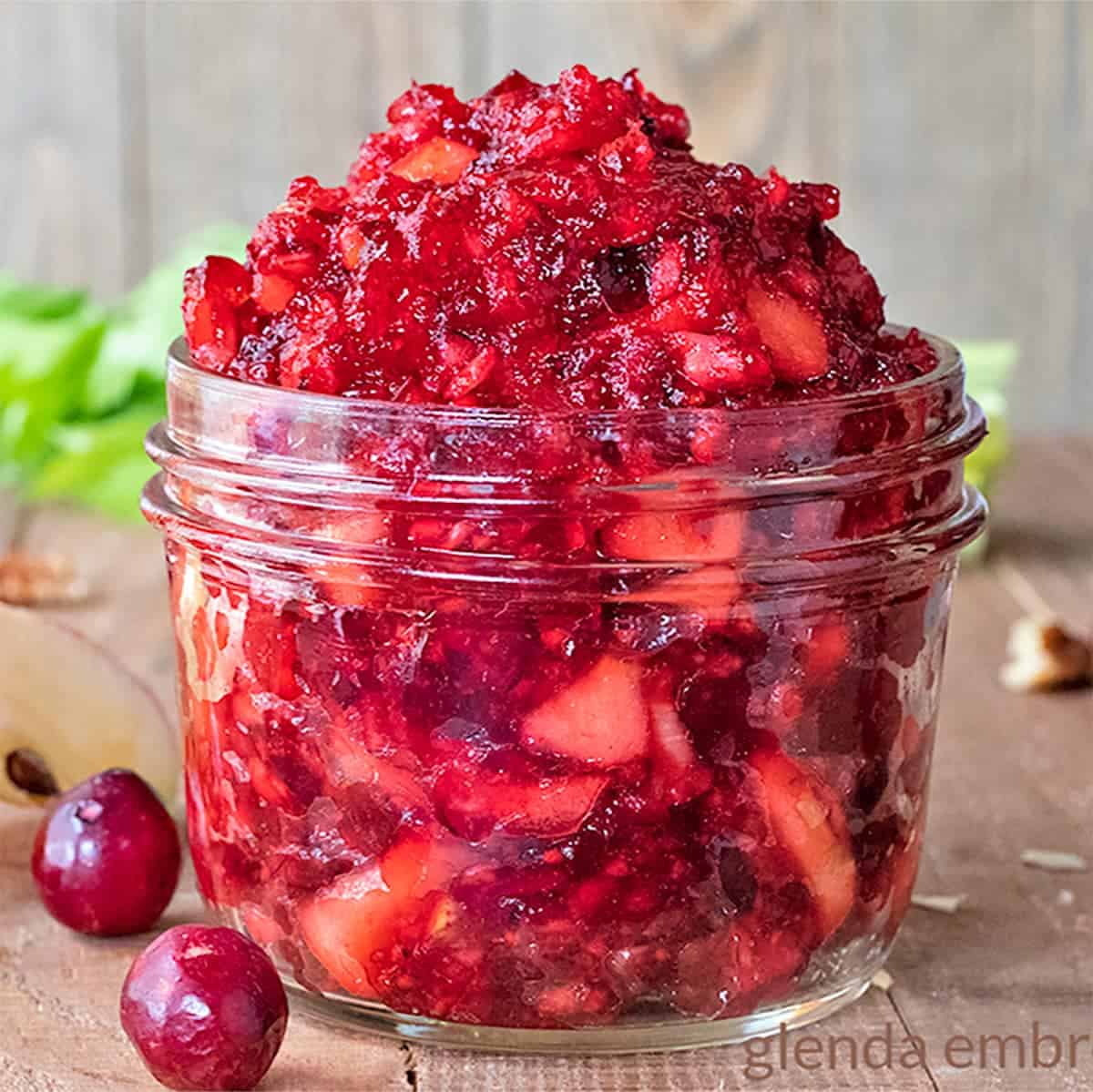 Sides for Thanks­giv­ing Casse­role can be a sim­ple as a din­ner roll or cut veg­gies. But, sal­ads and side dish­es left­over from your turkey din­ner are also great pairings.
Think Cran­ber­ry Apple Sal­ad, Loaded Baked Pota­to Sal­ad or Broc­coli Cau­li­flower Sal­ad.
You also won't be sad to serve deli­cious turkey casse­role next to Sweet Pota­to Casse­role, Slow Cook­er Creamed Corn or a gor­geous Kale, Apple and But­ter­nut Sal­ad.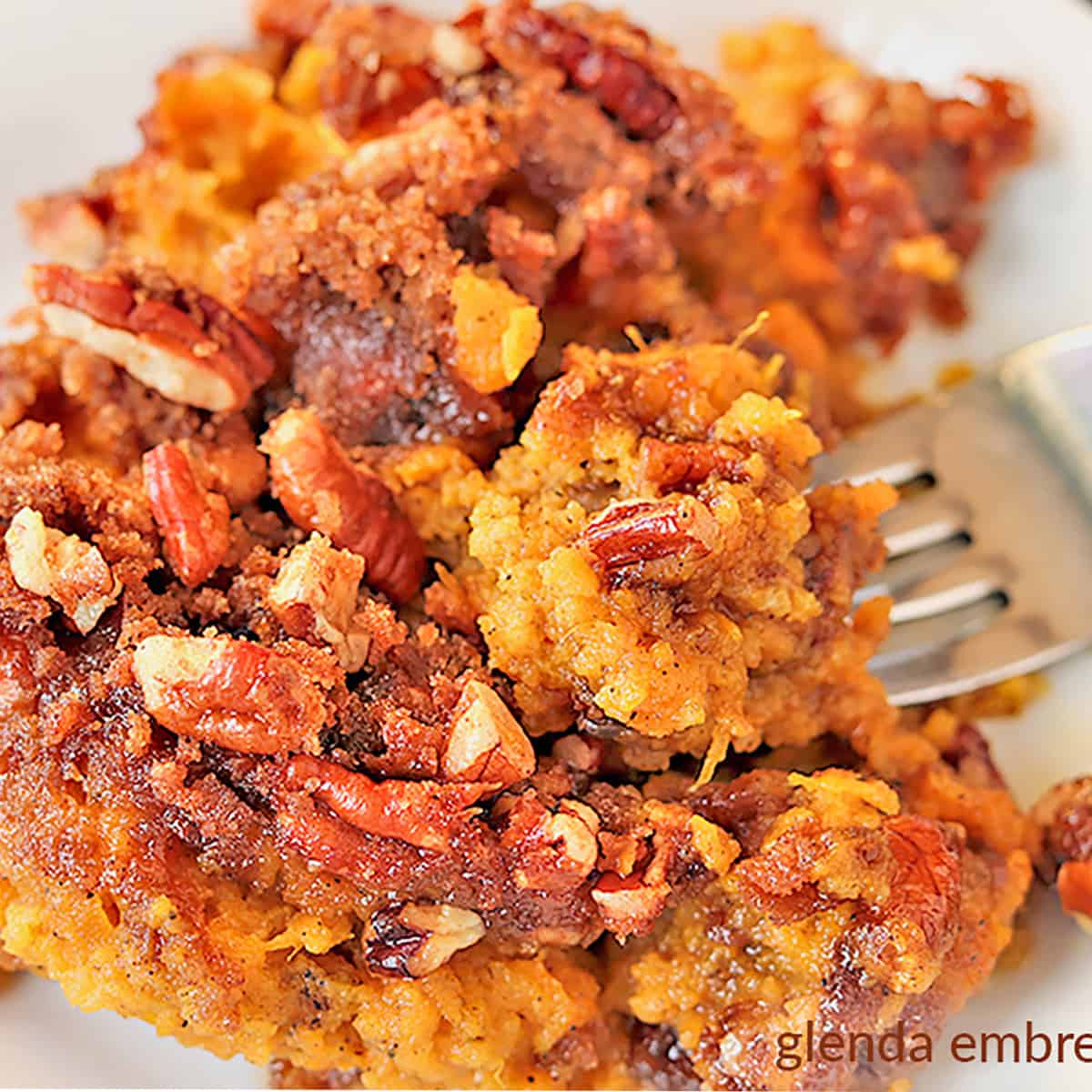 Enjoy, Friend!
The Recipe
Print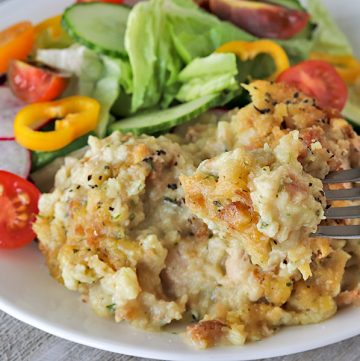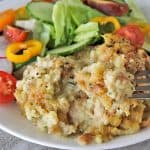 Thanksgiving Casserole
---
Author:

Total Time:

55 min­utes

Yield:

8

-

10

serv­ings

1

x
Description
The ingre­di­ent amounts list­ed, below, are for your ref­er­ence only. It gives you an idea of the ratios we typ­i­cal­ly use. My fam­i­ly LOVES stuff­ing and we use a greater ratio of that. Match your com­bi­na­tion to your own fam­i­ly's tastes and the left­over amounts you have available.
---
3

cups

left­over turkey, diced

3

cups

left­over mashed potatoes

6

-

8

cups

left­over stuffing

1 1/2

to

2

cups

left­over gravy
---
Instructions
Mix all the ingre­di­ents in the casse­role dish or pan you will use to bake it.
Bake at 350° for 30–45 min­utes, until the casse­role is hot and bub­bling around the edges, but browned and crusty on the top.
Prep Time:

10 min­utes

Cook Time:

45 min­utes

Cat­e­go­ry:

Casse­role, Poul­try, Dinner

Cui­sine:

Amer­i­can
More Leftover Recipes to Try