Best Home­made All Pur­pose Sea­son­ing is my go-to blend for every­day cook­ing needs. Its 5‑ingredient for­mu­la is quick and easy to mix togeth­er and it's the secret to savory, restau­rant-qual­i­ty fla­vor in so many dish­es. I use it in and on so many recipes. It makes del­ish burg­ers and it takes home fries to a whole new lev­el. Roast chick­en will burst with uma­mi deli­cious­ness. There are a mul­ti­tude of ways to love this sim­ple and fla­vor­ful sea­son­ing blend.
The all pur­pose sea­son­ing blend is basic enough that it won't over­pow­er oth­er sea­son­ings you may add to a dish. Ital­ian dish­es will still taste Ital­ian. Mex­i­can recipes will still have their Mex­i­can flair. But using this All Pur­pose Sea­son­ing Blend instead of just plain salt and pep­per will enhance and add dimen­sion to the fla­vors of the dish­es you make.
This recipe has only 5 ingre­di­ents, eas­i­ly found in the spice aisle at your local stores. But, because this is a blend I use every day, I like to have the ingre­di­ents on hand in bulk. So, I usu­al­ly buy bulk *onion pow­der and *gar­lic gran­ules online. I go through it too fast for the lit­tle jars to make sense for me.
Best Homemade All Purpose Seasoning Ingredients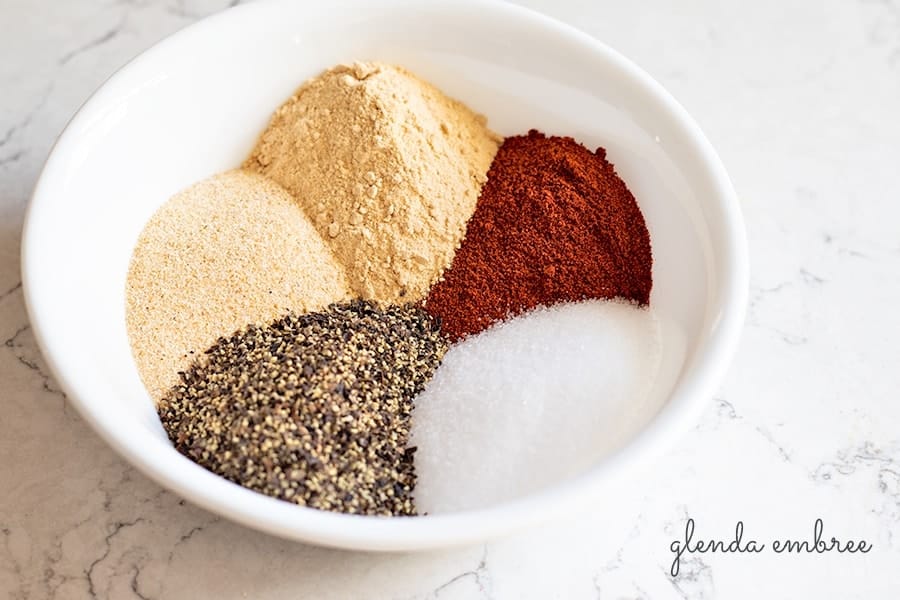 Papri­ka — I use mild (often referred to as sweet) red papri­ka in this recipe. Just the stan­dard, inex­pen­sive jar that's prob­a­bly already in your pantry. I buy a 1 lb store brand jar. Papri­ka is made from dried mild pep­pers. It adds gor­geous col­or to many dish­es that would oth­er­wise be drab and bor­ing, espe­cial­ly roast­ed chick­en or pork. Fla­vors range from the stan­dard every­day mild to quite hot. You can even pur­chase smoked papri­ka, which I love, but not for all pur­pose sea­son­ing. Paprika's fla­vor is released when heated.
*Onion Pow­der — 1 Table­spoon of onion pow­der is equal to about ½ cup of diced onion (1 medi­um onion). That means that in this all pur­pose sea­son­ing blend the savory, uma­mi deli­cious­ness that is so crav­able and com­fort­ing in our favorite home dish­es comes from the super-con­cen­trat­ed fla­vor in just a small amount of onion powder.
*Gar­lic Gran­ules — Dehy­drat­ed gar­lic is some­what milder than raw. For every­day sea­son­ing in a spice blend, the mois­ture of raw isn't an option, though. Rehy­drat­ing gar­lic pow­der or gran­ules for a cou­ple min­utes before heat­ing it, increas­es the poten­cy of its gar­licky fla­vor. So, stir it into your toma­to sauce and give it a minute BEFORE turn­ing on the heat. You'll net deep­er gar­lic deliciousness!
Salt — The per­fect home­made all pur­pose spice blend would be noth­ing with­out it. What­ev­er every­day salt you typ­i­cal­ly use is going to be great. Salt is nature's fla­vor enhancer. While it's def­i­nite­ly pos­si­ble to get car­ried away and use too much, used appro­pri­ate­ly, salt is real­ly a nec­es­sary com­po­nent of fla­vor. The goal is not salti­ness. It's too bring out, enhance and inten­si­fy the fla­vors of what you're cooking.
Ground Black Pep­per — Plain old ground, black pep­per. I usu­al­ly by a 1 lb jar and it's actu­al­ly labeled "Table Grind".
The Easy Recipe
Here's the sim­ple recipe for my Best Home­made All Pur­pose Sea­son­ing. I bet it will become one of your favorite kitchen sta­ples. Enjoy!
Print
Best Homemade All Purpose Seasoning
---
Author:

Total Time:

5 min­utes

Yield:

¾ cup

1

x
Description
My go-to, every­day all pur­pose sea­son­ing. I use it on and in so many dish­es. It adds just the right amount of fla­vor with­out over­pow­er­ing. And it stands alone with won­der­ful savory fla­vor if you use it on its own. The ingre­di­ents are like­ly in your pantry already and it's less than 5 min­utes to mix it up.
---
4 Table­spoons

paprika

2 Table­spoons

gar­lic granules

2

Table­spoons onion powder

2 Table­spoons

salt

2 Table­spoons

black pepper
---
Instructions
Mix all ingre­di­ents in a bowl until thor­ough­ly com­bined. You want all the ingre­di­ents even­ly dis­trib­uted. It's not nec­es­sary, but I like to toss them all in the blender and pulse a few times to mix them and to make all the ingre­di­ent par­ti­cles a uni­form size.
Store the blend in a tight­ly sealed glass jar along­side your oth­er spices.
Use as you would any com­mer­cial all pur­pose sea­son­ing blend.
Prep Time:

5 min

Cook Time:

0 min

Cat­e­go­ry:

Sea­son­ing Blend, Spice Blend

Method:

by hand

Cui­sine:

Amer­i­can
More Easy Homemade Seasoning Blends