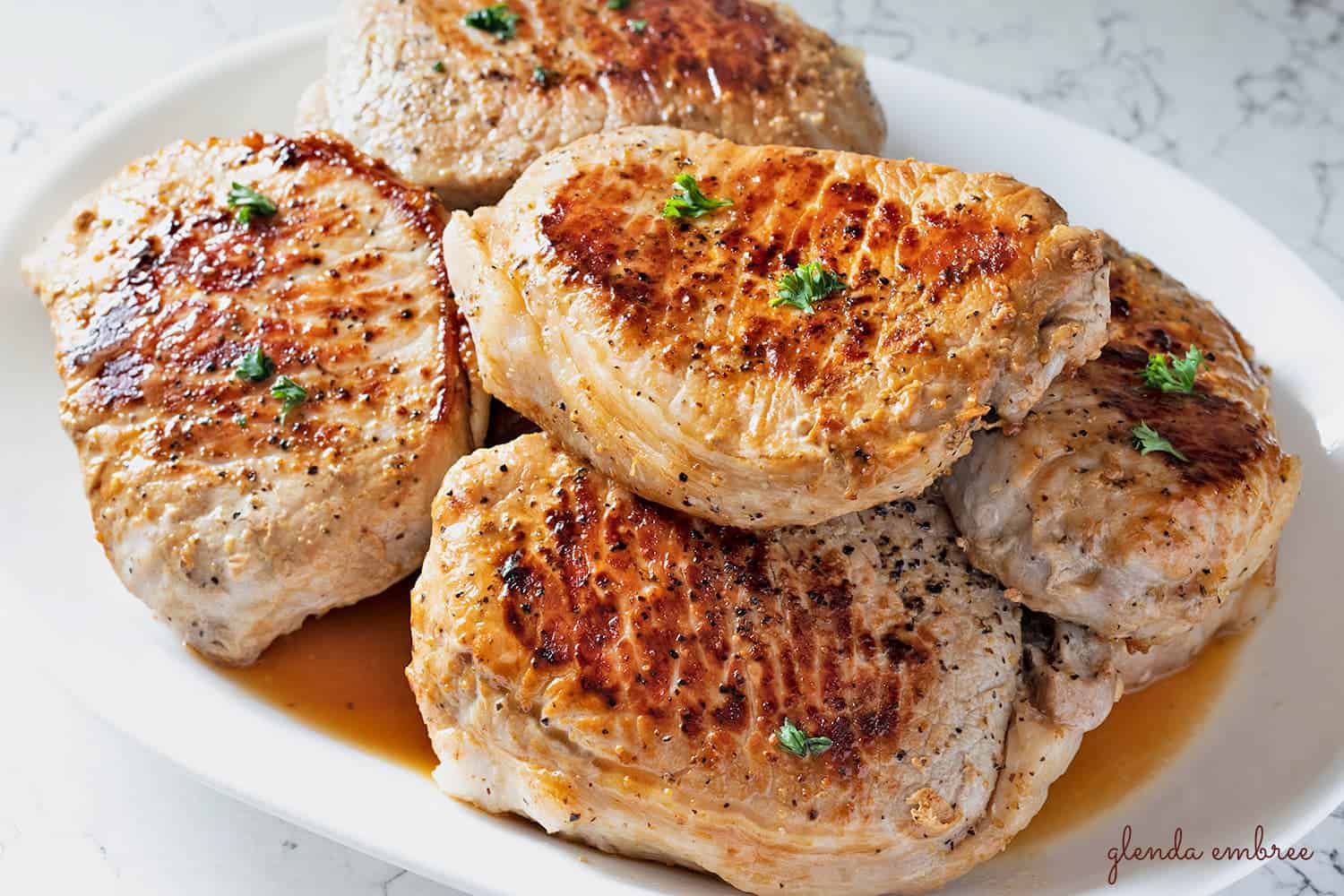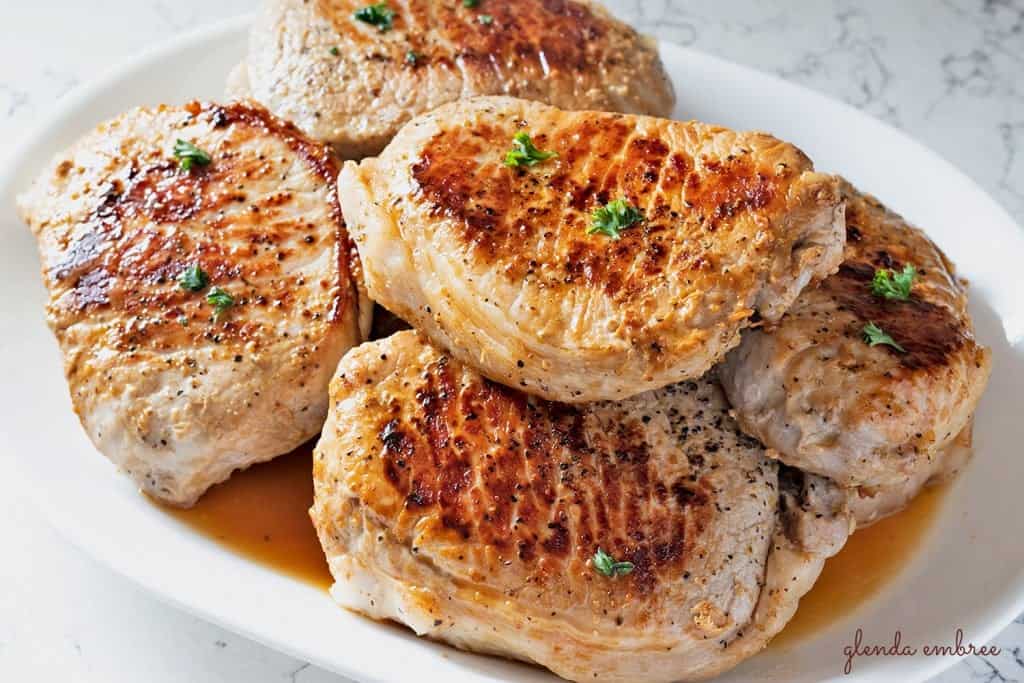 Per­fect Pan Seared Pork Chops are a quick and eco­nom­i­cal way to enjoy a deli­cious fam­i­ly din­ner with­out a lot of fuss and hands-on kitchen time for you. The savory, seared to per­fec­tion pork chops are ten­der and juicy. My recipe is so easy and fla­vor­ful you'll def­i­nite­ly want it in your reg­u­lar meal rotation.
Buying Pork Chops: Bone-In vs Boneless
My hus­band loves thick-cut bone­less pork chops whether I pan sear them or toss them on the grill. It's one of his all-time favorite dinners.
I'm sort of picky about buy­ing chops, though. Pork chops can have a LOT of fat. That def­i­nite­ly helps with fla­vor and mois­ture but I don't like pay­ing for some­thing we're not eating.
Plus, if you buy the bone-in chops you're also going to pay for the weight of that bone. Some will say that bone-in also helps retain mois­ture. How­ev­er, my per­son­al expe­ri­ence is that bone-in does­n't cook as even­ly as bone­less. And if cooked cor­rect­ly, your scrump­tious bone­less pork chops will still be juicy.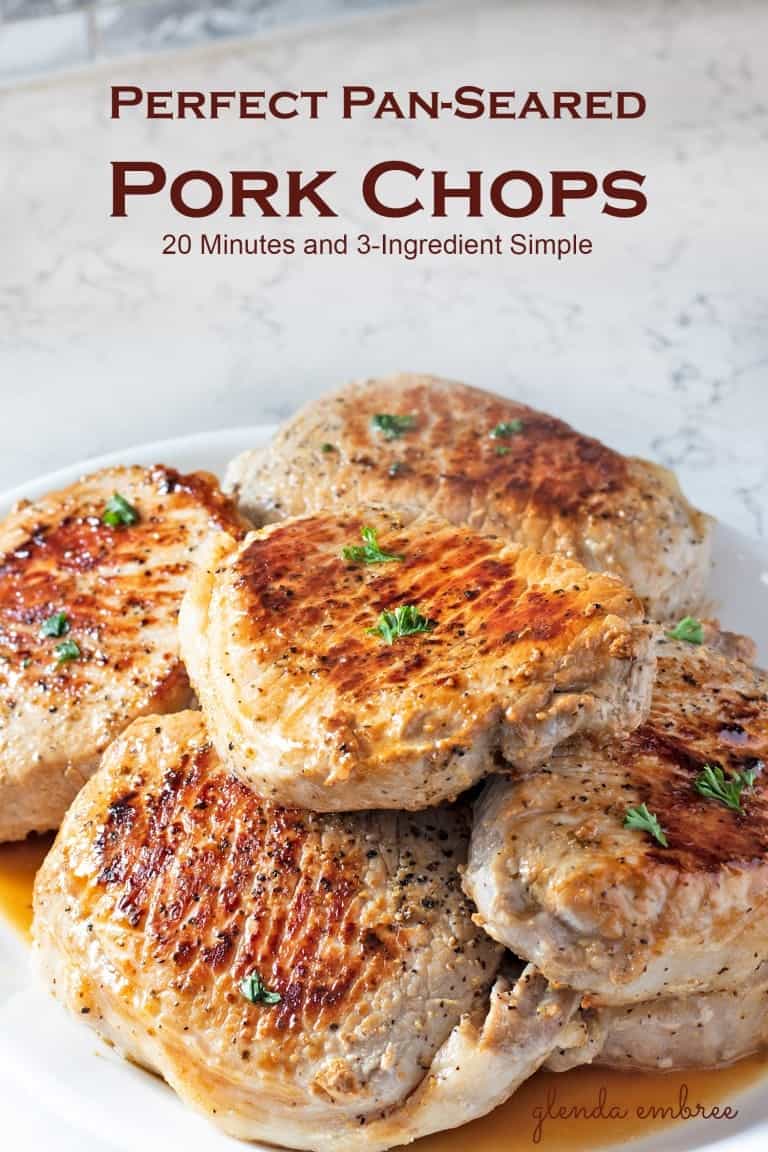 I've dis­cov­ered I can cre­ate juicy, ten­der pork chops with­out invest­ing in tons of fat and bone that will end up in the garbage. And I can make my Per­fect Pan Seared Pork Chops more eco­nom­i­cal­ly than the cuts you'll find in the meat cas­es at your local gro­cery store.
Premium Boneless Pork Chops at Affordable Prices
If I went to my local gro­cery store, today, a thick-cut (at least one-inch thick), bone­less pork chop will cost me $4.78 per pound which is $4.98 for 2 pork chops. That's $2.50 per chop!
If you're only feed­ing one or two peo­ple for a spe­cial meal, that's not such a big deal. But, what about a din­ner par­ty serv­ing 6 or 8 peo­ple? That adds up quickly!
My afford­able solu­tion lets you have thick-cut, bone­less pork chops for only $1.88 to $2.24 per pound, depend­ing on the brand and any store spe­cials. Even at the full-price end of that price scale I can get 8 (yup, eight) 1‑inch or thick­er pork chops from a 4.5 pound pork loin roast. That's only $1.26 for each bone­less pork chop at FULL price and even less when they're on sale. Half price? Yeah! You bet I'll take that!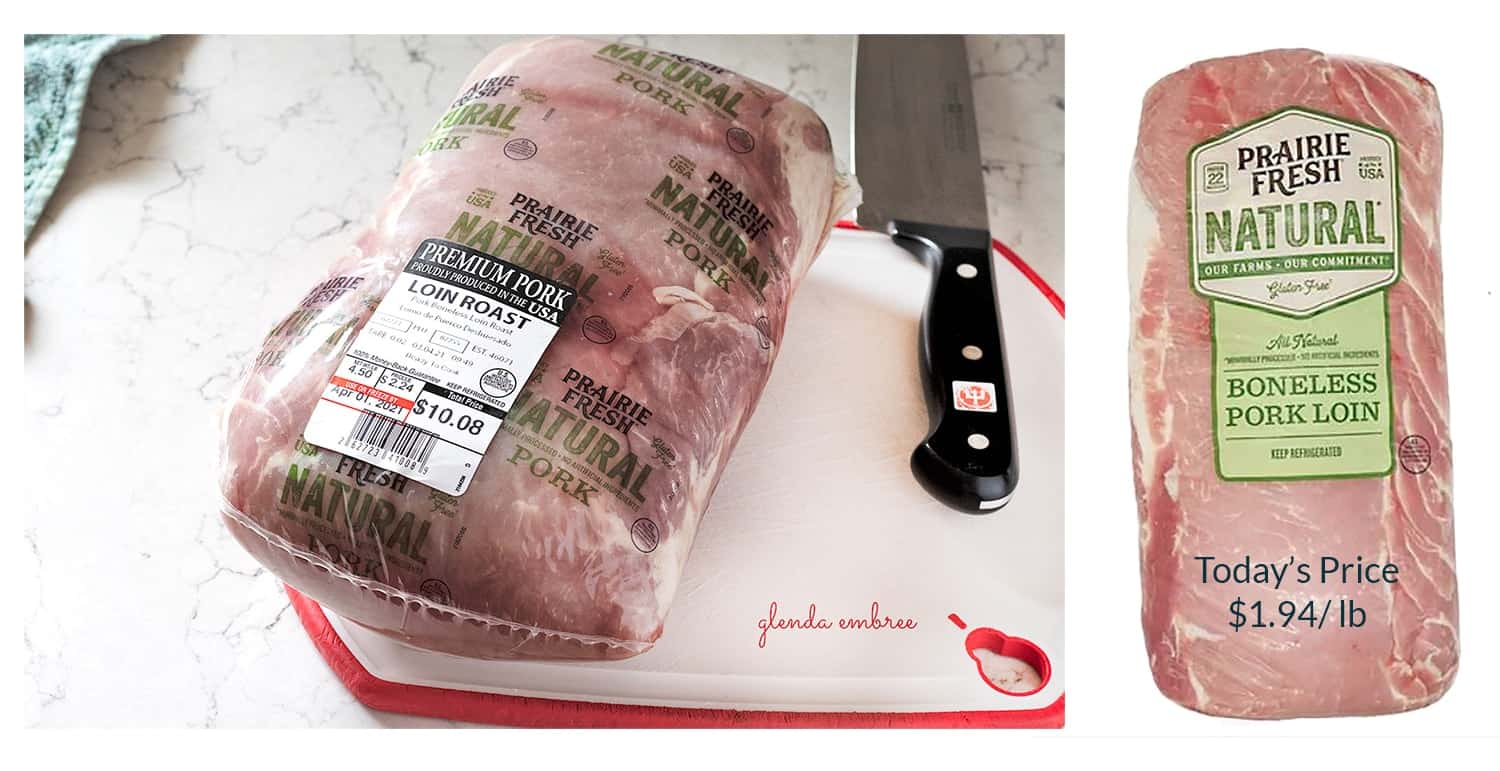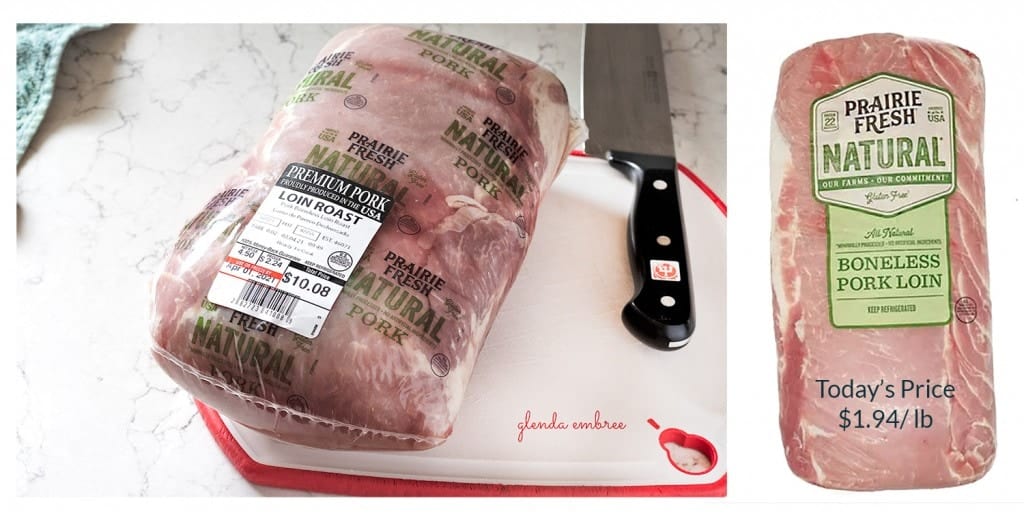 What You'll Need
a 4.5 lb. (or larg­er) bone­less pork loin roast
a good-sized *cut­ting board : I like the plas­tic cut­ting boards for cut­ting meat, only because they are easy to san­i­tize by pop­ping them into the dish­wash­er. Wood cut­ting boards are fab­u­lous and I use mine reg­u­lar­ly, but they need spe­cial care and atten­tion to be san­i­tized after cut­ting meat.
a sharp *chef's knife or butch­er knife
salt and pepper
option­al, your favorite herbs or alter­nate seasonings
The tools and ingre­di­ents are sim­ple and basic. Per­fect Pan Seared Pork Chops are easy, mon­ey-sav­ing and per­fect­ly deli­cious! It's a meal that can be served to com­pa­ny with con­fi­dence, as well as being a favorite fam­i­ly dinner.
A Seasoning Secret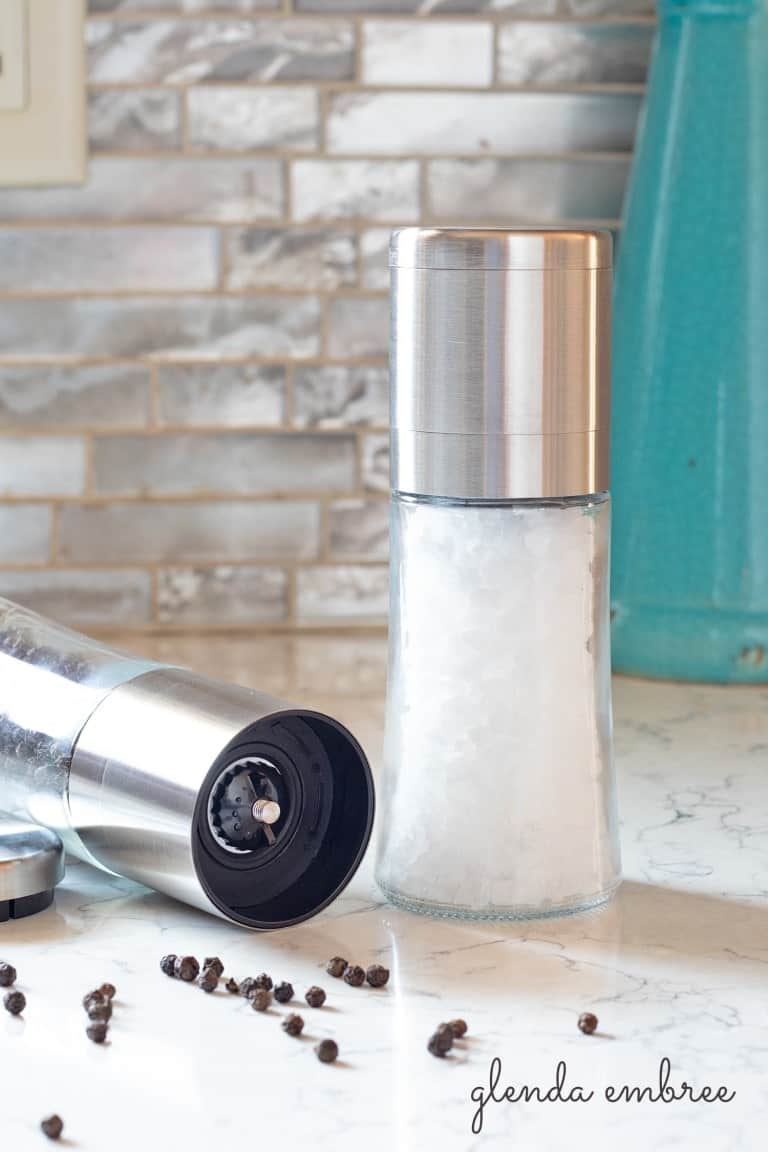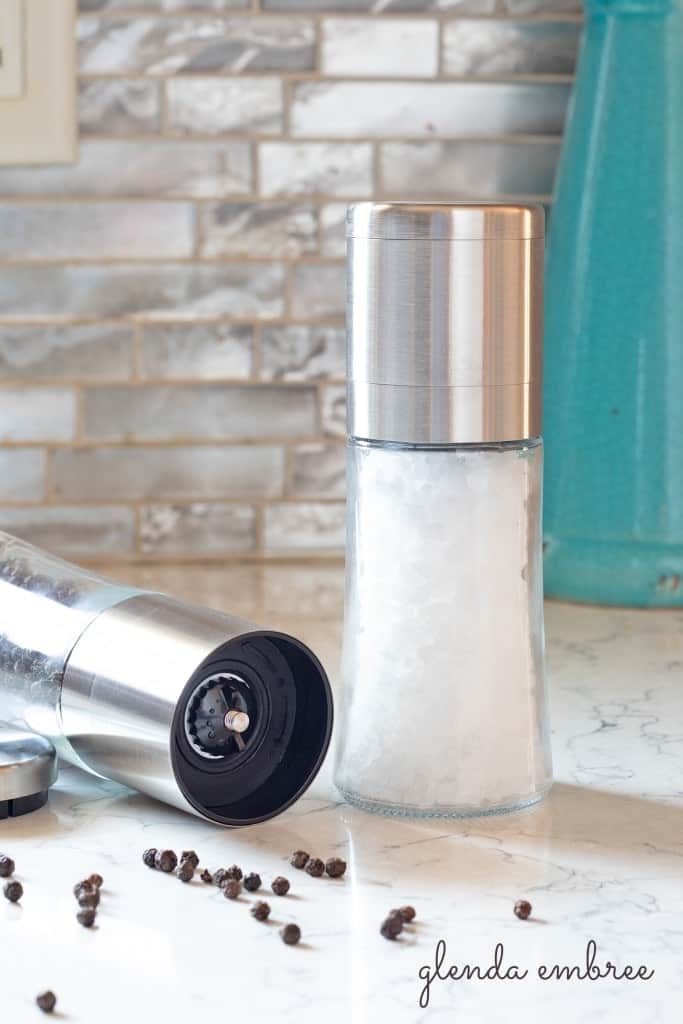 The secret to bet­ter fla­vor isn't always more sea­son­ing. Some­times, it's more time for that sea­son­ing to do it's job.
These per­fect pork chops cook up in under 30-min­utes — prob­a­bly clos­er to 20 min­utes, in fact. That's not a lot of time for sea­son­ings to do their best work.
You need to do the sea­son­ing por­tion of this recipe at least 4 hours in advance and my pref­er­ence is overnight for the deep­est, most savory fla­vor. My sea­son­ing secret is don't wait to sea­son your chops (or your chick­en, for that mat­ter) after it's already in the pan. Give your sea­son­ings time to per­me­ate and fla­vor the meat so you can savor and enjoy every deeply fla­vor­ful bite.
For most every­day occa­sions, I sim­ply salt and pep­per both sides of each chop. How­ev­er, sea­son­ing ideas are unlim­it­ed real­ly. Choose your favorite herbs to mix with the salt and pep­per as you sea­son your pork chops. Thyme and/or rose­mary would be my top two picks. Gar­lic pow­der, sage and mar­jo­ram are oth­er great options. Even sub­sti­tut­ing your favorite sea­son­ing salt, in place of plain salt, is fab­u­lous! Pick the fla­vor pro­file that fits you and your fam­i­ly best.
Left­overs are our friend! The rea­son I usu­al­ly go with just salt and pep­per is because left­overs are going to get used in a vari­ety of dif­fer­ent ways. And prob­a­bly quite a few dif­fer­ent fla­vor pro­files. Think of thin­ly sliced left­over pork chops in spicy tacos or que­sadil­las or even a bur­ri­to bowl. Or how about pair­ing the left­overs with rice and stir-fried veg­eta­bles and a sim­ple 5‑minute stir-fry sauce for a killer Asian din­ner? You have options my friend! Lots of options. So, I tend to keep the orig­i­nal sea­son­ing deeply fla­vor­ful but neu­tral enough to match a dif­fer­ent dish.
What­ev­er sea­son­ing you decide to go with, the secret is in allow­ing the meat to rest with that sea­son­ing so the fla­vors go all the way through. Instinc­tive­ly, you are going to want to cov­er the dish you sea­son them in before you set it in the fridge. See how well I know you? lol Please, leave the dish uncov­ered. Allow­ing the out­side of the pork chops to "dry out" as they rest means you'll get an even bet­ter sear when you cook them.
Making Perfect Pan Seared Pork Chops
Pat the loin roast dry with paper tow­els. It makes it eas­i­er to get a good grip when you are cut­ting your pork chops.
The pork loin will have one side with a thick­er fat cap. If it's too thick you can remove some of it, but remem­ber that is fla­vor and mois­ture. Every­one expects pork chops to have some fat. So trim it to your pref­er­ence if necessary.
Loin roasts usu­al­ly have 2 wide sides and 2 nar­row sides. Most of the time, the fat cap will be on one of the wider sides. To cut the pork chops from the roast, I turn it onto one of the thin sides. As you push down, cut­ting through the roast, it will widen the pork chop slight­ly. Doing it from the thin side ensures that you have nice­ly shaped chops, not long and thin ones.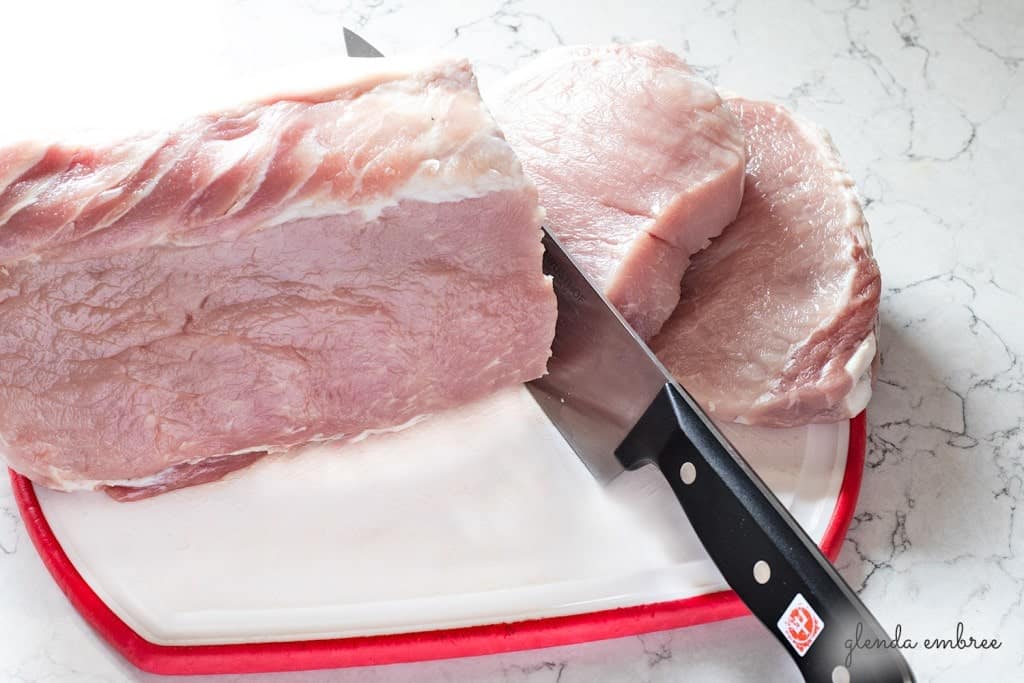 I tend to "eye­ball" it when I'm cut­ting the pork chops. I know how many I want to get from the roast and cut accord­ing­ly, so that I get even­ly thick pieces. 1‑inch is just about per­fect for our tastes, but slight­ly over or under isn't going to hurt a thing.
Make sure your knife is very sharp. That will help you get smooth even slices, with very lit­tle effort. I've had my *Wusthoff chef's knife for over a decade and will have it for decades to come. It sharp­ens to per­fec­tion, every sin­gle time and I know it will be up to what­ev­er task is in front of me.
Once the pork chops are cut, sea­son both sides of each one with your cho­sen sea­son­ing (I used only salt and pep­per, today.) Lay them in a bak­ing dish or a con­tain­er side by side. Leave the con­tain­er uncov­ered and allow them to rest and absorb your sea­son­ing fla­vors for at least four hours, up to overnight. I don't rec­om­mend a met­al con­tain­er for this step. Glass or plas­tic is best to pre­vent a metal­lic taste on your meat.
Stor­age Tip: If you are only using a few of your pork chops, this is the time to sea­son the ones you're using and then bag the rest for the freez­er and a deli­cious meal in the future. I like to flash freeze our extras in a sin­gle lay­er on a tray lined with parch­ment paper. It will only take a cou­ple hours for them to be indi­vid­u­al­ly frozen hard. Then toss them in a zip­top bag, labeled with the date and con­tents. You can use them all at once or pull them out one at a time. Since they were flash frozen, you don't have to wor­ry about them being stuck togeth­er. They should keep well in your freez­er for up to 6 months.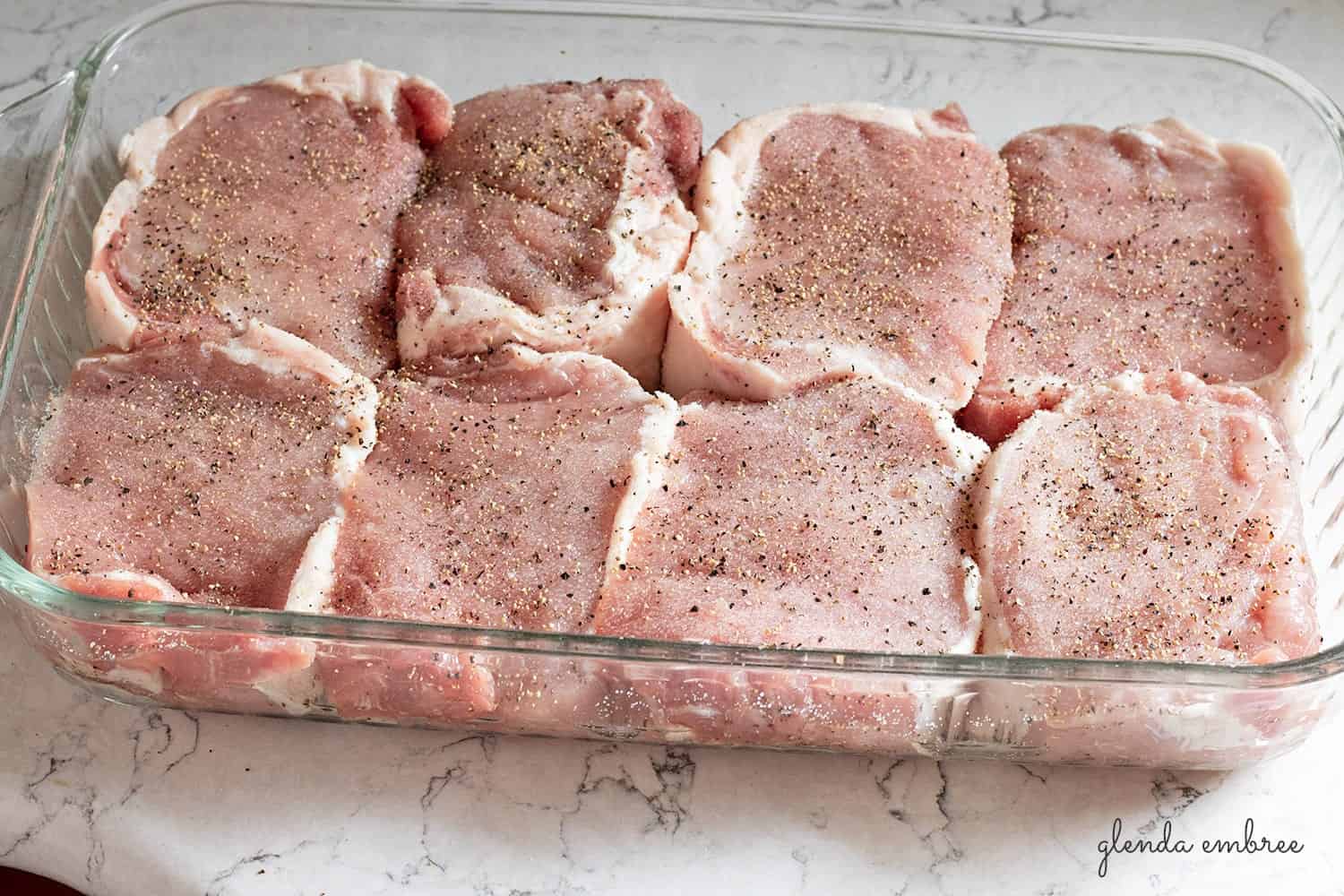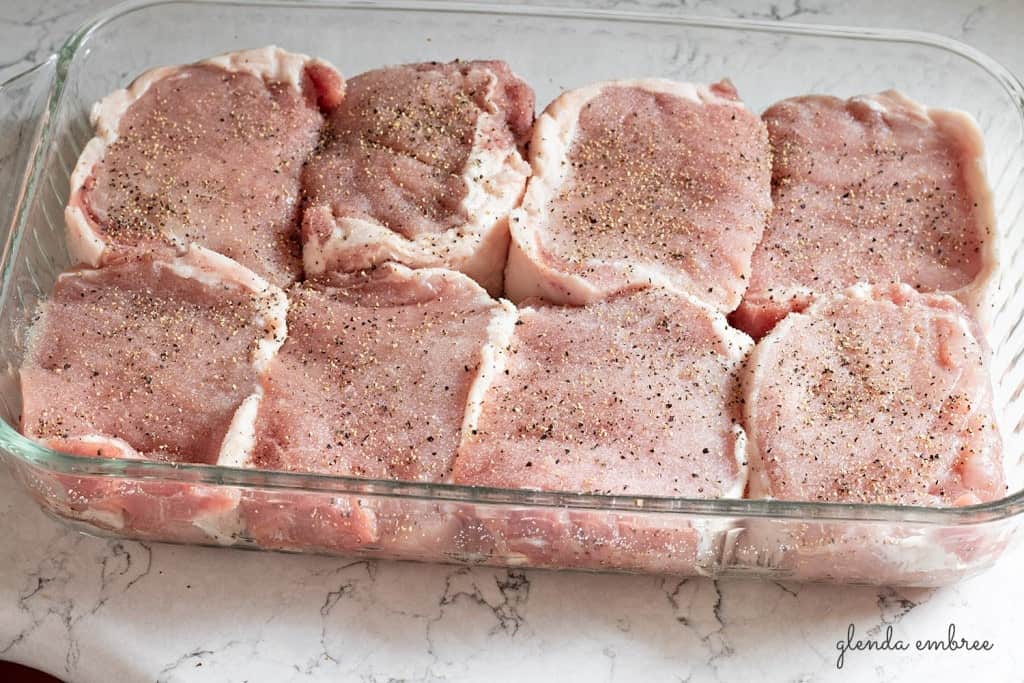 Cooking Pan Seared Pork Chops
Once your pork has rest­ed and had time to absorb your sea­son­ings deep into the meat, you're ready to cook them. If I am doing four or less pork chops, my go-to cook­ing ves­sel is my favorite cast iron skil­let. With more than four, I pre­fer the extra room that my elec­tric skil­let pro­vides. Leav­ing a lit­tle space between each chop helps to get a deep­er, more caramelized sear on the out­side instead of just "steam­ing" the meat.
I pre­heat my elec­tric skil­let to 375° (medi­um high on the stove top) with 2 or 3 Table­spoons of avo­ca­do oil. While it pre­heats I blot away any mois­ture off the chops that may have built up dur­ing the rest time.
Then I lay each dry and per­fect­ly sea­soned pork chop into the hot skil­let. Your skil­let and oil must be HOT to get the quick sear you're look­ing for. When the meat is caramelized to a deep, rich brown (2 or 3 min­utes), it's ready to turn.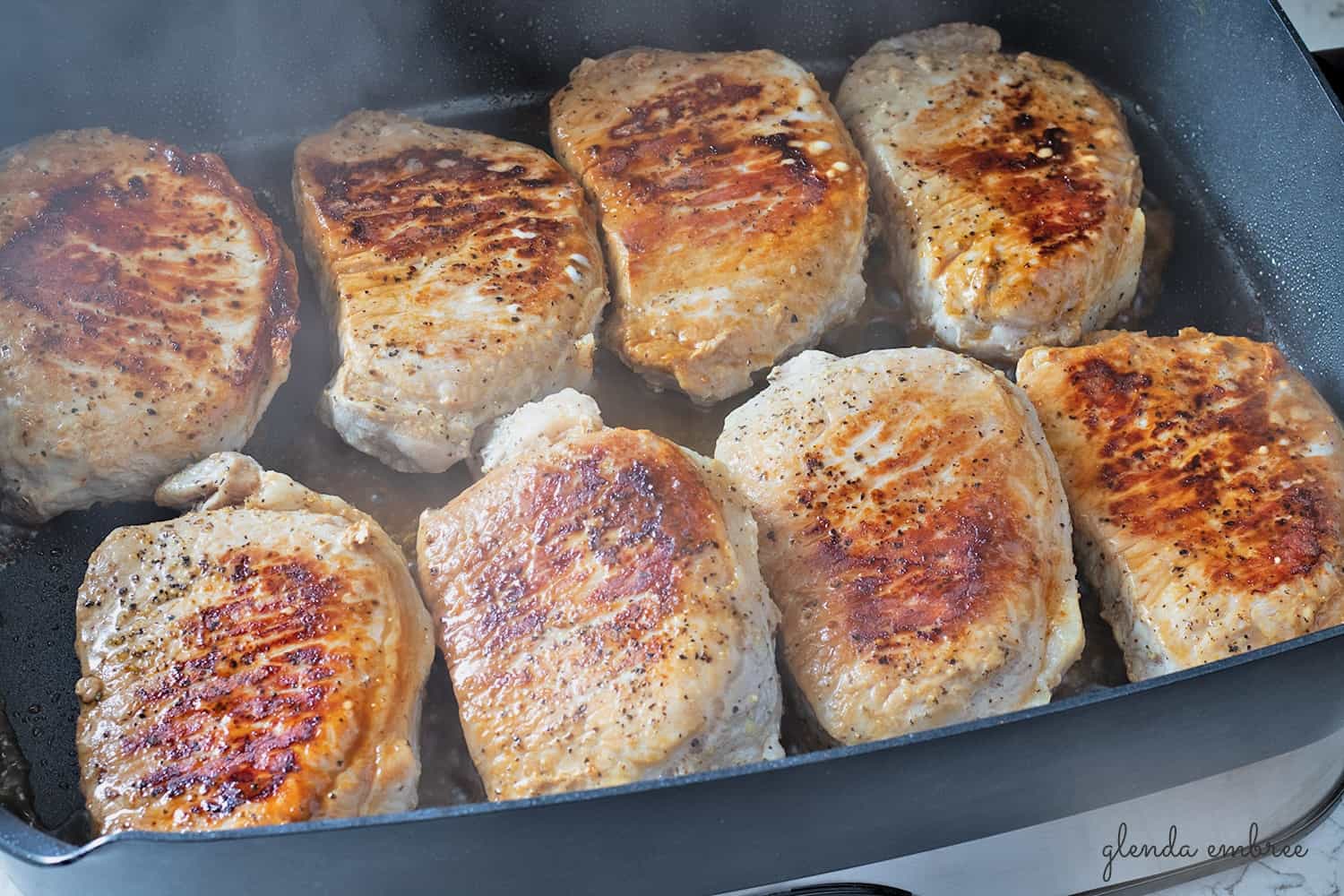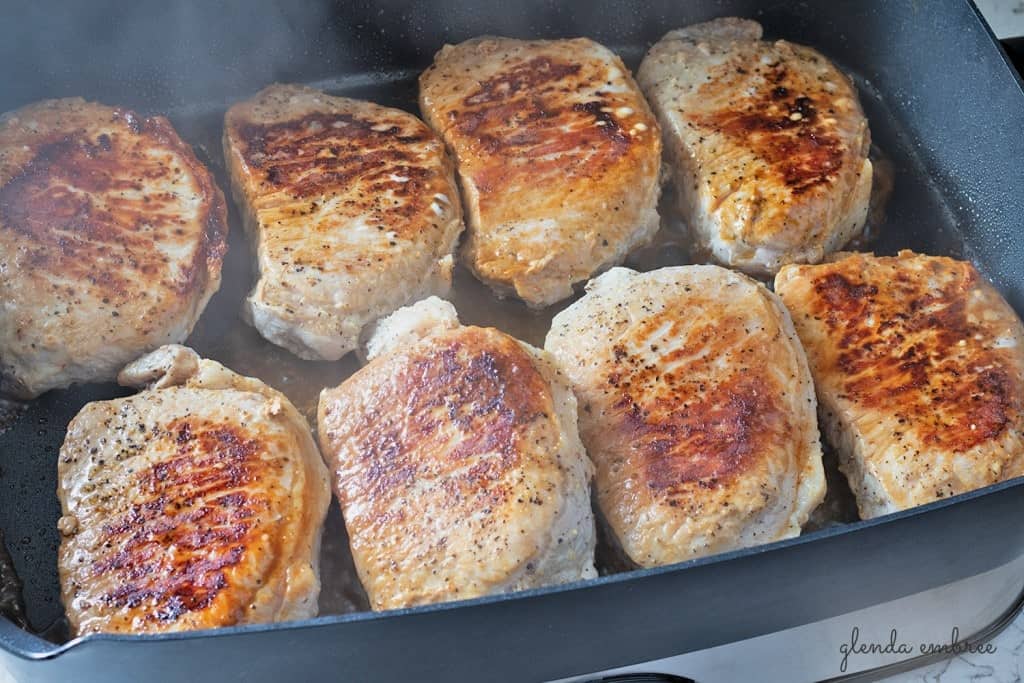 Flip each piece over and allow them to brown on the oth­er side. Once both sides are per­fect­ly seared, I place a lid on the skil­let to com­plete the cook­ing. This step is so impor­tant. We want to bring the meat up to tem­per­a­ture quick­ly with­out over cook­ing it.
Pork is safe to eat and should be removed from the pan when the inter­nal tem­per­a­ture is 145°. That is con­sid­ered medi­um rare but it is going to con­tin­ue cook­ing from resid­ual heat, as it rests. Trust me! I do NOT eat rare meat. But, if you cook beyond this point your meat will be dry and tough. After the sec­ond side is seared and the lid put on the pan, you could hit that tem­per­a­ture with­in 8–10 min­utes and sure­ly will with­in 15. I use a *dig­i­tal meat ther­mome­ter and begin check­ing around the 8‑minute mark, so I can be 100% sure I'm not over­cook­ing the meat.
At the point of a 145° degree inter­nal tem­per­a­ture, lift your pork chops out of the skil­let and onto a plat­ter to rest. This lets the chops con­tin­ue cook­ing and the juices to redis­trib­ute through­out the meat. It should rest for 10 to 15 min­utes. Fif­teen is usu­al­ly my go-to.
After the rest time, I driz­zle any pan drip­pings over the Per­fect Pan Seared Pork Chops, gar­nish with a lit­tle pars­ley and serve them up. Oh my holy heav­en! They're sooooo good! Enjoy, Friend!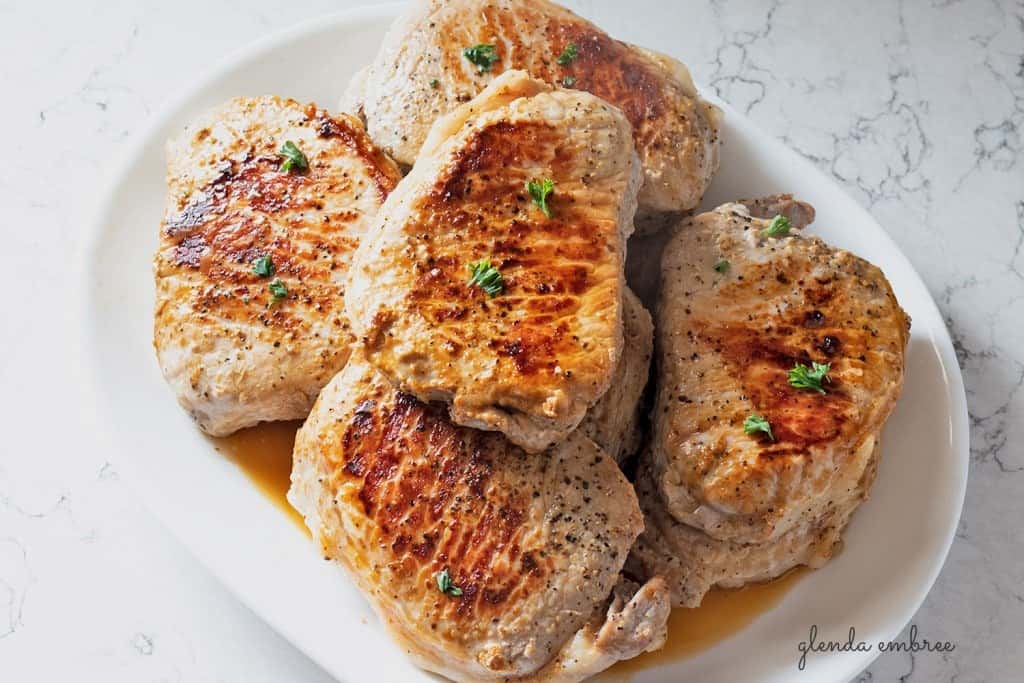 Print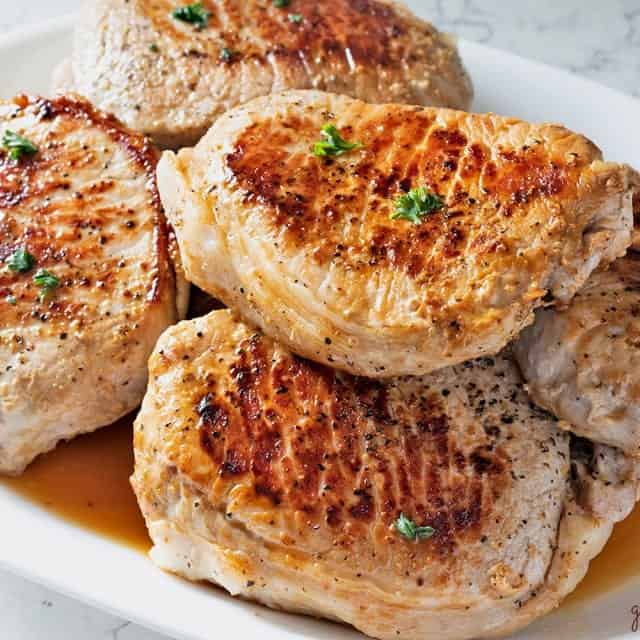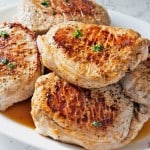 Perfect Pan Seared Pork Chops
---
Author:

Total Time:

4 hours 30 minutes

Yield:

8

pork chops

1

x
Description
Per­fect Pan Seared Pork Chops is my go-to chops recipe. It comes out ten­der, juicy and fla­vor­ful every time. The chops are per­fect with all your fam­i­ly's favorite sides and cook up in about 20 min­utes. Left­overs are deli­cious, sliced thin and used in stir fries, tacos or oth­er dish­es. The pos­si­bil­i­ties are only lim­it­ed by your imagination.
---
4.5

lb pork loin roast
salt and pepper

2 Table­spoons

avo­ca­do oil (or your pre­ferred cook­ing oil)
option­al, your favorite herbs or sea­son­ings ( i.e. rose­mary, thyme, gar­lic, sage, mar­jo­ram or all pur­pose sea­son­ing)
---
Instructions
Pat the roast dry with paper towels.
Place the pork loin on a cut­ting board with one of the nar­row sides down.
Use a sharp knife to cut 1″ thick pork chops from the roast.
Sprin­kle both sides of each pork chop with salt and pep­per (or the herbs/seasonings of your choice).
Place the sea­soned chops in a dish or tray, in a sin­gle lay­er. Leave uncov­ered and rest in the fridge for at least four hours, up to overnight.
Pull the chops out of the fridge 30 min­utes before you'll be cook­ing them. Hav­ing them at room tem­per­a­ture allows them to get a bet­ter sear.
Pre­heat your skil­let with a cou­ple Table­spoons of avo­ca­do oil in it. I heat my elec­tric skil­let to 375° or heat my cast iron skil­let on the stove top at the medi­um high set­ting (7 or 8 out of a range of 10).
Use a paper tow­el to pat away any mois­ture that has been released from the chops and then place them in the already HOT skillet.
Sear for 1 — 2 min­utes until the bot­tom is nice­ly caramelized and gold­en brown. Turn the chops and sear the oth­er side. Again, 1–2 min­utes will prob­a­bly be enough.
lace a lid or cov­er over the skil­let and allow chops to con­tin­ue cook­ing any­where from 8–15 min­utes. You are going for an inter­nal tem­per­a­ture of 145°. Resist the urge to cook them longer than that or your pork will be dry and tough. Use a meat ther­mome­ter and begin check­ing the tem­per­a­ture 7 or 8 min­utes after the sec­ond sear is com­plete. Keep cook­ing and check­ing just until the ther­mome­ter insert­ed into the cen­ter of a chop reads 145°.
When you hit 145°, lift the pork chops out onto a plat­ter to rest. They will con­tin­ue to cook and the juices will redis­trib­ute through­out the meat. Rest them a min­i­mum of 10 min­utes, though 15 is prob­a­bly ide­al. Skip­ping this step can result in tough, dry meat.
After the rest peri­od, pour any pan drip­pings over the chops and gar­nish with fresh parsley.
Serve with your favorite sides.
Prep Time:

10 min

Rest­ing in Fridge Time:

4 hours

Cook Time:

20 min­utes

Cat­e­go­ry:

Main Dish, Meat, Pork

Method:

Stove Top

Cui­sine:

Amer­i­can
Key­words: pork, pork chops
What to Serve with Perfect Pan Seared Pork Chops
Pork chops are deli­cious next to almost any of your favorite sides! Pota­toes, baked or mashed; sweet pota­toes, rice, or quinoa. We also love them with Pota­to Sal­ad.