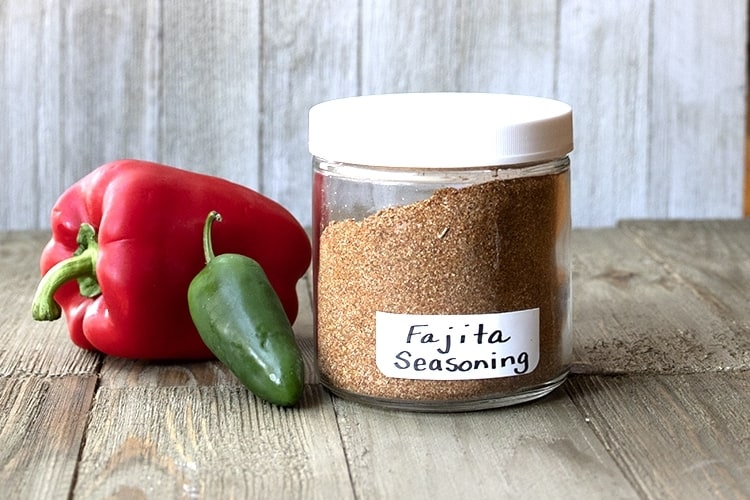 A handful of staple, pantry herbs and spices is all you need to create Homemade Fajita Seasoning. It's loaded with flavor and packs just the right amount of spicy punch. There are no fillers, or ingredients you can't pronounce, just aromatic herbs and spices for making your tastebuds sing!
I've been asked if you can substitute chili powder, if you don't have chipotle powder. You can. The flavor will be different, but you may enjoy it just as much as this version.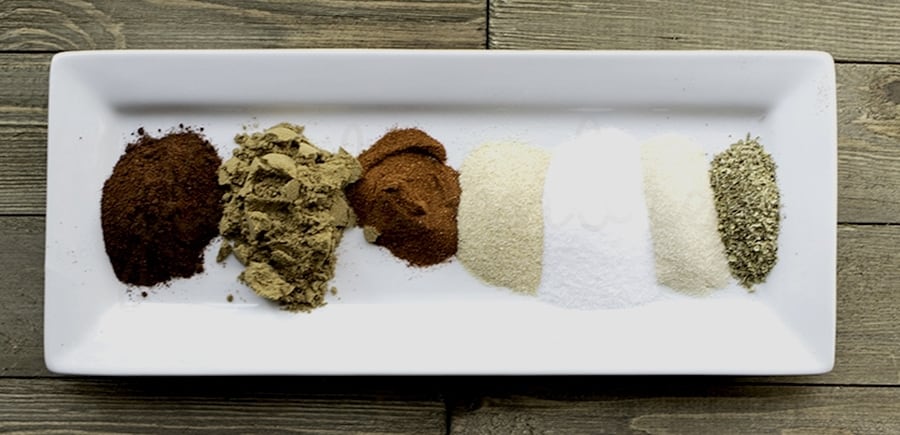 What you'll miss out on is the earthy, smoky flavor that smoked jalapenos add to the mix. Chipotle powder is dried, smoked jalapenos. It is 100% jalapenos. Chili powder can be made from any number of varieties of chilies and is usually blended with garlic powder, oregano and cumin.
It's definitely up to you. If you love a little smokiness with your chili-heat, then I highly recommend the chipotle powder. I used to have to order it from Amazon, but our local Walmart keeps the McCormick brand on the shelf, now. So, I don't think you'll have any trouble finding it.
How to Make Homemade Fajita Seasoning
This just might be my simplest recipe, ever. Toss all the ingredients into a bowl and mix until they're thoroughly combined. Store your Homemade Fajita Seasoning in an airtight container in the pantry.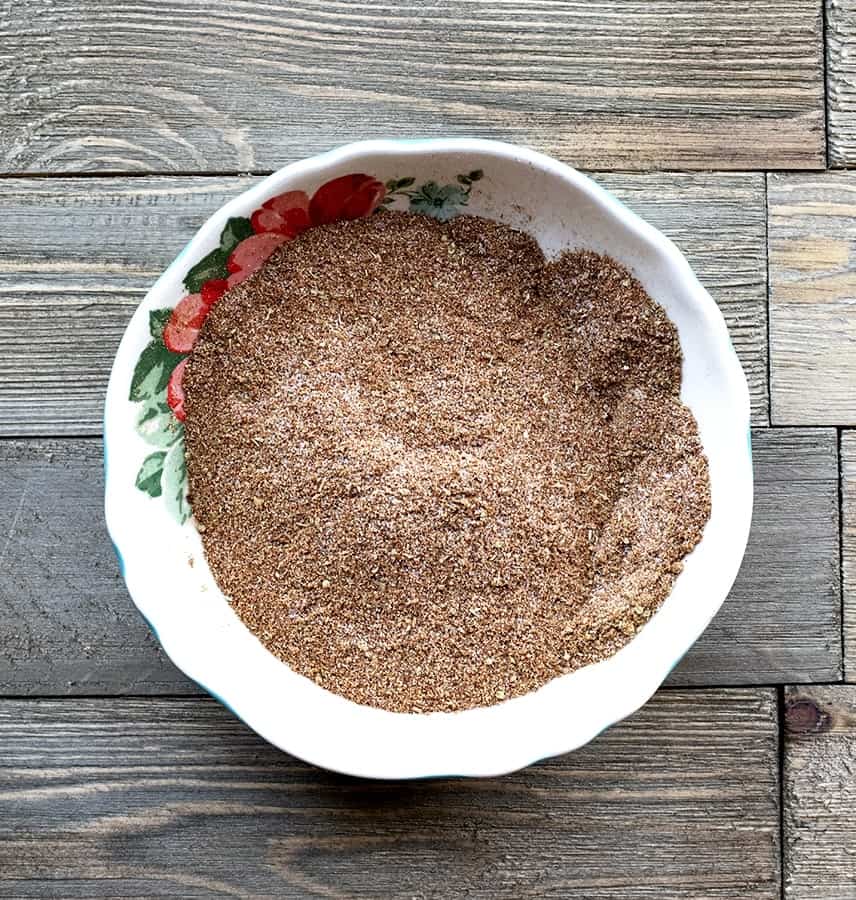 When you start layering flavors into spice and seasoning blends, think about the way they will complement and accentuate one another.
I think the best blends for meat dishes always need robust savory flavors, with a tiny touch of sweetness and a little kiss of spice. (Sometimes, they need a full-on, big sloppy kiss of spice, like my Easy Sheet Pan Chicken Fajitas, but every savory recipe can benefit from at least a delicate touch of heat.)
I also like dehydrated citrus zest in some seasoning blends. Especially if the dishes I'll be using them for need that extra lift and brightness. Dried citrus zest is always good in blends to be used on fattier meats, too. The acidity is a good counter-balance for the richness high-fat brings to a recipe.
How To Use Homemade Fajita Seasoning
Mine is always handy in my spice cupboard. I keep it in an old bouillon jar that seemed too nice not to recycle. (Do you wash out and keep old jars? Please tell me I'm not the only one of us who has a "small" collection. lol But seriously, jars are expensive. Wash out that pickle jar and save your pennies!)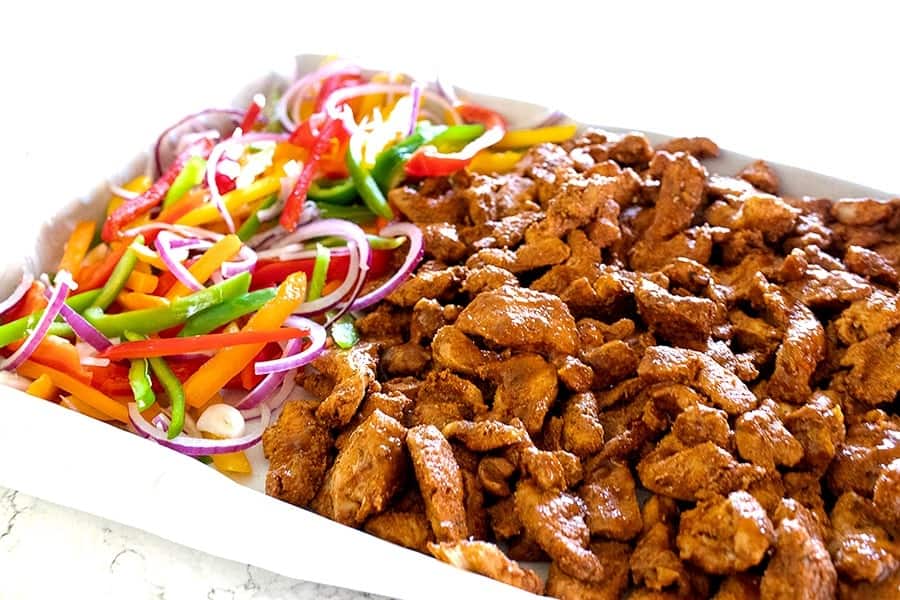 Ok, back to how I use it. As I said, I almost always have some pre-made and on the shelf. If I don't already have a batch of Sheet Pan Fajita Chicken made, I can use this seasoning on leftover chicken, beef or pork to build delicious new meals from leftovers.
Try it in things like Rice Bowls, Quesadillas, a Southwest Omelet or Frittata, Nachos, Tacos and Burritos or even an Impossible Fajita Pie. Make your own Spicy Tortilla Chips with a sprinkle of this seasoning for scrumptious snacky flavor. Your tastebuds will do a happy dance!
And I just noticed a Fajita Philly Steak Sandwich over at my friend Lyuba's blog, Will Cook for Smiles. I may have to put my own twist on that drool-worthy sandwich with a touch of this seasoning substituted in.
I bet if I give you enough time, you'll come up with dozens of creative recipe ideas to use it in. Be sure to leave me a comment and let me know what you come up with.
Print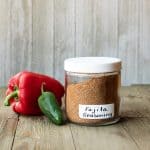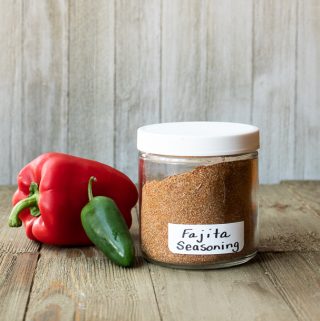 Easy Fajita Seasoning
---
Author:

Prep Time:

5 minutes

Total Time:

5 minutes

Yield:

14

servings

1

x
Description
Simple, delicious seasoning blend recipe utilizing common pantry ingredients. Loaded with flavor!
---
Scale
Ingredients
2 Tbsp

chipotle powder

2 Tbsp

ground cumin

1 Tbsp

smoked paprika

2 Tbsp

salt

1 Tbsp

garlic powder

1 Tbsp

onion powder

1 Tbsp

dried oregano

2 Tbsp

brown sugar
---
Instructions
Stir all the ingredients together in a small bowl until everything is evenly distributed. Store in an airtight container in the pantry or cupboard.
Use in place of packaged fajita seasoning in all your favorite recipes. Use 2 teaspoons per serving.
---
Category:

Seasonings, Mixes

Cuisine:

Mexican