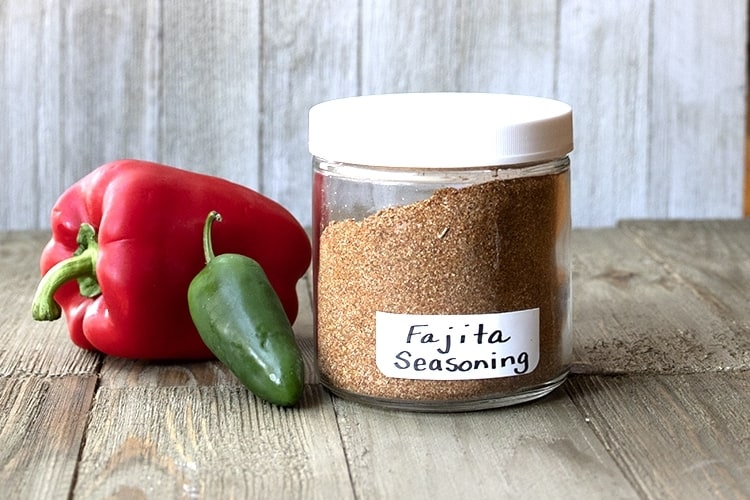 A hand­ful of sta­ple, pantry herbs and spices is all you need to cre­ate Home­made Faji­ta Sea­son­ing. It's loaded with fla­vor and packs just the right amount of spicy punch. There are no fillers, or ingre­di­ents you can't pro­nounce, just aro­mat­ic herbs and spices for mak­ing your taste­buds sing!
I've been asked if you can sub­sti­tute chili pow­der, if you don't have chipo­tle pow­der. You can. The fla­vor will be dif­fer­ent, but you may enjoy it just as much as this ver­sion. My South­west­ern sea­son­ing is also deli­cious­ly sim­i­lar and would work well in any recipe that calls for faji­ta seasoning.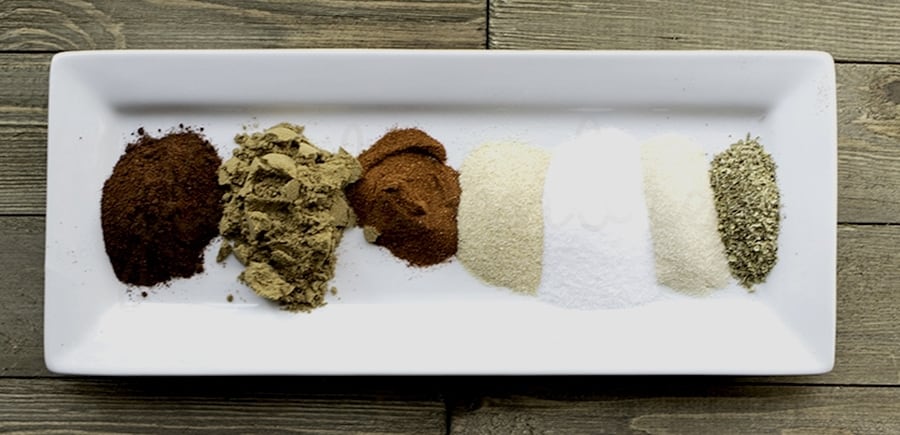 What you'll miss out on is the earthy, smoky fla­vor that smoked jalapenos add to the mix. Chipo­tle pow­der is dried, smoked jalapenos. It is 100% jalapenos. Chili pow­der can be made from any num­ber of vari­eties of chilies and is usu­al­ly blend­ed with gar­lic pow­der, oregano and cumin.
It's def­i­nite­ly up to you. If you love a lit­tle smok­i­ness with your chili-heat, then I high­ly rec­om­mend the chipo­tle pow­der. I used to have to order it from Ama­zon, but our local Wal­mart keeps the McCormick brand on the shelf, now. So, I don't think you'll have any trou­ble find­ing it.
How to Make Homemade Fajita Seasoning
This just might be my sim­plest recipe, ever. Toss all the ingre­di­ents into a bowl and mix until they're thor­ough­ly com­bined. Store your Home­made Faji­ta Sea­son­ing in an air­tight con­tain­er in the pantry.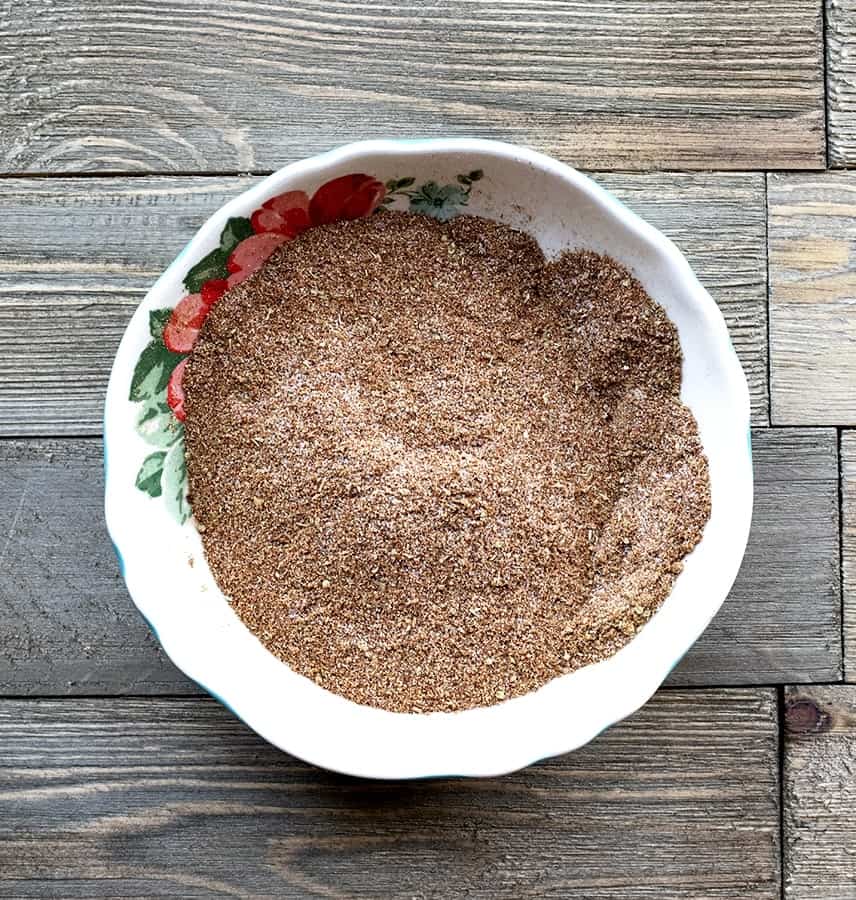 When you start lay­er­ing fla­vors into spice and sea­son­ing blends, think about the way they will com­ple­ment and accen­tu­ate one another.
I think the best blends for meat dish­es always need robust savory fla­vors, with a tiny touch of sweet­ness and a lit­tle kiss of spice. (Some­times, they need a full-on, big slop­py kiss of spice, like my Easy Sheet Pan Chick­en Faji­tas, but every savory recipe can ben­e­fit from at least a del­i­cate touch of heat.)
I also like dehy­drat­ed cit­rus zest in some sea­son­ing blends. Espe­cial­ly if the dish­es I'll be using them for need that extra lift and bright­ness. Dried cit­rus zest is always good in blends to be used on fat­ti­er meats, too. The acid­i­ty is a good counter-bal­ance for the rich­ness high-fat brings to a recipe.
How To Use Homemade Fajita Seasoning
Mine is always handy in my spice cup­board. I keep it in an old bouil­lon jar that seemed too nice not to recy­cle. (Do you wash out and keep old jars? Please tell me I'm not the only one of us who has a "small" col­lec­tion. lol But seri­ous­ly, jars are expen­sive. Wash out that pick­le jar and save your pennies!)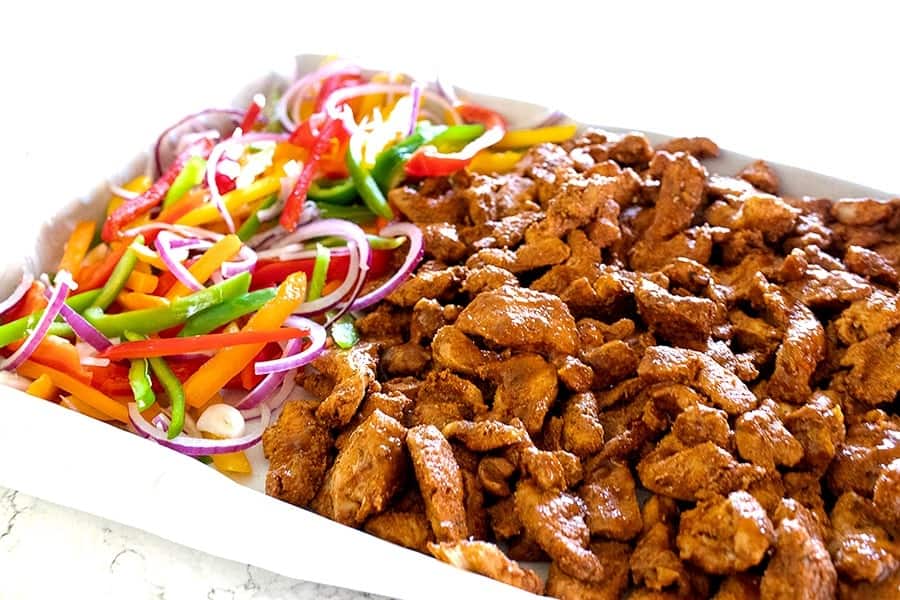 Ok, back to how I use it. As I said, I almost always have some pre-made and on the shelf. If I don't already have a batch of Sheet Pan Faji­ta Chick­en made, I can use this sea­son­ing on left­over chick­en, beef or pork to build deli­cious new meals from leftovers.
Try it in my easy 10-minute Best Mex­i­can Rice recipe, Que­sadil­las, a South­west Omelet or Frit­ta­ta, Nachos, Tacos and Bur­ri­tos or even an Impos­si­ble Faji­ta Pie. Make your own Spicy Tor­tilla Chips with a sprin­kle of this sea­son­ing for scrump­tious snacky fla­vor. Your taste­buds will do a hap­py dance!
And I just noticed a Faji­ta Philly Steak Sand­wich over at my friend Lyuba's blog, Will Cook for Smiles. I may have to put my own twist on that drool-wor­thy sand­wich with a touch of this sea­son­ing sub­sti­tut­ed in.
I bet if I give you enough time, you'll come up with dozens of cre­ative recipe ideas to use it in. Be sure to leave me a com­ment and let me know what you come up with.
Print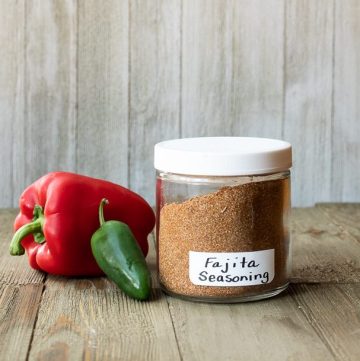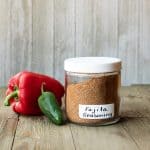 Easy Fajita Seasoning
---
Author:

Total Time:

5 min­utes

Yield:

14

serv­ings

1

x
Description
Sim­ple, deli­cious sea­son­ing blend recipe uti­liz­ing com­mon pantry ingre­di­ents. Loaded with flavor!
---
2 Table­spoon

chipo­tle powder

2 Table­spoon

ground cumin

1 Table­spoon

smoked paprika

2 Table­spoon

salt

1 Table­spoon

gar­lic powder

1 Table­spoon

onion powder

1 Table­spoon

dried oregano

2 Table­spoon

brown sugar
---
Instructions
Stir all the ingre­di­ents togeth­er in a small bowl until every­thing is even­ly dis­trib­uted. Store in an air­tight con­tain­er in the pantry or cup­board.
Use in place of pack­aged faji­ta sea­son­ing in all your favorite recipes. Use 2 tea­spoons per serving.
Prep Time:

5 min­utes

Cook Time:

0 min

Cat­e­go­ry:

Sea­son­ings, Mixes

Method:

hand mix

Cui­sine:

Mex­i­can