A Turkey Avo­ca­do Sand­wich is the ulti­mate turkey left­over hack. You won't be able to get enough of this easy, delec­table sandwich!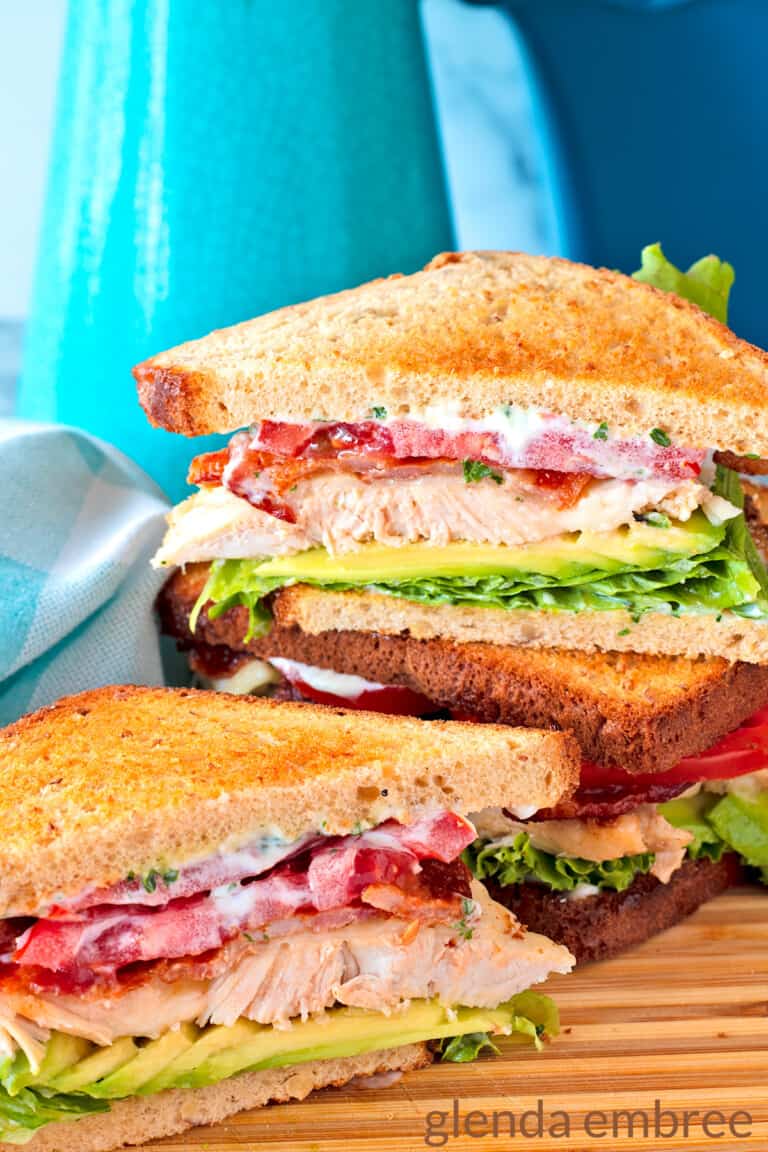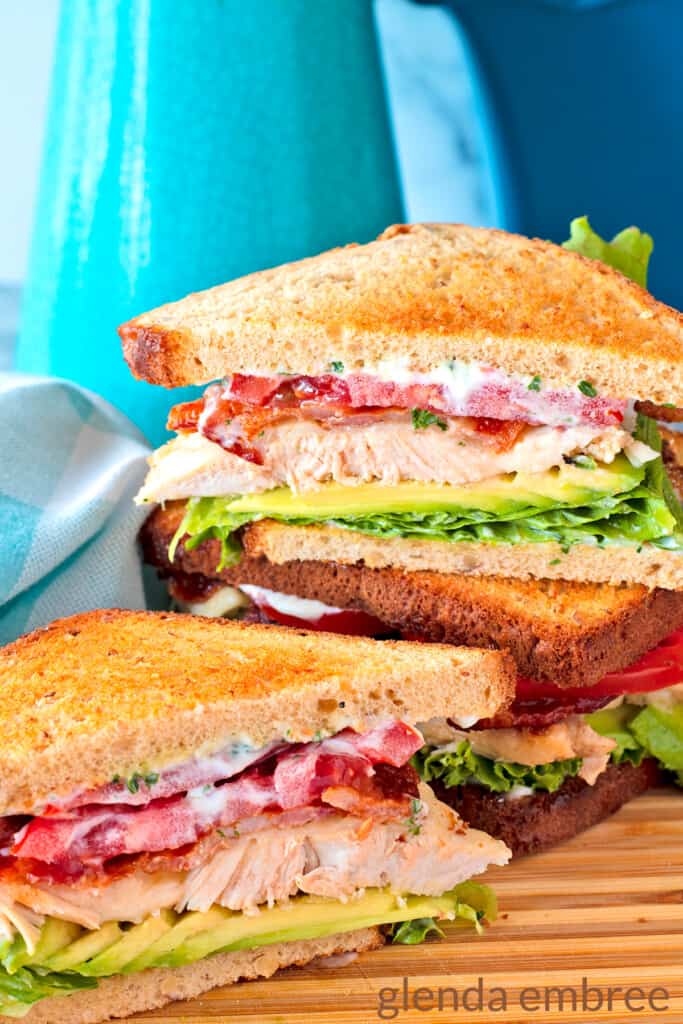 It seems so cliche, to use turkey left­overs in a sand­wich. But, this isn't just any turkey avo­ca­do sand­wich. Think slices of thin­ly sliced turkey left­overs, with crisp smoky bacon, creamy avo­ca­do slices, toma­toes and let­tuce stacked high on toast­ed slices of bread with a lus­cious cilantro lime aioli.
This scrump­tious turkey avo­ca­do sand­wich is loaded with fla­vors and tex­tures as sat­is­fy­ing and com­fort­ing as your orig­i­nal turkey din­ner! Just like my famous Thanks­giv­ing Casse­role, made from turkey left­overs, you'll want to make it again and again.
If you like turkey club sand­wich­es, you're gonna flip for my quick and easy Turkey Avo­ca­do Sand­wich­es. They're fill­ing and deli­cious, check­ing off all the box­es for a spec­tac­u­lar left­over turkey lunch.
The Ingredients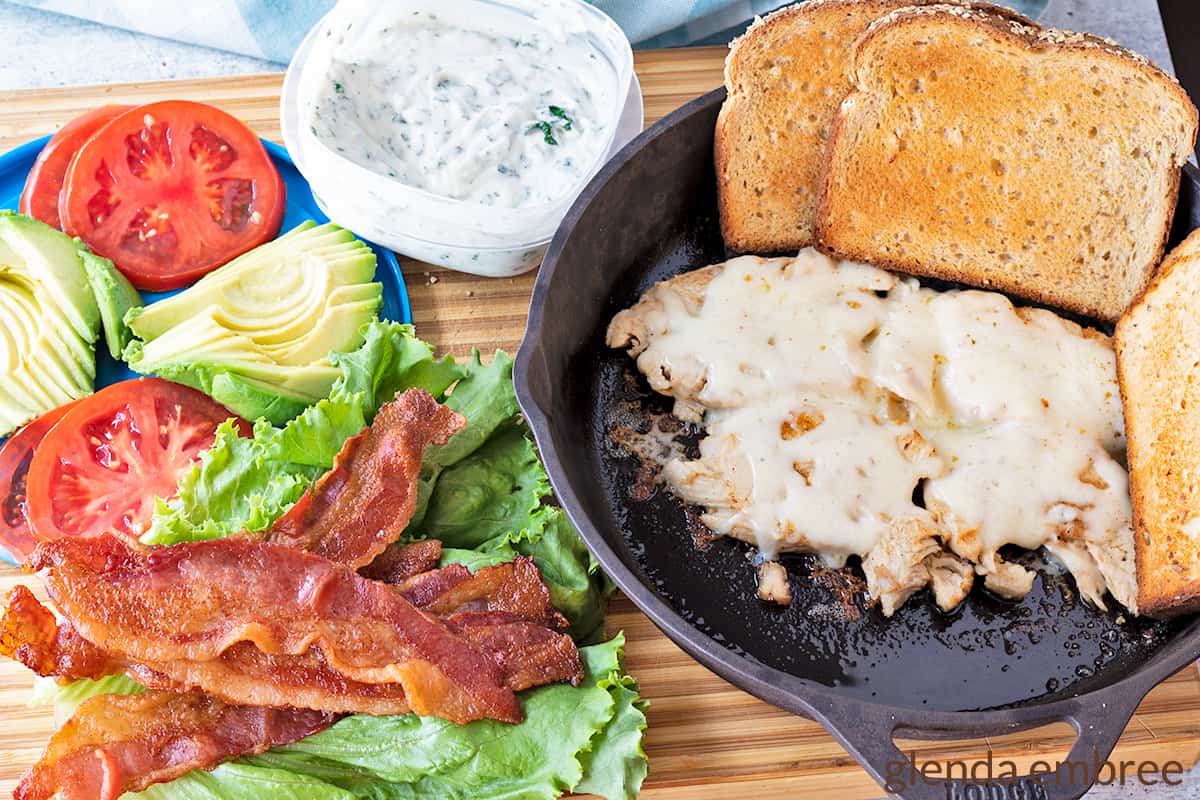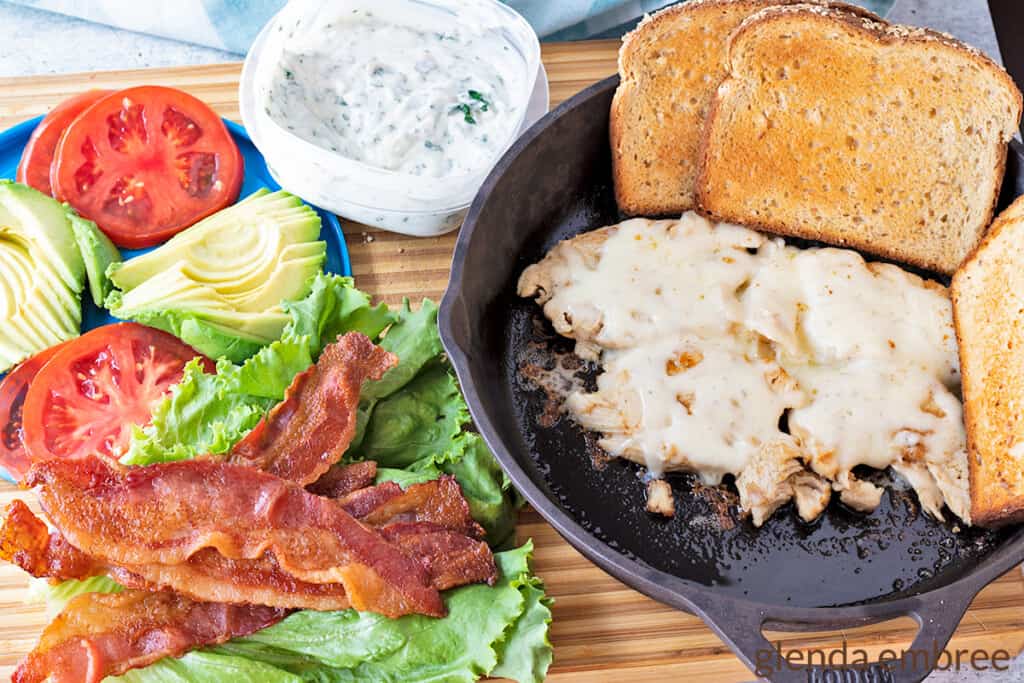 Bread, toast­ed (We pre­fer whole grain breads, but use your favorite.)
But­ter (Just a Table­spoon for the bot­tom of the skil­let when warm­ing the turkey)
Left­over Turkey (or deli turkey)
Avo­ca­do, sliced
Toma­to, sliced
Thick Cut Bacon, fried and drained
Let­tuce
Mon­terey Jack Cheese, grat­ed
Cilantro Lime Aioli (or mayo or favorite sand­wich spread)
salt and pep­per, to taste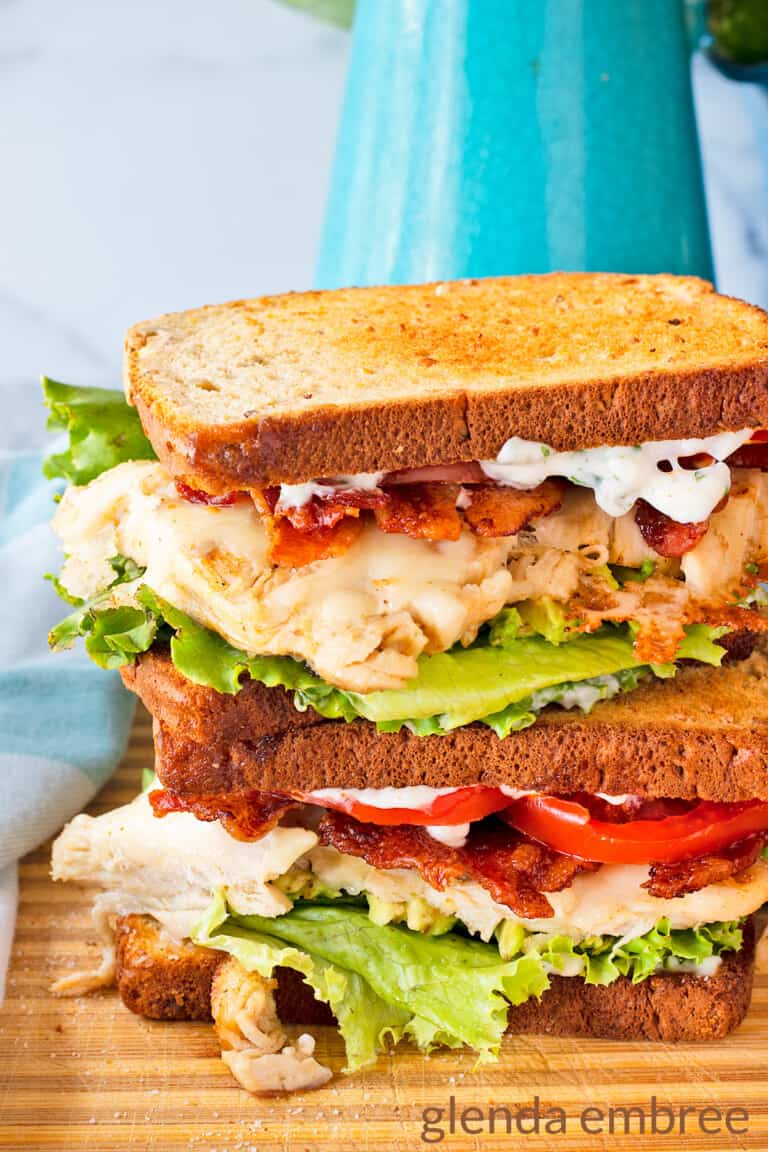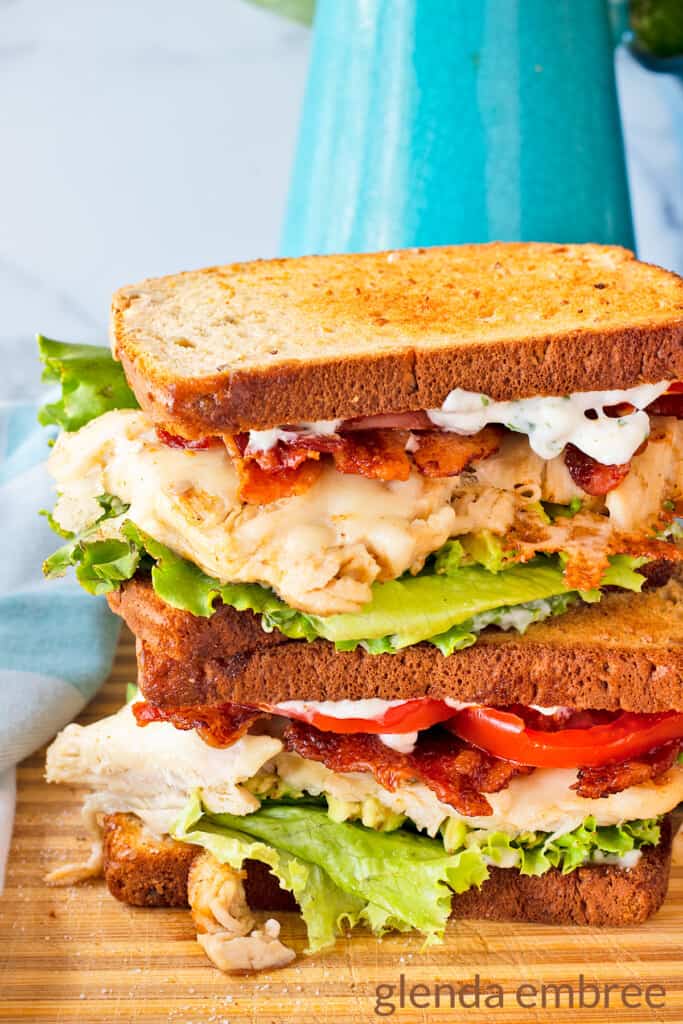 Creating the Best Avocado Turkey Sandwich
Tips for creating the best turkey sandwich with avocado and bacon:
Slice the turkey thin­ly for the Turkey Avo­ca­do Sand­wich. As you can see from my pho­tos, I tried it both ways. I learned that I pre­ferred the tex­ture when I sliced the turkey thinner.
Not only was the tex­ture improved, but some­how the turkey fla­vor and aro­ma became more dis­tinct. Use the same amount of turkey. Sim­ply slice it thin­ner, which expos­es more sur­face area and deep­ens fla­vor and aroma.
Use thick cut bacon. It does­n't crum­ble as eas­i­ly, is meati­er and more fla­vor­ful. The per­fect addi­tion to a turkey sandwich.
Toast­ing the bread and also warm­ing the turkey in a skil­let with grat­ed cheese on top takes this deli­cious turkey avo­ca­do sand­wich next level.
You can def­i­nite­ly make a deli­cious cold sand­wich. But, serv­ing it warm makes it a com­fort­ing and sat­is­fy­ing meal.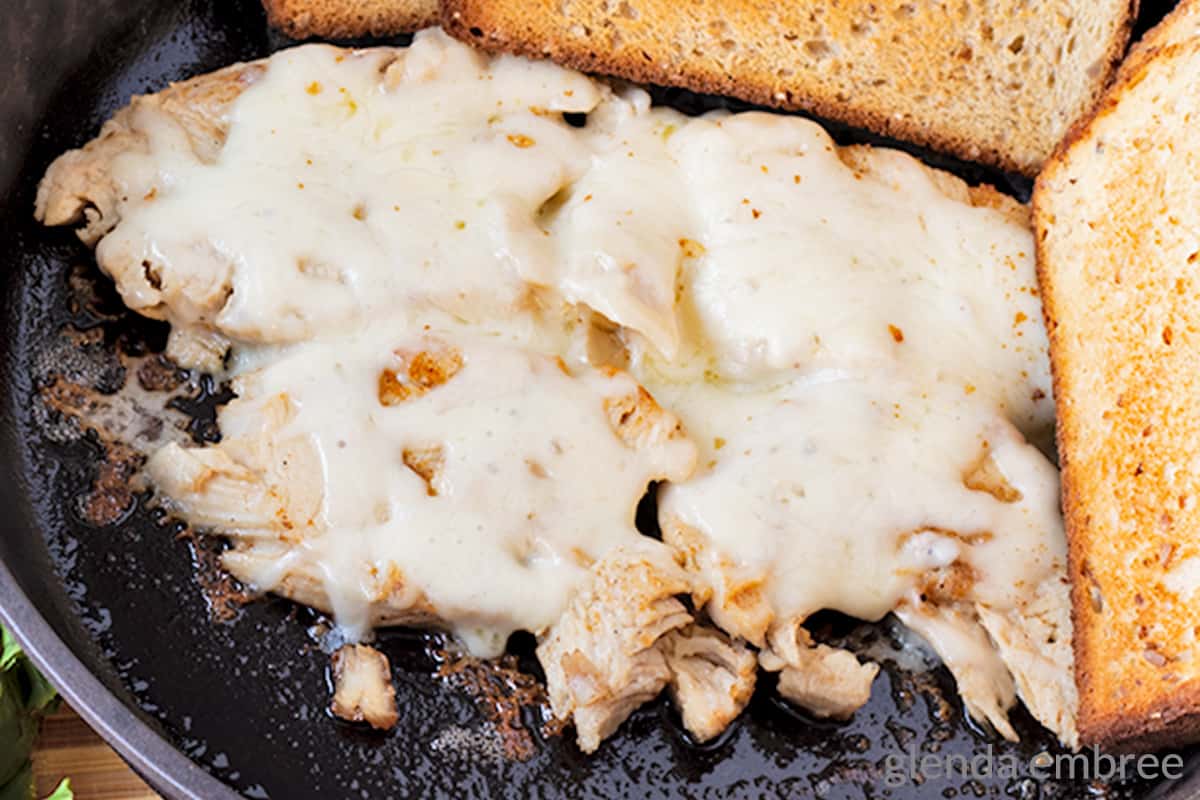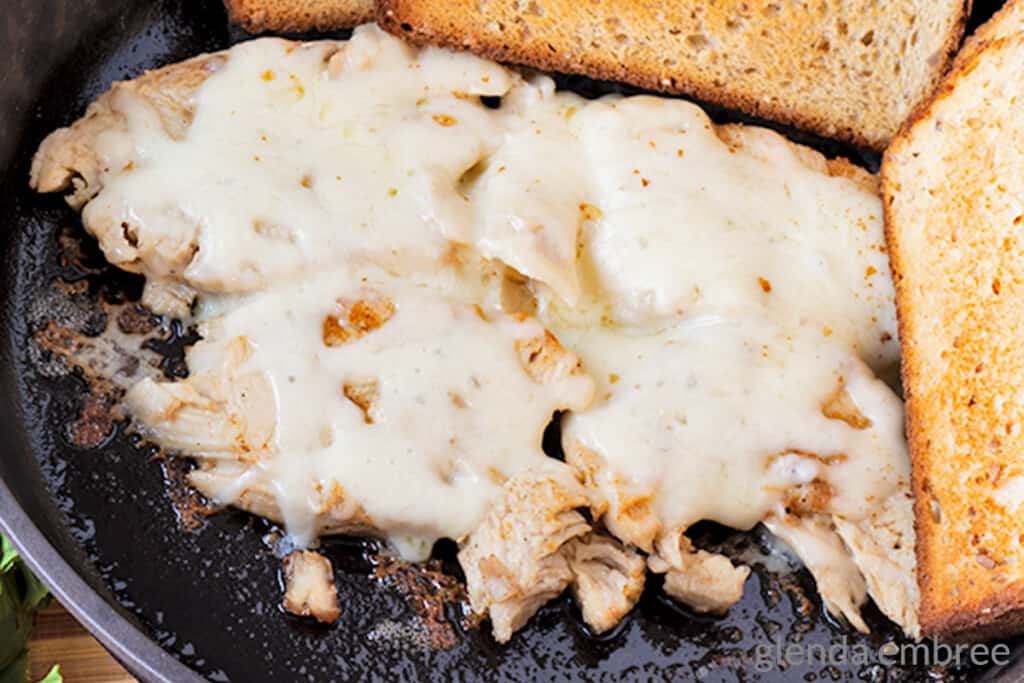 Grat­ing the cheese and melt­ing it on top of the warmed turkey pro­vides even dis­tri­b­u­tion. Fresh­ly grat­ed cheese melts better.
Regard­less of the sand­wich spread you use on your turkey avo­ca­do sand­wich, be sure to gen­er­ous­ly spread it as close to the edges of the bread as you can. The edges of your turkey sand­wich need to be as fla­vor­ful as the cen­ter and def­i­nite­ly not dry.
Ratio of bread to fill­ing is impor­tant. The thick­er the slices of bread, the more fill­ing you will want to pile on.
When build­ing your avo­ca­do sand­wich with turkey, keep in mind that the best sand­wich­es should­n't leave you feel­ing like they're all bread.
And con­verse­ly, you don't want so much fill­ing that it is falling out or you can't get your mouth around the sand­wich comfortably.
Even dis­tri­b­u­tion of the ingre­di­ents is also impor­tant. You should be able to get some of every­thing in every sin­gle bite of that deli­cious turkey sandwich.
Always use a lit­tle salt and pep­per. The veg­gies are unsea­soned unless you take the time to do it.
Indi­vid­ual ingre­di­ents become more fla­vor­ful when prop­er­ly enhanced with sea­son­ing. You'll nev­er regret giv­ing the avo­ca­do and toma­to a light sprin­kle in your avo­ca­do turkey sandwich.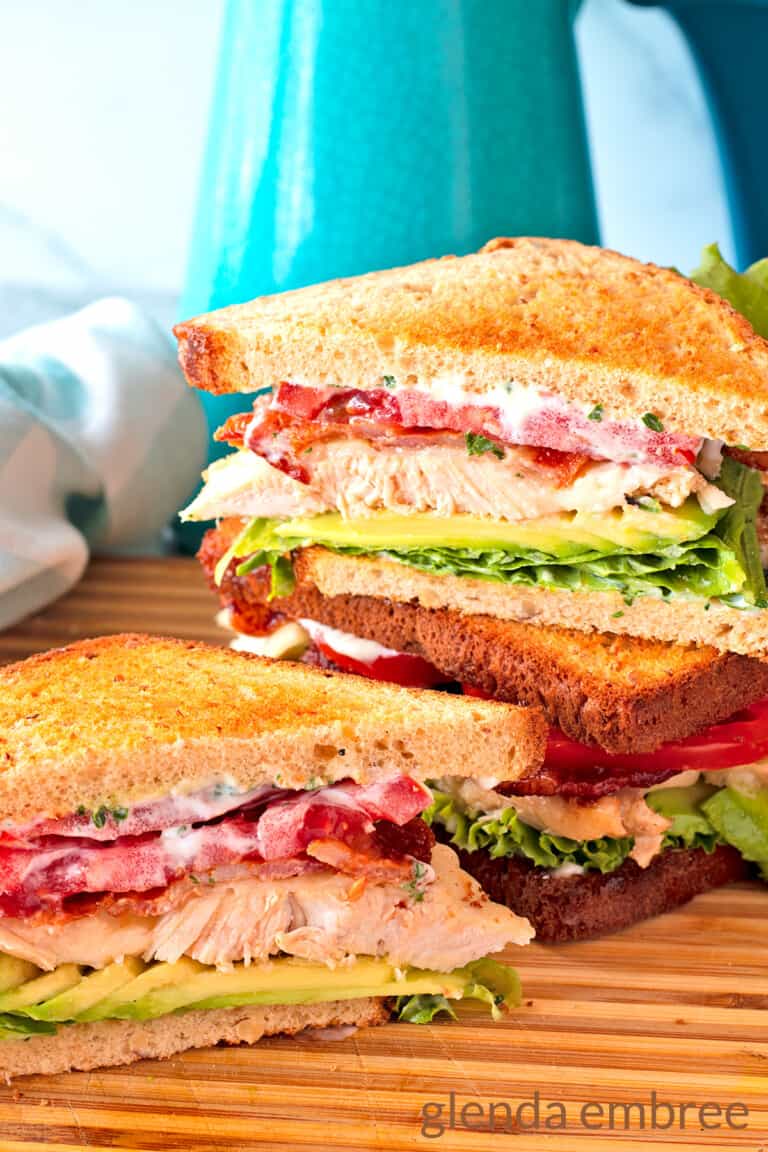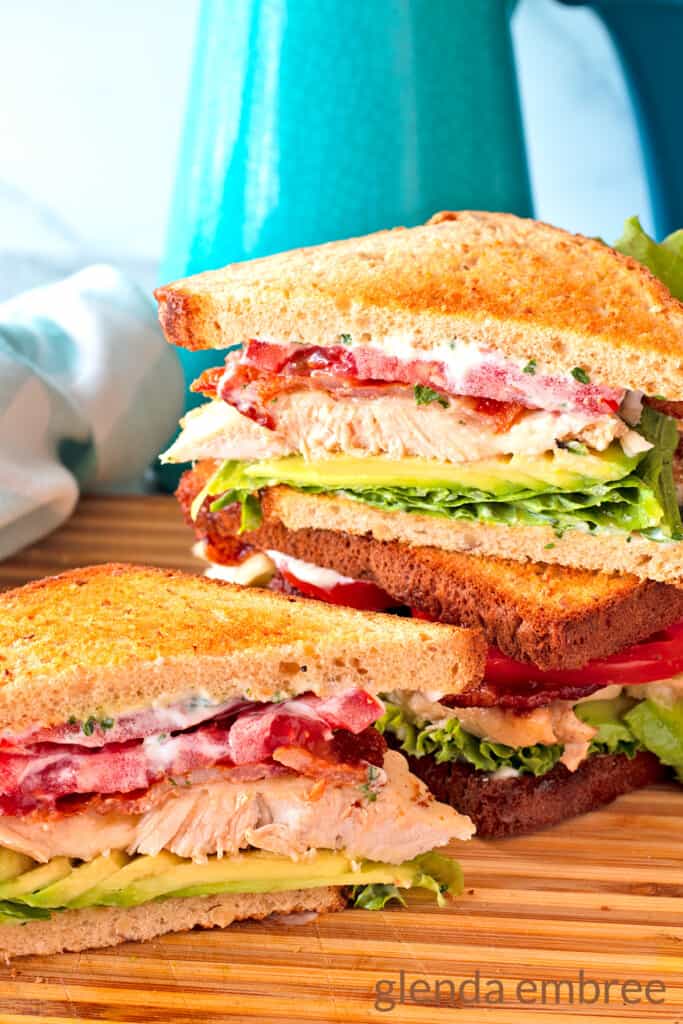 FAQs
What can I sub­sti­tute for the bacon?
If you pre­fer not to eat pork bacon you can always try sub­sti­tut­ing turkey bacon or a veg­an bacon prod­uct. You could also go full-on club sand­wich and use ham. Pas­tra­mi or panchet­ta might be good sub­sti­tu­tions, too.

The oth­er option is to sim­ply leave off the bacon. Though, you may want to add a lit­tle addi­tion­al salt to your turkey avo­ca­do sand­wich, if you do.
Can I use a dif­fer­ent spread?
Sure. I have includ­ed the recipe for a del­ish Cilantro Lime Aioli in the notes sec­tion of the recipe card. But, you could use plain mayo, if you pre­fer.

Oth­er com­mon sand­wich top­pings like horse­rad­ish, stone ground mus­tard, chipo­tle mayo, Japan­ese mayo (kew­pie mayo) or even bar­be­cue sauce could all be deli­cious options, too.

Defer to your per­son­al pref­er­ences when build­ing your ide­al avo­ca­do turkey sandwich.
What is Aioli?
Orig­i­nal­ly, aioli was a sim­ple emul­si­fi­ca­tion of gar­lic and olive oil. Over time, it evolved to be an emul­si­fi­ca­tion on may­on­naise and gar­lic. Today, it is com­mon to refer to any fla­vored may­on­naise as an aioli.
What to Serve with Turkey Avocado Sandwiches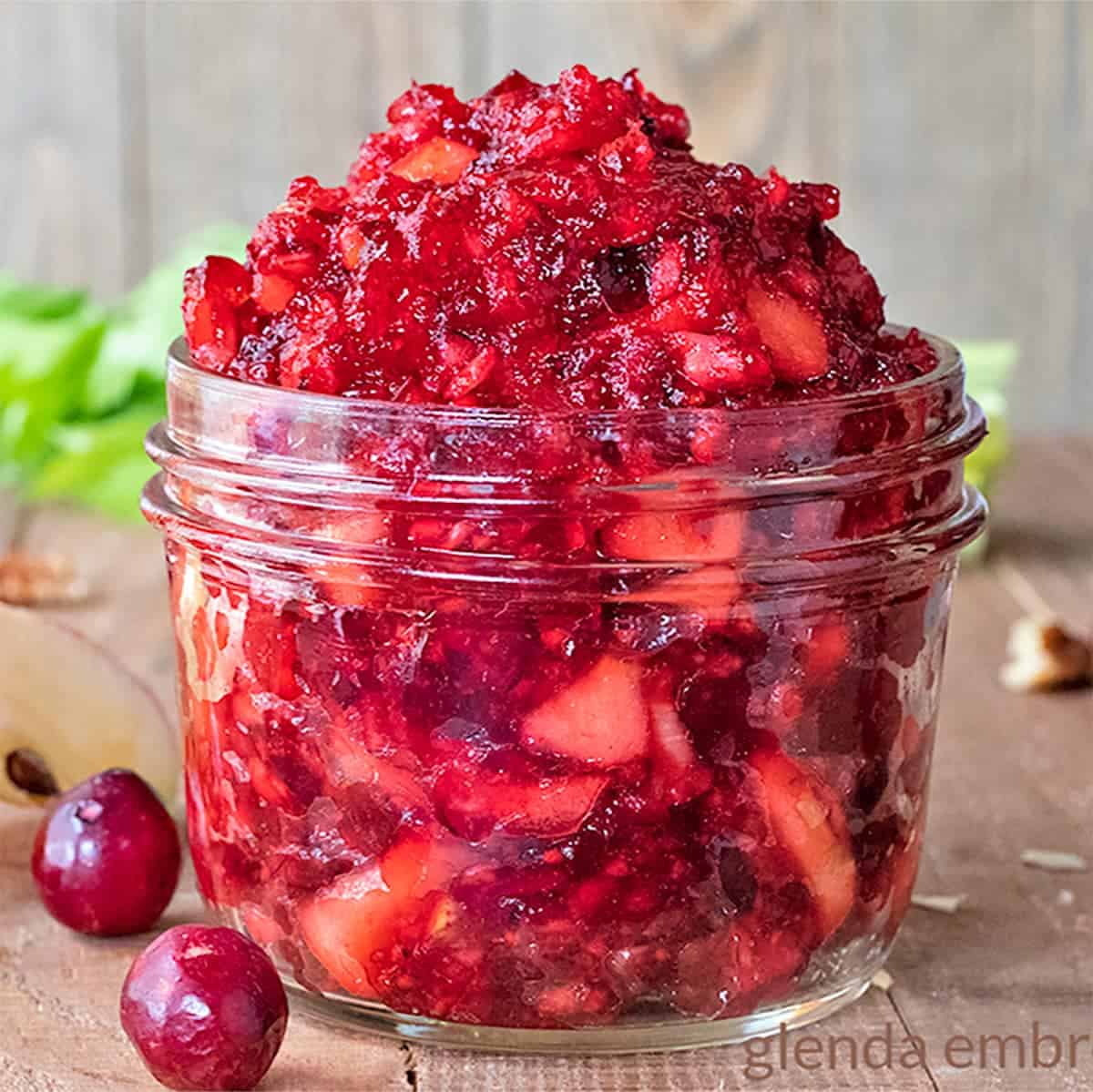 Sides for Turkey Avo­ca­do Sand­wich­es can be a sim­ple as chips. But, sal­ads and side dish­es left­over from your turkey din­ner are also great pairings.
Think Cran­ber­ry Apple Sal­ad, Loaded Baked Pota­to Sal­ad or Broc­coli Cau­li­flower Sal­ad.
You also won't be sad to serve deli­cious avo­ca­do sand­wich­es with turkey and bacon next to Sweet Pota­to Casse­role, Slow Cook­er Creamed Corn or a gor­geous Kale, Apple and But­ter­nut Sal­ad.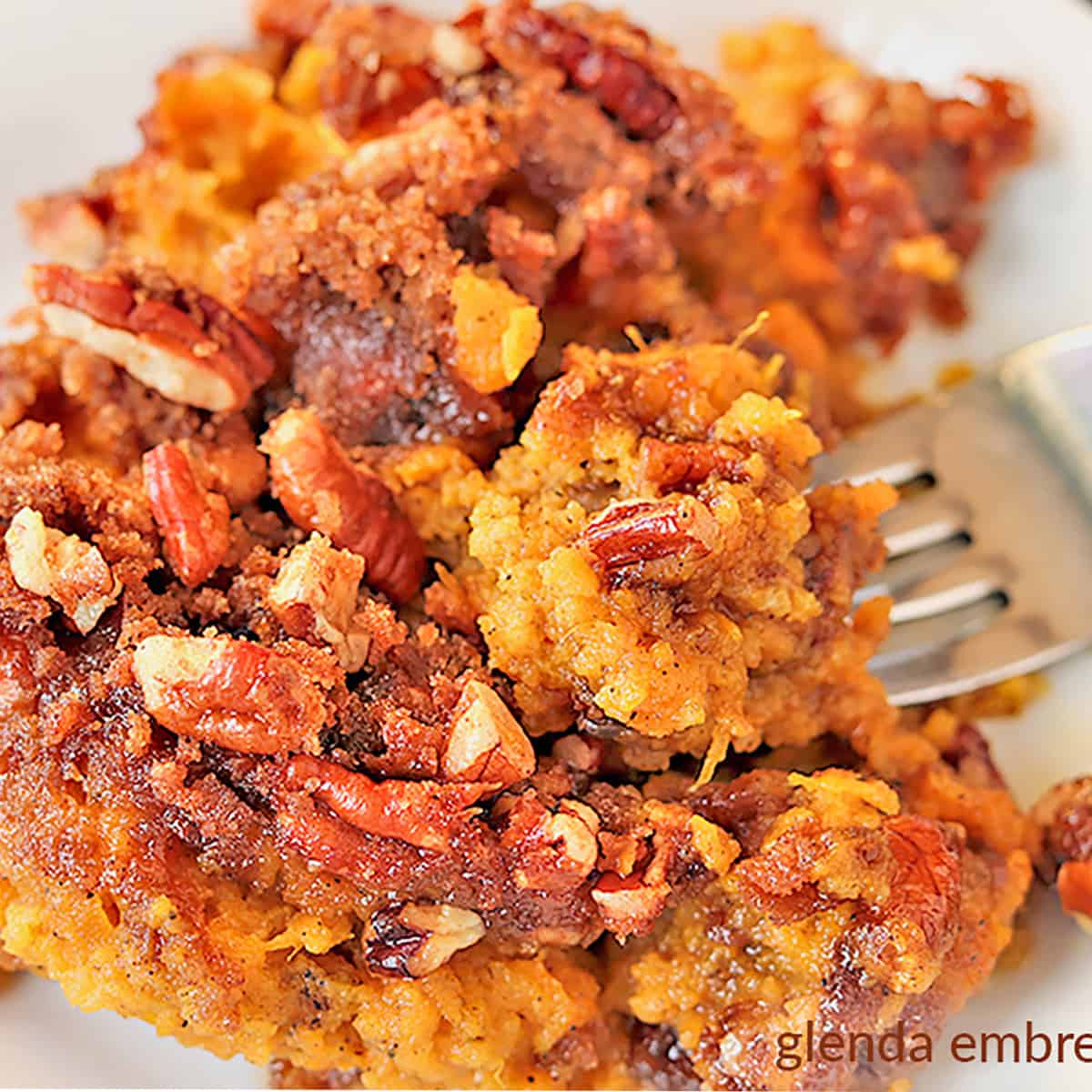 How to Make a Turkey Avocado Sandwich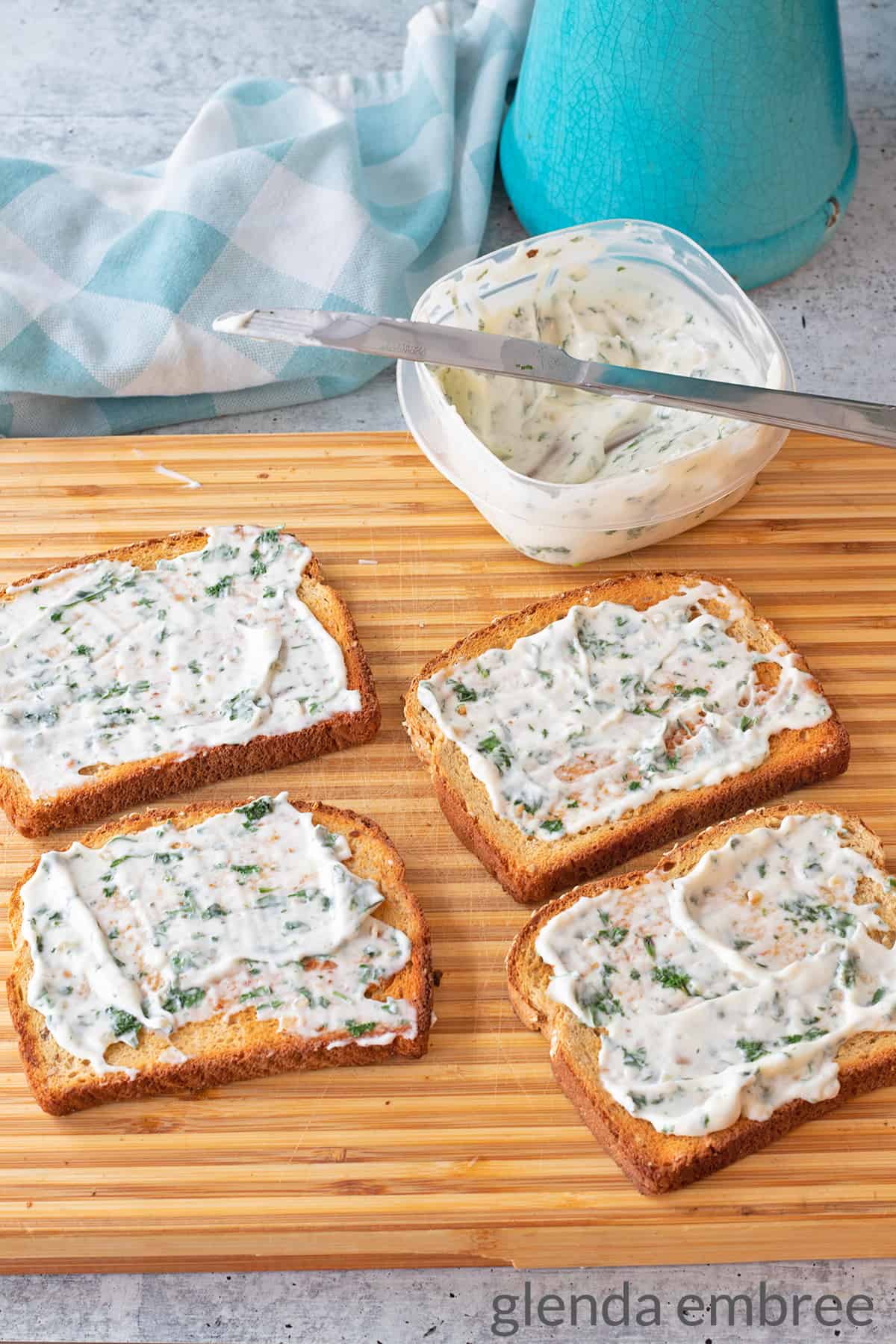 Cook and drain the bacon.
Toast each slice of bread.
While bread is toast­ing warm turkey in a skil­let, 60 sec­onds per side. When you flip the turkey to warm the oth­er side, sprin­kle the grat­ed cheese over the top and add a lid to the skil­let for that last 60 sec­onds. That will melt the cheese beau­ti­ful­ly for your avo­ca­do turkey sandwich.
Spread aioli over all four slices of the toast­ed bread.
Place let­tuce and then a lay­er of avo­ca­do on two of the bread slices.
Top avo­ca­do with the warm turkey and melt­ed cheese.
Add the bacon.
Make the sliced toma­to be the top lay­er of your Turkey Avo­ca­do Sandwich.
Cov­er with the final two slices of prepped toast­ed bread.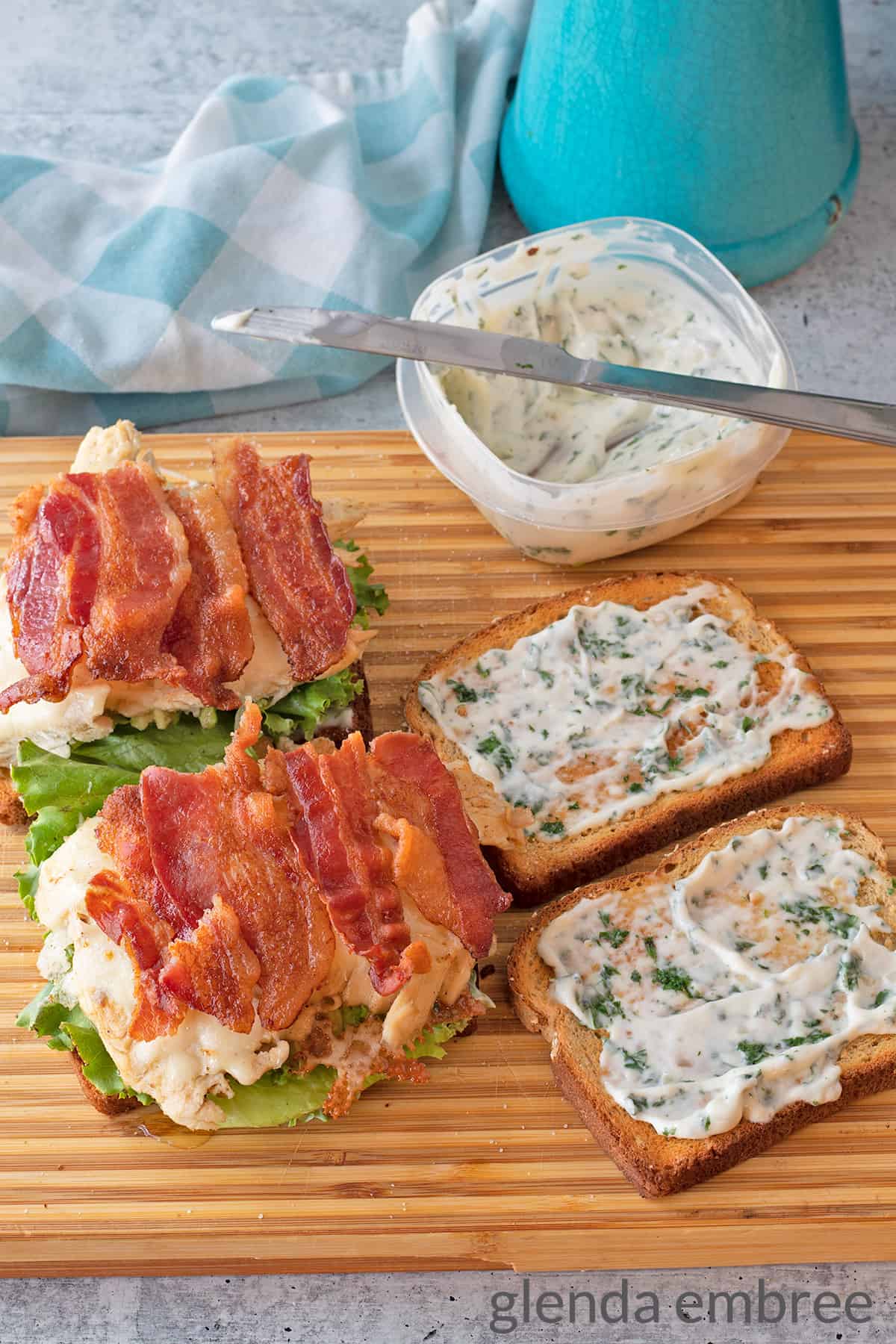 The Recipe
Print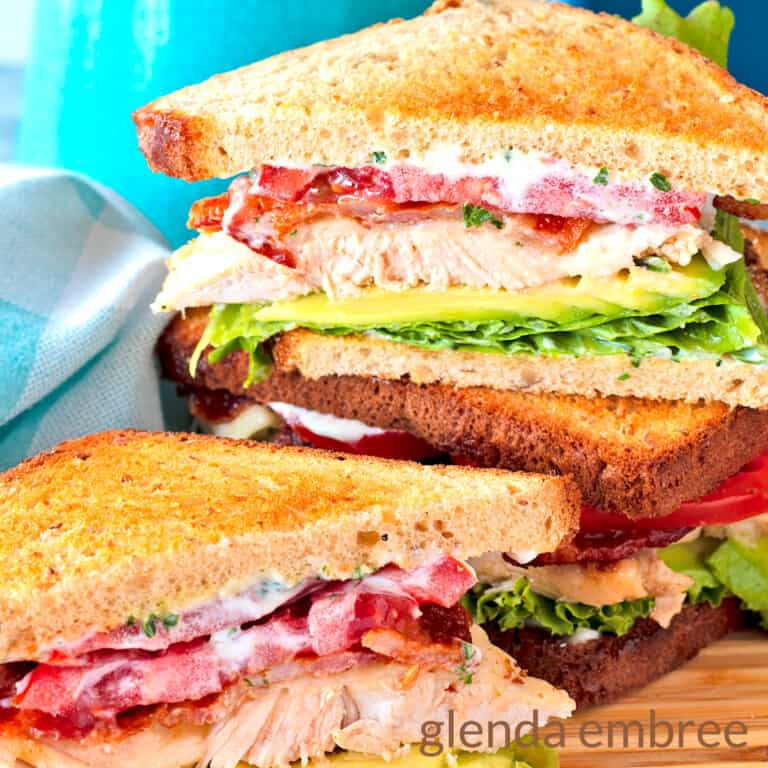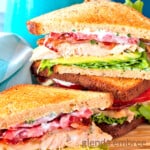 Turkey Avocado Sandwich with Cilantro Lime Aioli
---
Author:

Total Time:

25 min­utes

Yield:

4

serv­ings

1

x
Description
Turkey left­overs trans­form into a deli­cious­ly sat­is­fy­ing meal when you make Turkey Avo­ca­do Sand­wich­es. The only cook­ing is the bacon. These are large, gen­er­ous avo­ca­do turkey sand­wich­es and 1/2 is usu­al­ly more than enough per serv­ing. Espe­cial­ly if serv­ing with sides.
---
4

slices whole grain bread, toast­ed (use your favorite bread)

1/3

pound

left­over turkey slices (or sliced turkey from the deli)

1/2

cup

Mon­terey Jack cheese, grated

1 Table­spoon

butter

1

avocado

4

strips thick cut bacon, cooked and drained

4

thin slices of tomato

2

leaves of let­tuce (We like leaf let­tuce or but­ter lettuce.)
Cilantro Lime Aioli (or mayo or your favorite sand­wich spread)
salt and pep­per, to taste
---
Instructions
Cook the bacon in the oven at 400° F for about 20 min­utes or until crisp.
Stir togeth­er the Cilantro Lime Aioli (recipe in notes) while the bacon cooks. If you're just using mayo, skip to the next step.
Grate the Mon­terey Jack Cheese, slice the avo­ca­do and slice the toma­to into thin slices.
When the bacon is 5 min­utes from being done, toast each slice of bread.
Melt the but­ter in a skil­let and then add the left­over turkey slices. You are just warm­ing them through and get­ting a lit­tle col­or on them. It will prob­a­bly only take about 60 to 90 sec­onds per side. When the turkey has browned on the bot­tom, flip it over.
Sprin­kle grat­ed Mon­terey Jack cheese over the browned turkey slices. Shut off the heat and cov­er the skil­let with a lid.
Remove the bacon from the oven and drain on paper towels.
Remove toast from toast­er and spread all 4 slices with Cilantro Lime aioli or mayonnaise.
On two slices of toast, add one leaf of let­tuce and 1/2 of the avo­ca­do slices.
Place turkey with melt­ed cheese over the avo­ca­do. You can use salt and pep­per, here.
Next add 2 slices of bacon bro­ken in half, two thin slices of toma­to and more black pep­per, to taste.
Top with the oth­er slices of toast­ed bread you prepared.
Notes
Cilantro Lime Aioli Recipe
In a small bowl, blend the fol­low­ing ingre­di­ents to cre­ate a creamy sand­wich spread or dip.
3/4 cup mayonnaise
3 Table­spoons fine­ly chopped cilantro
1 Table­spoon lime juice
1 tsp minced garlic
Prep Time:

5

Cook Time:

20

Cat­e­go­ry:

Sand­wich, Main Dish

Method:

Oven & Stove Top

Cui­sine:

Amer­i­can