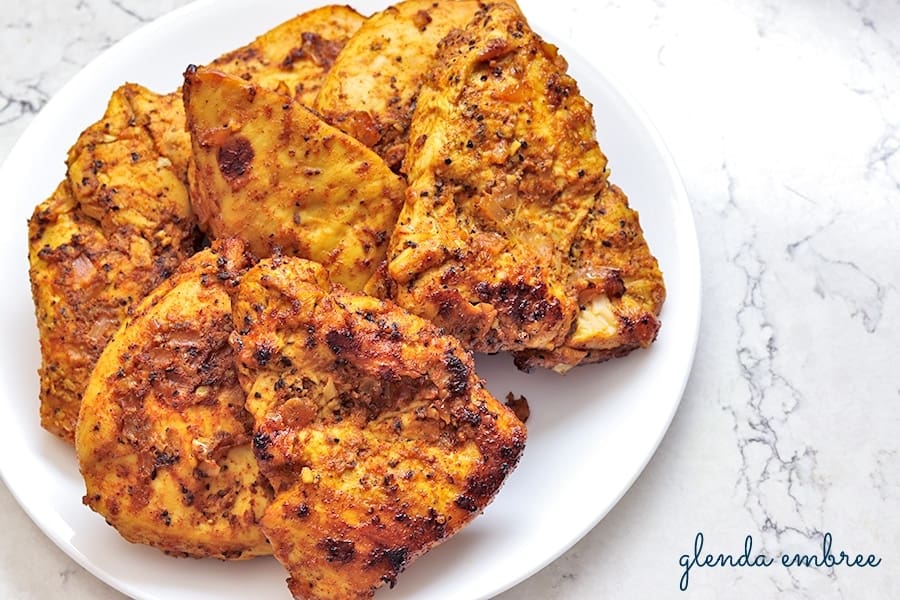 Homemade Chicken Shawarma is my own twist on roast chicken breast using the wonderful flavors of shawarma seasonings. Cumin, turmeric, cinnamon, red pepper flakes and paprika are some of my favorite "warm" spices and are so common in Middle Eastern and Mediterranean cooking. My Chicken Shawarma utilizes all of them and is quickly oven roasted, so it's tender and juicy. It's perfectly savory with a kick of spicy heat.
What Is Shawarma?
Like so many recipes from other cultures, in the United States, we have definitely Americanized the versions we enjoy. Traditional shawarma is very thinly sliced lamb, mutton or goat, stacked into a cone shape and then roasted slowly on a vertical rotisserie or spit. There are no spits or rotisseries in my kitchen, but trust me, oven roasted turns out savory, succulent and scrumptious, too!
In the U.S., we borrow the flavor profile, utilizing the lovely spices and flavors of shawarma, to create our own twists and variations on the traditional dish. It's very common, here, to see shawarma spices and seasonings used on turkey, chicken, beef or veal.
Homemade Chicken Shawarma is Easy to Prep and Serve
This is the perfect chicken recipe to double or triple, so you have leftovers for lunches and quick meals throughout the week. Being oven roasted means it's simple to prepare. You won't spend lots of time tied to the kitchen. Plus, if you do a big batch, you can pop some in the freezer for a quick-fix in the future.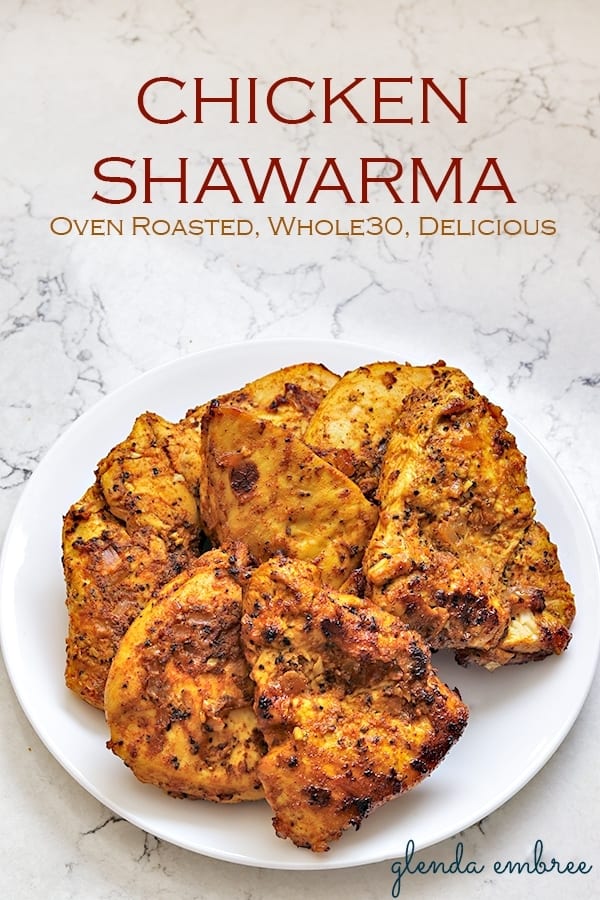 I think you and your family will swoon when you taste this scrumptious recipe! My Homemade Chicken Shawarma is out of this world! It's delicious used as the main dish, sliced for wraps with crisp veggies or chopped as the protein in a delicious Chicken Shawarma *Bowl. Being quick and easy to prepare, makes it a wonderful, rich and flavorful weeknight supper.
Enjoy!
Print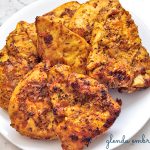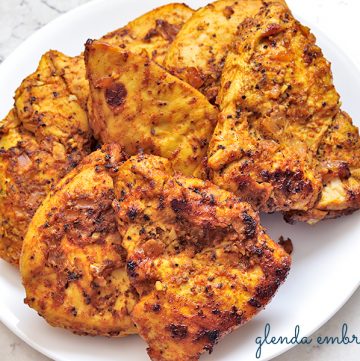 Homemade Chicken Shawarma
---
Author:

Prep Time:

10 minutes

Cook Time:

25 minutes

Total Time:

35 minutes

Yield:

6

servings

1

x
Description
Delicious flavor-packed chicken seasoned with warm, savory spices.  This chicken can be served in so many different ways and it's quick and easy enough for weeknight dinners.
---
Scale
Ingredients
2

–

2 1/2

lbs boneless, skinless chicken breast, pounded to 1/2 thickness
zest and juice of 2 lemons, (about 1/3 cup)

1/2 cup

avocado oil (or oil of your choice)

1

large red onion, minced

2 Tablespoons

minced garlic

1 teaspoon

salt

2 teaspoons

black pepper

2 teaspoons

cumin

2 teaspoons

smoked paprika

1 teaspoon

red pepper flakes

1/2 teaspoon

turmeric

1/2 teaspoon

cinnamon
---
Instructions
Preheat oven to 425°.
One at a time, place chicken breasts into a gallon zip-top freezer bag.  Using a rolling pin or cast iron skillet, pound the chicken breasts to 1/2″ thickness.  It's important for them to be uniform in thickness, so they cook evenly.  Remove the breast from the bag and set aside while you do the next one.  Cut larger breasts into two portions after pounding.
Place all the prepared chicken pieces back into the zip-top freezer bag.
In a small bowl or container, mix together all the remaining ingredients to create the marinade.
Pour marinade over the chicken breasts in the zip-top freezer bag.
Allow chicken to marinate for at least 30 minutes, but not more than 2 hours.  After 2 hours, the marinade will start to break down the muscle tissue in chicken breast, causing it to become mushy and stringy when cooked.
After the chicken has marinated, place it onto a parchment-lined baking sheet.
Bake for 20 minutes.  Flip the chicken and return to the oven for an additional 5-10 minutes.
Chicken is done when a meat thermometer inserted into the center of the thickest part reads 165°.
Once chicken is done, remove baking sheet from oven and place on a cooling rack.  Allow the chicken to rest on the baking sheet for 10 minutes or so. The juices in the chicken will redistribute and thicken during the rest period, giving you tender, juicy chicken.
---
Category:

Main Dish, Chicken, Meat

Method:

roasting

Cuisine:

American
Keywords: chicken, shawarma
Pounding the Chicken to Uniform Thickness
Begin by pounding the chicken to an even thickness, so that it cooks uniformly. The easiest way for me to accomplish this is to slide a single chicken breast into a zip-top freezer bag. (It's the same one I'll use for marinating in a minute.)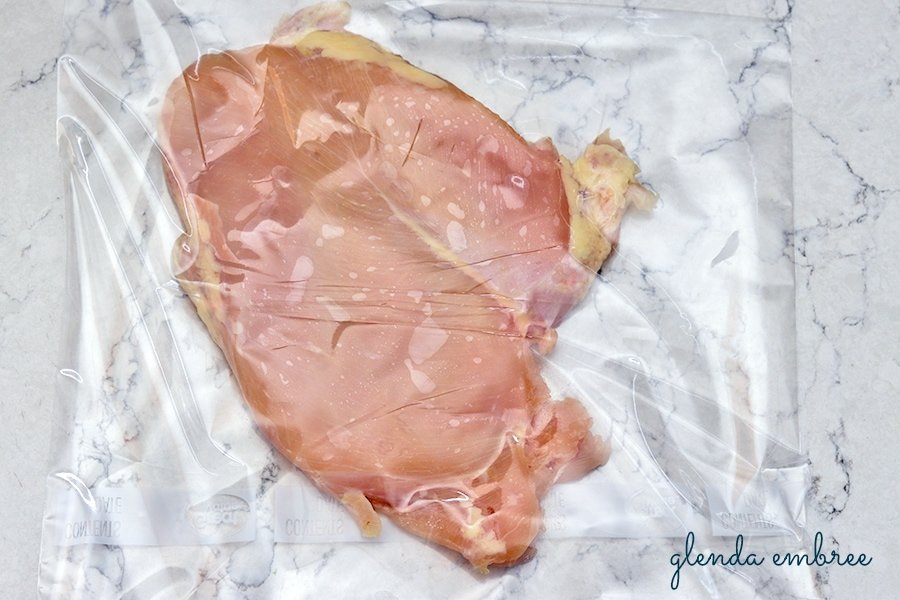 Pound the chicken to a 1/2″ thickness, all the way across. I usually use a rolling pin, but I've hear a cast iron skillet works, too. A meat mallet is hard on chicken. I find it is more likely to tear the muscle tissue. For me, best results come from pounding with a rolling pin.
Repeat the process for each chicken breast. This process is important for uniform cooking, but it's also great for portion control. You'll see that the chicken breasts are now large enough to slice into two portions, in most cases.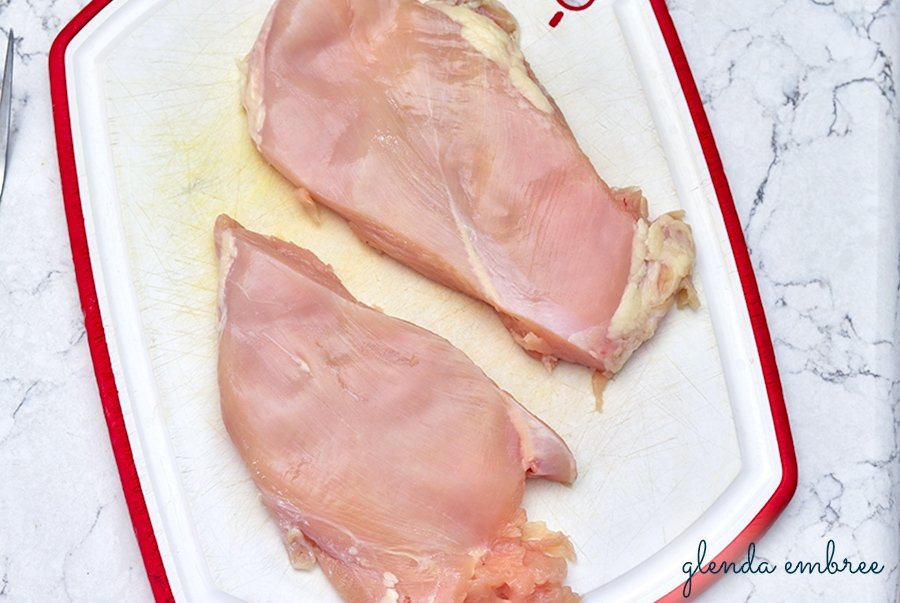 How to Prepare Homemade Chicken Shawarma
*Whisk up the marinade by placing all the ingredients, except the chicken, into a bowl (or in my case, a large measuring cup). Whisk them together. The marinade will be fairly thick and chunky.
Use the zip-top bag you pounded the chicken in. Place all the chicken portions into the bag and pour the marinade over the top. Close the bag and turn several times to coat all the chicken pieces. Open the bag and work to press out as much air as possible while you reseal it.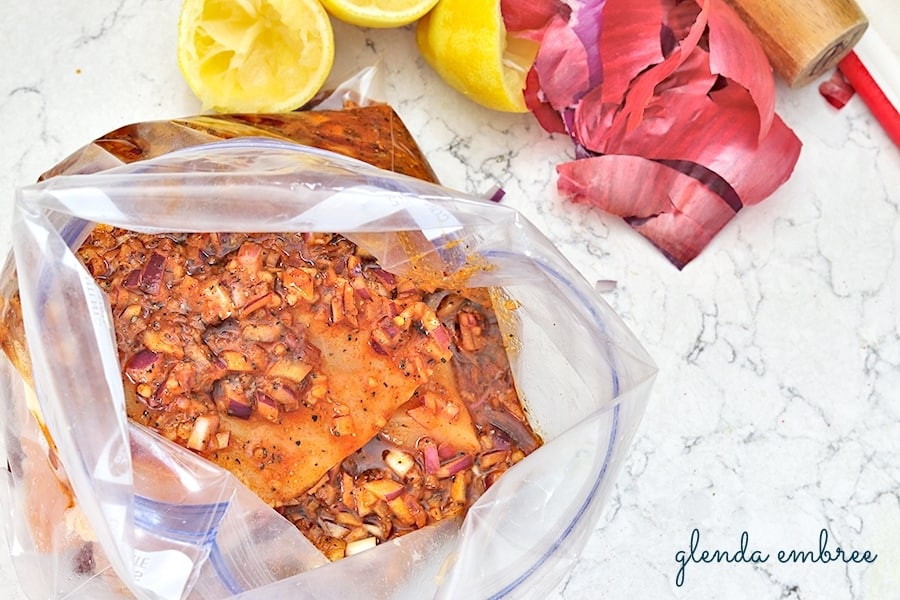 Place the bag in the fridge and let the chicken marinate in the shawarma seasonings for at least 30 minutes. It can go up to two hours. Unlike other meats, chicken breast breaks down quickly. Two hours is really the longest it can be marinated without the acids in the marinade causing it to be mushy and stringy. Try not to go too far over two hours.
Oven Roasting Homemade Chicken Shawarma
Remove the marinated portions from the bag and arrange on a lightly greased baking sheet. Try to spread them out and leave space between.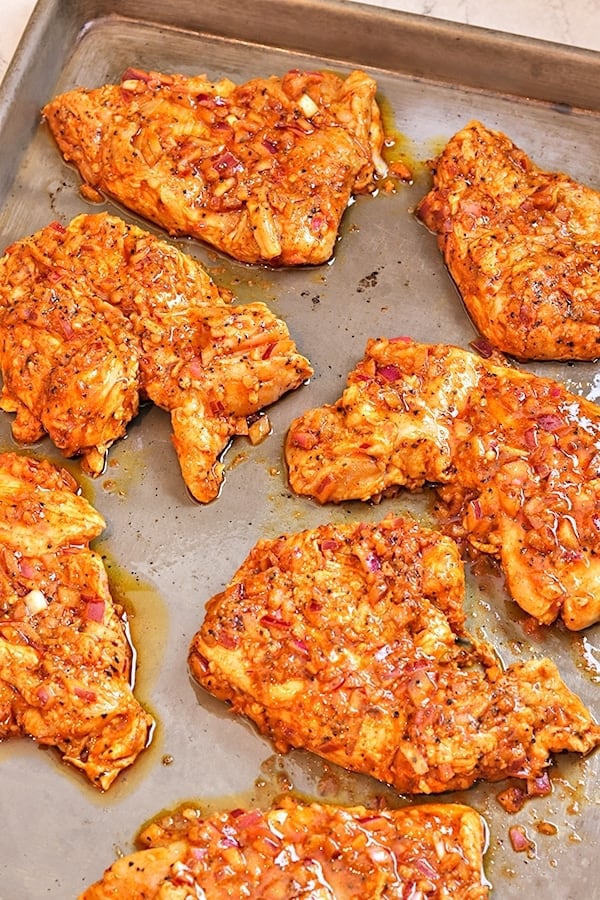 Since they are only 1/2″ thick and cooking at high heat, the chicken will cook quickly. Plan to cook your Homemade Chicken Shawarma for 10 minutes on the first side an then 10 to 15 minutes more after you flip it over. Cook it to an internal temperature of 165°. (You can stick it under the broiler for 2 or 3 minutes, at the end, if you want more caramelization.)
Remove the chicken from the oven and allow the baking sheet to rest on a cooling rack for at least ten minutes, before slicing or serving. This will allow all the juices to redistribute and result in juicy and tender Homemade Chicken Shawarma.
Serving Chicken Shawarma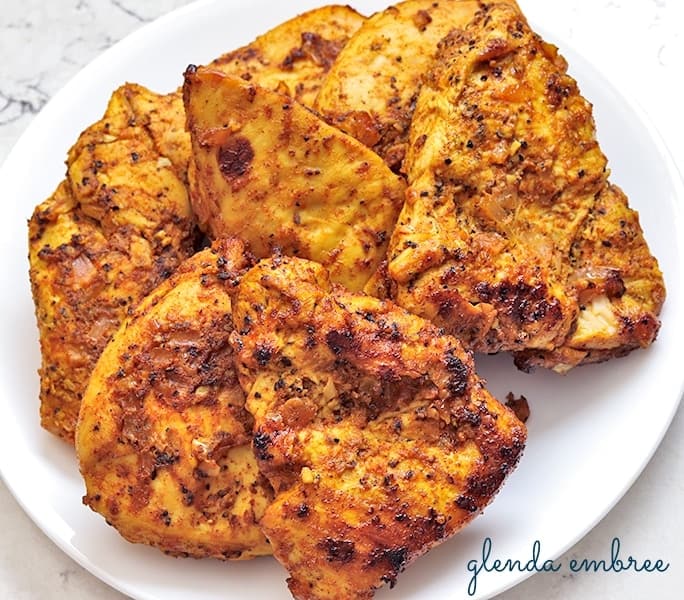 Last night, I served some of the chicken breast portions, whole, as the main dish. I served them with mashed sweet potatoes and my Gluten-Free Tabbouleh Salad. It was a beautifully colorful and delicious meal!
Shawarma is fantastic served, sliced, in wraps with crisp veggies, pickled red onion, chopped herbs and creamy garlic sauce, too. Cucumber, onion, and tomato would be typical vegetables in the wrap, but choose your favorites and make your own truly unique creation. That means the most scrumptious lunch can come from leftovers!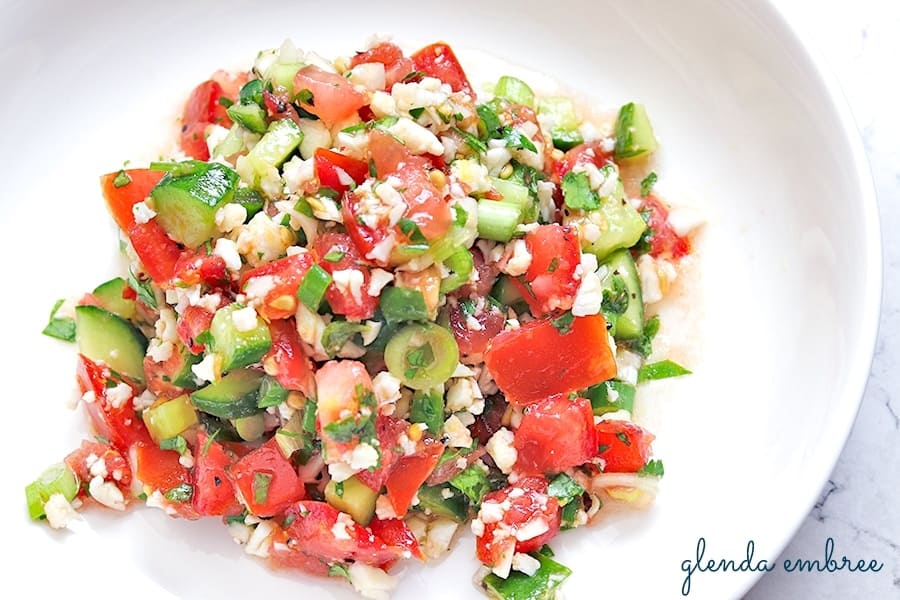 Homemade Chicken Shawarma is equally tasty in Shawarma Bowls. For bowls, start with a base of rice, quinoa, or cauliflower rice. Add the chopped shawarma chicken with chopped herbs and vegetables, like onion, cucumber, tomato, etc. Chickpeas are another nice addition to shawarma bowls. Drizzle everything with creamy garlic sauce and you have a whole meal in one bowl. Delish!
However you decide to serve it, I hope you love this flavor-packed and economical dish. Enjoy the recipe, friend!