I know you're going to love these beefy, deli­cious home­made meat­balls with a mild spicy kick! They are bite-sized fla­vor bombs that work in all your fam­i­ly favorites.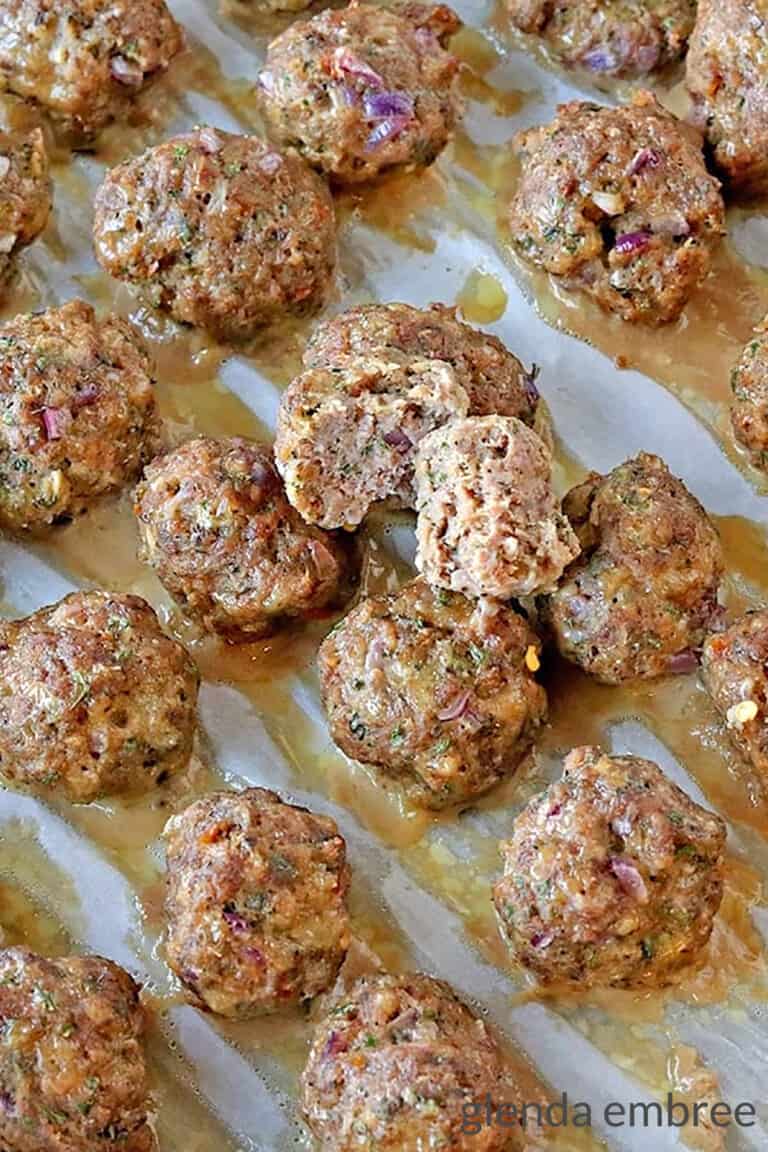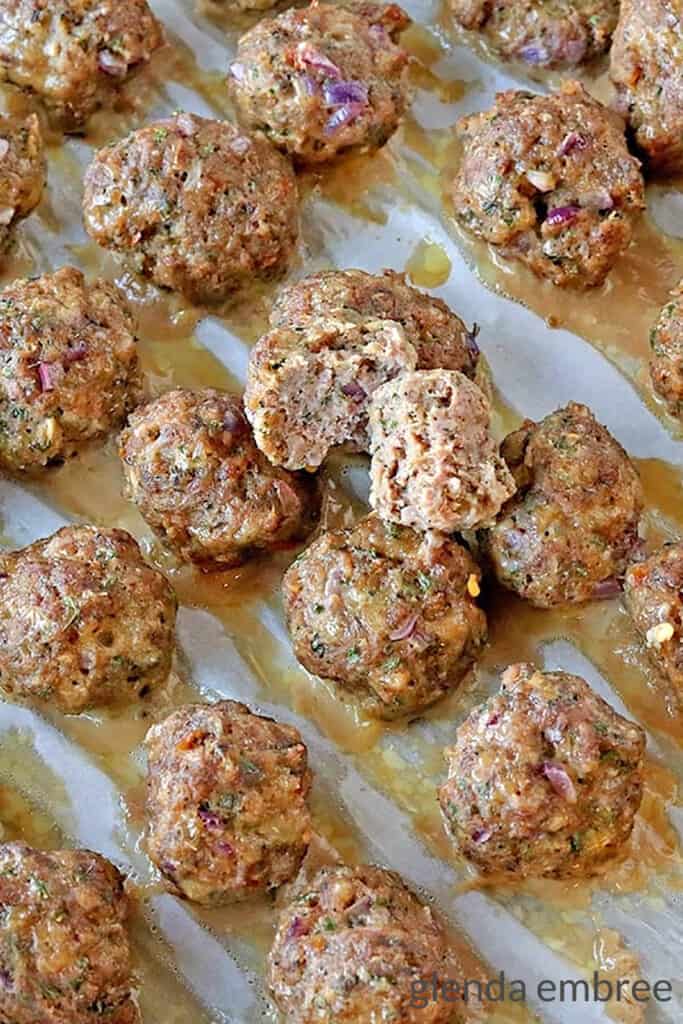 They're extra­or­di­nary in spaghet­ti, tossed in my 30-minute Home­made Mari­nara Sauce, for snack­ing, in appe­tiz­er recipes and in creamy brown gravy. You're going to love all the ways I show you to use them, like my hearty Meat­ball Stew.
While they cer­tain­ly ARE scrump­tious savory meat­balls, this post should almost be called, "Meat­balls, the Easy Way".
At first glance, the ingre­di­ent list seems long, but with the excep­tion of one, they're com­mon pantry ingre­di­ents (many of them sea­son­ings) that come togeth­er in minutes!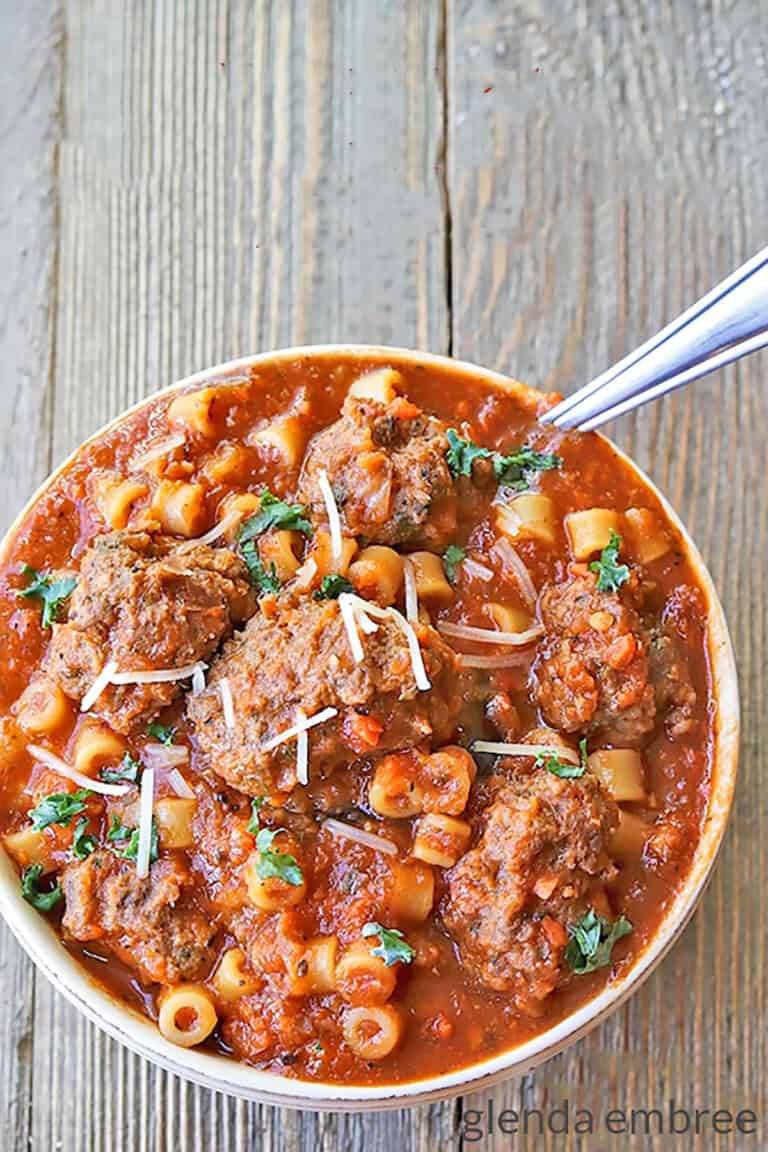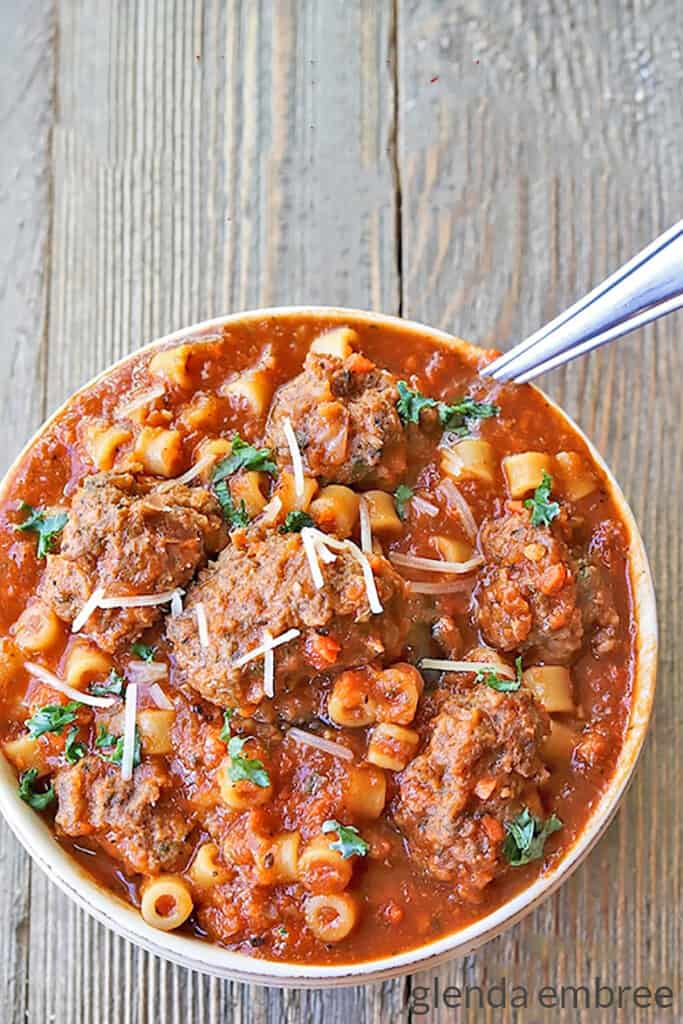 Home­made meat­balls taste bet­ter and are sim­ple to make with this deli­cious, easy meat­ball recipe. Frozen Meat­balls will always be on hand, now for your favorite recipes, too.
Scrump­tious Savory Meat­balls are also baked, not pan fried. So, there's no stand­ing over the stove rotat­ing them in and out of the skillet.
They're as sim­ple to make as my Easy Meat­loaf Recipe. And, the recipe makes a HUGE batch, so you have plen­ty to freeze for future meals. Sav­ing meal-time prep in the future? You bet, I'm okay with that!
Enjoy!
Where'd This Recipe Come From?
My recipe was devel­oped around ten years ago, when our youngest request­ed spaghet­ti for her birth­day sup­per. She did­n't want just reg­u­lar spaghet­ti sauce with ground beef in it, though. She want­ed meatballs.
I put this recipe togeth­er, and it has become one of her, and my hus­band's favorites. As these meat­balls come out of the oven, David is usu­al­ly hov­er­ing some­where in the back­ground, wait­ing for an oppor­tu­ni­ty to grab a few when I'm dis­tract­ed with some oth­er cook­ing. lol He will eat them straight off the sheet pan, with­out sauce or any­thing. They are incred­i­bly fla­vor­ful and stand on their own as a deli­cious meal. (Or in some cas­es, a snack.) lol
So, be fore­warned. When these come out of the oven, you'll need a chair and a whip to keep back the milling throng gath­er­ing in your kitchen. These meat­balls are addic­tive­ly deli­cious and once your fam­i­ly-mem­bers pop one, hot, delec­table lit­tle sphere into their mouth, they're gonna want them all!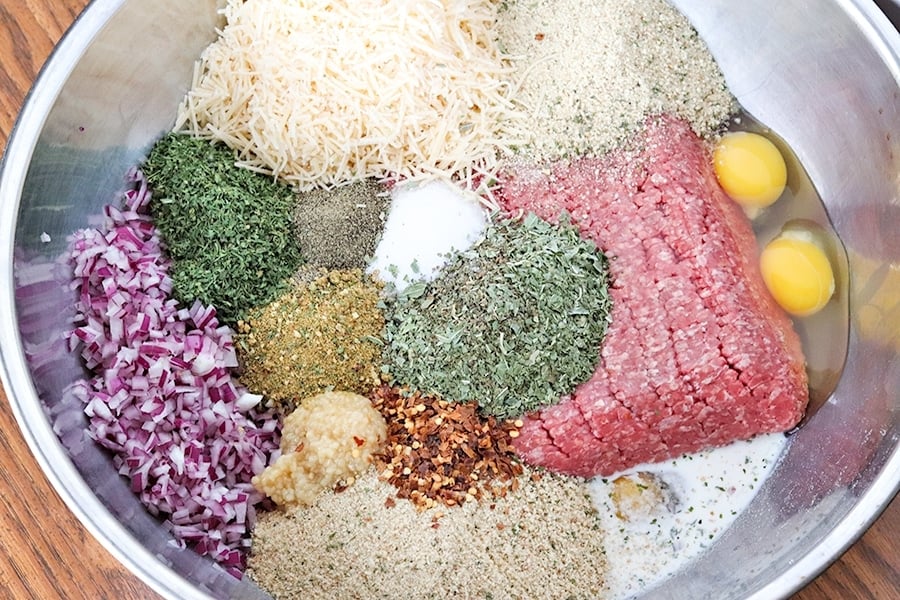 The Ingredients
93% lean ground beef
eggs
Worces­ter­shire sauce
milk
red onion, minced
gar­lic, minced
Ital­ian bread crumbs (My pref­er­ence is Panko, because I like the tex­ture, but I still have good results using reg­u­lar Ital­ian bread crumbs.)
red pep­per flakes
Spike Sea­son­ing (aha! The secret ingredient.)
dried pars­ley
dried basil
grat­ed Parme­san cheese
salt
black pep­per
What is Spike Seasoning?
I dis­cov­ered Spike Sea­son­ing more than a decade ago. It's a blend of sea­son­ings, herbs and dehy­drat­ed veg­eta­bles (I think I count­ed 44), I've nev­er made an attempt to re-cre­ate it from scratch. It is also crazy deli­cious. In savory dish­es, it can be the dif­fer­ence between good and "Oh, my goodness!"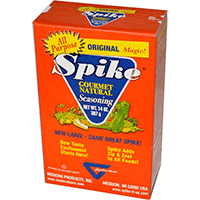 Spike is great on meat, in scram­bled eggs, in sauces and casseroles. I can't imag­ine a savory prepa­ra­tion that would­n't be enhanced by it. It's one of my few every-day ingre­di­ents that I can't buy at my local Wal­mart, though. I buy it in bulk on Ama­zon and have it shipped right to my front porch. I buy this 14 oz box of Spike when I order.
I'm guess­ing you could sub­sti­tute your own favorite herb blend in the meat­balls, but I can't guar­an­tee the fla­vor will be as mouth-water­ing­ly delicious.
How to Make Scrumptious Savory Meatballs
In a very large mix­ing bowl, add all the ingre­di­ents for the meat­balls. I toss every­thing in together.
Mix­ing this is so much eas­i­er if you just dig in and mix it with your hands, just like you were mak­ing meat­loaf or sausage. If you're squea­mish about touch­ing meat, you can try doing it with a wood­en spoon, but the most even dis­tri­b­u­tion and thor­ough mix­ing will come from using your hands. Maybe you could try some of those plas­tic food han­dler's gloves if that would help.
Once mixed, you'll be able to see all the fla­vor-pop­ping herbs, crumbs, cheese and onions. See­ing them is good. Just be sure they are even­ly dis­trib­uted through­out the meat­ball mixture.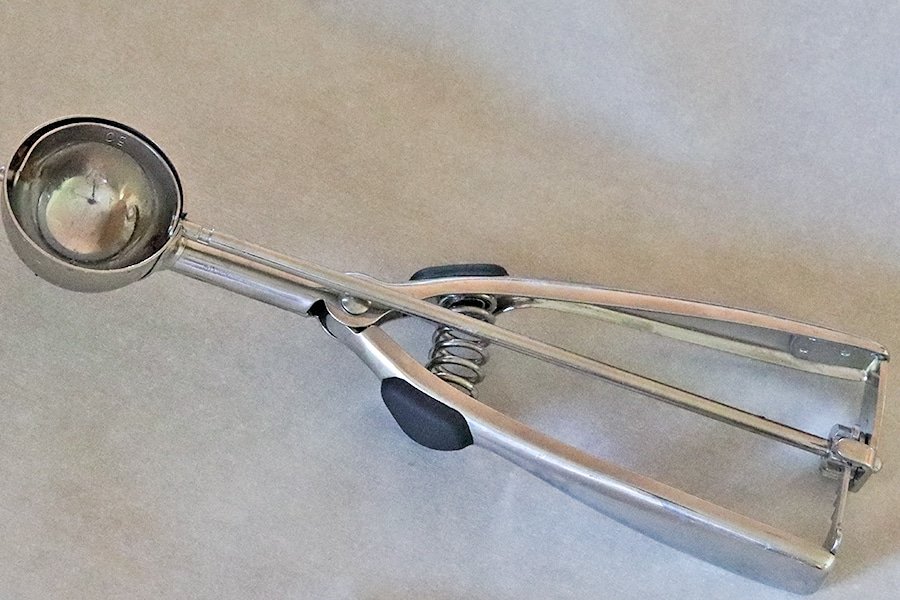 The next step is to shape the meat­balls. For me, the eas­i­est way to keep them fair­ly uni­form, (so they cook even­ly), is to use a cook­ie dough scoop. If you don't have one, it's total­ly fine. It just makes my job easier.
The scoop is con­sid­ered the small size, which holds about 2 tea­spoons and mea­sures 1.5 inch­es in diam­e­ter. It takes a lit­tle more than an ounce of meat­ball mix­ture to fill it. Four meat­balls usu­al­ly end up weigh­ing about 4.5 ounces.
Scoop the mix­ture into your hand, roll into a ball and then arrange on a parch­ment-lined bak­ing sheet.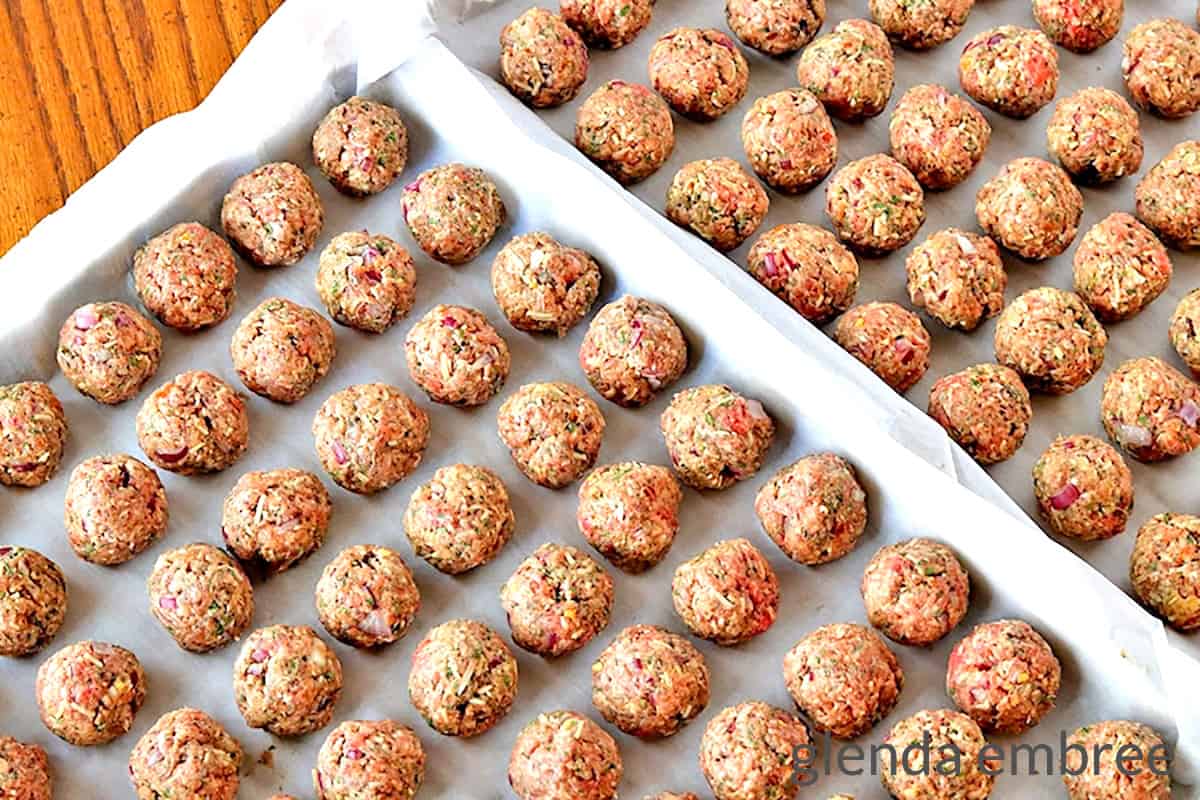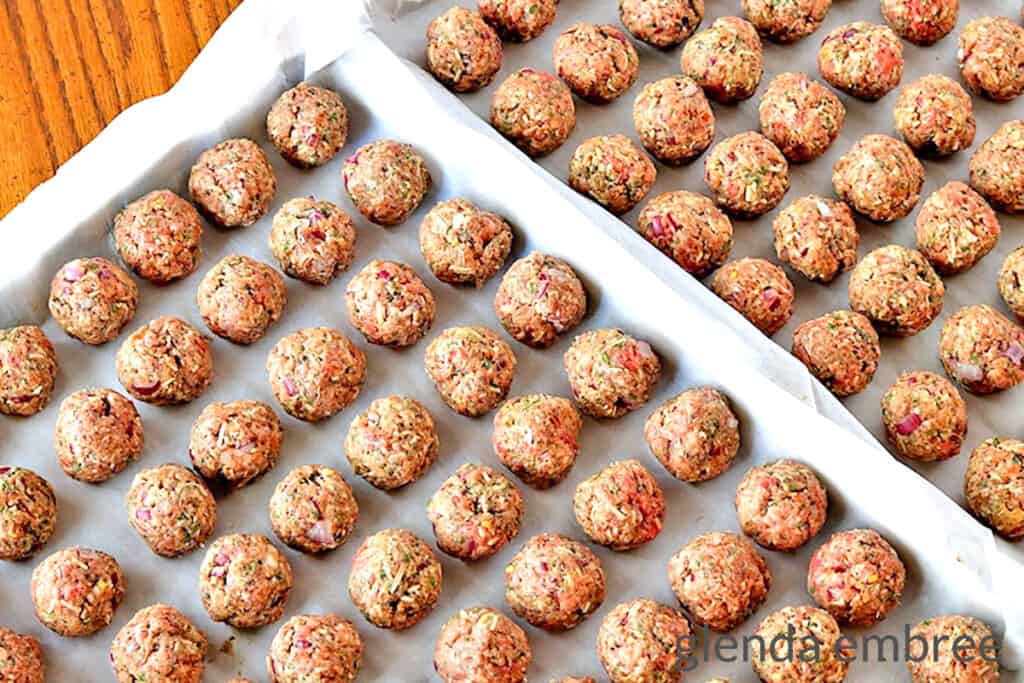 Bake and serve. Or freeze. Or add to a favorite dish. You are set, my friend! I usu­al­ly get 126 meat­balls out of this recipe. Even count­ing for pet­ty lar­ce­ny when my back is turned, that's about 5 meals worth of meat­balls for a fam­i­ly of 6!
How to Freeze Savory Meatballs
Once the meat­balls come out of the oven, I usu­al­ly use a few of them to cre­ate a yum­my meal like this Meat­ball Gravy over Mashed Pota­toes or Sweet and Sour Meatballs over Cau­li­flower Rice, while let­ting the extras com­plete­ly cool.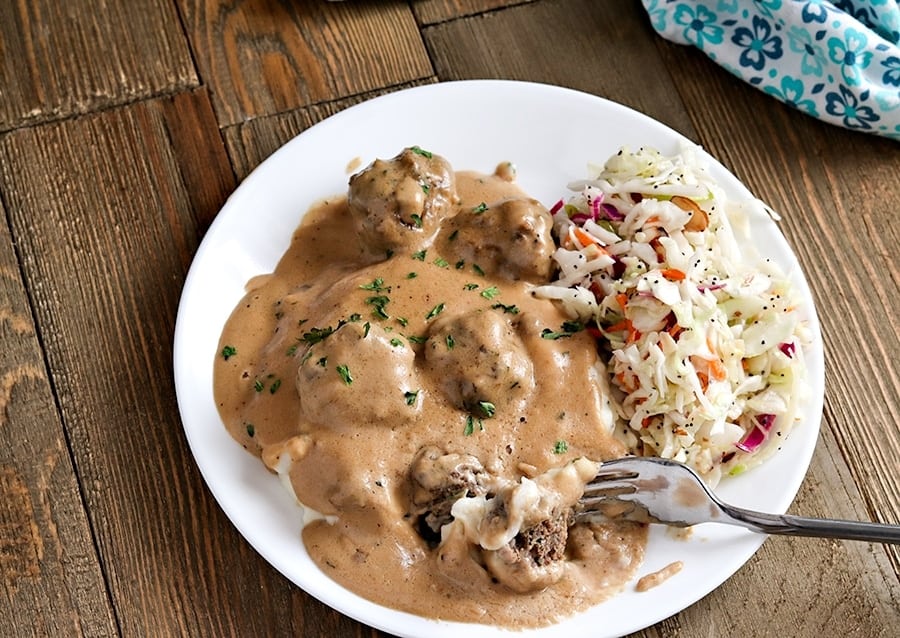 We enjoy a tasty din­ner while the cool­ing hap­pens, then I'm ready to freeze the boun­ty for quick and easy future meals.
Once the meat­balls are com­plete­ly cool, I remove the parch­ment paper from the sheet tray and spread the meat­balls out on the tray, again, mak­ing sure none are touching.
I pop the tray into the freez­er for about an hour (just long enough for them meat­balls to be com­plete­ly frozen).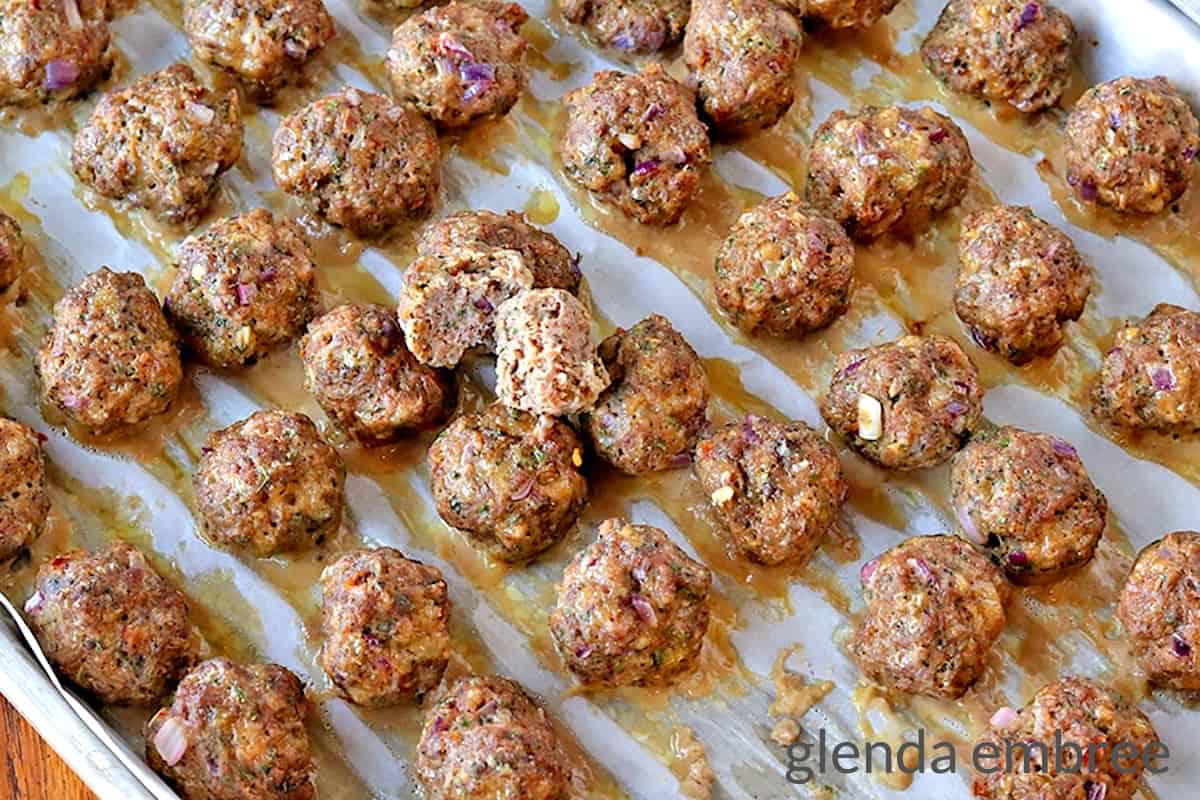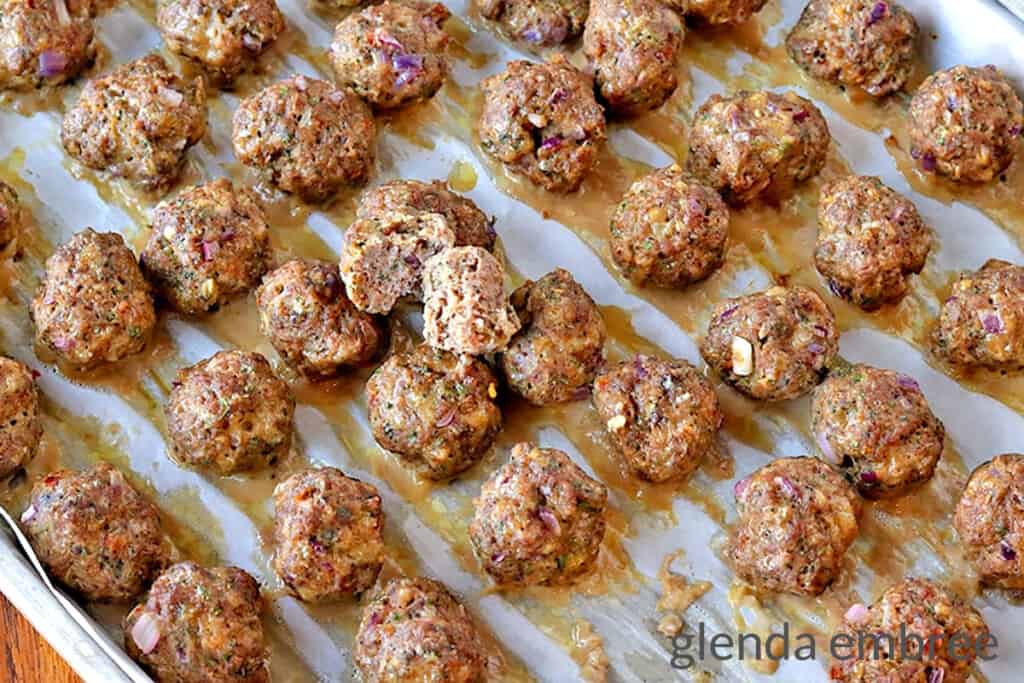 Once frozen, I pop them off the tray and into a zip-top freez­er bag. Since they have been indi­vid­u­al­ly flash frozen, I can pull out 1 or 4 or 24, as needed.
These frozen meat­balls don't stick togeth­er and they're stored safe­ly for when­ev­er I need them.
(Inci­den­tal­ly, we call 4 meat­balls a serv­ing, since that's about a quar­ter of a pound. Some, unnamed favorite peo­ple enjoy some­thing more like TWO serv­ings, though. lol So, I just plan accordingly.)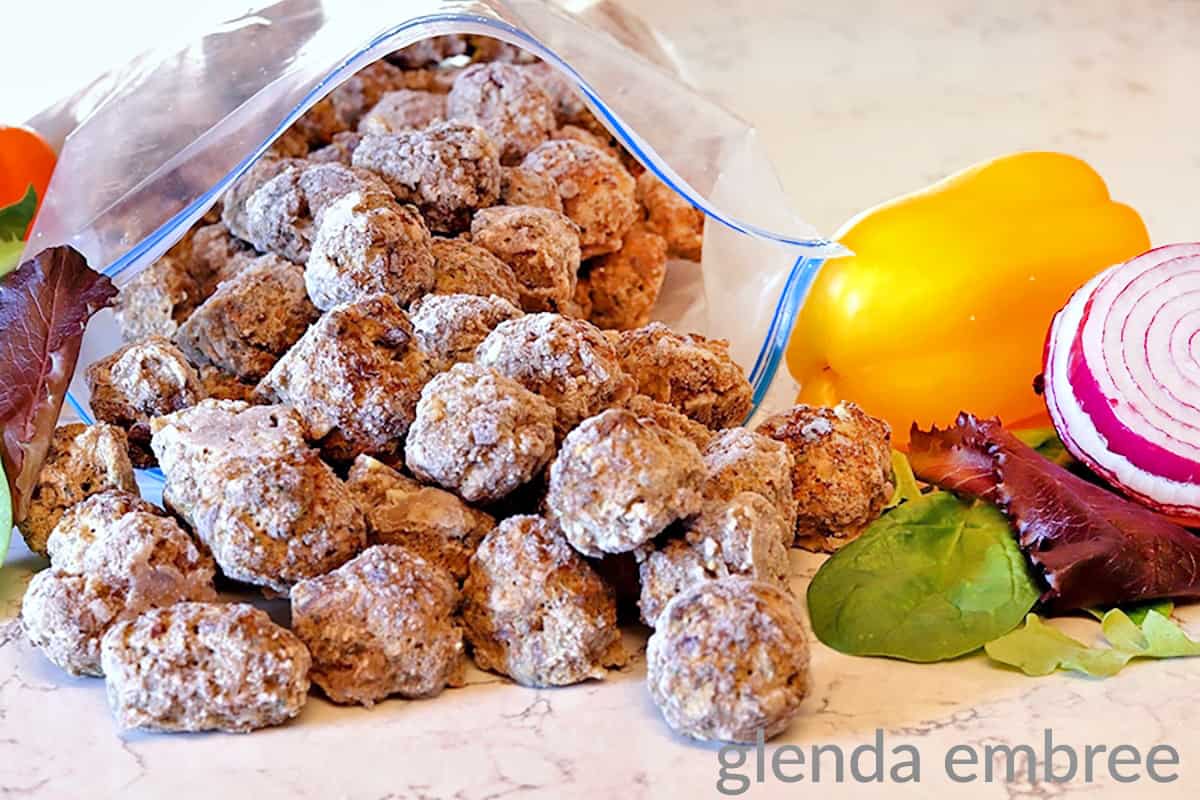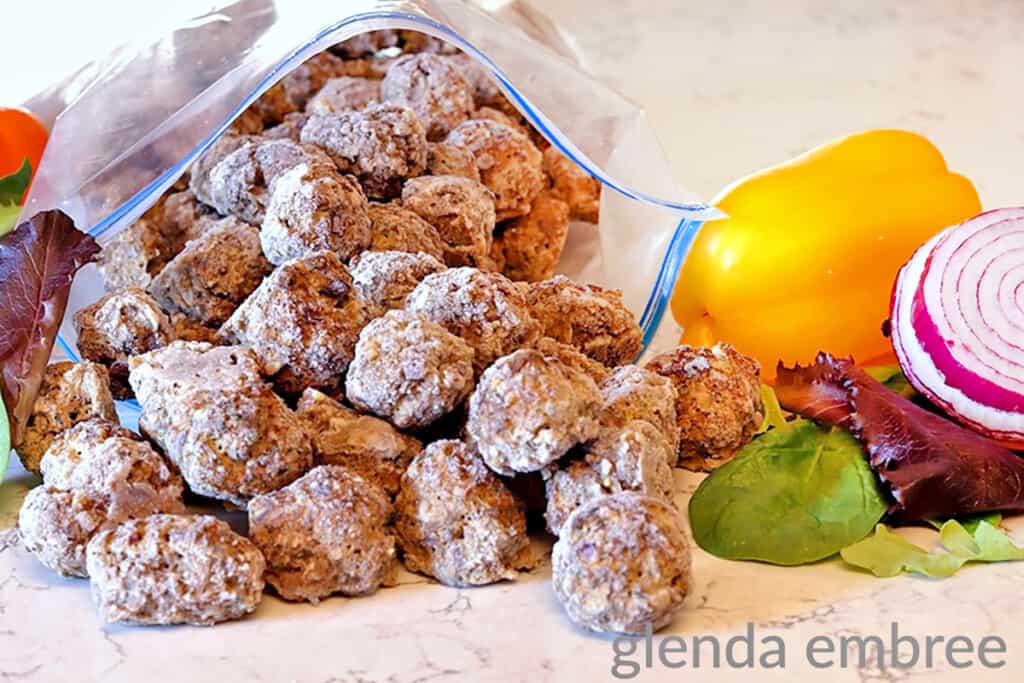 How to Use Homemade Meatballs
Add pas­ta to these meat­balls and my glo­ri­ous­ly easy and deli­cious Mari­nara Sauce and you and your fam­i­ly will be eat­ing like kings!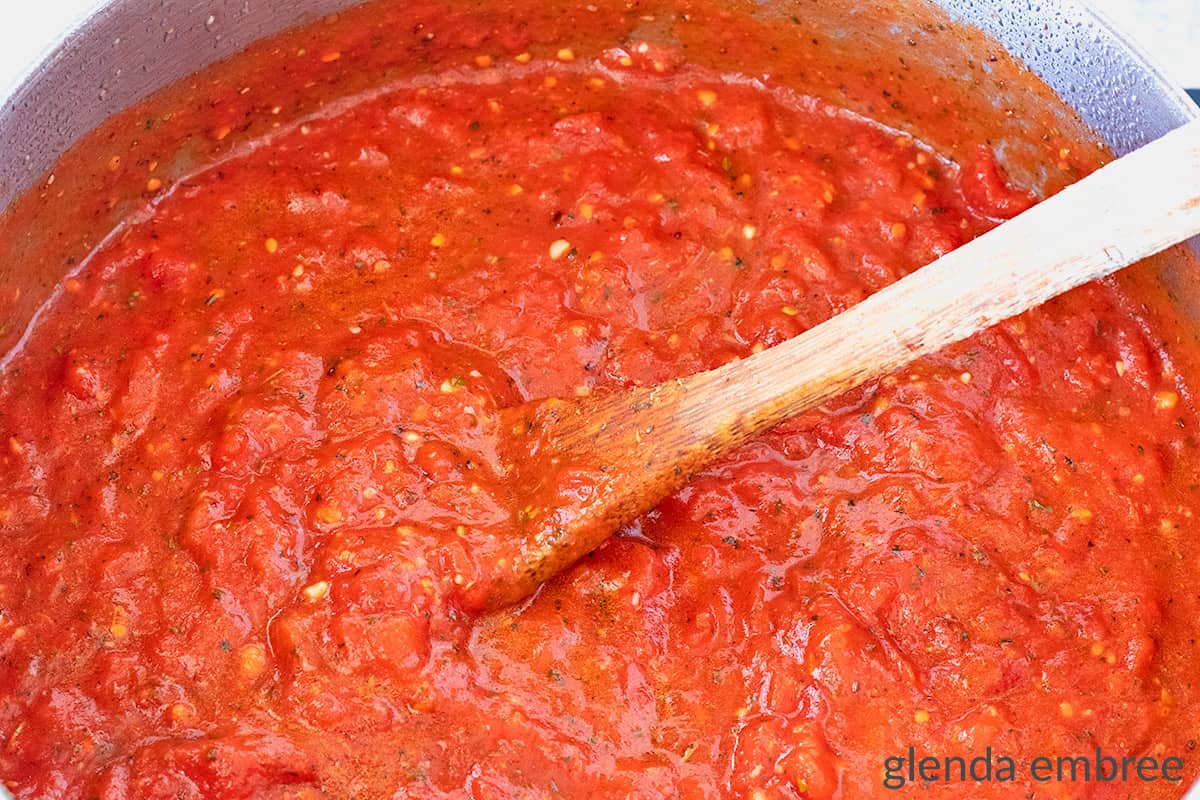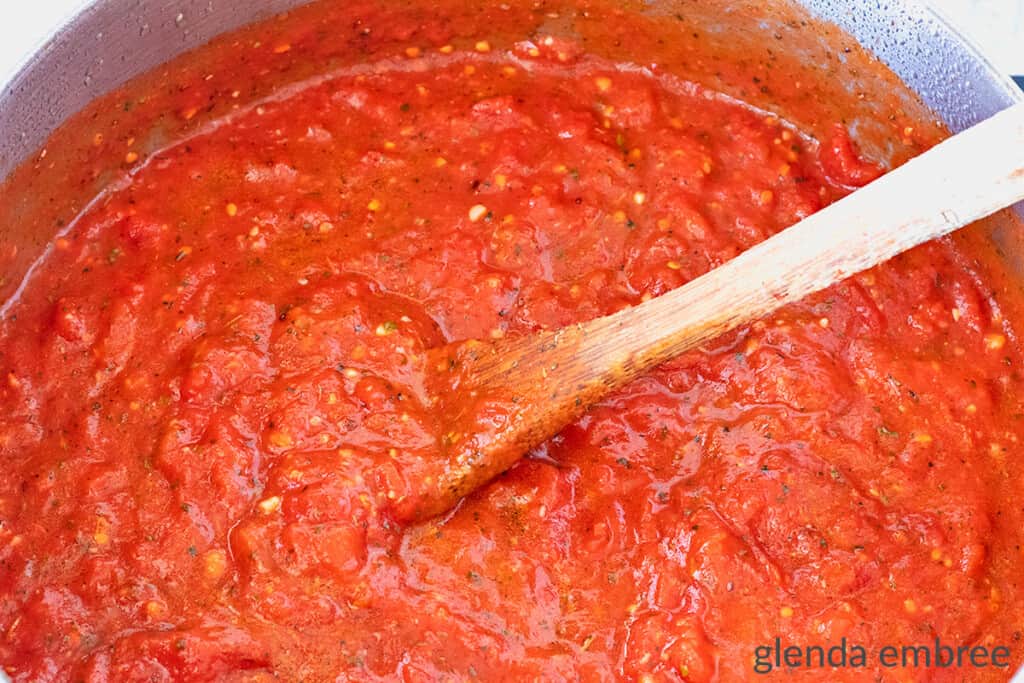 If you're look­ing for all Pork Meat­balls, try this yum­my recipe for self-sauc­ing meat­balls over on Whole Food Bellies.
And then, check out these del­ish dish­es made with my Spicy Meatballs!
Elim­i­nate the meat in the sauce for my deli­cious Baked Spaghet­ti and add a lay­er of these scrump­tious meat­balls, instead. You'll pos­i­tive­ly swoon!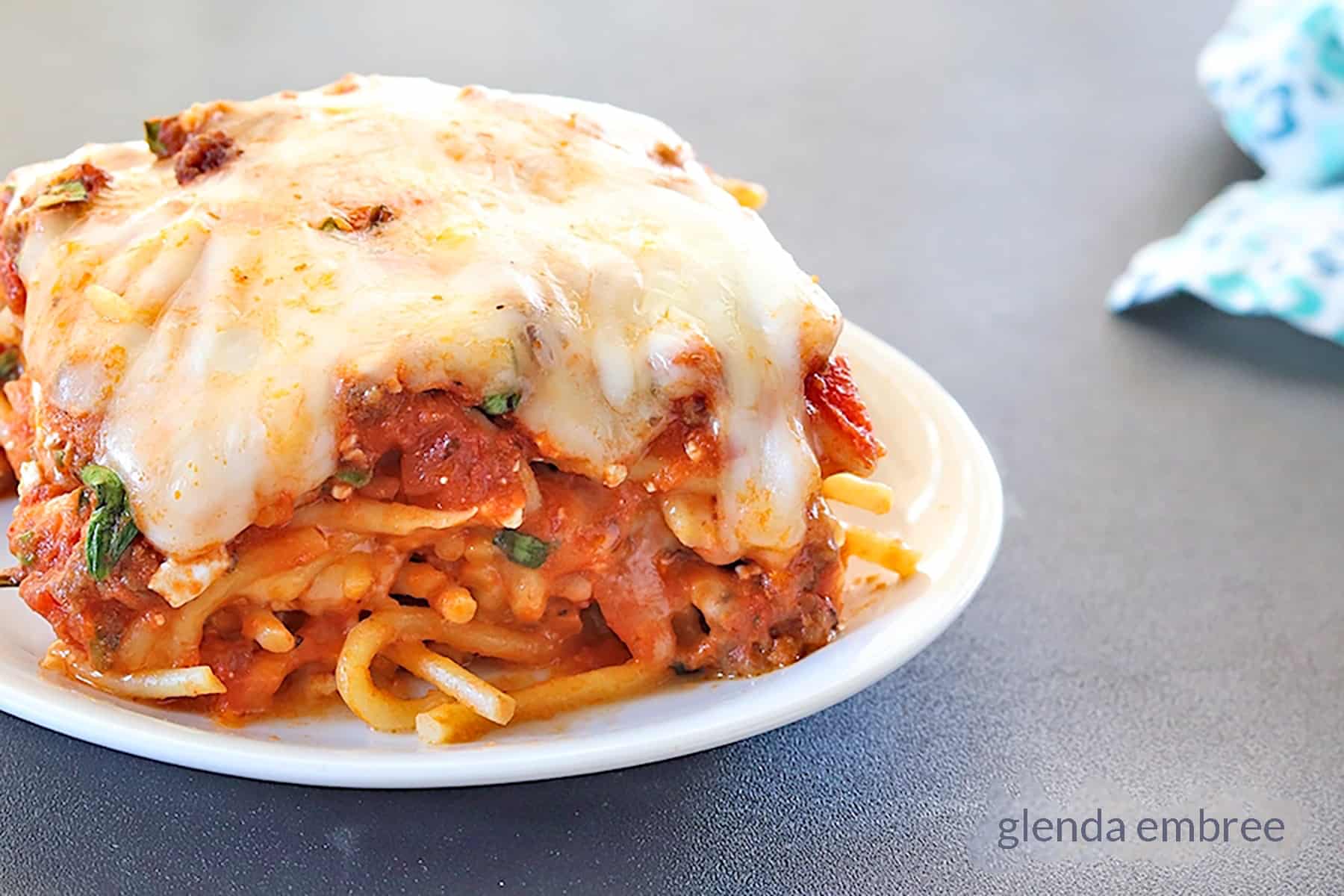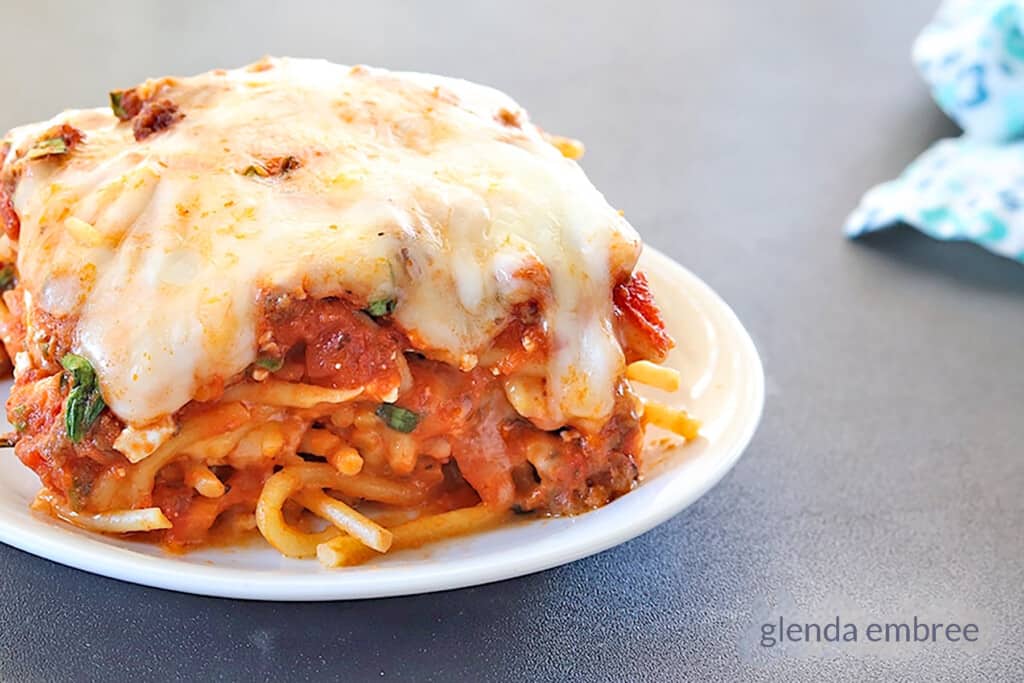 Sweet and Sour Meat­balls are deli­cious spicy meat­balls, chunks of pineap­ple and crisp, fresh veg­gies coat­ed in a sim­ple, home­made sweet and sour sauce. A 30-Minute sim­ple recipe your fam­i­ly will love!
Okay, guys, now that you have this recipe, the pos­si­bil­i­ties for deli­cious­ness are ENDLESS! I've got more "what to do with home­made meat­balls" recipes com­ing in the next day or two.
And, hav­ing these in your freez­er means din­ner on week­nights will be a breezy, fast-and-easy expe­ri­ence. Are you start­ing to see how cook­ing once to eat many times can reap you big rewards? I hope so!
Big hugs, my friend! Have a bless­ing-filled week­end and share a fam­i­ly din­ner with the peo­ple you love most!
The Recipe
Print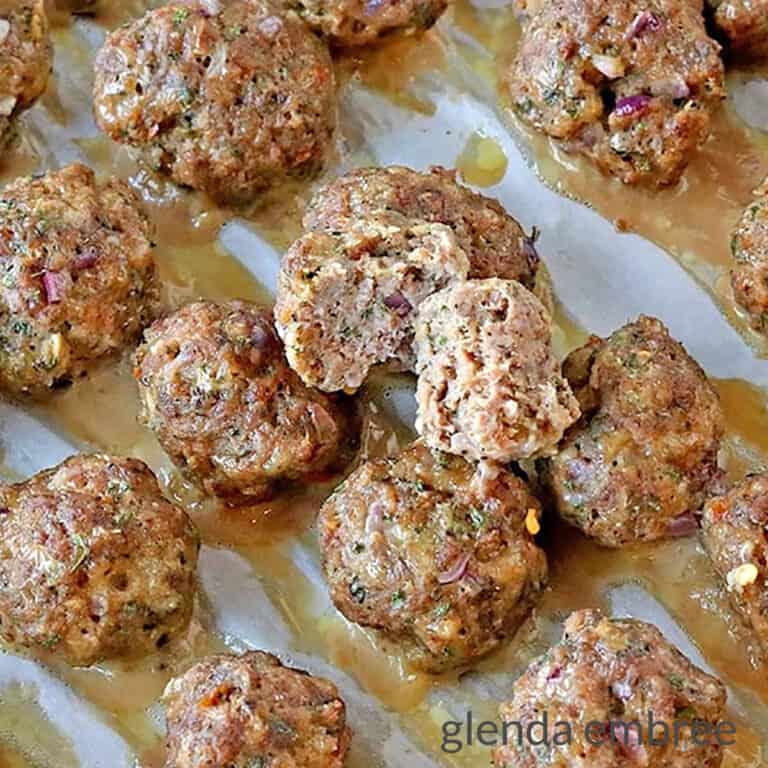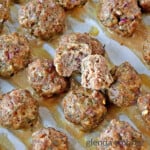 Scrumptious Savory Meatballs
---
Author:

Total Time:

30 min­utes

Yield:

126

meat­balls

1

x
4 1/4

lbs 93% lean ground beef

3

eggs

1/4

cup

Worces­ter­shire sauce

1

cup

milk

1

medi­um red onion, minced

2 Table­spoons

gar­lic, minced

2

cups

Ital­ian bread crumbs (I like Panko, but reg­u­lar work great, too)

1

Tbl red pep­per flakes

2

Tbl Spike Seasoning

1/3

cup

dried parsley

1/3

cup

dried basil

2

cups

grat­ed parme­san cheese

1

Tbl salt

1

Tbl black pepper
---
Instructions
Add all ingre­di­ents to an extra large mix­ing bowl.
For best results, use your hands to mix and com­bine all the ingre­di­ents, dis­trib­ut­ing every­thing even­ly through­out the meat mixture.
Scoop the mix­ture into balls, using a small cook­ie dough scoop.
Arrange the meat­balls on two parch­ment-lined sheet pans, leav­ing a lit­tle space between each one.
Bake at 350° for 20 minutes.
Remove the trays and cool on cool­ing racks.
Notes
The meat­balls are ready to use in your favorite recipes, as soon as they come out of the oven.
To freeze the leftovers:
Let the meat­balls cool completely.
Remove the parch­ment paper from the bak­ing sheets and arrange meat­balls, again, mak­ing sure they don't touch.
Put trays in freez­er for about an hour or until meat­balls are frozen solid.
Put frozen meat­balls into zip-top bags and store in freez­er until ready to use.
Add to any recipe like you would any frozen meatball.
Prep Time:

10 min­utes

Cook Time:

20 min­utes

Cat­e­go­ry:

Beef, Main Dish

Method:

Bak­ing

Cui­sine:

Amer­i­can