Hearty Marinara Sauce for Pasta & Recipes
This deli­cious 5‑ingredient hearty mari­nara sauce recipe is SO easy! You only need 30 min­utes to pre­pare it and your fam­i­ly will nev­er want store-bought, again.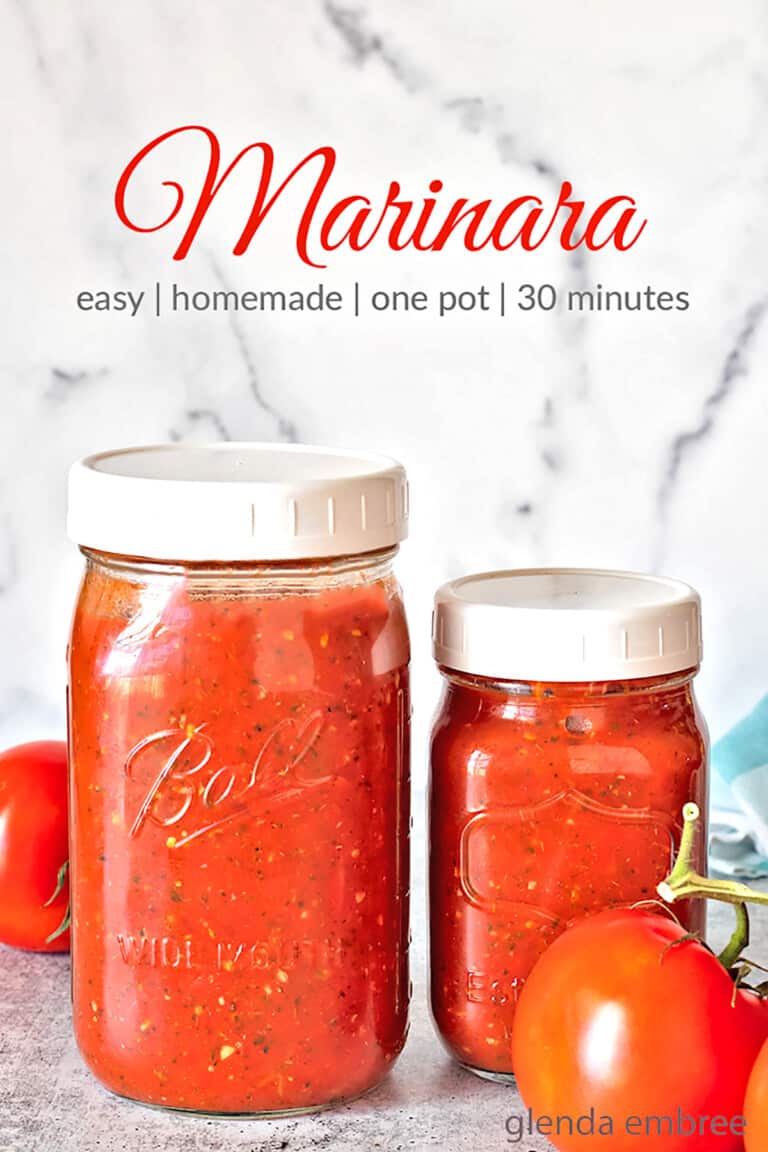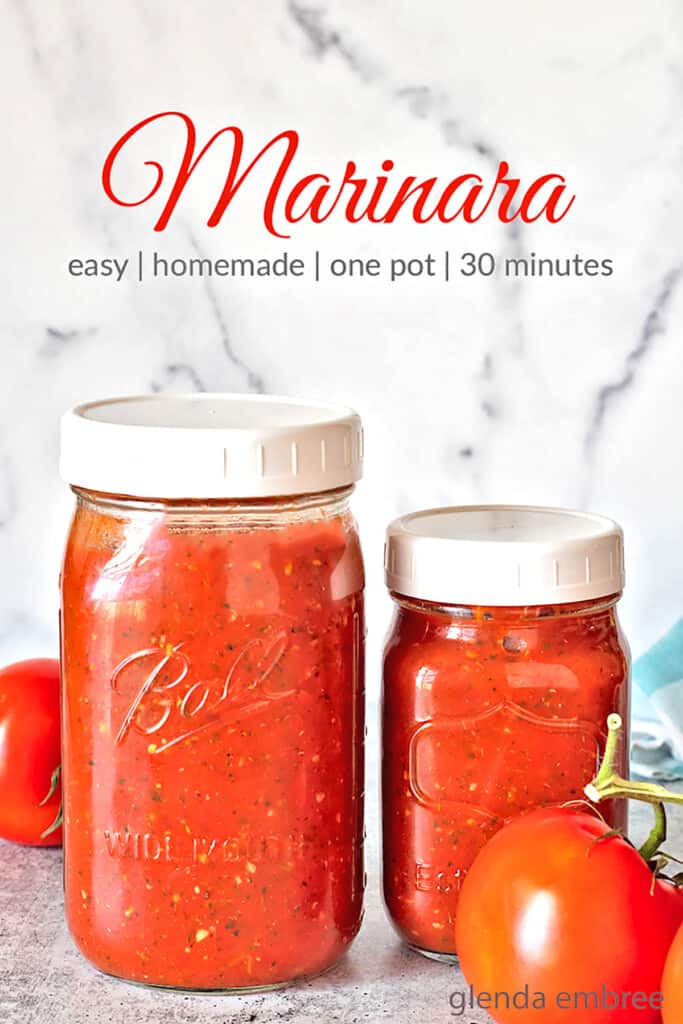 What is Classic Marinara Sauce?
Clas­sic Mari­nara Sauce is the base for so many of our favorite Ital­ian-inspired dish­es. Many peo­ple mis­tak­en­ly think that mari­nara sauce, spaghet­ti and toma­to sauces are essen­tial­ly the same things. But, they're real­ly quite different.
A clas­sic mari­nara sauce is just a very sim­ple toma­to-based sauce. It has few ingre­di­ents and does­n't con­tain meat. Home­made mari­nara sauce is thin­ner than toma­to sauce. Though, you can still make a hearty mari­nara sauce by cook­ing it down longer and allow­ing it to thick­en more.
This 30-minute mari­nara sauce recipe is that per­fect, hearty con­sis­ten­cy. (Inter­est­ed in learn­ing to can mari­nara for long-term stor­age? Check out Lau­ra's water bath can­ning tips over at Lit­tle House Big Alaska.)
Mari­nara is com­mon­ly used as a dip­ping sauce, but is also deli­cious tossed with almost any pas­ta dish­es. Mari­nara sauce is the tra­di­tion­al sauce in Chick­en Parme­san, can eas­i­ly stand in as a piz­za sauce and is a quick and easy fla­vor-enhancer in many oth­er dishes.
What are the Usual Ingredients?
Clas­sic mari­nara sauce typ­i­cal­ly con­tains only toma­toes (canned toma­toes work great!), gar­lic and tra­di­tion­al Ital­ian herbs like dried or (chopped fresh) basil or dried oregano. Mod­ern ver­sions often add onion and crushed red pep­per (chili) flakes. It's cooked for only a short amount of time, around 30 min­utes on your stove top. You can make mari­nara sauce with almost any kind of toma­to, but plum or San Marzano toma­toes are usu­al­ly preferred.
And in my hearty mari­nara recipe you can used canned, instead of fresh toma­toes, to save even more time. Fresh mari­nara sauce would cer­tain­ly be scrump­tious, but I opt for great fla­vor with­out the extra work of peel­ing fresh tomatoes.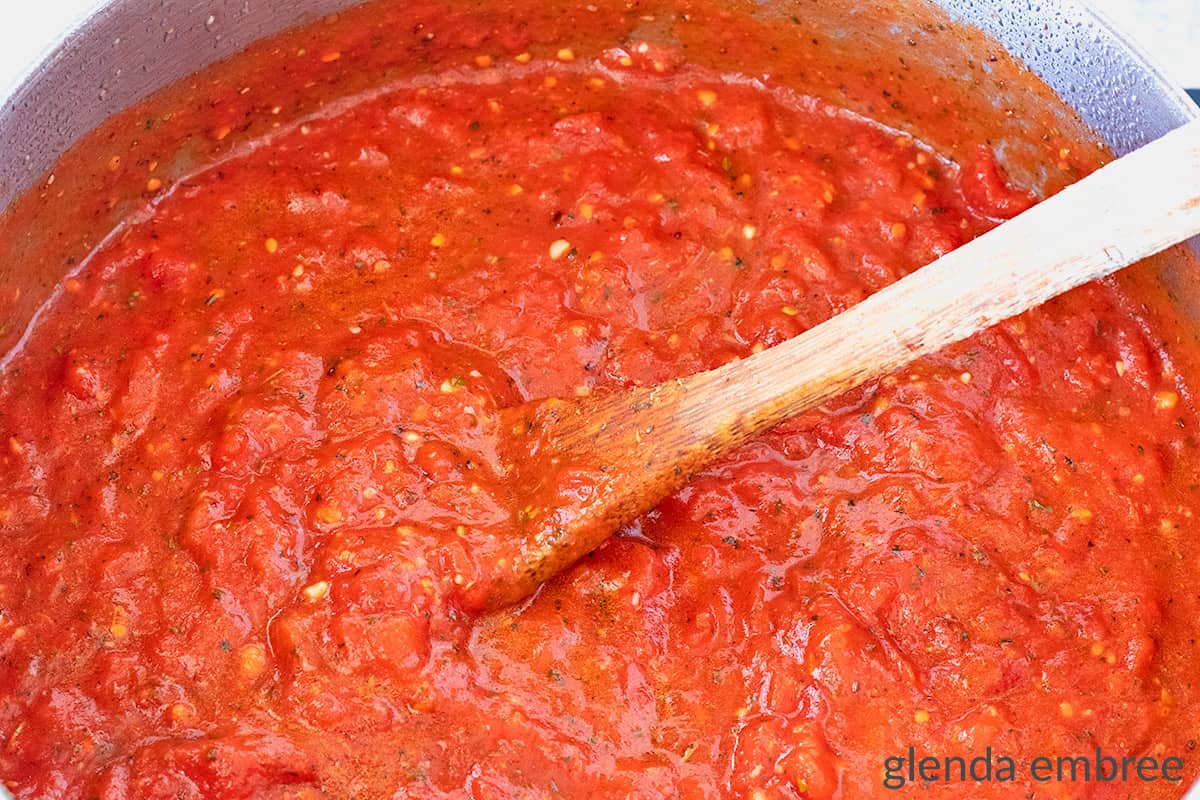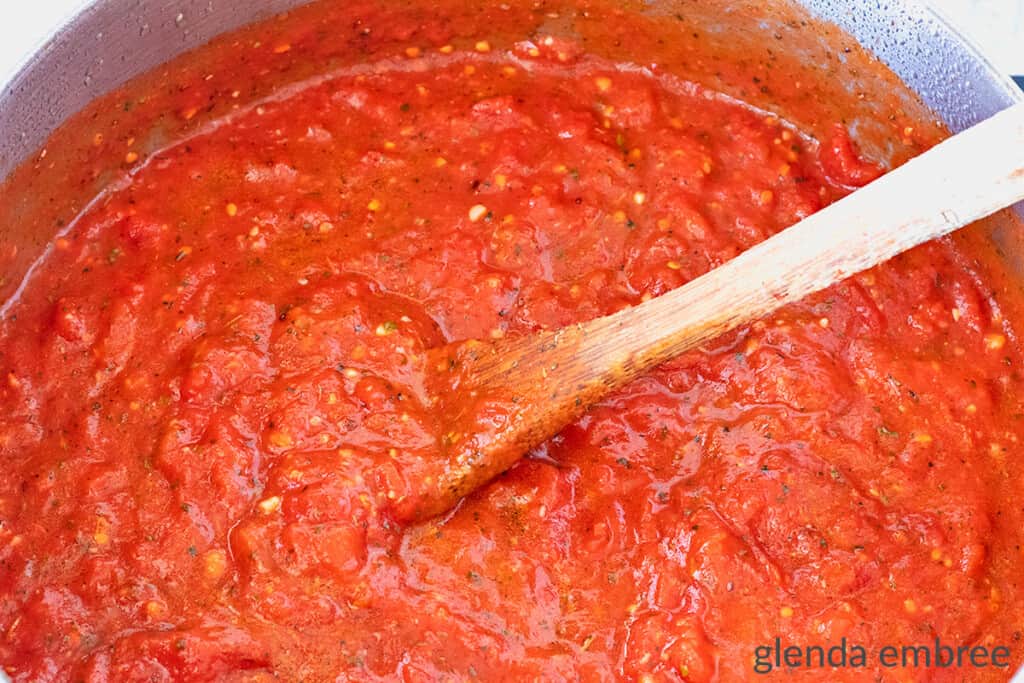 What is Tomato Sauce?
Toma­to sauce is a much thick­er toma­to-based sauce than mari­nara sauce. Typ­i­cal­ly, the toma­toes have not only been peeled, but also had the seeds removed. Canned toma­toes don't work as well in this instance. Toma­to sauce has more ingre­di­ents than home­made mari­nara sauce, along with a deep­er, rich­er and more com­plex flavor.
And, believe it or not, tra­di­tion­al­ly, toma­to sauce was not veg­e­tar­i­an. It was based on the French "moth­er sauce", Sauce Tomat, and start­ed with a roux made with pork fat. It's more suit­ed to blan­ket­ing or enrob­ing foods, almost like a gravy. In some areas of the Unit­ed States, one ver­sion is actu­al­ly called Toma­to Gravy.
Most of us think of mod­ern toma­to sauce as veg­e­tar­i­an and con­tain­ing no gluten. It comes in a can and is used as an ingre­di­ent, rather than being it's own ver­sion of a full-bod­ied, rich and fla­vor­ful toma­to-based sauce. It's the "start" of piz­za sauce, pas­ta sauce and oth­er dish­es. What a shame. A delec­table and tru­ly home­made toma­to sauce is mouth­wa­ter­ing­ly deli­cious and stands on its own as an extra­or­di­nary sauce.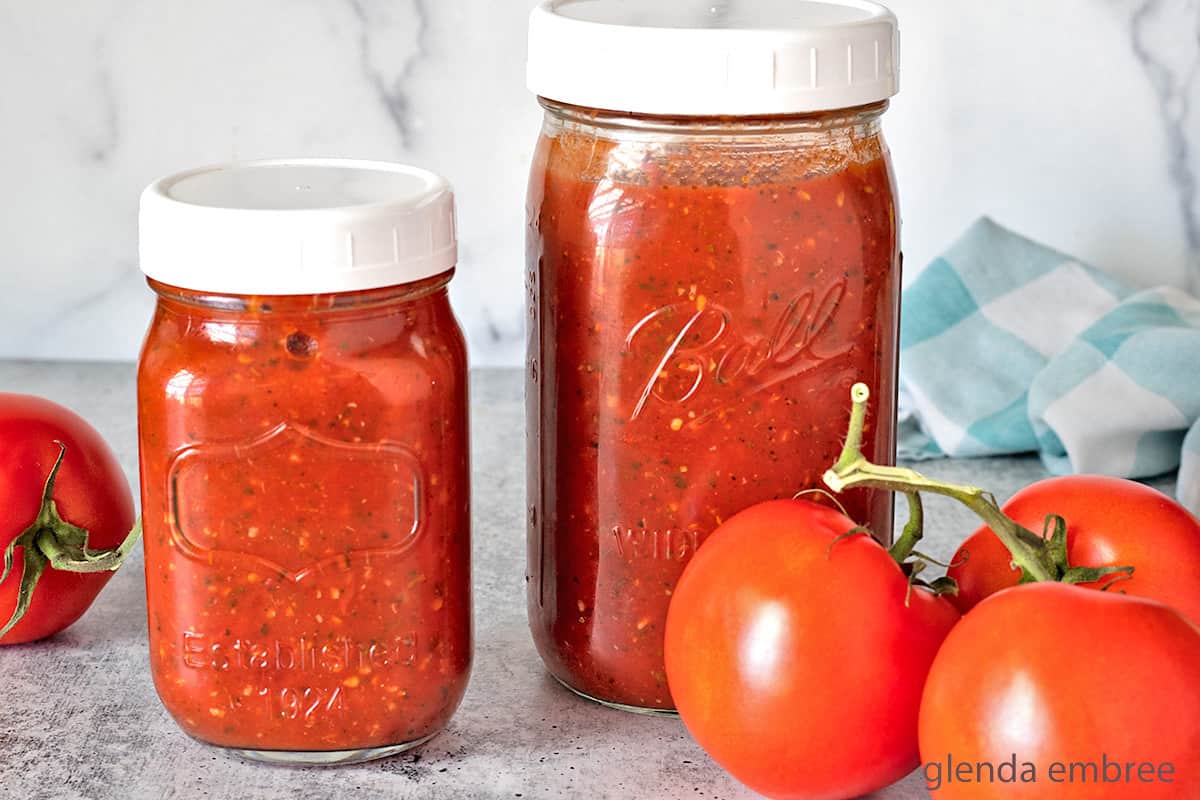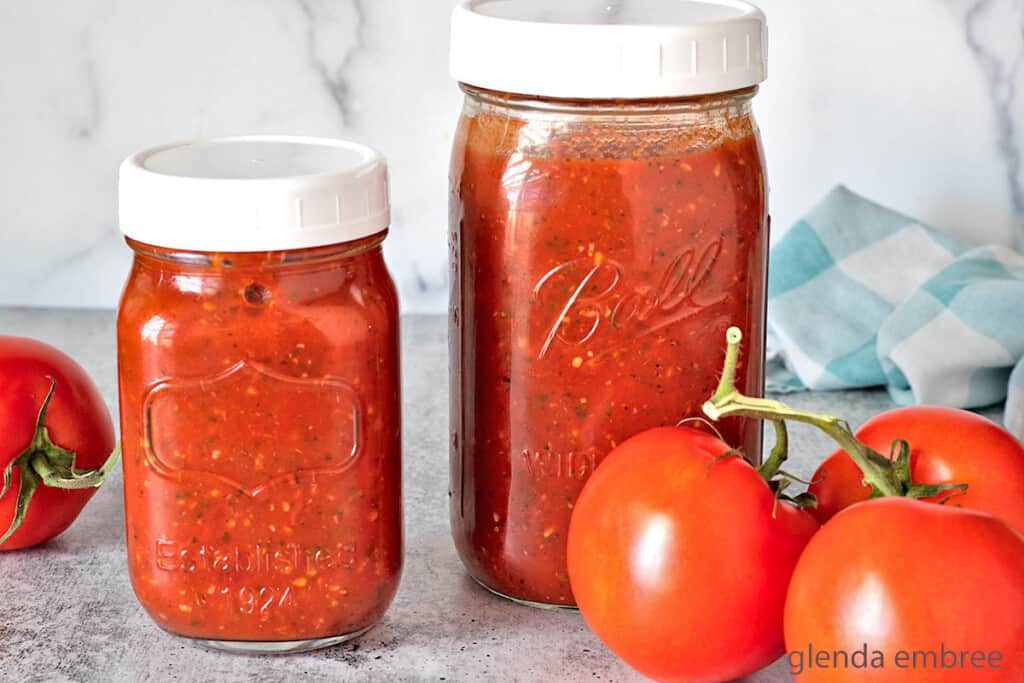 Then What is Spaghetti Sauce?
If you polled peo­ple on the street, my guess is that many of them would say that clas­sic Mari­nara Sauce and Spaghet­ti Sauce are inter­change­able and oth­er than the addi­tion of some sort of meat, basi­cal­ly the same thing.
Before I start­ed look­ing into the ori­gins of these deli­cious sauces, I would have agreed with them. But, in truth we seem to pic­ture thick­er, toma­to based sauces with meat and even cheese, when we think of sauce for spaghetti.
Whichev­er you pre­fer, mari­nara sauce or spaghet­ti sauce can be tossed with any pas­ta or served over the top, as you prefer.
More than One Way to Sauce Your Pasta
In all hon­esty, there are many types of pas­ta sauce, though. While the toma­to-based is usu­al­ly the first to come to mind, a fur­ther exten­sion of it, bolog­nese, is also com­mon­ly used for spaghet­ti. To be a true bolog­nese, it will have dairy com­po­nents, meat and even more veg­etable ingre­di­ents added to toma­to sauce.
Pesto, car­bonara, cacio e pepe, alfre­do and a mul­ti­tude of oth­er sim­ple sauces also pair well with pas­ta and in some house­holds may be what they think of when some­one says pas­ta sauce. The pos­si­bil­i­ties are as var­ied as the peo­ple who enjoy them.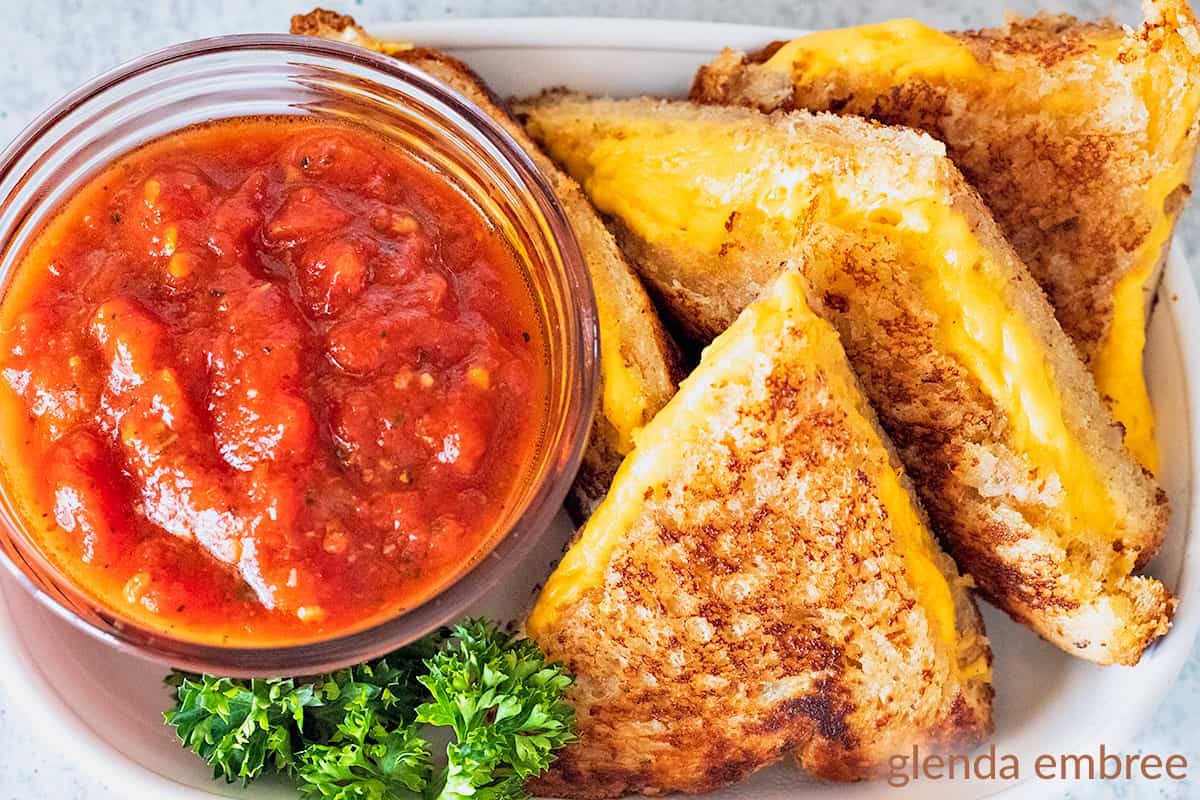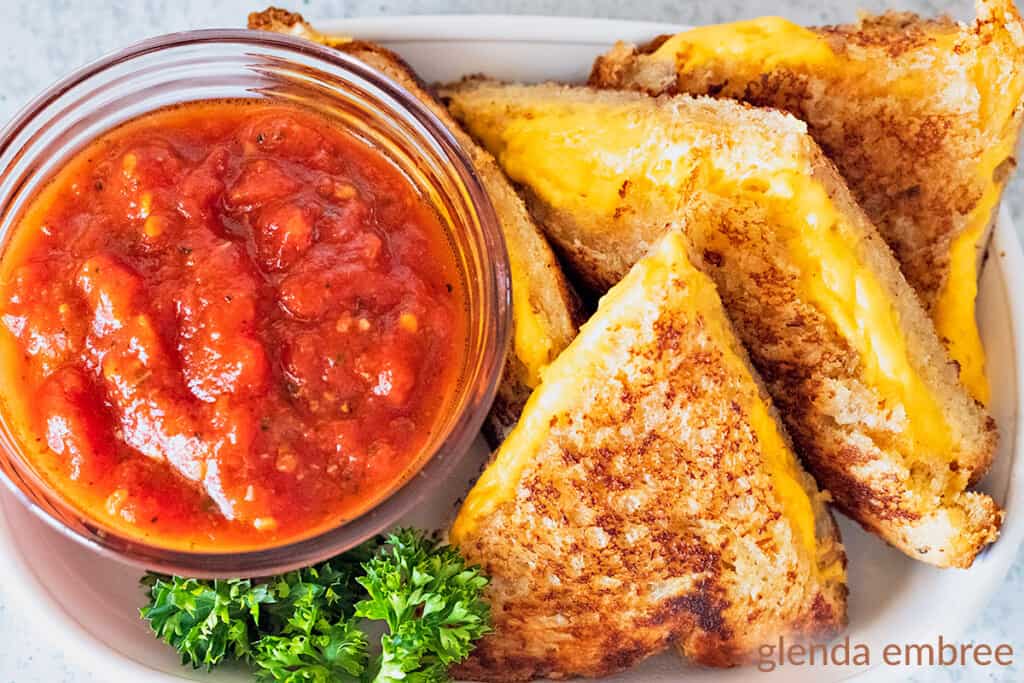 Understanding Pasta Sauce Traditions
Obvi­ous­ly, over cen­turies, what we know as either a hearty mari­nara sauce and toma­to or pas­ta sauce have each evolved to suit the needs of the peo­ple mak­ing them.
Their recipes for mari­nara sauce and oth­er pas­ta sauces are var­ied and steeped in fam­i­ly and cul­tur­al his­to­ry. They use ingre­di­ents that are avail­able in the regions where they live.
The com­mon threads for most house­holds seem to be toma­toes, pas­ta and a strong sense of fam­i­ly con­nec­tion around food — prepar­ing it and shar­ing it.
Creating Your Own Traditions
Remem­ber these tips and start cre­at­ing your own recipe and food traditions.
Take the best of what you find in the recipes of oth­ers and make them your own. Just like this yum­my Rougaille Saucisse over at We Eat Last. It's anoth­er toma­to-based recipe with so many possibilities.
Add and sub­tract ingre­di­ents that make it bet­ter for your fam­i­ly. I'm not a believ­er in a right or wrong way to make a recipe. The "right" way is the one that works best for your bud­get and your people.
You'll enjoy food so much more when you start with the recipes you trust and tweak them to make them the recipes that your fam­i­ly loves. I hope you and they will enjoy what I think is the best Mari­nara sauce recipe.
The Ingredients
My recipe is based on Ital­ian chef, Lidia Bas­tianich's mari­nara sauce recipe. She is one of the first "TV chefs" I ever watched, (way back in the 90's before TV chef's were super­stars, to any­one but me) lol . I first saw her on Julia Child's cook­ing show.
Lat­er, when she had a show of her own on PBS, she did­n't know it , but she became my "mentor/authority" on Ital­ian cook­ing. I have so much respect for the way she cooks for her fam­i­ly and the way she shares her recipes and tech­niques with the rest of the world. Like me, she shares love through food, as a way to build fam­i­ly and community.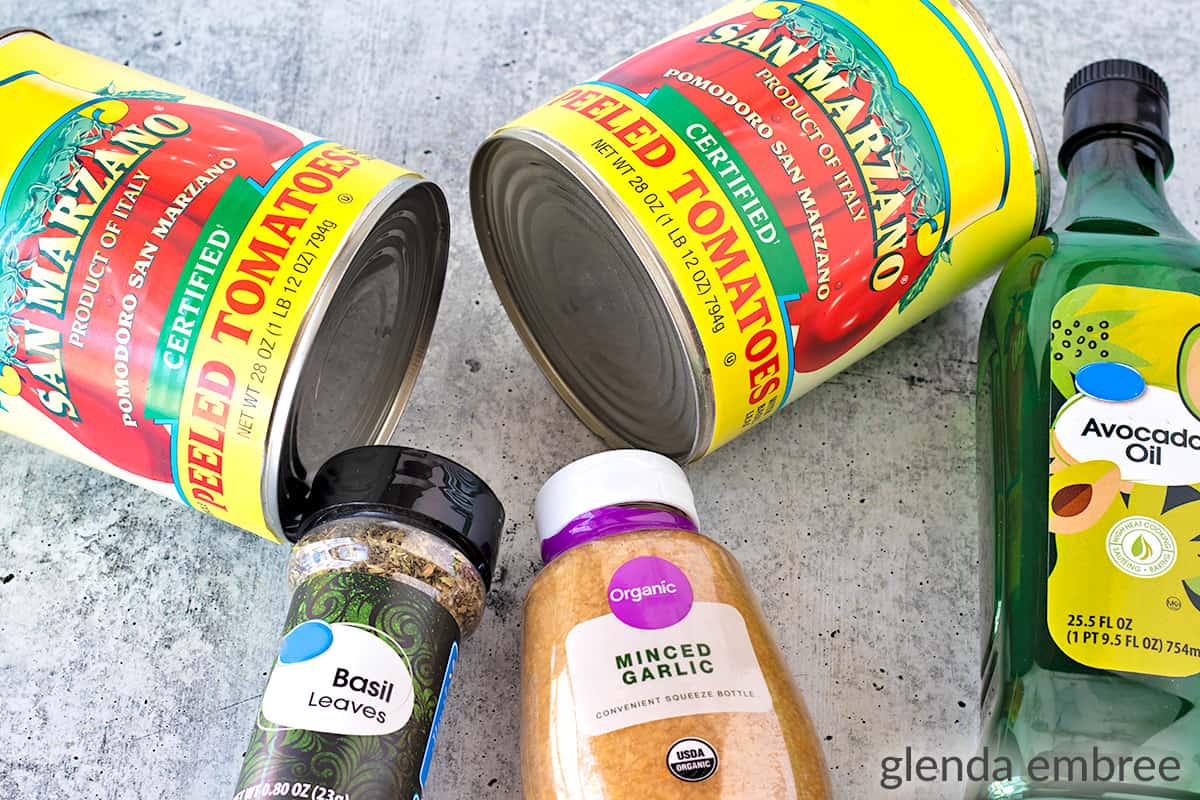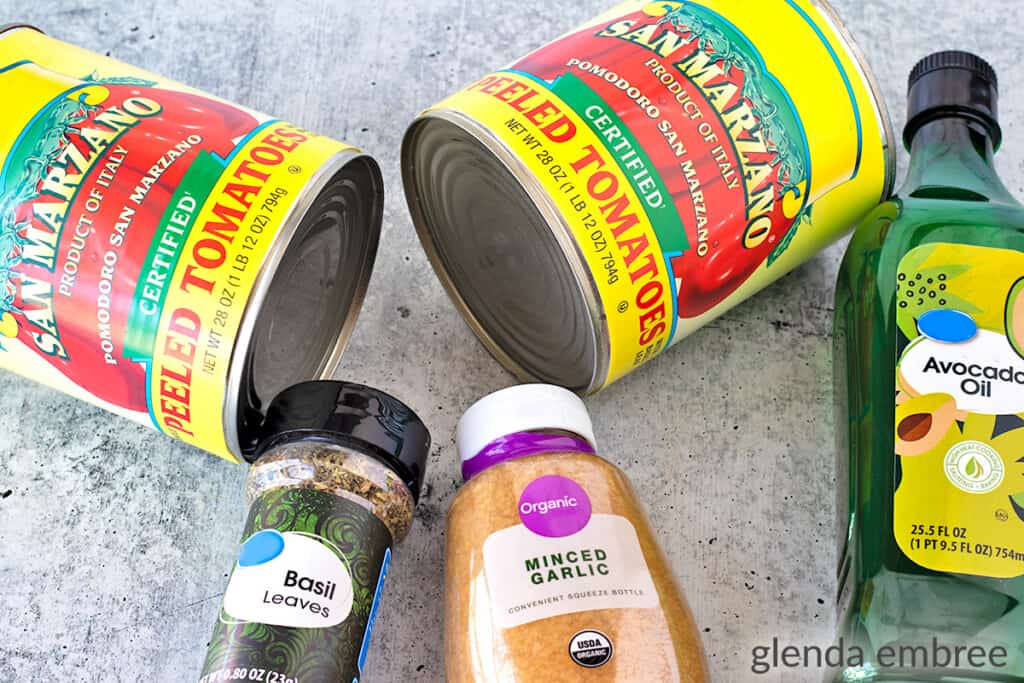 Here's What You'll Need:
Avo­ca­do Oil I use it in almost all my cook­ing and bak­ing. It is fla­vor-neu­tral, so it does­n't alter the fla­vor of the dish­es you cre­ate. It also has the high­est smoke point of the healthy oils. Olive oil would be a good alter­na­tive to sub in this recipe if you don't have avo­ca­do on hand. Be care­ful to use a qual­i­ty one, how­ev­er. Olive oil WILL affect flavor.
Minced Gar­lic You can crush or mince your own fresh gar­lic, if you pre­fer. I have worn out sev­er­al gar­lic press­es in my life­time and now that I can buy organ­ic gar­lic, already pre-minced, it is my go-to gar­lic of choice.
Canned San Marzano Toma­toes (Plum), whole, peeled and canned toma­toes. You could peel fresh toma­toes and make fresh mari­nara sauce, but canned toma­toes make the job so much quick­er. And the sauce is just as deli­cious. (Petite diced toma­toes, diced toma­toes and crushed toma­toes are often not as ripe or as high qual­i­ty as whole toma­toes. Choose whole and break them up yourself.)
Dried (or Fresh) Basil If you have chopped fresh basil, you can usu­al­ly mul­ti­ply the dried amount called for by 3 and get the right amount for fresh. (I don't use any oth­er herbs, but dried oregano would be good as would any Ital­ian sea­son­ing blend.
option­al: Crushed Red Pep­per (Chili) Flakes This is a mat­ter of pref­er­ence and I don't use a lot. But, any­where from 1/4 tea­spoon to 1/2 tea­spoon can add a pleas­ant kick to your sauce.
salt and pep­per, to taste. Add this at the very end, after the basil and pep­per flakes have been added and cooked in. Taste your fin­ished prod­uct and deter­mine if it needs any addi­tion­al sea­son­ing. Some­times, it won't. If it does, then add more salt and pep­per to enhance the fla­vor until it's just right.
What are San Marzano Tomatoes?
San Marzano Toma­toes are a vari­ety of plum toma­to. I like canned San Marzano toma­toes for their excel­lent fla­vor and meaty tex­ture. But, in truth, any qual­i­ty plum toma­to will work in this recipe. They can be very dif­fi­cult to find fresh. And when you do, they are expen­sive, so I buy canned toma­toes for this recipe.
The qual­i­ty and ripeness of whole peeled canned toma­toes is so much bet­ter than diced toma­toes or canned crushed toma­toes. Com­mer­cial can­ners choose the ripest, high­est qual­i­ty toma­toes for the whole canned vari­ety. They sim­ply have more fla­vor. Even if they have to be bro­ken down for my recipe, I almost always buy whole peeled vs diced toma­toes, now.
San Marzano are high-qual­i­ty, Ital­ian plum toma­toes. I'm able to buy them at my local Wal­mart gro­cery store. The San Marzanos come in 28 oz. cans and I use two in my best mari­nara sauce recipe.
I also like Jovial brand whole peeled toma­toes. I can usu­al­ly get great sales on them at Whole Foods. The Jovial toma­toes come in 18.3 oz. jars. So, if I use Jovial, I use three jars for this recipe.
How to Make Marinara Sauce
It's as sim­ple as putting every­thing in a large pan and cook­ing it down for 20–30 min­utes. No spe­cial tricks or even any prep.
Crush or chop the whole canned toma­toes. Don't drain them. You'll be using all the juice, too.
Put avo­ca­do or extra vir­gin olive oil and gar­lic in a large pot and saute for around 30 sec­onds over medi­um heat.
Toss every­thing else in the large pot and let it sim­mer for 30 minutes.
For a com­plete visu­al tuto­r­i­al, watch the How to Make Home­made Mari­nara Sauce video in the recipe card.
FAQ's about Marinara Sauce and Sugar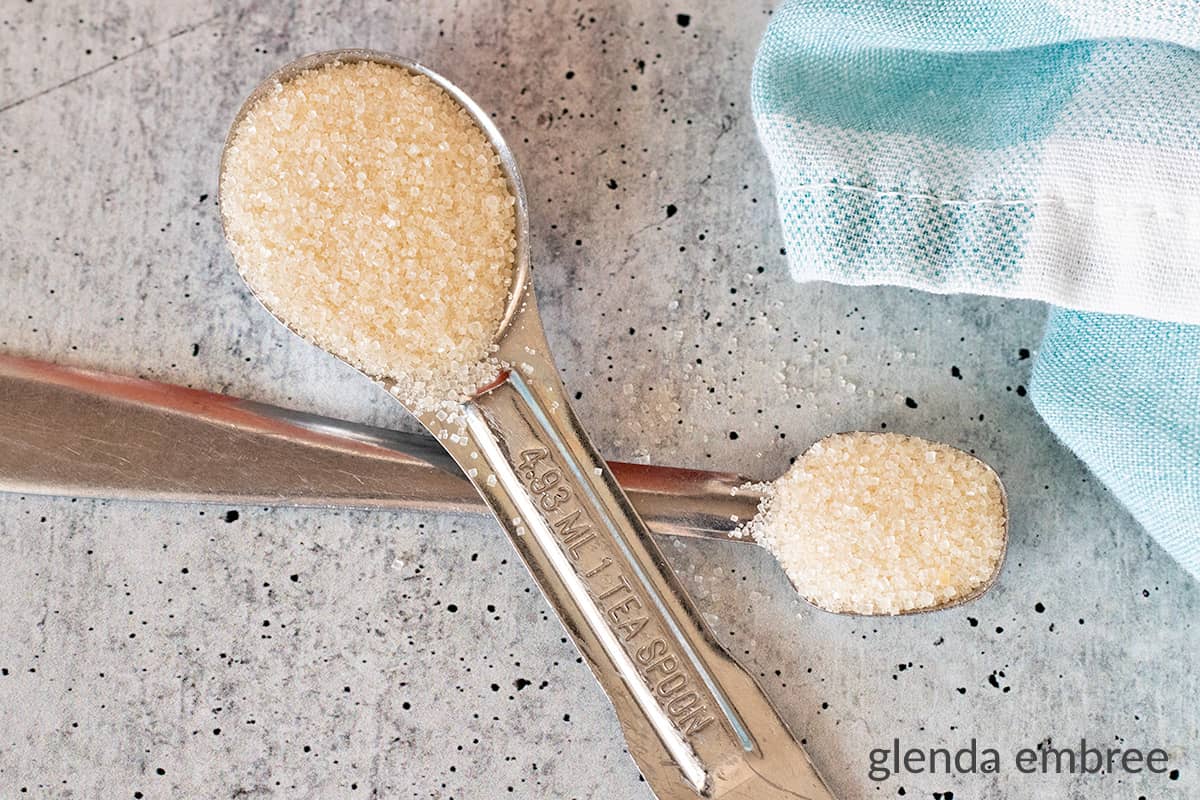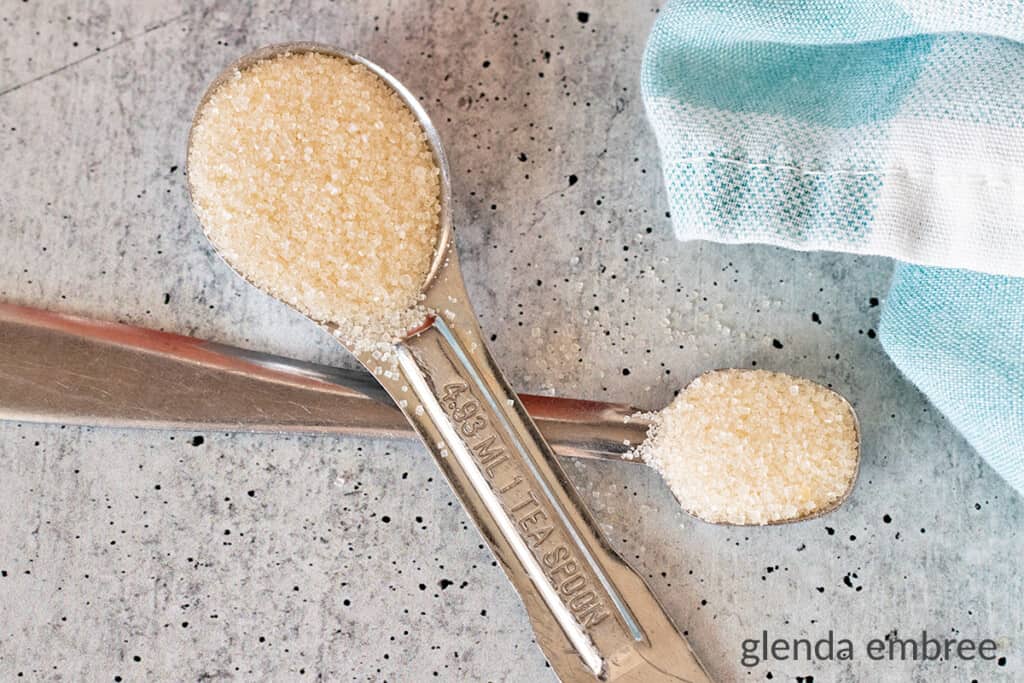 Should I add sug­ar when I make mari­nara sauce?
Yes and no. It all real­ly depends on the acid lev­el of the toma­toes you're using. Sug­ar can help neu­tral­ize high­ly acidic toma­toes to bal­ance the fla­vor and cre­ate a pleas­ing har­mo­ny between acid­i­ty and sweet­ness.

Toma­toes are nat­u­ral­ly both. Some­times, how­ev­er, depend­ing on where they're grown, when they were har­vest­ed and whether they are fresh or canned, the acid can be stronger than we like.

To tone this down and bring the sauce into a deli­cious bal­ance, you can add sug­ar 1/4 tea­spoon at a time. Stir it in. Cook it for at least a minute. Taste again, and add anoth­er 1/4 tea­spoon, repeat­ing as often as nec­es­sary to get to the fla­vor you want. If I use sug­ar at all, I nev­er go over 1 tea­spoon in this recipe.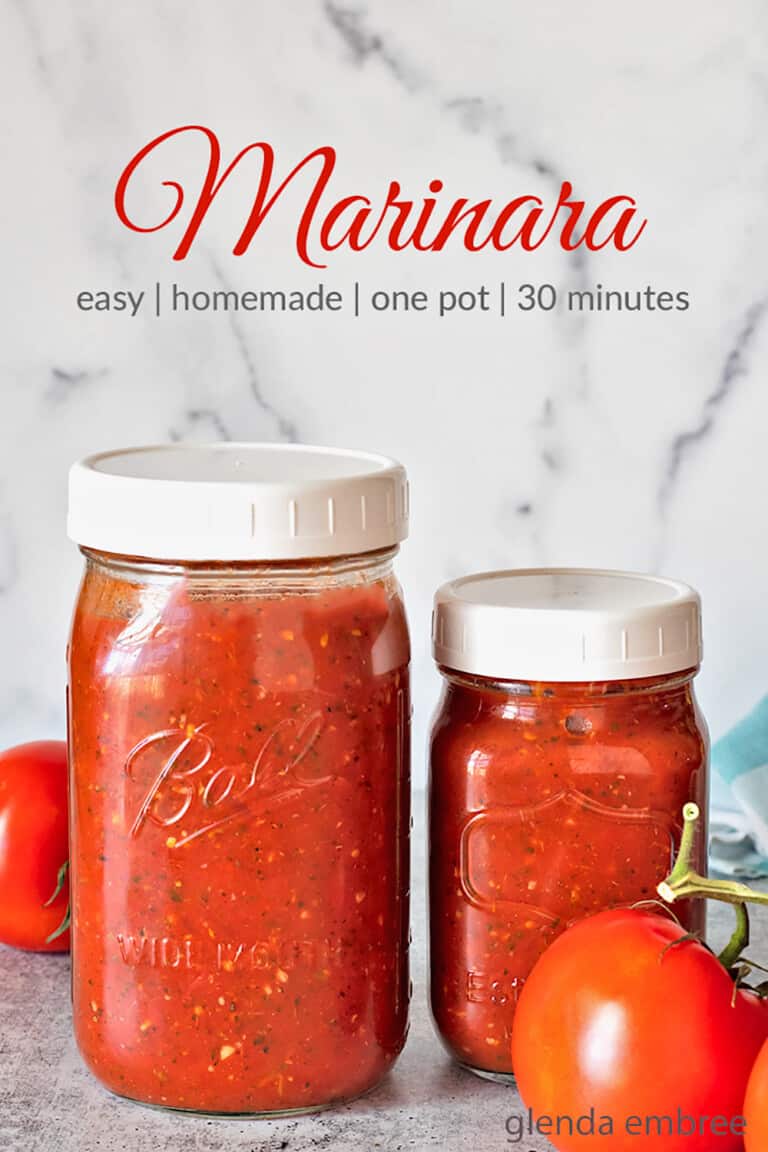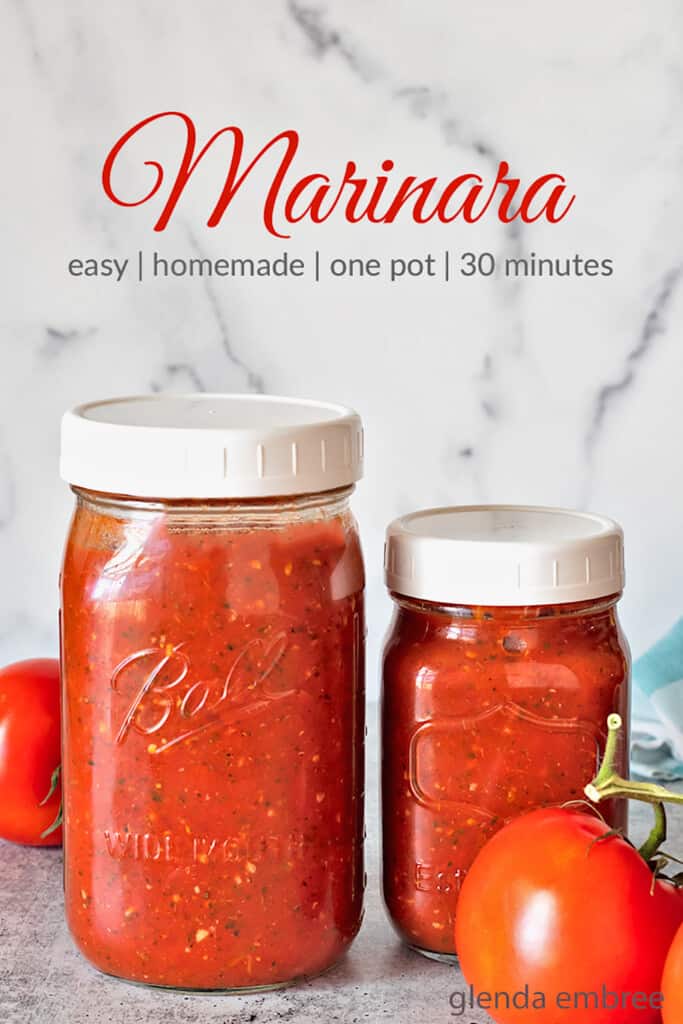 Why Making Homemade Marinara Sauce is So Important
You can con­trol the ingre­di­ents. No hid­den sug­ars, preser­v­a­tives, gums or dyes. All the things you want and noth­ing that you don't.
That's why home­made ver­sions of our favorite recipes, like this deli­cious mari­nara sauce, are so impor­tant. You con­trol all the ingre­di­ents and you know exact­ly what is in the dish­es you feed your family.
It's more impor­tant than ever before to read labels and know what's in the food you're buy­ing. And, it's crit­i­cal to learn to make things like hearty mari­nara sauce, from scratch, so you can take back the con­trol of what's going into your family.
Delicious Ways to Use Marinara Sauce
Any cooked pas­ta would be scrump­tious tossed in home­made mari­nara sauce.
Use it as the sauce in tra­di­tion­al baked ziti or even a veg­e­tar­i­an baked ziti.
It's a scrump­tious dip­ping sauce for piz­za rolls, gar­lic knots, bread sticks or grilled cheese.
Use it as piz­za sauce on your next home­made piz­za. This Bacon Fat­head Piz­za would be fabulous!
Use it recipes for stuffed shells.
Final Thoughts about Making Marinara Sauce
Remem­ber, it can be afford­able and quick to make your own (of lit­er­al­ly, just about any­thing), but espe­cial­ly a hearty marinara.
This mari­nara sauce recipe makes 3 pints (6 cups) of sauce and you have 100% con­trol of what goes into it.
The recipe can eas­i­ly be dou­bled or tripled, so you always have a stash in the fridge and freez­er. (See the recipe card NOTES for tips on freez­ing my home­made mari­nara sauce.)
I promise you won't be a slave to your kitchen if you cook from-scratch, healthy food for your fam­i­ly! Home­made can be sim­ple, healthy AND deli­cious! And it can all start with quick and easy recipes like this Home­made Mari­nara Sauce. You're gonna love it!
THE RECIPE
Print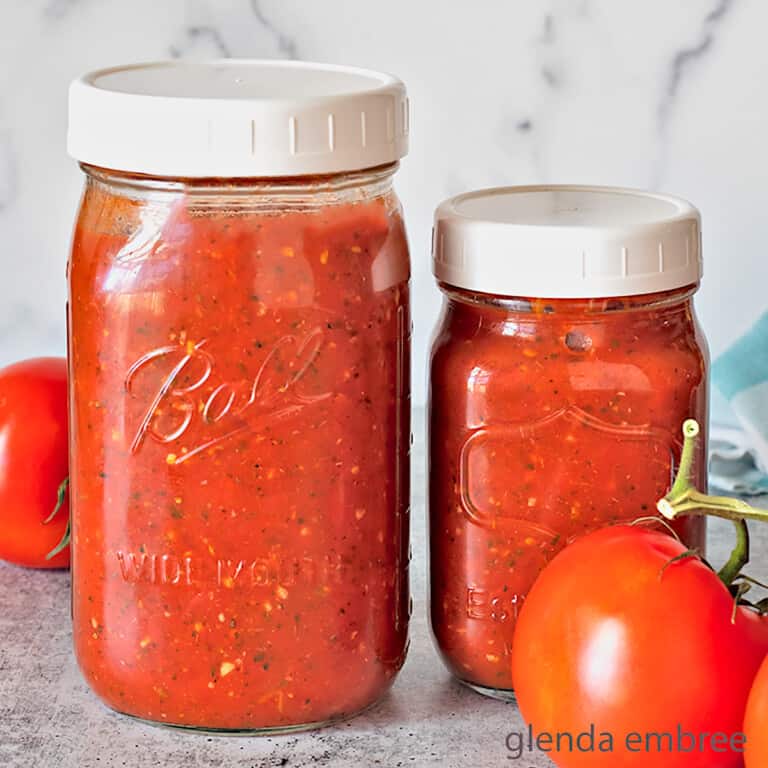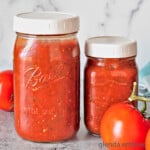 Homemade Marinara Sauce
---
Author:

Total Time:

25 min­utes

Yield:

3 pints

(

6 cups

)

1

x

Diet:

Gluten Free
Description
Absolute­ly deli­cious toma­to, gar­lic and basil fla­vor in a quick and easy one-pot, 30 minute mari­nara sauce. You con­trol the ingre­di­ents, so your fam­i­ly not only gets the best taste, but the high­est qual­i­ty and nutri­tion. Use as an ingre­di­ent in your favorite recipes, as a stand-alone sauce for pas­ta dish­es and a dip for piz­za rolls and grilled cheese! You con­trol the con­sis­ten­cy, hearty or thin, just by how much liq­uid you cook out. And the fla­vor is unmatched!
---
2

(28 oz) cans of whole, peeled San Marzano toma­toes, [or 3 (

18.3 oz

.) jars Jovial brand whole peeled toma­toes], with their liquid

1/3

cup

avo­ca­do oil (or extra vir­gin olive oil, if you prefer)

4 Table­spoons

minced garlic

1 Table­spoon

dried basil
crushed red pep­per, (chili flakes) to taste
salt, to taste
option­al: 1/4 to 1 tea­spoon sugar
---
Instructions
In a large saucepan, heat the avo­ca­do (or olive) oil over medi­um heat. I pre­fer avo­ca­do oil because it is fla­vor-neu­tral. Choose a high-qual­i­ty olive oil if using one, as it def­i­nite­ly will impact flavor.
Add the gar­lic and cook (still over medi­um heat) until light­ly browned, about 2 minutes.
Care­ful­ly add the toma­toes and their liq­uid. I crush the whole toma­toes with my hands or a fork after they've been added to the pot.
Bring every­thing to a boil and sea­son light­ly with salt and crushed red pepper.
Reduce the heat to a simmer.
Con­tin­ue cook­ing 20 — 25 min­utes or so. You can break up the toma­toes even fur­ther as the sauce cooks. You want it to end up chunky and thick.
Stir in the basil and cook for an addi­tion­al 5 min­utes. If you crush the basil between your hands as you add it, you release all the oils which car­ry more fla­vor. It will def­i­nite­ly enhance your fin­ished sauce.
Taste the sauce and add more salt and pep­per, if nec­es­sary. This is also the time to decide if you want to add red pep­per flakes and how acidic your toma­toes are. If the sauce does­n't taste acidic do not add sug­ar. If the acid­i­ty seems to strong, add sug­ar 1/4 tea­spoon at a time to bal­ance the sweet­ness and acid of your sauce. Cook for at least one minute between each addi­tion and taste, again. Nev­er use more than 1 tea­spoon, total.
Notes
Home Mari­nara Sauce freezes well. To freeze it, cool the mari­nara sauce com­plete­ly before begin­ning to prep it for stor­age. Label zip-top freez­er bags with the name and date. I mea­sure two cups into each zip-top freez­er bag. Remove as much air as pos­si­ble as you seal the bag. Lay the bags flat in the freez­er until they are sol­id. Then you will be able to stand them on end, like files in a file cab­i­net, to save stor­age space.
You can also freeze mari­nara sauce in pint or quart jars. You MUST be sure the mari­nara sauce is com­plete­ly cooled. Fill the jars, leav­ing a 1‑inch head space. Freeze the jars with­out their lids at first. This will allow for any expan­sion of the sauce while freez­ing and keep the jars from burst­ing. Once the sauce is frozen, screw the lids on.
Mari­nara sauce should last 3–6 months in the freez­er if stored properly.
Cook Time:

25 min

Cat­e­go­ry:

Sauce, Veg­etable, Dip

Method:

Stove Top

Cui­sine:

Ital­ian-Amer­i­can
Delicious Recipes to Use with Homemade Marinara