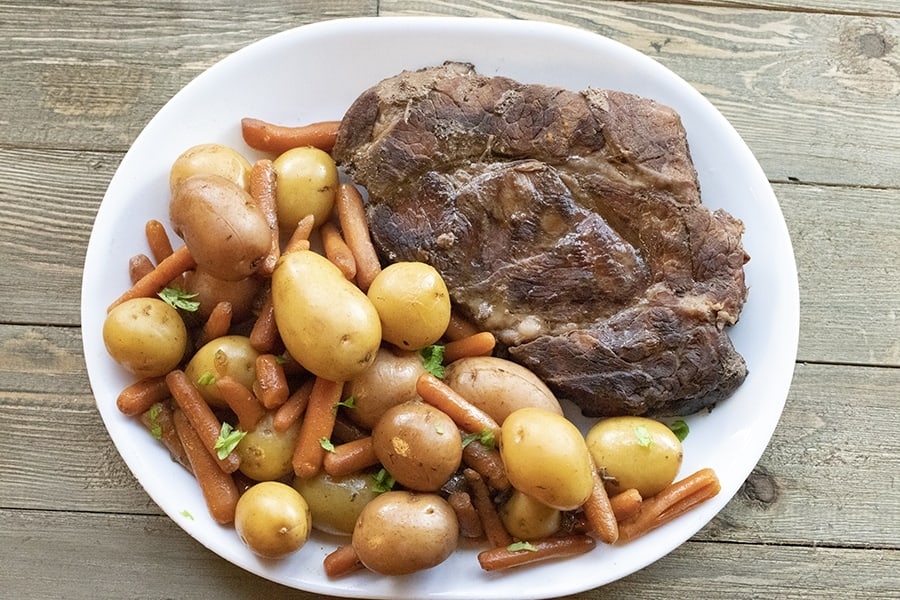 Slow Cooker Roast Beef is the Sunday dinner dreams are made of. Mmm-m-m!
As a kid, one of my favorite times was Sunday after church, which meant family dinner at Grandma's. I suppose that's not so unusual until I explain that my dad was one of 11 siblings and I am 4th from the oldest of 40+ cousins. Family dinner was FAMILY dinner! (Yes, with the exception of a couple families, almost all of us lived in the same town.) Those Sundays meant laughter and noise and fun with my cousins.
It was some of my earliest exposure to cooking. I got to witness (and as I got older, participate in) the most fascinating dance of women (Grandma, Mom and aunts) weaving effortlessly in and around the kitchen, busying themselves with the preparations of the meal we were about to share. They would visit and laugh, enjoying one another's company as they worked.
To my young eyes, I was witnessing the poetry and art of cooking – the creativity, community and love that went into the preparations, long before we enjoyed the meal. Those special times still influence the way I cook and think about creating dishes. And memories of favorite ones inspire many of my recipes.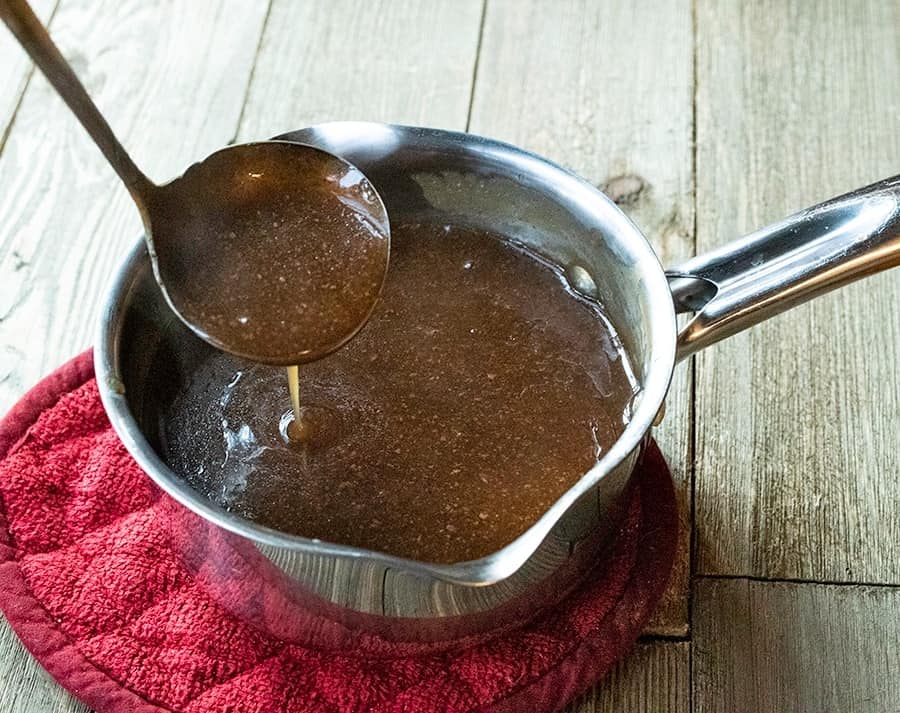 Roast beef with potatoes, carrots and savory, rich roast beef gravy was an all-time favorite. To me, that meal simply looks, smells and TASTES like "home".
Everything good about family dinners is wrapped up in the savory, tender, beefiness of Slow Cooker Roast Beef. It's the simplest, most delicious, possible way to create a wonderful Sunday dinner memory for you and your own family!
What Will You Need to Make Slow Cooker Roast Beef?
a Slow Cooker (6 qt or larger)
2 chuck roasts (about 2.5 lbs each)
2 (1 oz) packets Aus Jus gravy mix (or Onion Soup Mix packets)
1 qt beef stock
1 lb baby carrots
2 lbs red or gold baby potatoes
How To Make Slow Cooker Roast Beef
This is one of the simplest meals you will ever put together. You're gonna be a pro at this!
Start by rinsing your baby potatoes in a colander. Drain them completely and add them, in an even layer, to the bottom of your crock-pot.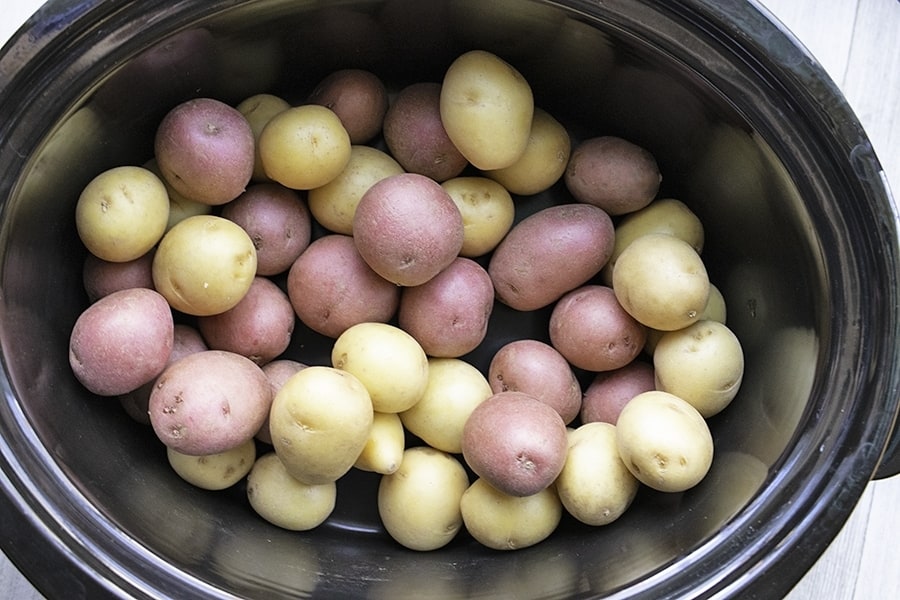 Pour a 1 lb bag of baby carrots over the potatoes.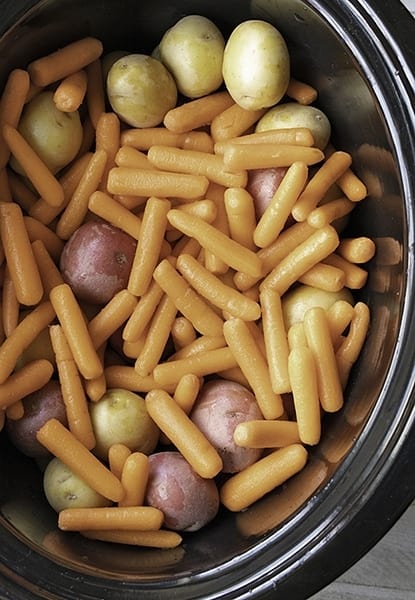 As best you can, add both roasts, in an even layer over the veggies. There will likely be some overlap. (Choose chuck roast. It will have more fat marbling for maximum flavor and this less expensive cut is easy to tenderize with low, slow cooking.)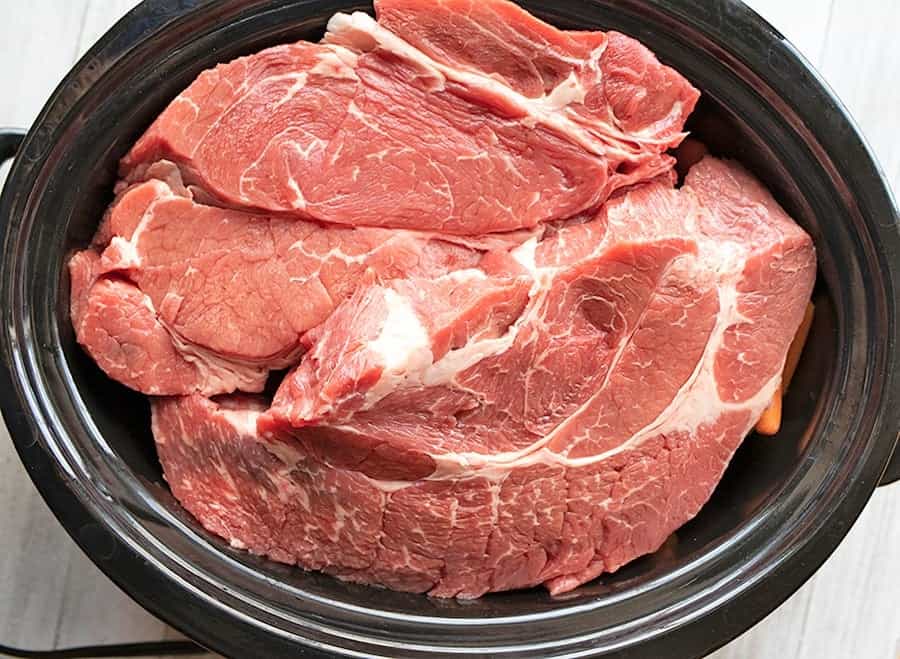 Sprinkle the aus jus packets (or onion soup mix packets) over the meat. (Find the aisle where your store keeps packets of chili and taco seasoning, gravy mixes and such. The aus jus gravy packets will be in that spot.)
If you don't find aus jus gravy packets, I have also had great success using two packets of Onion Soup Mix, as a substitute.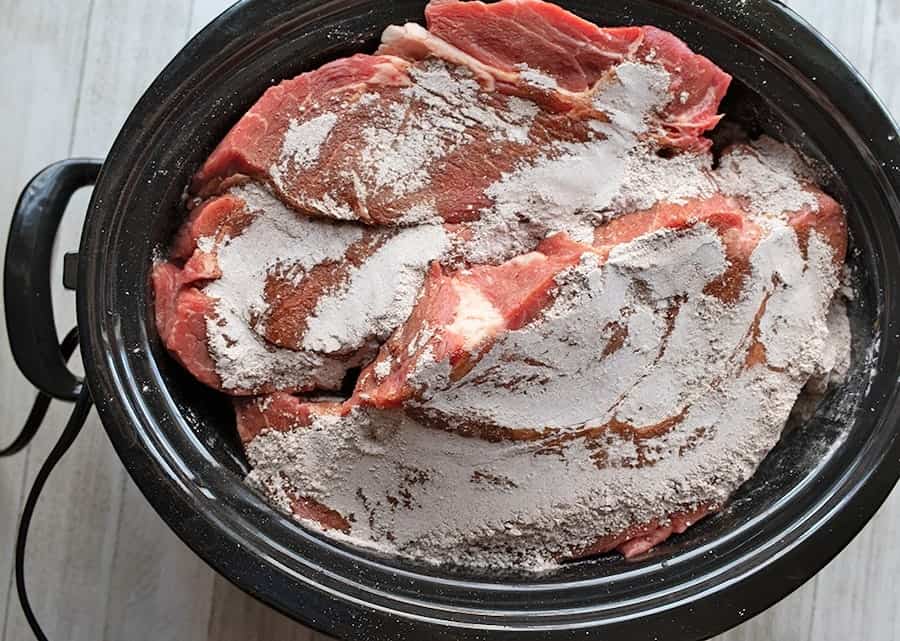 Pour the carton of beef broth over everything, then close the slow cooker and let the crock-pot do it's magic. It doesn't get easier than Slow Cooker Roast Beef! It's my go-to Sunday dinner recipe.
How To Serve It
You and your family will be thrilled with the delicious results! At the end of your busy day, dinner will be ready. Just set the table and enjoy!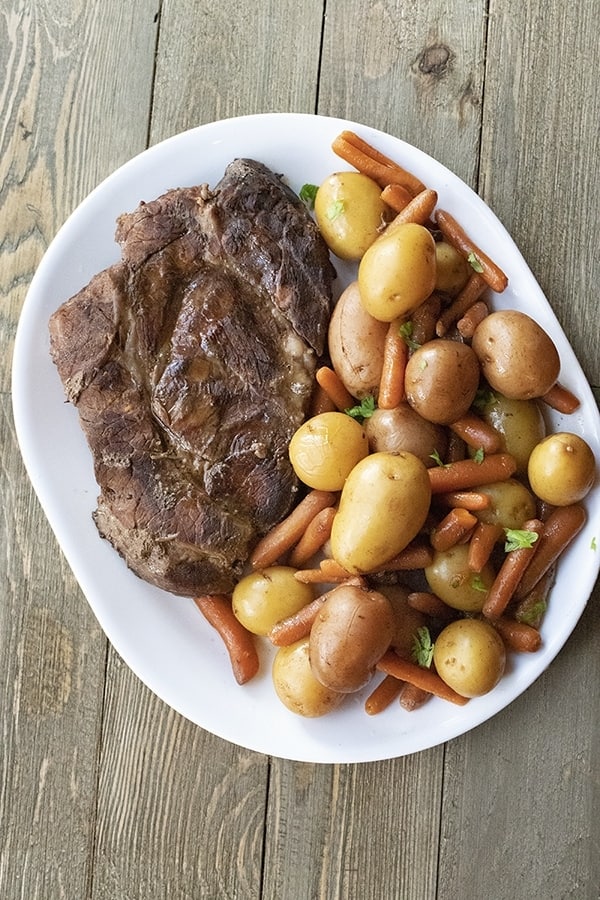 Plus, you'll have plenty of leftovers to make other deliciously quick dishes, later in the week. How does a French Dip sound?
I think leftover roast beef would be perfect in these Philly Cheesesteak Bites from the Gunny Sack, too. Or how about nachos? You can't imagine how crazy-good roast beef nachos are!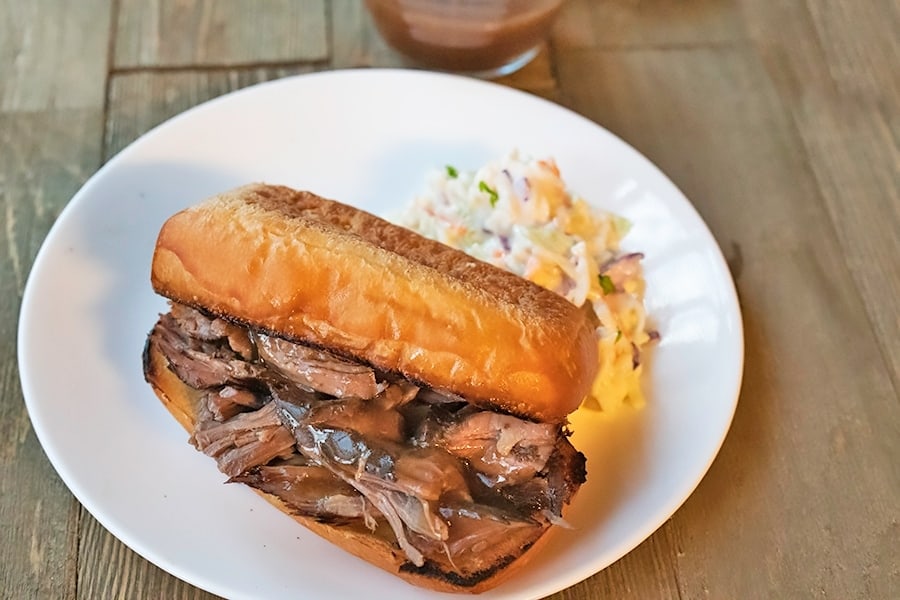 And last but not least, when was the last time you enjoyed a Hot Beef Sandwich, my friend? It's time.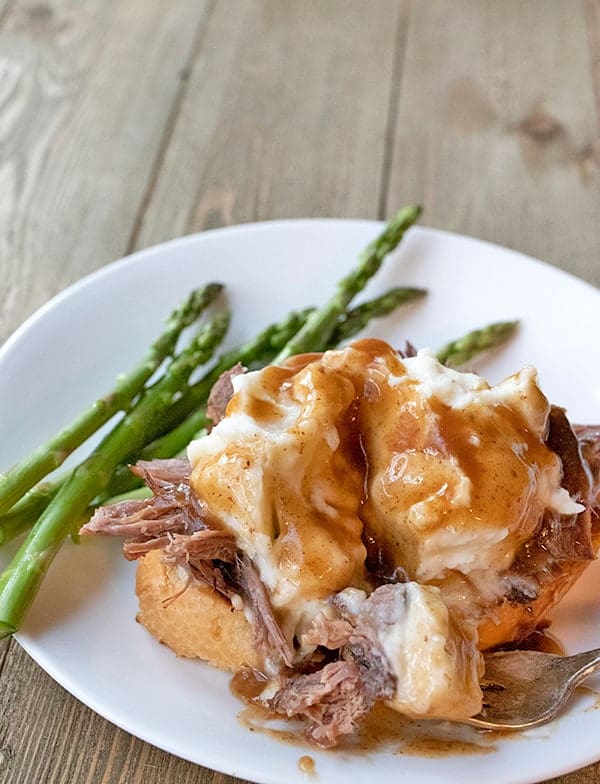 You're gonna love the scrumptious leftover possibilities! Cook once and eat two, three or more times, for your efforts. Delicious food and time-saving convenience is a concept that makes sense in our busy world. And with recipes like these, who knows what great family memories you'll be cooking up!!??!!
Do you have a favorite "food memory"? Be sure to leave a comment and tell me about it.
Print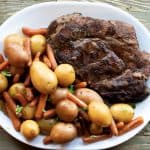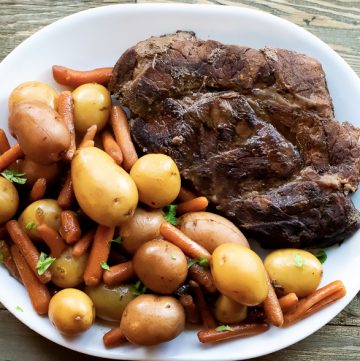 Easy Slow Cooker Roast Beef
---
Author:

Prep Time:

15 min

Cook Time:

8 hours

Total Time:

8 hours 15 minutes

Yield:

8

–

10

servings

1

x
Scale
Ingredients
2

chuck roasts (about

2.5

lbs each)

2

(1 oz) packets Aus Jus gravy mix (or Onion Soup Mix)

1 qt

beef stock

1

lb baby carrots

2

lbs red or gold baby potatoes
---
Instructions
Rinse the baby potatoes and spread in an even layer in the bottom of your crock-pot.
Layer the carrots over the potatoes.
Put the roasts over the carrots in as close to a single layer as you can.  There may be some overlap.
Sprinkle the contents of the aus jus packets over the roasts. Pour the stock into the slow cooker.
Place the lid on the slow cooker and set it to low.
Let the roast cook 8-10 hours until fork tender.
Serve.
---
Category:

Main Dish

Cuisine:

American