Slow Cook­er Roast Beef is the Sun­day din­ner dreams are made of. Mmm-m‑m! And this easy 5‑ingredient recipe is a fam­i­ly favorite!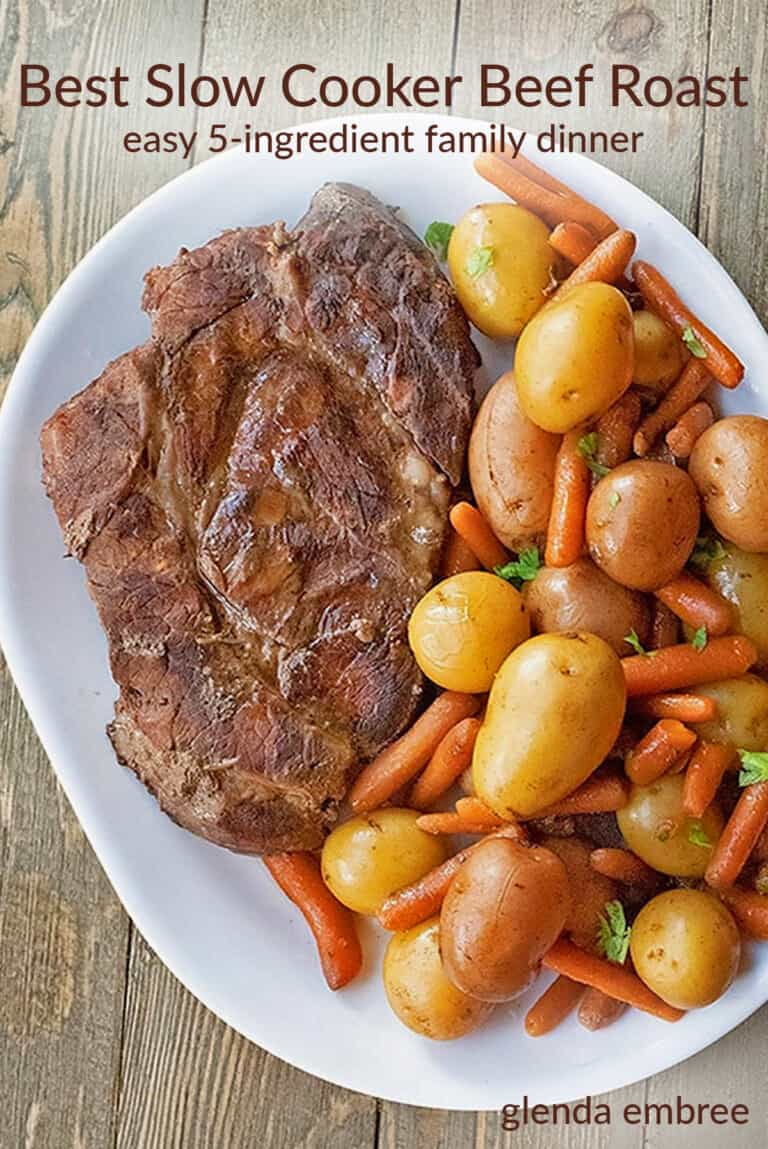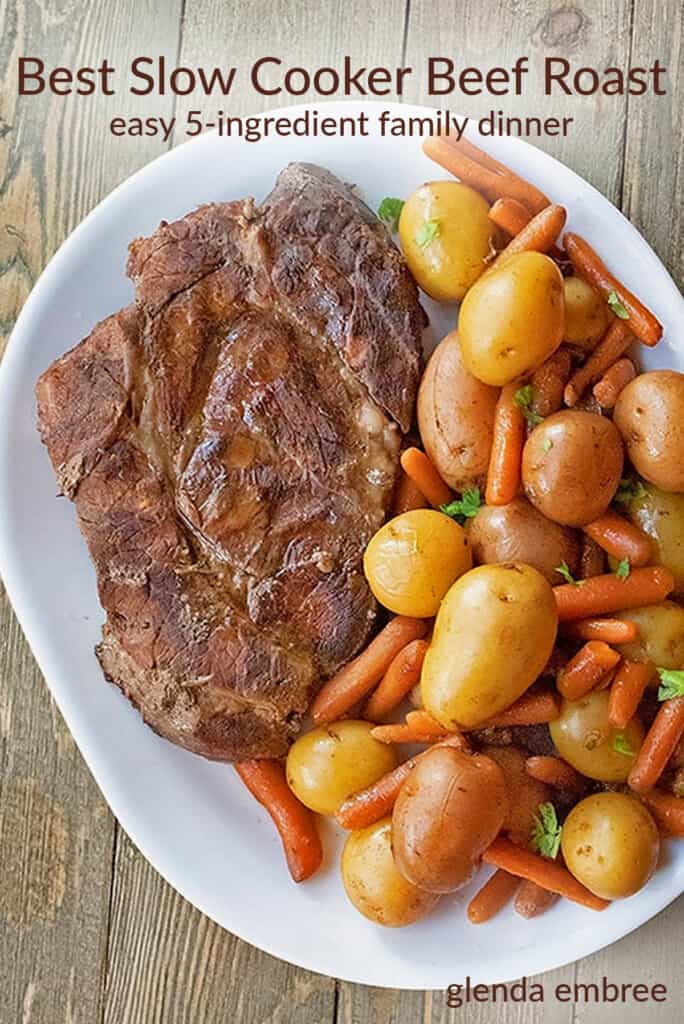 Making Dinner Meaningful
As a kid, one of my favorite times was Sun­day after church, which meant fam­i­ly din­ner at Grand­ma's. I sup­pose that's not so unusu­al until I explain that my dad was one of 11 sib­lings and I am 4th from the old­est of 40+ cousins.
Fam­i­ly din­ner was FAMILY din­ner! (Yes, with the excep­tion of two fam­i­lies, almost all of us lived in the same town.) Those Sun­days meant laugh­ter and noise and fun with my cousins.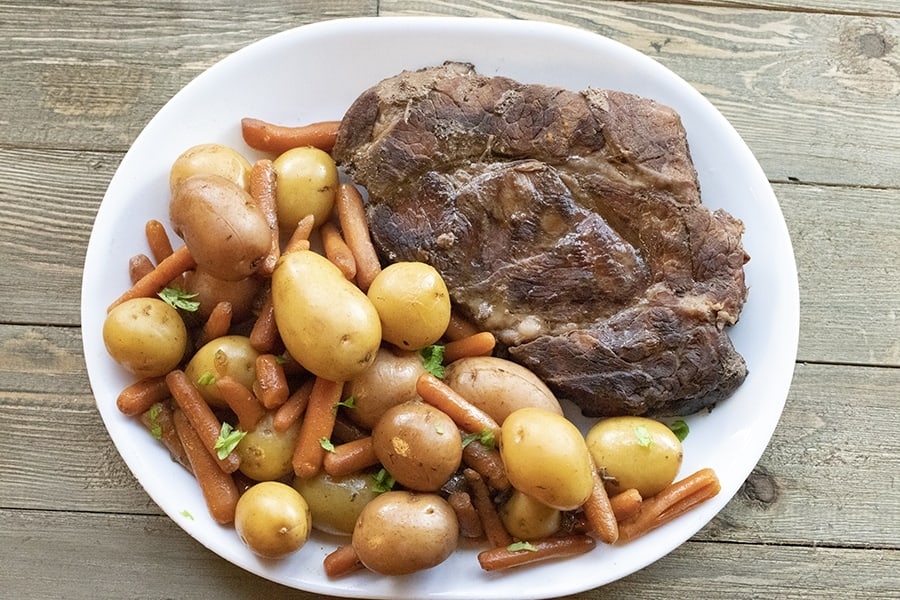 Inspiring the Next Generation of Cooks
It was some of my ear­li­est expo­sure to cook­ing. I got to wit­ness (and as I got old­er, par­tic­i­pate in) the most fas­ci­nat­ing dance of women (Grand­ma, Mom and aunts) weav­ing effort­less­ly in and around the kitchen, busy­ing them­selves with the prepa­ra­tions of the meal we were about to share. They would vis­it and laugh, enjoy­ing one anoth­er's com­pa­ny as they worked.
To my young eyes, I was wit­ness­ing the poet­ry and art of cook­ing — the cre­ativ­i­ty, com­mu­ni­ty and love that went into the prepa­ra­tions, long before we enjoyed the meal. Those spe­cial times still influ­ence the way I cook and think about cre­at­ing dish­es. And mem­o­ries of favorite ones inspire many of my recipes.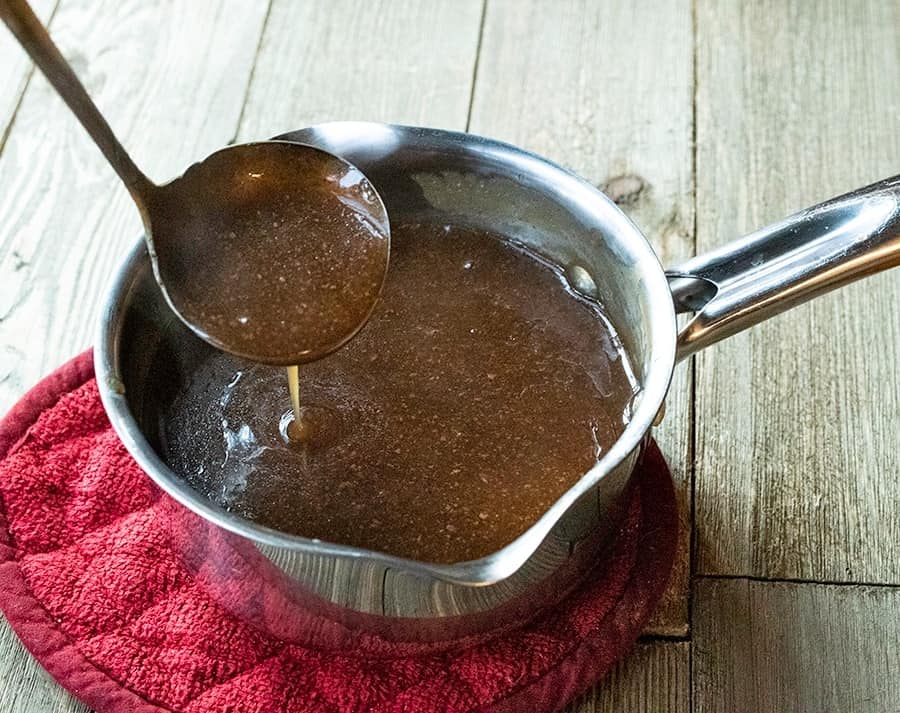 A "Home"-y Roast Beef Family Tradition
Roast beef with pota­toes, car­rots and savory, rich roast beef gravy was an all-time favorite, then. It was that meal that sim­ply looks, smells and TASTES like "home". That tra­di­tion has con­tin­ued with my own kids and grand­kids, who fond­ly call this meal "Roast Beast".
Every­thing good about fam­i­ly din­ners is wrapped up in the savory, ten­der, bee­fi­ness of my Slow Cook­er Roast Beef recipe. It's the sim­plest, most deli­cious, pos­si­ble way to cre­ate a won­der­ful Sun­day din­ner tra­di­tion for you and your own family!
The Ingredients
a Slow Cook­er (6 qt or larg­er. Mine is 8.)
2 chuck roasts (about 2.5 lbs each)
2 (1 oz) pack­ets Onion Soup Mix pack­ets (or Aus Jus gravy mix )
1 qt beef stock
1 lb baby carrots
2 lbs red or gold baby potatoes
How To Make Slow Cooker Roast Beef
This is one of the sim­plest meals you will ever put togeth­er. You're gonna be a pro at this!
Start by rins­ing your baby pota­toes in a colan­der. Drain them com­plete­ly and add them, in an even lay­er, to the bot­tom of your crock-pot.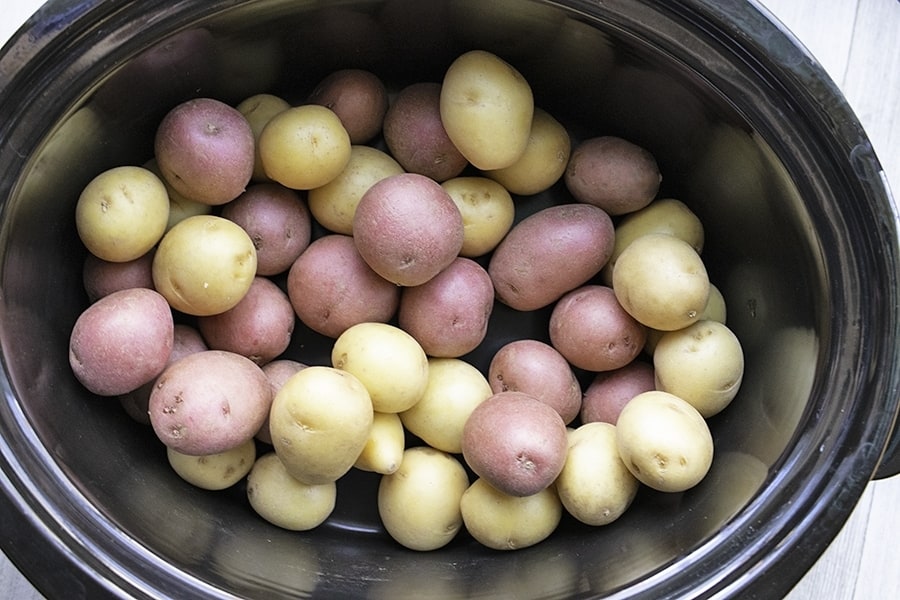 Pour a 1 lb bag of baby car­rots over the potatoes.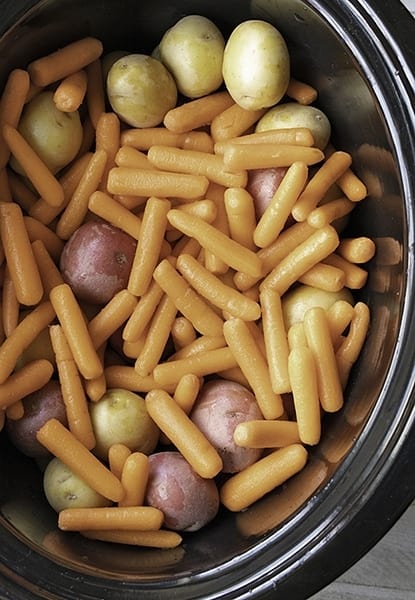 As best you can, add both roasts, in an even lay­er over the veg­gies. There will like­ly be some over­lap. (Choose chuck roast. It will have more fat mar­bling for max­i­mum fla­vor and this less expen­sive cut is easy to ten­der­ize with low, slow cooking.)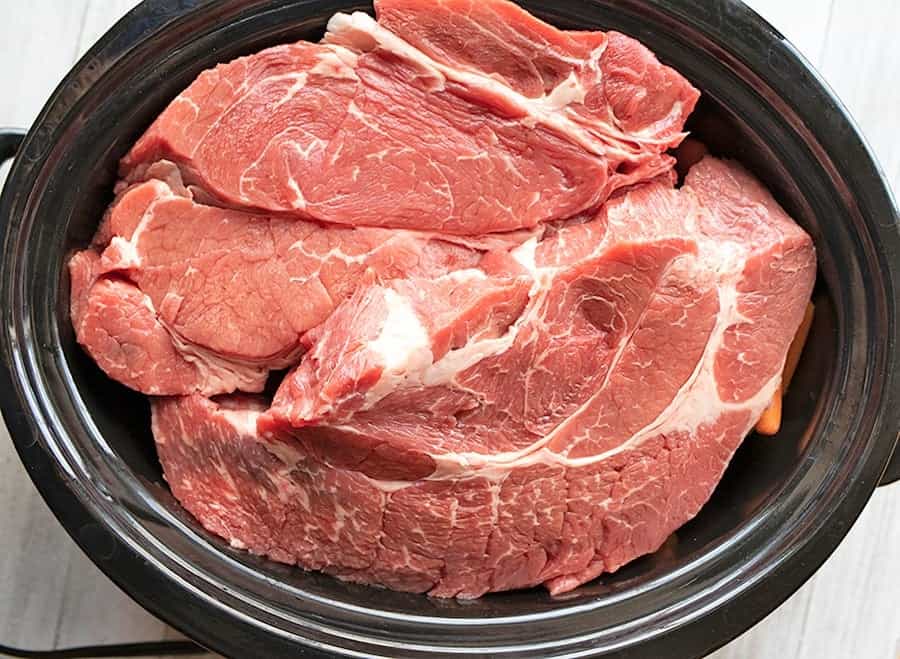 Sprin­kle the onion soup mix pack­ets (or aus jus pack­ets) over the meat. (For onion soup mix, check the soup aisle. To locate au jus mix pack­ets, find the aisle where your store keeps pack­ets of chili and taco sea­son­ing, gravy mix­es and such.)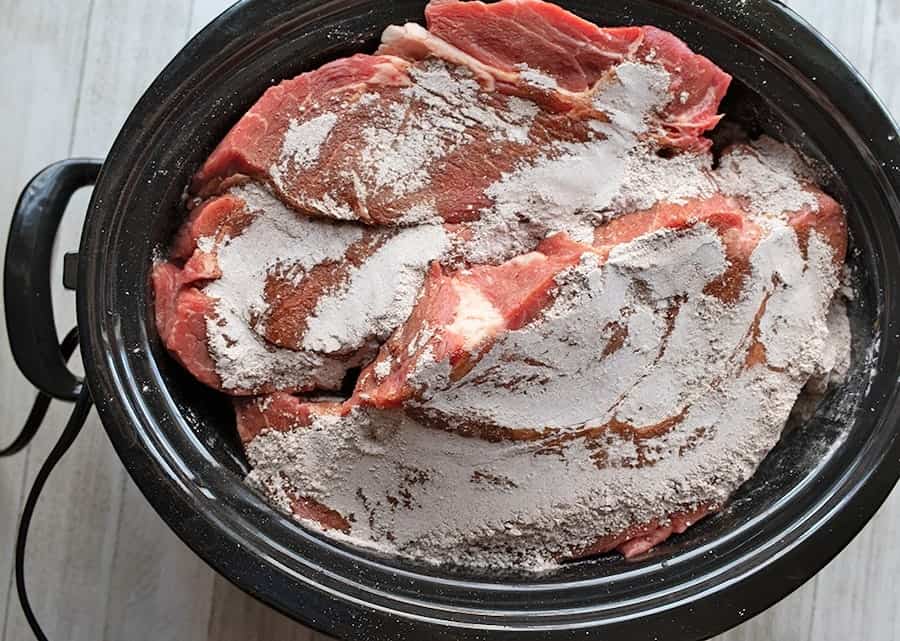 Pour the car­ton of beef broth over every­thing, then close the slow cook­er and let the crock-pot do it's mag­ic. It does­n't get eas­i­er than Slow Cook­er Roast Beef! It's my go-to Sun­day din­ner recipe.
How To Serve Slow Cooker Roast Beef
You and your fam­i­ly will be thrilled with the deli­cious results! At the end of your busy day, din­ner will be ready. Just set the table and enjoy!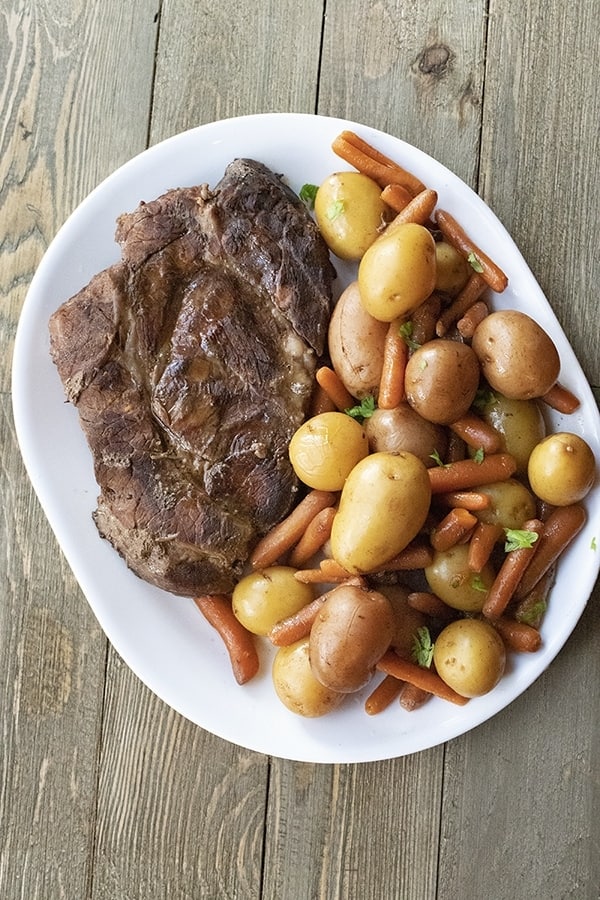 Plus, you'll have plen­ty of left­overs to make oth­er deli­cious­ly quick dish­es, lat­er in the week. How does a French Dip sound?
I think left­over roast beef would be per­fect in these Philly Cheeses­teak Bites from the Gun­ny Sack, too. Or how about nachos? You can't imag­ine how crazy-good roast beef nachos are! And what about a scrump­tious French Dip?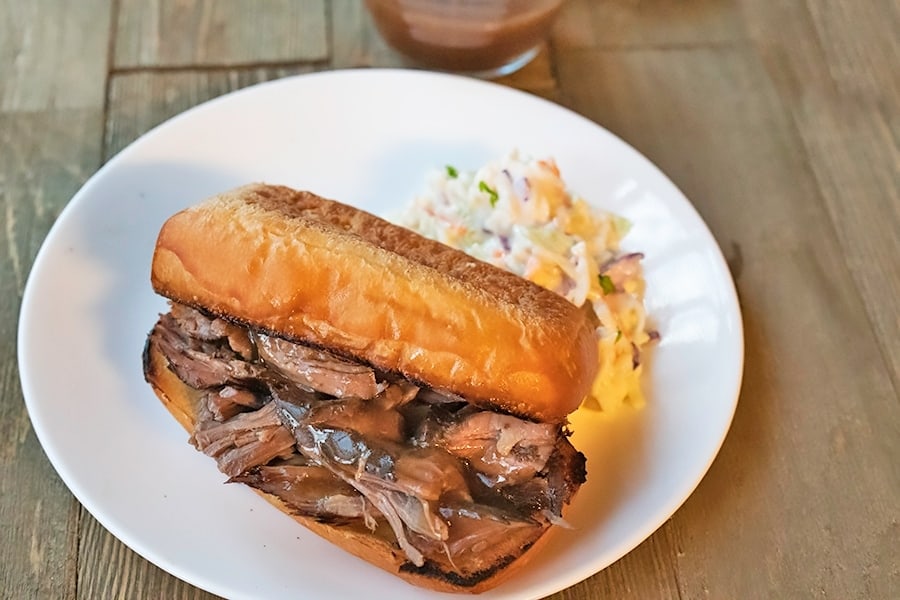 And last but not least, when was the last time you enjoyed an open-faced Hot Beef Sand­wich, my friend? It's time.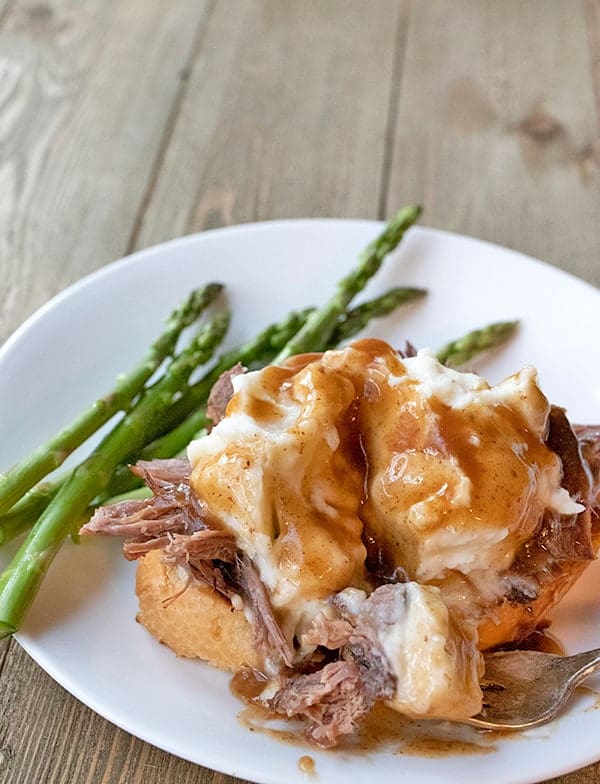 You're gonna love the scrump­tious left­over pos­si­bil­i­ties! Cook once and eat two, three or more times, for your efforts. Deli­cious food and time-sav­ing con­ve­nience is a con­cept that makes sense in our busy world. And with recipes like these, who knows what great fam­i­ly mem­o­ries you'll be cook­ing up!!??!!
Do you have a favorite "food mem­o­ry"? Be sure to leave a com­ment and tell me about it.
The Recipe
Print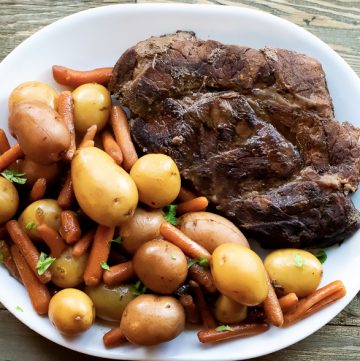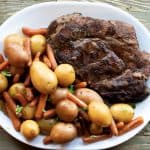 Easy Slow Cooker Roast Beef
---
Author:

Total Time:

8 hours 15 minutes

Yield:

8

-

10

serv­ings

1

x
2

chuck roasts (about

2.5

lbs each)

2

(1 oz) pack­ets Onion Soup Mix (or Aus Jus gravy mix)

1 qt

beef stock

1

lb

baby carrots

2

lbs red or gold baby potatoes
---
Instructions
Rinse the baby pota­toes and spread in an even lay­er in the bot­tom of your crock-pot.
Lay­er the car­rots over the potatoes.
Put the roasts over the car­rots in as close to a sin­gle lay­er as you can. There may be some overlap.
Sprin­kle the con­tents of the soup mix or aus jus pack­ets over the roasts. Pour the stock into the slow cooker.
Place the lid on the slow cook­er and set it to low.
Let the roast cook 8–10 hours until fork tender.
Serve.
Prep Time:

15 min

Cook Time:

8 hours

Cat­e­go­ry:

Main Dish

Cui­sine:

Amer­i­can
More Delicious Beef Recipes
Old Fash­ioned Pot Roast No slow cook­er? No wor­ries!! Make this deli­cious roast beef meal right on your stove top. Kim over at Two Lucky Spoons has got you covered!