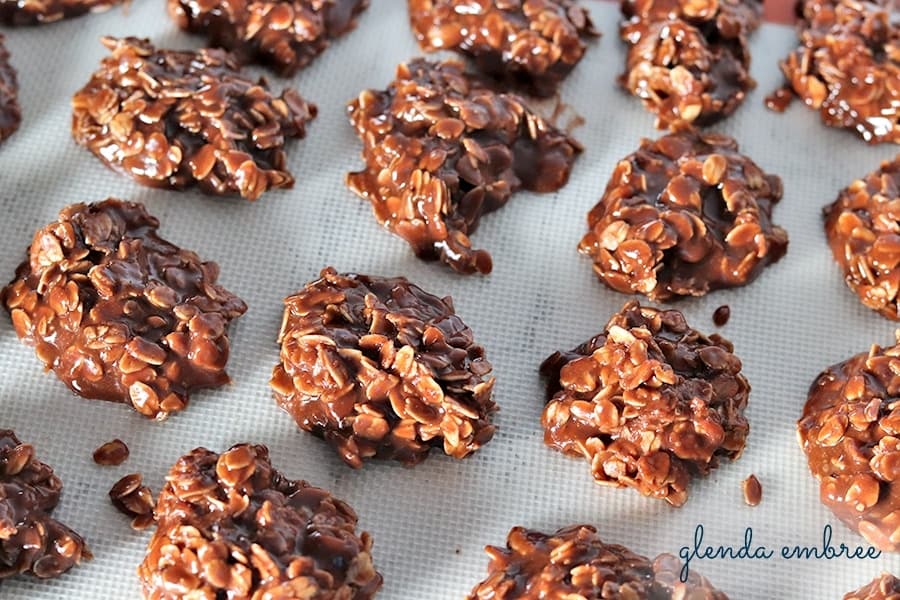 Easy No-Bake Cook­ies will sat­is­fy deep-seat­ed choco­late crav­ings with only sev­en every­day pantry ingre­di­ents and about 15 min­utes of prep time! Deli­cious, choco­late and peanut but­ter sat­is­fac­tion! These cook­ies are so easy you'll nev­er hes­i­tate to whip up a batch, day or night!
Making Easy No-Bake Cookies
These scrump­tious no-bake cook­ies come togeth­er eas­i­ly. Add but­ter, sug­ar, milk and cocoa pow­der to a pot. Stir every­thing togeth­er and then, boil one minute, fin­ish with peanut but­ter, vanil­la and oats and voila! Irre­sistible, crav­able and easy enough to put togeth­er even before bed­time. They're an indul­gent snack, tasty dessert and wel­come lunch-box treat.
There are just a cou­ple of tricks I want to share.
Do NOT over­boil the choco­late mix­ture. Stir the ingre­di­ents togeth­er in the saucepan over low to medium/low heat. You real­ly don't want it to boil until every­thing is incor­po­rat­ed. Once every­thing is melt­ed and mixed you can turn the heat up to medi­um. Then, when it hits a full boil, set a timer for one minute and remove the pan from the heat imme­di­ate­ly when it goes off. Cook­ing the mix­ture longer than the minute will make the sug­ar hit a dif­fer­ent stage of hard­ness. Then, your cook­ies will become dull, dry and hard as they cool. You're shoot­ing for shiny and chewy when these easy no-bake cook­ies are done. Ulti­mate choco­late perfection!
Before you start cook­ing, prep the sur­face you will be cool­ing the cook­ies on. Use some wax paper on the counter or a light­ly greased bak­ing tray. I use my *Sil­pats for any job where I am pre­vent­ing stick­ing, whether it's in the oven or on the counter. They work great for no-bake cookies!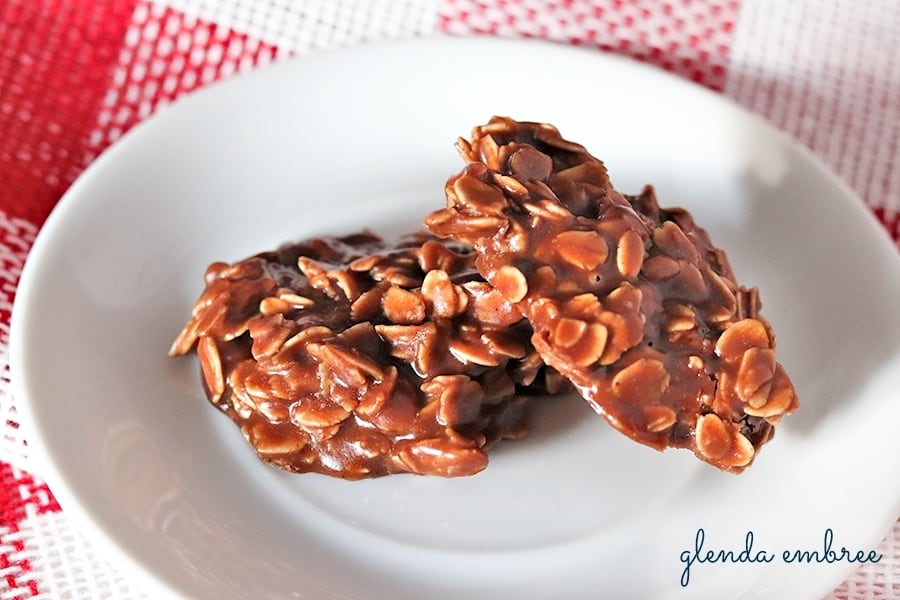 I hope you and your fam­i­ly enjoy one of our all-time fam­i­ly favorites! It's an irre­sistible choco­late cook­ie that every­body loves. Like those famous pota­to chips, nobody can eat just one. enjoy!
P.S. Easy No-Bake Cook­ies would be the rock stars of hol­i­day gift bas­kets or dessert tables! You should def­i­nite­ly add them to your list!
Print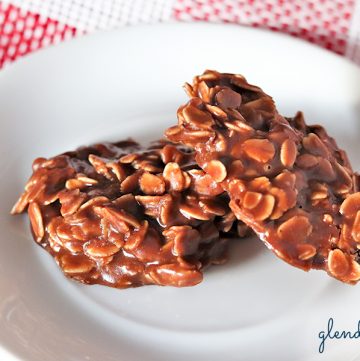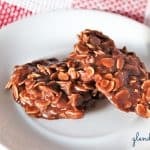 Easy No-Bake Cookies
---
Author:

Total Time:

11 min­utes

Yield:

36

cook­ies

1

x
Description
When I need choco­late, like right now, this is the recipe I grab every time. Easy No-Bake Cook­ies are the per­fect bal­ance of choco­late and peanut but­ter with a chewy almost can­dy-like mouth-feel. I use crunchy peanut but­ter and rolled oats for incred­i­bly sat­is­fy­ing tex­ture. You're only 15 min­utes from indul­gent choco­late satisfaction!
---
2

cups

sugar

1/2

cup

(1 stick) butter

1/4

cup

cocoa powder

1/2

cup

milk

1/2

cup

crunchy peanut butter

1/2 tea­spoon

vanilla

3

cups

rolled oats
---
Instructions
Grease a bak­ing sheet or put a *sil­pat or waxed paper onto the counter in prepa­ra­tion for form­ing the cookies.
Put sug­ar, but­ter, cocoa pow­der and milk in a saucepan over low to medi­um heat.
Stir and allow but­ter to melt and the all the ingre­di­ents to com­bine mak­ing sure not to have the heat too high.
Once every­thing is com­bined, increase the heat to medi­um and bring the mix­ture to a boil. The sec­ond it begins boil­ing, set a timer for 1 minute. It's so impor­tant to not go over the one minute boil­ing time. Your cook­ies will be dry and hard if you do.
At the end of one minute of boil­ing, remove the pan from the heat. Don't just shut off the burn­er and keep work­ing there. Lit­er­al­ly, move the pan to a cool­ing rack or pothold­er on the counter to fin­ish this up. You don't want any addi­tion­al boil­ing or cook­ing of that sugar.
Stir in the peanut but­ter and vanilla.
Mix in the oats.
Quick­ly, while the mix­ture is still hot, scoop spoon­fuls onto your pre­pared surface.
Allow at least 10 min­utes for cool­ing. (Some­times, that's hard­er than it sounds. lol)
Store cooled and set up cook­ies in an air­tight con­tain­er on the counter.
Enjoy!
Prep Time:

10 min­utes

Cook Time:

1 minute

Cat­e­go­ry:

Cook­ie, Dessert, Snack

Method:

stove top

Cui­sine:

Amer­i­can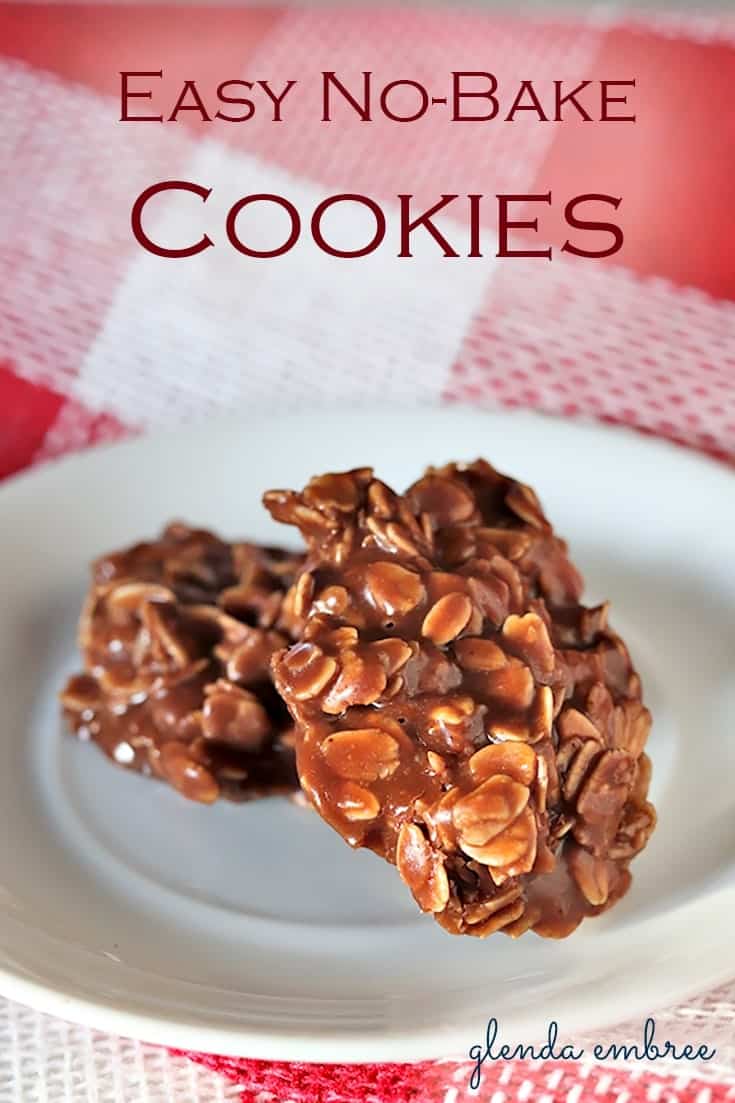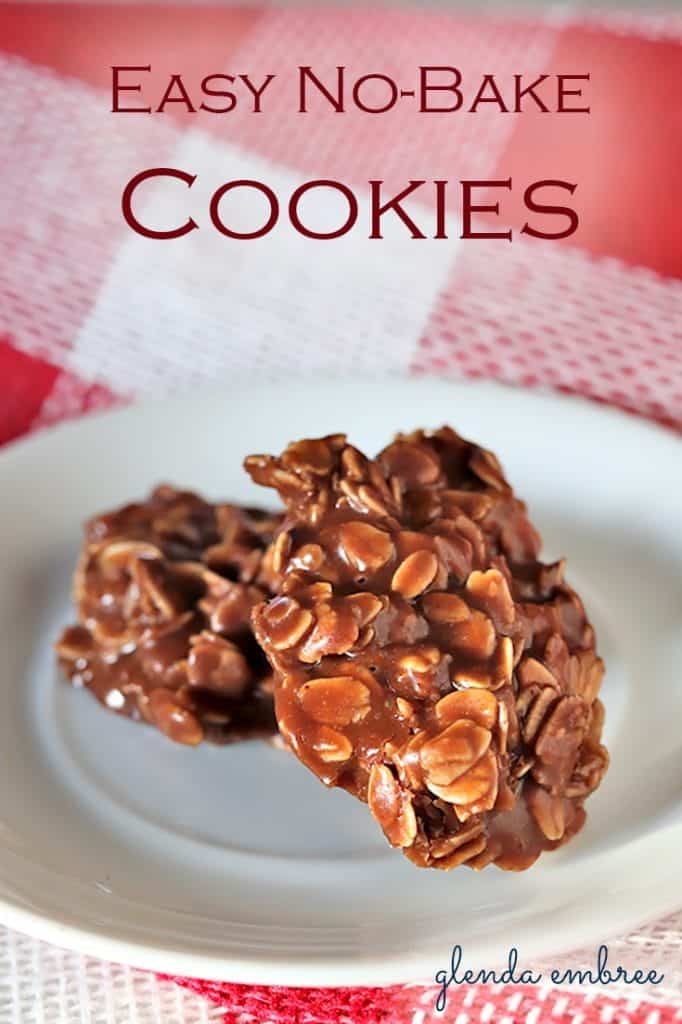 Other Recipes Like Easy No-Bake Cookies that would be Perfect for the Holidays
Melt-in-Your-Mouth Orange Short­bread Cookies