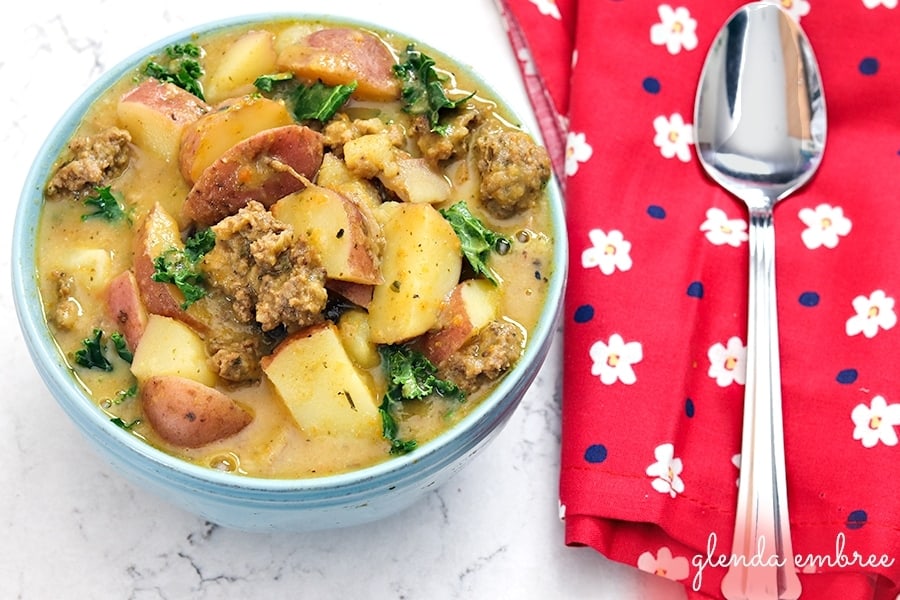 Today, I needed soup. Is it Spring, yet? lol Yes, I'm aware this is only January and there is plenty of winter still ahead. Gosh, though. I am not a fan. These dreary, cold and icy days make me so weary. I'm ready for sunshine! At least snowy days are great for baking and for cooking delicious comfort food, like soup, right? Today, was perfect Zuppa Toscana weather. And best of all, it's Whole 30 compliant!
What Is Zuppa Toscana
Traditional Zuppa Toscana originated in the Tuscany area and in its classic form, would include cannelini beans and tons of veggies, like zucchini, carrots, celery, potatoes, kale and even tomato pulp. It would also include Italian bacon, chili powder and toasted bread. It makes me think more of a minestrone. That's definitely not how we picture Zuppa Toscana in the U.S.
The Americanized version of Zuppa Toscana, that is so popular in the United States, eliminates beans and most of the vegetables in the soup. It also adds heavy cream and amps up the calories substantially. Since I'm doing Whole 30, this month, my version will be a modified version that comes somewhere in the middle of the classic and American recipes.
I wanted my soup to include all the flavor and nutrition that come from veggies, but allow it to have more of the appearance of the familiar restaurant chain Zuppa Toscana, that my family loves and accepts. lol
How I Make My Non-Traditional Zuppa Toscana
I minced the vegetables up, finely, in my food processor. Then I cooked them down in part of the chicken stock until they all but disappeared. After that, I used my stick blender to finish them off. lol No one in my family will EVER be able to detect them, except for the lovely flavors. That's a win for Mom. Thank you very much.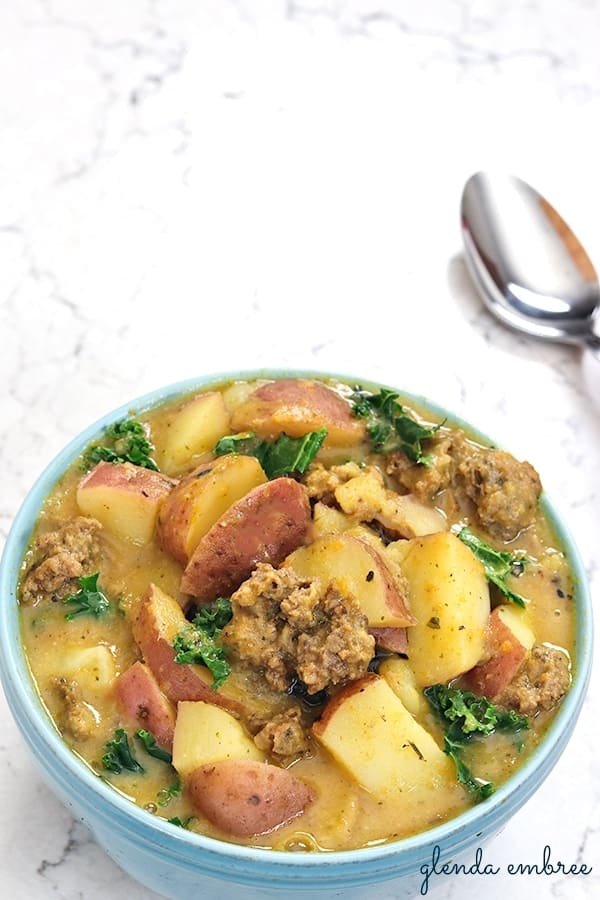 I also wanted to amp up the flavor of the chicken stock. As you know from previous soup recipes, I would typically add bouillon to do that. That is not Whole 30 compliant, however. My solution was nutritional yeast, and believe it or not, apple cider vinegar. They worked perfectly!
So, like the famous restaurant chain, my Zuppa Toscana recipe is far from traditional, but it is out-of-this-world delicious! If you're looking for warm and flavorful comfort food to get you through the snowy day blues, this recipe is a winner! I hope you enjoy this delicious soup as much as we do!
Print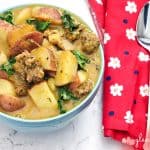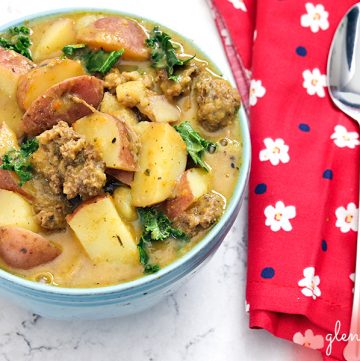 Delicious Zuppa Toscana
---
Author:

Prep Time:

15 min

Cook Time:

45 min

Total Time:

1 hour

Yield:

8

–

10

servings

1

x
Scale
Ingredients
1

lb homemade Italian sausage (or store-bought, if that's what you have)

12 cup

s chicken broth (Make sure it's compliant if you're doing Whole30.)

3

lbs red potatoes, diced to bite-size (leave the skin on)

3

carrots, minced

3

stalks celery, minced

1

small zucchini, minced

1

medium red onion, minced

3 cup

s chopped kale

1/2 cup

canned full-fat coconut milk

2 Tablespoons

nutritional yeast

1 Tablespoon

apple cider vinegar

1

Tablespoon minced garlic

1

Tablespoon Italian seasoning

1/2 teaspoon

red pepper flakes

1 teaspoon

salt
additional salt and pepper,  to taste
optional garnish: crumbled Whole30 compliant bacon and chopped parsley
---
Instructions
Brown and drain the Italian sausage.  Set aside.
Cut the celery, carrots, zucchini and onion into chunks and pulse in the food processor until they are very fine mince.  The goal is to have the flavor and nutrition of the veggies in our soup, without necessarily seeing them.  By mincing them fine, they will melt away into the broth, adding body and wonderful savory flavor.
Put the minced vegetables, garlic, Italian seasoning, red pepper flakes and salt into a large stock pot.
Pour 8 cups of the chicken broth over the ingredients in the pan and stir to combine.
Bring to a boil and then reduce the heat to allow it to continue to simmer.  Simmer for 30 minutes or until most of the vegetables have melted into the broth.  Your broth will have reduced down and the mixture will be thick.  Don't panic.  We're adding more stock in a bit.
While the veggies simmer, chop the potatoes into bite-size dice.  (I leave the skins on.)  Set the potatoes aside for just a bit.
Just to appease my picky veggie people, I run my stick blender through the broth and blend in the remaining specks of vegetables.  This also thickens and gives body to the broth.  Which is perfect for achieving restaurant-style creaminess when you add the coconut milk, later.  You decide what you and your family prefer, though — blended or not.
Add the last 4 cups of stock to the pot.
Add the apple cider vinegar and nutritional yeast.  Stir to combine.
Taste the broth and season with salt and pepper, to taste.
Bring everything back to a boil.
Add the bite-size potato pieces and cook until they are tender.
When the potatoes are tender, add the sausage and coconut milk and simmer just one or two minutes until they are warmed by the soup.  (Remember to stir the coconut milk, before measuring, if it has separated in the can.)
At this point, you can stir in the chopped kale and remove the pot from the heat.  If you're expecting to have leftovers, though, I have another suggestion.  I don't mix the kale into the soup pot.  I put chopped kale in the bottom of the individual bowls and ladle the soup over it.  Left in the soup, stored in the fridge, the kale would get dark and limp.  But, by using the bowl method, it's vibrantly green and fresh even in leftovers.  So, it's up to you.  If you're going to eat it in one sitting, stir the kale into the pot.  If not, I recommend adding it to individual bowls.
Serve with a garnish of chopped bacon and parsley.
---
Category:

Main Dish, Soup

Cuisine:

American
Keywords: soup, sausage, potatoes
Zuppa Toscana Recipe Assembly
Brown the Homemade Italian Sausage (or your store-bought sausage). Drain it and set it aside.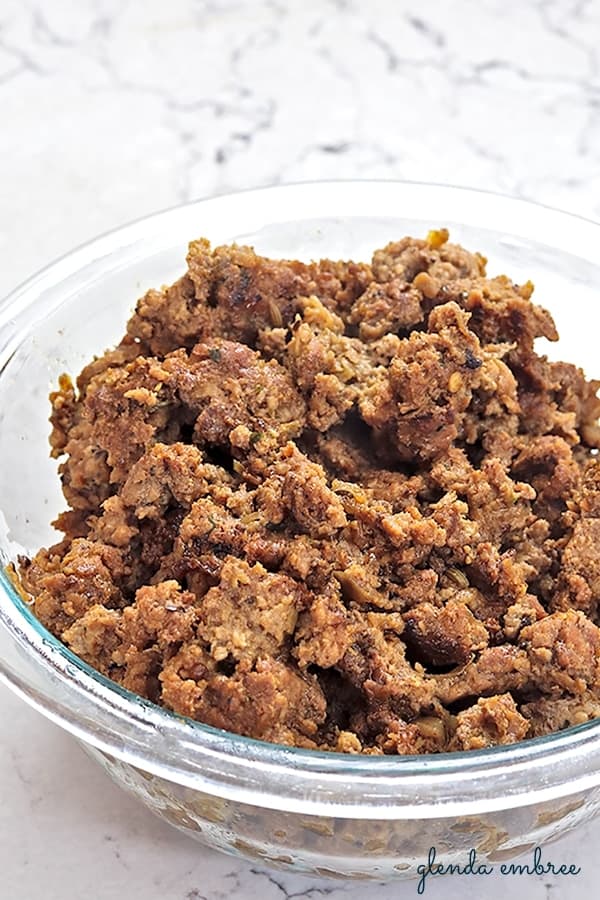 Next prep the zucchini, onion, carrots and celery. Wash them and then cut them in chunks that will easily fit the bowl of your *food processor. Pulse multiple times to grind the vegetables to a very fine mince. You want them to cook away in the broth, leaving only their flavor, so they should be very small.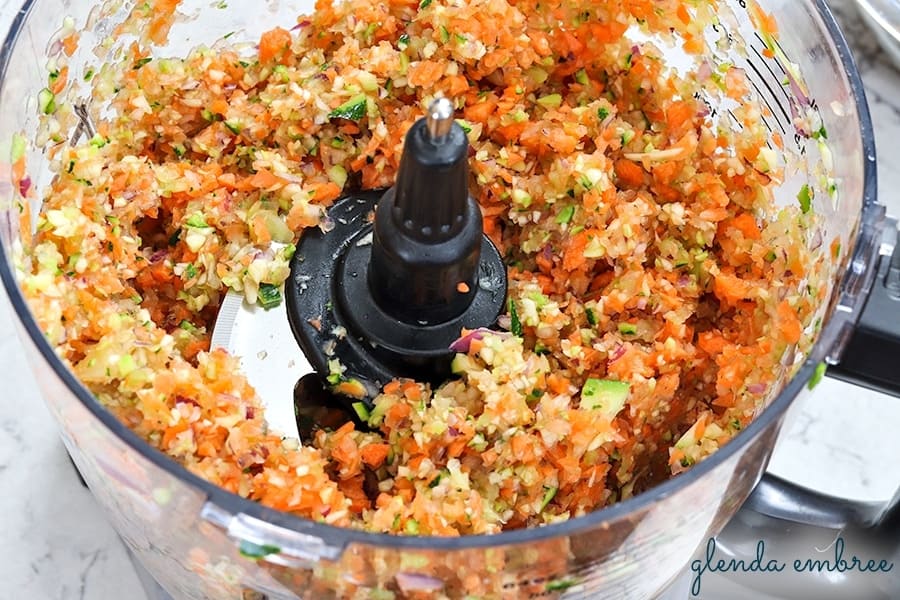 *Affiliate  Link
Put the minced veggies, garlic, Italian seasoning, red pepper flakes and salt into your favorite stock or soup pot. Pour 8 cups of the chicken stock over the veggies and bring to a boil over medium high heat. Once it's boiling, reduce the heat to a simmer and let the veggies cook down for bout 30 minutes.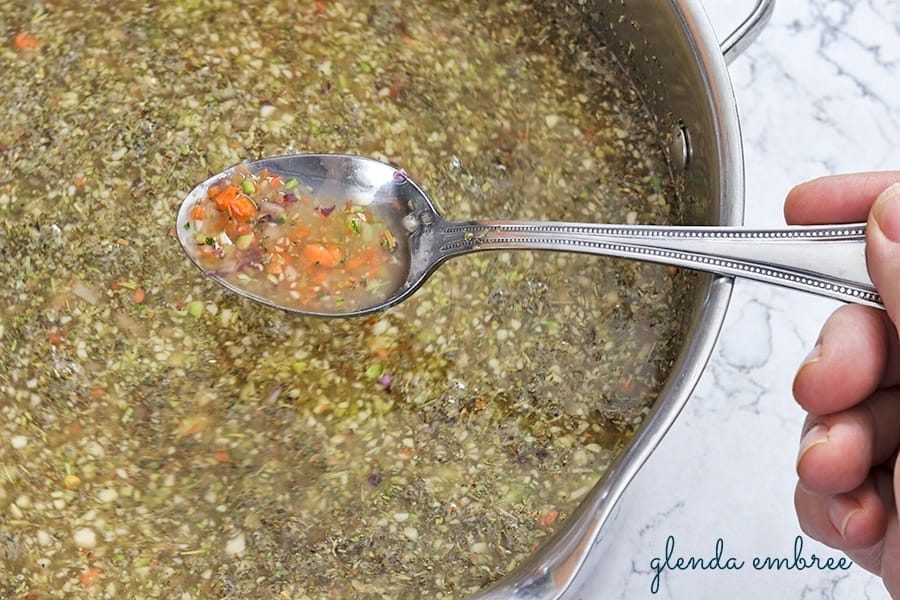 Dice the potatoes while the veggies are cooking. Scrub them well and leave the skins on. Cut them into bite-size pieces so they're easy to eat and will cook quickly, too. Set them aside until the veggies and stock are ready.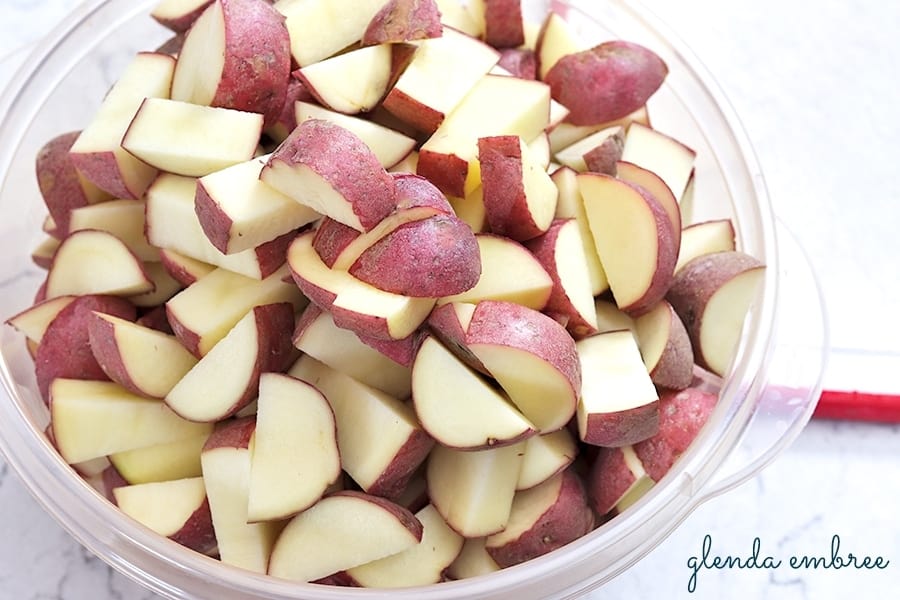 After 30 minutes, your chicken stock will have reduced and your vegetables will probably have melted right into the broth. If you want the veggies even smoother, use a stick blender to puree them completely. That will thicken the broth and that's ok, because you're going to add the last 4 cups of the broth, soon. Taste the broth, now, and add salt and pepper to taste.
When you have the soup broth just the way you want it, bring it to a boil over medium high heat. Add the diced potatoes and cook until the potatoes are tender.
When the potatoes are done, add the vinegar, nutritional yeast and the coconut milk. Continue to cook until the soup comes back up to temperature. Just one or two minutes.
You can add chopped kale to the pot and then remove it from the heat, or you can put a little chopped kale in the bottom of each bowl and ladle the soup over it. That's what we do at our house, because I have one who doesn't care for kale. This method also keeps the kale bright green and fresh. It gets more dark and limp the longer it sits in the broth, so leftovers wouldn't be as vibrant, unless you use the bowl method. You decide what works best for your family. Enjoy, this delicious Whole 30 compliant comfort food, my Friend!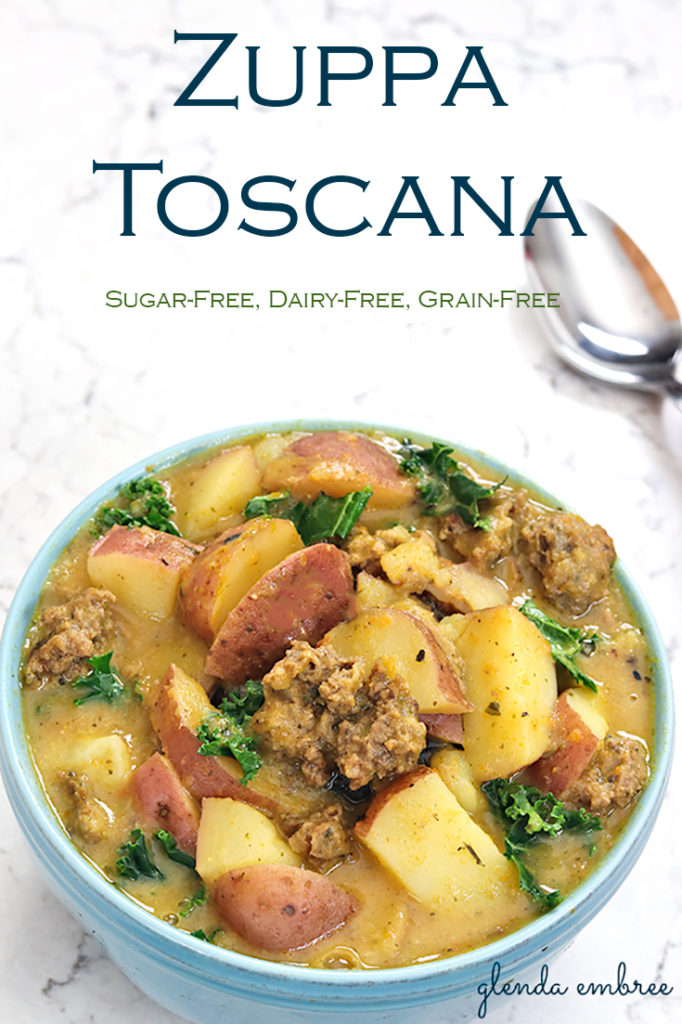 More Soup Recipes on the Glenda Embree blog
Jalapeno Chicken and Corn Chowder