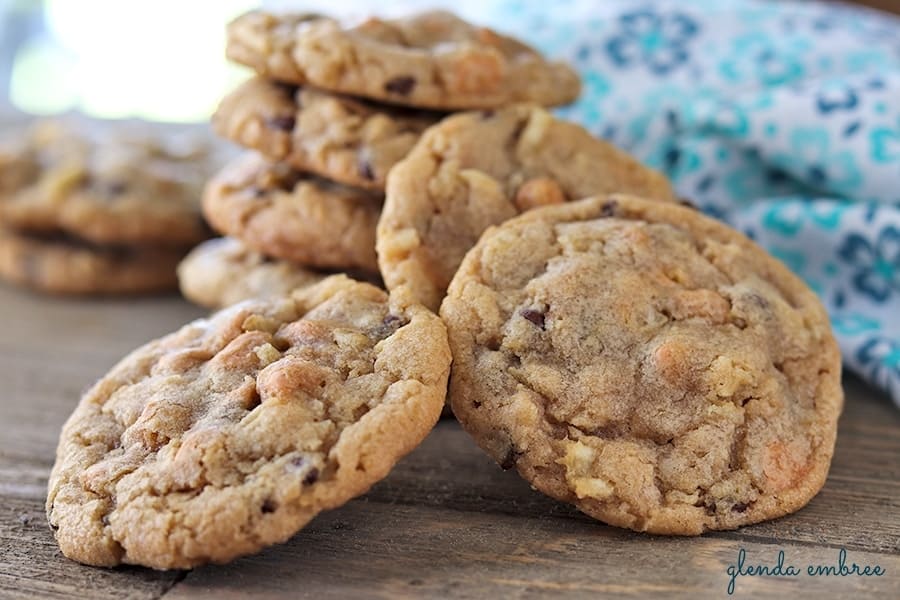 Potato Chip Cookies are soft, chewy, butterscotch-y goodness combined with your favorite crunchy, salty, satisfying snack. Who doesn't love cookies or potato chips when they've got the munchies? Mixing them is sweet and salty snack satisfaction.
My mom discovered the Potato Chip Cookies recipe, when I was a kid. Cookies were baked often in our home, probably once a week, and she liked "mixing things up" and trying new things. I guess we know where I got that trait. lol These were something different, kind of a curiosity, which made them fun. And, we loved them! I've put my own spin on these, but they're definitely a childhood memory.
A Soft and Chewy Cookie Baking Secret
Like most cookie recipes, Potato Chip Cookies are easy to make. It's the basic cookie formula, with add-ins. One secret I will share with you, (and this is true of most cookie recipes, when you want them soft and chewy,) take time to chill the dough. One hour is usually plenty, but it will make a difference in the way your cookies bake and create the perfect texture.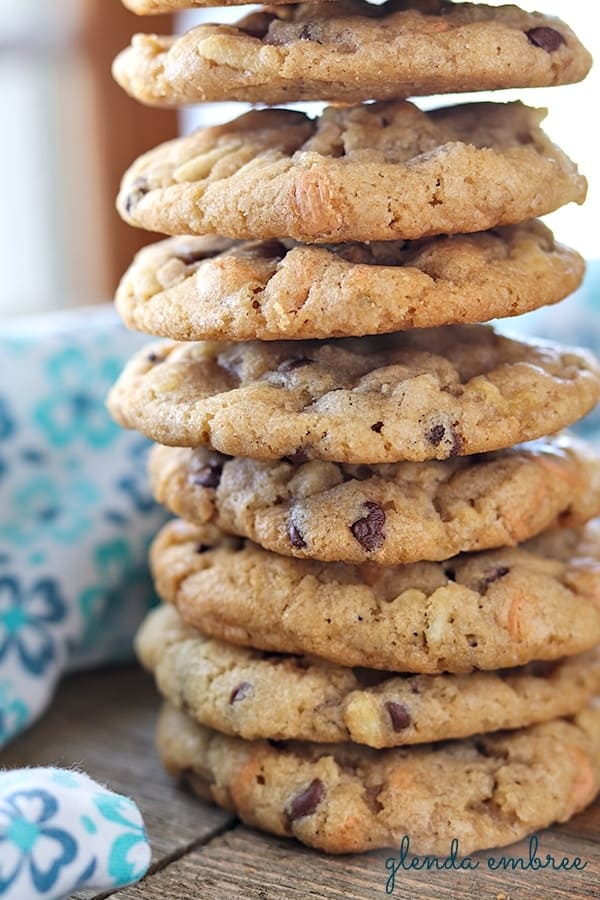 You can definitely bake the dough immediately after mixing, but the cookies will end up flatter and more crunchy. Chilled dough, melts more slowly in the oven and helps keep your cookie's thicker, rounded-top form.
You could also add an extra 1/2 cup of flour to be able to bake immediately, without too much spreading. I know several people who's basic cookie formula uses 3 cups of flour, not 2 1/2, and they're perfectly happy. More flour will definitely help your cookies keep from spreading too much and make you able to bake right after mixing. That works if you aren't doing add-ins like oatmeal or crisp rice cereal, but the texture of your cookie WILL be a little harder and drier after you bake them.
Chilling the dough for at least one hour, will prevent the cookies from spreading too much as they bake. It will allow you to get the nice, raised thickness without the extra flour AND most importantly create the perfect texture. In our family, we like cookies to be soft and chewy with just a hint of crispness around the edges. Chilled dough is the way to achieve this cookie nirvana. 🙂 Now, you know the secret, too!
Ingredients to Add to the Shopping List for Potato Chip Cookies
Most of the ingredients for any good cookie will already be in your pantry. You'll need the basics for this recipe: butter, sugar, dark brown sugar, eggs, flour, baking soda and salt. You will also need to pick up butterscotch chips and mini chocolate chips. My guess is you may already have a partially eaten bag of potato chips in the cupboard. The bottom of the bag leftovers are perfect in this recipe, but it takes 2 1/2 cups of crumbled potato chips, so you might need to add those to the list, too.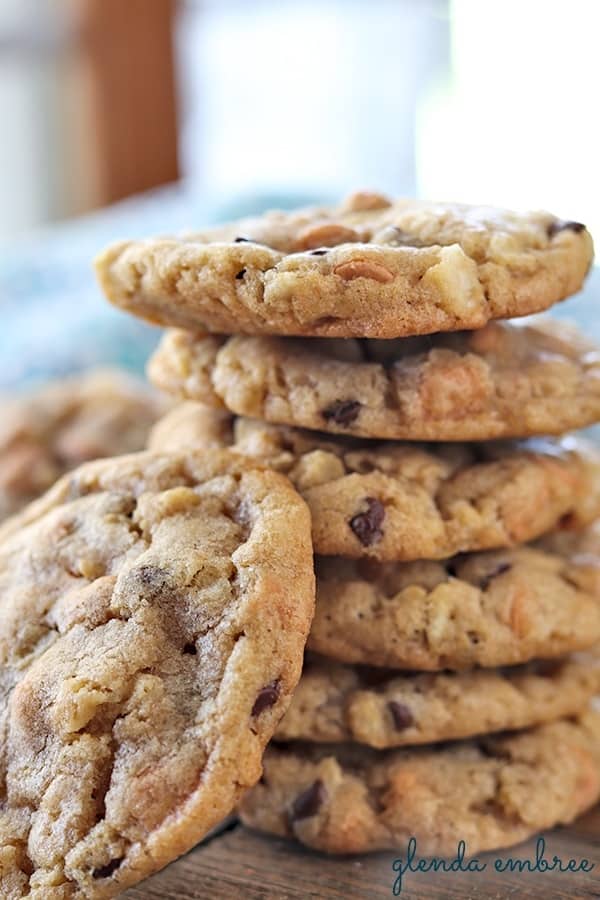 One note about the mini chocolate chips. Mom's original recipe doesn't call for them. That's my own little twist and we like it. We DON'T like it as well with regular sized chocolate chips, as the butterscotch really is the star, in this recipe. The small amount of mini chocolate chips, enhances the butterscotch without over-powering it. That's just our personal preference. Get creative and make this your own unique family favorite.
How to Make Potato Chip Cookies
There's really no special magic to mixing up this recipe. It's cookie 101 when it comes to process. Start by creaming together butter and sugars. Definitely, this can be done by hand. Nowadays, I stick the cookie paddles on my *Bosch stand-mixer and make short work of most recipes, but I have made these by hand many, many times.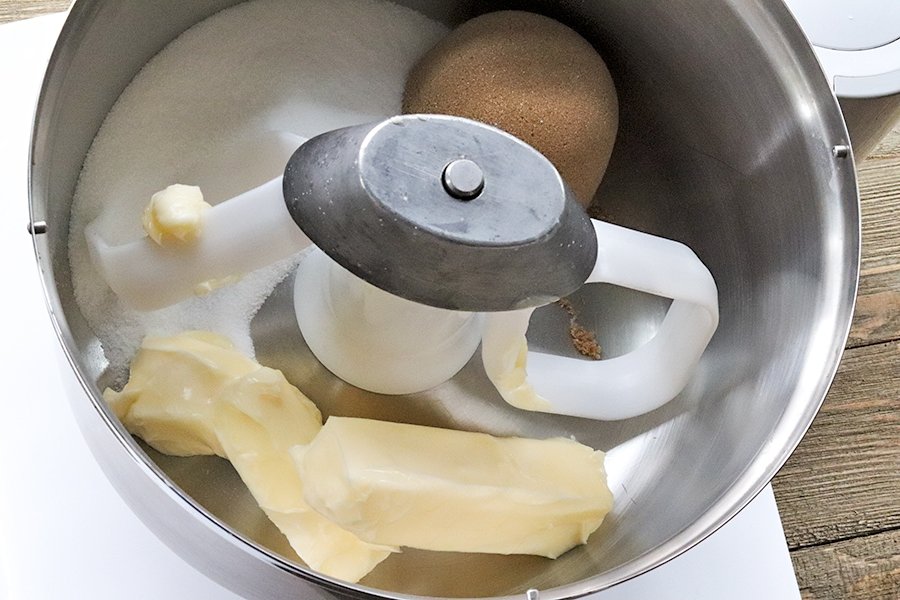 Once you've thoroughly combined the butter, sugar and brown sugar into a thick paste, beat in the eggs. Beat until your dough begins to look lighter and fluffy.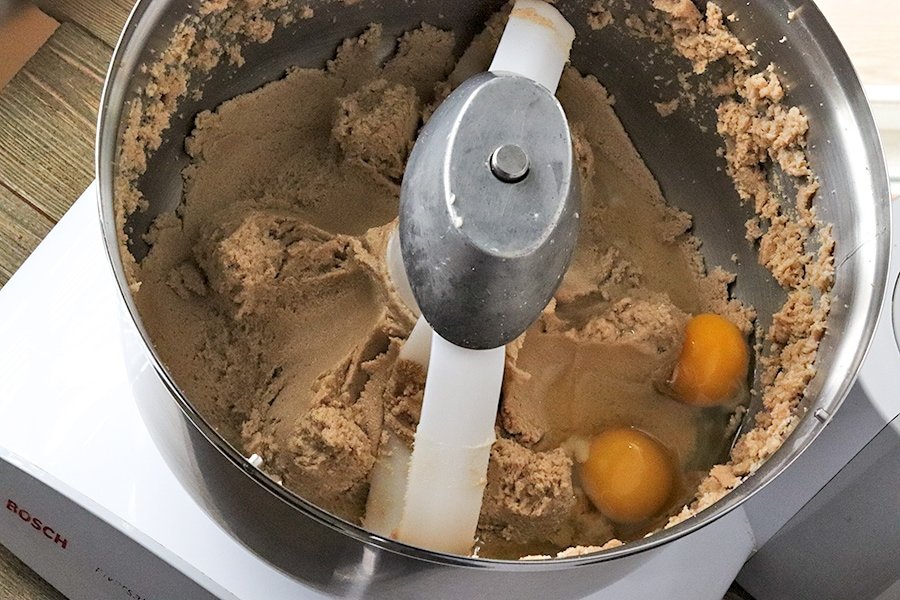 Then mix in the dry ingredients. In this case, that's only flour, baking soda and salt.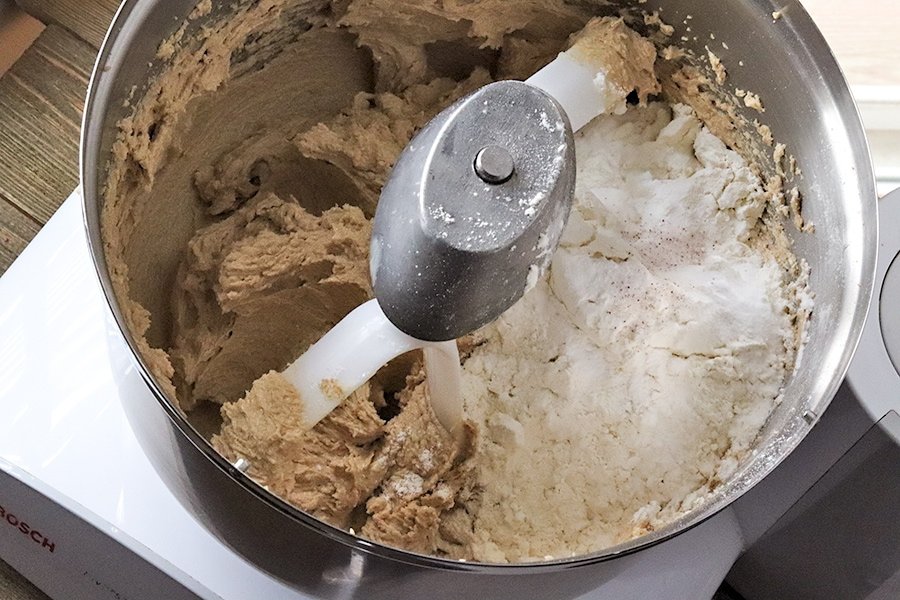 When the dry ingredients are fully incorporated, the base cookie dough is complete. It will be soft and may even seem too soft. Resist the urge to add more flour. Once you add the add-ins and then cover and chill the finished dough, the texture will be perfect. I promise!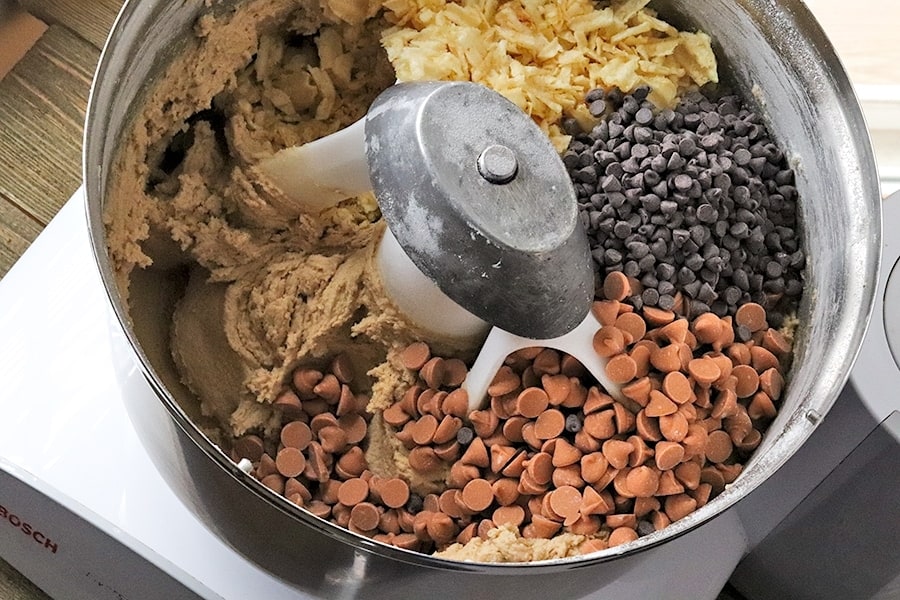 Mix in the chips (both sweet and salty). Don't over-mix. Stir just enough to distribute them evenly through the dough. Over-mixing will crumble the potato chips so much, they will disappear.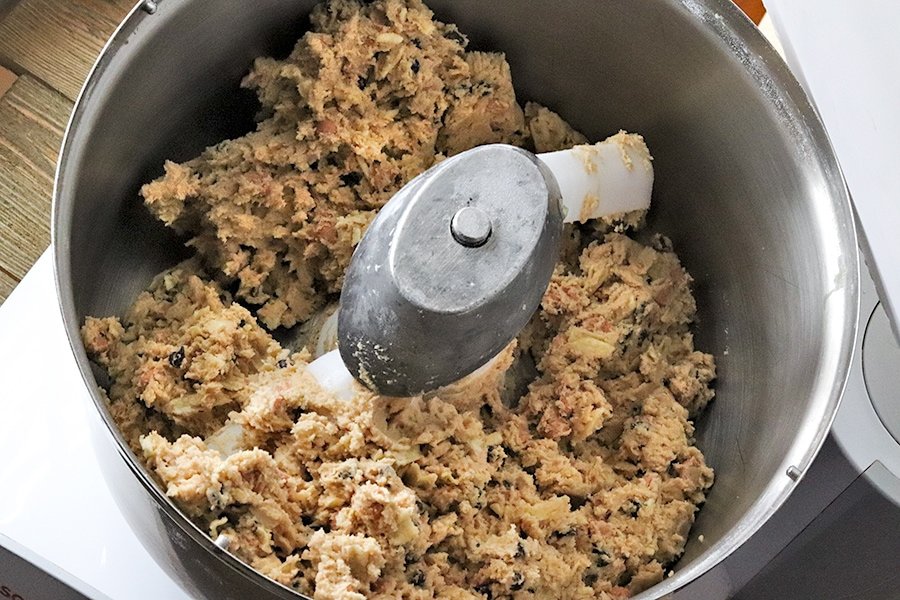 The dough will be soft and a little shaggy. That's perfect! Put it into a container with a lid and chill in the fridge for at least one hour. Then roll them into 2″ balls and bake on a greased, or parchment-lined *cookie sheet for 10-11 minutes.
Enjoy!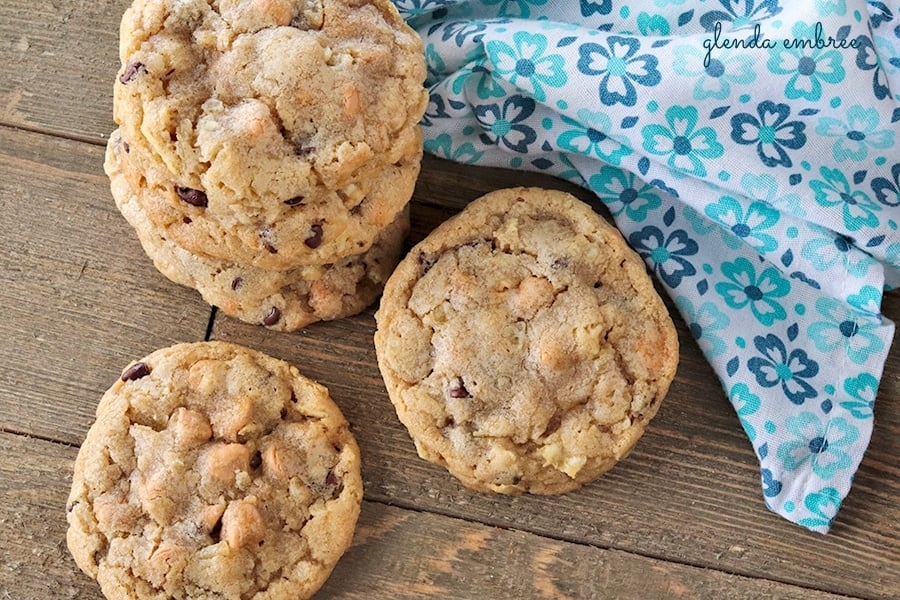 Print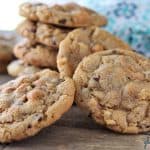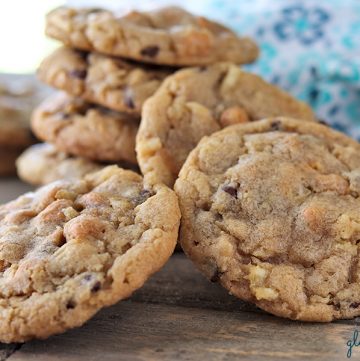 Potato Chip Cookies
---
Author:

Prep Time:

10 minutes

Cook Time:

10

Total Time:

20 minutes

Yield:

3 1/2

to

4

dozen cookies

1

x
Scale
Ingredients
1 cup

softened butter

1 cup

brown sugar

1 cup

granulated sugar

2

large eggs

2 1/2 cups

all-purpose flour

1 teaspoon

baking soda

1/4 teaspoon

salt

3 cups

potato chips, crumbles

2 cups

butterscotch chips

½ cup

mini chocolate chips
---
Instructions
Preheat the oven to 350 degrees. 

Cream together the butter, sugar, and brown sugar. 

Mix in the eggs, flour, salt, and baking soda.

Add in the potato chips, butterscotch chips and mini chocolate chips. 

Refrigerate for at least 1 hour. 

Roll into balls and place them onto a greased, or parchment-lined, *baking sheet.

Bake for 10-11 minutes, or until the cookies are lightly brown around the edges.  Cookies will still look glossy and soft in center, but will finish setting up on the cooling rack.  Resist the urge to over-bake them, so they come out chewy with crisp edges.
---
Notes
Cookie dough can also be kept in the fridge for up to a week.  Bake fresh cookies, as you go.
The dough freezes beautifully, too.  Flash-freeze the pre-rolled cookie dough balls, by placing them onto a cookie sheet (not touching) and sticking the whole tray into the freezer until the dough is frozen solid.  Drop the dough balls into a doubled (one sealed bag, inside another) zip-top bag and keep in the freezer up to six months.  Pull out only the number you want to bake, without them all being stuck together in the bag.  You may need to add 1 to 2 minutes baking time, when baking the dough from frozen.
Category:

Dessert, Cookies

Cuisine:

American
Need another easy dessert or snack idea? Check out my recipe for Homemade Chocolate Pudding!