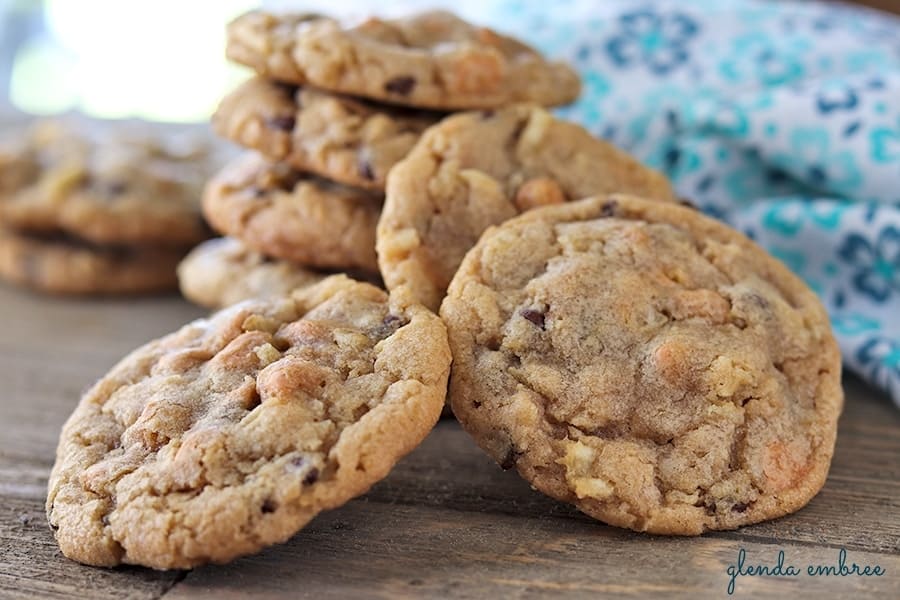 Pota­to Chip Cook­ies are soft, chewy, butterscotch‑y good­ness com­bined with your favorite crunchy, salty, sat­is­fy­ing snack. Who does­n't love cook­ies or pota­to chips when they've got the munchies? Mix­ing them is sweet and salty snack satisfaction.
My mom dis­cov­ered the Pota­to Chip Cook­ies recipe, when I was a kid. Cook­ies were baked often in our home, prob­a­bly once a week, and she liked "mix­ing things up" and try­ing new things.
I guess we know where I got that trait. lol These were some­thing dif­fer­ent, kind of a curios­i­ty, which made them fun. And, we loved them! I've put my own spin on these, but they're def­i­nite­ly a child­hood memory.
If you want anoth­er unique and absolute­ly delec­table cook­ie recipe, you have to try these Rhubarb Cook­ies from Lau­ra, at Lit­tle House Big Alaska.
A Soft and Chewy Cookie Baking Secret
Like most cook­ie recipes, Pota­to Chip Cook­ies are easy to make. It's the basic cook­ie for­mu­la, with add-ins. One secret I will share with you, (and this is true of most cook­ie recipes, when you want them soft and chewy,) take time to chill the dough. One hour is usu­al­ly plen­ty, but it will make a dif­fer­ence in the way your cook­ies bake and cre­ate the per­fect texture.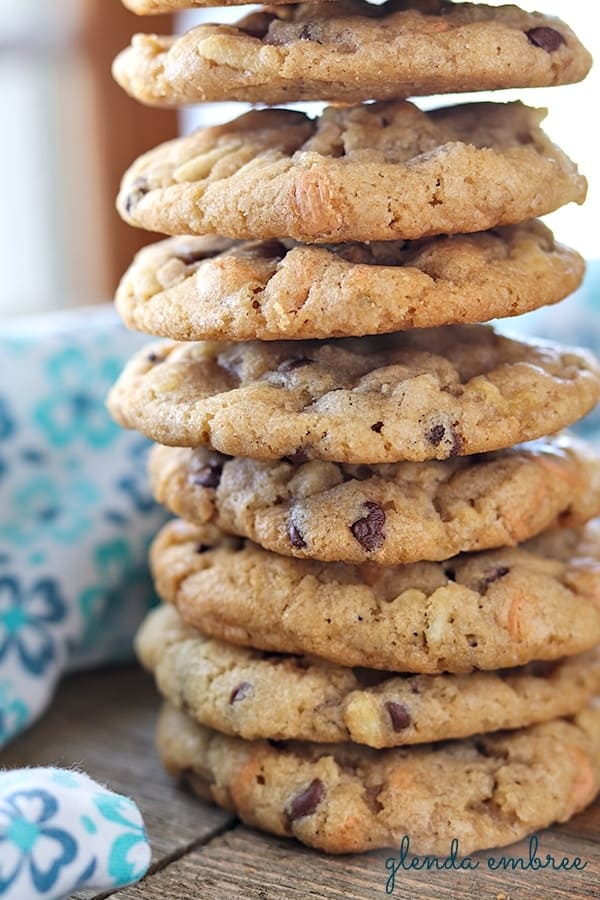 You can def­i­nite­ly bake the dough imme­di­ate­ly after mix­ing, but the cook­ies will end up flat­ter and more crunchy. Chilled dough, melts more slow­ly in the oven and helps keep your cook­ie's thick­er, round­ed-top form.
You could also add an extra 1/2 cup of flour to be able to bake imme­di­ate­ly, with­out too much spread­ing. I know sev­er­al peo­ple who's basic cook­ie for­mu­la uses 3 cups of flour, not 2 1/2, and they're per­fect­ly hap­py. More flour will def­i­nite­ly help your cook­ies keep from spread­ing too much and make you able to bake right after mix­ing. That works if you aren't doing add-ins like oat­meal or crisp rice cere­al, but the tex­ture of your cook­ie WILL be a lit­tle hard­er and dri­er after you bake them.
Chill­ing the dough for at least one hour, will pre­vent the cook­ies from spread­ing too much as they bake. It will allow you to get the nice, raised thick­ness with­out the extra flour AND most impor­tant­ly cre­ate the per­fect tex­ture. In our fam­i­ly, we like cook­ies to be soft and chewy with just a hint of crisp­ness around the edges. Chilled dough is the way to achieve this cook­ie nir­vana. 🙂 Now, you know the secret, too!
Ingredients to Add to the Shopping List for Potato Chip Cookies
Most of the ingre­di­ents for any good cook­ie will already be in your pantry. You'll need the basics for this recipe: but­ter, sug­ar, dark brown sug­ar, eggs, flour, bak­ing soda and salt. You will also need to pick up but­ter­scotch chips and mini choco­late chips. My guess is you may already have a par­tial­ly eat­en bag of pota­to chips in the cup­board. The bot­tom of the bag left­overs are per­fect in this recipe, but it takes 2 1/2 cups of crum­bled pota­to chips, so you might need to add those to the list, too.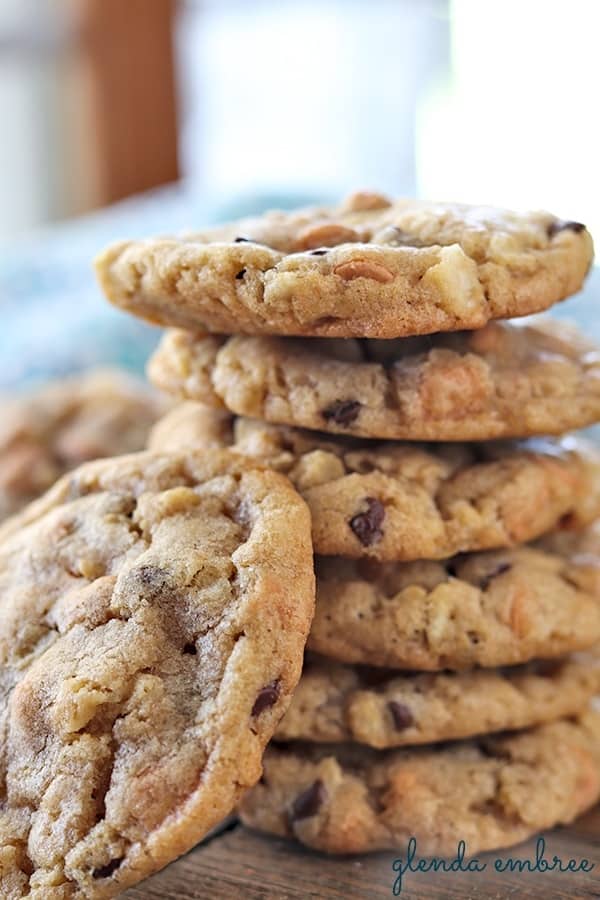 One note about the mini choco­late chips. Mom's orig­i­nal recipe does­n't call for them. That's my own lit­tle twist and we like it. We DON'T like it as well with reg­u­lar sized choco­late chips, as the but­ter­scotch real­ly is the star, in this recipe. The small amount of mini choco­late chips, enhances the but­ter­scotch with­out over-pow­er­ing it. That's just our per­son­al pref­er­ence. Get cre­ative and make this your own unique fam­i­ly favorite.
How to Make Potato Chip Cookies
There's real­ly no spe­cial mag­ic to mix­ing up this recipe. It's cook­ie 101 when it comes to process. Start by cream­ing togeth­er but­ter and sug­ars. Def­i­nite­ly, this can be done by hand. Nowa­days, I stick the cook­ie pad­dles on my *Bosch stand-mix­er and make short work of most recipes, but I have made these by hand many, many times.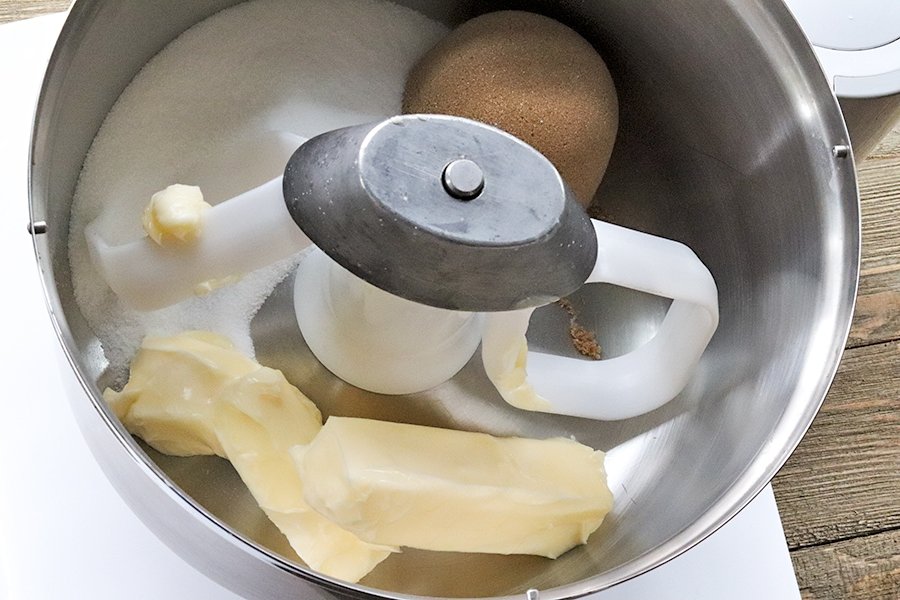 Once you've thor­ough­ly com­bined the but­ter, sug­ar and brown sug­ar into a thick paste, beat in the eggs. Beat until your dough begins to look lighter and fluffy.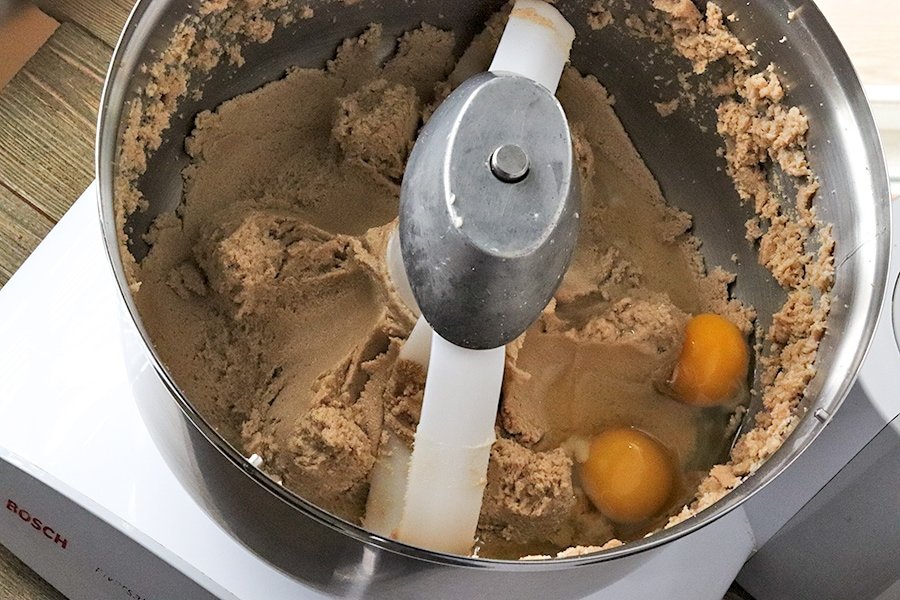 Then mix in the dry ingre­di­ents. In this case, that's only flour, bak­ing soda and salt.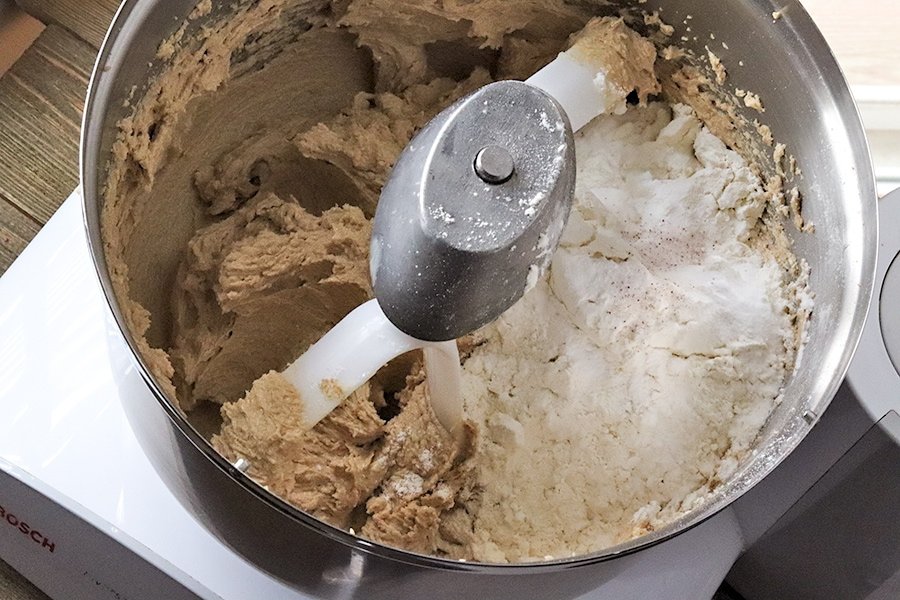 When the dry ingre­di­ents are ful­ly incor­po­rat­ed, the base cook­ie dough is com­plete. It will be soft and may even seem too soft. Resist the urge to add more flour. Once you add the add-ins and then cov­er and chill the fin­ished dough, the tex­ture will be per­fect. I promise!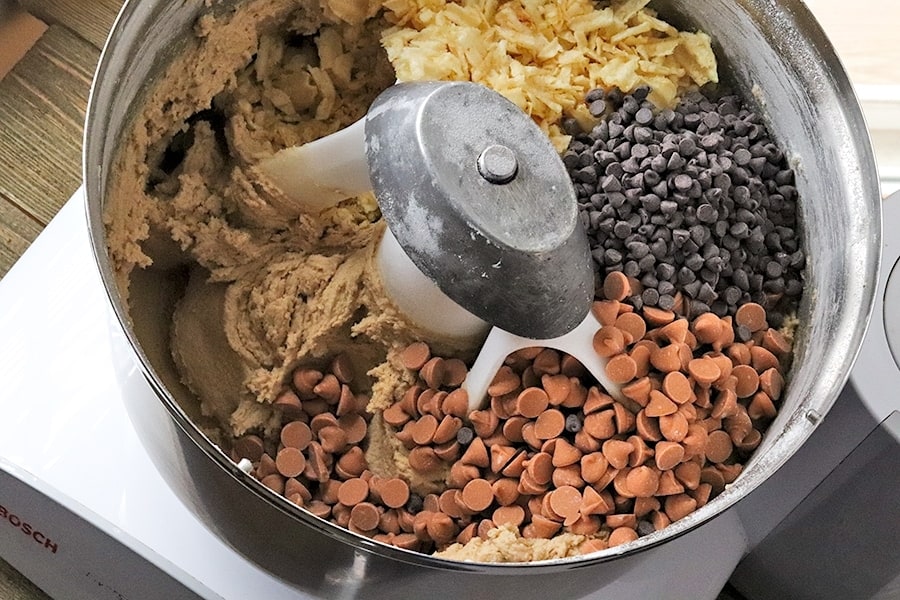 Mix in the chips (both sweet and salty). Don't over-mix. Stir just enough to dis­trib­ute them even­ly through the dough. Over-mix­ing will crum­ble the pota­to chips so much, they will disappear.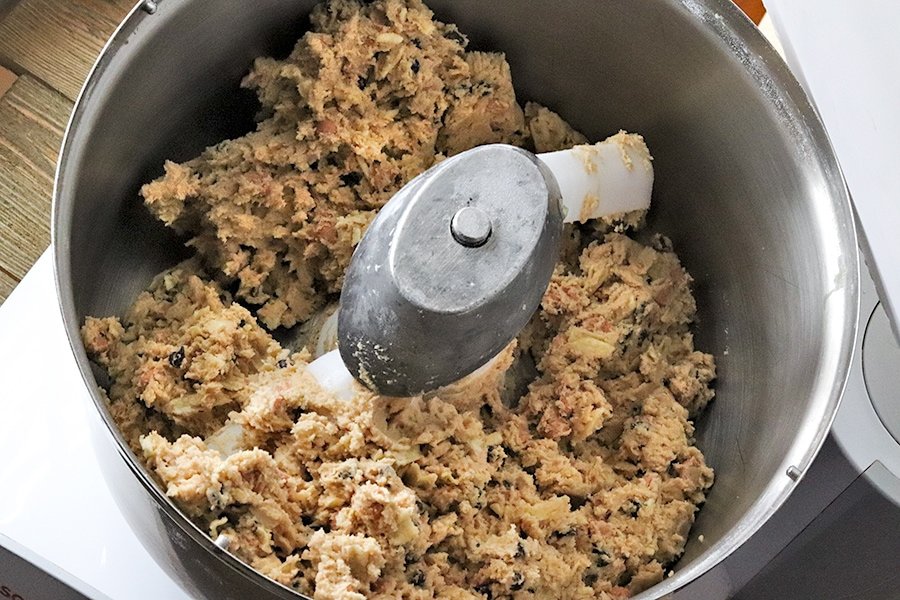 The dough will be soft and a lit­tle shag­gy. That's per­fect! Put it into a con­tain­er with a lid and chill in the fridge for at least one hour. Then roll them into 2″ balls and bake on a greased, or parch­ment-lined *cook­ie sheet for 10–11 minutes.
Enjoy!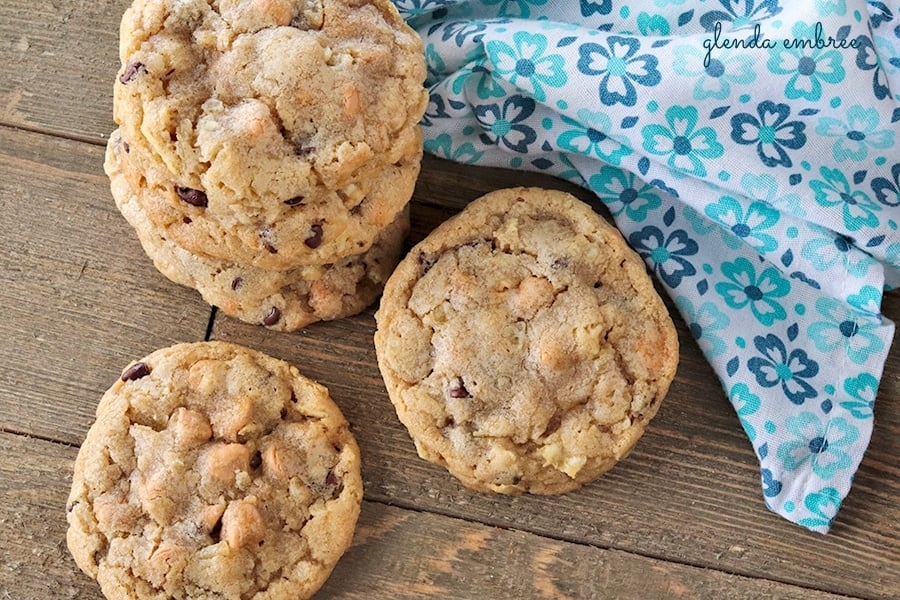 Print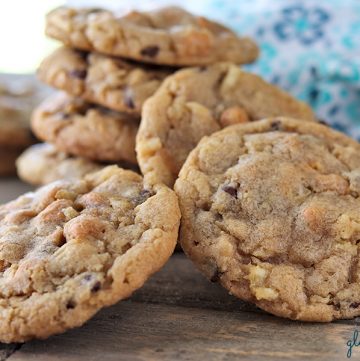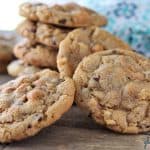 Potato Chip Cookies
---
Author:

Total Time:

20 min­utes

Yield:

3 1/2

to

4

dozen cook­ies

1

x
1 cup

soft­ened butter

1 cup

brown sugar

1 cup

gran­u­lat­ed sugar

2

large eggs

2 1/2 cups

all-pur­pose flour

1 tea­spoon

bak­ing soda

1/4 tea­spoon

salt

3 cups

pota­to chips, crumbles

2 cups

but­ter­scotch chips

1/2 cup

mini choco­late chips
---
Instructions
Pre­heat the oven to 350 degrees.

Cream togeth­er the but­ter, sug­ar, and brown sugar.

Mix in the eggs, flour, salt, and bak­ing soda.

Add in the pota­to chips, but­ter­scotch chips and mini choco­late chips.

Refrig­er­ate for at least 1 hour.

Roll into balls and place them onto a greased, or parch­ment-lined, *bak­ing sheet.

Bake for 10–11 min­utes, or until the cook­ies are light­ly brown around the edges. Cook­ies will still look glossy and soft in cen­ter, but will fin­ish set­ting up on the cool­ing rack. Resist the urge to over-bake them, so they come out chewy with crisp edges.
Notes
Cook­ie dough can also be kept in the fridge for up to a week. Bake fresh cook­ies, as you go.
The dough freezes beau­ti­ful­ly, too. Flash-freeze the pre-rolled cook­ie dough balls, by plac­ing them onto a cook­ie sheet (not touch­ing) and stick­ing the whole tray into the freez­er until the dough is frozen sol­id. Drop the dough balls into a dou­bled (one sealed bag, inside anoth­er) zip-top bag and keep in the freez­er up to six months. Pull out only the num­ber you want to bake, with­out them all being stuck togeth­er in the bag. You may need to add 1 to 2 min­utes bak­ing time, when bak­ing the dough from frozen.
Prep Time:

10 min­utes

Cook Time:

10

Cat­e­go­ry:

Dessert, Cook­ies

Cui­sine:

Amer­i­can
Need anoth­er easy dessert or snack idea? Check out my recipe for Home­made Choco­late Pud­ding!