Slop­py Joes have nev­er been one of my go-to favorites, until this scrump­tious recipe. It is easy, tastes amaz­ing and is done in under 30 minutes!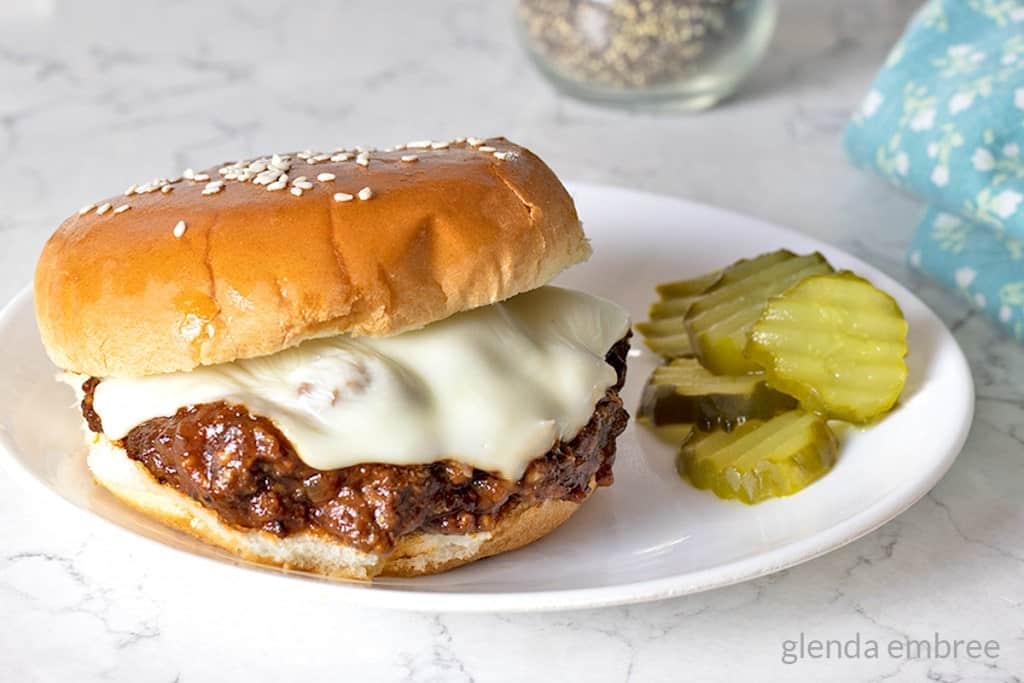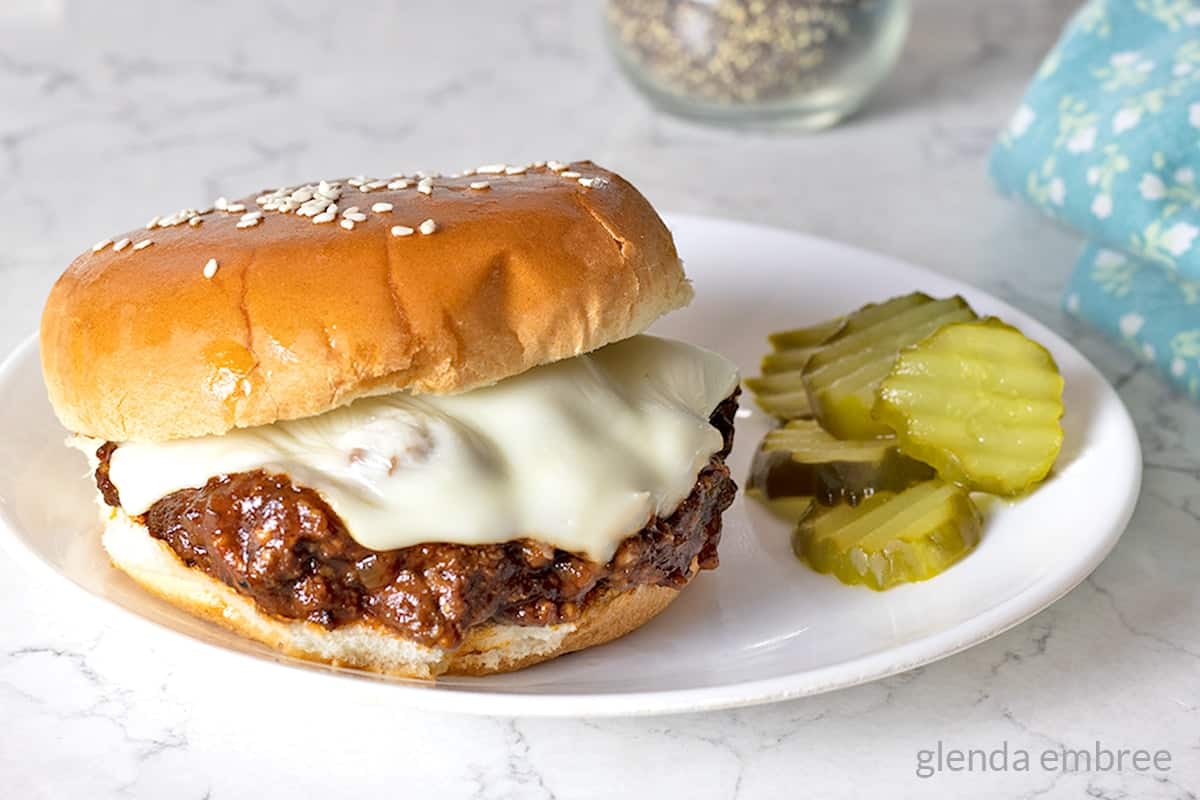 I have made easy slop­py joes quite a few times over the years, but I did­n't enjoy the meal as much as I knew I should. I always took the sim­ple "pre-made sauce from a can over browned ground beef" route. Pre-made sauce is def­i­nite­ly quick and easy, but it's short on com­plex flavors.
Now, that I've cre­at­ed this Slop­py Joe Recipe packed with knock-your-socks-off fla­vor, I'm hooked. It's still quick and easy, but it also tastes amaz­ing! It has sub­tle sweet­ness from that carame­ly dark brown sug­ar and savory good­ness from the beef, onion and all-pur­pose sea­son­ing. Then, just as you're think­ing how deli­cious it is, you get that lit­tle kick of heat on the back of your tongue. Boom! Seri­ous­ly guys, these are THE best slop­py joes!
The Ingredients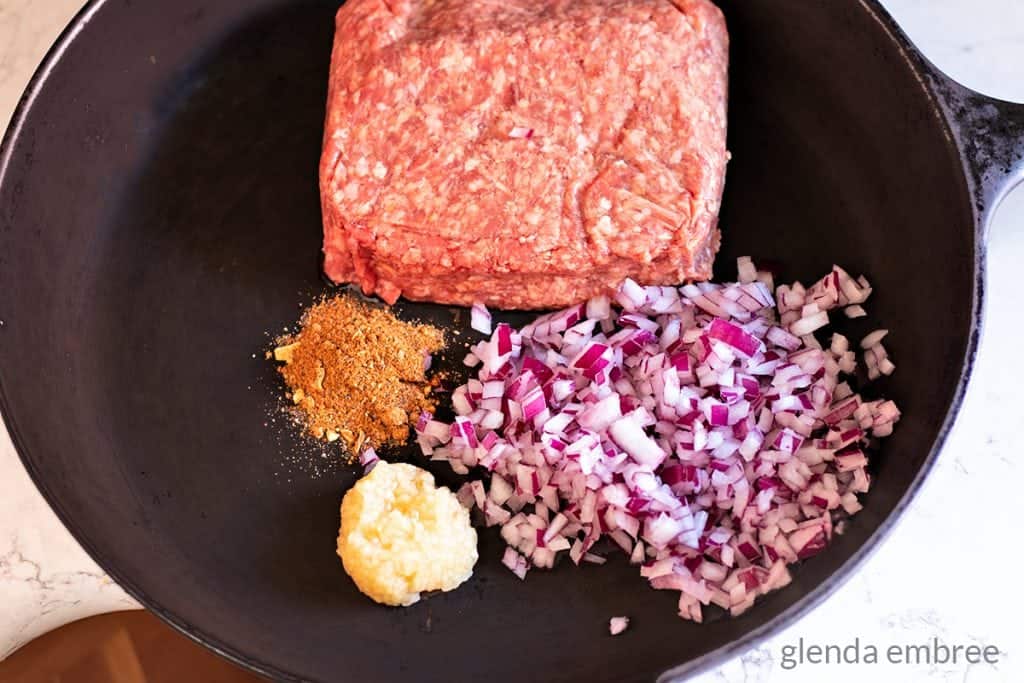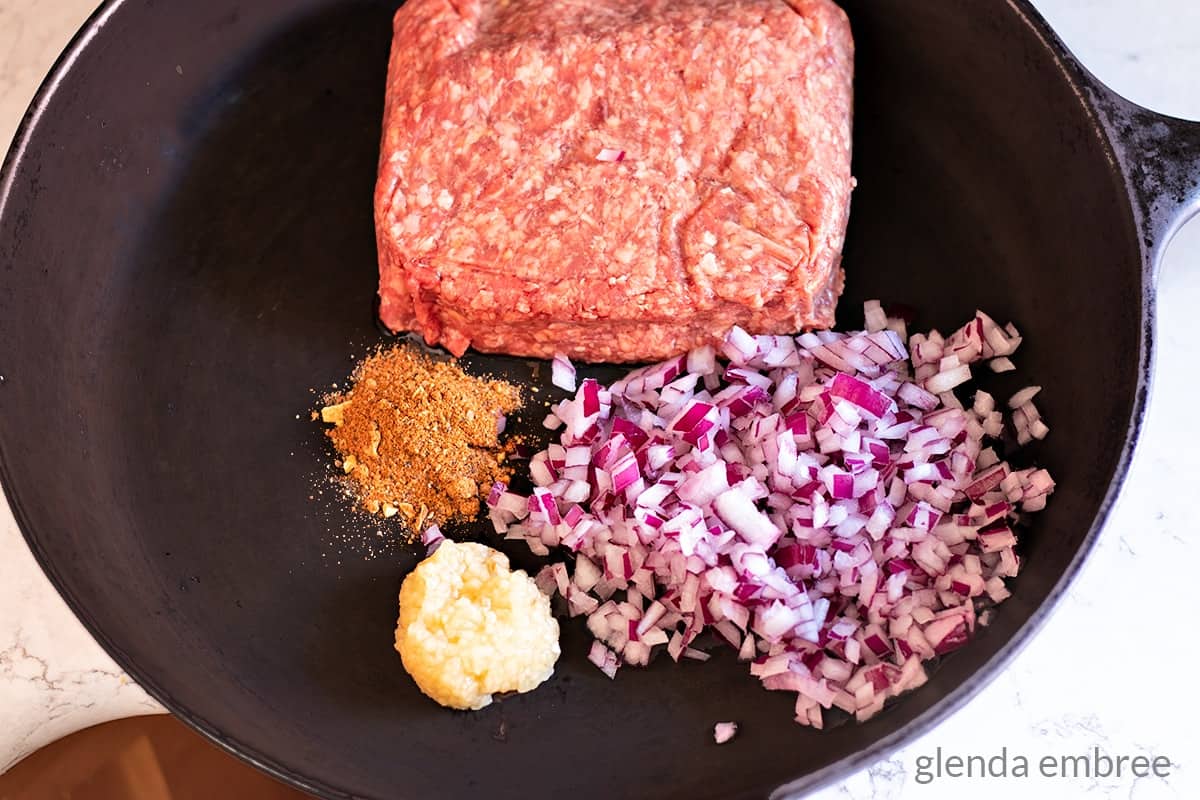 The cast of char­ac­ters for this easy Best Slop­py Joes recipe is straight out of your every­day pantry.
ground beef — I use an 85/15 blend. It seems to be just enough fat to give the meat excel­lent fla­vor with out being over-the-top greasy after it's drained. I have actu­al­ly found organ­ic, grass-fed ground beef at Wal­mart for only $5.78 a pound, which is com­pa­ra­ble, or even less than, the non-organ­ic beef. Choose the beef you can best afford. This recipe will be scrump­tious, regardless.
red onion — I just love them. That's the only rea­son. It's what I always have on hand, because I love the savory fla­vor they bring to so many dish­es. Use the onions you have on hand. Yel­low, white or red will all be deli­cious in your slop­py joes.
fresh gar­lic — Again, I just love it. I feel like the fla­vor is so much more herba­ceous than dried. But if you have gar­lic pow­der on hand, sub­sti­tute in 1 tea­spoon of that in place of the fresh garlic.
all-pur­pose sea­son­ing — There are a cou­ple things to remem­ber about this sea­son­ing. I use my own home­made ver­sion when I make these easy slop­py joes. (It's fab­u­lous, if I do say so myself.) Keep in mind that mine has salt in it. If you have an all-pur­pose sea­son­ing that does­n't con­tain salt, you may want to add some. So, taste as you go and sea­son it to suit your own fam­i­ly's tastes.
ketchup
dark brown sug­ar — One more time, this is per­son­al pref­er­ence. If you have light brown sug­ar on hand, use it. The dark has more molasses and so will enhance the bit­ter caramel notes in the recipe. But, the light will make a tasty sauce, too.
bar­be­cue sauce — Use your favorite. We had Sweet Baby Ray's in the fridge.
stone ground mus­tard — Yes, yel­low mus­tard could work. I love the spici­er bite of stone ground. Use what you have. Make this recipe about you and your family.
apple cider vine­gar — Acid always helps to bal­ance sweet, spicy and bit­ter in a dish while cut­ting through fat and rich­ness. The lit­tle zing of vine­gar real­ly pops the fla­vor of these slop­py joes in the best pos­si­ble way.
chipo­tle pep­per pow­der — Cayenne pep­per can be used instead, how­ev­er it packs a lot more heat than the chipo­tle, so be sure you only use half as much. I made the hot pep­per option­al in the recipe, real­iz­ing that some of you may not enjoy spicy food. But, if you do I encour­age you to try it. It's medi­um spicy and you could even cut it back to be less of a kick. We absolute­ly love what it adds to the over­all fla­vor of the slop­py joes.
The Recipe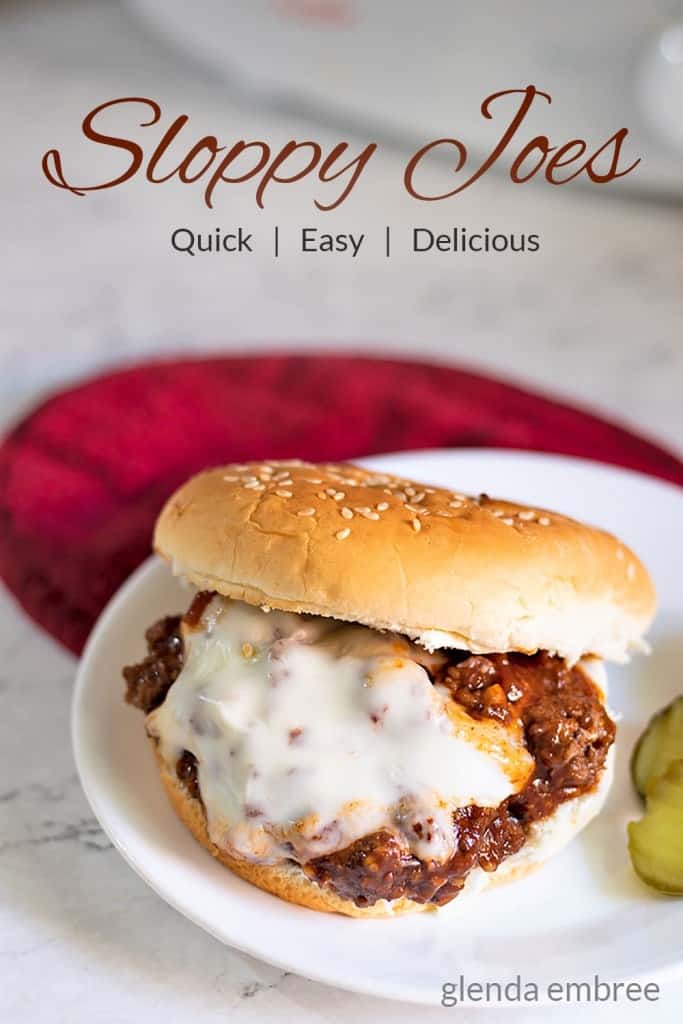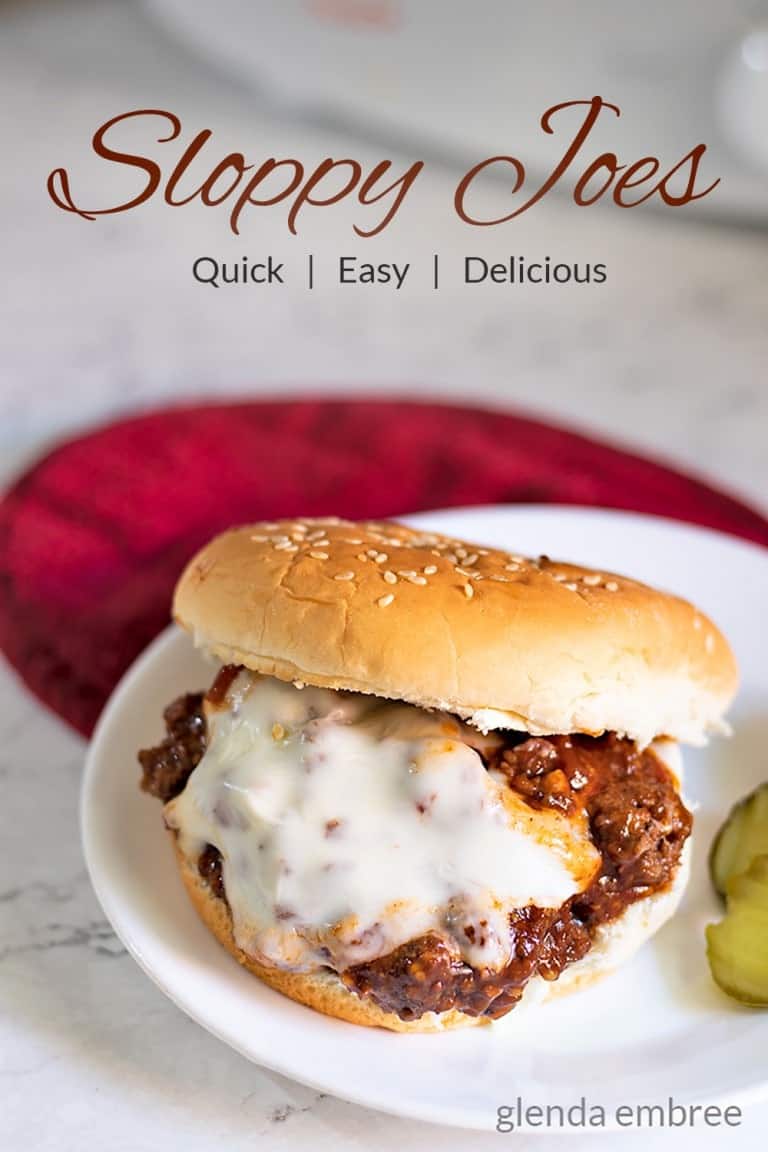 Here's the easy recipe for cre­at­ing your own slop­py joes for din­ner. If you feel a lit­tle more con­fi­dent after see­ing the recipe come togeth­er, scroll down below the recipe card for the easy pic­ture tuto­r­i­al. Enjoy!
Print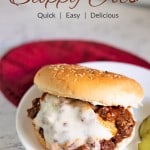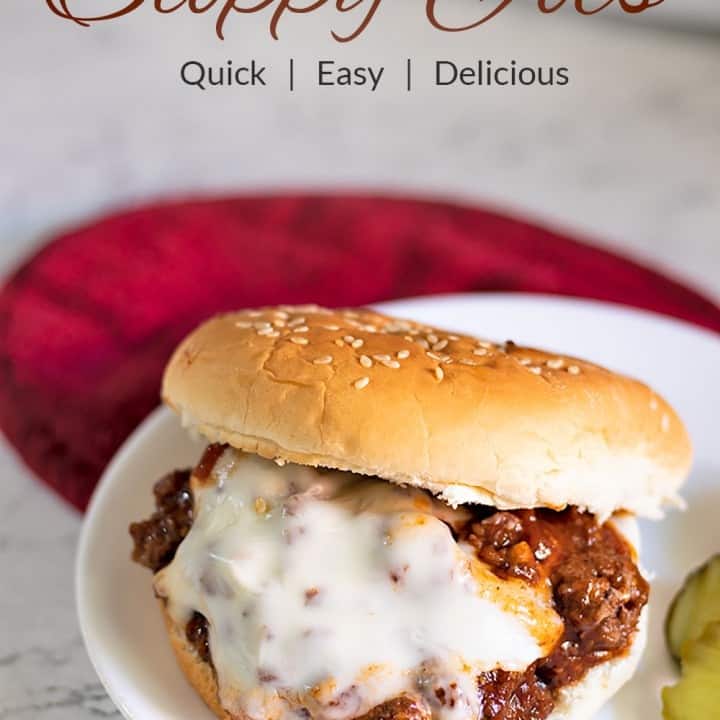 Best Sloppy Joes
---
Author:

Total Time:

25 min­utes

Yield:

4

-

5

sand­wich­es

1

x
Description
One of the sim­plest and most fla­vor­ful Slop­py Joes I've ever eat­en! Com­mon pantry ingre­di­ents and a quick cook­ing time makes this a hero dish for week­night din­ners. Savory, sweet, salty and spicy all in one deli­cious bite.
---
For the Beef:
1

lb. ground beef

1

medi­um red onion, fine­ly diced

2 tea­spoons

fresh gar­lic, minced

2 tea­spoons

all-pur­pose seasoning
For the Sauce:
1 cup

ketchup

1/4 cup

dark brown sugar

1/4 cup

bar­be­cue sauce

1 Table­spoon

stone ground mus­tard ( or yel­low mustard)

1 Table­spoon

apple cider vinegar

(option­al) 1/2 tea­spoon chipo­tle pep­per pow­der (or 1/4 tea­spoon cayenne)
---
Instructions
Add ground beef, onion, gar­lic and all-pur­pose sea­son­ing to a cast iron skil­let and stir to combine.

Cook the beef mix­ture over medi­um heat until no pink remains and the meat is cooked through. Stir and break up the meat as it cooks to get small crumbles.

Drain off fat from meat. Set meat aside.

In the same skil­let, stir togeth­er remain­ing ingredient.

Heat over medi­um heat until the sug­ar is dissolved.

Add the ground beef back to the skil­let and con­tin­ue cook­ing for about 5 min­utes until the mix­ture is hot through and has thick­ened up a bit.

Serve on buns.
Prep Time:

10

Cook Time:

15

Cat­e­go­ry:

Main Dish, Beef, Sandwiches

Method:

stove top

Cui­sine:

Amer­i­can
Key­words: beef, slop­py joes, sandwiches
How to Make Sloppy Joes
Start by brown­ing the ground beef in a cast iron skil­let along with the all pur­pose sea­son­ing, gar­lic and onions.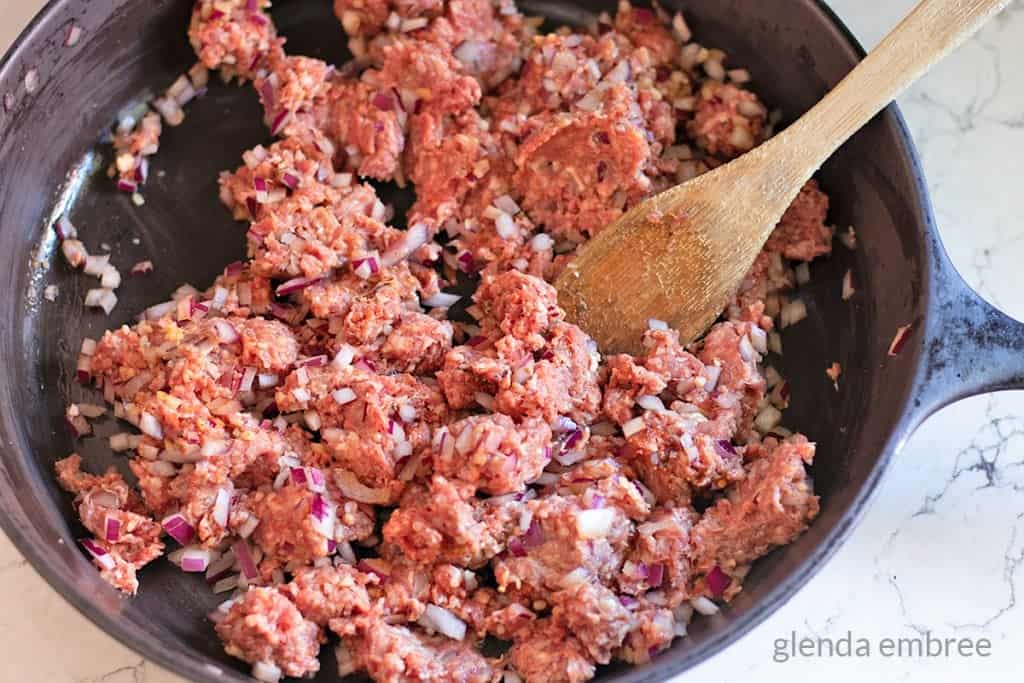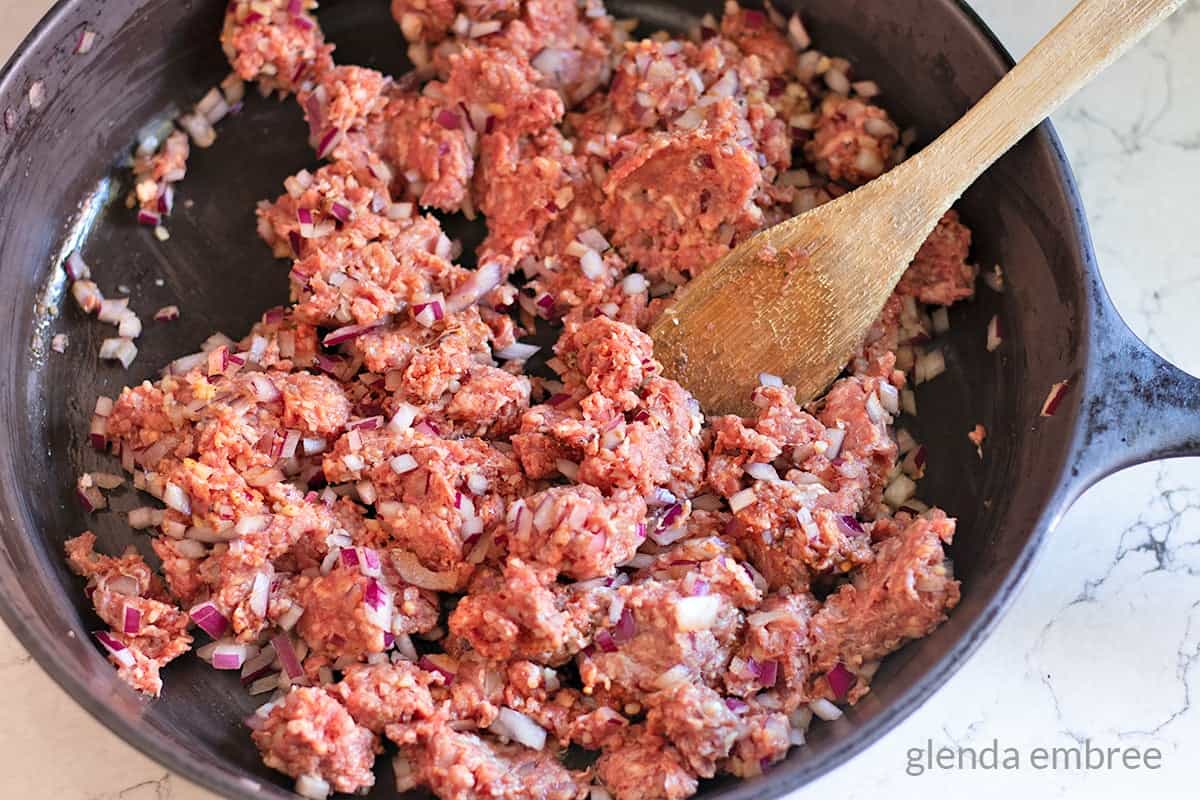 Once the meat is browned, drain it and set it side while you make the slop­py joe sauce. The meat isn't going to spend more than 5 min­utes or so in the sauce, so be sure it's cooked through before tak­ing it off the heat.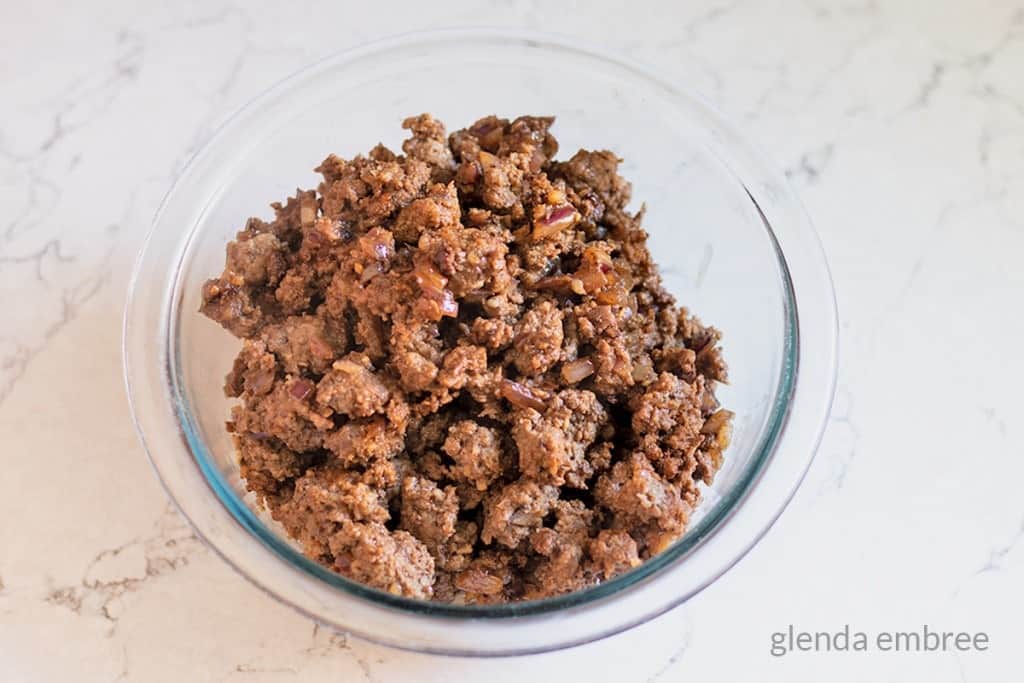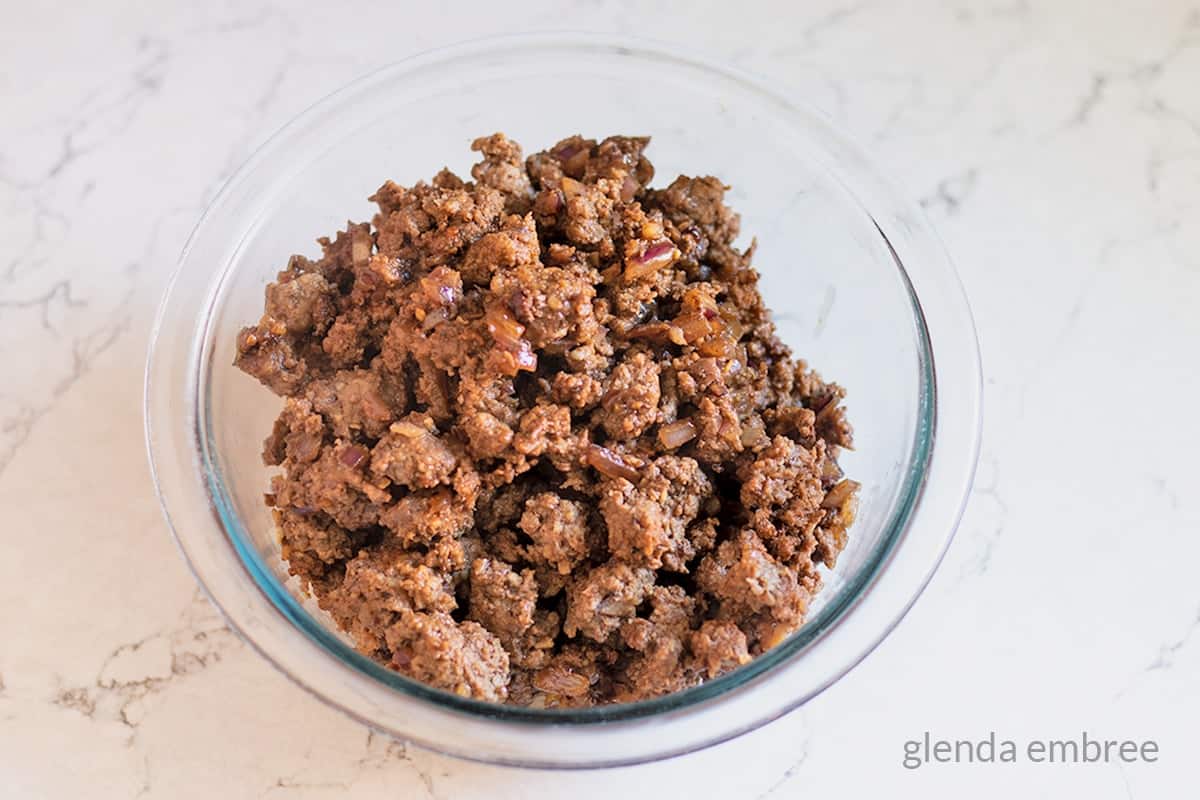 For the sauce, use the same skil­let and pour in the ketchup, bar­be­cue sauce, brown sug­ar, vine­gar, mus­tard and chipo­tle pow­der. Stir to com­bine every­thing and heat over medi­um heat until sug­ar is melt­ed and the sauce is hot.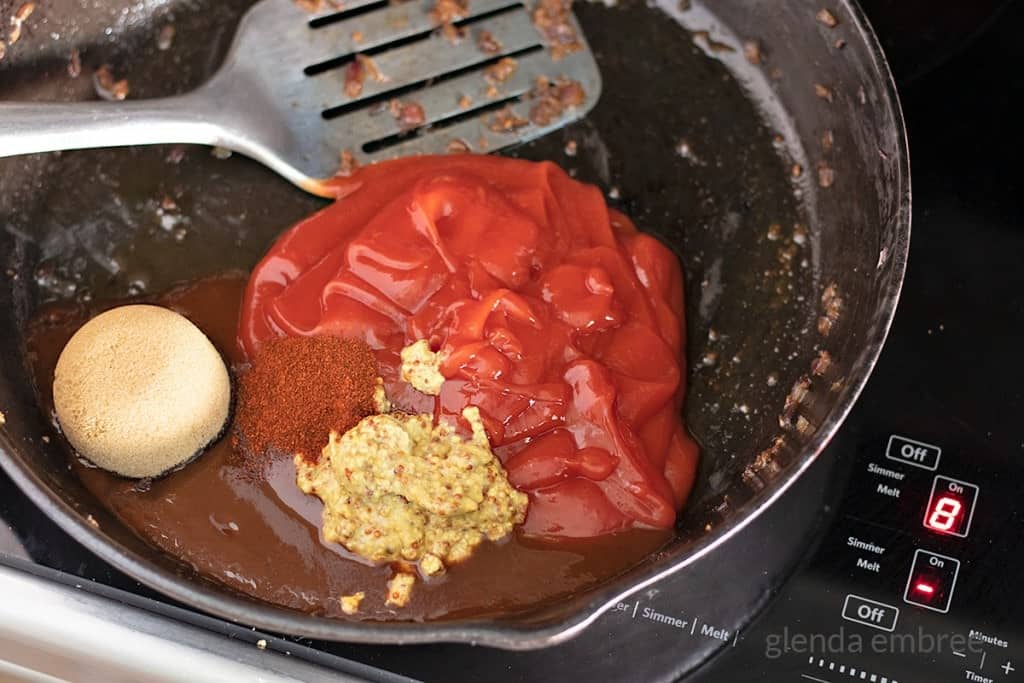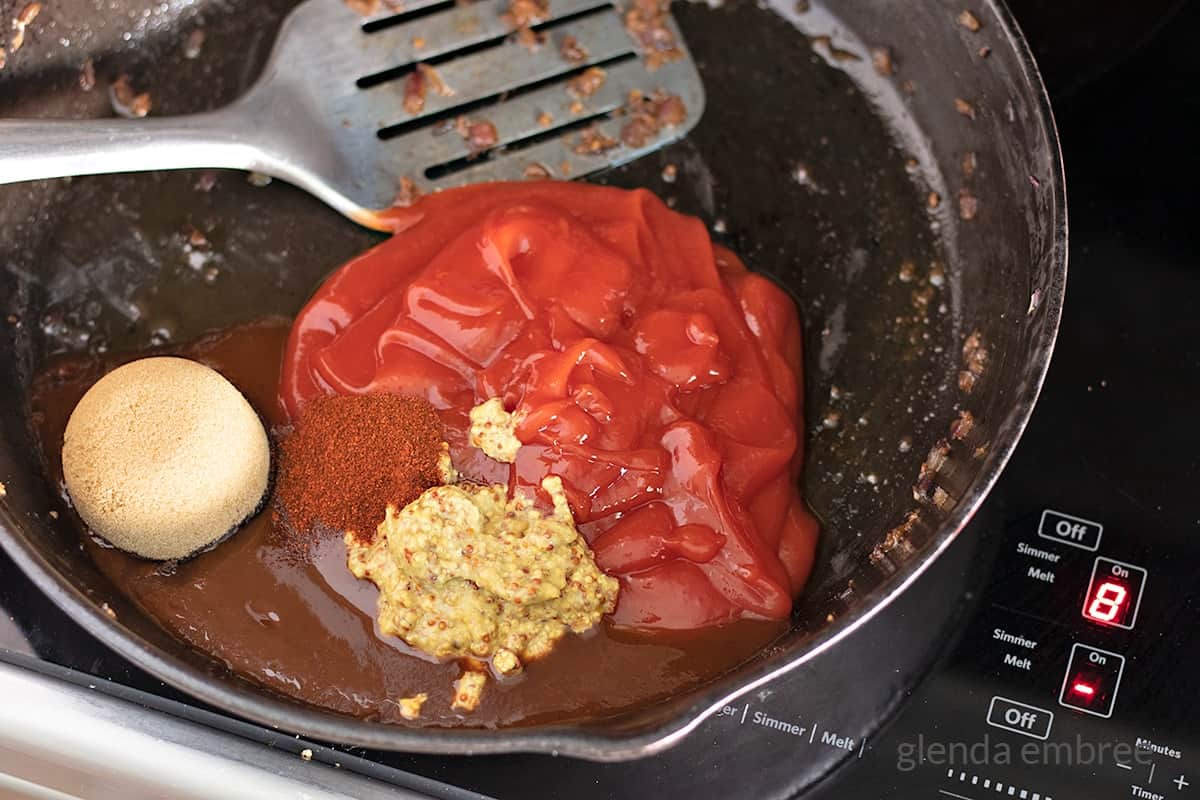 Add the ground beef back into the skil­let with the slop­py joe sauce. Stir togeth­er and sim­mer for about 5 min­utes to meld all the fla­vors and allow the sauce to thick­en slightly.
All that's left is to build your deli­cious slop­py joe sand­wich­es. We like ours with a lit­tle melt­ed cheese. But you do you and enjoy them the way you like best. How easy is that!!!?? The Best Slop­py Joes need to become a go-to recipe in your week­night din­ner rota­tions. Go make some sup­per, my friend. You've got this!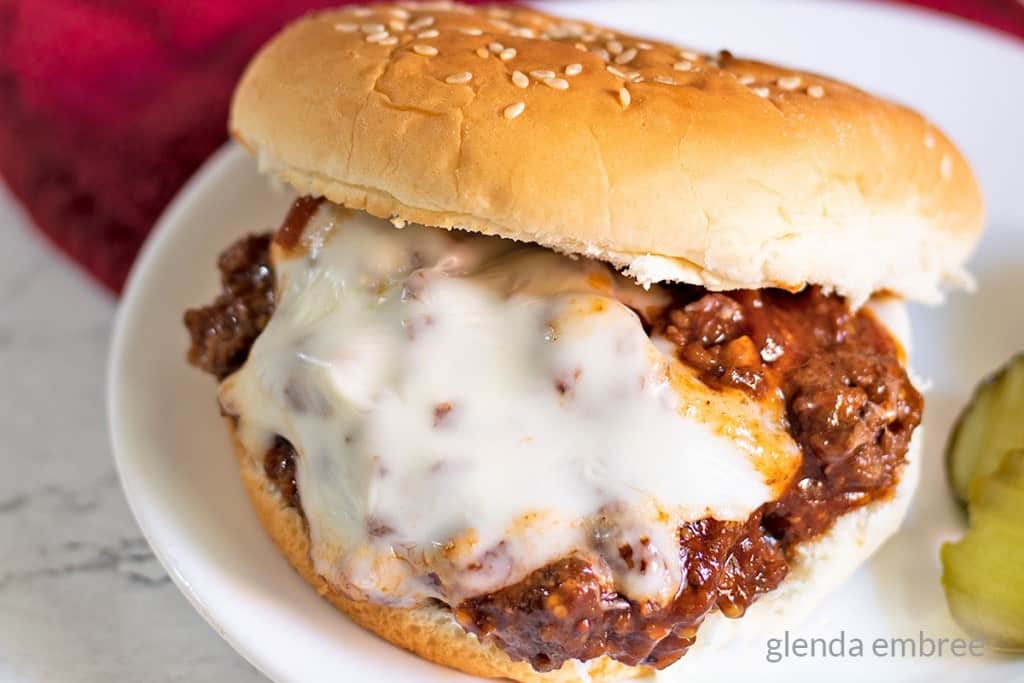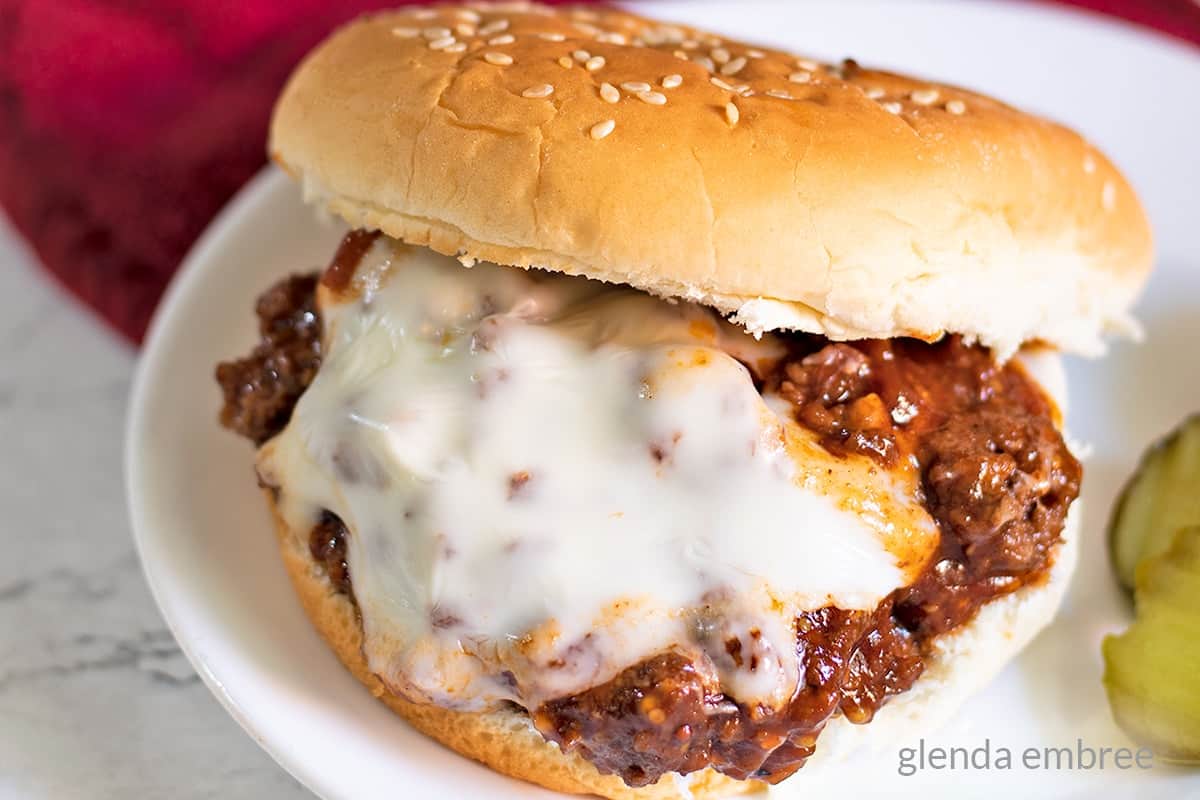 Since I've become a Slop­py Joe lover, I may try and give some oth­er ver­sions a try. I am intrigued by the Meat­less Slop­py Joe over at Lit­tle Spice Jar. They use minced mush­rooms and wal­nuts to replace the ground beef. I also think these Philly Cheeses­teak Slop­py Joes look real­ly good.
What­ev­er ver­sion you land on, just get out in the kitchen and give it a try. Mak­ing deli­cious, home­made easy food is so much sim­pler than you imag­ined. I hope you'll love my Best Slop­py Joe recipe and let me know if you give it a try! You can do this!
Hugs!
Great Sides for Sloppy Joes
Sweet Pota­to Fries: Easy, Del­ish and CRISP in the Oven