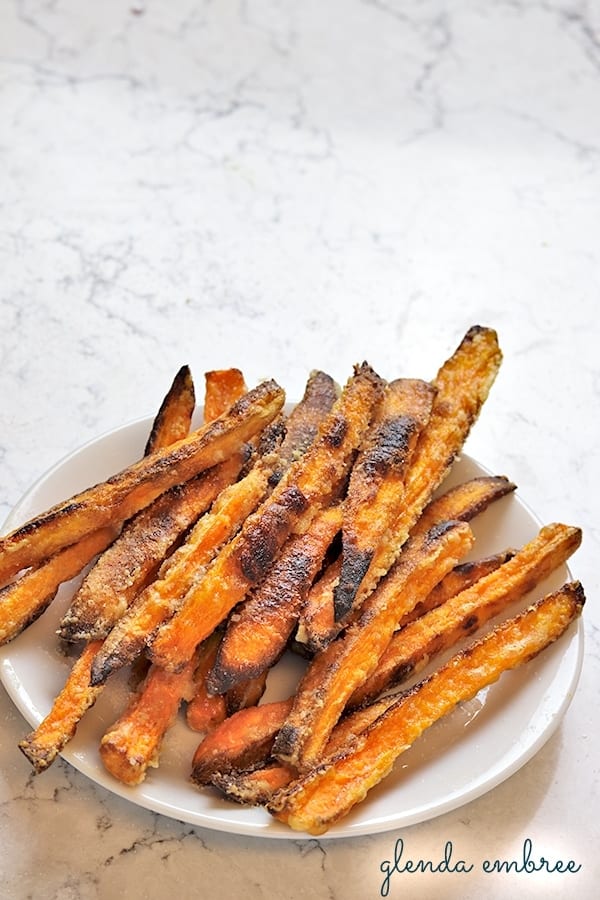 Sweet Pota­to Fries are a hap­py indul­gence that makes every­one smile. Even my "don't like sweet pota­toes" peo­ple LOVE these easy oven fries. And, my "def­i­nite­ly loves sweet pota­toes guy" declared that he could eat a wheel­bar­row full of them! lol He is always my "does this recipe work" barometer.
Sweet Pota­to Fries are crisp, salty and beau­ti­ful­ly caramelized on the out­side with a deli­cious­ly soft and sweet inte­ri­or. It's the per­fect sweet and salty bal­ance with a crunch that is so impor­tant to an ide­al snack. Believe it or not, that beau­ti­ful fla­vor and tex­ture is achieved in the oven and you only need three ingre­di­ents to cre­ate it yourself!
No more limp and flop­py sweet pota­to fries. No splat­ter­ing oil or deep-fry­ing. You won't ever need to buy frozen, again.
You're about to become a sweet pota­to fries pro­fes­sion­al. You and your fam­i­ly will enjoy the deli­cious fresh­ness of these scrump­tious fries over and over, again. And they're easy for you to make. This recipe is def­i­nite­ly a keeper!
Let's make some Sweet Pota­to Fries!
Print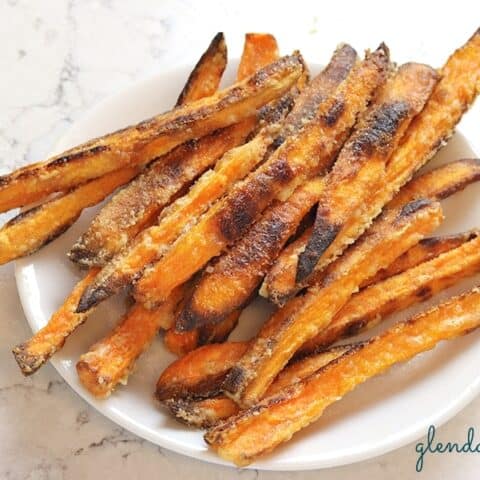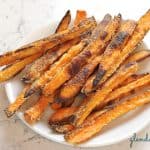 Sweet Potato Fries
---
Author:

Total Time:

45 min­utes

Yield:

4

-

6

serv­ings

1

x
---
1 1/4

—

1 1/2

lbs sweet pota­toes, peeled and cut into 1/4‑inch thick fries

3 Table­spoons

arrow­root starch (can sub­sti­tute corn starch, pota­to starch or tapi­o­ca flour)

1/4

cup

avo­ca­do oil (or oil of your choice)

2 tea­spoons

salt
---
Instructions
Move both oven racks, one under the oth­er, to the cen­ter of the oven. Pre­heat oven to 425°. (If you have con­vec­tion in your oven, it works to use that, too.)
Cov­er two sheet-pans with parch­ment paper. (You could use foil or even just the bare tray. Cov­er­ing it just makes clean up so easy.)
Peel sweet pota­toes and cut into fries that are about 1/4‑inch thick. I find that it's eas­i­est to cut the sweet pota­to in half, length­wise. (If the pota­to is par­tic­u­lar­ly long, you could cut it in half width-wise, too, to make it eas­i­er to work with.) Work­ing with one half at a time, place it flat side down on the cut­ting board. Use a sharp chef's knife to cut that half into 1/4‑inch strips. Now you can take your "planks" and split them down the mid­dle (or even in thirds, if it's a large sweet pota­to) to get, rough­ly 1/4‑inch thick fries. This is the part of the process that takes the longest, but with a lit­tle prac­tice, you'll even­tu­al­ly be able to com­plete it in 10 min­utes or less.
Put the cut fries into a gal­lon zip-top bag.
Add the arrow­root pow­der and salt. (Use the starch you have on hand in your pantry, i.e. corn­starch, pota­to starch, or tapi­o­ca pow­der. *SEE NOTE)
Close the bag and shake, vigorously,
Open the bag and add the oil.
Close bag and shake vigorously.
Arrange the fries across the two pre­pared cook­ie sheets, in sin­gle lay­ers. Fries should not be stacked on top of each other.
Roast in pre­heat­ed oven for 15 minutes.
Remove trays from oven and flip the fries. Return to the oven, rotat­ing each tray to the oppo­site rack that it was on previously.
Con­tin­ue roast­ing for 10–15 min­utes, until your fries are crisp. (Fries will get even crisper as they cool.)
Remove from oven and taste one. Add addi­tion­al salt, if needed.
Serve.
Notes
*NOTE
Pota­to Starch and Pota­to Flour are com­plete­ly dif­fer­ent prod­ucts. They CANNOT be inter­changed. Only pota­to starch will work in this recipe.
Tapi­o­ca Starch is sold labeled as starch or flour. Both are the same thing.
Arrow­root Pow­der is sold labeled as pow­der, starch or flour. All three are the same thing.
I have only made this recipe with arrow­root starch, because it is com­mon­ly on my pantry shelf. I would not hes­i­tate to try any of the oth­er sug­gest­ed starch­es, because I have cooked with all of them and find them to be fair­ly inter­change­able, as coat­ings. How­ev­er, the results I achieved above were reached using arrow­root powder.
Prep Time:

15 min­utes

Cook Time:

30

Cat­e­go­ry:

Side Dish, Snack, Appetizer

Cui­sine:

Amer­i­can
*Affiliate Link
How to Make Sweet Potato Fries
1) Peel the sweet pota­toes. Cut them into 1/4‑inch thick fries. You're work­ing with a round object and cut­ting it into rec­tan­gu­lar shapes, so cut your­self the nec­es­sary slack to rec­og­nize they won't be iden­ti­cal­ly shaped. While it's nev­er going to be per­fect, it IS impor­tant to try and keep the sweet pota­to fries rel­a­tive­ly uni­form in thick­ness, so they cook evenly.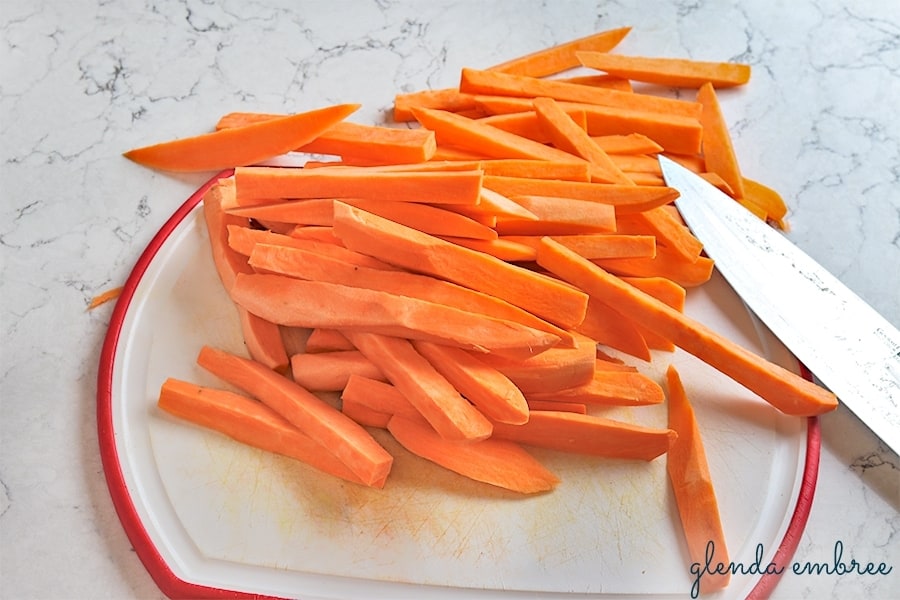 2) Place the cut fries into a gal­lon zip-top bag. Add the arrow­root pow­der and salt to the bag. Shake vig­or­ous­ly until every fry is coat­ed with the starch.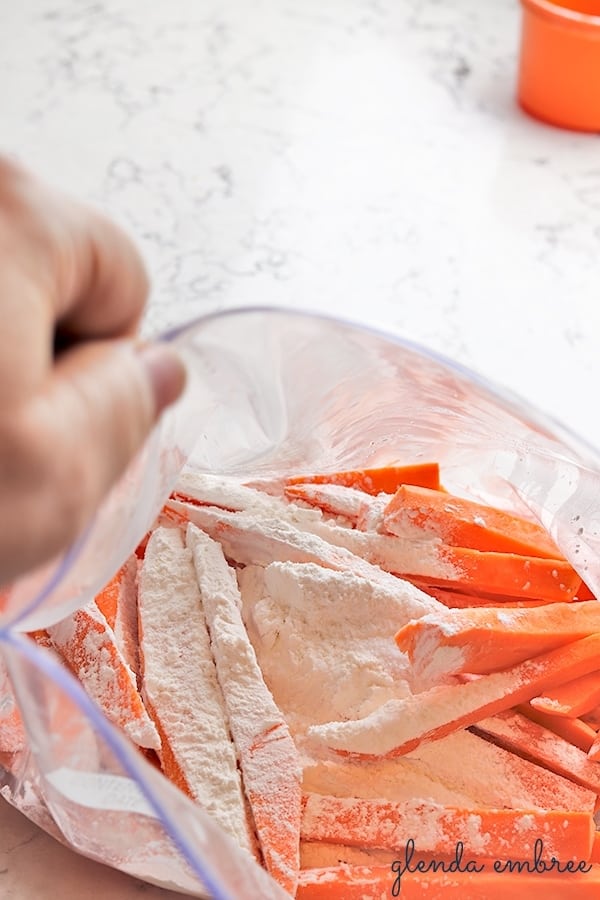 Once the arrow­root has coat­ed every fry, open the bag and add the oil you've cho­sen. I use avo­ca­do oil, since it is neu­tral in fla­vor, has great nutri­tion­al val­ue and has one of the high­est smoke points. Pour it in, close the bag and shake, again.
When all the fries are coat­ed with oil, open the bag and begin dis­trib­ut­ing the sweet pota­to fries between your two pre­pared *cook­ie sheets/baking trays.
*Affiliate Link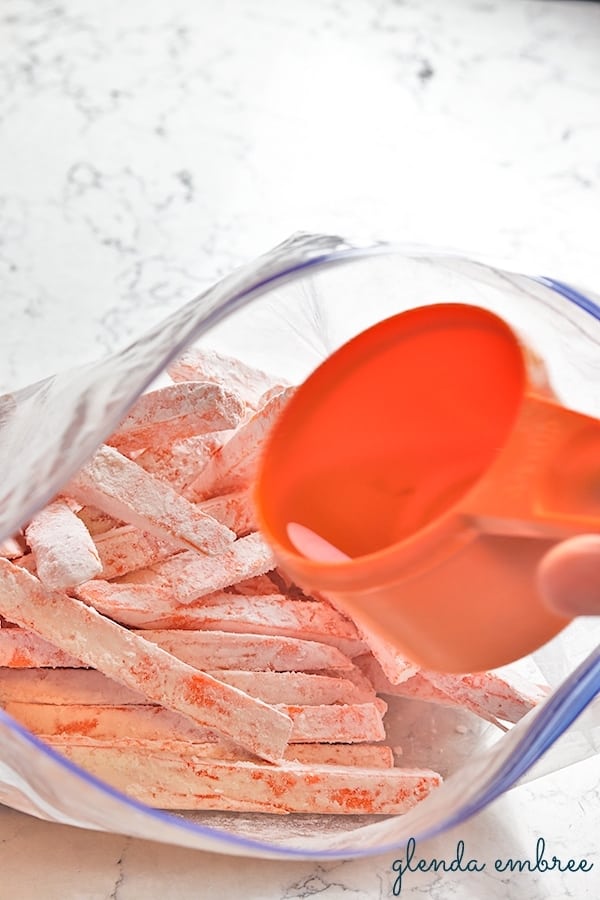 Ready for the Oven
I like to watch and be sure the fries are in a sin­gle lay­er (none stacked on top of anoth­er) and there is even a lit­tle space between each of them. Try not to have any touching.
Dis­trib­ute the fries across the bak­ing sheets, place both trays in the pre-heat­ed oven, one on each rack. Set the timer for 15 minutes.
At the end of 15 min­utes remove both trays. Flip the fries over (this is only nec­es­sary once). Return the cook­ie sheets to the oven, plac­ing each one on the oppo­site rack that it began on. Set the timer for 10 more min­utes. At the end of 10 min­utes, check your fries. If you can hold one with­out it being flop­py and limp, they are done. You can go as much as anoth­er 5 min­utes, if needed.
Remove the sweet pota­to fries from the oven and taste to see if they need addi­tion­al salt. Salt them if nec­es­sary. Serve as a snack or a side dish. I love these fries dipped in my Cashew Que­so, but feel free to serve them with your favorite condiments.
Enjoy!