Some days you just need a break. You need din­ner to be tasty for your fam­i­ly and on the table, with­out cre­at­ing a lot of stress and dish­es, for you. I get you.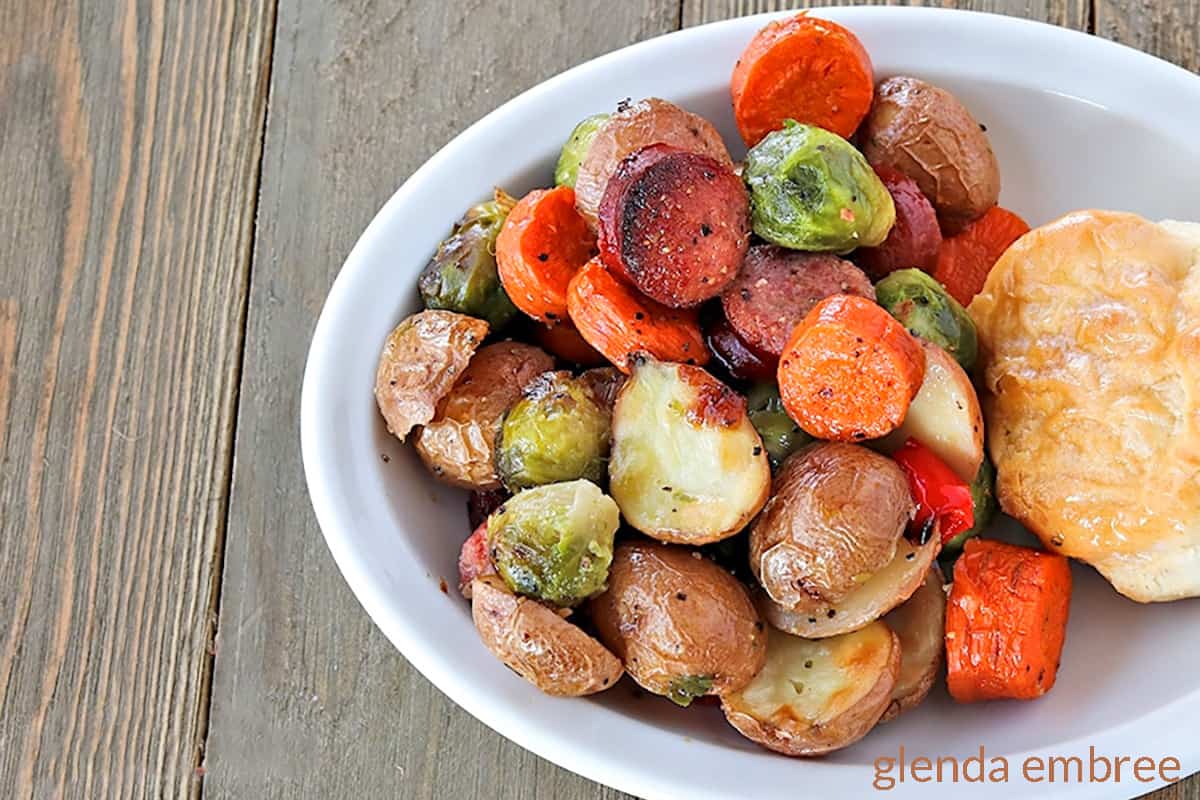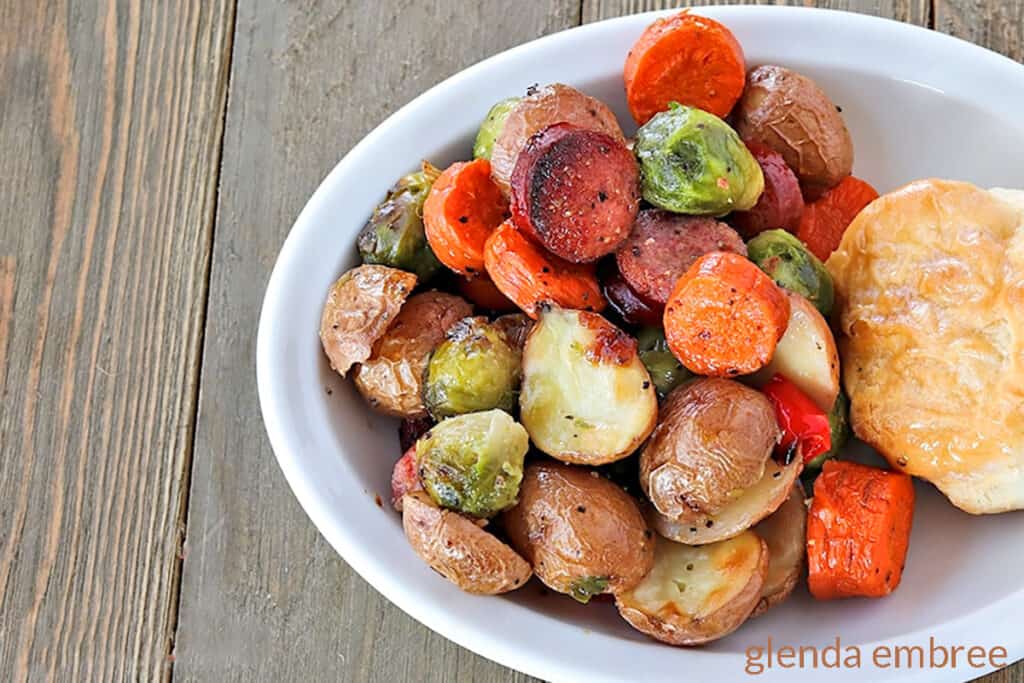 When you've had a busy day and 5:00 rolls around, some­times the weari­ness can be over­whelm­ing. You walk through the door and you're bom­bard­ed with respon­si­bil­i­ties, requests and even more to do. Din­ner is the last thing you want to think about.
Sheet Pan Sausage and Roast­ed Veg­gies is my solu­tion in that moment. When I just. can't. even. This is the din­ner I make for my fam­i­ly. Prep time is min­i­mal and oven time is 30–40 min­utes, depend­ing on the veg­eta­bles you choose.
And, if you love this scrump­tious recipe, be sure to check out my roast­ed Green Beans and Pota­toes recipe, too.
Meal Prep Potential
If you're a great meal plan­ner and get every­thing planned for your week's meals, then go buy the gro­ceries, and come home to prep things ahead … I want to be you. lol
I've done it, on occa­sion, and it's ALWAYS amaz­ing. I need to be con­sis­tent. Any­way, if that's the way you do things, you're even fur­ther ahead with this meal.
Pre-chop­ping the veg­gies and sausage, (the night before or last week­end), drop­ping them in a zip-top bag with a lit­tle oil and salt and pep­per, means the only thing for you to do at 5:00 is turn on the oven, pour that bag onto a sheet pan and pop it in the oven.
And you, my friend, are a rock star! Again, I aspire to be you. My life is so much eas­i­er when I am that con­sis­tent­ly organized.
The Ingredients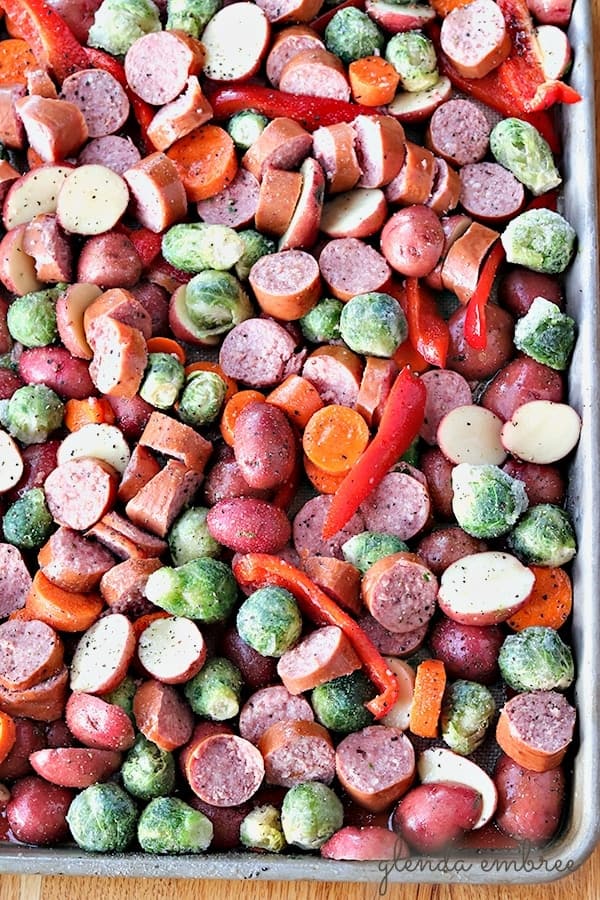 When mak­ing Sheet Pan Sausage and Roast­ed Veg­gies, I usu­al­ly buy a pound or two of Beef Smoked Sausage. It comes in rings over near the hot­dogs, at my market.
Kiel­basa, Ital­ian Sausage, even brats would work, too. They could be beef or pork or chick­en– spicy or mild. Choose the ones that taste fab­u­lous to your fam­i­ly and then always keep one stashed in your freezer.
On one of those hair-pulling, chaot­ic week­nights when you need some­thing fast, it's easy to slice sausages, even frozen. If they give you trou­ble, one or two min­utes in the microwave will have you slic­ing right through them. It's one of those items I always like to have on hand.
Switch up the veg­gies and use your favorites. Clean up what's already in your fridge or freezer.
We have used baby red or yel­low pota­toes, sweet pota­toes, but­ter­nut squash, broc­coli, cau­li­flower, brus­sels sprouts, aspara­gus, fresh green beans or zuc­chi­ni. I've even roast­ed beets on one side of the *sheet tray.
And we mix and match them to fit what we have on hand, at the time. It's a dif­fer­ent deli­cious meal almost every time you make it. Give Sheet Pan Sausage and Roast­ed Veg­gies a try.
How to Serve Sheet Pan Sausage and Roasted Veggies
This tray full of pro­tein and deli­cious­ly roast­ed veg­eta­bles is a meal all on it's own, but we often serve it with bis­cuits or corn­bread. Even the con­trast of a crisp, cold, green sal­ad is a deli­cious complement.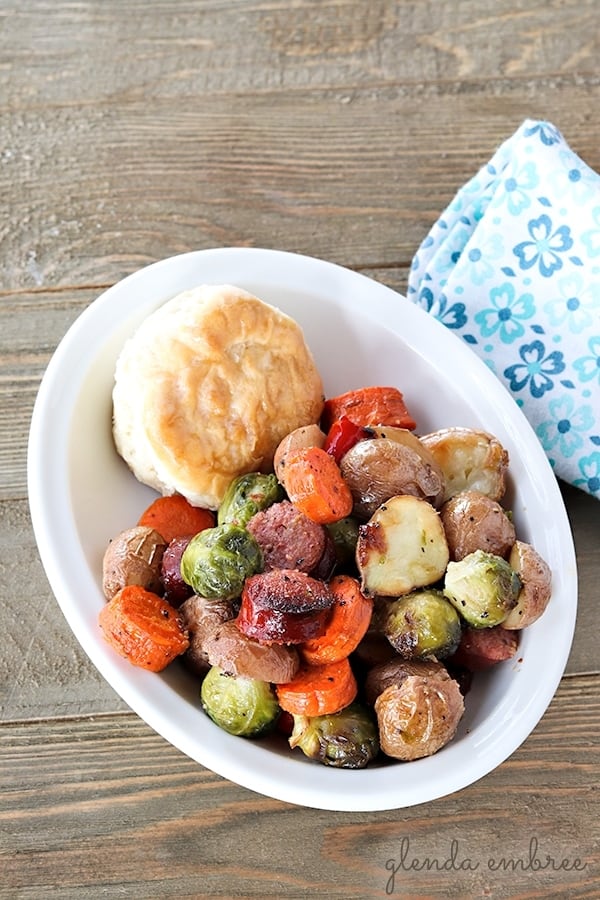 This meal is fla­vor­ful, loaded with vit­a­mins and min­er­als and easy to make. It has dozens of deli­cious vari­a­tion pos­si­bil­i­ties and you can prep it in min­utes! The clean-up is a breeze, since every­thing is done on one pre-lined pan. What's not to love?
Enjoy a deli­cious meal with your fam­i­ly, my friend. Then kick your shoes off and have a lit­tle "me time". You deserve it!
Print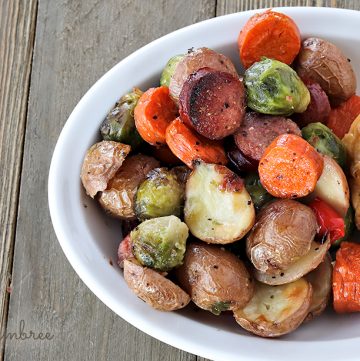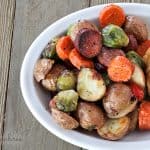 Sheet Pan Sausage and Roasted Veggies
---
Author:

Total Time:

40 min­utes

Yield:

6

serv­ings

1

x
Description
Fla­vor­ful and sim­ple din­ner to get a tasty meal on the table in 30 min­utes. Roast­ing brings out the best fla­vors in all the ingredients.
---
1 — 2 lbs Beef Smoked Sausage (or your fam­i­ly's favorite sausages)
3 lbs veg­gies of your choice, chopped and sliced (*See Notes.)
2 Table­spoons avo­ca­do oil
salt and pep­per, to taste
---
Instructions
Slice the sausage into rounds about 1/2 inch thick.
Chop or slice the veg­gies of your choice. (*See Notes.)
Line a *sheet pan with parch­ment paper, foil or a sil­i­cone mat.
Toss the sausage and chopped veg­gies onto the bak­ing sheet.
Driz­zle with oil and toss (with your hands) to coat every­thing, evenly.
Salt and pep­per to taste.
Bake at 400° for about 30 min­utes or until pota­toes are fork-tender.
Serve.
Notes
I have suc­cess­ful­ly used pota­toes, sweet pota­toes, but­ter­nut squash, zuc­chi­ni, brus­sels sprouts, cab­bage, cau­li­flower, broc­coli, onions, fresh green beans, corn on the cob, aspara­gus, yel­low squash, car­rots and beets, in this recipe. All of them are deli­cious and there are dozens of dif­fer­ent com­bi­na­tions that can be made.
Pota­toes, beets and but­ter­nut squash tend to take the longest to cook. Cut them into small­er pieces or start them 15 min­utes before every­thing else. I just cut them into small chunks.
Zuc­chi­ni, bell pep­pers and aspara­gus cook quick­ly, so I typ­i­cal­ly add them dur­ing the last 5 min­utes of cook­ing. Toss them with a lit­tle oil and salt and pep­per before adding them to the sheet tray.
Beets are scrump­tious roast­ed like this. I put them at one side of the sheet tray, by them­selves, to pre­vent heir gor­geous col­or from bleed­ing into the oth­er veggies.
Prep Time:

10

Cook Time:

30

Cat­e­go­ry:

Main Dish

Method:

Bak­ing

Cui­sine:

Amer­i­can
More of My Favorite Sausage Recipes
Home­made Beef Sum­mer Sausage