Why Make Your Own Sausage?
My Home­made Sausage recipes are so easy to make and typ­i­cal­ly use ingre­di­ents you already have in your spice cupboard.
You'll learn to make both break­fast sausage and Ital­ian sausage in this post.
The ben­e­fit of mak­ing it on your own is the same as any home­made recipe, I think. You con­trol the ingre­di­ents. Not to men­tion, it's 1/3 to 1/2 less expen­sive, depend­ing on the meat you choose. Plus, ummmm…delicious!
What Meat Should I Use for Making Sausage?
Home­made Sausage recipes can be made with beef, pork, chick­en, turkey or even lamb. You can use all one meat or a blend of two or more. I typ­i­cal­ly opt for pork and chick­en, since it's so economical.
I can get ground pork for about $2.49 per pound. And I've been grind­ing my own chick­en, at home, with the food proces­sor. That means it's only $1.99 per pound. You won't find that price in the gro­cery store!
Two Recipes in One
Today, I'm going to share my recipes for Break­fast Sausage and for Ital­ian Sausage.
The Break­fast Sausage is great as pat­ties, in meat­balls or browned as crumbles.
I like to use the Ital­ian sausage, browned as crum­bles, in things like Zup­pa Toscana, spaghet­ti, baked spaghet­ti or lasagna. It is also great blend­ed into meat­balls. So, pull out that *cast iron skil­let and let's fry up some scrump­tious Home­made Sausage.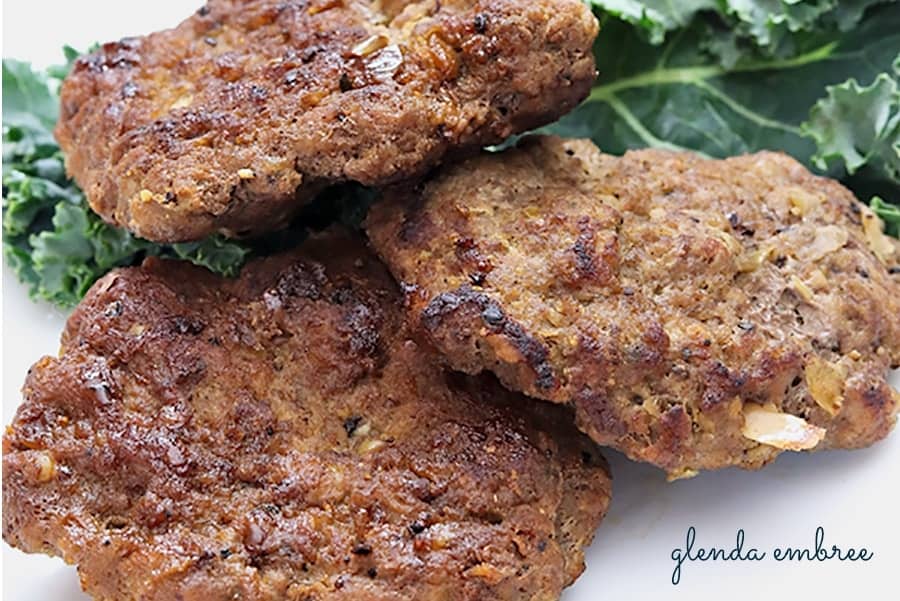 Whichev­er recipe you try, you'll find that home­made sausage is a tremen­dous cost sav­ings, tastes fan­tas­tic and is super easy to put togeth­er in your own kitchen. Give it a try. I think you'll love it!
*Affiliate Link
The Ingredients
I use apple, in both recipes, for a cou­ple of dif­fer­ent rea­sons. First, it's next to impos­si­ble to find com­mer­cial sausage with­out refined sug­ar or corn syrup added. I want­ed my recipe to have the lit­tle hint of sweet­ness from a more healthy source. Sec­ond­ly, the meat I use is lean. The apple adds a bit of mois­ture and ten­der­ness. You will nev­er real­ly taste the apple. Because it's grat­ed, it will just about melt away into your sausage, leav­ing that love­ly touch of sweet.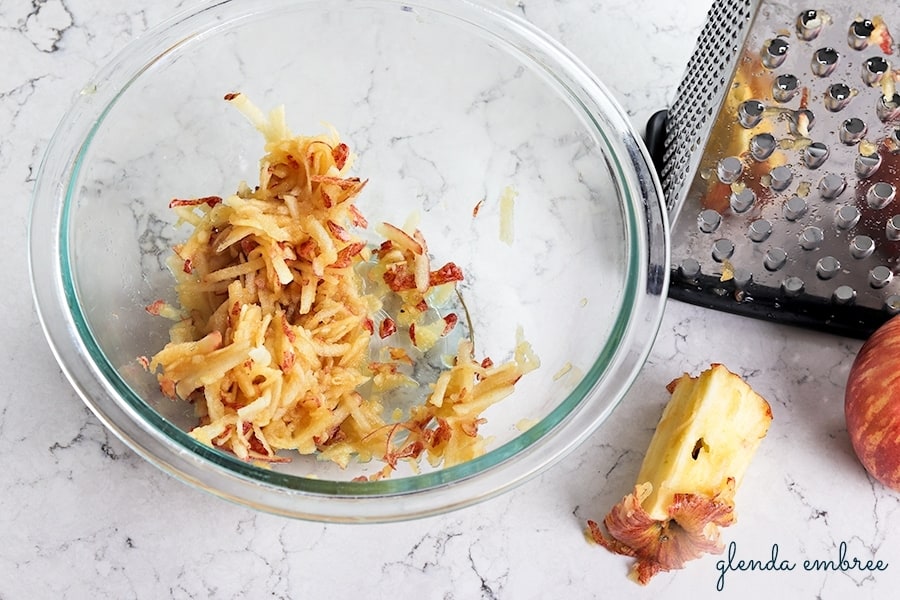 The meat I use is pret­ty lean, regard­less of the type I have on hand. I buy lean ground beef or turkey and I usu­al­ly grind chick­en breasts or pork loin, myself. That keeps those vari­eties very lean, too. You can def­i­nite­ly make your sausage with one type of meat, but my per­son­al pref­er­ence is a com­bi­na­tion of at least two. I cre­at­ed this recipe to use only 1 pound of meat, so you could use the mul­ti­pli­er in the recipe card to make a larg­er batch, if you want some left to freeze. Mak­ing a dou­ble recipe makes it sim­ple to use two dif­fer­ent meats in your home­made sausage.
How to Make Homemade Sausage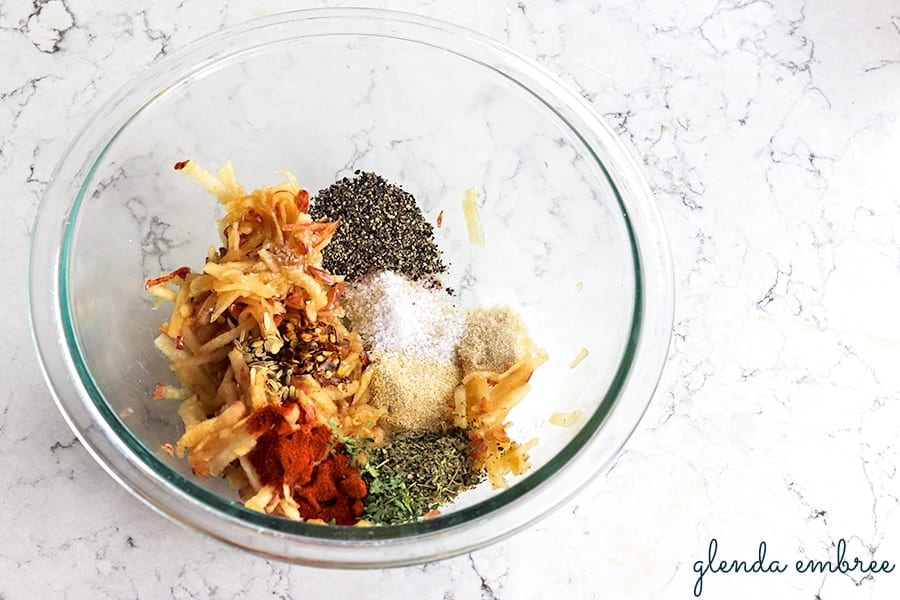 It's so sim­ple. Seri­ous­ly, it will take longer to write these instruc­tions, than it will for you to make it.
Start by grat­ing the apple into a mix­ing bowl.
Add all the oth­er ingre­di­ents, except the meat.
Stir the apple and sea­son­ings togeth­er until they are even­ly distributed.
Next, add the meat. You can try mix­ing this with a wood­en spoon or a fork, but I find that the sim­plest way to com­bine every­thing is to just stick my hands in and mix it. You want all the ingre­di­ents dis­trib­uted even­ly through­out the meat, so spend a minute or two on it.
When every­thing is com­bined, you're ready to cook. Pre­pare it as need­ed for the dish you're making.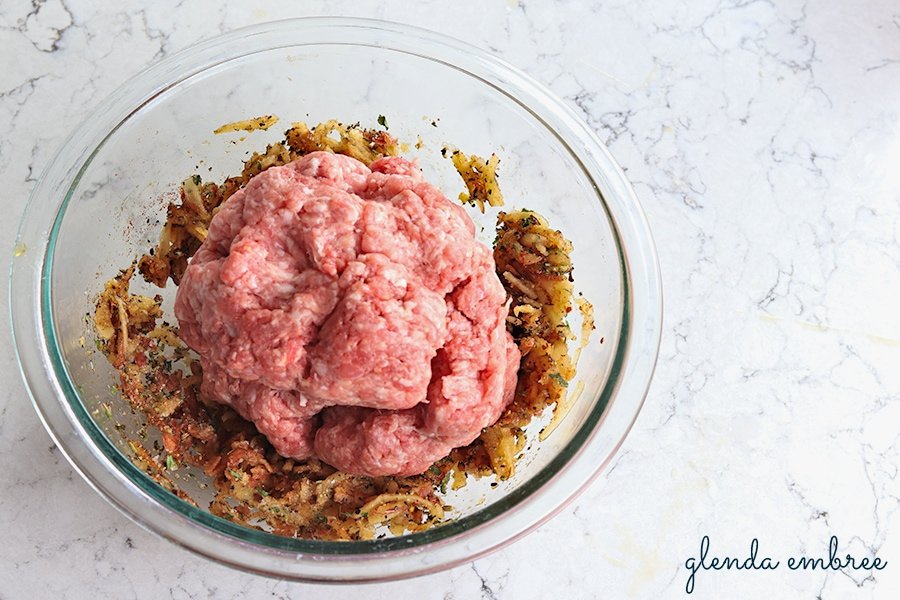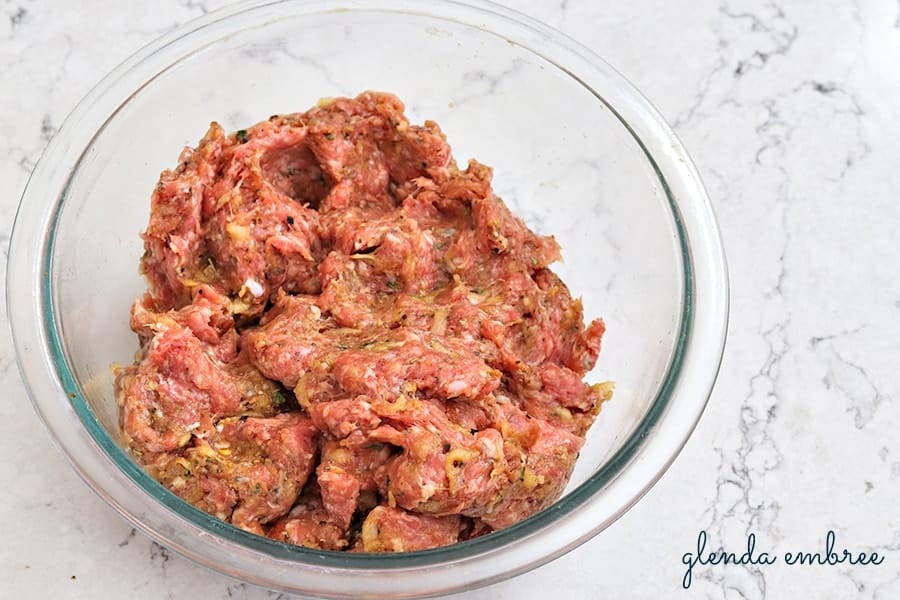 The Ital­ian sausage almost always goes into crum­bles at our house. It's scrump­tious in my Zup­pa Toscana recipe, (which hap­pens to also be Whole30 com­pli­ant.) It's also great mixed with ground beef in lasagna, baked spaghet­ti or meatballs.
The break­fast sausage can be done as crum­bles, too. Use them in quiche, break­fast bur­ri­tos, scram­bled eggs or egg casse­role. The pat­ties are DEE­l­i­cious as part of your favorite break­fast and they're crazy good in break­fast sand­wich­es, too.
I hope you get a chance to try both recipes! Maybe it's time to have a break­fast for din­ner night! If you do, you should check out these deli­cious Raised Waf­fles over at One Hot Oven. Have a won­der­ful­ly blessed evening!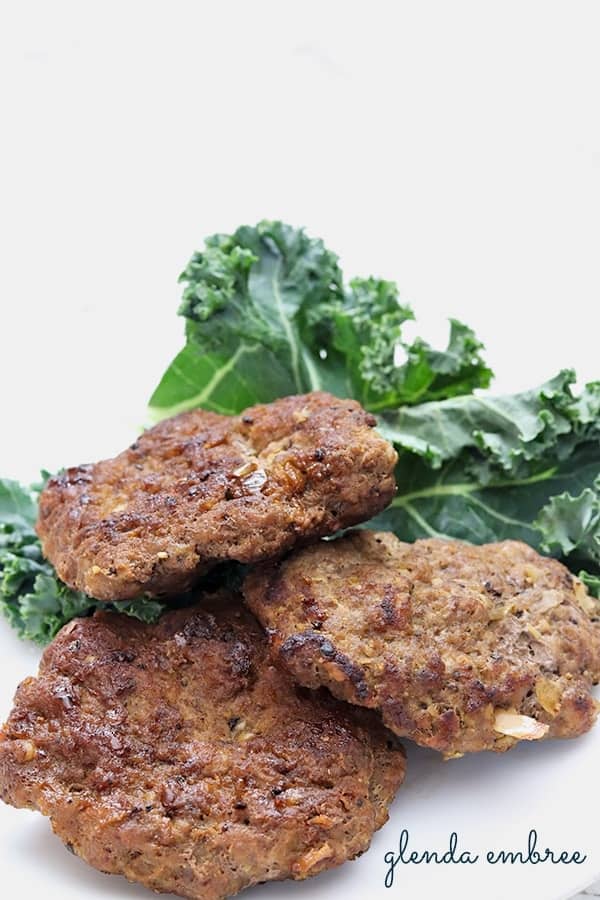 The Recipe
Print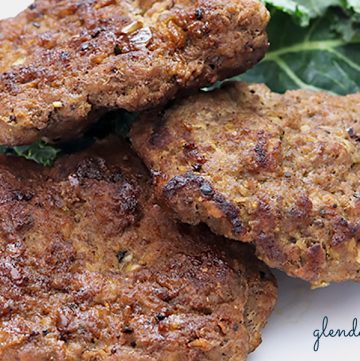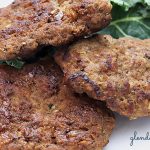 Homemade Sausage
---
Author:

Total Time:

15 min­utes

Yield:

1

pound

1

x
For Break­fast Sausage:
1

pound

lean ground meat (I use pork and/or chick­en, but turkey and beef can be used, too.)

1

medi­um apple, grat­ed (for mois­ture and slight sweetness)

1 tea­spoon

kosher salt

1 tea­spoon

coarse ground black pepper

1 tea­spoon

gar­lic powder

1 tea­spoon

onion powder

1/2 tea­spoon

ground thyme

1/2 tea­spoon

ground sage

1/4 tea­spoon

smoked paprika

1/8 tea­spoon

chipo­tle pow­der (or cayenne)
For Ital­ian Sausage:
1

pound

lean ground meat (I use pork and/or chick­en, but turkey and beef can be used, too.)

1

medi­um apple, grat­ed (for mois­ture and slight sweetness)

1

tea­spoon

dried pars­ley

1

tea­spoon

Ital­ian seasoning

1

tea­spoon

gar­lic powder

1 tea­spoon

salt

1

tea­spoon

coarse ground

black pep­per

1/4

tea­spoon

fen­nel seed

1/2

tea­spoon

papri­ka

1/2 tea­spoon

onion powder

1/2

tea­spoon

red pep­per flakes
---
Instructions
The process is iden­ti­cal for mix­ing up either recipe.
Grate the apple into a mix­ing bowl. I don't peel it.
Add the herbs and spices to the mix­ing bowl and stir until every­thing is thor­ough­ly and even­ly combined.
Add the ground meat to the bowl and work the apple and sea­son­ings into the meat. (It's eas­i­est for me to mix it with my hands. That way I'm sure every­thing is dis­trib­uted evenly.)
The sausage is ready to use, imme­di­ate­ly, but can be refrig­er­at­ed or frozen, too. Mak­ing dou­ble or triple batch­es means you can always have some on hand in the freezer!
Make into pat­ties or crum­bles and brown in a skil­let on the stove.
Notes
Most com­mer­cial sausage has added sug­ar. The apple replaces processed sug­ar in my recipes and helps to keep the sausage from being dry.
Prep Time:

5 min­utes

Cook Time:

10 min­utes

Cat­e­go­ry:

Meat, Main Dish, Pork, Chick­en, Beef, Turkey

Cui­sine:

Amer­i­can
Recipes to Use Homemade Sausage