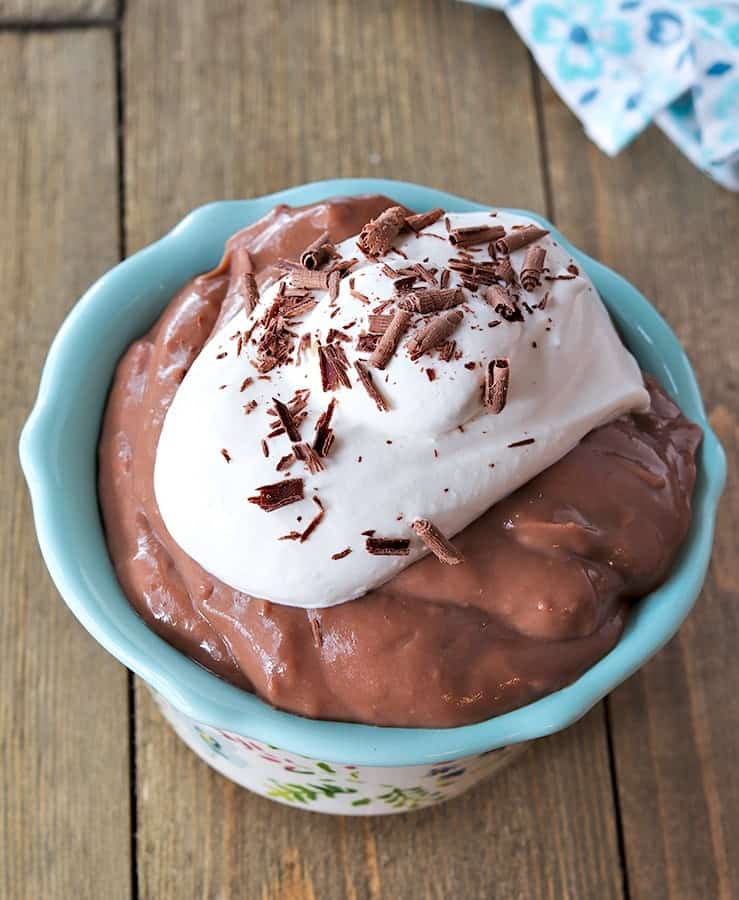 Home­made Pud­ding is one of the most sim­ple desserts I can think of. Home­made Choco­late Pud­ding is also a dessert that young and old enjoy equal­ly. There's just some­thing mag­i­cal about the creamy, dreamy smooth tex­ture of a per­fect­ly choco­latey dessert. Who can resist it? Seriously.
Add a dol­lop of fresh whipped cream, use your veg­etable peel­er to shave a few sprin­kles of choco­late on top and Home­made Choco­late Pud­ding sud­den­ly becomes a spe­cial occa­sion treat. It's SO easy. And, wow, is it delicious!
Ingredients You Need for Homemade Chocolate Pudding
Our first instinct is the famil­iar brown box with pow­der to stir into cold milk, but you won't believe the dif­fer­ence when you make home­made choco­late pud­ding from scratch. Home­made pud­ding is creamy and indul­gent. You con­trol what goes into it and you are also the one who decides just how deeply choco­late you want it to be. Yum!
Grab sug­ar, cocoa pow­der, corn­starch, milk, but­ter and vanil­la. They're all you need, (along with your stir­ring arm and a lit­tle time), to cre­ate a heav­en­ly dessert that will have your whole fam­i­ly clam­or­ing for anoth­er choco­latey bite!

How to Make Homemade Chocolate Pudding
Put sug­ar, cocoa pow­der, corn­starch and salt into a 3‑quart (or larg­er) saucepan. *Whisk them togeth­er. Stir in the milk and begin to heat your pud­ding mix­ture over medi­um heat, stir­ring con­stant­ly. This is the part that takes some time. On my stove top, set to medi­um (which is lev­el 5 out of 10), it was about 20 minutes.
It's impor­tant to stir con­stant­ly dur­ing this process. It's easy to scorch milk and sug­ar, as you bring them to a boil, and stir­ring helps pre­vents that from hap­pen­ing. So keep your whisk mov­ing across the bot­tom of your pan to pre­vent any stick­ing and cre­ate the best home­made pudding.
Once the pud­ding comes to a boil, large bub­bles will begin to rise up around the edges of your pan and when you stir through with a spoon the pud­ding will have thick­ened some­what. It will coat the back of a spoon. And, as you can see in the pic­ture above, as it runs off the spoon the pud­ding does­n't blend imme­di­ate­ly back into a smooth pool, but is thick enough to begin sit­ting atop itself for a moment. It's ready to come off the heat.
When Homemade Chocolate Pudding Has Finished Cooking

As your pud­ding cools, it will thick­en to the creamy con­sis­ten­cy you are famil­iar with. Pour it into a bowl and cov­er it with plas­tic wrap. Push the plas­tic wrap right onto the sur­face of the pud­ding, to pre­vent a "skin" from form­ing over the top, as it cools. Pop it in the fridge and let it cool.
With­in an hour it will prob­a­bly be set to the per­fect creamy thick­ness. It will prob­a­bly still be warm, though, unless you poured it into a shal­low bowl. You can cer­tain­ly eat it right there for a warm, choco­latey treat. We pre­fer ours com­plete­ly cold, so I usu­al­ly wait more like four hours.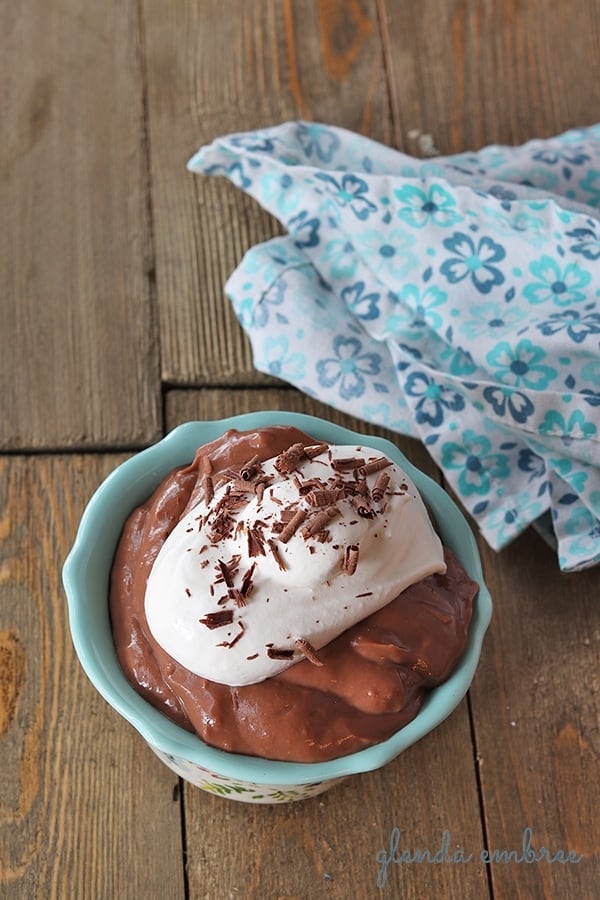 That's it, my friend! Easy, choco­latey deli­cious dessert. Home­made Choco­late Pud­ding could be on your menu once or twice a month with­out any dif­fi­cul­ty. And YOU? You're going to be the famous, favorite chef at your house! Give it a try. You can def­i­nite­ly do it.
Print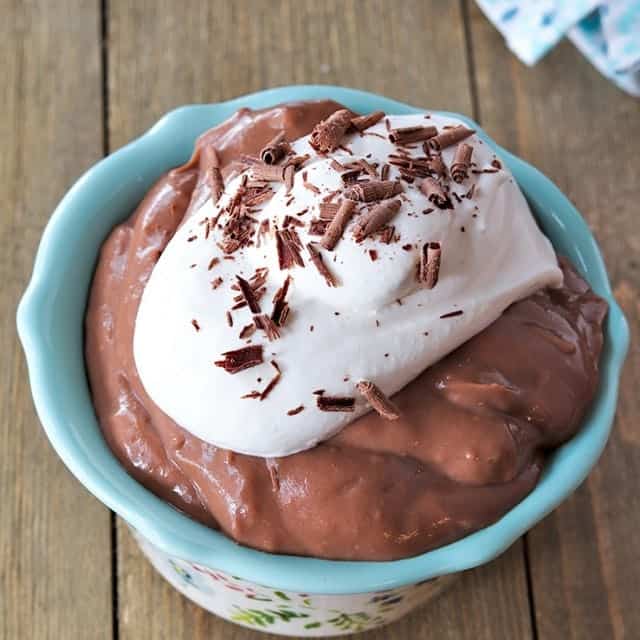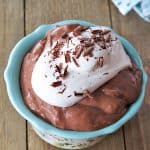 Homemade Chocolate Pudding
---
Author:

Total Time:

25 min­utes

Yield:

12

serv­ings

1

x
Description
Creamy, dreamy, choco­latey and lus­cious. Choco­late pud­ding is a sim­ple dessert that res­onates with young and old. You can freeze this in pop­si­cle molds, too, for yum­my pud­ding pop treats.
---
1 1/2 cup sugar

1/2

cup

cocoa powder

1/2

cup

cornstarch

1/4 tsp

salt

5 1/2

cups

milk

1/4

cup

butter

2 tsp

vanilla
---
Instructions
Whisk all the dry ingre­di­ents togeth­er in a 3‑quart or larg­er *saucepan.
Stir in the milk.
Begin heat­ing the pud­ding mix­ture over medi­um heat, stir­ring con­stant­ly. (Stir­ring con­stant­ly is nec­es­sary to pre­vent scorch­ing as you bring the mix­ture to a boil.)
Bring to a boil and cook, stir­ring con­stant­ly, until mix­ture thick­ens enough to coat the back of a spoon. (This process took about 20 min­utes on my stove top.)
Remove from heat and stir in but­ter and vanilla
Cool slight­ly and then pour into a bowl to fin­ish set­ting up.
Cov­er the pud­ding with plas­tic wrap, push­ing the wrap right down onto the sur­face of the pud­ding. This pre­vents a "skin" from form­ing on top.
Chill in the fridge for at least an hour. To be cold all the way through, I usu­al­ly wait about 4 hours.
Notes
If you like dark­er choco­late fla­vor, add an extra 2 Table­spoons of cocoa pow­der to your mixture.
Prep Time:

5 min

Cook Time:

20 min

Cat­e­go­ry:

Dessert

Cui­sine:

Amer­i­can
Key­words: pud­ding, choco­late, dessert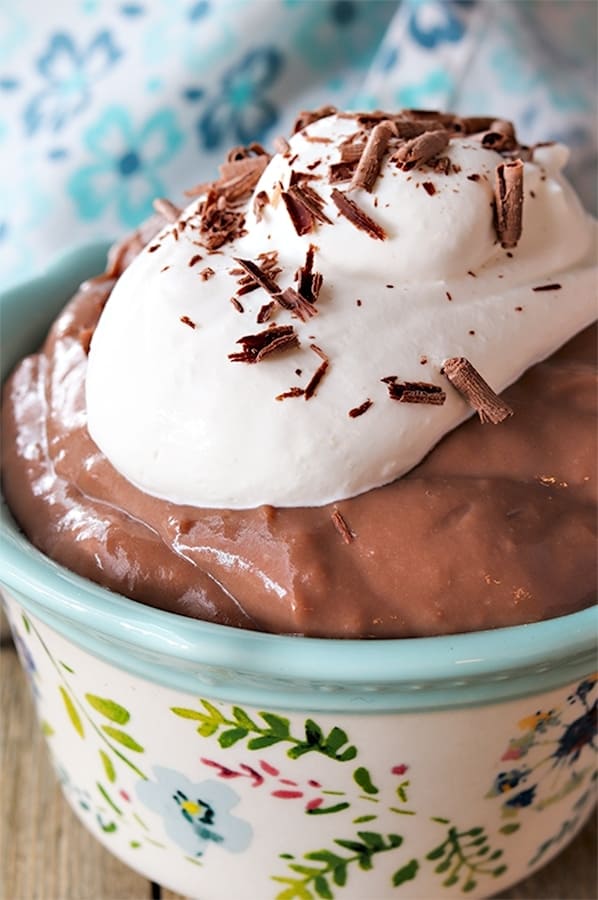 One final shout out to Impe­r­i­al Sug­ar! Thanks so much for the sug­ar and spon­sor­ing the #Choc­to­ber­fest event and our #Choc­to­ber­fest give­away!
Be sure to check out all the oth­er deli­cious #Choc­to­ber­fest recipes post­ed, below! And stop back tomor­row. I have a new recipe for you, every day this week. You won't want to miss a sin­gle choco­latey one!