Deli­cious, fiery and easy to make Jalapeno Pop­per Dip! Yum! This warm, creamy and smoky bacon dip has a crunchy Panko bread crumb top­ping and a jalapeno kick.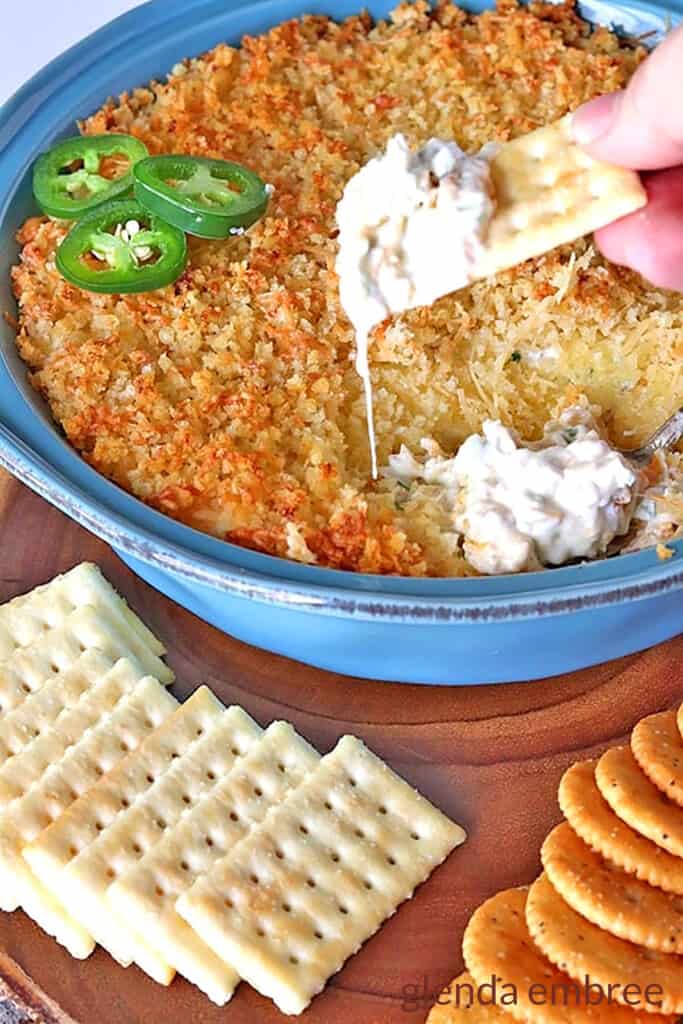 My Jalapeno Pop­per Dip recipe is served hot; and has all the deli­cious fla­vors of stuffed jalapeno pop­pers: crispy bacon, rich cream cheese, Parme­san and Ched­dar cheeses and crunchy Panko mixed with but­ter, all stirred into a lus­cious dip.
It will be one of your most pop­u­lar appe­tiz­ers. Every­one will want the recipe. Jalapeno Pop­per Dip is so easy to put togeth­er (only 10 min­utes of prep) and it can be made ahead of time or just before serving.
The bub­bly, baked, cream cheese base is stud­ded with ched­dar, bacon and jalapeno. A crunchy Panko bread crumbs and Parme­san top­ping adds palate-pleas­ing tex­ture to every bite. Best news? It's hot and on the table in 45 minutes!
Sur­prise every­one at your next cel­e­bra­tion or gath­er­ing with this delec­table treat. This Jalapeno Pop­per Dip is per­fect for snack­ing, for movie night or any occa­sion where peo­ple gath­er for fun and laugh­ter. It's sim­ple to pre­pare and, in our house, one of my most pop­u­lar fall and win­ter recipes!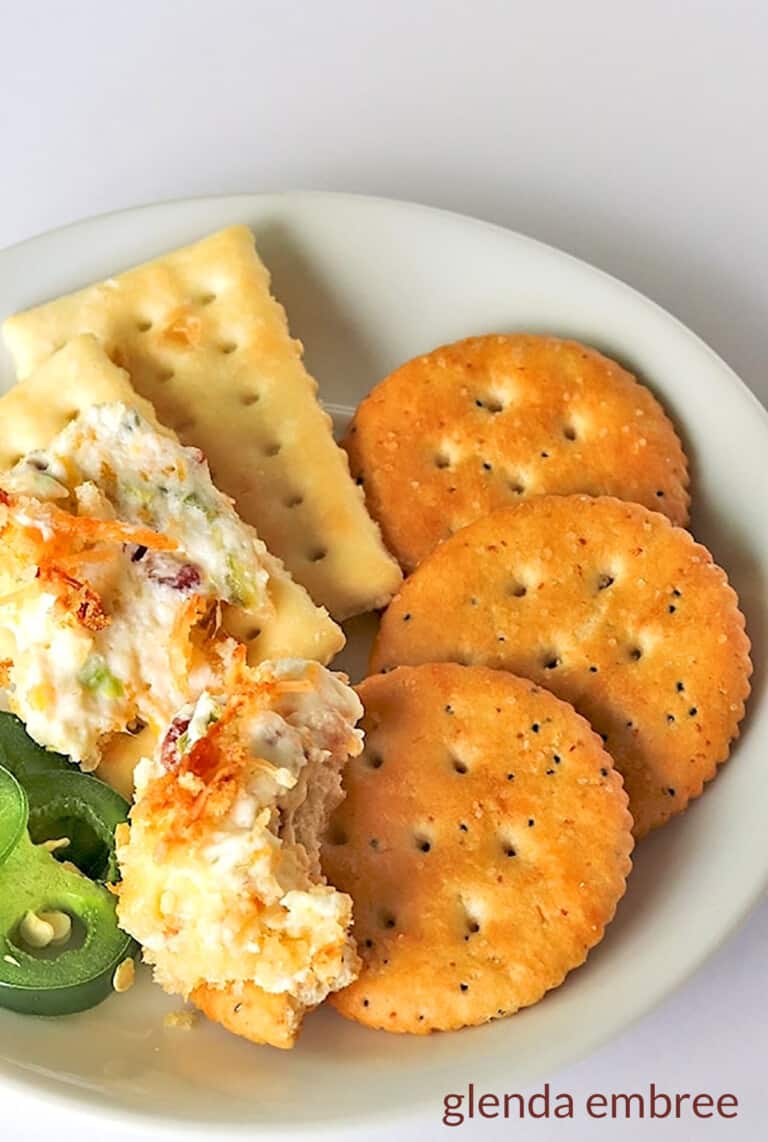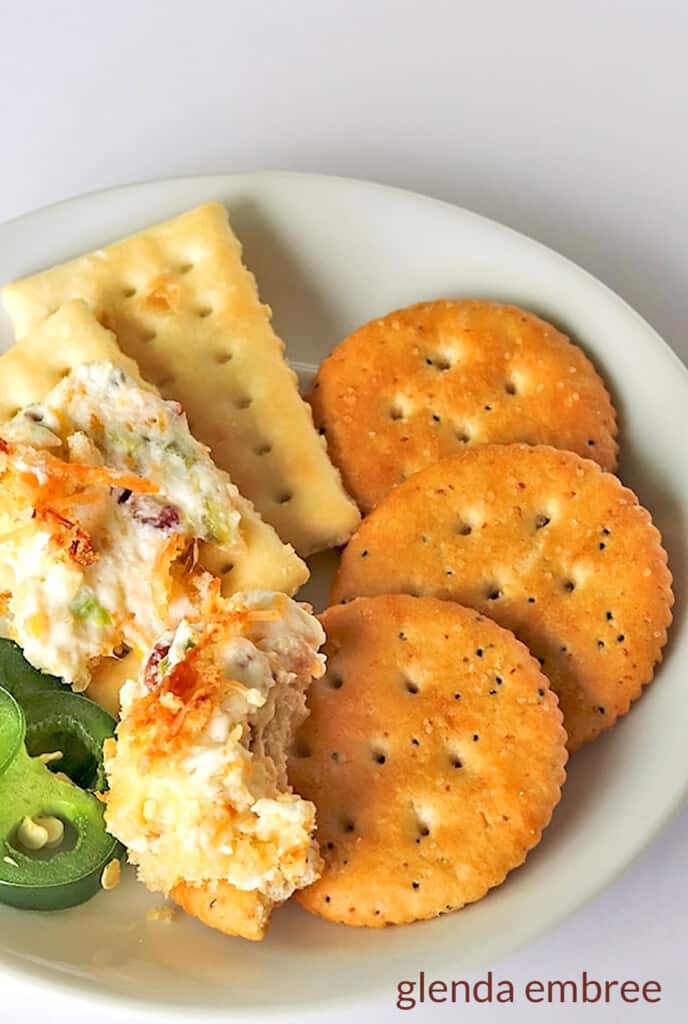 The Ingredients
Cream Cheese, soft­ened
Sour Cream
Sharp Ched­dar Cheese, grat­ed
Parme­san Cheese, grat­ed
Jalapenos, minced with seeds (remove them if you pre­fer milder spice)
Bacon, fried, drained and minced (4–5 strips, thick-cut bacon)
Panko Bread Crumbs
But­ter, melted
My whole fam­i­ly enjoys Jalapeno Pop­per Dip, (even the lit­tles). When it's cold out­side, it deliv­ers heat in two dif­fer­ent ways. The nat­ur­al heat of a baked dip starts the warm-up, and then the grad­u­al­ly ris­ing heat of the fresh jalapenos fin­ish­es the toasty job.
Cream cheese does a good job of tem­per­ing the jalapeno heat. But, this dip still has a deli­cious, spicy kick! My easy Jalapeno Pop­per Dip recipe is a per­fect com­ple­ment and counter-bal­ance to any cold or sweet snacks & appe­tiz­ers on your par­ty menu. Plus, it's incred­i­bly sim­ple to make!
And, if this recipe has your mouth all fired up for tasty jalapeno dish­es, check out my Jalapeno Chick­en Corn Chow­der, too! It will change the way you think about chick­en soup!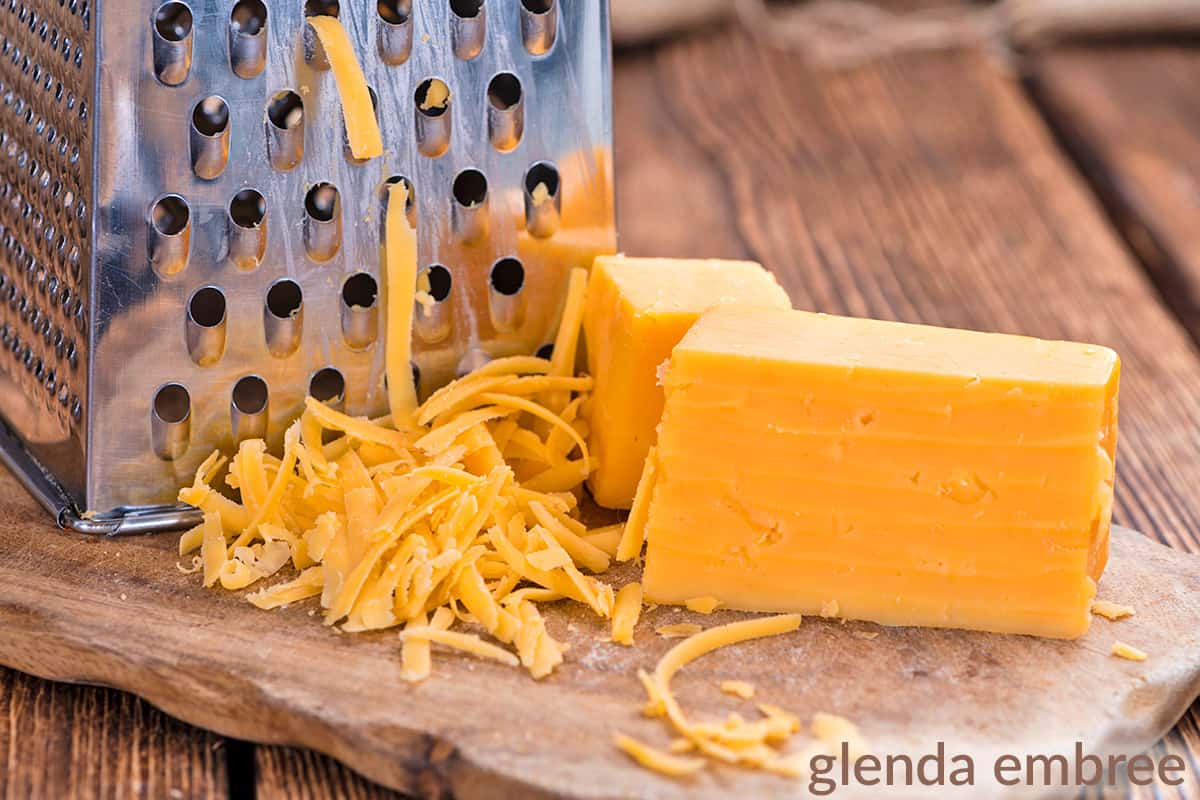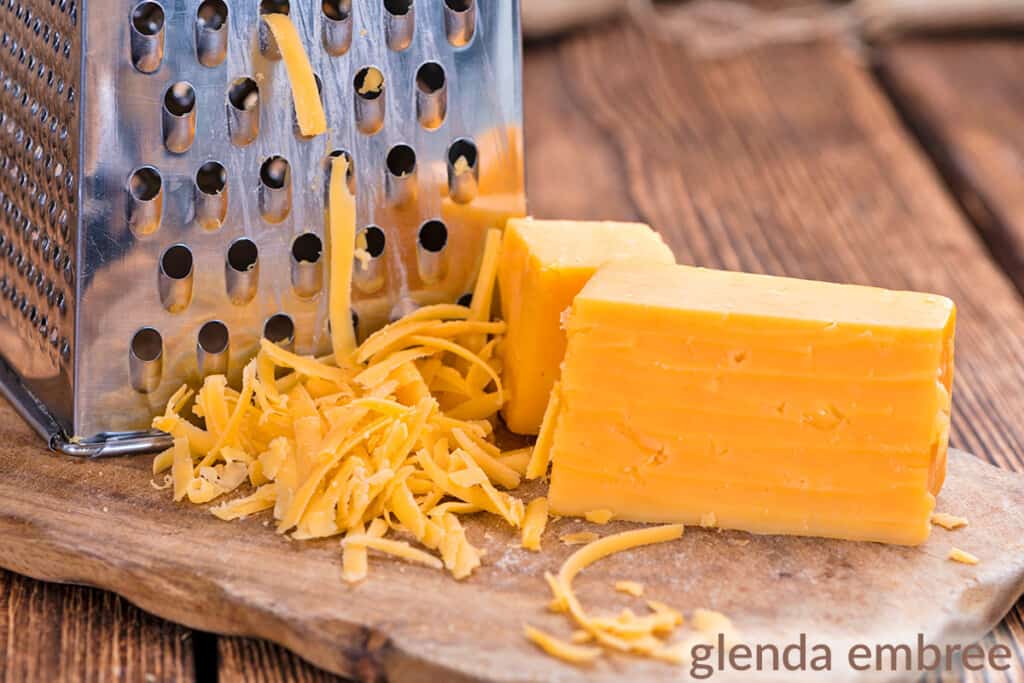 FAQs About Jalapeno Popper Dip
Is it real­ly that impor­tant to grate my own Ched­dar cheese and Parme­san Cheese?
Yes. If you enjoy melty, gooey cheese in your hot dips. Pre-grat­ed cheese is tossed with a coat­ing that keeps it from clump­ing in the bag. It also pre­vents it from melt­ing prop­er­ly. And, that coat­ing dulls the fla­vor of your cheese. Your mind will be blown when you taste the dif­fer­ence between it and your own fresh­ly grat­ed cheese.
How long does Jalapeno Pop­per Dip last in the fridge?
4 days. Cov­er any left­overs tight­ly, push­ing out as much air as pos­si­ble. Refrig­er­ate up to 4 days. Left­overs can be eat­en cold or rewarmed in the microwave or oven.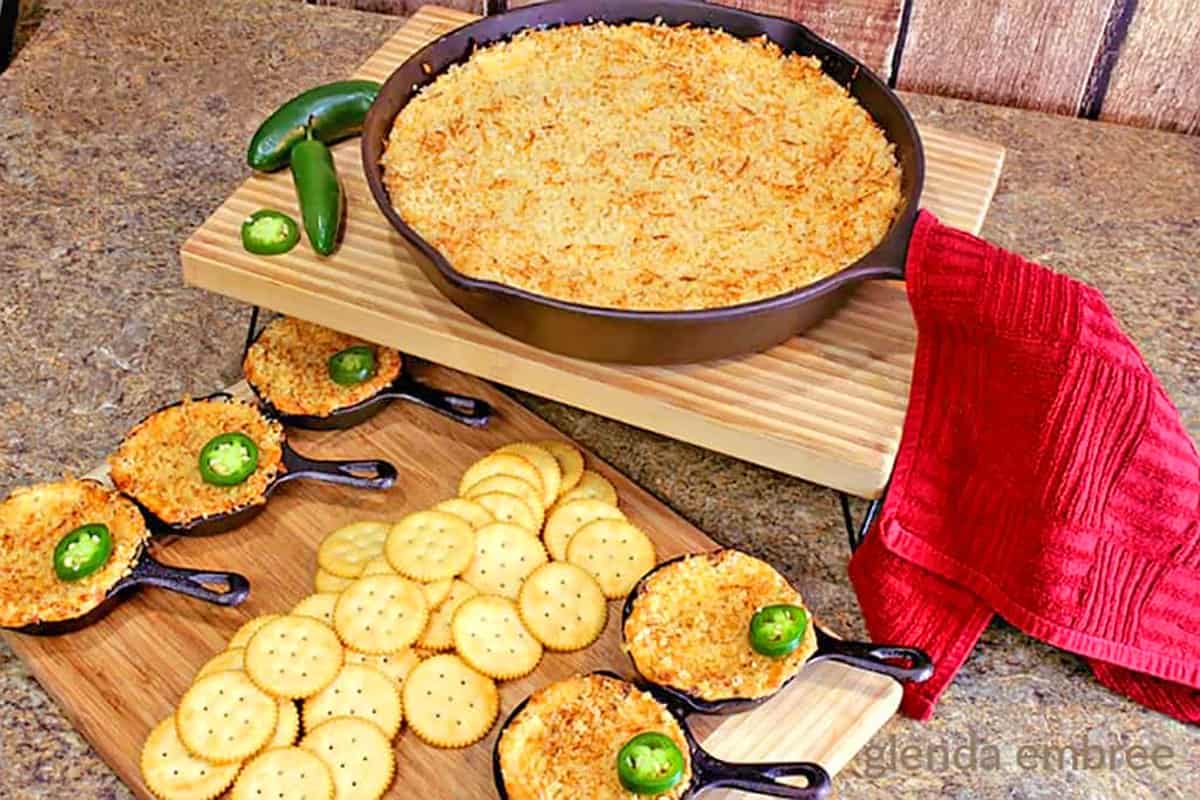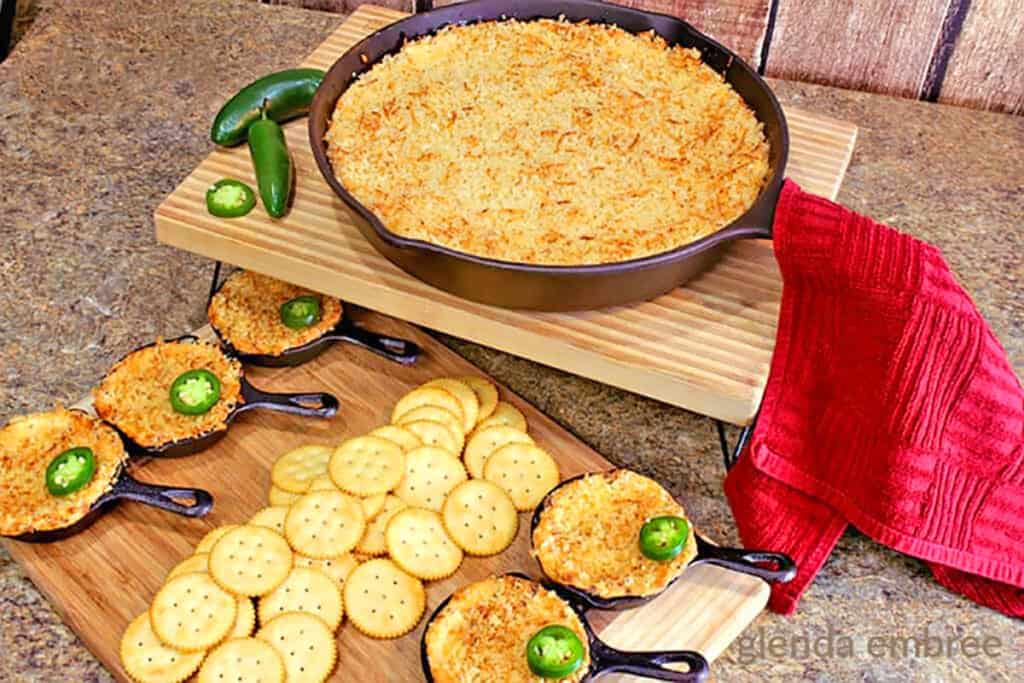 Can I make Jalapeno Pop­per Dip ahead of time?
You can make the dip up to 24 hours ahead of time and then pop it in the oven to bake just before serv­ing. Keep in mind that if the dip is very cold, it will need slight­ly more bak­ing time than the recipe calls for. I rec­om­mend set­ting it out on the counter, 30 min­utes pri­or to bak­ing, to allow it to come to room temperature.
Safe Jalapeno Handling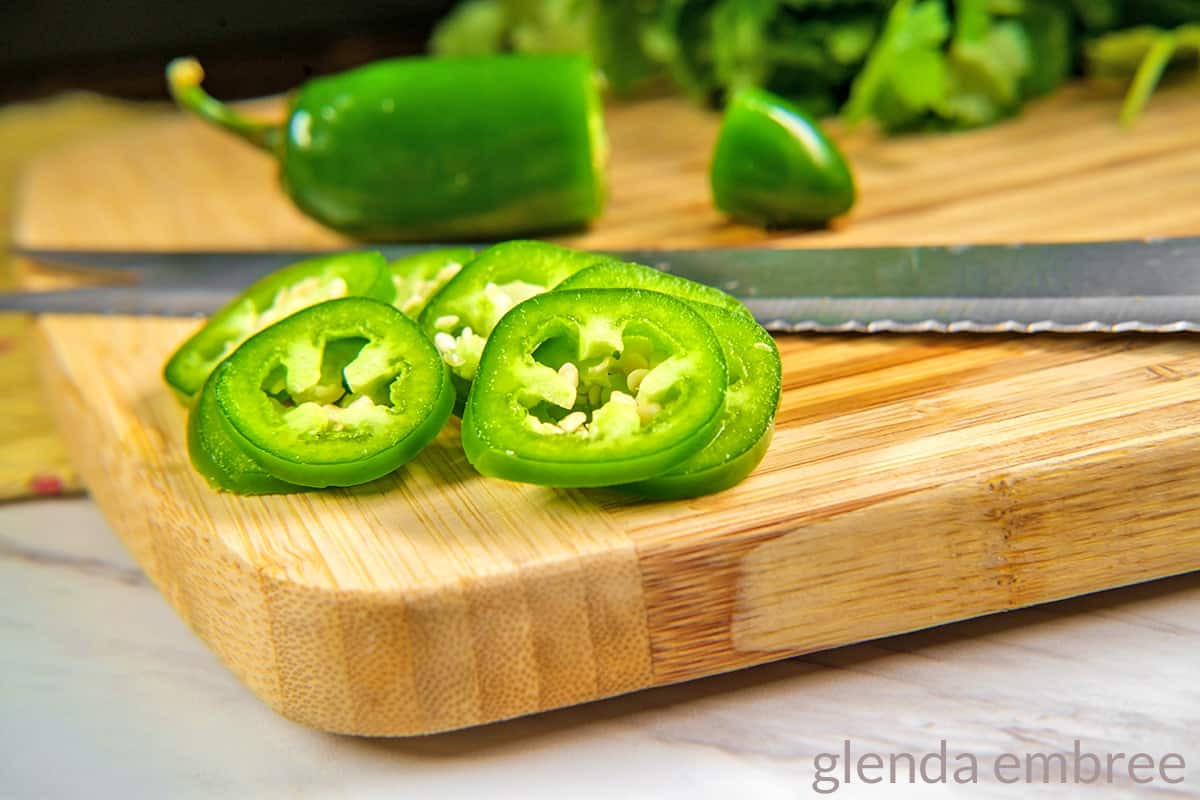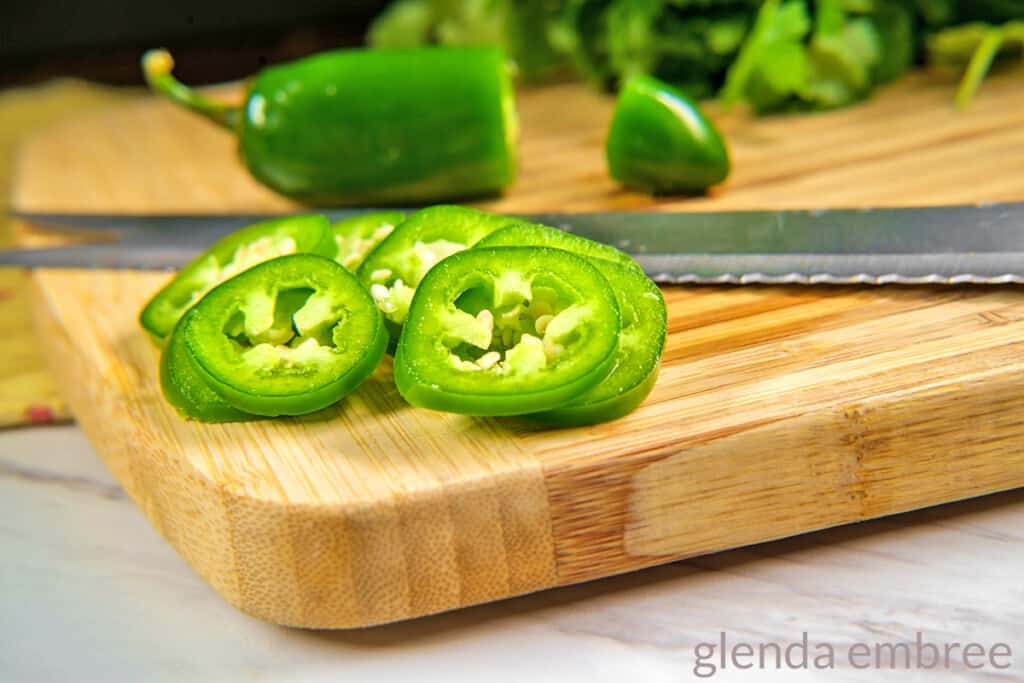 Guys, just a quick note, before get­ting on with the recipe. The oils in the skin of a jalapeno can cause a seri­ous irri­ta­tion to some peo­ple's skin. And, if you've ever had the mis­for­tune of get­ting even a minute amount of that juice in your eye, you under­stand pain.
Please take the nec­es­sary pre­cau­tions when han­dling jalapenos for this jalapeño pop­per dip recipe, or any oth­er. Wear some food-grade plas­tic gloves. Nev­er touch your face or eyes while work­ing with them. Wash your hands, cut­ting board and knives or uten­sils thor­ough­ly after chop­ping them.
Let's Make that Dip!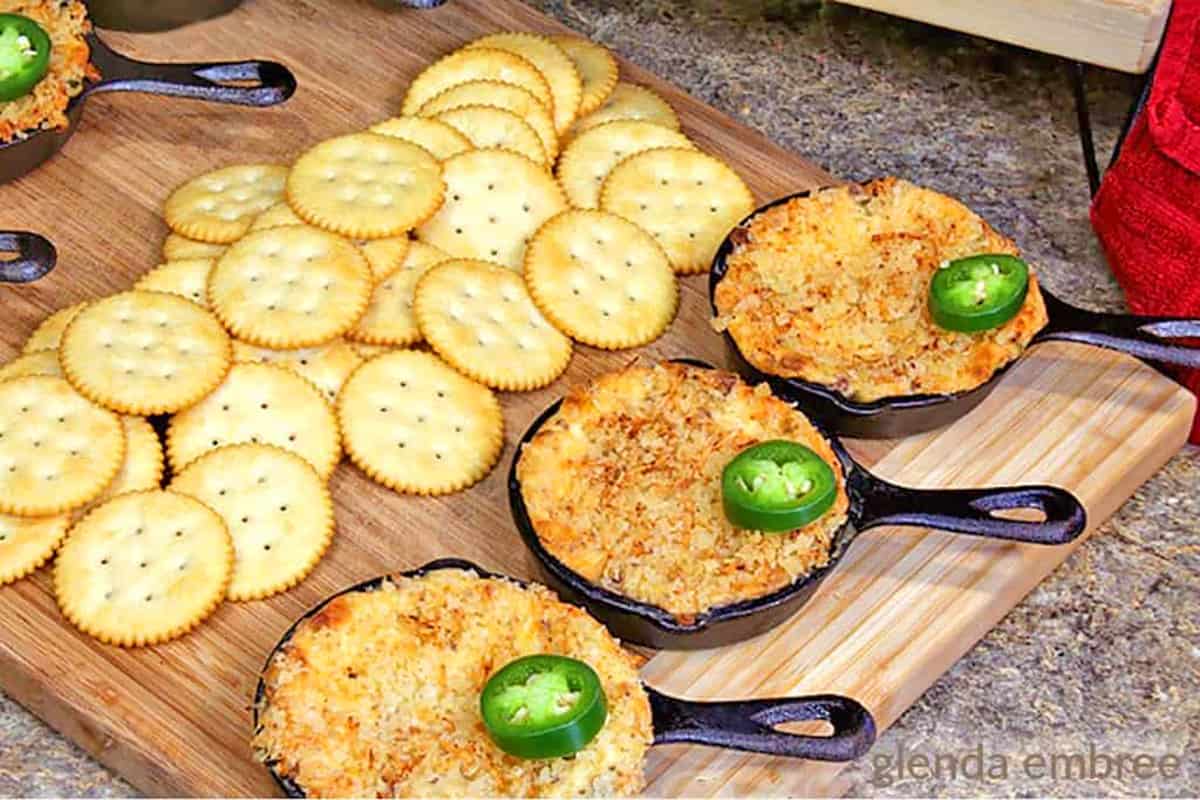 Ok, back to the easy recipe. Jalapeño Pop­per Dip is a quick fix. It's just min­utes to mix and then straight into the oven. I nor­mal­ly bake it in an 8×8 pan, if I'm prepar­ing it for a fam­i­ly movie night or just for snack­ing. But, when we're hav­ing a crowd, I dou­ble the recipe and bake it in my 12″ cast iron skil­let, instead.
Match your bak­ing con­tain­ers to your par­ty theme. If it's a more ele­gant par­ty, then choose a clear or crys­tal bak­ing dish. If you have a Mex­i­can theme, then put it in some bright­ly col­ored bake­ware. You can even go more rus­tic, like me, and bake it right in a cast iron skillet.
How to Make Jalapeno Popper Dip

Blend the cream cheese and sour cream togeth­er, until they're smooth. I use my stand mix­er for this, but you could def­i­nite­ly do it by hand, if you don't have one.
Then, mix in 1/2 cup of Parme­san, bacon bits and minced jalapenos.
Spread the yum­my cream cheese mix­ture into an 8x8 bak­ing dish.
Now, com­bine the panko, last 1/2 cup of Parme­san and melt­ed but­ter. Sprin­kle the crunchy top­ping over the dip in your bak­ing dish.
Bake for about 30 min­utes, until the dip is hot and bub­bly. Pull it out of the oven and it's ready to serve.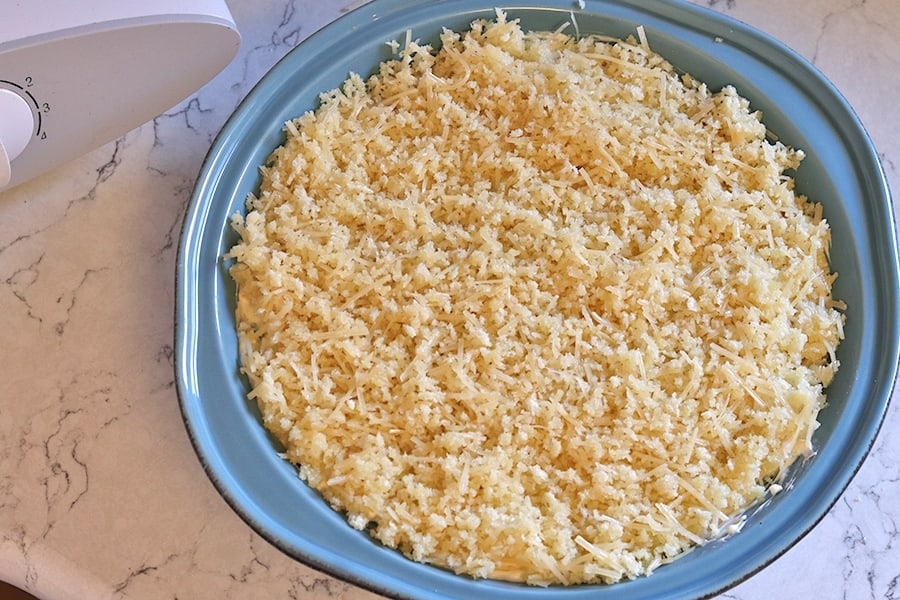 How to Serve Jalapeño Popper Dip
I gar­nished with fresh jalapeno slices, but minced pars­ley or cilantro would also be pret­ty. Get cre­ative and use what you have on hand.
And if you need a gluten-free, low-carb par­ty snack idea that will have guests com­ing back for more try these Keto Pop­corn Cheese Pops. So delicious!
Serve Hot Jalapeno Pop­per Dip with crack­ers, corn chips, bagel chips or tor­tilla chips and all your guests will be com­ing back for sec­onds, not to men­tion, ask­ing for the deli­cious recipe!
The Recipe
Print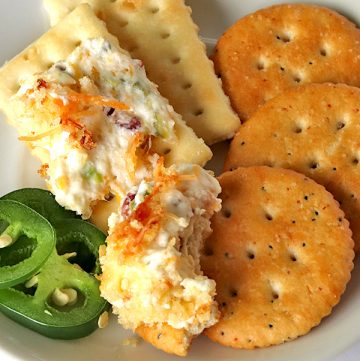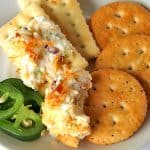 Jalapeno Popper Dip
---
Author:

Total Time:

30 min­utes

Yield:

36

serv­ings

1

x
Description
You'll mem­o­rize this recipe, because it will be a go-to favorite appe­tiz­er for any fall or win­ter gath­er­ing. Sim­ple to throw togeth­er and ready to serve in around 30 min­utes. Plus, the cheesy, creamy fla­vor, with plen­ty of spicy kick, will have every­one clam­or­ing for the recipe! I've even had peo­ple who don't like spicy food flip for this yum­my dip! This recipe is a keeper.
---
2

(8 oz blocks) Cream Cheese, softened

1

cup

Sour Cream

1

cup

Sharp Ched­dar Cheese, grated

1/2

cup

Parme­san Cheese, grated

4

large jalapenos, minced with seeds (remove them if you pre­fer milder spice)

1/2

cup

Bacon, fried, drained and minced (4–5 strips, thick-cut bacon)

1

cup

panko bread crumbs

1/2

cup

Parme­san Cheese, grat­ed (for topping)

1/4

cup

but­ter, melted
---
Instructions
Blend togeth­er the soft­ened cream cheese and sour cream until smooth and creamy.
Add sharp ched­dar, ½ cup Parme­san, minced jalpenos and bacon bits. Stir until well combined.
Spread cream cheese mix­ture into 8x8 bak­ing dish.
Mix melt­ed but­ter, panko, and 2nd ½ cup of Parme­san until well combined.
Spread panko top­ping mix­ture over cream cheese mix­ture in bak­ing dish.
Bake at 350 degrees for 30–35 min­utes. Panko/Parmesan top­ping will be light­ly browned and crispy.
Prep Time:

5 min

Cook Time:

25 min

Cat­e­go­ry:

Appe­tiz­er, Dip

Method:

Bak­ing

Cui­sine:

Amer­i­can
More Recipes with Jalapeno
First of all, Jere, over at One Hot Oven, makes to-die-for Baked Jalapeno Pop­per Rolls. You have to check out that scrump­tious recipe!
And, don't miss one of my favorite soups of all times, Jalapeno Chick­en and Corn Chow­der. It's one of the best soups I make and it will blow your mind!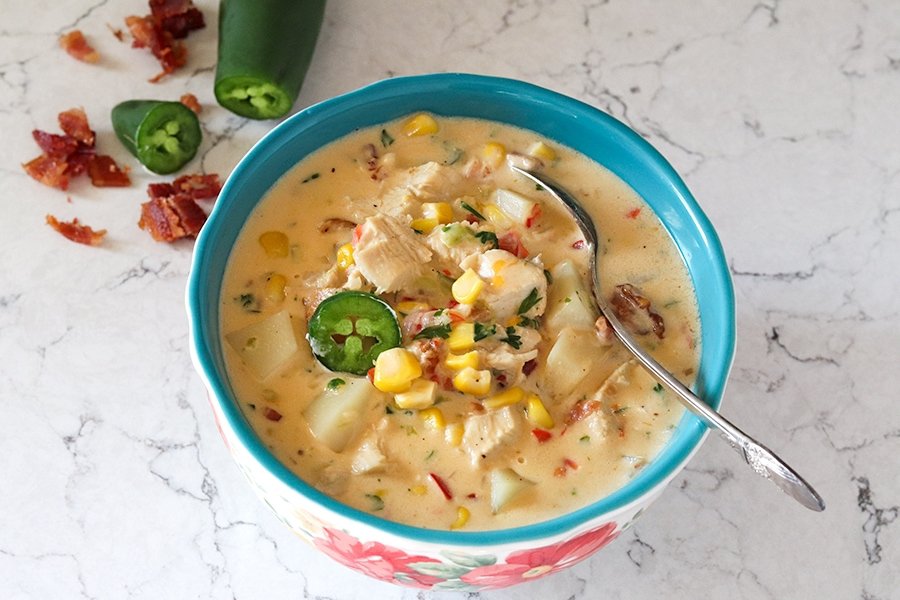 Check out this easy and deli­cious, 2‑ingredient Velvee­ta Que­so Blan­co recipe from Sher­ry, over at From Michi­gan to the Table. What a deli­cious­ly sim­ple dip!