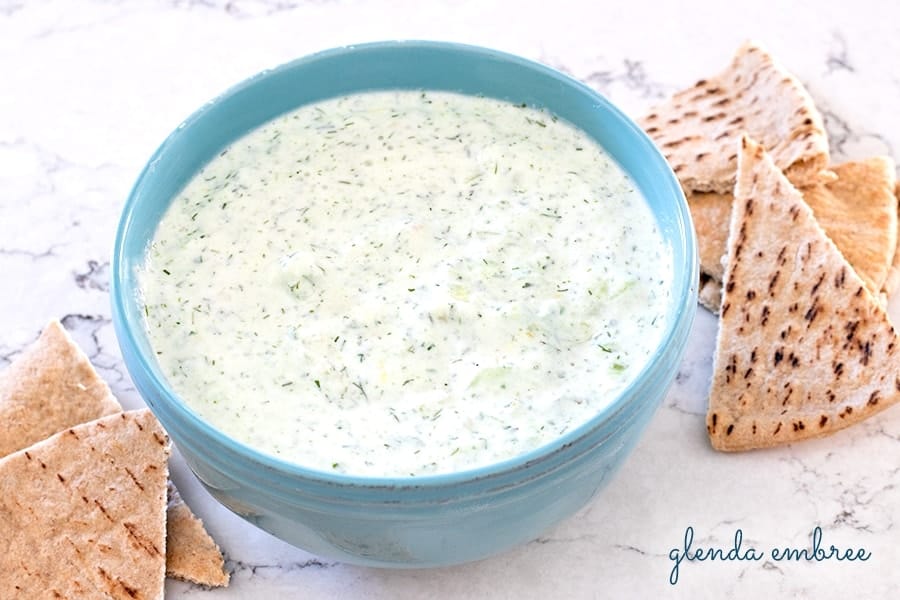 Tzatzi­ki Sauce is cool, creamy, cucum­ber deli­cious­ness with a hint of dill and gar­lic! The creamy ele­ment comes from Greek yogurt, though if you're dairy-free, I'll bet coconut yogurt could work.
Tzatzi­ki is a beau­ti­ful dip for pita chips and fresh veg­gies. It can be used as a meat mari­nade, sand­wich spread, as an ingre­di­ent in appe­tiz­ers and sal­ad dress­ings and as a top­ping on my very favorite Mediter­ranean sand­wich, gyros!
As a mat­ter of fact, I have a recipe to make your own gyro meat at home on this blog. So, if you love gyros, you'll have to give it a try and add this yum­my tzatzi­ki sauce.
Tzatzi­ki does need to sit in the fridge for at least an hour, before serv­ing, and ide­al­ly it would rest overnight. So you will want to plan ahead to allow all those scrump­tious fla­vors to marry.
This is a sim­ple, recipe and you're going to find so many deli­cious ways to use tzatzi­ki, I can't wait for you to try it.
How to Make Tzatziki
Sim­ply place all the ingre­di­ents in a bowl and stir them togeth­er. It's that easy! Remem­ber to taste as you go and adjust the salt and pep­per or oth­er sea­son­ings, if needed.
Store the tzatzi­ki in an air-tight con­tain­er in the fridge until you're ready to serve it. The fla­vors meld and get bet­ter as it sits. Typ­i­cal­ly, I would wait at least an hour before serv­ing. For the ulti­mate best fla­vor, I like to leave it in the refrig­er­a­tor overnight.
You can mince up some more cucum­ber or add a sprig of dill as gar­nish before serving.
Enjoy your home­made Tzatzi­ki with chips, fresh veg­gies or scrump­tious gyro sand­wich­es! It's won­der­ful with pita chips or this easy Mel­ba Toast from Fuss Free Fla­vors! Yum! It's a deli­cious recipe for a deli­cious Amer­i­can­ized ver­sion of a favorite Greek dip/sauce.
Print
Homemade Tzatziki Sauce
---
Author:

Total Time:

10 min­utes

Yield:

1 1/2 cups

1

x
Description
Tzatzi­ki is an easy creamy yogurt and cucum­ber sauce with a hint of dill and gar­lic. This deli­cious condi­ment is often used for Greek, Mediter­ranean or Mid­dle East­ern dish­es. Serve tzatzi­ki on gyros, as a dip with pita chips, as a spread on sand­wich­es, an ingre­di­ent in appe­tiz­ers or even use it as a meat mari­nade or as the base for a sal­ad dressing.
---
1/2

cup cucum­ber, minced fine

1

cup

plain

Greek yogurt

(For dairy-free try coconut yogurt. It just needs to be thick.)

2 tea­spoons

lemon juice

1 Table­spoon

dried dill weed


1 tea­spoon

minced gar­lic or 1/2 tea­spoon gar­lic powder


Salt and pep­per to taste
---
Instructions
Mix all the ingre­di­ents in a small mix­ing bowl. Taste as you go and adjust salt and pep­per or oth­er sea­son­ings, as needed.
Cov­er and chill the tzatzi­ki in the fridge until ready to serve.
Gar­nish with more minced cucum­ber and dill before serv­ing, if desired.
Notes
The cucum­bers may con­tin­ue to release liq­uid as the tzatzi­ki sits. Just stir it back into the dip. If the liq­uid seems to thin the dip, too much, you can add anoth­er spoon­ful of Greek yogurt.
Prep Time:

10 min­utes

Cat­e­go­ry:

Dips, Condi­ments, Dress­ings, Marinades

Method:

Cold Prep

Cui­sine:

Greek, Mediter­ranean
More Healthy, Homemade Condiments and Sauces You're Gonna Love!
Home­made Ketchup: a healthy, deli­cious and Whole30 option!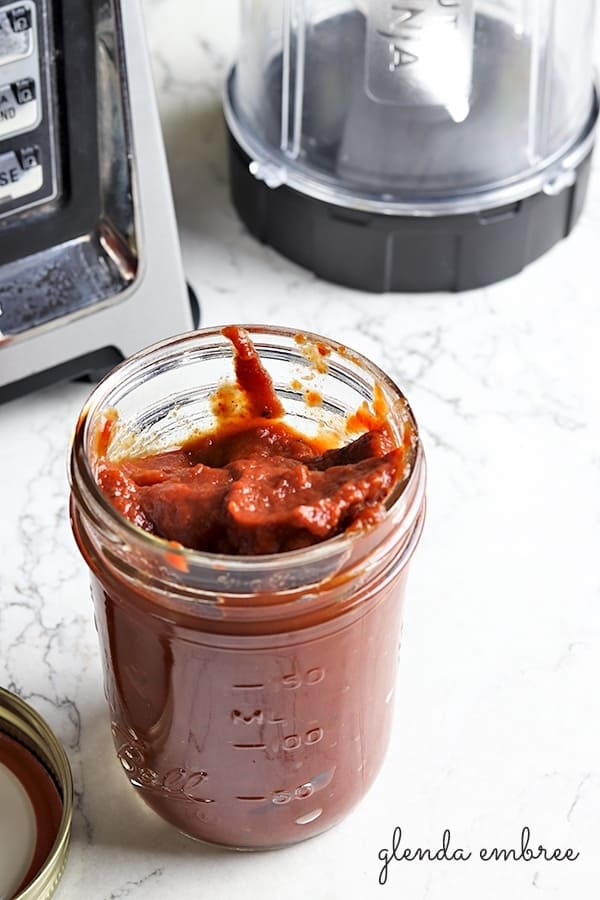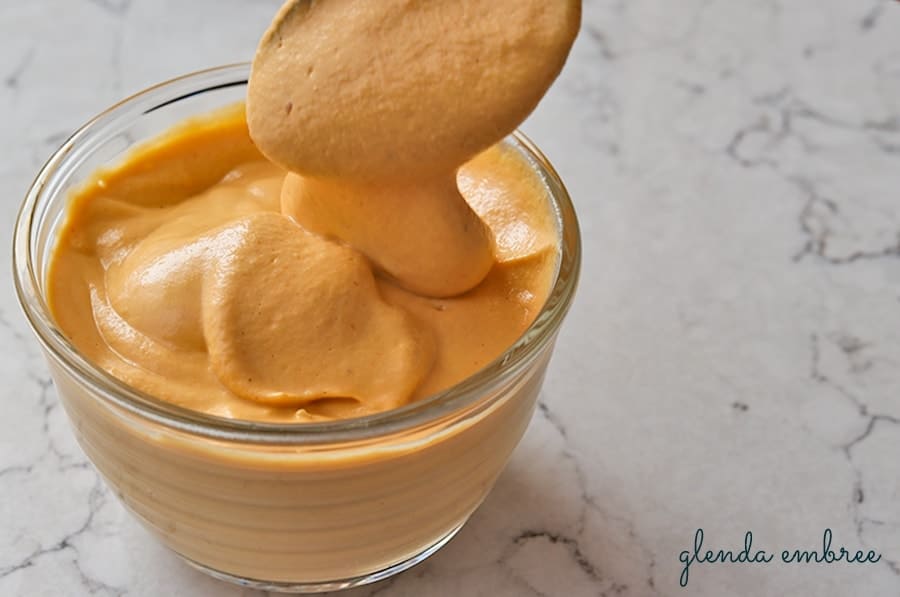 Chimichur­ri: to-die-for sauce, top­ping and mari­nade with a spicy, herba­ceous kick. Whole30 and easy to make!